Suavecito's huge range of products is both a blessing and a curse. It's great to have so much on offer, but it can lead to decision-making difficulties. So, Suavecito Original Vs Firme Hold – what's the difference?
Suavecito Firme Hold has a heavier hold, a slightly longer-lasting shine, and is more expensive than Suavecito Original.
However, the two products have very similar packaging, scent, application, and ease of washout.
That's the gist, but as always – I wanted to dig deeper.
You're about to learn everything you need to know about these two products. Exactly how they're different, as well as what they have in common.
It'll make your decision a whole lot easier.
FYI – these details are based on my own experience using the products. Although they should hold true for most men, as always, they're just opinions.
Summary Table
| | Original | Firme Hold |
| --- | --- | --- |
| Suited Styles | Defined and slick | Defined and slick |
| Suited Thickness | Medium | Thick |
| Price | Approx $2.50/oz | Approx $3.50/oz |
| Scent | Cola/Citrus | Cola/Citrus |
| Application | Smooth | Smooth |
| Hold | Medium | Heavy |
| Shine | Medium | Medium (lasts a little longer) |
| Washout | Very easy | Very easy |
| | Amazon Link | Amazon Link |
Suavecito Original Vs Firme Hold: Key Differences
The differences are always going to be more important than the similarities when it comes to making a decision. So let's go through them first.
1. Hold
The hold you'll get from Suavecito Firme Hold is, as the name would suggest, stronger and firmer than that of Suavecito Original.
Click the images to check them out on Amazon.
Original: Medium hold
Firme Hold: Heavy hold
If anything was going to sway you either way, it'll be the hold.
The Firme Hold just packs more of a punch when it comes to grip and hold. This is especially important if you've got very thick, curly, or simply difficult-to-tame hair.
Men with these hair types will most likely find that the Original doesn't provide as strong of a hold as they need to keep their style in place.
The reason this is important is that pomades are usually used for typically defined, slick, and neat hairstyles like slick-backs, pompadours, and side-parts.
So, you don't want flyaways and strays popping out midway through the day. Men with more "difficult" hair types will most likely experience this with the Original.
But the Suavecito Original Pomade should provide more than enough hold for men with thin-to-medium thickness hair.
IMPORTANT (!):
Both of these pomades are water-based and so will dry firm and stiff. This should be expected with any water-based pomade.
They're pretty similar to gels in the nature of the hold they produce.
If you're not into this and you'd prefer a pliable hold that you can restyle throughout the course of the day, go for an oil-based pomade instead.
You won't really be able to restyle either of these pomades without some wet-combing first.
The main difference between the Original and the Firme Hold here is just how firm and stiff they get.
The Firme Hold really does get very stiff quite quickly. Although that's to be expected with a name like that, don't underestimate it. Some men may find this uncomfortable and also may find it difficult to get good contouring without it looking too blocky.
The Original drys stiff too, but shaping and contouring are a little easier even once dried.
2. Price
Suavecito Firme Hold is more expensive than Suavecito Original. Although the exact price will vary according to your location, expect to pay around $2.50/oz for Suavecito Original and $3.50/oz for Suavecito Firme Hold.
For regular buyers and users, the difference will add up over time.
Overall, both products are pretty reasonably priced when comparing them to water-based counterparts like American Crew Pomade or Uppercut Deluxe.
But if cost is important to you and your hair type will allow you to get by with a less heavy hold, consider going for the Original instead of the Firme Hold.
3. Shine
You can expect a medium shine with both Suavecito Original and Firme Hold. However, the shine on the Firme Hold dulls a little less quickly than that of the Original.
Both products look super-glossy straight after they're applied. However, as with most water-based pomades, the shine does look significantly duller once the product has dried.
This is fine and to be expected. It isn't ideal, but if you're looking for a longer-lasting and often shinier shine, go for an oil-based pomade instead.
Although the shine on both the Original and Firme Hold will dull once dried, the shine on the Firme Hold does seem to last an hour or two longer.
This is something I noticed and may not necessarily hold true for everyone's hair type.
Applying it to damp hair did give me more shine with both of these products, as is usually the case with pomades in general.
Overall, the shine on both of them is pretty good considering they're water-based. Don't base your decision to buy either one of them on the shine alone, because the hold and difference in price are more important.
It's just something to bear in mind.
Suavecito Original Vs Firme Hold: Similarities
Now that we've discussed the all-important differences, let's talk about how they're similar.
This could also influence your decision. If you think one of the differences may sway the decision for you, you'll at least want to make sure that the other pomade features are the same before you choose.
1. Packaging
OK, so for most men this won't actually make a difference. The packaging doesn't exactly impact how the stuff looks on your hair.
However, for hair product enthusiasts and collectors, the packaging can be important and also pretty fun to think about.
The packaging on these products is near-identical. They both have that Suavecito cola-and-orange color theme and highly stylized font.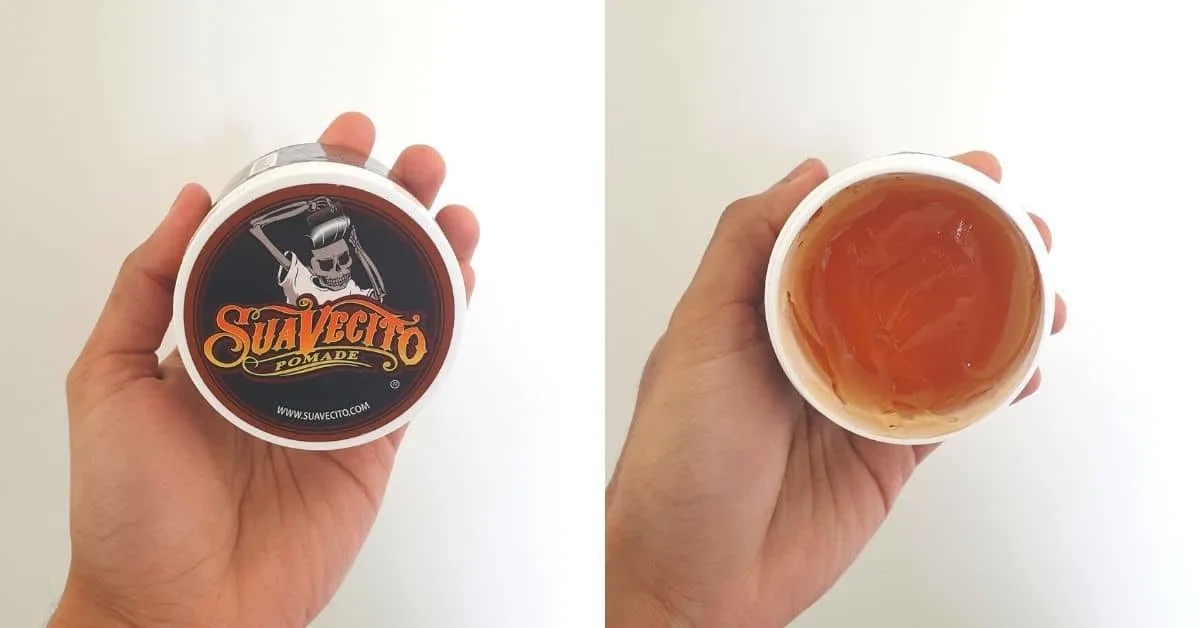 Plus, you'll find that now-famous pompadour-wearing skeleton combing his hair on the lid. It's fun and a really great touch.
But the plastic casing does feel quite flimsy when you handle it. Given the affordable price point, this is to be expected, however.
Both pomades have a vibrant translucent orange color to them.
2. Scent
The scent on both Suavecito Original and Firme Hold is a recognizable and unique mix of cola, citrus, and cologne.
Interestingly, the scent of Suavecito pomades is often commented on. Many love it, but some do prefer something a bit milder.
You probably won't find another hair product that smells quite like it.
Having said all of this, once you've applied both of these products to the hair, the scent won't be detectable.
So, much like the packaging, this factor is a nice touch but doesn't really make a difference when it comes to styling.
We'll plug this feature into the "nice to know" category as well.
3. Application
Both Suavecito Original and Firme Hold have a smooth, gel-like consistency and distribute through the hair with minimal resistance.
That's the beauty of water-based pomades – they emulsify very easily between the palms and spread through your hair with no trouble.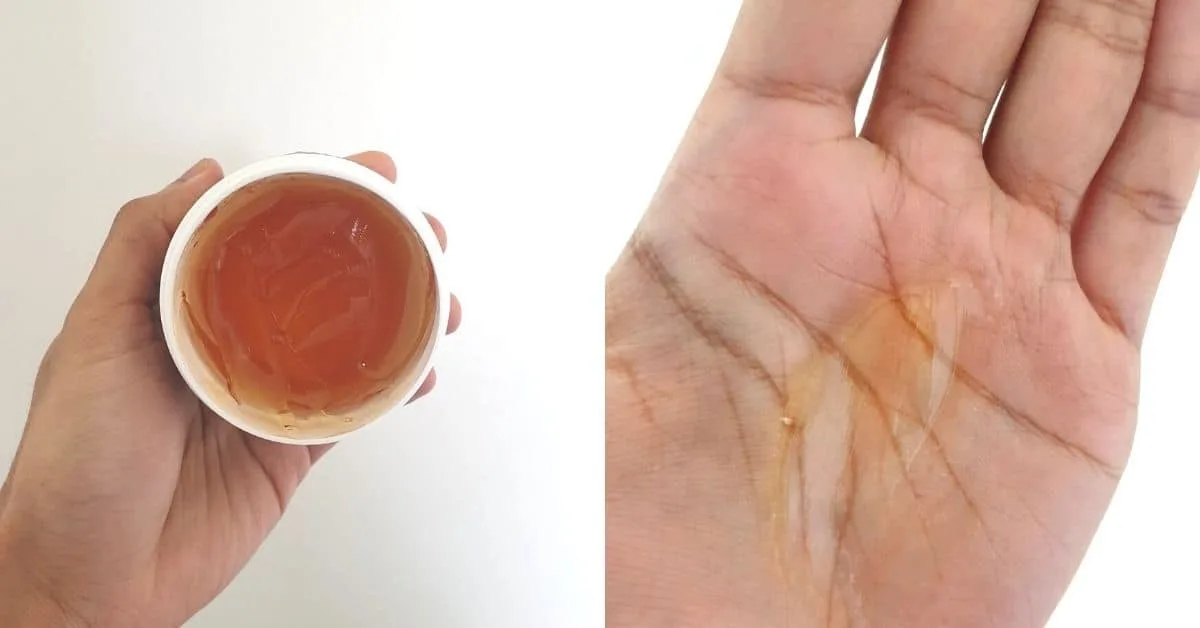 Just like a gel would, but with less crunch and flaking.
However, as with other water-based pomades, there's a bit of a time constraint on the application.
Here's what I mean by that:
Once they start to dry firm, shaping and styling will become more difficult. When contouring the more time-consuming styles like pompadours, you may well find that they start to stiffen up mid-styling.
This can be frustrating, but once again, should be expected with water-based pomades and gels.
It's more relevant with Firme Hold than it is with Original, just because it does dry firmer and quicker. So, you may find that you have to run a wet comb through in the middle of styling to soften things up a little and finish up.
It may not be ideal, but it's a tradeoff for having a heavier hold.
4. Washout
Suavecito Original and Firme Hold both wash out very easily as they're water-soluble. Usually, no shampoo is necessary to wash them out.
This is the least you should expect of water-based pomades. It's one of their main benefits over oil-based pomades which can be a pain to wash out.
These two Suavecito products are just as easy as each other to wash out, despite the stronger grip of Firme Hold.
So, you should be able to sleep with a clean head of hair each night without any trouble if this is what you want.
If you're looking for build-up, however, go for a wax or oil-based pomade like Murray's instead.
5. Suited Styles
Finally, both of these pomades are well-suited to the same type of hairstyle.
Defined, slick, and glossy.
It doesn't necessarily need to be a typical "greaser" hairstyle like a pompadour, side-part, or slick-back.
Even if you were simply looking for a bit of shine and want to slick it to the side, both of these products would be better alternatives to the (often crunchier-feeling) hair gels.
Essentially, pomades such as this are good for more "classic", vintage, or formal hairstyles.
If you're looking for more texture, layering, or volume, neither the Original nor the Firme Hold would be the right products to go for.
Messier styles are better produced using products like hair clays, hair pastes, and putties.
Conclusion
Hopefully, that's made your decision easier.
There isn't much that separates the two products – that's what makes it tough to choose. But the differences are there and will be important for any potential user to bear in mind.
Whatever you choose, enjoy it.
Ready Sleek founder. Obsessed with casual style and the minimalist approach to building a highly functional wardrobe. Also a fan of classic, vintage hairstyles.