Bow ties are unusual in that they are considered extravagant and formal simultaneously, whereas short sleeve shirts are much more casual. So, can you wear a short sleeve shirt with a bow tie?
It's possible to wear a short sleeve shirt with a bow tie, but it must be done with care and consideration of the event you're attending. Block-colored shirts work best; wear them alongside a bow tie of a different color. Patterned bow ties can work too.
While that's the short answer, there's much more to it.
Let's explore this further.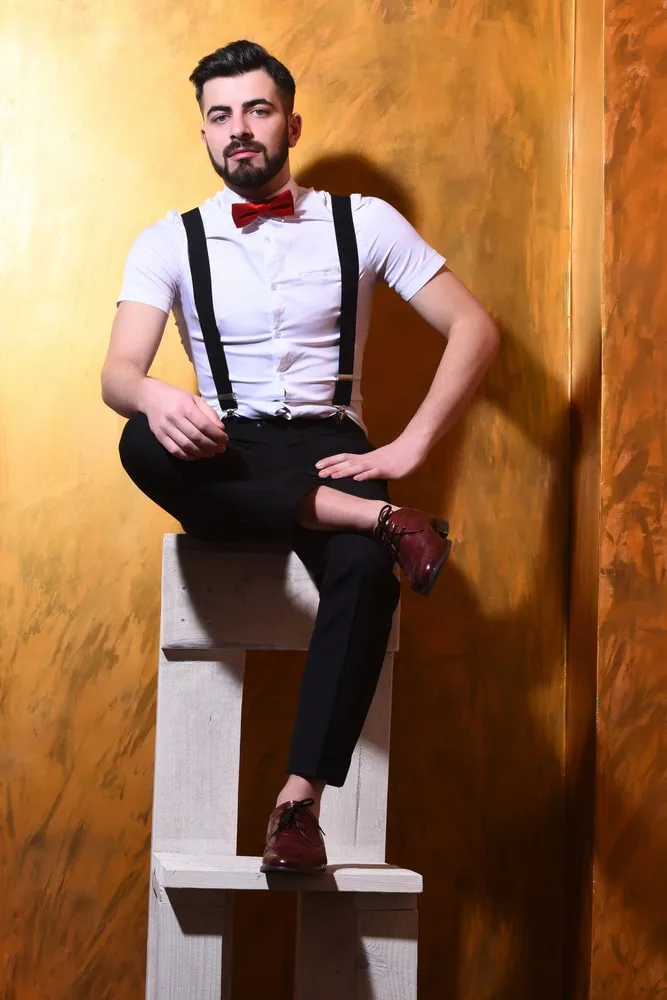 1. Consider The Color Of Your Shirt
The color of your shirt is an important element to consider when wearing a short sleeve shirt with a bow tie.
If you go for one that's too bright, when combined with the bow tie, the outfit will look pretty goofy.
Similarly, going for a patterned short sleeve shirt isn't advised either, as this can appear overly flamboyant.
Wearing poorly color-matched outfits is a fatal error and common mistake.
It's particularly detrimental with this outfit, as bow ties and short sleeve shirts are pretty controversial garments on their own.
So, when wearing them together, it's important to match the colors as best you can to ensure you achieve a seamless look.
The best short sleeve shirt colors to wear alongside a bow tie are light, versatile colors, such as white and sky blue.
Lighter shades of pink and yellow can work too, but approach these with a bit more caution.
By wearing one of these shirt colors, you're adding many color-matching possibilities to your outfit.
As for the bow tie color, the world is your proverbial oyster – so long as you go with one of the mentioned shirt colors.
Having said that, there are some bow tie colors that stand out as particularly good. For example, a blue, black, or maroon bow tie with a white shirt.
2. Stick With A Butterfly Bow Tie
There's a variety of different bow tie styles on the market, from batwing bow ties to single-end bow ties.
Each bow tie style is ideal for different scenarios, formality levels, and events, so it's important to choose the right one.
Choosing the wrong style of bow tie can mean that you're either overdressed or underdressed for the occasion.
This should always be avoided, as it looks awkward and indicates a lack of awareness in both formality levels and men's style.
The butterfly bow tie is the most common bow tie style and is typically what springs to mind when people think of a bow tie.
It's also the best type of bow tie to wear with a short sleeve shirt.
The primary reason for this is that wearing a short sleeve shirt with a bow tie is a controversial outfit in itself.
While deviating from the norm is sometimes encouraged, it's best to take this with a pinch of salt, as doing it too much can make you stick out like a sore thumb.
That being said, avoiding uncommon bow tie styles and sticking to the traditional butterfly bow tie is highly recommended.
3. Patterned Bow Ties Can Work
Remember that – when wearing a bow tie with a short sleeve shirt – you're wearing a somewhat casual outfit.
While it's difficult to classify the exact formality level of a short sleeve shirt with a bow tie, it's definitely not a strictly formal look.
Because of this, there is room for some experimentation with your bow tie colors – and patterns.
As long as you're wearing a block-colored shirt of one of the mentioned colors, that is.
There are many different bow tie patterns on the market – particularly for batwing bow ties, being the standard bow tie.
Floral patterns, polka dots, and checks are just some examples of the more common bow tie patterns to choose from.
When deciding on your bow tie pattern, aim for a subtle pattern as opposed to a bright, bold one.
This is because – while bold patterns can work – subtle patterns blend in much more with the outfit, adding personality without going overboard.
Patterned bow ties work particularly well with white short sleeve shirts, as the versatility and subtlety of white shirts allow the patterned bowtie to act as the statement piece.
Keep in mind that block-colored bow ties look just as great and that whether or not you wear a pattern is entirely down to personal preference.
4. Waistcoats Look Great
While it may seem an unlikely combination, adding a waistcoat to your short sleeve shirt and bow tie can look great.
Waistcoats are typically associated with formal attire, as are bow ties. Short sleeve shirts, on the other hand, are more casual.
This means that, by adding a waistcoat to your outfit, you're creating a nice contrast without too much of a formality mismatch; the garments balance out the formality.
Taking care when picking your waistcoat color is essential because the wrong-colored waistcoat could look incredibly clumsy.
It may be tempting to go for a brightly-colored, patterned waistcoat, but it's best to avoid both of these elements.
In fact, the ideal waistcoat for this outfit is a block-colored, navy one.
With formal apparel, your overlayer should typically be darker than your base layer (in this case, your short sleeve shirt). Navy accommodates this perfectly.
Moreover, navy is a very versatile color, meaning that it'll work with most shirt colors, bow tie colors and patterns, and combinations of the aforementioned.
While white shirts look best with a navy waistcoat, all of the recommended shirt colors go fantastically with navy waistcoats.
5. Steer Clear Of Formal Situations
A common misconception is that short sleeve shirts are formal garments.
Despite the possibility of wearing them formally, short sleeve shirts themselves aren't inherently formal.
Similarly, while bow ties are primarily worn formally, they can be worn semi-formally or smart-casually just as easily.
Underdressing at an event can be seen as disrespectful – depending on the event.
Therefore, it's important to always consider the formality of the situation before wearing a short sleeve shirt with a bow tie.
The short sleeve shirt is a confusing garment in men's style. Some say it's appropriate for some formal events, while others are adamant it's not.
While there is no clear answer, there are some recommendations about when and where you should wear a short sleeve shirt.
For example, at funerals, it's never appropriate, whereas, at summer weddings, when the weather is hot, it often is.
Combining the short sleeve shirt with another controversial garment – the bow tie – is a recipe for confusion.
Ultimately, this outfit is usually appropriate on smart-casual occasions – particularly when the weather is especially warm.
If you're ever unsure whether or not wearing a short sleeve shirt with a bow tie is appropriate, it's best to avoid it altogether. This will prevent any awkwardness.
6. Think About Bow Tie Material
The material is an often under-appreciated aspect of wearing a bow tie.
After all, when wearing a bow tie for long periods of time, it can get hot, sweaty, and uncomfortable.
Additionally, materials have different textures, which can affect the overall appearance of the outfit.
Silk is the most popular bow tie material and is the one you should use when wearing your bow tie with a short sleeve shirt.
Ensure your bow tie is smooth and minimally textured. Whether it's shiny or matte is generally down to preference.
This is because any texture on your bow tie can appear extravagant and over-the-top, considering that this is a statement outfit on its own.
Silk is lightweight, very comfortable, smooth, and has sweat-wicking properties, making it ideal for your bow tie.
While silk bow ties can be more expensive, it's absolutely worth the extra cost.