Red and blue – a primary color combo that can work exceptionally well, but is surprisingly easy to go wrong with. So, can you really wear a red shirt with light blue jeans?
Yes, wearing a red shirt with light blue jeans can make for a great casual outfit. The least casual way to wear it would be going for a muted red OCBD, chambray, or linen shirt and pairing it with slim-fitting, non-distressed light blue jeans.
Ultimately, it comes down to wearing the right red shirt with the right pair of light blue jeans.
On top of that, it needs to be worn in the right setting.
After going through a few great outfit examples to try, we'll run through some tips for getting them all perfect.
So, let's get to it.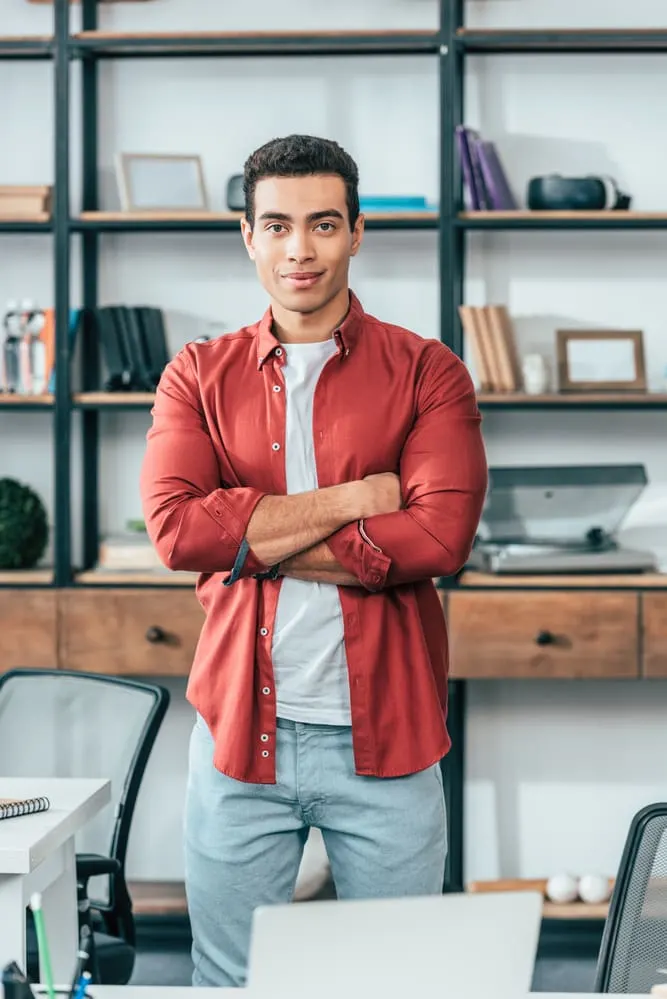 3 Red Shirt And Light Blue Jeans Outfits To Try
We'll start with a less casual way of wearing it and then move on to the more casual ways.
Always remember, a red shirt and light blue jeans outfit will always be casual. But that doesn't mean there aren't dressier ways of wearing it, as well as more casual ways.
Least Casual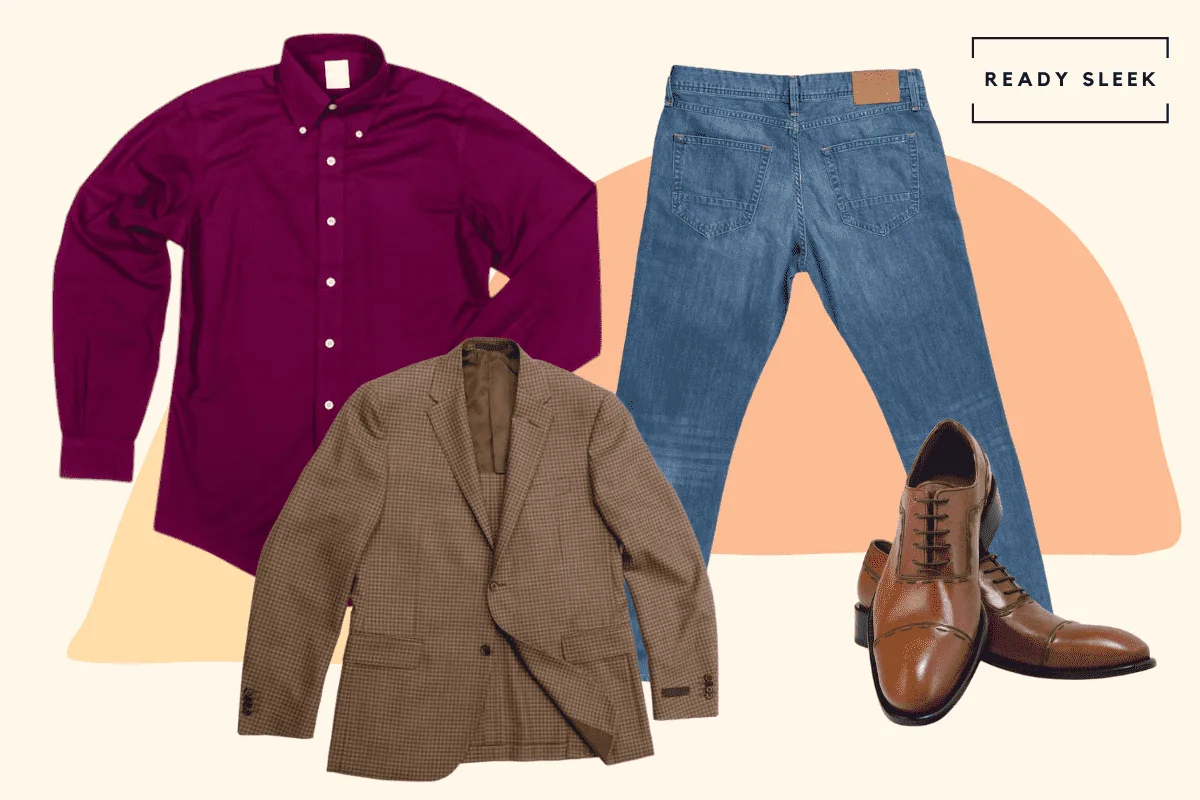 Items: Maroon Casual Button-Up, Light Blue Jeans, Brown Or Grey Sport Coat, Tan Brown Dress Shoes
A dark red button-up (eg. maroon, crimson, burgundy) often looks great with light blue jeans, especially those with casual features.
OCBDs, chambray, and linen shirts are ideal. The rugged texture makes them more casual and more in sync with the denim jeans.
The light blue jeans you'll wear when dressing the combo up are more likely to be slim-fitting and tapered.
Layering a sport coat can work well; brown and grey would be my top choices here.
A brown blazer works well because it has warm undertones that compliment the warmth of the dark red nicely.
In addition, brown jackets have a laid-back and casual aesthetic to them, more so than dark neutrals do.
If you did want a more neutral option, grey would work well too. Try to choose a relatively casual-looking mid-grey blazer without much structure to it.
Minimal padding and relaxed silhouettes work well here.
More Casual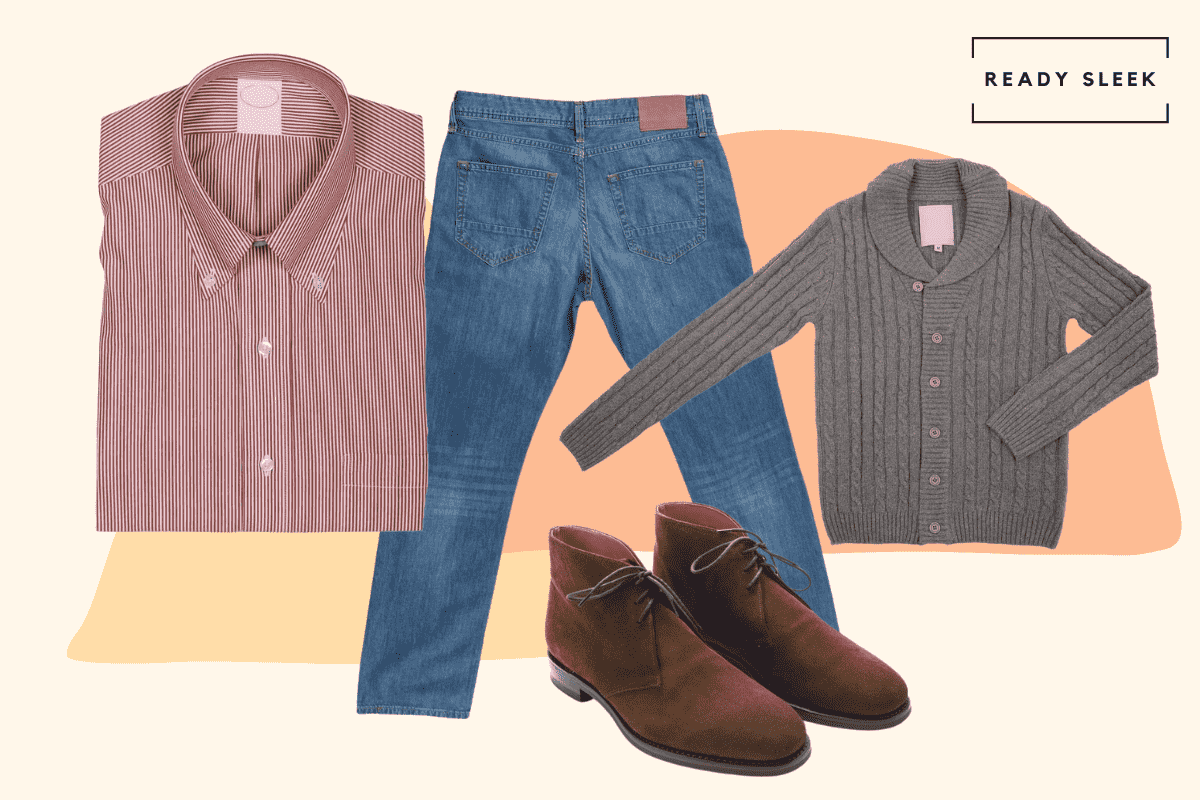 Items: Red Striped Button-Up Shirt, Light Blue Jeans, Grey Shawl Collar Cardigan, Suede Chukka Boots
Going for a striped red button-up shirt will always look more casual than a solid-colored red shirt.
In fact, the same could be said of most patterns. Stripes are just the easiest to come by and arguably the most versatile pattern too.
Once again, try to choose a casual button-up style as opposed to a dress shirt. Button-down/relaxed collars and rugged fabrics are what you should aim for.
The shawl collar cardigan is a sharp, yet more casual alternative to the blazers/sport coats used in the less casual example above.
Going for a neutral such as grey or a cream tone would work well when layering knitwear here.
Brown suede chukka boots look great with light blue jeans; the textures complement each other so well.
Most Casual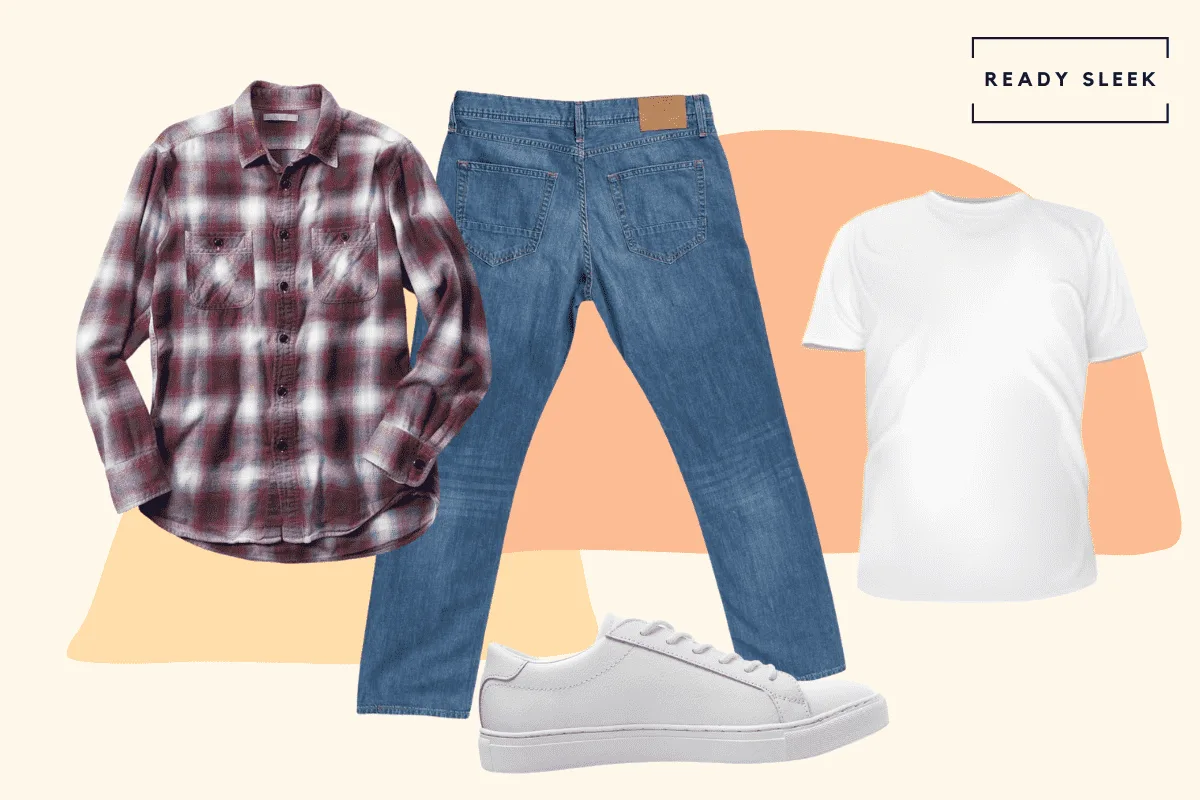 Items: Red Flannel Shirt (Unbuttoned), White T-Shirt, Light Blue Jeans, White Sneakers
It's hard to get more casual than a red flannel shirt, especially when going for the classic unbuttoned-flannel-over-T-shirt look.
Add a pair of light blue jeans into the mix and you're left with a classic American workwear aesthetic that's hard to go wrong with in very casual settings.
The white low-top sneakers add a soft, minimalist touch to the outfit. But if you really wanted to embrace the workwear vibe, pop on a pair of lace-up boots instead.
During the colder months, a Carhartt workwear jacket would work well here. Rugged, bulky, and comfortable.
5 Tips For Wearing A Red Shirt With Light Blue Jeans
Now that you've seen just how many different ways there are of wearing this combo, let's talk through some tips for perfecting it no matter what.
It's Always Very Casual
Even the least casual way of wearing this combo is still pretty casual indeed. Ultimately, that's what a pair of light blue jeans will do to any outfit.
Light blue jeans epitomize casual wear. They're iconic and globally popular given how versatile they are for color coordination and how durable they are in day-to-day life.
But no matter what you choose to wear with them, they'll always be casual.
Avoid wearing a red shirt and light blue jeans combo to "smart-casual" settings where there's usually some risk of underdressing.
You'd be better off going for a dark pair of jeans here (eg. black or indigo) or even better – a pair of chinos or smart trousers.
Instead, reserve the red shirt and light blue jeans combo for where there's very little risk of underdressing.
It's a laid-back and relaxed outfit that needs to be worn in the right settings given how casual it is.
Consider The Shade Of Red
You could potentially wear shirts in any shade of red and make it work here. Light, dark, bright, bold, muted; light blue jeans are versatile and casual enough for any of it to work.
It all depends on the aesthetic you're going for.
If you'd prefer a more eye-catching and casual appearance, consider wearing your light blue jeans with a shirt in a bright, bold, pastel shade of red.
If, on the other hand, you want a more subtle aesthetic, consider a darker or more muted shade of red such as crimson, burgundy, or maroon.
The beauty of it is that you've got plenty of options. It comes down to personal preference.
Consider The Style Of The Red Shirt
When you're looking to dress up a pair of light blue jeans, a red button-up shirt would usually do the trick for you.
As you saw from the outfit examples earlier on, they can definitely work well with light blue jeans.
However, it's important to choose the right style of red button-up to avoid a formality mismatch.
A red dress shirt with a stiff collar and made from a shiny, tightly woven fabric is usually going to look a little awkward when wearing light blue jeans.
It just looks too dressy for it to work with such a casual-looking pair of pants.
This awkwardness isn't as obvious with a red dress shirt as it would with a white dress shirt, for example. Red dress shirts are pretty casual as far as dress shirts go.
But you'd be much better off going for a casual red button-up style such as an OCBD, chambray, or linen shirt.
I like to wear OCBDs during the colder months and linen shirts during the warmer ones.
Any of these shirts, however, would look more casual than a red dress shirt and more likely to sync well with a pair of denim light blue jeans.
If you don't feel as though a red button-up is necessary or you simply don't want to wear one, go for a red T-shirt, polo, or Henley.
Layer With Caution
When wearing a red shirt with light blue jeans, grey, brown, and cream tone sport coats and knitwear work well as outer layers.
At the end of the day, red is a pretty in-your-face color. This would be the case no matter how dark and unsaturated the shade of red you go for is.
The light blue jeans are also quite bold and vivid, more so than a darker pair of jeans would be.
Because of this, you'll want to be pretty careful with the color of the outer layer you choose to wear.
Greys, browns, and cream tones work well.
The benefit of browns and cream tones is that they're warm and blend well with the warm color temperature of the red shirt.
Grey has a cooler temperature to it but is extremely neutral and will combine effortlessly with both the red shirt and the light blue jeans.
Brown Suede Or White Sneakers
Brown suede shoes and boots work very well when wearing a red shirt with light blue jeans.
The napped texture of suede and the warmth of the color brown looks great with both of these items.
They're a great option when you're looking to dress up a notch but not too much.
The suede shoes you could go for include Derbys, monk straps, and loafers. Suede Chelseas and chukkas would be the classic boot styles you could go for instead.
If you were looking to dress down, white leather low-top sneakers would be a great choice here. They add a touch of sharp contrast while staying subtle and minimalist.
Ready Sleek founder. Obsessed with casual style and the minimalist approach to building a highly functional wardrobe. Also a fan of classic, vintage hairstyles.