Instead of scattering recommended products all over my website, I decided to create a page solely dedicated to my favorite beard grooming products of the year.
You'll notice that the products on this page cater to a wide range of bearded men. I stray away from niche products and gravitate toward ones that I know please a large proportion of bearded men.
From trimmers to dyes, this page should hopefully guide you from several different perspectives. An all-in-one buyer's guide that'll be regularly updated as time goes by.
The Most Unique And Complete Beard Kit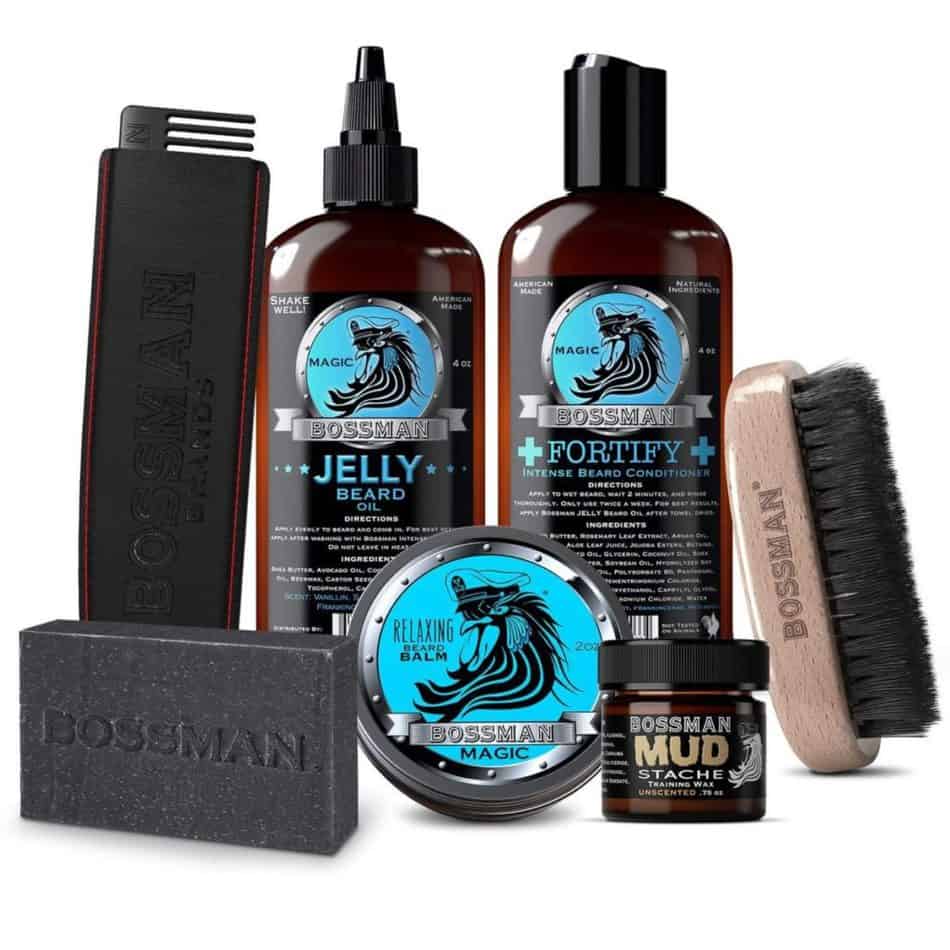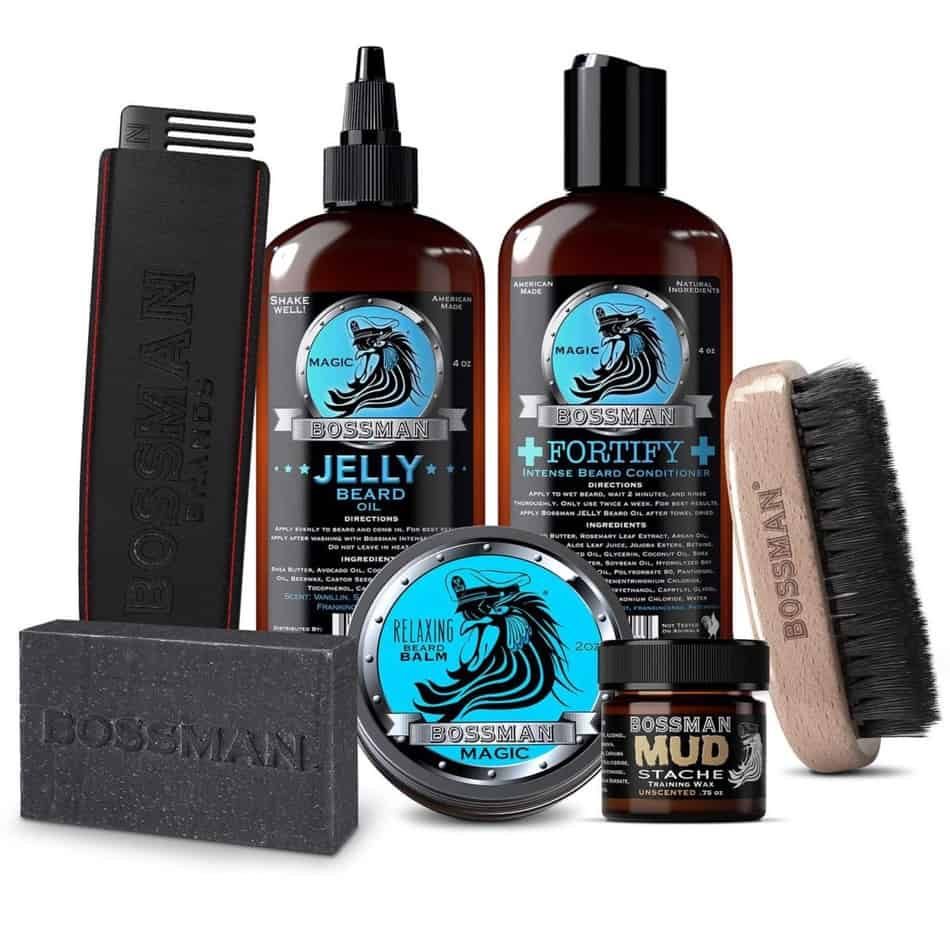 If you prefer buying a complete grooming kit to the hassle of buying individual products, the Bossman Big Boss Beard Kit is a mighty impressive one to check out.
If you're interested, be sure to use the code FIRST10 at checkout for a 10% discount. You type it in right at the end when putting in your card details.
What's Included:
1 x Bossman Beard Jelly
1 x Body And Beard Bar Soap
1 x Fortify Intense Beard Conditioner
1 x Ultra Relaxing Beard Balm
1 x MUDstache™ Wax (Unscented)
1 x Metal Beard And Mustache Comb
1 x Unique Boar Hair And Nylon Blend Brush
Bossman first made waves in the industry by releasing their super unique beard jelly. Think of it as a product halfway between beard oil and beard balm. It's very moisturizing and hydrating.
Thicker than beard oil, but not as overbearing as beard balm – an unusual product that gets some pretty phenomenal results. It's ability to soften the beard is fantastic.
But you get so much more.
Before we start, you have a range of scents to choose from for the products in your kit. "Stagecoach" is arguably the most popular one – a unique blend of leather, tobacco and Bourbon.
"Hammer" scent is a mixture of geranium, lavender and vanilla. "Magic" scent was the original Bossman scent – a mixture of sandalwood, vanilla, bergamont, and patchouli.
There are two other scents for you to check out as well, but the point is that there is a wide and varied range to choose from.
With the kit, you get an intensely masculine looking, black bar of beard and body soap. It contains soothing, moisturizing ingredients including shea butter and coconut, as well as irresistibly scented essential oils.
The beard conditioner is moisturizing and gentle, but as with any conditioner shouldn't be used more than once or twice to avoid drying out the hair.
You also get two very competent styling products. The all-natural beard balm produces a gentle hold for taming flyaways and is also deeply moisturizing.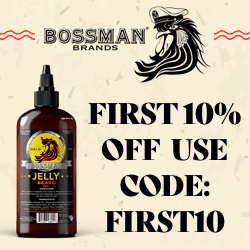 The MUDstache mustache wax has a strong hold and goes great with the beard jelly. It's ideal for training the mustache hair to grow away from the inside of the mouth.
Plus it's unscented – this is so important when it comes to mustache wax.
The kit also comes with a metal beard comb. I generally prefer sandalwood or pearwood beard combs, but the rounded tips of the Bossman Metal Comb do prevent snagging in any case.
Also, it just looks cool and ridiculously masculine. Sorry, but sometimes aesthetics do make a difference. It's a fantastic looking tool to include in a grooming kit.
The beard brush it comes with is very interesting indeed. It's actually a blend between boar hair and nylon bristles. Although I generally only advise boar bristle beard brushes, this blend is quite unique.
The boar hair is able to glide through the beard hair with minimal snagging and able to re-distribute natural sebum as well as any product you may have applied.
But the nylon bristles included actually massage the face and exfoliate the top layer of skin.
The beechwood handle is lightweight and very comfortable to hold. Plus, it fits neatly into a travel bag if you ever needed to groom on the go.
Overall, if you're looking for a comprehensive beard grooming kit where each product included is impressive in its own right, go for this one.
Click here to check this kit out on their site. Their customer service is also very, very impressive.
Best Beard Dye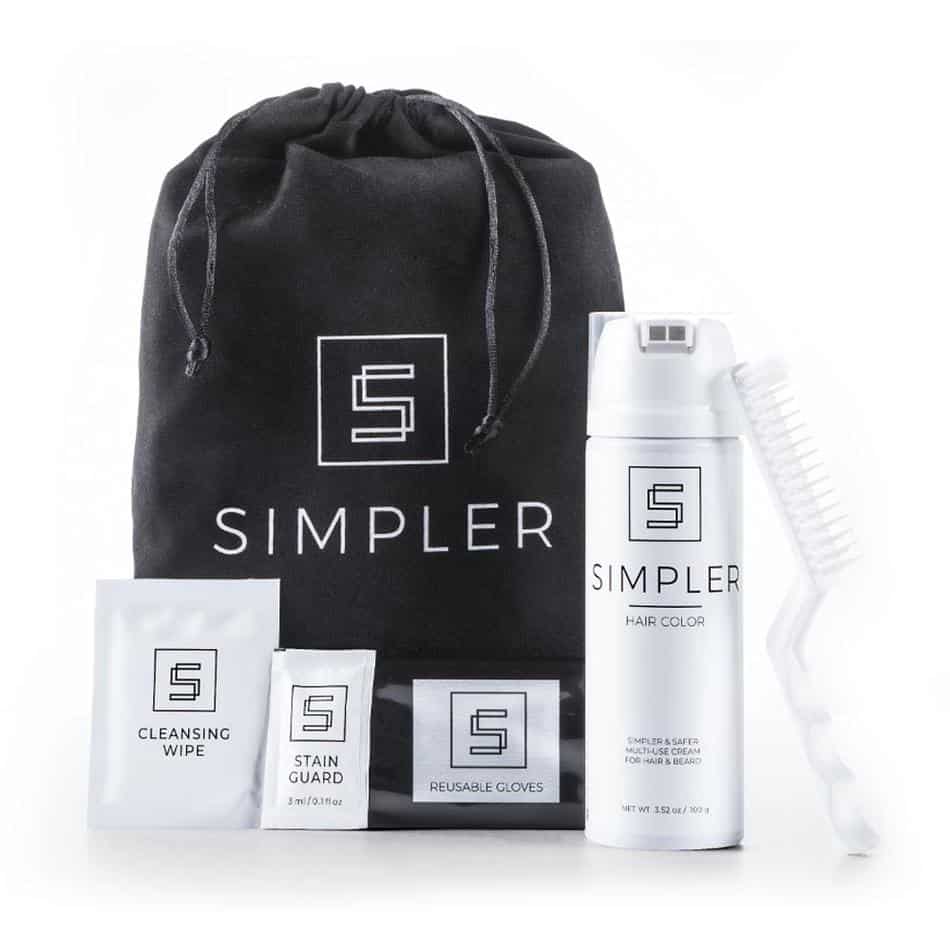 After waiting quite a while for a beard dye to really shake up the industry, it appears as though Simpler Hair Color may well be the answer.
Simpler Hair Color's ethos is focused around being kind to your hair and beard.
Click here to check out their color box in more detail.
It refuses to include the usual dye ingredients such as PPD, ammonia, and parabens. This stuff damages the integrity of the hair over time and is also irritating to the skin.
Instead, it opts for all-natural, premium ingredients.
It also sets itself apart from the usual drugstore brands by giving you more for your money.
1 Can Of Simpler = 4 Boxes Of A Leading Drugstore Brand
The results are also very natural-looking with very evenly distributed color. They've racked up a large number of glowing reviews within a relatively short space of time.
By purchasing one of their staple color boxes in the color of your choice you'll get a beautiful color can, a comb and brush for application, gloves, a cleansing wipe, a stain guard, and a travel bag.
The product brings a lot of flair to what was previously a pretty unexciting market. Beard dyeing is becoming a hugely popular trend and Simpler Hair Color appears to be riding the wave very proficiently indeed.

Best Overall Beard Trimmer
The Brio Beardscape is certainly one of the most talked about trimmers in the beard grooming sphere today.
You can check it out on Amazon by clicking here or by clicking the image below.
What I love about it is how it manages to maintain a sense of simplicity despite having a thoroughly modern design.
After removing it from its sleek packaging, the first thing you'll notice is how sturdy it feels in your hand. It's got just enough heft to feel like it's built to last, without feeling bulky or uncomfortable.
In other words, you'll immediately realize it isn't a cheap, throwaway trimmer.
The two features I find most impressive are unsurprising, considering just how often they're mentioned in reviews online. Those features are the blades and the quietness of the motor.
The Brio Beardscape benefits hugely from its premium, ceramic blades that are exceptionally sharp, cutting quickly and with minimal resistance. Ceramic is apparently four times harder than stainless steel (a fun fact I didn't know beforehand).
The motor is very quiet. I honestly don't even know how you'd make a motor this quiet while retaining some serious power. Comparing it to an old trimmer is probably the best way to appreciate this remarkable feat.
Its versatility is partly due to its wide range of length options, coming with four double-ended guard attachments. These are of 1, 2, 3, 6, 9, 12, 15 and 18mm.
Plus, it's cordless – this is essential for me. It's LCD screen very helpfully displays remaining battery life (4 hours on full charge), the RPM settings, and also tells you when the blades need a clean.
The only downside of this trimmer is that it isn't waterproof. This isn't a problem for me whatsoever, as I've never really understood the whole shower-trimming thing. However, do bear this in mind if this is important for you.
Overall, if you were going to extend your budget a little for any beard grooming product, it should be for a good trimmer. This trimmer will consistently provide excellent results, and most importantly (for me) will last a long time.
Best Beard Trimmer For Stubble / Very Short Beards
Interestingly, I wouldn't recommend the Beardscape for stubble or very short beards. To be more specific, you maintain your beard to lengths under 10mm, you should go for the Philips Norelco Oneblade QP6520/70 instead.
If you usually lie within this beard length range, check this trimmer out on Amazon by clicking here or by clicking the image below.
This trimmer was designed with stubbled and very short-bearded men in mind. It comes with 14 length settings between 0.4mm and 10mm.
It's called a "hybrid tool" because it does several different things very well. There aren't many devices that can trim, edge, and shave very effectively, but this one seems to pull it off with some serious flair.
One feature that immediately stands out is just how comfortable it feels against the skin. A fundamental issue when dealing with facial hair this short is that you're trimming close to the skin. This can cause irritation and soreness if you aren't using a suitably sensitive device.
The Oneblade manages to trim incredibly short and even shave while feeling gentle and comfortable.

This is because the trimmer head is able to follow the contours of the face.
This minimizes tugging and pulling, while also allowing you to reach trickier areas such as the angle of the jaw with minimal discomfort.
It's great for edging because the dual-sided blade actually allows you to edge in either direction. I almost wept when I realized this – I was so happy. I was actually able to see the lines I was trying to shape and sculpt.
I'll finish off by mentioning that it's waterproof and has a great battery life (90 minutes on full charge).
Best Beard Oil
Beard oil is crucial for providing moisture and nourishment to both the developing and the developed beard. There are some great ones on the market today, but Honest Amish Beard Oil does take the crown.
Check it out on Amazon by clicking here or by clicking the image below.
It contains the usual jojoba oil and argan oil, as well as several other thoroughly moisturizing oils.

As all good beard oils should be, it's all natural and organic.
The oil smells great and distributes beautifully across the beard, feeling light and airy throughout. It very competently moisturizes the beard hair, as well as the underlying skin.
The gentle shine it leaves on the beard always looks very healthy and subtle.
Best Beard Balm
Beard balm is perfect for providing a small amount of hold, while also moisturizing the beard and underlying skin. It's similar to beard oil, but allows you to style the beard to a certain extent as well.
It doesn't have as strong of a hold as wax does, but it's perfect for flattening stray hair and keeping everything neat and tight.
Plus, it often reduces beard itch during those particularly troublesome awkward phases of growth.
Once again, Honest Amish comes out on top. The Honest Amish Beard Balm is perfect if you're looking for a simple product with a hugely proven track record.
If you're interested, check it out on Amazon by clicking here or by clicking the image below.
Like the Honest Amish Beard Oil, it distributes very easily through the beard after melting comfortably between the hands.
It smells fantastic – not overwhelming or overbearing.
The Honest Amish Beard Oil and Beard Balm go fantastic together and both generally last a long time.
Best Boar Bristle Beard Brush
This one was tricky, because there are a huge number of them out there. I'll start by saying this – only ever buy a boar bristle beard brush. Nylon bristles will slowly destroy a beard.
The Seven Potions Beard Brush is fantastic because it's light (but sturdy), easy-to-hold, and has a beautiful pearwood body.
Check it out on Amazon by clicking here.
Is it the best? Honestly, I can't say with certainty simply because there are so many of them out there right now.
But it is a great beard brush. You can check out a whole bunch of other reviews on Amazon stating the same.
It's phenomenal at training the beard, particularly during the earlier stages of growth. Over time, you'll notice the beard hair looking straighter, flatter, and generally growing in the desired direction.
It's also great at re-distributing natural sebum oil, as well as any beard oil you may be using. What this does is relocate any oil that may be accumulating on the scalp along the entire hair shaft. This leaves a nice, gentle shine and a healthy, moisturized look.
The power of a good beard brush should never be underestimated.
Summary
It's important to make small investments into beard grooming early on in your bearded journey. These simple products can have a profound effect on your overall results and experience.
What's great is that you don't need to spend a huge amount of money to make a pretty big difference.