Need help figuring out what to wear on your museum date? Yep, the dress codes can be challenging to interpret.
This article's got you covered with ten stylish and comfortable museum outfit ideas for men.
From classic black and white combos to cozy camel coats, I've put together a bunch for you using my favorite capsule wardrobe items.
I'll also share tips on what not to wear and dress codes for different types of museums.
Whether you're visiting a contemporary art exhibit or a historical museum, you'll probably find something you're into.
Read on and get date-ready quickly.
10 Stylish Museum Date Outfits For Men
Let's get right into it.
Classic Contrast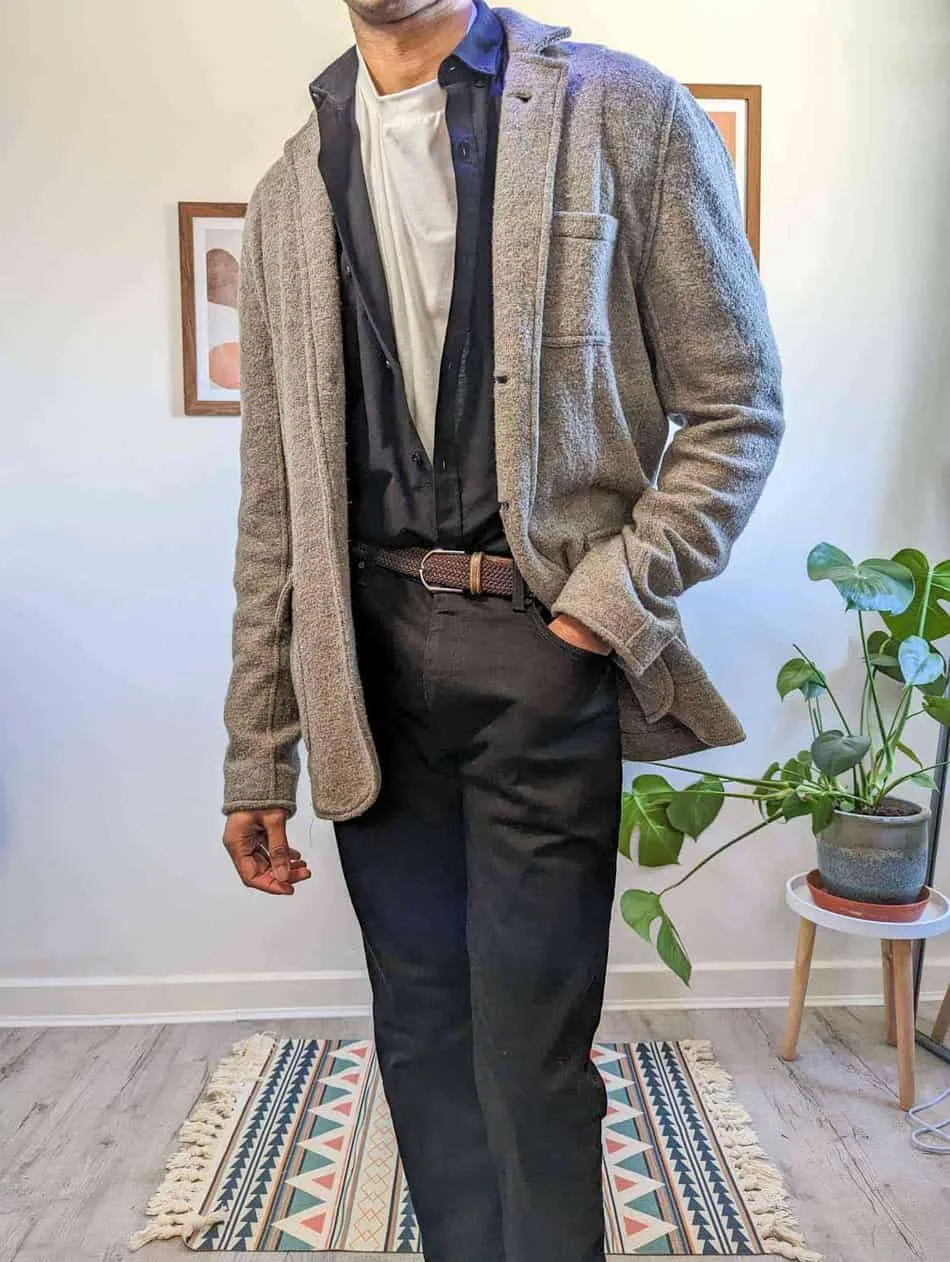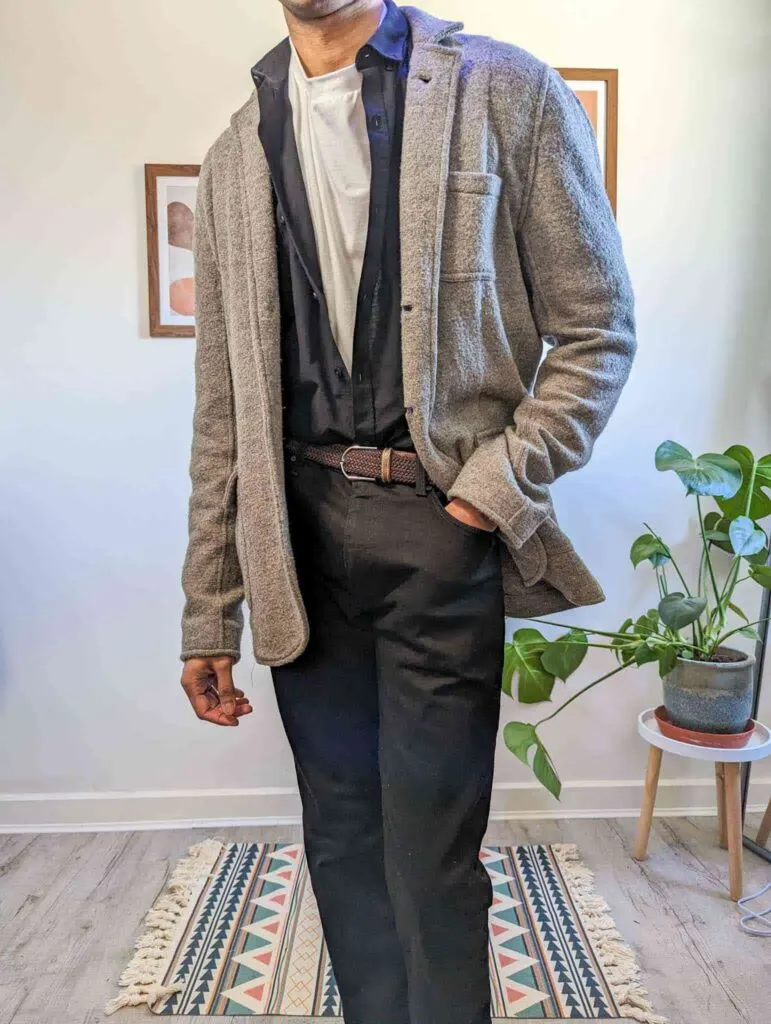 Casual black button-up shirt
White t-shirt
Black Levi's jeans
Grey wool coat
This outfit features the timeless, foolproof monochrome combination of black and white.
The black shirt layered over the white t-shirt creates a sleek and modern look, while the black jeans keep the outfit cohesive and in line with the greyscale aesthetic.
The grey coat adds a touch of sophistication, with the wool adding a subtle texture to the overall look.
Simple, stylish, and stands out without trying too hard.
Cozy Camel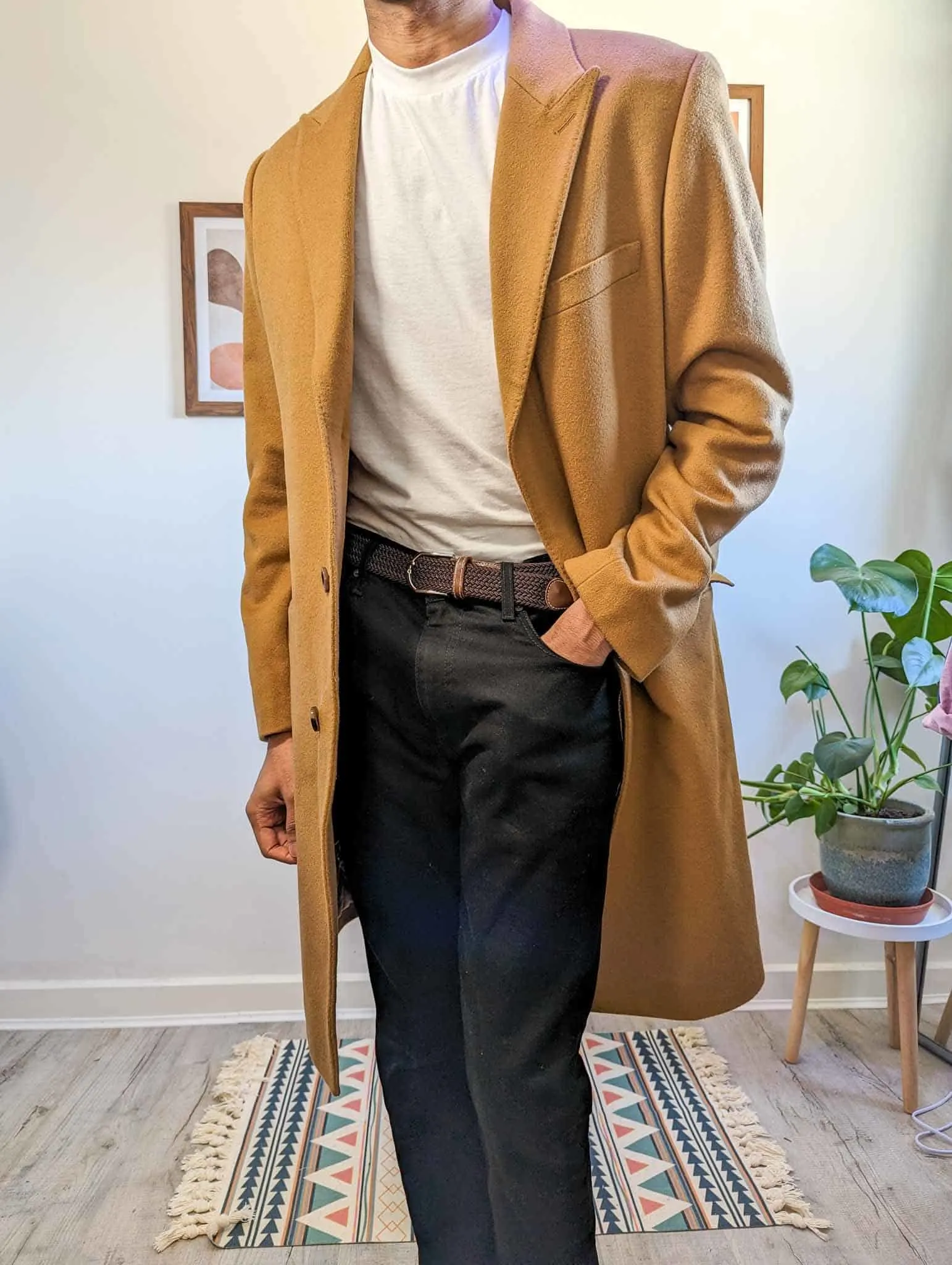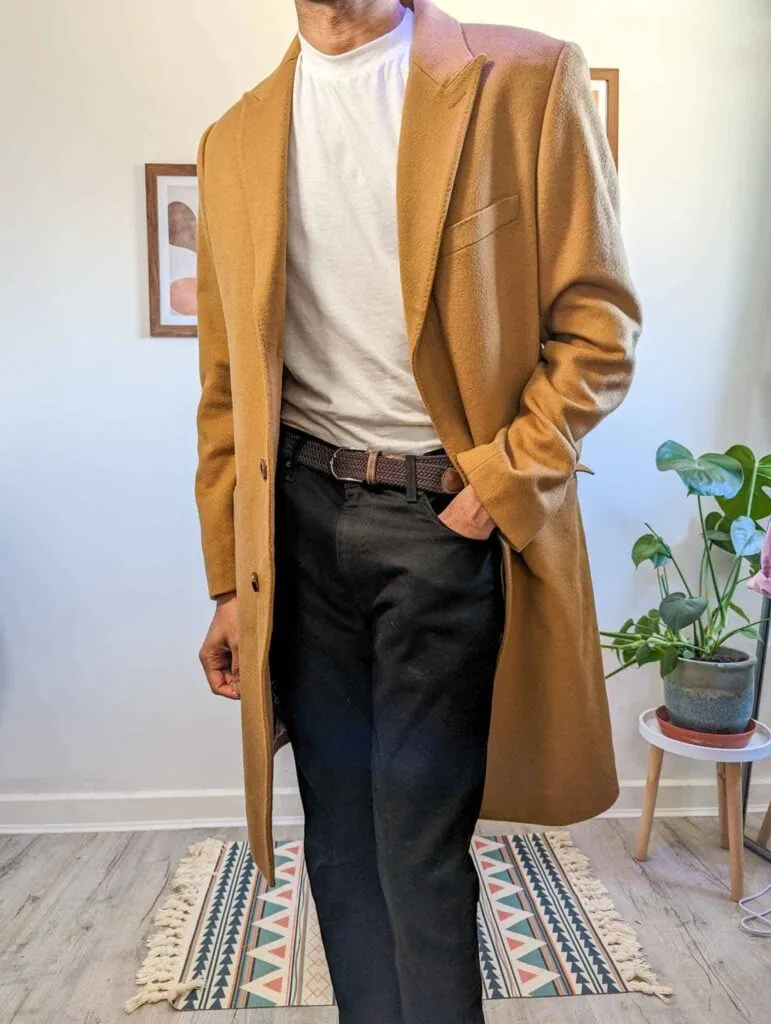 Camel J. Crew Ludlow coat
White t-shirt
Black jeans
The camel coat is this outfit's centerpiece, providing warmth and subtle elegance. I love the J. Crew Ludlow for that reason – it looks way more expensive than it is.
Paired with a simple white t-shirt and black jeans, this outfit creates a classic yet cozy look perfect for a (mild) winter or fall museum date.
If you want to wear it in winter, you may need an additional layer, such as a sweater or fleece.
The camel color pairs well with various colors, so you can add some pops of color to your outfit with a scarf or a hat. Other "warm" colors such as red, orange, or yellow would work well, but sticking to muted shades of those colors does maintain that air of museum-ready sophistication.
Edgy Black Leather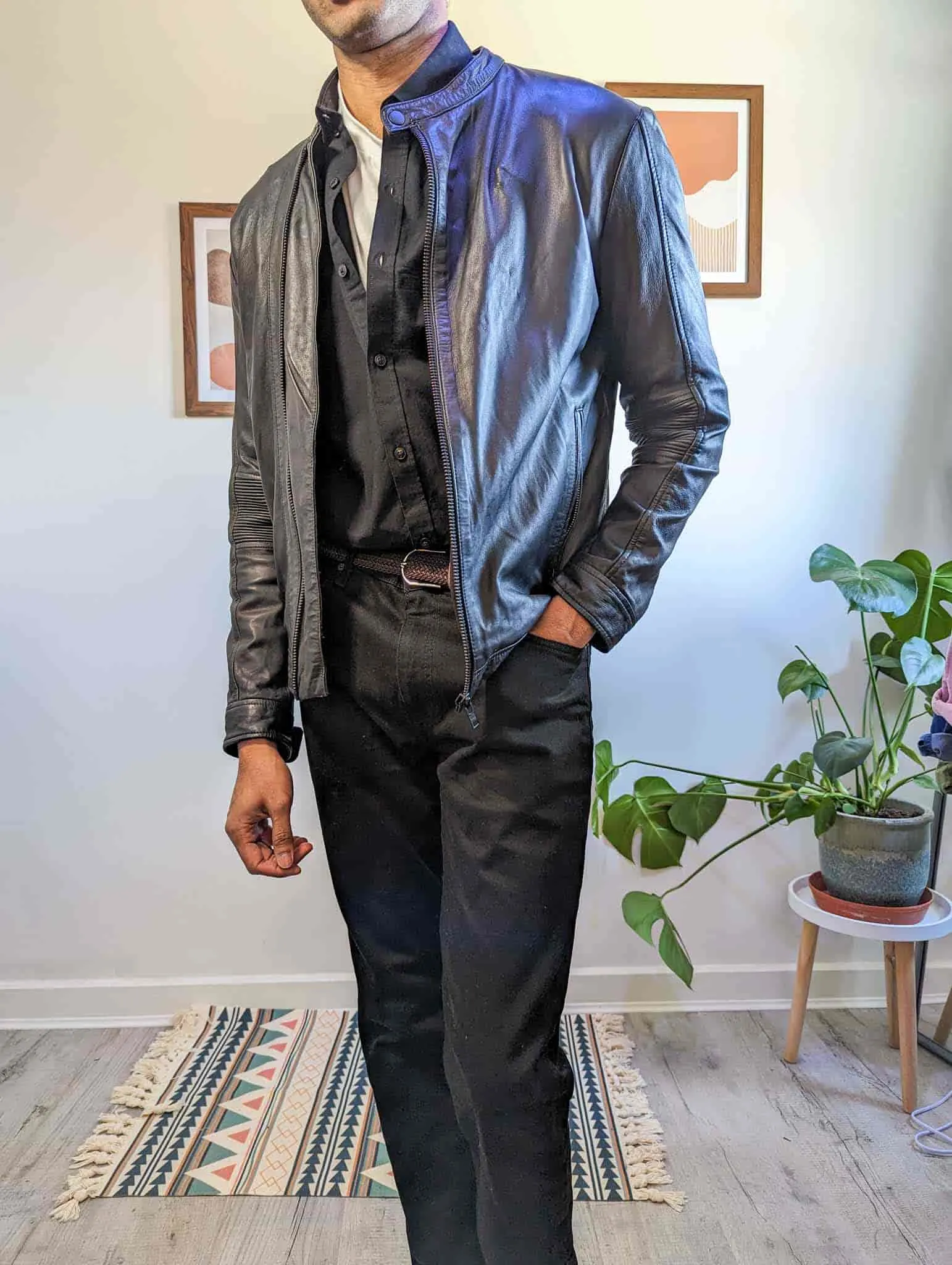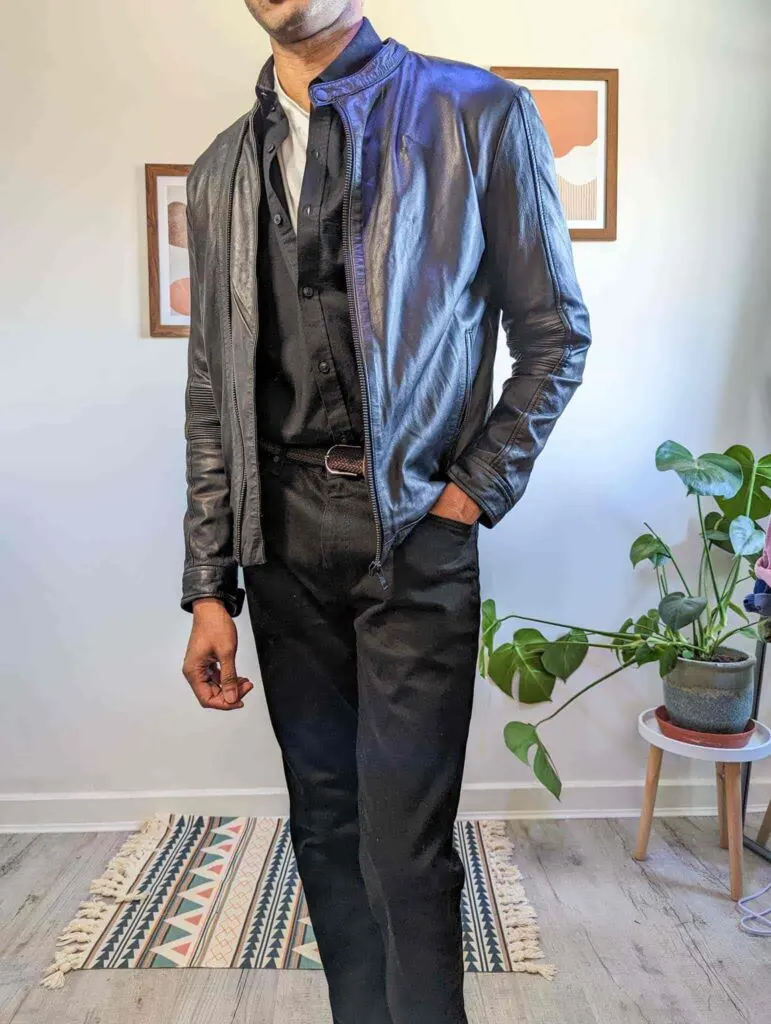 Black leather Selected Homme jacket
Black button-up shirt
Black jeans
An edgy, monochromatic, black-on-black-on-black look.
The black leather jacket is the highlight of the outfit, but it's essential to be cautious. Leather jackets are casual through and through, but it's no secret that some leather jackets look more casual than others.
If possible, avoid heavily distressed and bulky leather jackets when dressing for a museum. Instead, go for something more subtle and sleek, like the one I wear in the photo.
The black shirt and black jeans complete the all-black ensemble. Dark outfits like this do work well for evening museum dates, but to be fair, there's no reason why it can't be worn throughout the day.
Consider a pair of black leather Chelsea boots to lean into the monochromatic aesthetic. Alternatively, consider a pair of brown Chukkas if you want a touch of contrast.
Rustic Red Flannel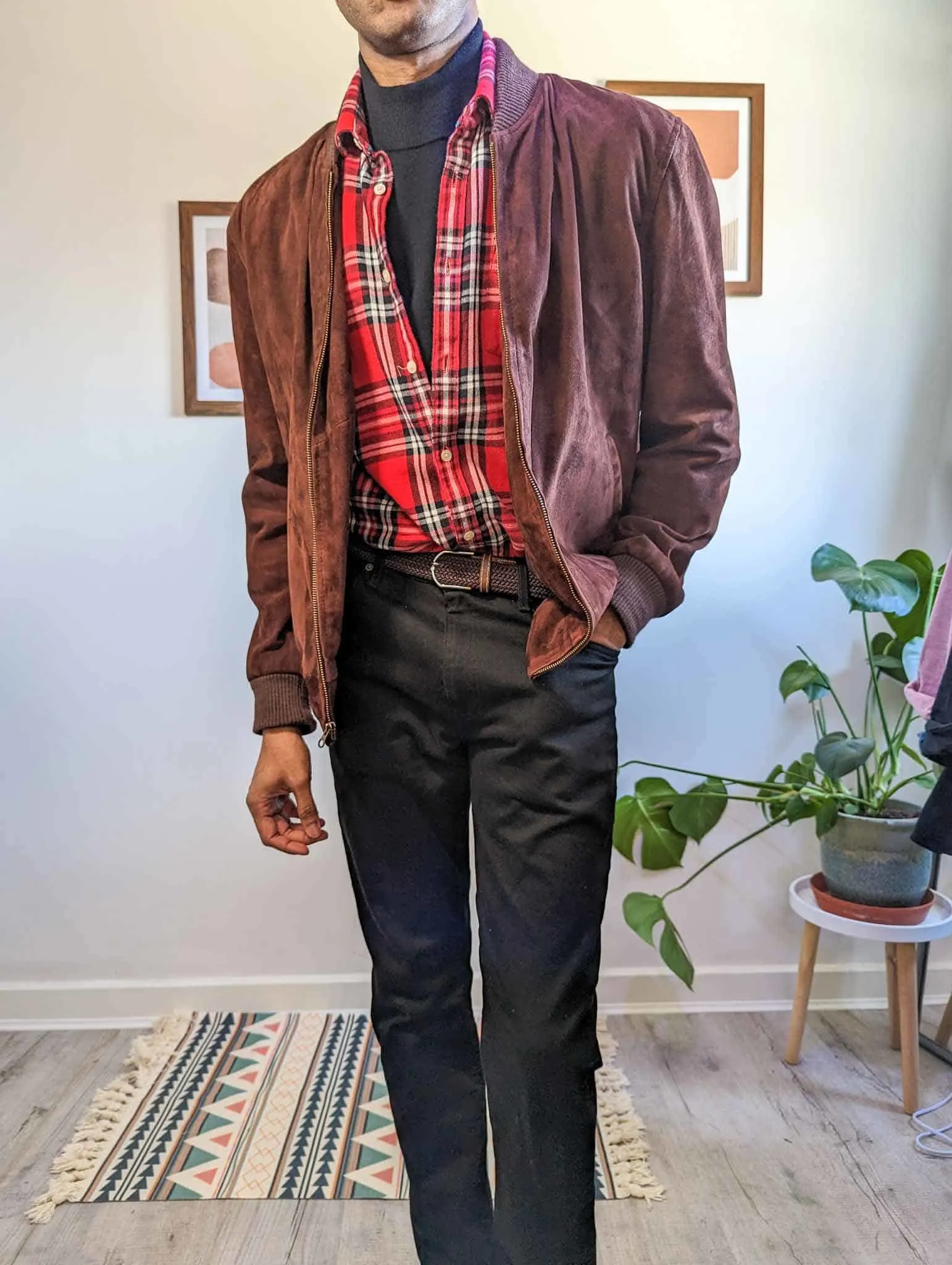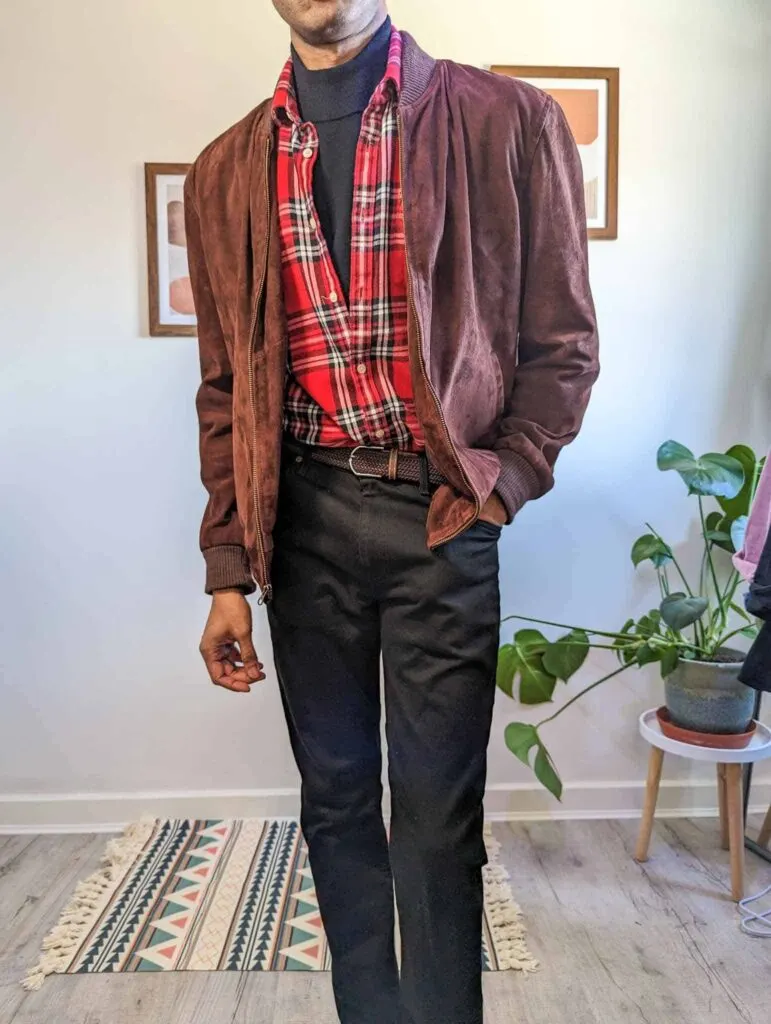 Suede maroon bomber jacket
Black jeans
Black mock neck sweater
Red flannel shirt
This outfit blends textures and colors that create a rustic and outdoorsy look.
I like to call it "smart workwear," although I'm not sure if that's a thing.
The suede jacket adds a luxurious touch to the ensemble. I love the way suede tends to do that.
The bright red flannel adds a serious pop of color, but the black accents stay in sync with the other items (i.e., the jeans and the sweater).
The black jeans and mock neck sweater round things off, making it perfect for a fall/winter museum date.
It's comfortable and casual, but some items – the mock neck and the suede jacket – are dressy enough to elevate and enhance the look.
Green and Grey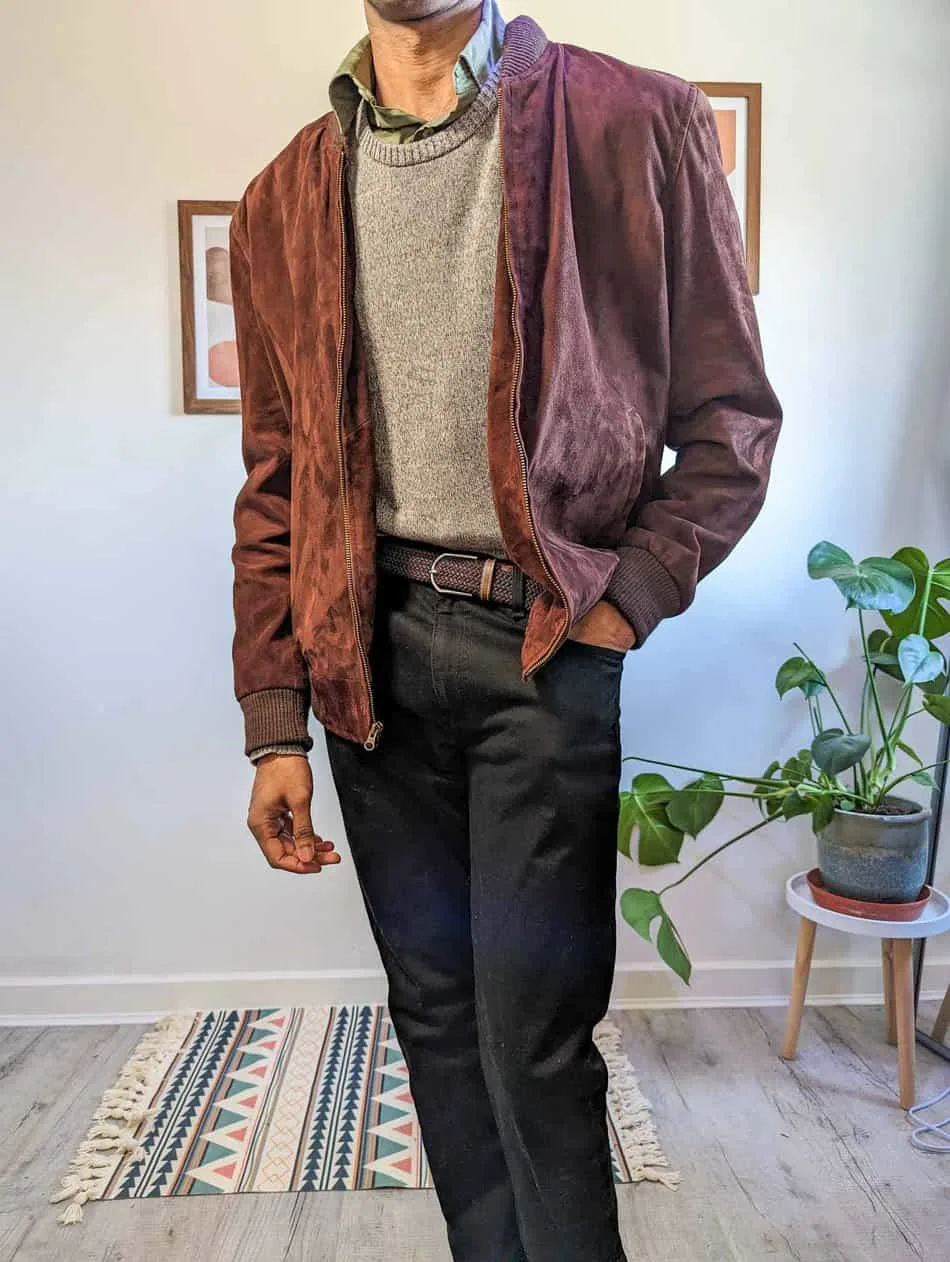 Casual green button-up shirt
Black jeans
Maroon suede jacket
Grey crew neck sweater
I couldn't help but shout out the same suede jacket while showing you the other ways to wear it. It's such a versatile piece.
This outfit is all about mixing colors and textures.
The green shirt is the standout piece, adding that pop of color to the outfit.
The black jeans keep the outfit grounded, while the maroon suede jacket and grey crew neck sweater add layers and texture.
Again, this outfit would be most suitable for a fall museum date. Wearing layers is often a good idea, as the temperatures inside the museum will inevitably be warmer than those outside the museum.
Don't get caught off guard.
Winter-Ready Museum Date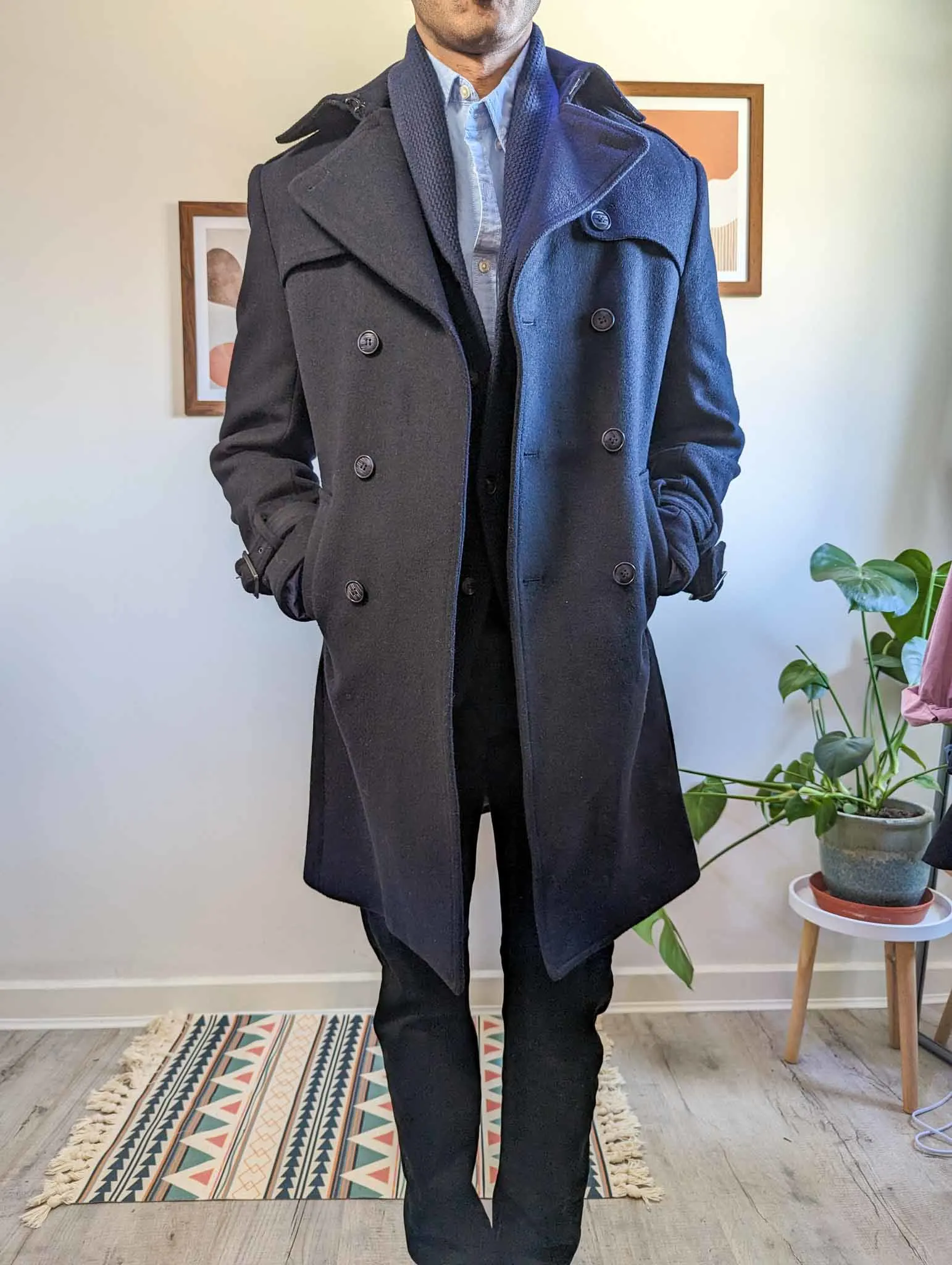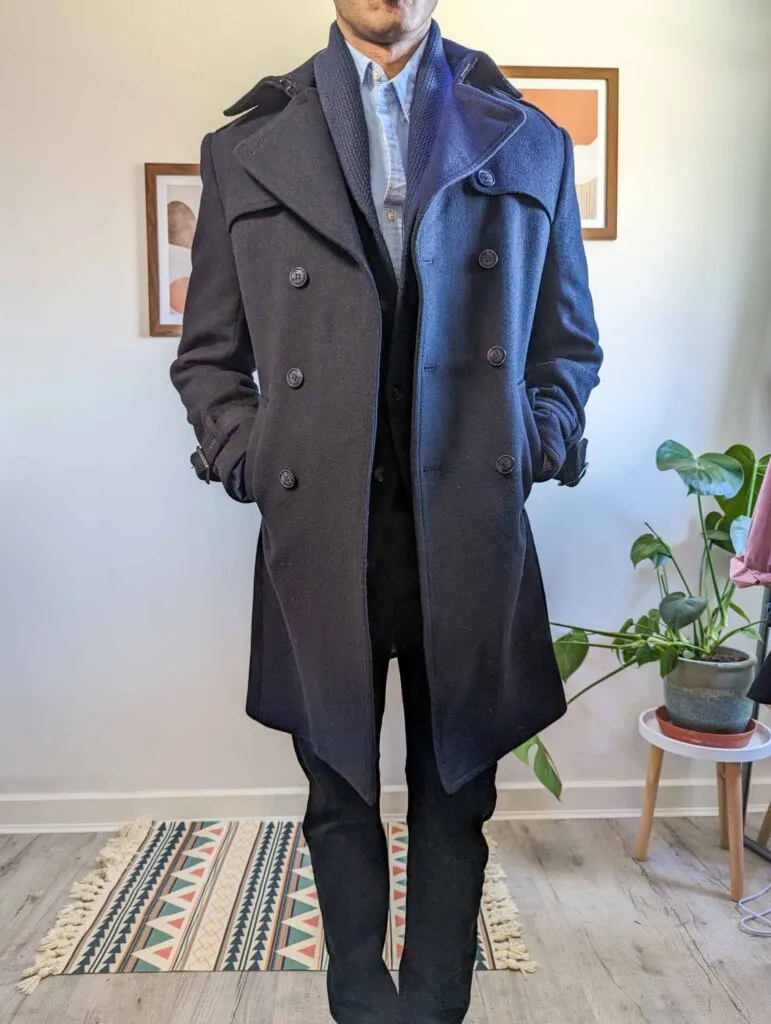 Blue shawl collar cardigan
Casual blue OCBD shirt
Black jeans
Navy wool trench coat
It's hard not to look stylish in a navy shawl collar cardigan, and it's another one of those cheat codes in men's style.
The blue shirt complements the cardigan, forming an effortless monochromatic pairing.
The black jeans work well, syncing appropriately with the dark overall aesthetic. No matter what people may tell you, navy and black pair well together. I haven't found it to be the most straightforward color pairing to pull off, but it works.
The navy wool trench coat completes the outfit, making it perfect for a breezy winter museum date where a walk outside afterward wouldn't fill you with dread.
Stylish, functional, and hard to go wrong with.
Muted Blue Hues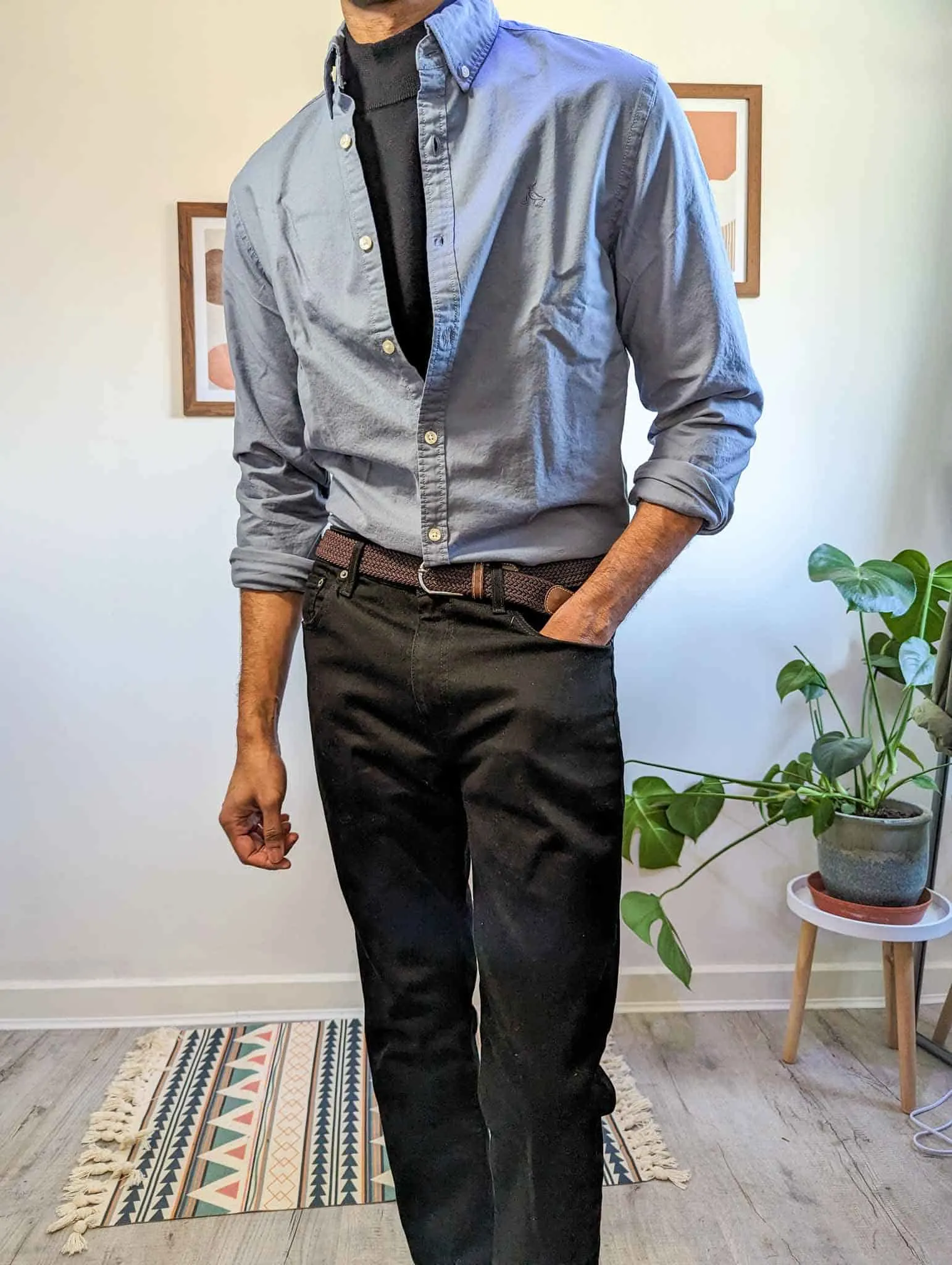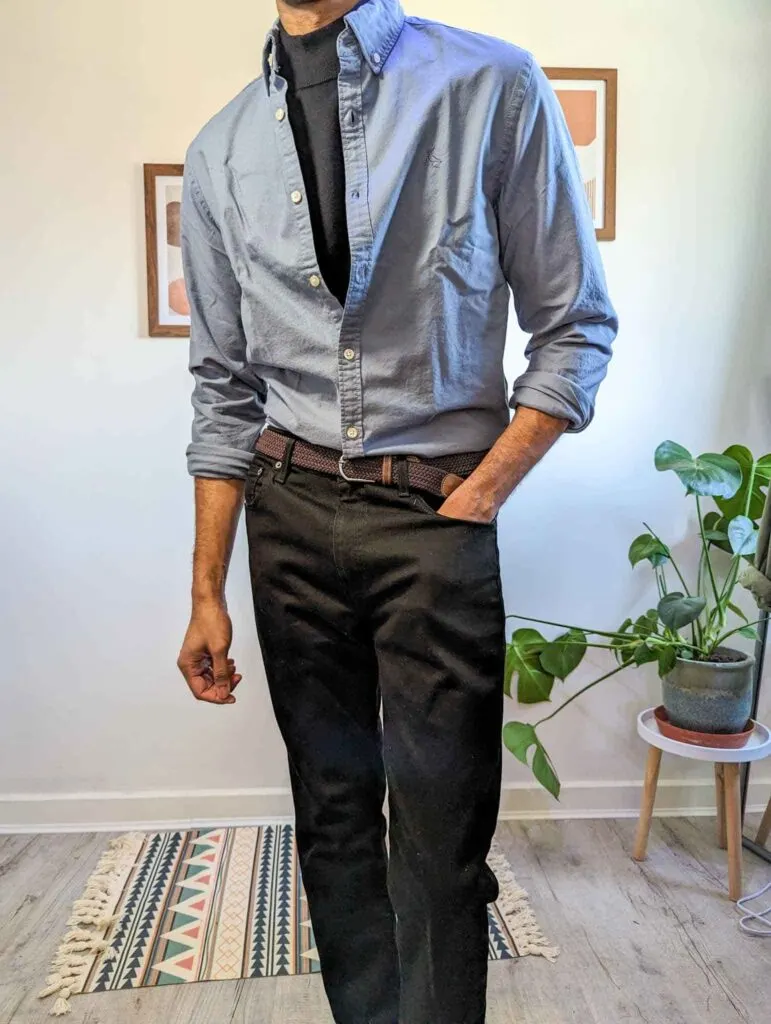 Muted blue utility overshirt
Black mock neck sweater
Black jeans
This one features one of my favorite overshirts, and it can be worn as a standalone piece or layered over a sweater like this.
I've gone for that classic mock neck again (did I mention I'm into the whole capsule wardrobe thing?)
There's not much more to say about this one. Layering your items in exciting ways is a simple way to stand out from a crowd.
Pop an overcoat on top in wintery weather, with cropped jackets such as field, bomber, or denim jackets working well during the milder fall months.
Subtle Smart-Casual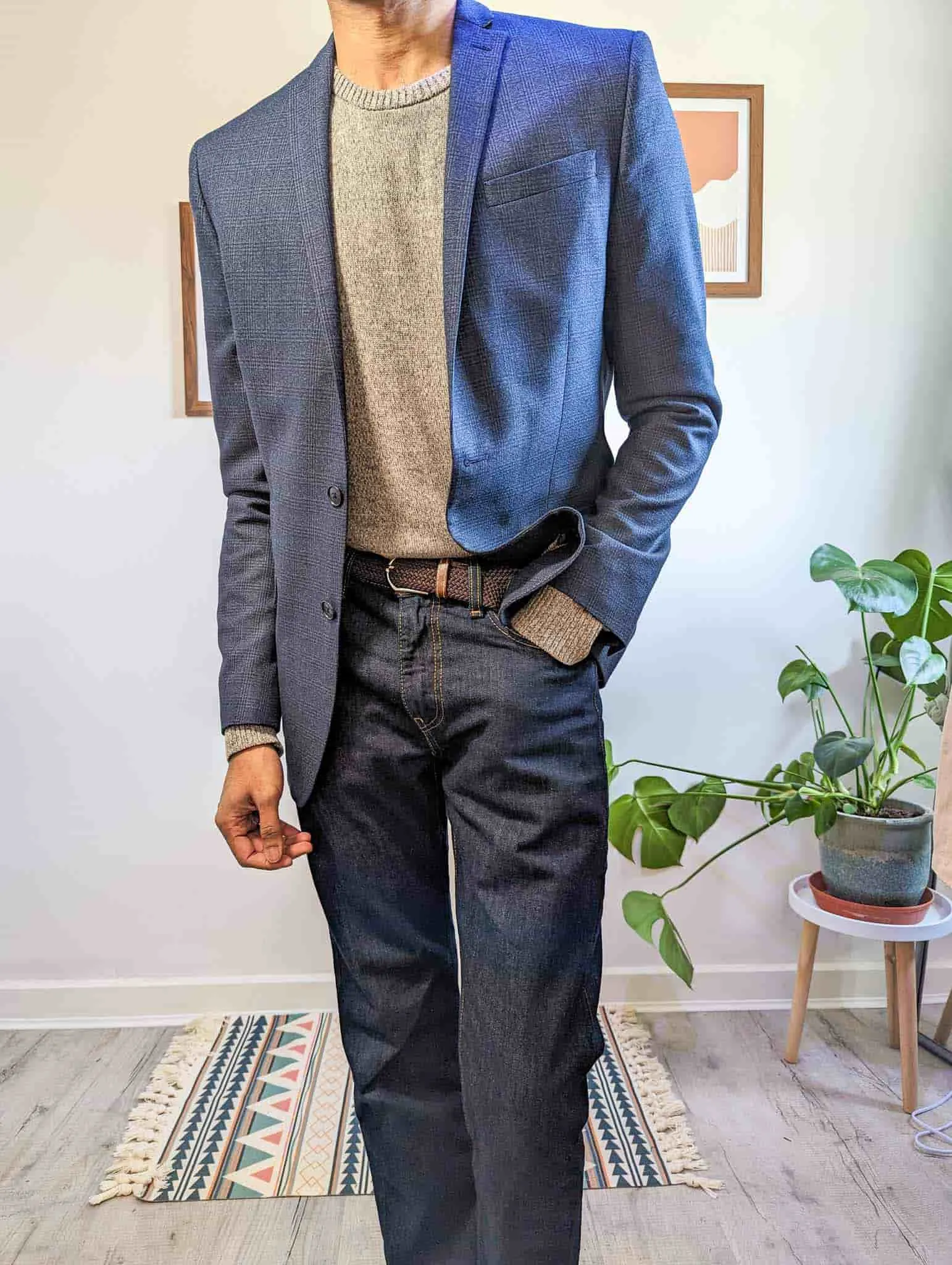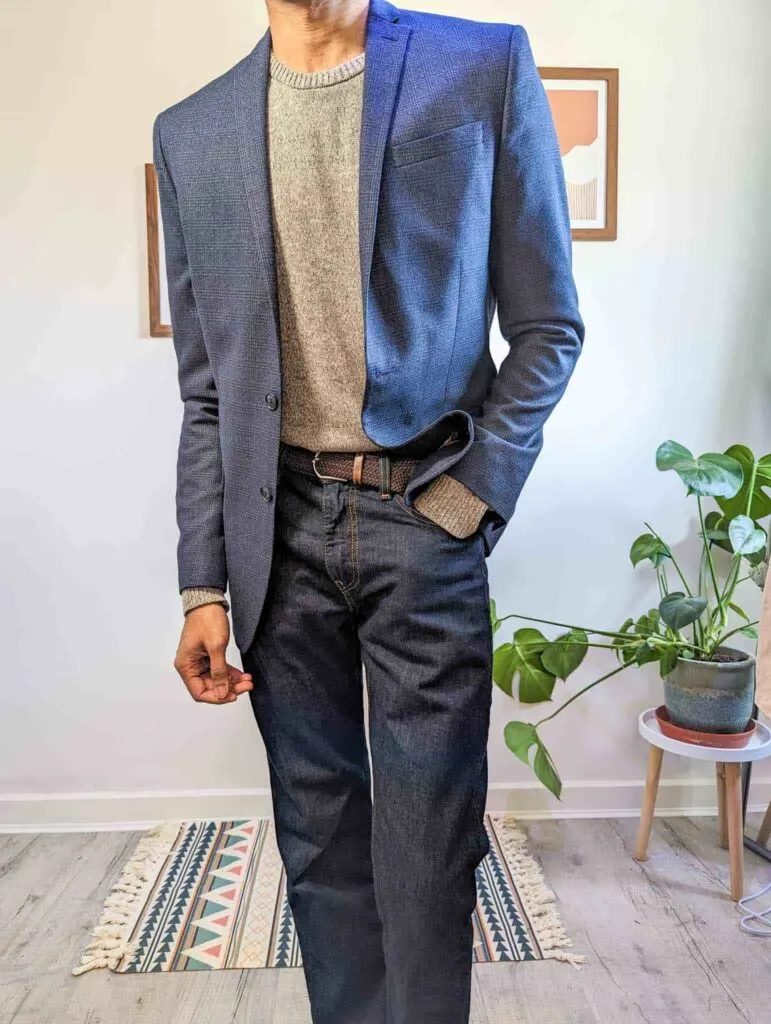 Navy blazer
Dark blue jeans
Grey crew neck sweater
Popping a navy blazer over any casual item is an easy way to elevate its formality by a couple of notches. It's almost too easy.
Navy and grey do pair very well together. It's one of those color combos I like to go to when I don't want to think too hard.
Blue and brown is another one.
Here, the grey crew neck sweater from Cos adds some texture to the outfit. It looks like wool but it's a pretty rugged cotton – it's more noticeable up close.
It oozes that smart-casual aesthetic, making it appropriate for various exhibits and galleries, including the "fancier" ones.
Consider a button-up shirt instead of a sweater if you want to make it look even dressier.
However, to ensure it syncs well with casual jeans, wear a casual button-up (e.g., OCBD, chambray, linen) instead of a dress shirt.
A Little Preppy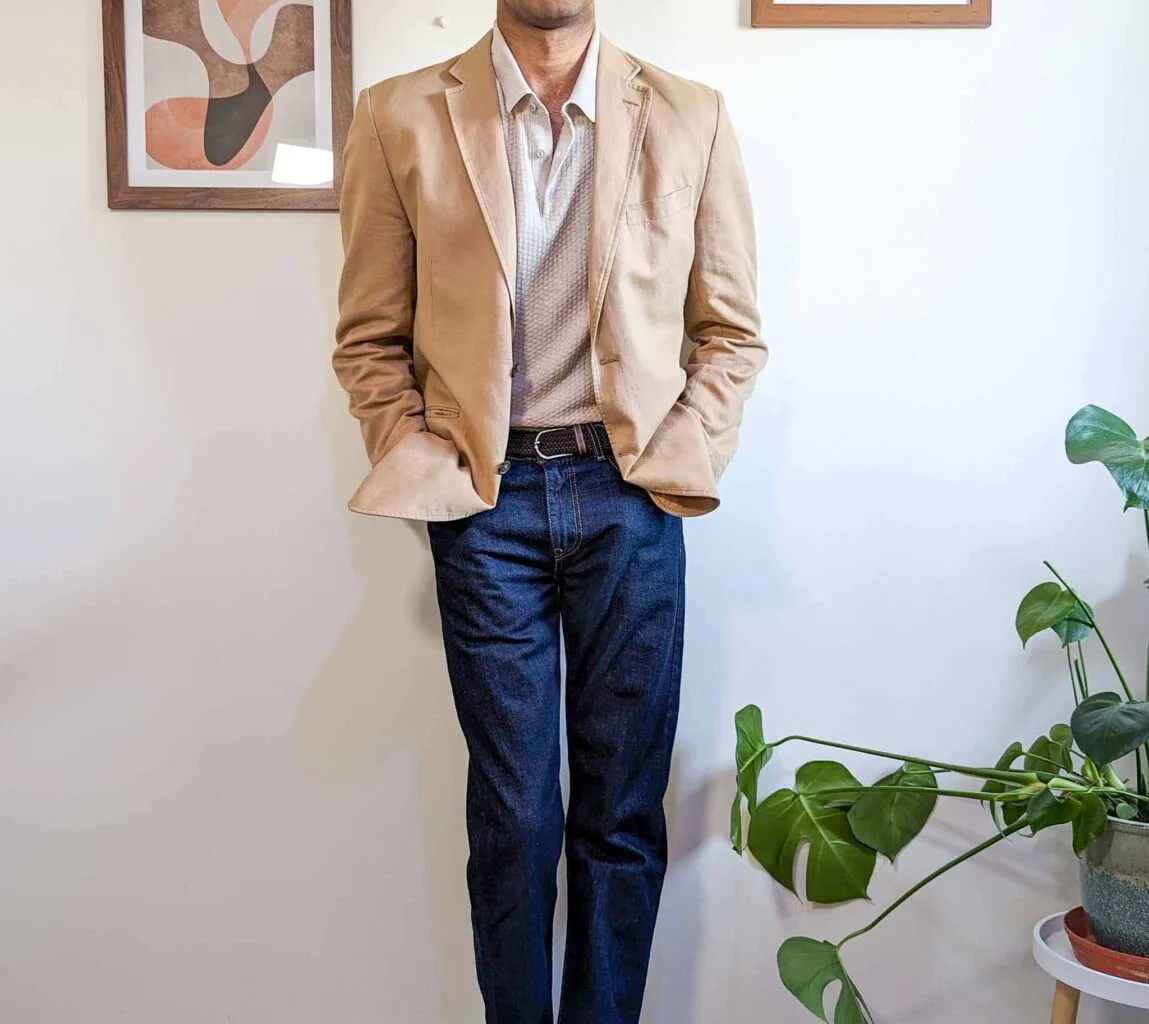 Tan cotton blazer
Beige polo sweater
Dark blue jeans
Warm, inviting, and yeah – a little preppy.
The beige polo sweater complements the blazer – mixing shades of brown with cream tones is another one of those cheat codes I like to fall back on.
You could swap the polo sweater for many other items in similar cream tones for a similar effect. I just love polo sweaters in smart-casual settings.
Consider a shawl neck cardigan, a polo shirt, a button-up shirt, and so on.
Smart Workwear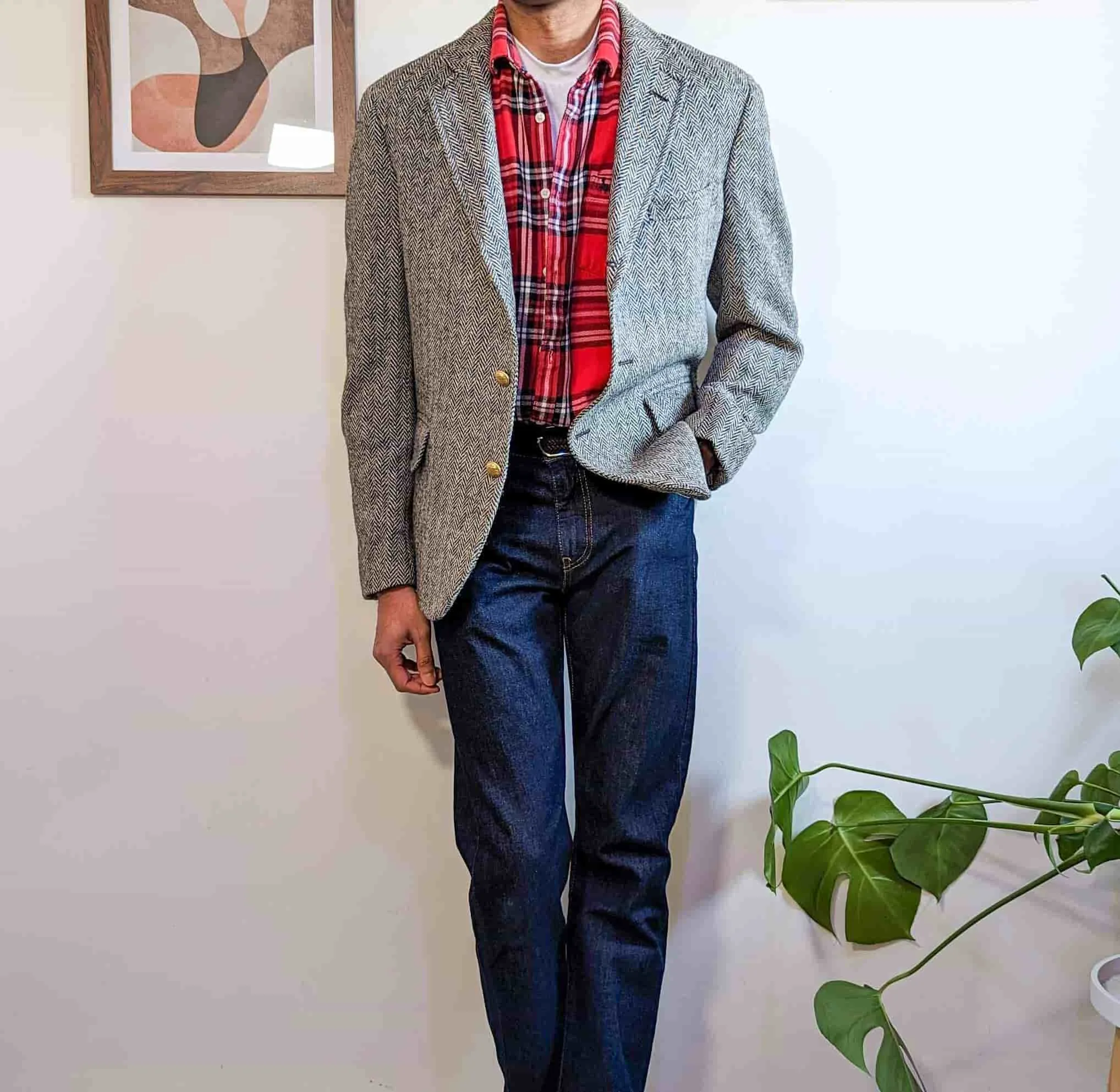 Red flannel
Grey blazer
Dark blue jeans
Yep, another great use of that confusing, probably-made-up term.
But layering a grey tweed blazer over a bold flannel shirt like this often works well.
While the winter/fall-ready tweed blazer falls firmly within smart-casual territory, the flannel dresses things down a whole bunch.
This outfit features a mix of patterns and textures that create a rustic and outdoorsy look.
Tips For Dressing For A Museum Date
When planning a museum date outfit, one of the most challenging aspects can be deciphering the dress code.
Unlike other social events where dress codes are clearly outlined, museums can have a range of dress codes depending on the exhibition or gallery.
To help decode the confusion and ensure that you dress appropriately for your museum date, here are some tips to keep in mind:
Check the museum's website: Before your visit, check the museum's website for any dress code requirements or recommendations. Some museums may have specific dress codes for certain exhibits or galleries, so checking in advance is always a good idea.
Consider the exhibit or gallery: If you need clarification on the dress code, consider the type of exhibit or gallery you'll visit. Consider a relaxed and "trendy" outfit if you're visiting a contemporary art exhibit. Consider a more classic and smart-casual outfit if you're visiting a more high-end, cultural, and all-around fancier museum.
Dress for comfort: Museums can involve a lot of walking and standing, so it's important to dress comfortably. Go for shoes that are comfortable and easy to walk in, and avoid outfits that are too tight or restrictive.
Pay attention to the weather: The weather can also play a role in your museum date outfit. If you're visiting a museum in the summer, you may want to go for lighter fabrics and colors, such as linen and lightweight cotton. In the winter, you'll want to dress in layers to stay warm. Rugged fabrics/weaves like wool and tweed would also be more appropriate here.
Stick to basic principles and enjoy the exhibits without worrying about what you've got on.
What Not To Wear To A Museum Date
When it comes to dressing for a museum date, it's not just about what you should wear but also what you should avoid. To help you avoid any fashion faux pas, here are some things you should not wear to a museum date:
Anything unnecessarily revealing: Stylish but appropriate is the name of the game when it comes to museum date attire. Avoid wearing revealing clothing that may make you uncomfortable or distract your date from the exhibit.
Athletic wear: It's best to avoid athleisure altogether, as you'll almost always appear underdressed. This includes gym clothes, sweatpants, and running shorts.
Ripped or torn clothing: While ripped or torn clothing may dip in and out of style, it's best to avoid them when visiting a museum. It could be distracting for your date and other museum attendees.
Heavy cologne: This is more of a generic date tip, but heavy scents can be distracting when you're up close with someone and trying to focus on an exhibit.
In-your-face jewelry or accessories: Again, it's all about keeping things subtle and not distracting. Nothing too chunky or bold – keep things minimalist and sleek.
Ready Sleek founder. Obsessed with casual style and the minimalist approach to building a highly functional wardrobe. Also a fan of classic, vintage hairstyles.