A pink shirt is warm, vivid, and vibrant. However, coordinating it with other items needs to be done with care. The question is, can you really wear a pink shirt with jeans?
A pink shirt can be worn with jeans in casual and smart-casual settings. In dressier smart-casual environments, consider a slim-fitting pink shirt and combine it with a tapered pair of black or dark blue jeans. In truly casual settings, unbuttoned pink shirts layered over T-shirts can work well.
While that answer will serve you well, you'll likely need more.
After going through a few examples of outfits you can try out, we'll go through some essential tips for getting it right every time.
Let's get to it.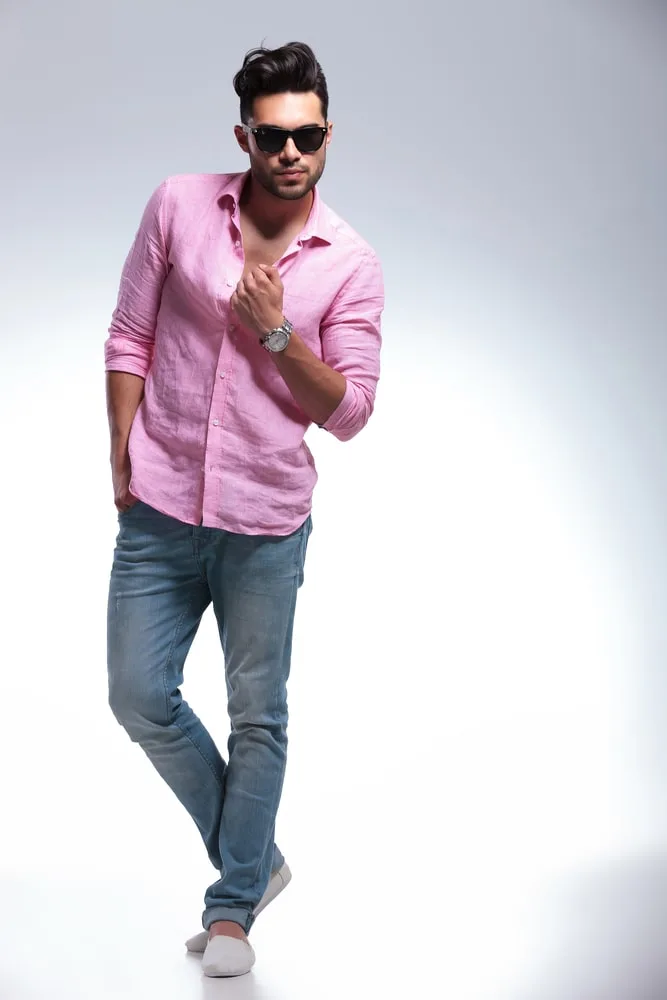 3 Pink Shirt And Jeans Outfits To Try
Here are some great combinations you can use as inspiration. We're going from the dressiest way of wearing it to the most casual one.
Dressy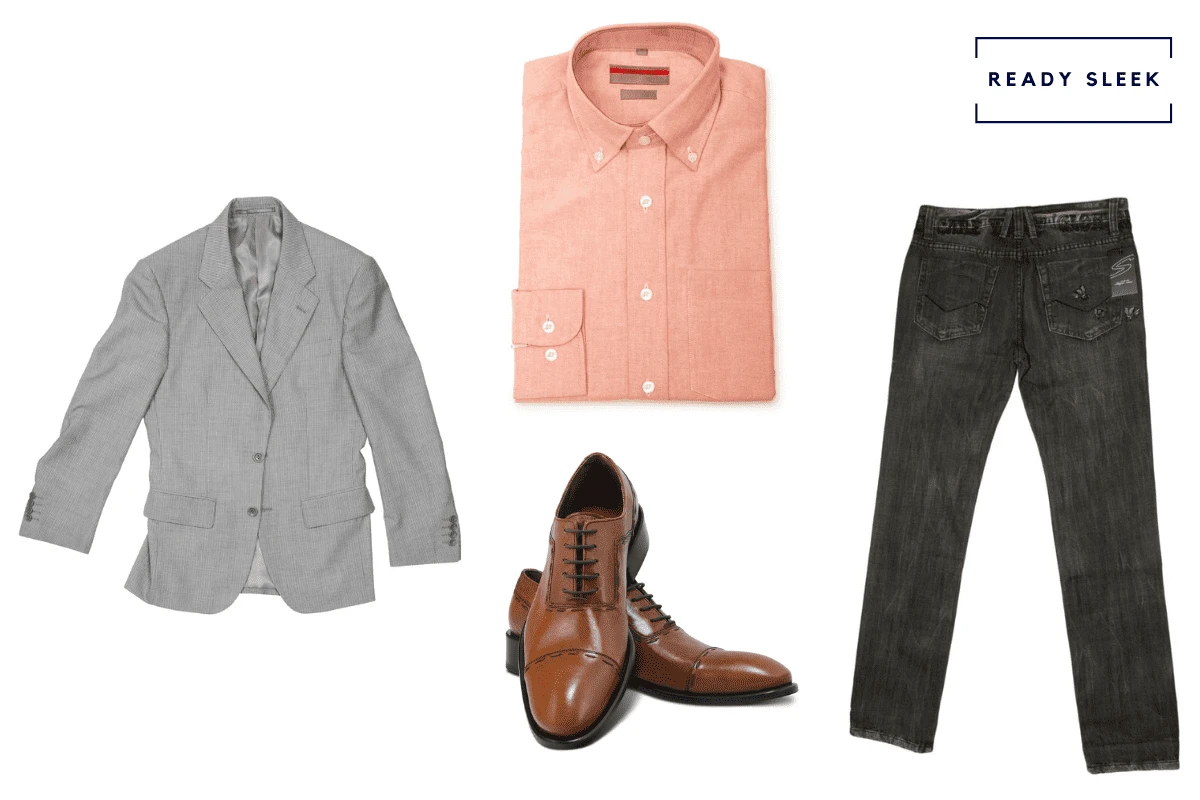 Items: Buttoned Pink Shirt (Tucked), Black Jeans, Light Grey Blazer, Tan Brown Derby Shoes
Here, we've gone for a tucked button-up pink shirt. A "smart-casual" fabric such as broadcloth or poplin would work well here.
They aren't quite as formal as traditional dress shirts and wouldn't look as out of place with a pair of jeans.
We've chosen black jeans here, simply because darker-colored jeans tend to look sharper and smarter than lighter alternatives.
A relaxed, unstructured blazer would be a simple way to add a touch of sophistication to an otherwise simple outfit.
Light grey is a good option because it's neutral enough to pair with any color – pink is no exception.
Finally, finish up with a pair of dress shoes.
While you could go for black leather, brown shoes would add a touch of contrast and the more casual nature of brown would sync better with jeans.
More Casual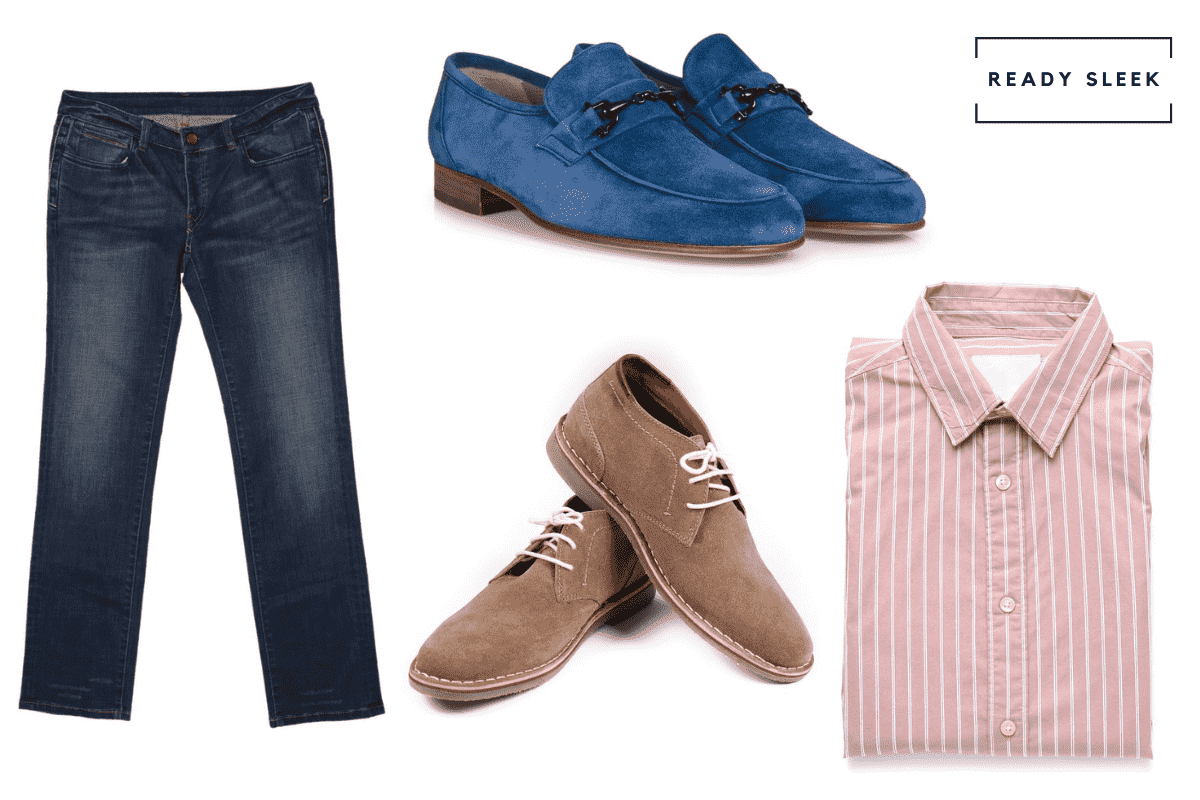 Items: Pink Shirt (Buttoned, Untucked), Blue Jeans, Suede Loafers Or Chukka Boots
Leaving the shirt untucked will immediately make the outfit appear more laid back and casual.
It's important to choose a shirt that's suitable for untucking, however. A long and rounded hem will look awkward and make it clear that the shirt was meant for tucking.
Consider a more casual shirt fabric such as Oxford cloth or linen. They're more rugged and generally wrinklier.
Instead of black jeans, we've gone for blue here – notice how they look more casual, rough, and ready.
But if you don't want to go too casual, it would still be worth going for a slim and tapered fit as opposed to wider and baggier cuts.
Round things up with a pair of suede shoes or boots.
They epitomize the smart-casual aesthetic.
Most Casual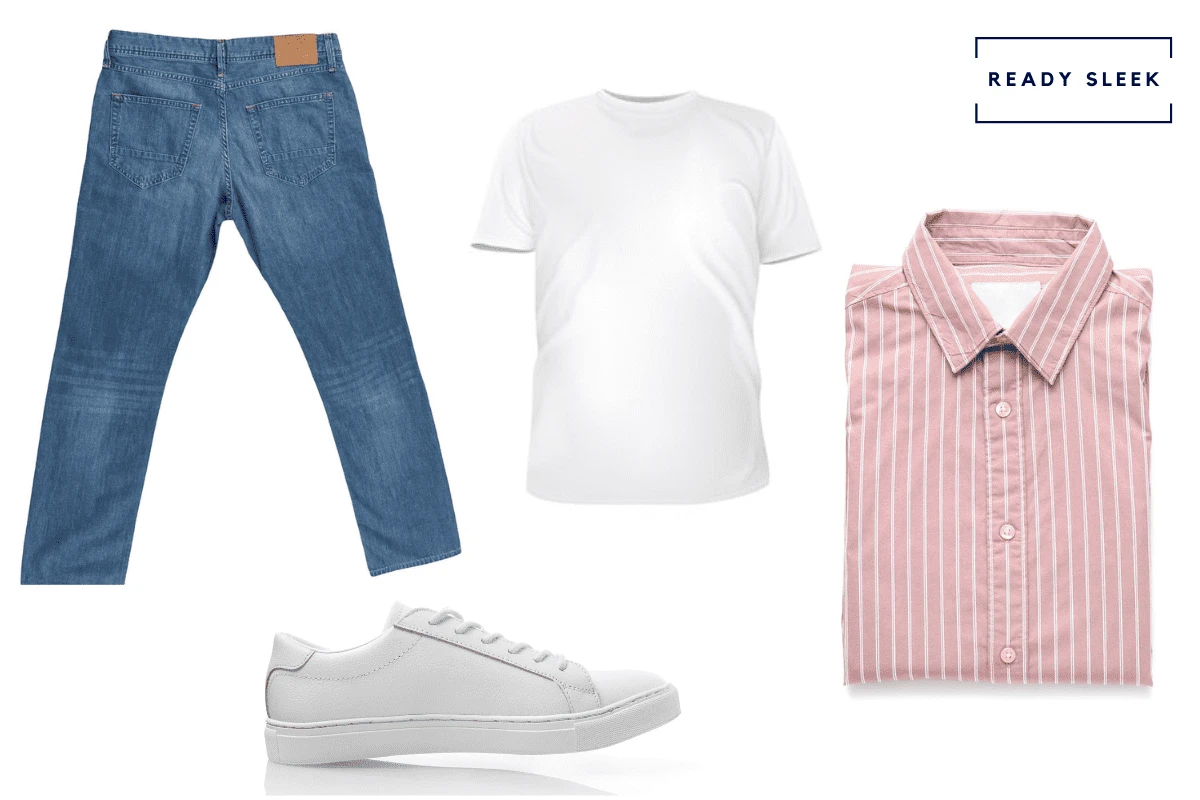 Items: Pink Shirt (Unbuttoned), Layered Over A White T-Shirt, Blue Jeans, All-White Leather Low-Tops
Leaving the pink shirt unbuttoned and layering it over a simple white tee can produce a great casual aesthetic.
We're dressing down a lot more here.
While you could go for a more colorful T-shirt, it's generally best to keep it neutral considering how vibrant pink already is.
Jeans in lighter colors generally look more casual, as you can see from the picture above.
Finish up with a pair of all-white leather low-top sneakers. Consider going sockless (or with no-show socks) and cuffing the hem of the jeans once or twice to really embrace the casual aesthetic.
5 Tips For Wearing A Pink Shirt With Jeans
Here are some great tips for making it work no matter where you're going.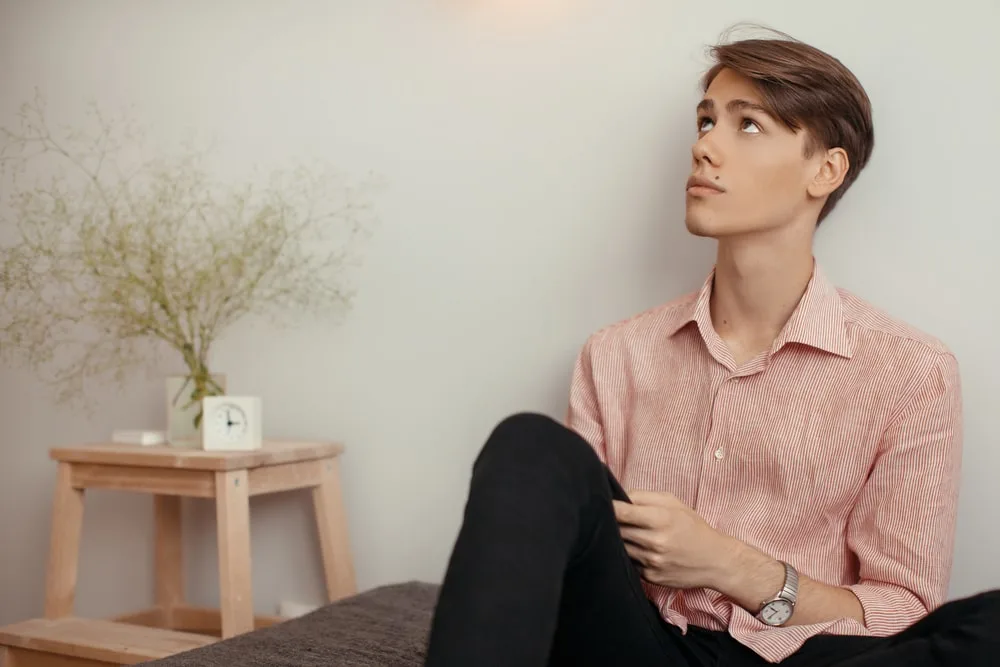 Casual And Smart-Casual Settings Only
No matter how dressy a pink shirt may look, it should never be worn with jeans in professional or formal settings.
Any jeans outfit would only be suitable in casual and smart-casual settings – this one is no exception.
Trying to wear it in formal, business professional, or even business-casual environments would usually end pretty badly.
As mentioned earlier, there are definitely ways of making this outfit appear dressier and less casual.
No matter how sharp you make it look, it won't ever be suitable for anything more formal than smart-casual.
Consider The Style Of Your Pink Shirt
The same pink shirt can look quite dressy or quite casual depending on whether it's tucked in or not.
In much the same way, a slim-fitting button-up pink shirt will generally look dressier than a more relaxed or oversized one.
So, if you were looking to dress the combination up, consider the fit of the shirt. A more tapered silhouette will usually look more formal.
If you want to dress down, consider a baggier or more relaxed fit.
This is especially important if you were planning on layering the shirt over a T-shirt as we did in the last outfit example above.
The fabric plays a huge role when it comes to the dressiness of the shirt. In general, the more rugged, rough, and wrinkly a fabric is, the more casual it'll look.
As jeans are pretty casual, you want to make sure the shirt fabric you choose doesn't look too dressy. Dress shirts typically have more of a sheen to them and are usually more wrinkle-resistant.
To keep things simple, if a pink shirt looks as though it would be more appropriate to wear with a suit, there's a good chance it's too formal to wear with jeans.
More appropriate fabrics would include broadcloth, poplin, Oxford cloth, or linen.
Consider The Color Of Your Jeans
When you're looking to dress up a pink shirt and jeans combination, consider going for a pair of black, dark blue, or dark grey jeans.
They'll generally look dressier than lighter colors such as light blue or light grey.
It sounds too simple but it does make a difference.
| | |
| --- | --- |
| Pink Shirt With Blue Jeans | Casual |
| Pink Shirt With Black Jeans | Smart-Casual |
| Pink Shirt With Grey Jeans | Casual If Light Grey, Smart-Casual If Dark Grey |
| Pink Shirt With Dark Blue Jeans | Smart-Casual |
| Pink Shirt With White Jeans | Casual |
But it isn't just the color you should bear in mind.
Slim-fit jeans will usually look dressier than wide-leg, straight-leg, and bootcut fits. This is because they produce a more tapered silhouette.
In addition, distressed jeans with features such as frays, rips, tears, acid-washing, and stone-washing will always make a pair of jeans more casual.
If you want a smarter pair of jeans to wear with your pink shirt, choose jeans with minimal distressing.
Dress It Up Or Dress It Down
The pink shirt and jeans outfit can be dressed up or dressed down depending on how you choose to wear the items.
Tucking the pink shirt into the jeans will make the entire outfit look dressier. Leaving it untucked would lead to a more casual aesthetic.
Leaving the pink shirt unbuttoned and layering it over a pink shirt would also look more casual.
Rolling up the sleeves of the pink shirt would make the outfit look more laid-back and casual, as would cuffing the hem of the jeans.
So, while factors like the fit and the fabric are important, the way in which you wear them will influence how dressy or casual the outfit looks.
Footwear Choice Is Crucial
Choose your shoes based on how dressy or casual the look you're going for is. Ultimately, you've got plenty of choices when wearing a pink shirt with jeans.
When going for a more casual aesthetic, consider a pair of sneakers.
While you could go for an athletic-looking pair of bulky canvas sneakers, they can sometimes be too loud, especially when wearing a vivid and vibrant pink shirt.
Instead, consider a more neutral color and a more minimalist aesthetic. So, consider a pair of all-white leather low-top sneakers.
They're versatile and will go with practically any outfit you can think of.
Going up a notch in formality, you could consider a pair of suede shoes or boots.
Suede looks great when worn with denim, regardless of the style of dress shoe or boot you've gone for.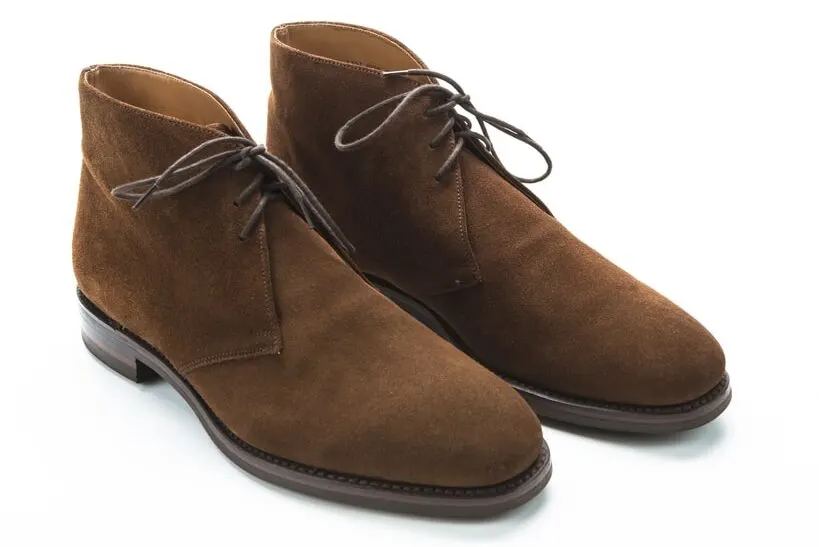 Suede Derby shoes, monk straps, loafers, chukka boots, and Chelsea boots would all be fantastic options.
If you really wanted to dress up your ensemble a notch further, consider a pair of dress shoes made from a shinier grain of leather.
Conclusion
As you've now seen, a pink shirt and jeans pairing can be made to look dressier or more casual depending on the fit, the fabric, and the other items you're wearing.
Enjoy.
Ready Sleek founder. Obsessed with casual style and the minimalist approach to building a highly functional wardrobe. Also a fan of classic, vintage hairstyles.