It's a color combination that's usually tough to go wrong with, but it isn't always easy. The question is, can you wear a navy blazer with black jeans?
A navy blazer can easily be worn with black jeans, but only in casual or smart-casual settings. Make sure the black jeans are slim-fit with minimal distressing to avoid the risk of a formality mismatch with the navy blazer.
That's the gist, but it's probably not enough.
After going through a few great examples of outfits using this combination, we'll run through some essential tips for wearing it the right way.
Let's get to it.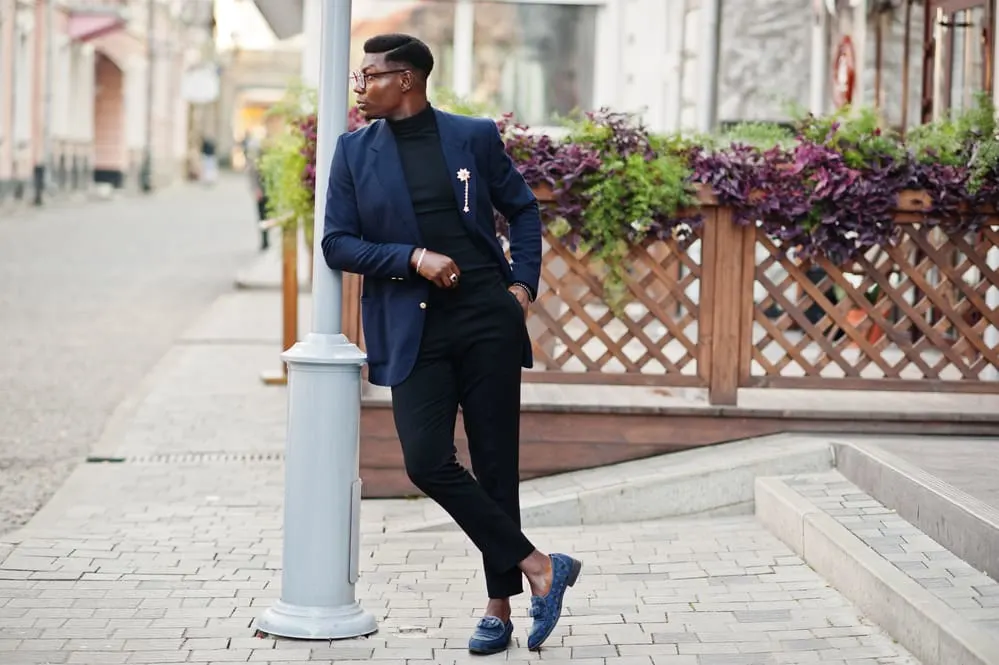 3 Navy Blazer And Black Jeans Outfits
As you can see, there are dressy ways of wearing this combo, as well as more casual ways.
Dressy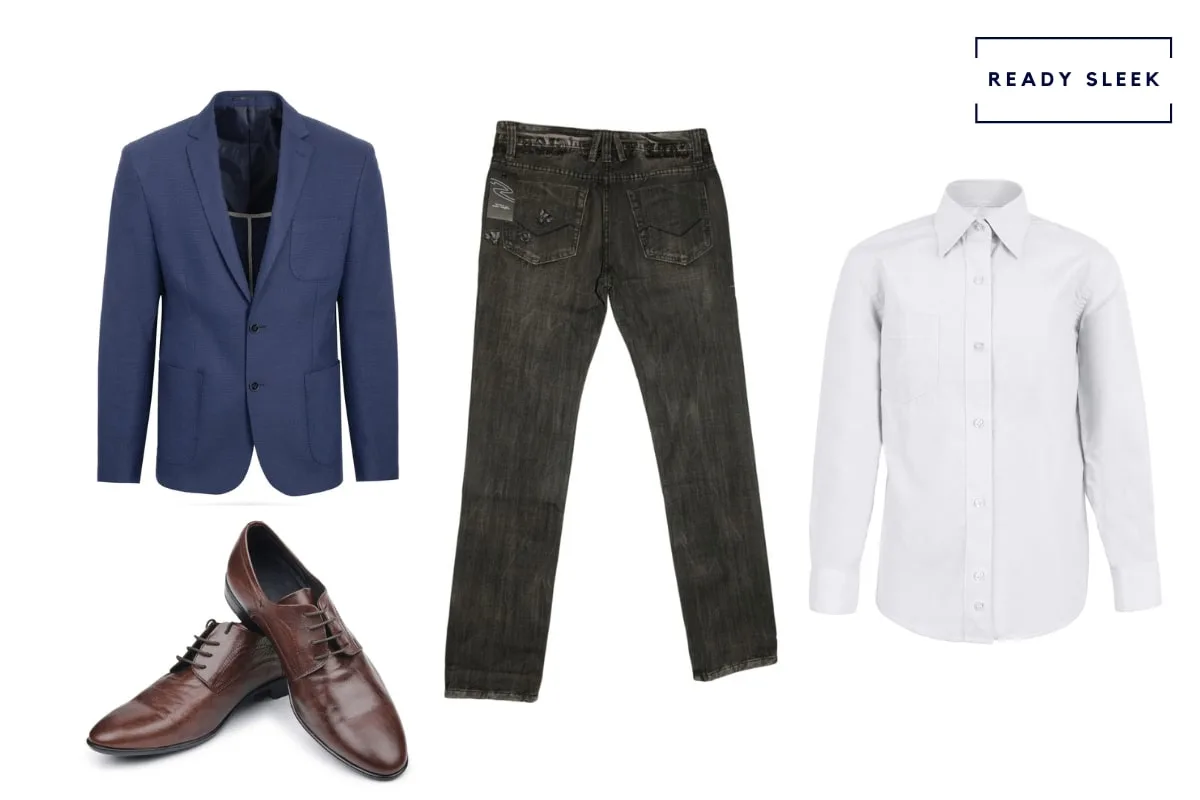 Items: Navy Blazer, Black Jeans, White Dress Shirt, Dark Brown Derby Shoes, White Or Light Grey Pocket Square
While the black jeans should only ever be considered casual, it's definitely possible to wear this combo in a dressy and effortlessly smart-casual manner.
Consider combining it with a white dress shirt. It doesn't need to be 100% cotton. Broadcloth and poplin are great options too. They're dressy, but still comfortable and look great worn with jeans.
Consider a pair of dark brown dress shoes.
While you could go for black dress shoes, dark brown tends to look better when wearing denim.
Derby shoes are a great option, simply because they epitomize the smart-casual aesthetic. They're comfortable and dressy, but not as uptight as a pair of Oxfords.
When wearing jeans of any color, Derbys would make more sense.
While it may be tempting to wear a necktie, try to avoid it.
No matter how dressy the pair of black jeans you're wearing is, there's a good chance a necktie would look awkward with them. It would simply look too formal.
Instead, leave a button or two undone and embrace the smart-casual vibe.
More Casual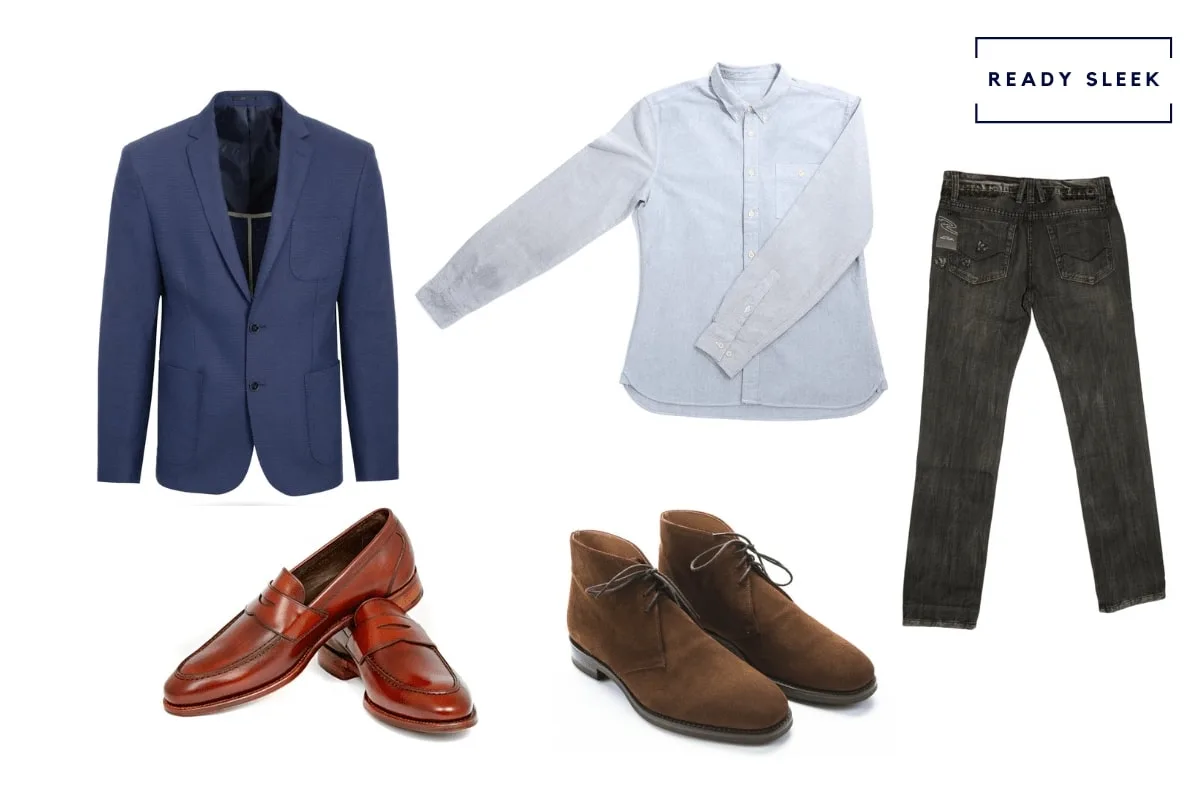 Items: Navy Blazer, Black Jeans, Blue OCBD Shirt, Brown Penny Loafers
It's pretty incredible just how versatile this combination is. You can change the vibe so quickly, simply by adding different items into the mix.
Instead of a dress shirt, consider a more casual fabric such as Oxford cloth (i.e OCBD), linen, or chambray.
In colder weather, a turtleneck sweater can be a great alternative to a shirt.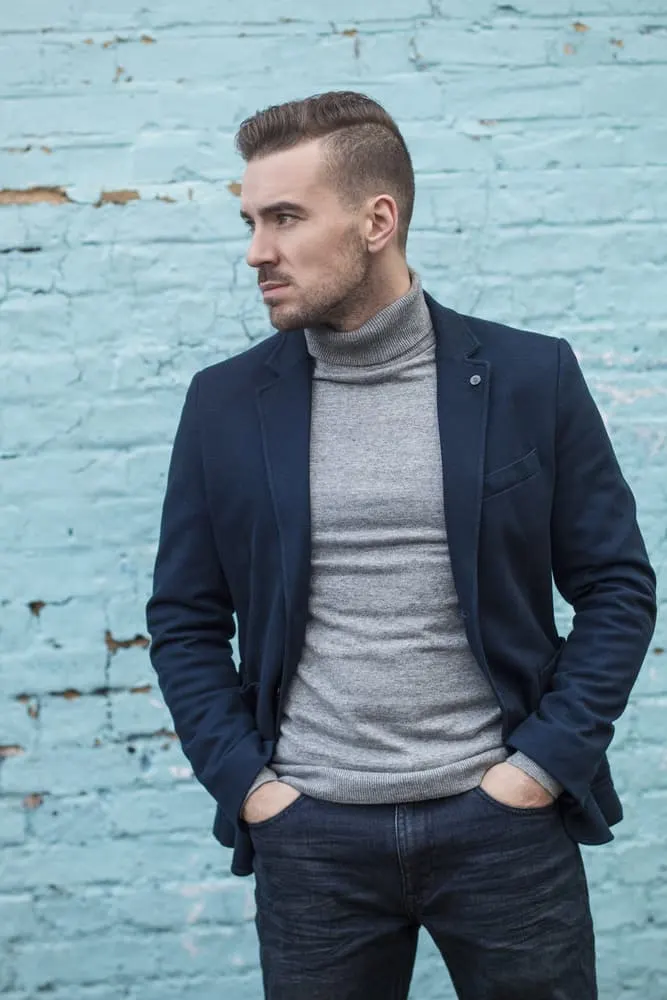 Instead of Derby shoes, consider a more casual pair of dress shoes such as loafers.
Black jeans look great with loafers, simply because they both fall firmly within the realm of smart-casual.
You could go for bit (Gucci) loafers, penny loafers, or tassel loafers. It really doesn't matter – it'll all work.
During the winter/fall months, consider a pair of Chelsea or chukka boots as a very effective alternative. Again, they're smart-casual. Dressy, but not that dressy.
Most Casual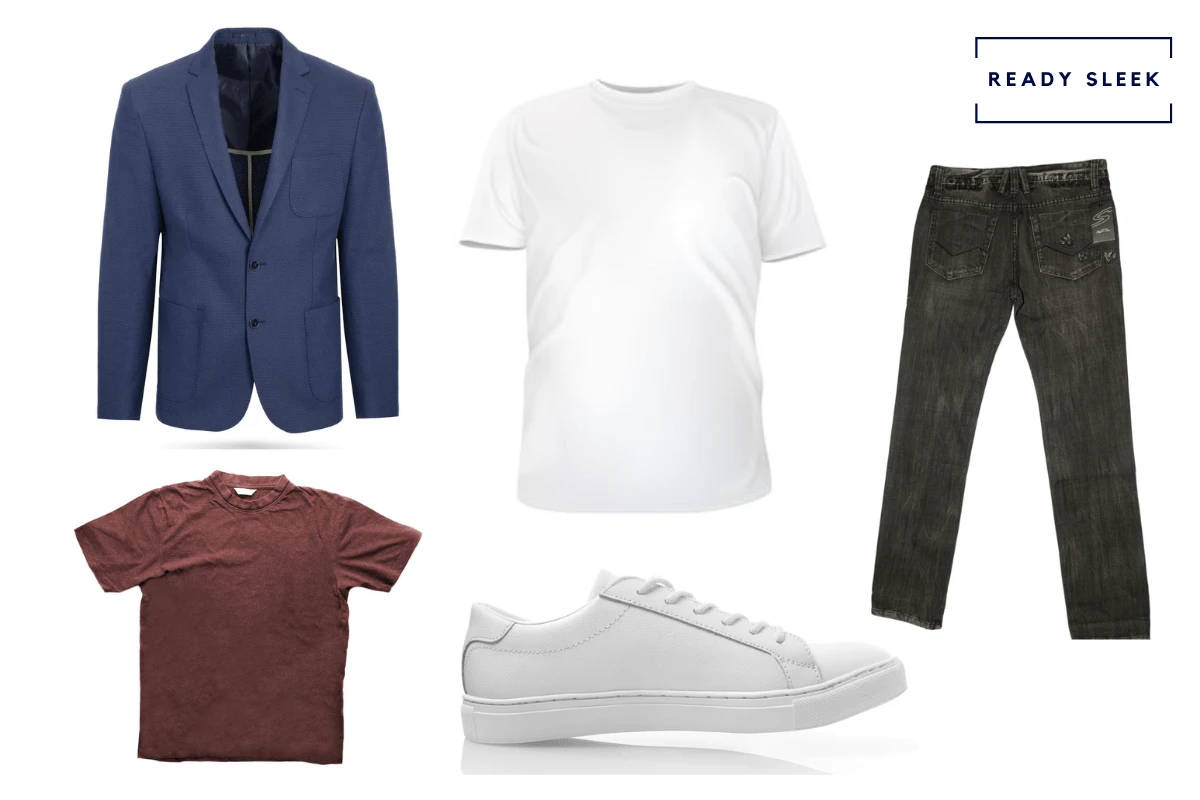 Items: Navy Blazer, Black Jeans, T-Shirt Or Henley, White Sneakers
Here, you're really dressing down your navy blazer and black jeans combination by going for a T-shirt.
T-shirts look great under blazers, as long as the setting you're dressing for is casual enough for it.
The T-shirt color you choose is really up to you. Ultimately, if the event is casual enough to allow for a T-shirt, there's a good chance you could also add some pops and splashes of color.
For example, consider a maroon, pink, or light blue T-shirt under your blazer.
If you wanted something a little dressier than a T-shirt but didn't want to go for a button-up, consider a Henley.
White sneakers would be a great way to round off this casual outfit in a stylish, yet subtle way.
5 Tips For Wearing Navy Blazers With Black Jeans
Here are some great tips for pulling off this combo in style.
It's Always Casual
No matter how dressy the navy blazer may be, a jeans combination of any sort should never be worn in formal, business-professional, or business-casual settings.
Some may argue that a blazer and jeans combo is acceptable in business-casual settings. Unfortunately, this couldn't be further from the truth.
A pair of chinos/khakis would be much better alternatives to jeans in business-casual environments.
But try not to feel too restricted.
At the end of the day, there are many settings that would be labeled as casual or smart-casual.
Dates, dinners, parties, barbeques – the list really is endless.
These are settings where a navy blazer and black jeans pairing would most likely look fantastic.
It's just important to think twice before wearing it and to make sure there's no risk of underdressing for the specific occasion you're dressing for.
Go For Tapered Black Jeans
Tapered, slim-fit black jeans would be the best option when wearing a navy blazer.
Ultimately, a navy blazer is a relatively formal item. Pairing it with typically casual items such as jeans can work extremely well, but it's important to reduce the risk of a formality mismatch.
One way of doing this would be to choose a relatively "casual" looking navy blazer.
Consider a rough/rugged fabric or weave such as linen, tweed, serge, or flannel. Avoid shiny and wrinkle-resistant fabrics such as worsted wool.
But another way of reducing the risk of a formality mismatch is by choosing a pair of black jeans that's dressy enough to look good with a blazer.
It's no secret that tapered, slim-fit jeans cuts just look dressier than baggier and more eye-catching fits.
Slim-fit black jeans will look smarter than wide-leg, bootcut, and skinny jeans.
While they can still work, it's much easier and safer to go for a pair of slim fits when wearing a navy blazer.
Avoid Faded And Distressed Jeans
Black jeans that have been faded using techniques such as acid washing and stone washing will always look more casual than those in a darker wash with no fading.
The same goes for other methods of "distressing" such as ripping, fraying, and tearing.
While these features can look great in the right setting, they always make a pair of black jeans look very casual.
Often, they make the jeans look too casual to make sense with a navy blazer.
So, when wearing a blazer of any color, try to choose a pair of black jeans with minimal fading and distressing.
The less distressing, the better. There will simply be less of a risk of a formality mismatch.
Choose The Right Shirt Style
As you've seen from the outfit examples above, choosing the right shirt style is crucial to getting this combination right.
The one you choose should be guided by the dress code or the setting.
When dressing up a navy blazer and black jeans combo, consider the following shirt styles:
Dress shirt
Broadcloth shirt
Linen shirt
OCBD shirt
Chambray shirt
When dressing down the combination, consider the following styles instead:
T-shirt (a classic)
Henley
Long-Sleeve Tee
Polo
While polos can sometimes look a little awkward when wearing a blazer due to the collar and placket conflicting, it can look great when done the right way.
The shirt color you choose should also be guided by the dress code.
When you're dressing the combination up, consider a light and neutral color such as white, off-white, beige, or light blue.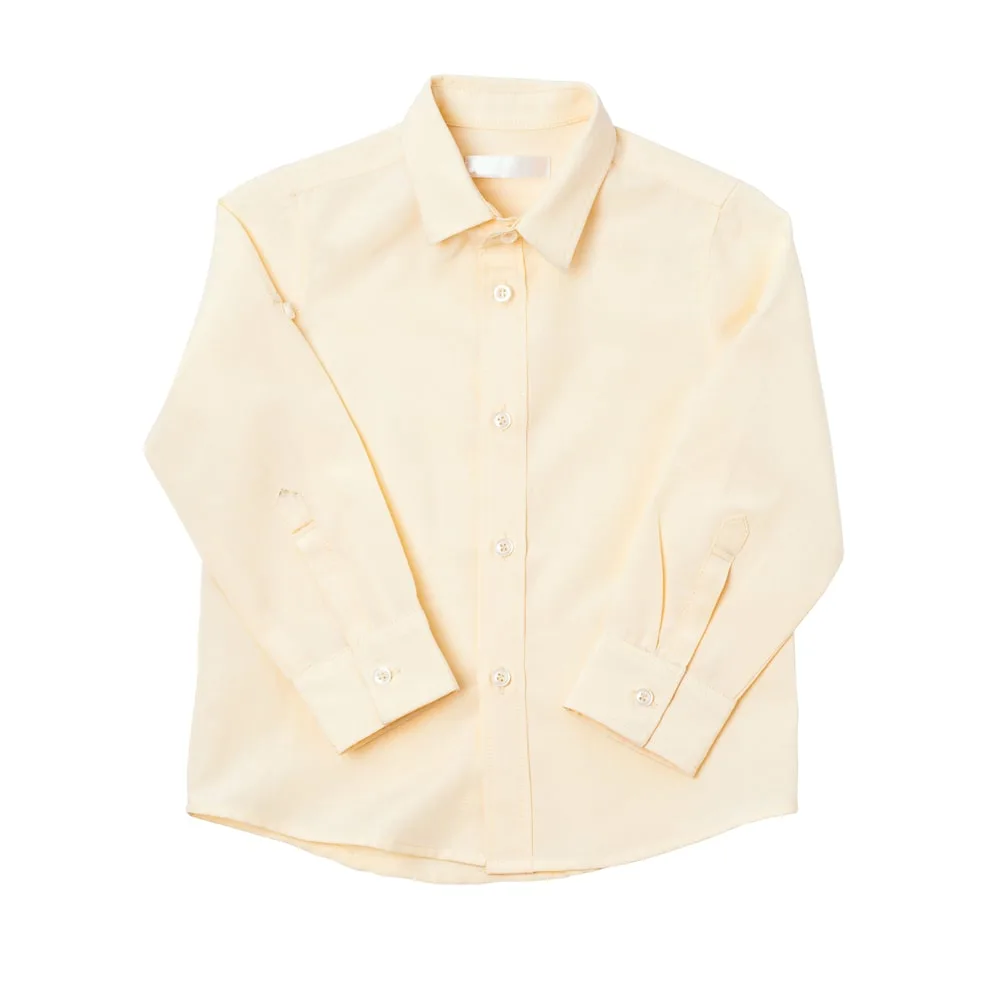 When dressing it down by wearing a T-shirt, for example, consider adding a splash of color. Try a more vivid pink or mint green, for example.
The range of color options you have at your disposal is wide, simply because of how neutral the blazer and jeans pairing you've gone for is.
No matter what shirt color you choose, there's a very high chance it'll coordinate well.
Loafers, Boots, And Sneakers Look Great
Loafers, boots, and sneakers are great options when wearing a navy blazer and jeans.
When dressing up a notch, Derby shoes can also look great.
The reason these footwear options work so well is that they're versatile.
A pair of black Oxfords would usually look odd when wearing a blazer and jeans combination. The shoes are just too formal-looking.
Loafers, on the other hand, can easily be dressed up or dressed down. They're gloriously smart-casual.
The same goes for boot styles such as Chelsea or chukkas, especially those in suede.
Sneakers work well when you're dressing down. Ultimately, it's tough to go wrong with a jeans and sneakers combo and the two often go hand-in-hand.
But try to choose a relatively "dressy" pair of sneakers with subtle branding, a neutral color, and slim silhouette.
All-white leather low-top sneakers are a great option here.
Conclusion
It's a versatile combination but does need to be worn in the right settings. Overall, restrict it to casual and smart-casual events whenever possible.
Consider the other items you wear with it. Go for long-sleeve button-ups under the navy blazer when you're looking to dress a little sharper, with tees working well in more casual settings.
In addition, go for tapered slim-fit black jeans with minimal distressing to make sure they look dressy enough for the navy blazer to make sense.
Enjoy.
Ready Sleek founder. Obsessed with casual style and the minimalist approach to building a highly functional wardrobe. Also a fan of classic, vintage hairstyles.