It's hard to think of anything as frustrating as interpreting a wedding dress code. Get it wrong and the awkwardness can be hard to forget. The question is, can you really wear a navy blazer with grey pants to a wedding?
It's possible to wear a navy blazer with grey pants to weddings with a "smart-casual" or "semi-formal" dress code. Avoid wearing the combination to a "formal" wedding where a 2-piece suit would be required, at the very least.
While that will serve you well, you'll need more.
Let's run through some essential tips for wearing this combination to a wedding the right way.
To avoid an unforgettable faux pas, read on.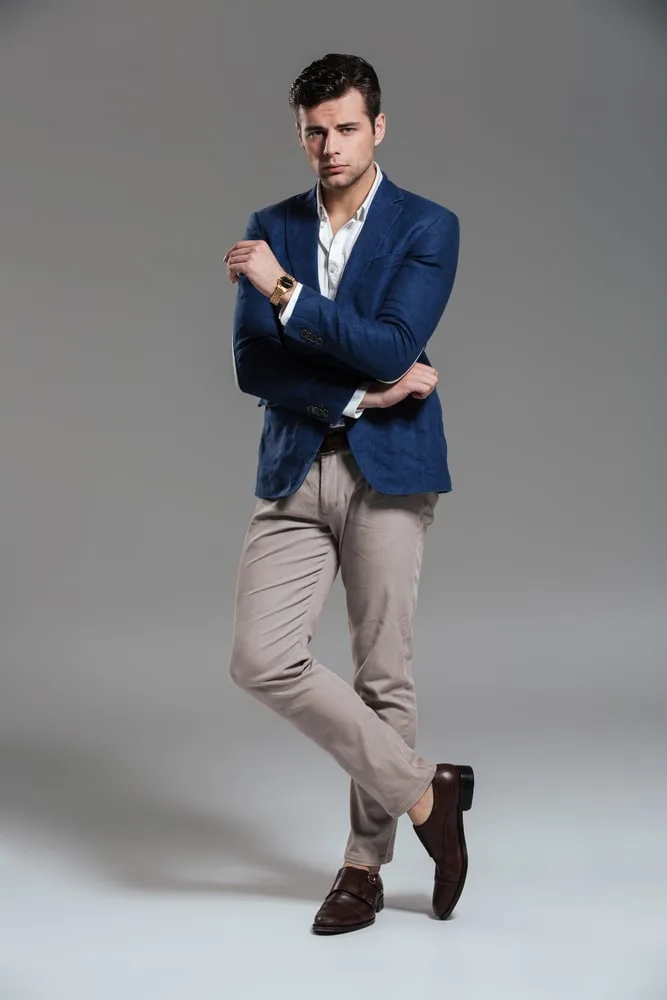 Make Sure It's Appropriate For The Dress Code
Avoid wearing a navy blazer and grey pants to any wedding with a truly formal dress code.
Wedding invitations usually (but don't always) have the dress code and required attire explicitly written on them.
If it says "Formal" and "Suits Required" – you've got your answer.
An unmatched blazer and pants combo just wouldn't cut it. A 2-piece suit would be required at the very least.
If, on the other hand, it says "smart-casual" or "semi-formal", a navy blazer + grey pants pairing would probably be OK.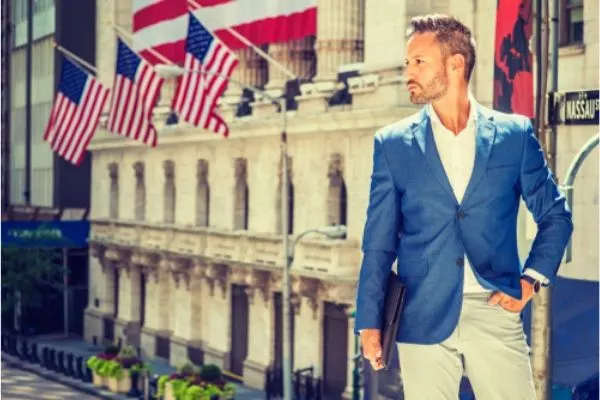 If it explicitly says "Suits Not Required" or something along those lines, you're all set.
But it isn't usually as simple as that.
People are notorious for misunderstanding dress codes and wedding couples are no exception.
I mean, what does "semi-formal" even mean?
The answer is that it's impossible to know for sure. Some may argue that a blazer + pants combo would be perfectly acceptable here, while others may argue that a casual 2-piece suit would be required.
It may be worth asking what others are going to be wearing for some safety in numbers.
But ultimately, if a dress code is anything more casual than "Formal", a navy blazer + grey pants combination would usually be fine.
Go For Grey Dress Pants Or Smart Chinos
When wearing a navy blazer to a wedding, grey dress pants or smart chinos would usually be the best options.
"Grey pants" is a term that could refer to a whole bunch of different styles ranging from formal (i.e dress pants) to casual (eg. cargo pants). Of course, not all of them would be appropriate to wear to a wedding.
At the end of the day, no matter how "casual" a wedding may present itself as, it won't ever be truly casual.
It's a special and celebratory occasion and underdressing for one is usually awkward and can even be offensive to the wedding c0uple.
When in doubt, it's usually better to overdress than to underdress.
Wool grey dress pants would be ideal – it's usually easy to spot "smart" pants by their smooth, unbroken silhouette. They may also have center creases.
Grey chinos would usually be a reasonable alternative, but try to pick a tapered, slim-fit pair in a solid color (i.e no patterns). They should be relatively new and not worn out.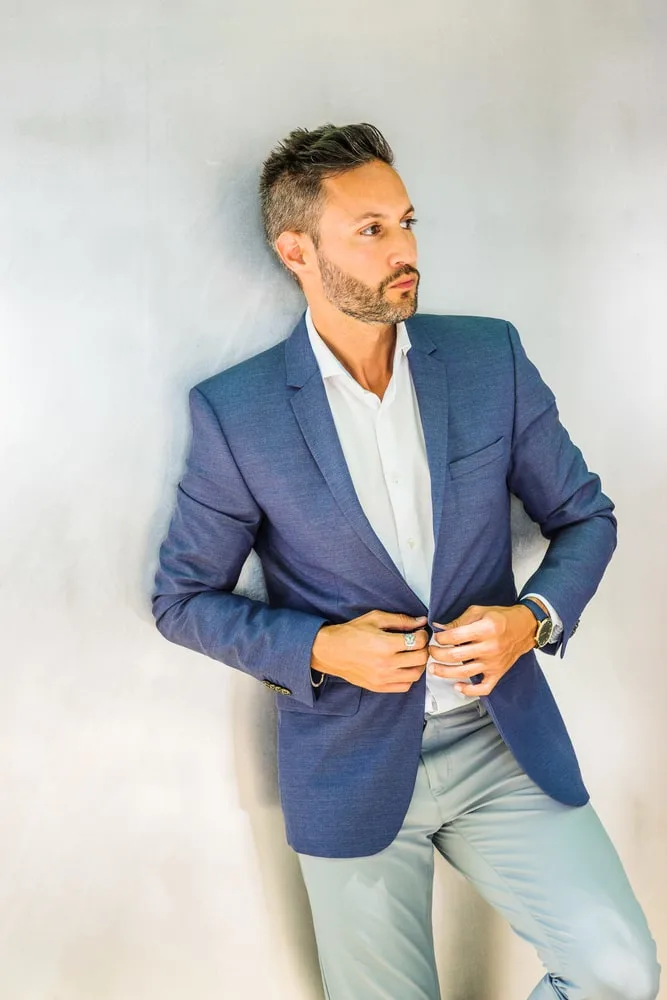 Unpopular Opinion – Grey jeans would never be acceptable, no matter how "dressy" and dark the pair of jeans may be. They'll always be too casual to wear to a wedding.
It probably goes without saying, but any pants styles more casual than jeans should also be avoided at all costs.
Consider The Fit And Fabric Of The Navy Blazer
If you feel as though a 2-piece suit isn't required for the wedding you're attending, you've potentially got a wide range of navy blazer styles to choose from.
Blazers vary in terms of their style, which is mainly determined by their fit and fabric.
Those that are on the dressier and more formal end of the spectrum often have the following features:
Structured appearance due to heavy shoulder padding and canvassing
Tapered, slim-fit
"Shiny" and wrinkle-resistant fabrics/weaves such as worsted wool
Solid-colored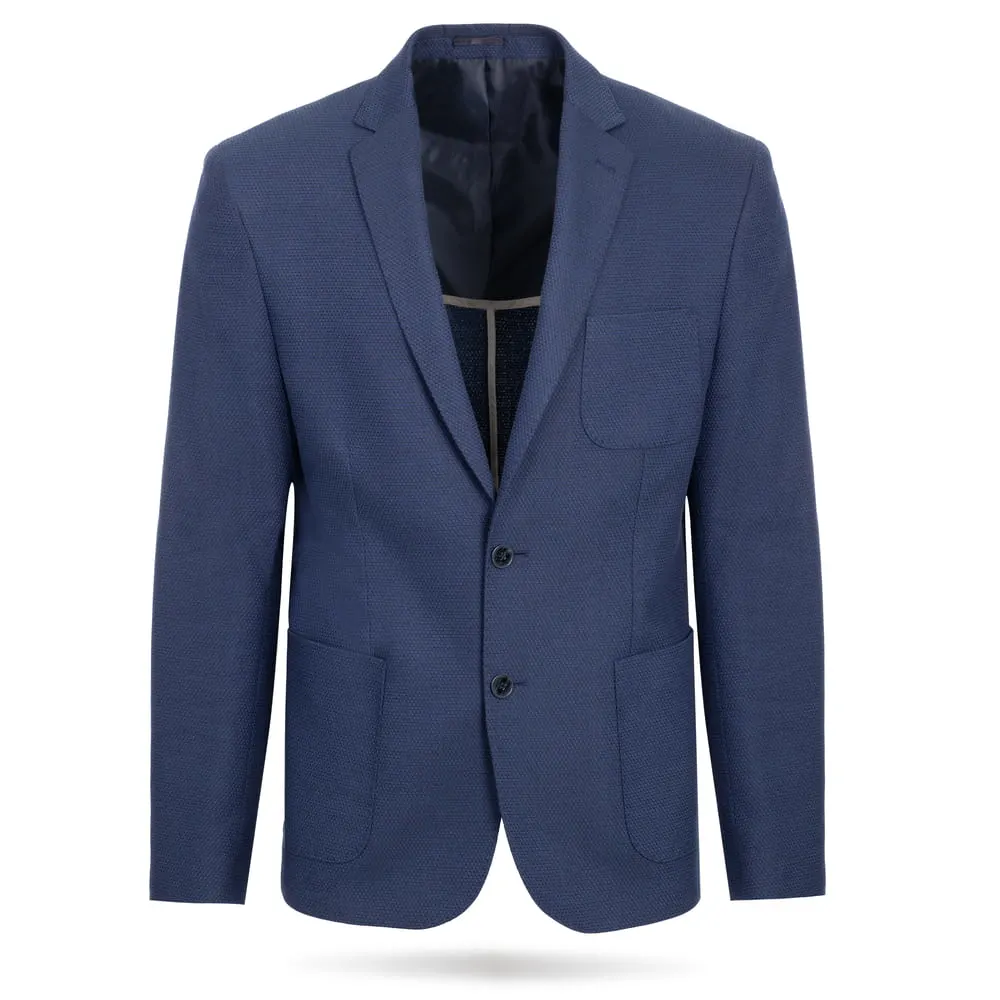 Navy blazers on the more casual end of the spectrum often have:
Less structured appearance – less padding and lighter canvassing/lining
Relaxed fit
Rough, rugged, or wrinkly fabrics and weaves such as tweed, herringbone, linen, serge, flannel
Might be patterned
Ultimately, both "formal" and "casual" styles of blazers could potentially work well with the grey pants you're wearing to the wedding.
It really depends on how dressy you want to play it. If you feel as though there's a risk of underdressing, go for a more formal-looking navy blazer.
If, on the other hand, you feel as though a more laid-back aesthetic would be welcome, consider a more casual style of navy blazer.
Combine It With A White Button-Up Shirt
When attending a wedding, keep things as simple as possible. Go for a white dress shirt.
Sure, you'll want to dress to impress. But trying too hard to impress as a wedding guest is considered a faux pas.
It's one occasion where drawing attention away from the wedding couple should be avoided.
It's their day, after all.
So, keep your outfit nice and simple wherever possible.
It's true that a navy blazer and grey pants combination would work well with more vibrant shirt colors such as light pink, light blue, olive green, and so on.
But most people in attendance will probably be wearing a simple white dress shirt. Not doing so will lead you to stand out.
Once again, standing out at a wedding is a big no-no.
Going Tieless Can Actually Be Acceptable
A blazer and pants combo can easily be worn with a necktie. It'll work and it'll often look great, but ask yourself whether it's really necessary.
If you don't need to wear a suit to the wedding, do you really need to wear a tie?
Wearing the navy blazer with a white shirt under it, no tie, and a single button undone would often make for a great smart-casual aesthetic.
If the wedding truly is "smart-casual", this would usually be acceptable.
Having said that, you don't want to be the only guest that isn't wearing one.
Here's my advice.
Consider going tieless. Ask yourself whether you really need to wear one. If you don't think so, go tieless – but take a tie with you.
The beauty of neckties is that you can roll one up and store it in your blazer's pocket pretty easily.
That way, if you change your mind, you can quietly sneak off for a couple of minutes to put it on.
When wearing this blazer and pants combo, you've got plenty of options when it comes to tie color.
You could keep things neutral by going for a grey tie. Avoid black ties – it's a wedding, after all.
If you'd prefer to add a splash of color, consider a dark and muted shade of a more vibrant and non-neutral color such as maroon, burgundy, sage green, or burnt orange.
Dark Brown Or Black Dress Shoes
Dark brown or black dress shoes would be the best options when wearing a navy blazer with grey pants to a wedding.
The benefit of wearing dark brown shoes is that they add a nice touch of contrast to the outfit as a whole while still looking relatively dressy and formal.
If you'd prefer a more traditional and formal option, however, go for black dress shoes. It's hard to go wrong with them – you'd never be at risk of underdressing.
When attending a smart-casual/semi-formal wedding, you've also got options when it comes to the style of the dress shoes you choose to wear.
If you want to keep things formal, go for Oxford shoes. Derby shoes would be a slightly more casual, but still perfectly acceptable alternative.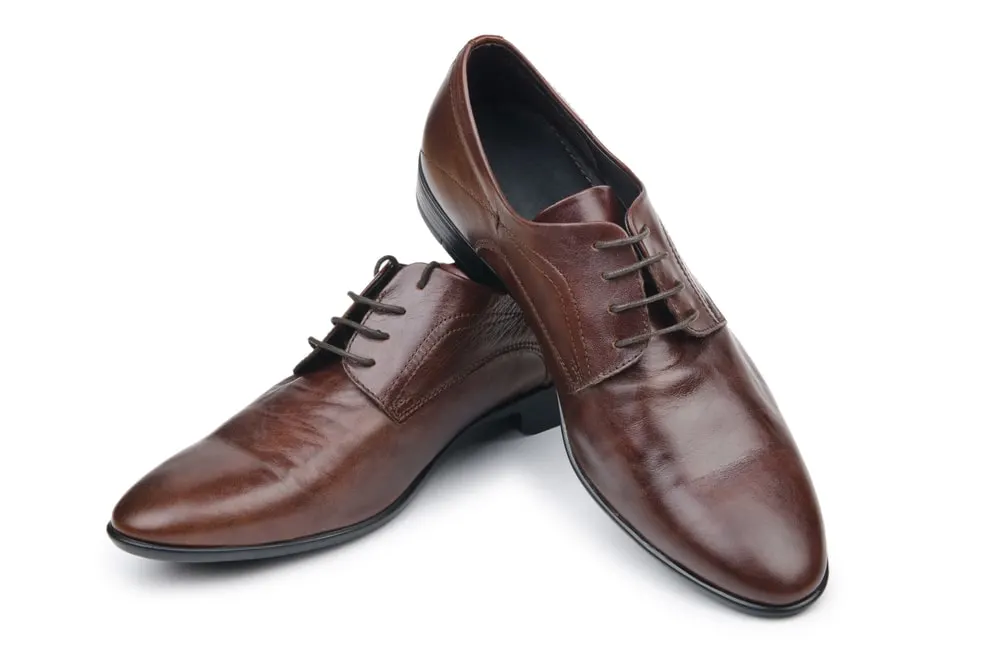 Monk straps are a notch more casual yet, but would still usually be acceptable in either black or dark brown.
Loafers are a little trickier to pull off at a wedding. They're much more casual due to the laceless, slip-on construction.
Having said that, for a summer-casual wedding where there's very little risk of underdressing, even loafers might be considered acceptable.
Consider A Colorful Pocket Square
A navy blazer, grey pants, and white shirt combination is pretty neutral.
When it comes to weddings, neutrals are a great option, simply because they're unlikely to draw attention.
They're simple, subtle, and effortless to coordinate.
However, adding a touch of color to your outfit shouldn't be discouraged. At the end of the day, it's a celebratory occasion.
A simple way to add a splash of color without coming across as overdoing it would be to pop a colorful pocket square into your blazer's pocket.
The color you choose is up to you, but if you're wearing a tie, it would usually be best to show some attempt at coordinating the two items.
They shouldn't match but should complement each other in some way.
You could go for two shades of the same color – eg. a blush pink necktie with a salmon pink pocket square.
Or, you could go for analogous colors that are close to each other on the color wheel. For example, an admiral blue necktie with an olive green pocket square.
If you're not wearing a necktie at all, feel free to experiment with your pocket square until you find a color that works for you.
At the end of the day, the navy blazer (and grey pants) are muted enough for practically any pocket square color to work.
But keep things simple when it comes to the fold. Go for a simple straight or puff fold and avoid anything too flamboyant.
Ready Sleek founder. Obsessed with casual style and the minimalist approach to building a highly functional wardrobe. Also a fan of classic, vintage hairstyles.