Contrast is the key to turning heads, but it does need to be done in the right way. So, how should you wear light-colored jeans with jeans?
When wearing light jeans with black shirts, stick to casual shirt styles such as black OCBDs, linen shirts, polos, and T-shirts to reduce the risk of a formality mismatch. Black dress shirts will usually look too formal, regardless of whether you're wearing white, light blue, or light grey jeans.
While that's the gist, there's more to it.
After going through a few great outfit examples you can try out for yourself, we'll run through some tips for making this combo work every time.
Ultimately, "light jeans" can refer to a bunch of different colors, each of which will produce a very different look when wearing a black shirt.
Let's get to it.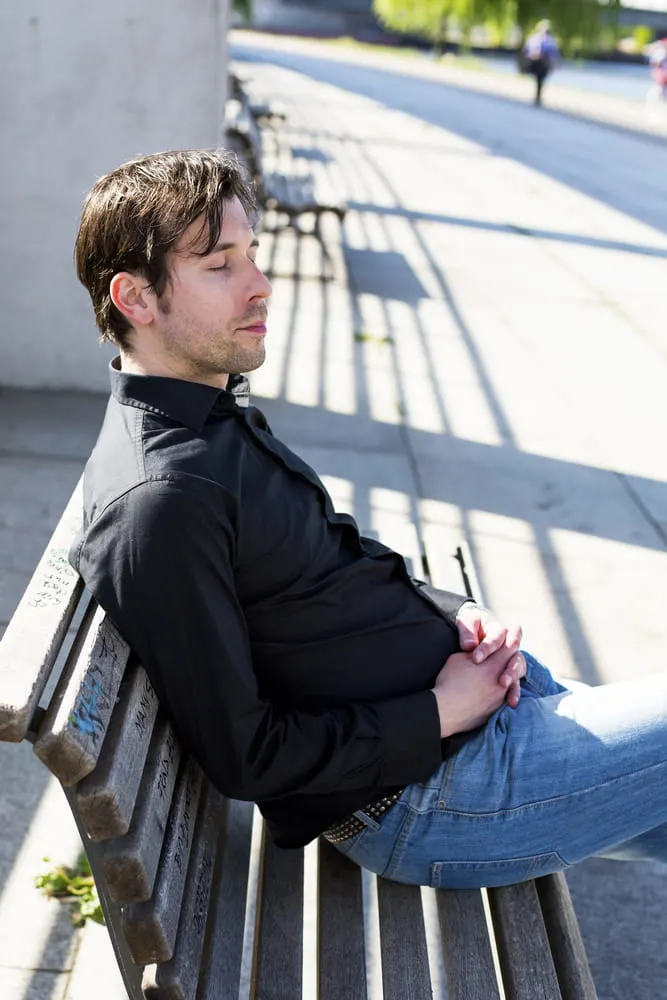 3 Black Shirt And Light Jeans Outfits
We'll start with a dressy option before moving on to the more casual ways of wearing it.
No matter what light jeans color you go for, this combination will only ever be casual.
But there are options that will always look less casual, as well as others that look more casual.
Enjoy.
Least Casual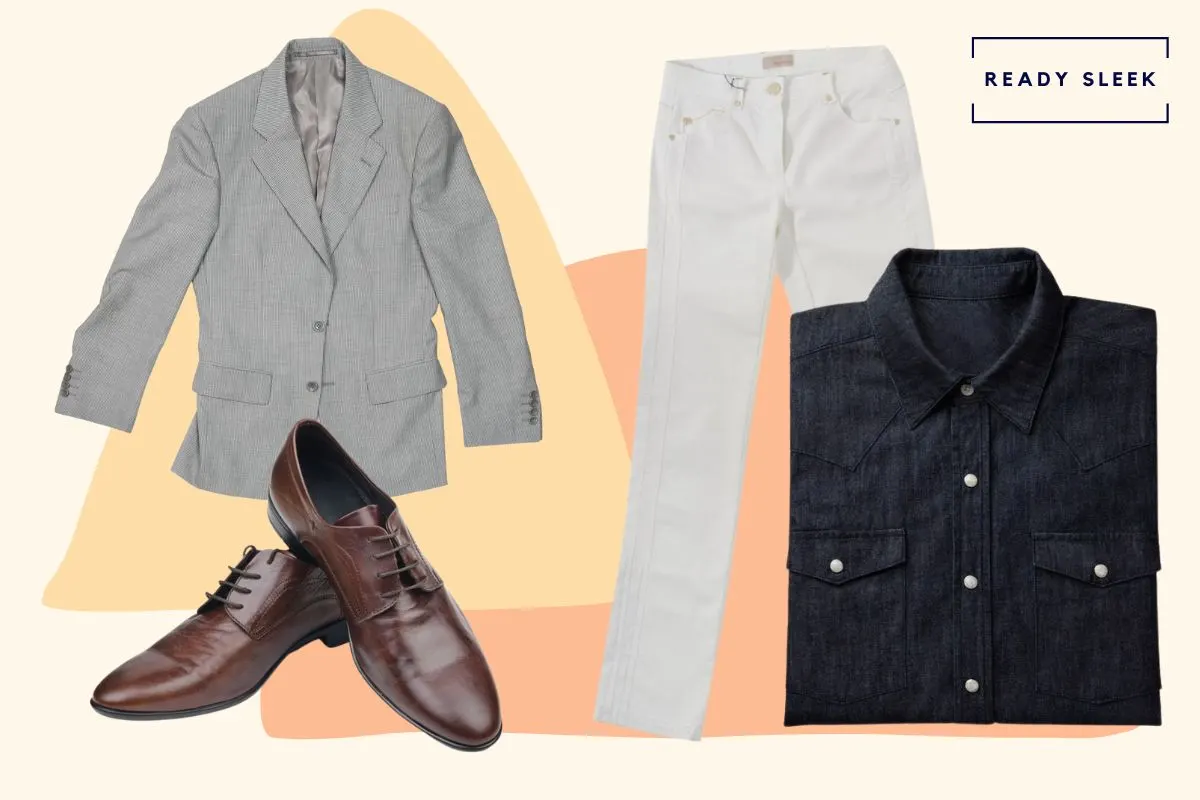 Items: Black Button-Up Shirt, White Jeans, Grey Sport Coat, Dark Brown Derby Shoes
As you can see, this outfit still looks casual, but it would still be a reasonable option in laid-back smart-casual settings.
Going for a black button-up shirt helps – it'll always look dressier than going for a short-sleeved alternative such as a polo or a simple tee.
Casual black button-up fabrics and weaves such as Oxford cloth, linen, and chambray are great options here.
The white jeans should be simple, slim, and tapered. Avoid features such as distressing when dressing this combination up.
The grey sport coat works well for a couple of different reasons. One is that it looks casual enough to combine with jeans and not look out of place.
Another is that it syncs very well with the greyscale, monochrome color scheme.
Finally, we've added a touch of contrast with a pair of dark brown Derby shoes. As you'd expect, going for dress shoes will always up the dressiness of any black shirt and light jeans outfit.
More Casual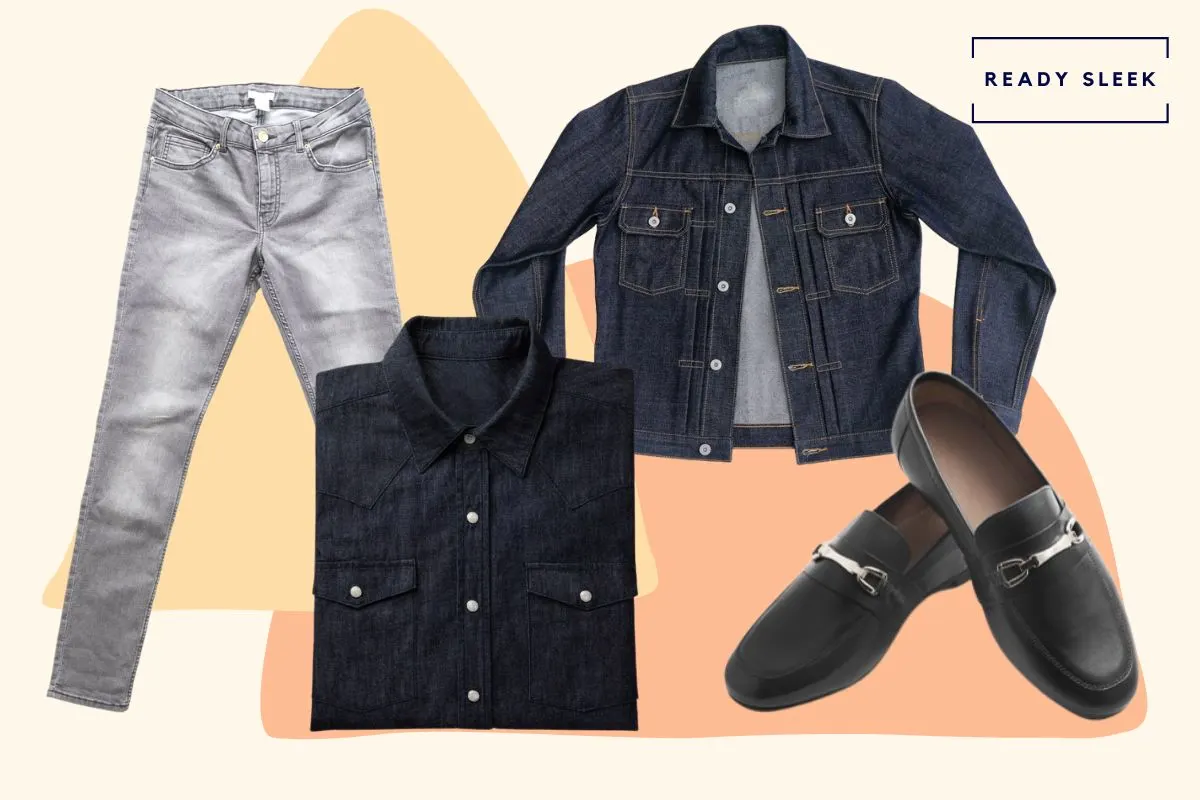 Items: Black Button-Up Shirt, Light Grey Jeans, Black Leather Loafers, Dark Blue Denim Jacket
The same black button-up looks a lot more casual when layered under a dark blue denim jacket instead of the blazer in the previous example.
The light grey jeans in this example look more casual than the white jeans in the previous example.
But this isn't due to the color.
It's simply because the features of the jeans are more casual. They look more faded and distressed.
Black leather loafers would work well here, especially during the warmer months of the year.
Sticking to black shoes will keep things monochromatic, but if you'd prefer some contrast a pair of dark brown alternatives would work just as well.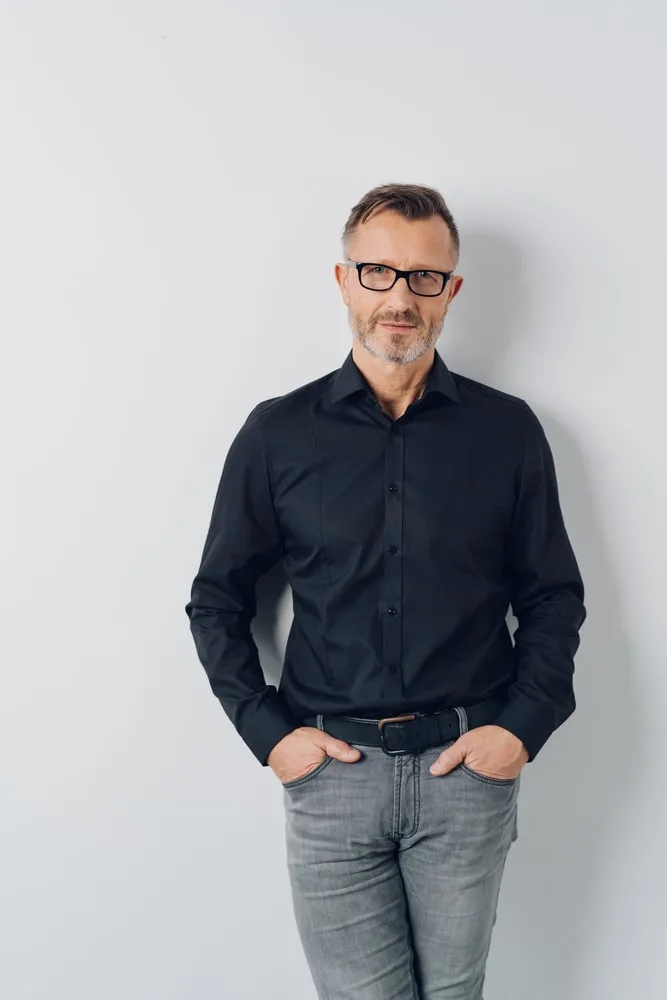 Most Casual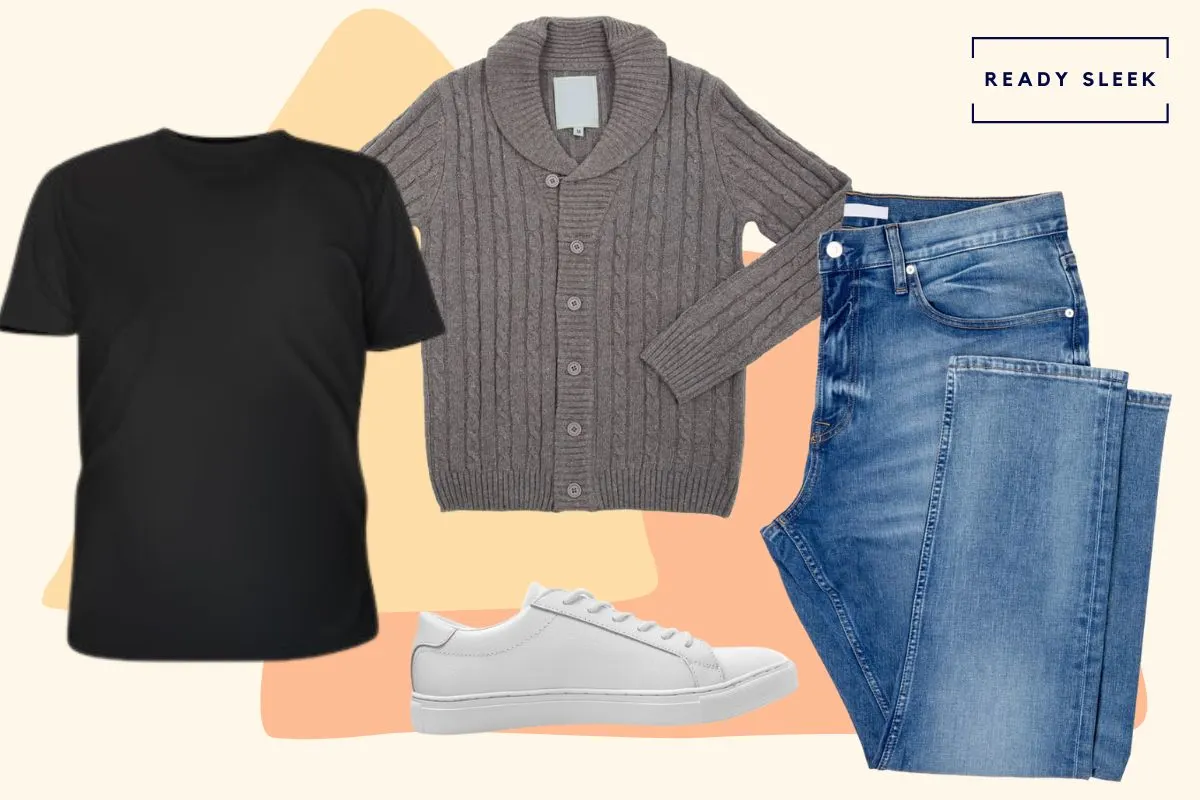 Items: Black T-Shirt Or Polo, Light Blue Jeans, Grey Shawl Collar Cardigan, White Sneakers
It could be argued that light blue is the most iconic jeans color you could go for. They epitomize the casual aesthetic like few other items do.
You could say that light blue jeans are a little more casual than the white and light grey jeans in the previous examples, but not by much.
Ultimately, what makes this light-colored jeans and black shirt combo look so casual are the other items we've chosen to combine them with.
The black T-shirt/polo will always look a whole lot more casual than a black button-up.
The all-white leather sneakers are dressy as far as sneakers go, but are still a whole lot more casual than the Derby shoes and the loafers in the previous examples.
5 Tips For Wearing Light-Colored Jeans With Black Shirts
Here are some solid tips for wearing light-colored jeans with black shirts in the most effective way possible.
Use these to elevate your combination, no matter what light jeans color you've gone for or what black shirt style you're thinking of wearing.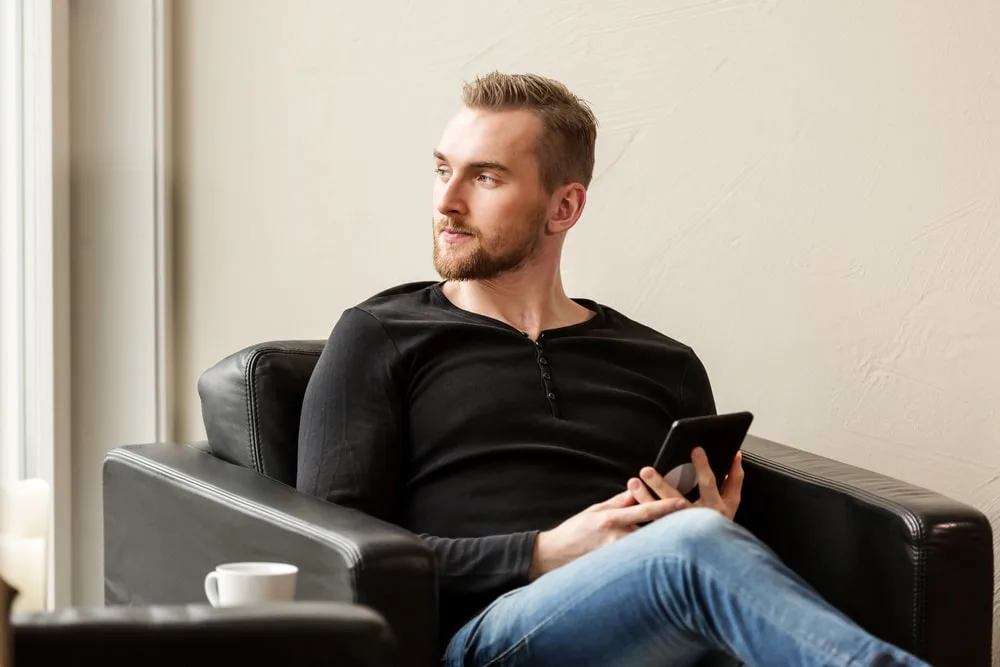 Casual Or Smart-Casual Only
Whether you wear white, light grey, or light blue jeans with your black shirt, the combination will never be anything other than casual.
Sure, you've got "casual" and "smart-casual" combinations depending on the styles and features of each of these items.
In addition, a lot of it depends on what other items you choose to wear them with.
Some light jeans/black shirt pairings will just look smarter and sharper, while others will look more casual.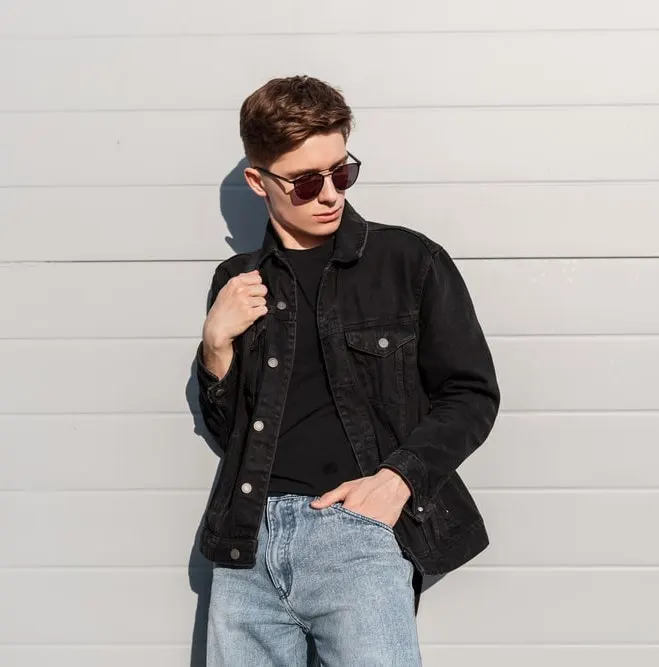 But no matter how dressy your jeans and shirt are, they'll never be dressy enough to wear to formal, professional, or business-casual settings.
Consider The Contrast
Consider how much contrast you want between your black shirt and the light-colored jeans.
The main point here is that the lighter your jeans, the more contrast is produced between the shirt and the jeans.
High-contrast combinations aren't a bad thing by any means. In fact, they can be eye-catching and very effective, especially when dealing with neutral-ish colors like we are here.
To achieve the highest possible contrast, pair a black shirt with white jeans.
A black shirt paired with light grey or light blue jeans would still be high contrast, but a little less than the contrast produced by white jeans.
It's also worth noting that the definition of "light" is also subjective.
One man's "light grey" may be "medium grey" to someone else.
The darker the shade of grey or blue, the more subtle the contrast between the black shirt and the jeans.
This one comes down to personal preference.
If you'd prefer a more subtle aesthetic, go for a combination with a lower level of contrast.
If you'd prefer something a little more eye-catching and attention-grabbing, go for one with a higher level of contrast.
Casual Shirt Styles Work Best
When wearing light-colored jeans, casual black shirt styles work best. Black dress shirts often look too formal to wear with casual pairs of jeans.
It boils down to the fact that light-colored pairs of jeans will look more casual than dark-colored pairs of jeans.
White, light grey, and light blue jeans look more casual than dark blue, dark grey, and black jeans.
In fact, a non-distressed pair of slim, tapered black jeans can look very similar to a pair of black chinos or even dress pants from far away.
So, to reduce the risk of a formality mismatch, pair casual black shirt styles with light-colored jeans.
Avoid wearing black dress shirts with white, light blue, and light grey jeans because they usually look too dressy and formal for it to work.
It's important to note that "casual" black shirts don't just mean T-shirts and polos.
Casual black button-ups can also be worn very effectively, as you saw in the outfit examples earlier on.
Casual button-up shirts will usually have quite specific features:
Rough/rugged fabrics and weaves such as Oxford cloth, linen, and chambray.
Relaxed collars
Short hems. Dress shirts often have long and rounded hems to ensure they stay tucked in.
Consider Layering
There aren't many outfits that don't benefit from layering.
It can quickly elevate even the simplest of light jeans and black shirt outfits to something a little more sophisticated and stylish.
You've got plenty of options here, but once again, it should be guided by the setting and the dress code.
For a smart-casual setting where there's more of a risk of underdressing, consider layering a blazer or sport coat over the black shirt.
Grey and navy blazers/sport coats work especially well, as do dark brown ones. Keep things nice and neutral.
In more casual settings, you've got loads of options for layering.
Chore coats, trucker jackets, denim jackets, flannel shirts, overshirts, shackets, leather jackets, gilets – the list is endless.
It's Hard To Go Wrong With Dress Sneakers
There are several different shoe styles you could consider when wearing light jeans with a black shirt, but it's honestly hard to go wrong with a pair of all-white leather low-top sneakers.
They'll pair well with any light-colored jeans you've got – whether they're white, light blue, light grey, slim, skinny, wide-leg, distressed, non-distressed, and so on.
If you'd prefer a slightly dressier alternative, consider a pair of loafers. Suede loafers, in particular, would work well here.
The napped texture of suede goes very nicely with the rugged texture of denim.
During the colder months of the year, however, consider a pair of suede Chelsea or chukka boots instead.

Ready Sleek founder. Obsessed with casual style and the minimalist approach to building a highly functional wardrobe. Also a fan of classic, vintage hairstyles.