Certain combinations work well as long as you stick to a basic set of principles. But is this one of them? More specifically, can you wear a black shirt with a red tie?
A black shirt can be worn with a red tie to formal evening social settings and events. Darker red ties have a sleeker and more subtle appearance when worn over a black shirt, while lighter and brighter shades of red will produce an eye-catching contrast.
Although that's the gist, there's more to it.
Here are some essential tips for wearing this combination in the most effective way possible. At the end, I'll also go through a couple of frequently asked questions as well.
Let's get to it.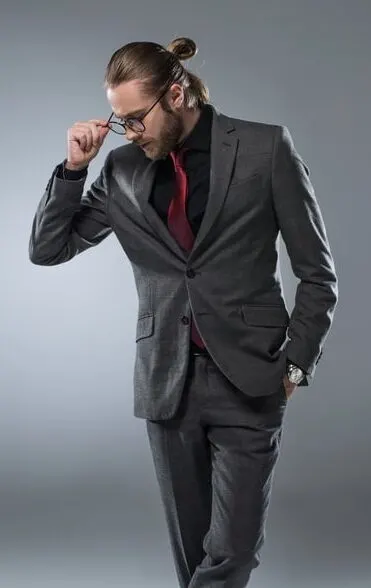 7 Tips For Wearing A Black Shirt With A Red Tie
While it sounds simple enough, these tips are important for making sure it's done the right way. Consider all of them before you put it all together.
1. Make Sure It's Appropriate
The black shirt and red tie combination has a formal edge to it. So much so, that you're pretty limited in terms of where you can wear it.
To be more specific, it should really only be worn to social evening events with a "formal" dress code.
Let's break that down.

Black shirts are generally worn to social events, while white and baby blue dress shirts have a more professional feel to them.
They're also a lot more appropriate for evening events, as they can look odd and jarring when worn to daytime events.
That already restricts the number of places you could potentially wear it to.
Because it has such a formal look to it, avoid wearing it to settings where it could be considered overdressing or dressing inappropriately.
Here are a few dress codes where this combination would be a bad idea:
Business-Casual: A black shirt and red tie would look too formal. Go for a white dress shirt/OCBD and khakis/slacks instead.
Business-Professional: A white or baby blue dress shirt would be better.
Black-Tie: A tuxedo would be required. This combination actually wouldn't be formal enough.
Stick to evening social events with a "formal" dress code and you should be fine.
2. Choose The Right Shade Of Red
When wearing a black tie, go for a dark shade of red if you want less contrast and a more subtle and elegant aesthetic. If you want a bolder and more striking appearance, go for a lighter shade of red in order to produce more contrast.
Here's an example of a dark red tie on Amazon. Wearing one over a black shirt would work well because it's in keeping with the dark and moody overall look.
In contrast, here's an example of a lighter and brighter red tie worn with a black shirt. As you can see, the tie really pops out more, standing out against the darker background.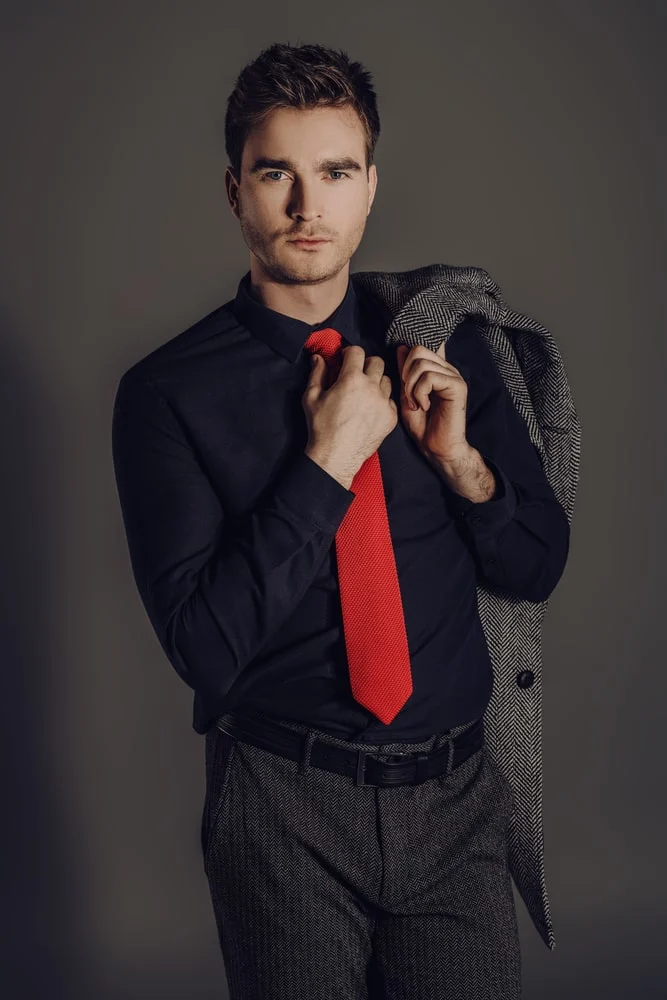 It's a more eye-catching and attention-grabbing appearance which will probably appeal to some.
The option you choose really depends on your personal preference. Both options would be equally appropriate in an evening social setting.
3. Silk Red Ties Generally Work Best
When wearing a black shirt, silk red ties usually look best. The reason for this is that the sheen and gloss of a silk tie will generally look more formal than a woolen or cotton one.
As black shirts generally look quite formal, choosing a silk tie would generally suit it best.
That's not to say that woolen or cotton ties won't look good.
They'll look fine – especially if you want to take the formality level down a notch.
But there's just something about the subtle glare from a red silk tie that looks so sophisticated when seen against the backdrop of a black shirt.
It's also a great way to add some contrast to your outfit as a whole. There's a good chance that the black shirt you're wearing – whether it's cotton or wool – will be quite matte.
Choosing a tie with some shine to it would contrast the matte appearance of the black shirt and lead to it standing out just a little more.
4. Go For A Black Or Dark Grey Suit
Black and dark grey suits work well with a black shirt and red tie. The reason for this is that they're dark and neutral enough to blend seamlessly into the outfit. While navy blue can also work, the contrast in color could be seen as excessive.
It's always best to keep the color of the suit as dark as possible.
It isn't uncommon to see people try to pair a black shirt and red tie with lighter colors such as beige or light grey.
While it won't ever look terrible, the contrast between the light-colored suit and the black shirt will usually be too extreme and can be jarring to look at.
It can also sometimes make the wearer look more like an entertainer or part of the catering staff.
The trick is to choose a color that's dark enough to blend well with the black shirt, while also being subtly different enough from the black shirt to stand out from it.
What you don't want is a black suit that's exactly the same shade of black, as it'll be difficult to actually even distinguish the shirt from the suit.
Instead, go for a suit that's a couple of shades darker or a couple of shades lighter than the black suit. Aiming for this type of contrast will often be a better idea.
That's why dark grey suits work so well here (eg. charcoal grey). It'll most likely be a couple of shades lighter than the black shirt and should contrast it to a point where it's noticeably different.
5. Dress Pants Or Khaki Combos Can Work
A suit isn't always necessary when wearing a black shirt and red tie. You could wear a blazer and a pair of non-matching dress pants or khakis instead. Dark grey or black dress pants work especially well here.
The great thing about wearing a blazer is that, unlike with a suit jacket, you don't have to wear a matching pair of pants.
However, it's still a good idea to stick to a dark and neutral color palette for all of the items when wearing a black shirt and a red tie.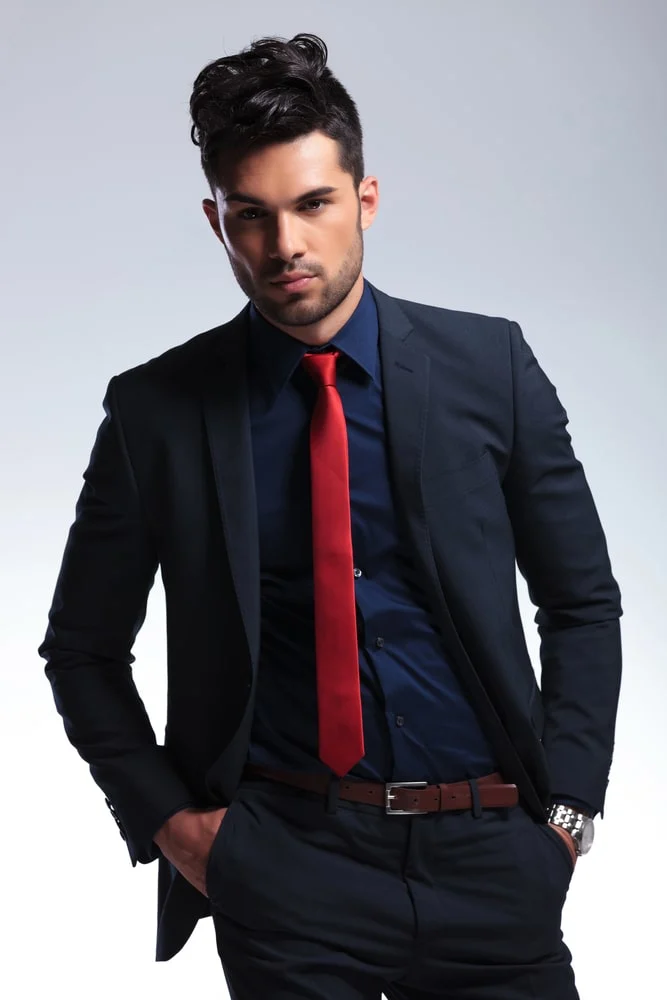 As you've already got quite a lot of contrast between the shirt and the tie, go for dark colors with the other items to keep everything looking coordinated as a whole.
Sticking to black or dark grey for the blazer, as well as for the dress pants, is usually a good way to go.
However, you've got the flexibility to mix and match the two a little here. For example, you could wear a black shirt, red tie, black blazer, and dark grey dress pants or chinos.
Or, you could go for a black shirt, red tie, dark grey blazer, and black dress pants or chinos.
You could add some navy blue into the mix if you wanted. However, be careful that the shade of "navy" is dark enough to avoid too much of a contrast with the other items.
6. Add A Vest For A Dapper Touch
When wearing a black shirt and red tie, adding a black vest can be a great way to add a touch of sophistication to the outfit. This could either be worn on its own or as part of a three-piece suit.
It's important not to take this decision too lightly, however. Wearing a vest would definitely take the formality level up a notch.
You don't want to come across as though you're underdressing, at the end of the day.
While black vests generally work best here, much like with the color of the suit (as per the earlier tip), a dark shade of grey could also look great.
Either way, vests are stylish and also give you the benefit of keeping that red tie firmly in place.
7. Black Or Dark Brown Dress Shoes
Both black and dark brown dress shoes would work well with a black shirt and red tie. Which one you choose really depends on how much contrast you want with the shirt.
Dark brown shoes are great because they're versatile and will blend quite seamlessly into the outfit while giving you just enough contrast to be noticeably different from it.
You could go for a shiny grain of leather such as polished calfskin or cowhide if you wanted a more formal appearance.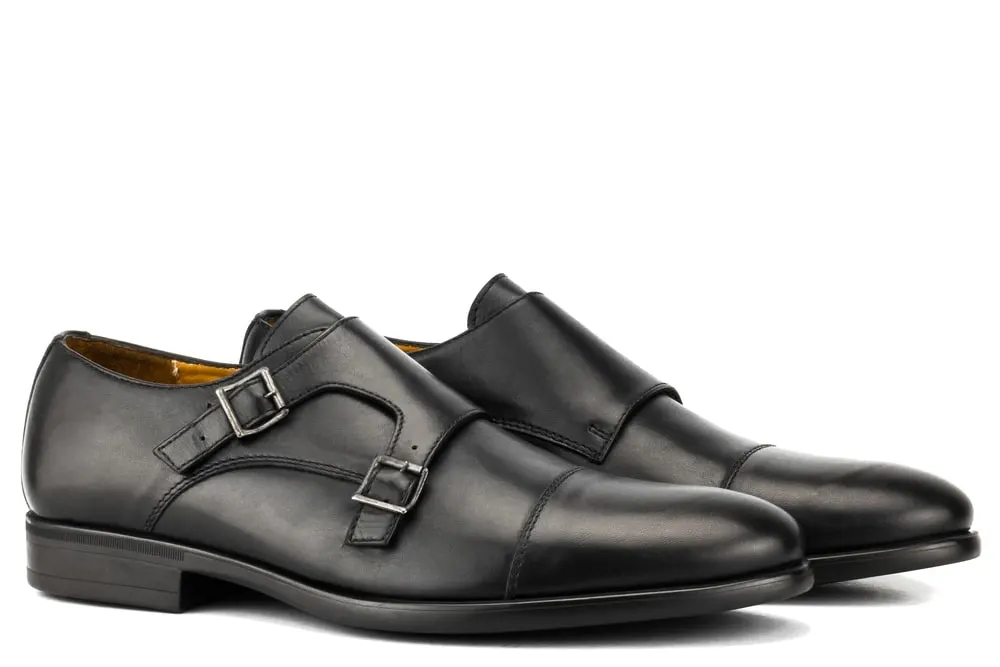 If you wanted to dress the outfit down a little you could consider suede instead.
Frequently Asked Questions
Here are the answers to a couple of commonly asked questions on the topic to really finish things up in style.
Can You Wear A Black Shirt With A Red Bow Tie?
A black shirt can be worn with a red bow tie to formal evening social settings and events. Choose a dark shade of red such as burgundy for a more subtle appearance or a light shade of red for an eye-catching contrast.
It's important to make sure that the event you're attending is formal enough for this combination to make sense.
You don't want to come across as though you're overdressing or simply trying too hard.
Much like with red neckties, red bow ties look better in silk when worn over black shirts, simply because the sheen is more in keeping with the formal aesthetic as a whole.
Can You Wear A Black Shirt, Red Tie, And Black Pants?
Black pants can easily be worn with a black shirt and a red tie. Choose a pair of black pants in a slightly different shade of black to produce enough contrast to easily distinguish it from the black shirt.
In addition, consider wearing a belt with a large and shiny metal buckle to break the outfit up and prevent it from looking too monochromatic.
Being intentional with the shades of black you wear is important when it comes to this.
Conclusion
There you have it. Hopefully, that's everything you could need to know about this rarely discussed, yet important shirt and tie combination.
When done correctly, it can look effortlessly sophisticated.
You should now be a few more steps to achieving just that.
Enjoy.
Ready Sleek founder. Obsessed with casual style and the minimalist approach to building a highly functional wardrobe. Also a fan of classic, vintage hairstyles.