It's gained a fair amount of attention due to being the "official hair product of London Fashion Week". But for regular, everyday users, does label.m matt paste live up to the hype?
Would it do what I would expect a hair paste to do at this price point?
That's what I wanted to find out.
After finally getting round to spending a couple of weeks trying it out, I've put together a detailed run-through of what I found below.
Let's get to it.
Summary Table
Here's a summary of the ratings I've given it for each of the key features, together with a total score.
The ratings are based on what I'd expect from a hair paste or a similar product. In other words, based on its ability to build texture and volume with a strong yet pliable hold and a low-shine or matte finish.
So, how did it do?
I split it into 8 features, gave each of them a score out of 5, and totaled it up.
| | Label.m Matt Paste |
| --- | --- |
| Packaging | 4 |
| Scent | 3.5 |
| Consistency | 4 |
| Application | 4.5 |
| Hold | 4 |
| Finish | 4.5 |
| Washout | 5 |
| Price | 3.5 |
| Total | 33/40 |
| | Buy From label.m |
Let's dive into each of these features and ratings in a little more detail.
Label.m Matt Paste: Key Features Reviewed
Not all of these features are of equal importance. Plus, there's a good chance that one of them may be more important to you than the others.
That's why it's useful to analyze each of the features individually when making your decision.
Before we take a look at them, a quick word on the ingredients. I haven't given the ingredients a rating but wanted to mention them.
A NOTE ON THE INGREDIENTS:
Overall, label.m Matt Paste contains a mish-mash mixture of clay minerals, waxes, and butter.
It's a water-based and water-soluble product.
It contains shea butter – this may account for some of its creamy consistency.
The clay mineral Kaolin is also included. It most likely accounts for some of the grip/hold and tack.
It does contain parabens.
1. Packaging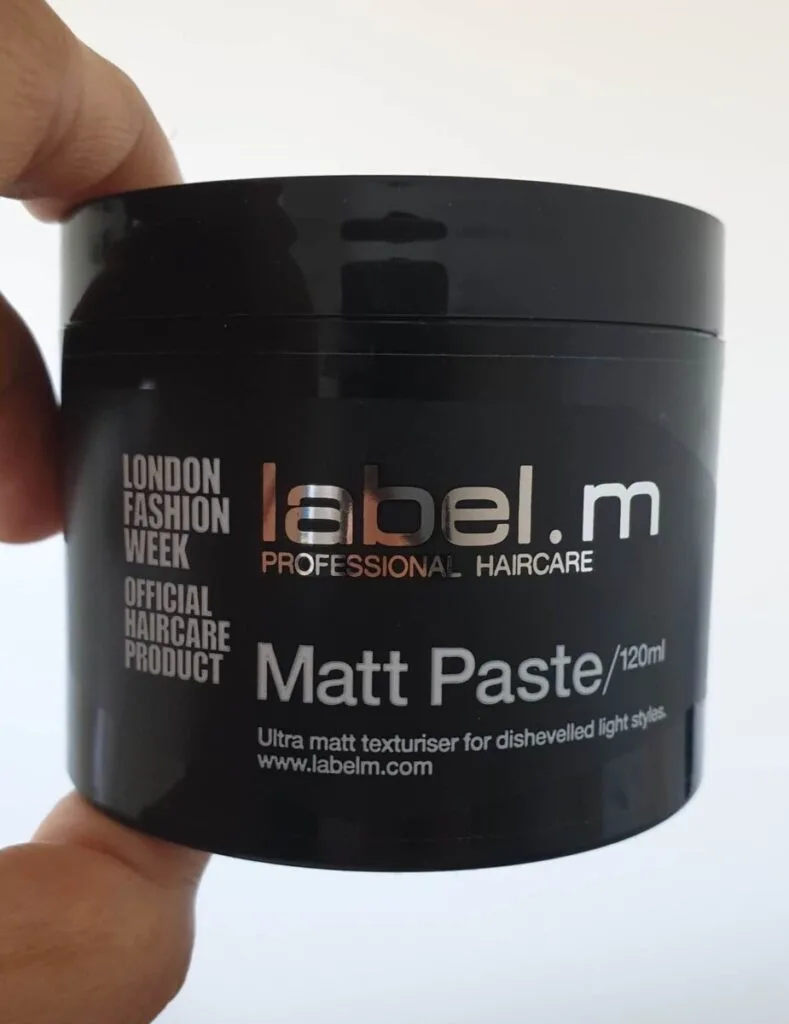 As always, the packaging won't make much difference to most people. At the end of the day, it doesn't make any difference to how it looks on your hair.
However, for collectors and aficionados, the packaging can sometimes matter. Having a product that's nice to handle and look at is a bonus.
Label.m's Matt Paste is packaged in a black plastic tub with a white and reflective mirror-image font.
Overall, it looks sleek. Everything about it oozes "professional stylist" – it's what you'd expect to find on the shelf of a salon.
It isn't eye-catching by any means but goes well with the overall minimalist and fashion-focused aesthetic.
Score = 4/5
2. Scent
Label m Matte Paste has a subtle but noticeable scent of cologne and a hint of peppermint.
That's what I got from it in any case.
Overall, it's pleasant and non-offensive. The scent is unlikely to put anyone off from using it.
Plus, it's not noticeable once it's applied to the hair and shouldn't conflict with any actual cologne you may choose to wear.
Score = 3.5/5
3. Consistency
Label M Matte Paste has a creamy consistency and forms small clumps at first. However, it quickly emulsifies and becomes smooth when rubbed between the palms for 5-10 seconds.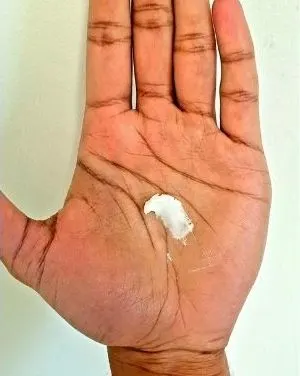 It really doesn't take long to break down between the palms which is nice. After 10 seconds of rubbing you shouldn't feel any bits or clumps – all you'll be left with is a gentle shine on the palms.
You'll feel a bit of stick and tack when holding your palms together and releasing. It's a good indication that you'll get some grip when applying it to the hair but probably less than what you'd expect from the average hair paste.
Definitely less than a hair clay, for instance. It feels creamier and more watery than a hair clay, but it also breaks down quicker than clay would as well.
Overall, I liked how quickly it emulsified, but you do need to take some extra care to break down any of the little clumps that tend to form at first.
Score = 4/5
4. Application
So, how does it distribute through the hair?
Very easily thanks to the creamy consistency. It's a lightweight product that spreads through the hair quickly and efficiently if you take a few seconds to properly break it down between your palms first.
There's a small amount of resistance but it's barely noticeable. I usually some resistance as a good thing as it's a sign that you'll have some grip to keep the style in place once you're done.
It's light enough to easily work into the hair, add layering, and build texture and volume – pretty much exactly what you want from a hair paste.
Score = 4.5/5
5. Hold
Label.m Matt Paste produces a soft, pliable hold that lasts for 4-6 hours on average.
I did find that hold lasted for most of the working day but started to flop forward toward the 4hr mark with some strays and flyaways rearing their heads as well.
This really wasn't an issue because the product is great for restyling. The soft, pliable hold you get can easily be brushed or finger-combed through halfway through the day if necessary.
The nature and strength of the hold are actually very similar to that of a regular hair cream.
It may be a little weaker than what you'd expect from a hair paste and definitely weaker than a hair clay.
But overall, the hold was pretty good and should be fine unless your hair is very thick or simply difficult to tame. If this is you and you still want a low-shine finish, consider a hair clay instead.
A light spritz of hairspray will give you the reinforcement you need if you feel as though the hold from label.m matt paste isn't quite what you need.
Score = 4/5
6. Finish
Label.m Matt Paste produces a low-shine finish that's best suited to messier and more textured hairstyles.
It was easy to quickly build lift and volume with and the finish was as textured as I'd hoped.
A spritz of sea salt spray before blow-drying and then applying the paste is a good way to add some grit and make it easier to build texture with.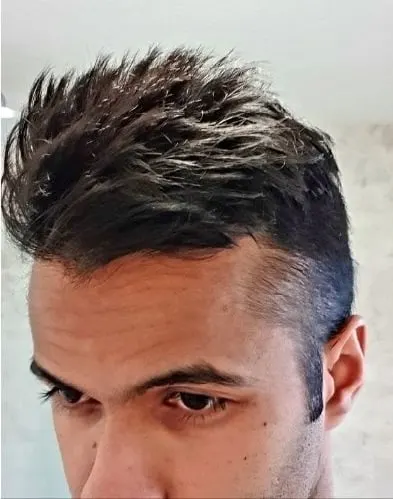 Having said this, I do think the product is versatile enough to lend itself to more defined styles as well thanks to the waxy ingredients.
It wasn't quite "matte" but hair products rarely ever are, especially ones with a fairly strong presence of waxy ingredients.
I'd say the finish was low shine or natural-finish and gradually dulled as the day progressed which was absolutely fine.
Overall, the finish was what I'd expect from a good hair paste.
Score = 4.5/5
7. Washout
It's water-based and water-soluble, washing out very easily with just water alone most of the time.
Shampoo isn't usually required to really rinse the stuff out.
Absolutely no problems here – if you'd rather sleep with a clean head of hair each night, this product will allow you to do so.
Score = 5/5
8. Price
The exact price will depend on your location but you can expect to get a 50ml tub of label.m matt paste for around $22.
It's a pretty expensive product but considering the quality of the finish and ease of application, it's just about justified.
Plus, the awareness that the product has gotten as a professional product and fashion industry favorite does lead to a bit of a premium.
You don't need to use much of it with each use, however. So, although you don't get much for your money in terms of volume, a tub (either 50ml or 120ml) does last pretty long.
Score = 3.5/5
How To Use Label M Matt Paste
Here's a quick step-by-step breakdown of how to use the product to produce a textured hairstyle.
1. Wash And Dry Your Hair
It's always easier to apply creamy hair products to clean hair than it is with oily or greasy hair.
Rinse your hair with or without shampoo and dry it.
You can choose to simply towel-dry it until it's damp or blow-dry it. Apply the label.m matt paste to damp hair if you'd prefer a bit more shine, or dry hair if you want a stronger hold and a more matte finish.
If you're blow-drying, use it as an opportunity to add lift and volume by tousling and finger-combing against the direction growth while doing it.
If you were planning on applying some sea salt spray or other texturizing pre-styler, it's a good idea to do it before blow-drying to really maximize the effect.
2. Break Down A Dime-Sized Amount
A dime-sized amount of label.m matt paste should be all that's necessary for short-to-medium hair.
The more you apply, the heavier it'll feel and the more difficult it'll be to build texture and volume with.
Start low and go slow.
If you feel as though you could do with more afterward or if your hair is just pretty long and thick, use more.
As I mentioned in the review, when you scoop it out and spread it on your palm, you'll notice some bits and clumps. Break these down between your palms quickly by rubbing them together.
You should be left with no clumps and no residue – just a gentle shine on your palms.
3. Apply And Distribute
Start working the paste into your hair, distributing it in every direction, and coating the strands from root-to-tip.
A lot of the hold will be generated from the roots, so don't make the common mistake of simply applying the paste to the tips.
Start the texturizing process by finger-combing to one side, then the other, then forward, then backward.
Doing so will allow you to get a nice and even coating throughout the hair.
Don't forget to add a small amount to the sides and back to flatten any strays or flyaways.
4. Layer And Style
Now that you've achieved a good distribution of the label.m throughout your hair, start styling as you desire.
Although it's great for layered and messy hairstyles, or spikes and quiffs, you can still use it for more defined (but still relaxed) styles as well.
To produce a textured and layered finish, the trick is to finger-tousle and tousle well. Do it in every direction at first before eventually combing in your desired direction to finish off.
Label M Matte Paste: Alternatives
Here are a few products that are sometimes compared to matt paste and are worth knowing about.
1. Label M Matt Paste Vs Hanz De Fuko Claymation
Label M Matt Paste has a creamier and lighter consistency than the grittier Claymation. Although the two products produce a similar low-shine finish, you can expect a stronger hold with Claymation.
The two products are quite similar in that they both contain waxy and clay-like ingredients.
However, Claymation has a much stronger clay component (as the name would suggest) and so does feel heavier and grittier to apply.
Overall, the main thing that sets these products apart is the hold. If you're looking for a stronger hold but still want the same low-shine finish of label.m matt paste, consider going for Claymation instead.
2. Label M Matt Paste Vs American Crew Fiber
American Crew Fiber can generally be expected to produce a slightly stronger hold than Label M Matt Paste. However, the two products have a similar creamy and waxy consistency and produce a similar low-shine finish.
These two products are actually quite similar in what they do.
However, they do feel quite different in consistency. American Crew Fiber does really have a "fiber-like" and resinous feel to it.
It just has a bit more tack and grit to it, which does explain why the hold is better (although not by much).
Overall, you'll find it easier to build texture and volume with label.m Matt Paste. However, you will have to tolerate a weaker hold than what you'd get with American Crew Fiber.
3. Label M Matt Paste Vs Label M Deconstructor
Both label.m Matt Paste and label.m Deconstructor produce a very similar texture and low-shine finish. However, you can expect a slightly stronger hold from the Deconstructor.
It's actually quite surprising how similar these two label.m products actually are.
They both have a similar creamy and waxy consistency but you'll notice some extra stick and tack with the Deconstructor.
Final Thoughts
Hopefully, you found that helpful. A rundown of what I thought of label.m Matt Paste as well as how to use it in an effective, no-fuss sort of way.
Try it out and see for yourself.
Enjoy.
Ready Sleek founder. Obsessed with casual style and the minimalist approach to building a highly functional wardrobe. Also a fan of classic, vintage hairstyles.