There aren't many hair clays on the market that have made as big of a splash in such a short space of time as this one. You're about to learn everything you need to know about Hanz De Fuko Claymation.
Its versatility is the driving force behind its popularity, with men of so many different hair types flocking to it.
But by no means is it for everyone. Hopefully, this guide will help you decide whether it's for you.
You'll learn exactly what it is, how to use it, what similar products are available to you, and how they compare.
I'll round things off by answering some frequently asked questions on the product as well.
Let's get to it.
What Is Hanz De Fuko Claymation?
It's a water-soluble clay-wax hybrid that produces a semi-matte finish and a pliable, medium-to-high hold.
The product is commonly used for modern hairstyles that benefit from its low shine and ability to build texture with ease.
Click here to check it out on Amazon.
The most important ingredients are beeswax and bentonite. While bentonite is the clay mineral that gives it that gritty clay-like strength and consistency, the beeswax makes it a little smoother and shinier than a pure clay.
Moisturizing ingredients include oils such as jojoba oil, castor seed oil, and sunflower seed oil.
It's arguably the most popular offering by Hanz De Fuko and has remained relevant despite a growing number of competitors within this price range in the clay market.
Hanz De Fuko Claymation: Key Features
What I wanted to do was use my experience with this product to give you as good of an idea of what to expect as possible.
To do this, I've split its features into five core domains: look, feel, smell, hold, and shine.
This is based on first-hand experience and personal opinion, so the information may differ from the description used in marketing.
1. The Look
Claymation has an off-white color and the clay itself sits in a frosted white plastic jar with a silver-colored lid.
The packaging has a modern feel to it, but its simplicity might seem a little too plain or basic to some.
2. The Feel
As you emulsify the clay in between your palms you'll quickly notice both its clay-like and wax-like properties.
It's got the grit and tack of a clay thanks to the bentonite, but the beeswax does make it feel smoother and oilier than a standard clay.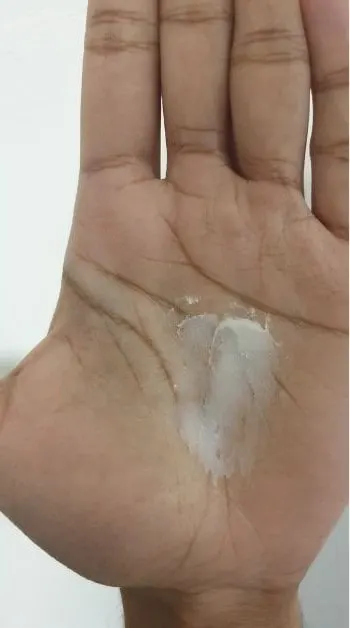 This is best demonstrated by the gentle, oily shine you're left with on your palms once it's fully broken down.
This does make it easier to emulsify and apply – you shouldn't be left with bits or clumps on your palms.
3. The Smell
Claymation has a very neutral, earthy scent with a mild hint of citrus. Overall, it's barely noticeable and isn't a core feature of the product.
4. The Hold
Claymation has a medium-to-high, pliable hold that's ideal for restyling throughout the course of the day.
Having said this, "super-high hold" would be a stretch. Although the hold is good, it does partly depend on the thickness and length of your hair (I'll come to that shortly).
In addition, for a long-lasting hold that lasts the entire course of the day, you'll most likely need hairspray to really keep things in place.
Clays are known for providing a good hold thanks to the grit and structure the clay minerals provide. This product is no different – the hold is good.
However, the heavy beeswax component does seem to add a little more weight and so the hold may not be as strong as a standard clay.
It's a tradeoff; the beeswax makes it smoother and easier to apply, but you may lose a bit of hold because of it.
5. The Shine
Claymation has a finish that's as close to matte as you can expect from a clay-wax hybrid. Although it isn't truly matte, very few products really are. I'd call the finish semi-matte if I had to label it.
Ultimately, the beeswax component will always add a little bit of shine. But with this product, it adds less shine than you might initially expect.
The finish is still as low-shine as you'd expect from a clay. This makes it ideal for modern, textured hairstyles where you're aiming for more layering and character, and less definition.
Hanz De Fuko Claymation: Hair Types
As I mentioned, hair clay is one of those products where your hair type doesn't matter as much because it's so versatile.
However, it's still important to be aware of how it may be better for some hair types more than others.
After reading this, however, you'll probably realize that you shouldn't worry too much about whether Claymation suits your particular hair type. Focus more on whether it suits the style you're looking to achieve.
If you're looking for a relaxed and textured finish, Claymation may be for you. If you're looking for glossiness or definition, go for a pomade, wax, or gel instead.
Thick Vs Thin Hair
Claymation works very well for men with thin or fine hair because the absorbent properties and the low-shine finish of the product overall make the hair look thicker and fuller.
Products that work well with thin hair need to be low shine and able to produce volume and texture.
The beauty of clays such as Claymation is that it ticks these boxes with no trouble. Pomades and gels are often too shiny and heavy for thin hair, revealing too much of the scalp and making the hair look even thinner.
Having said this, Claymation is also a popular choice among thick-haired men. As I said – it's versatile.
The reason they go for it is because of its medium-to-high hold. The hold is usually good enough to keep thick hair in place, while still being pliable and easy to restyle.
Long Vs Short Hair
Claymation works well for both long and short hair. It gives long hair the hold it needs to keep the style in place while giving short hair a low shine, textured finish that doesn't reveal too much of the scalp.
Shinier products like pomades and gels can often show too much scalp when the hair is quite short, especially when the hair is pretty thin as well. Shine is one of the key differences between clays and pomades.
Straight Vs Curly Hair
Claymation is able to build texture and produce a messy, relaxed finish for curly hair, just as it does for straight hair.
If you're looking to add definition or gloss to those curls, a pomade may be more suitable, however.
How To Use And Apply Hanz De Fuko Claymation
Here's a simple, step-by-step routine you can follow for applying Claymation. The key is to use the minimum amount to produce the style you want. A little bit of clay goes a long way.
1. Rinse
You'll want to apply Claymation to clean hair. Like most clays, it's a pretty heavy and dense substance and is easier to distribute through clean hair as opposed to greasy and oily hair.
Applying it to greasy hair will lead to a weaker hold and less of a matte finish.
So, rinse with water at the very least, or use a volume-building shampoo if you're aiming for fullness.
Then, either towel-dry the hair or blow-dry it until the hair is completely dry. If you're pre-styling afterward (as per the next step), you'll want to leave it damp at this point.
2. Pre-Style (If Possible)
This isn't essential, but adding a pre-styler to towel-dried, clean hair before applying the Claymation will make it more responsive and easier to style.
It may be something you want to consider if you feel as though it's tough to build the type of volume or texture you want with clay.
Pre-stylers do different things. There are those which reduce frizz and smooth out the hair, while there are others like thickening tonics that add fullness and volume.
Whatever you choose, apply it to towel-dried hair and distribute it through evenly. You can choose to blow-dry at this point if you want to or simply apply the Claymation to damp hair.
Remember, applying the Claymation to damp hair will lead to less of a matte finish but will make it easier to distribute.
3. Break It Down
Given how gritty Claymation is, you want to make sure you break it down (emulsify it) properly by rubbing it between your palms before applying it.
You don't want any bits or clumps. Warm it up nicely. The beeswax component of Claymation does make this part easier than it would be for most pure clay products.
So, how much should you use?
A dime-sized amount is a good rule-of-thumb for short-to-medium length hair. Start with this and see whether you need more as you go along. You really shouldn't need much.
4. Apply From Root-To-End
Apply the Claymation to the hair. This is your "first application" where the aim isn't to style, but to achieve an even distribution throughout your hair.
The best way to do this is by working the product in all directions. Forward, backward, and side-to-side.
You want to be pretty quick about this because you don't want to give the clay a chance to set before styling.
You also want to make sure you really get the clay down to the roots of the hair by working it gently into the scalp. What you want is to coat the hair in clay from root-to-tip.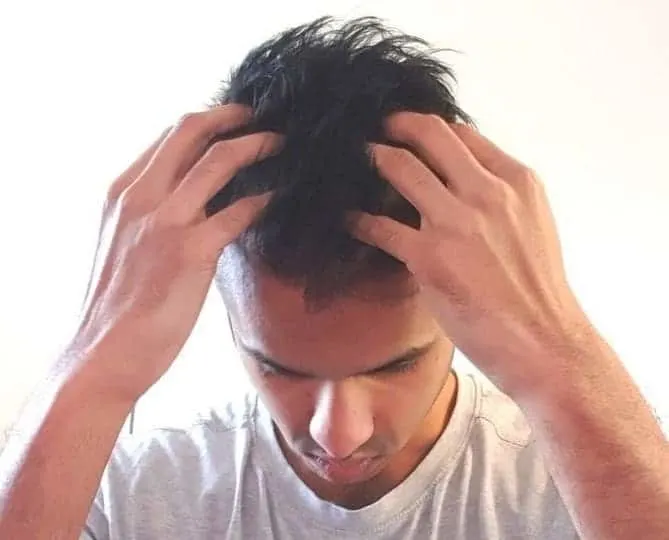 A common reason for a weak hold (with any type of product) is simply applying the product to the tips and not the roots.
Don't forget to apply some to the sides and back to flatten any flyaways.
5. Style
Once you've distributed the product, it's time for styling. What you do at this point, of course, depends on the style you're looking to achieve.
You can split them broadly into "messy/textured" and "neat/defined".
Messy And Textured:
To build texture, you'll want to use your fingers to tousle the hair and create that relaxed, layered appearance. It's easier to do this with your hands than it is with a brush or comb.
The more you twist and tousle, the more layered and textured the hair will look.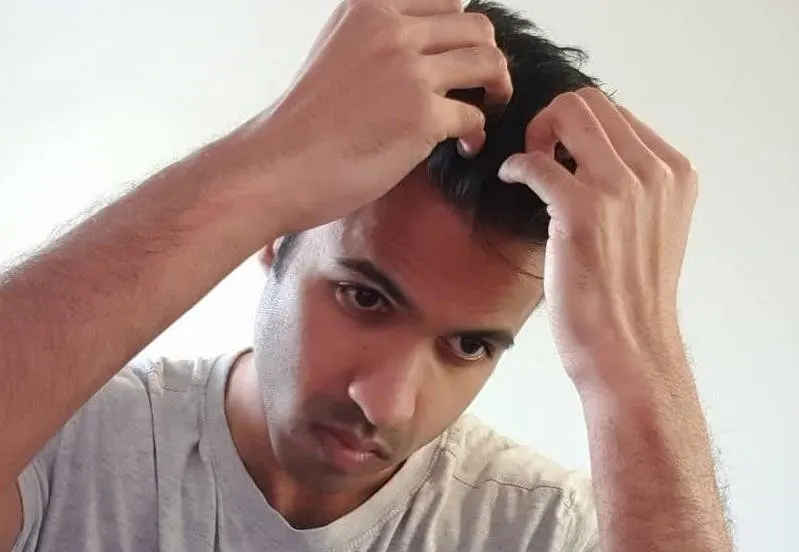 Clays are very well suited to this type of style. It's modern and great for casual, loose, everyday looks.
If you want to build more volume with the Claymation, you can do this tousling while blow-drying in your desired direction.
Defined And Neat:
Claymation may not be as good as pomades or pure waxes are for more defined, neat, and formal styles.
However, the waxy component of it does add just a little bit of gloss and does make it easier to do than with most traditional clays.
The only thing that's different here is technique. If you're looking for more definition and shape, you'll want to use a brush or comb instead of your fingers.
The lines produced by the bristles of a brush or the teeth of a comb are what give it more structure and definition. In other words, a more formal edge.
6. Define The Side Part
At this point, you'll want to review your work and see whether there are any flyaways or strays that need flattening. This is only if you want to. If you're aiming for more of a messy look in any case you may not really care about this.
One way of making a messy and relaxed style look intentional as opposed to accidental "bedhead" is by defining the side part.
Do this at the end if you feel as though you'd like to. You can use a comb to find it and define it, before flattening the hair on either side of it to really make it stand out.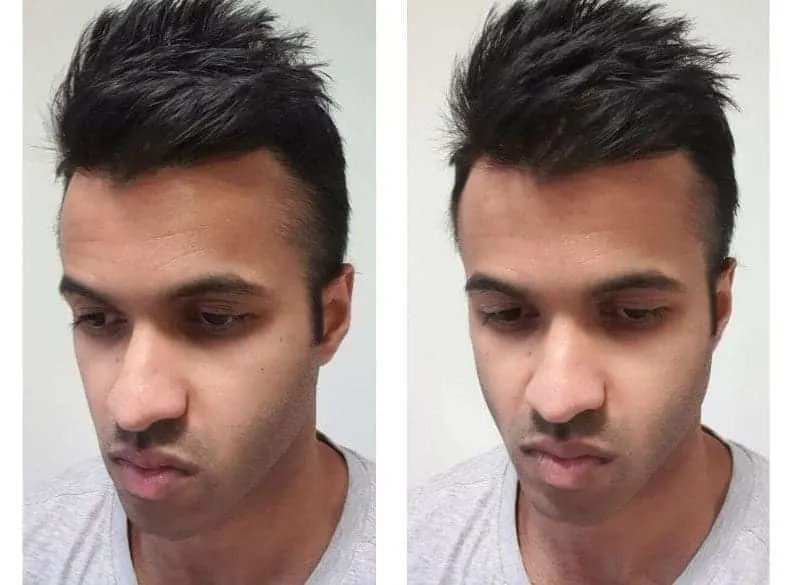 How To Wash Out Hanz De Fuko Claymation
Claymation has great washability as it's water-soluble. You should be able to remove most of the product with a simple water-only rinse, but for a full cleanse you'll most likely need a single application of shampoo.
The beeswax component of it does make it slightly more difficult to rinse out than a purely water-based product. That's why you'll most likely need a dab of shampoo to really get the job done.
It's nowhere near as difficult to wash out as an oil-based pomade, for instance. But it may not be quite as easy to wash out as a water-based pomade or a gel.
Clay is a pretty heavy and gritty substance, so to get rid of all of it, you'll most likely need shampoo.
Alternatives To Hanz De Fuko Claymation
As I mentioned, the clay market is pretty strong and there are plenty of other products to choose from.
Although Claymation is a very worthy contender, it's worth knowing what else is available to you at this price range and how they compare.
1. Blumaan Cavalier Clay
Blumaan Cavalier produces a very similar pliable, medium-to-high hold and semi-matte finish to Hanz De Fuko Claymation.
The consistency of Cavalier (Amazon Link) is a little less oily than Claymation and feels a little more like what you'd expect from a clay.
There's very little that separates these two products; they both distribute through the hair smoothly and with minimal resistance.
They're commonly compared because they produce very similar effects and are at a similar price point as well. In addition, they've both grown in popularity thanks to a strong social media presence.
2. By Vilain Gold Digger
Compared with Claymation, By Vilain's Gold Digger is more of a pure wax than a clay-wax hybrid and so can be expected to produce a shinier finish.
The hold the two products provide is similar however; medium-to-high and pliable.
Given its waxier consistency, Gold Digger is a little smoother and easier to apply and distribute than the Claymation.
Ultimately, if you're looking for a similar level of hold but would prefer more shine, gloss, and definition go for the By Vilain.
Men with thinner hair may benefit more from the clay-like properties of Claymation; the hair generally looks plumper and fuller thanks to the bentonite. It's also easier to build texture and volume with.
3. Baxter Of California Clay Pomade
Compared with Claymation, Baxter Of California's Clay Pomade does share similar features including a medium-to-high hold and a clay-wax hybrid consistency. However, Baxter Of California is petrolatum-based, giving it an oilier feel.
This does lead to a slightly shinier finish than what you'd expect from Claymation, but the difference isn't very noticeable.
The hold you get from both products is pliable, which is perfect for restyling throughout the day.
Although the Baxter Of California is oil-based (petrolatum-based to be specific), it isn't as difficult to wash out as you'd expect. In fact, the two products are both quite easy to wash out, although will need a dab of shampoo to do so.
4. Layrite Cement Clay
Compared with Claymation, Layrite's Cement Clay produces a slightly weaker hold but a similar semi-matte finish. It's also unusual in that it doesn't actually contain any kaolin, bentonite, or other typical clay minerals.
The scent of Cement Clay is also more obvious than that of Claymation. It smells very sweet and although not offensive is often noticeable even after you've applied it to the hair.
The hold you get from Cement Clay is pliable but not quite as strong as what you get from Claymation. This may be due to the fact that you don't have the grit of any clay minerals to really keep things in place.
Overall, it's a popular product that's often compared to Claymation and worth trying out if you're looking for an alternative. However, the two products are more different than you might initially think.
5. Kevin Murphy Rough Rider
Compared with Claymation, Kevin Murphy's Rough Rider does produce more shine with a waxier consistency. However, the hold is as strong (medium-to-high) and pliable.
Although it calls itself a styling clay, the product doesn't contain any kaolin or bentonite and its consistency is more like that of a wax.
However, it does have a bit more grit than you'd expect from a wax which does seem to give it that extra bit of hold.
Overall, the main difference will be shine. The shine on Rough Rider isn't anywhere near as high as a pomade but is still more noticeable than that of Claymation.
I'd say Rough Rider produces more of a natural finish than Claymation which is more semi-matte.
Both products do usually require a bit of shampoo to properly wash it out.
So, if you're looking for the same level and type of hold as Claymation but would prefer just a tad more shine, strongly consider Rough Rider.
Frequently Asked Questions
As you've probably already figured out, it's a pretty simple, no-nonsense product that doesn't require a lot of know-how to use correctly.
However, there are quite a few frequently answered questions regarding Claymation that are rarely answered.
I thought I'd take this opportunity to answer them.
Should Claymation Be Applied To Wet, Damp, Or Dry Hair?
Claymation should be applied to damp hair if you're looking for easier distribution and less of a matte finish, and dry hair if you're looking for as matte of a finish as possible.
Claymation shouldn't be used on wet hair as the weight of the water will prevent you from building texture and achieving a good hold.
Does Hanz De Fuko Claymation Expire?
Although Claymation doesn't usually specify an expiration date, as with any hair product, it does expire.
When this point of expiry will be really depends on its storage conditions. Store it in cool, dry conditions to preserve it.
Overall, you can expect it to last for longer than a year. However, if the product changes consistency or develops an odd smell, get rid of it.
How Long Does Hanz De Fuko Claymation Last?
A regular, 2oz tub of Claymation can be expected to last approximately 4 to 6 weeks with daily use.
However, this does obviously depend on how much you're using with each application. For most men, however, 4-6 weeks is a pretty safe bet.
Is Hanz De Fuko Claymation Water-Soluble?
Yes, Hanz De Fuko is water-soluble. However, its prominent waxy component does make it less water-soluble than a purely water-based product.
This is what makes it a little tougher to wash out than a water-based pomade or gel, for instance.
It's still not difficult to wash out by any means.
Can Claymation Be Used As A Pre-Styler?
Claymation is not a pre-styler as it's too heavy and overbearing.
Pre-stylers should be light, serve a specific purpose, and be applied before the main product is applied.
Claymation would be the main styling product, not the pre-styler.
Is Hanz De Fuko Claymation Good For Your Hair?
Claymation does contain some nourishing and moisturizing ingredients such as jojoba oil, castor seed oil, and sunflower seed oil that could be considered good for the hair.
However, no styling product should be considered purely "good" for the hair and all of them should be used in moderation.
It's still important to use the minimum amount of product necessary to achieve the desired effect.
Is Hanz De Fuko Claymation Good For Asian Hair?
Claymation works well for the thick, straight hair that a lot of Asian men do have. Its hold is strong enough to keep thick hair in place.
If you're looking to build texture and volume, this may be a great product to try out.
Is Hanz De Fuko Claymation Greasy?
Claymation is not greasy. It produces the semi-matte finish that you'd expect from most clay products.
The beeswax component does add some shine, but in no way does it make the hair look greasy.
Conclusion
Hopefully, that's everything you'd want to know about this endlessly versatile product. If you've already bought it, you should have a better idea of how to use it in the best way possible.
If you were on the fence, hopefully, you've got enough information to help you make the decision.
Try it out. Honestly, it's popular for a reason. It may have its opponents, but overall, it's a pretty well-loved product and it's quite easy to see why once you've tried it a couple of times.
Enjoy.
Ready Sleek founder. Obsessed with casual style and the minimalist approach to building a highly functional wardrobe. Also a fan of classic, vintage hairstyles.