Certain combinations have become "classic" due to how versatile they really are. But is this one of them? More specifically, can you wear khakis with a blazer?
Khakis can easily be worn with blazers to smart-casual and business-casual settings. Choose a neutral-colored blazer, add contrast with the shirt, and go for brown dress shoes to round off the outfit.
That's the gist – but there's more to it.
What you need are some "rules" (i.e tips) for pulling off this timeless combination in the best way possible. That's exactly what you're about to get.
1. Make Sure It's Appropriate
Before you wear a khakis and blazer combination, make sure it's appropriate for the setting or dress code.
In short, this combo would work for any dress code less formal than "business-professional".
You can wear it to casual, smart-casual, and business-casual settings.
You can't wear it to business-professional, formal, or black-tie settings.
For business-professional and formal settings, you'll need to wear a suit. This would usually be a formal 2 or 3-piece suit made from a relatively shiny and wrinkle-resistant fabric such as worsted wool.
A khakis and blazer outfit simply wouldn't cut it.
Let's go through the ideal settings where it would be appropriate:
Smart-casual: Think first dates, garden parties, and dinners at mid-level restaurants.
Business-casual: Think modern workplaces and office parties or dinners.
If you think a suit would be too much but a pair of jeans wouldn't be enough, there's a good chance that a khakis and blazer combination would be a great option.
Once you're sure that it would be, read on to find out how to wear it in the best way possible.
2. Choose A Neutral Blazer Color
Khakis work well with neutral blazers in a variety of light and dark colors including blue, grey, and black. Seersucker blazers are also commonly worn with khakis.
Khaki is a pretty neutral color in itself and is easy to pair with other items. While you could go for practically any color of blazer, restricting your options is usually the best option.
Go for a neutral, muted color of blazer that would easily match with the light brown shade of your khakis, as well as the other items (eg. the shirt).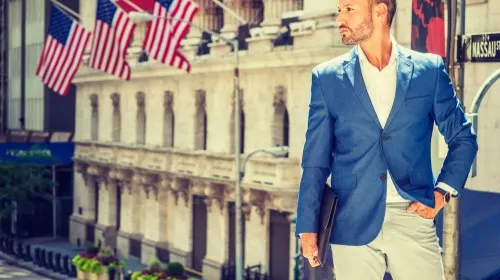 The neutral color could be either dark or light, depending on how much you wanted it to contrast the light shade of the khakis.
Examples of light and neutral colors for your blazer include off-white, beige, pale blue, and light grey.
Examples of dark and neutral colors for your blazer include navy blue, charcoal grey, and black.
Once you've chosen a neutral color such as these, you've now got a lot more freedom to add splashes of color with your shirt without the risk of a color clash.
3. Consider A More "Formal" Pair Of Khakis
Blazers aren't necessarily going to look "formal", but they're still considered on the more formal end of the spectrum.
They'll look a whole lot more formal than a denim or leather jacket, for instance.
Because of this, try to choose a pair of khakis that looks a little more elegant than your average pair.
"Formal" looking pairs of chinos will usually have features such as jetted pockets instead of patch pockets, minimal seam details, and a tapered, slim-fit.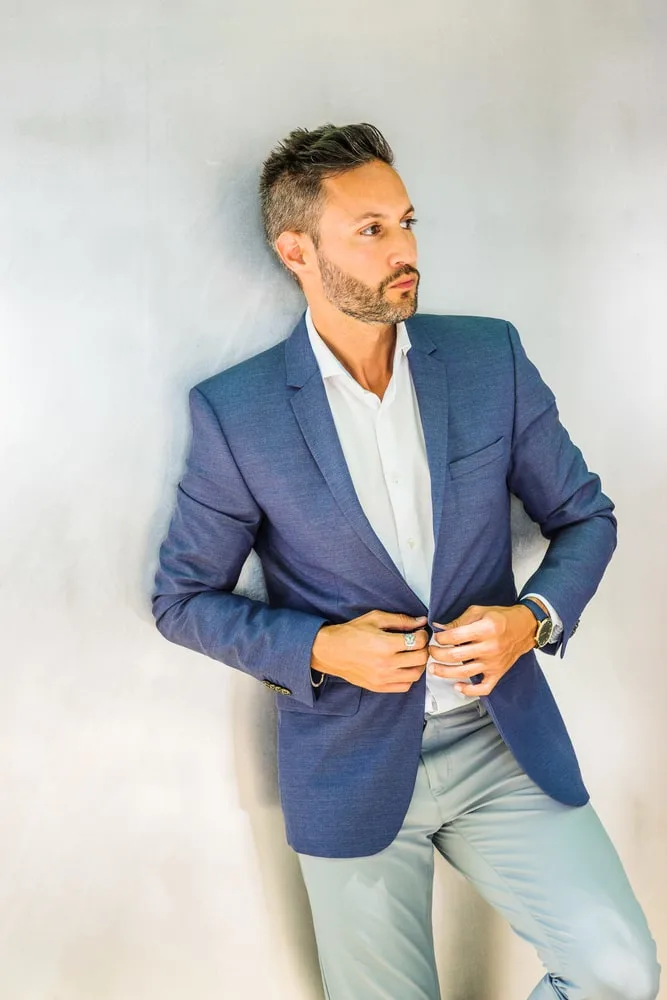 Basically, the less those chinos look like jeans or cargo pants, the better.
This isn't essential, by any means.
At the end of the day, most pairs of chinos would look good enough to wear with a blazer.
But if you can choose a pair with more "formal" features, it'll generally look better.
4. Add Contrast With The Shirt
When wearing khakis with a blazer, go for a shirt color that contrasts the other items such as red, pink, or blue. Consider patterned shirts such as checked shirts to add even more contrast.
Going for a neutral blazer color does give you lots of options when it comes to your shirt color. It makes it a lot easier to color match the items.
If you wanted to, you could keep things very simple by choosing a white, off-white, or light grey shirt.
If, however, you wanted to use your shirt to add some color to your outfit, go for it.
A simple principle to follow would be to choose a shade that contrasts the color of the blazer.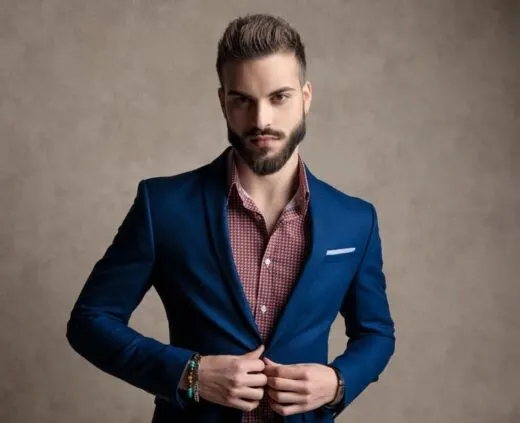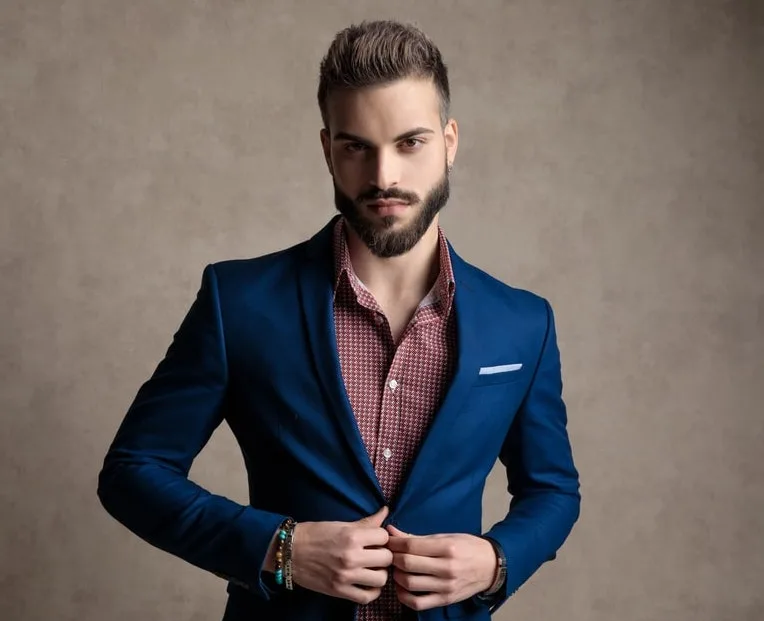 If you've gone for a light-colored, neutral blazer, go for a darker shade for your shirt. For example, royal blue or burgundy red.
If you've gone for a dark-colored, neutral blazer, go for a lighter shade for your shirt. For example, pale pink, pale blue, or light grey.
In terms of the style of shirt you choose, it really depends on how formal the setting you're attending is.
If you're going to a more casual setting, your options are endless. You could go for a T-shirt, linen shirt, an OCBD shirt, or even a polo shirt.
On the other hand, if you're going to a more business-casual setting, consider a dress shirt instead. An OCBD shirt would probably be the minimum you should consider.
If the weather allows for it, consider a turtleneck neck sweater under the blazer. When paired with chinos, it makes for a great smart-casual look. Here's an example.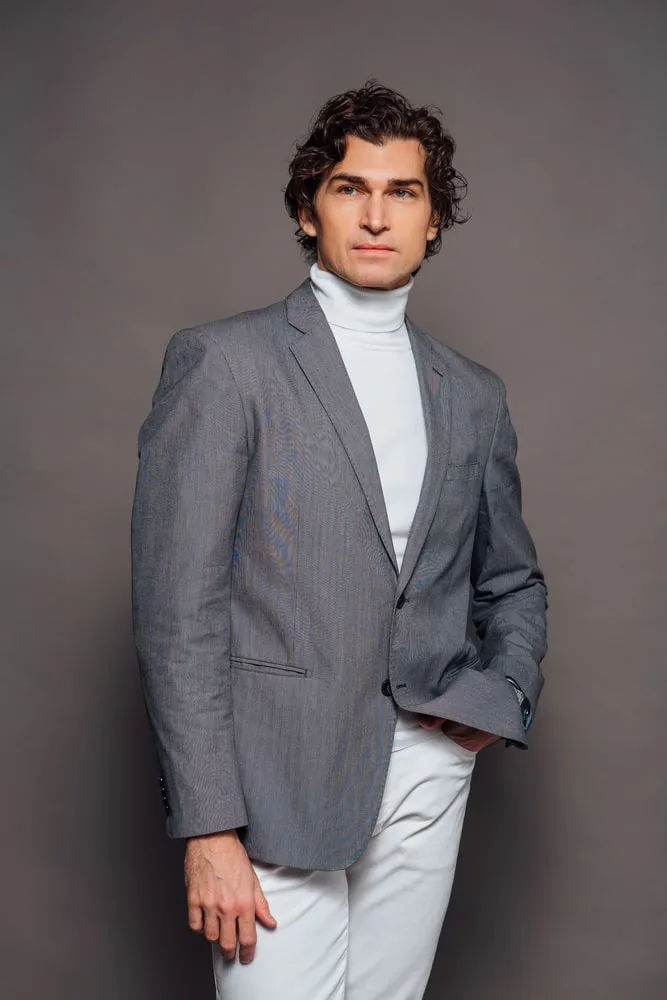 5. Go For Brown Dress Shoes
When wearing a blazer and khakis, brown shoes will generally be the best option. It's a color that'll pair seamlessly with the khaki pants, while also being neutral enough to pair with practically any blazer color you wear.
While you could choose a brighter and bolder color for your shoes, it would make life a little more difficult for yourself.
Choosing a random color for your shoes makes color matching and coordinating the rest of the outfit more difficult than it needs to be.
Black shoes are often quite difficult to pair with khakis too. The contrast between the light brown khakis and the black shoes would usually be too much.
Brown shoes should be considered the default choice here.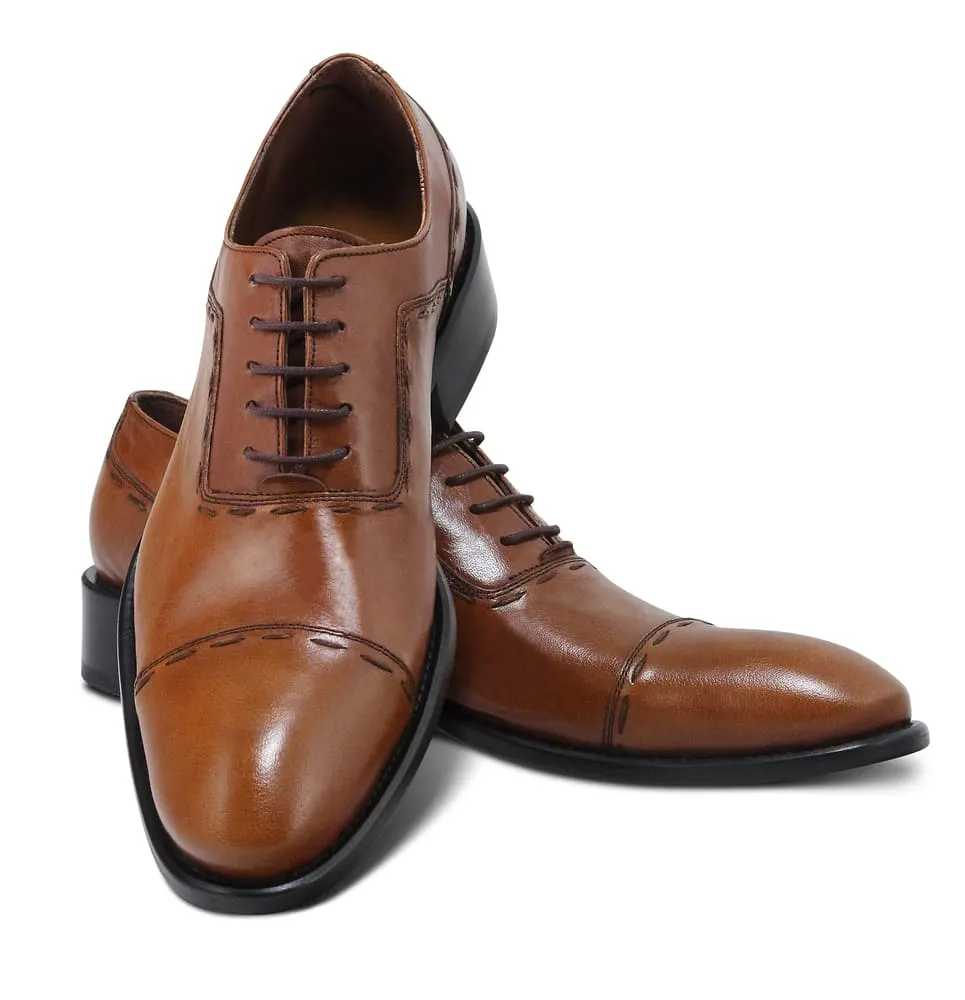 If you want to dress your outfit up a little, go for dark brown. If you wanted a more laid-back aesthetic, a light brown shade (eg. tan) would work a treat.
The khakis and blazer combination is also versatile enough to allow you to wear any style of dress shoe you could think of.
If you wanted to go for a more formal look, consider brown Oxfords or Derby shoes. If you wanted something a little more casual, go for monk straps or loafers (weather permitting).
Brown boots such as Chelseas or chukkas would also pair very well with a blazer and khakis combination.
6. Add A Pocket Square
Now that the core of your outfit is done, it's time to consider whether you want to add some flare to make it clear that you're more stylish than the average man.
Adding a pocket square to your blazer could be a simple way to achieve this.
It would also be a great way to add a splash of color to your outfit as well.
Even a simple white pocket square with a straight Presidential fold would add a touch of elegance and sophistication to even the most basic blazer and khakis combination.
But consider taking the opportunity to add some color. Choose one that complements the blazer but doesn't match it.
7. Forget The Tie
OK, this one isn't a hard and fast rule by any means. A tie, especially a more casual tie such as a knit silk one, could actually look OK with a blazer and khakis combination.
But it's usually best to skip it altogether.
The most formal dress code you'd be wearing this combination to would usually be business-casual.
While it's possible to wear a tie to a business-casual setting, it may be seen as overdressing.
It's better to just wear a shirt with the top button undone and really embrace the casual aspect of "business-casual".
It has a great laid-back feel. Subtle and sophisticated without trying too hard.
Sticking to this tip, as well as the others in this list, should ensure that you don't set a foot wrong whenever you feel like wearing this classic combo.
Enjoy.
Ready Sleek founder. Obsessed with casual style and the minimalist approach to building a highly functional wardrobe. Also a fan of classic, vintage hairstyles.