So, you've decided to join the ever-growing mustache movement. After careful consideration, you may have even picked a style to suit your personality; perhaps the chevron, the handlebar, or even the walrus mustache.
You even went ahead and invested in the best 'stache wax and oil available in the market. Everything seems to be going to plan. But one day you'll wake up, realize you've let things slip and that discipline is in order. You're about to learn how to trim a mustache with clippers in the most ruthlessly efficient way possible.
An electric clipper helps cut a large volume of hair, easily and quickly. It is designed for tasks such as contouring, tapering, and achieving precision while trimming mustache hair.
Electric clippers became popular around 1930, and the first of its kind was invented by the great Leo Wahl. Now that you know what a hair clipper is, you may still have no idea how to go about it this seemingly goliath task.
How should you hold it? What size guard should you use? Should you go for a clipper or a pair of scissors?
Quit frettin'. Let's get to work.
How To Trim A Mustache With Clippers In 5 Steps

1. Prepare the mustache; wash, dry, comb
Mustaches are easier to work with when they are clean. Hair that is greasy or dirty makes trimming a difficult process.
Make sure the mustache is washed, gently towel-dried and combed before trimming. Use a fine-toothed comb and comb the mustache downward with the grain (in the direction of hair growth).
TIP: Use a little oil on the clipper blade before trimming. It reduces hair clogging, increases the longevity of the trimmer and allows the blade to work like a dream.
2. Prepare the electric clippers
Clippers usually come with eight numbered guards. The smaller the number on the guard, the shorter the cut.
Use a longer size guard to trim the hair that is scraggly and doesn't lie flat, and a shorter guard if you are looking at reducing the bulk of the mustache itself.
However, do ensure that your clipper guard is securely attached so that they don't fall off while trimming.
If you prefer changing the shape of your mustache and length quite often, then go for a clipper with multiple attachments and a wide variety of length options.
Some clippers are designed to have a lever on the side of the cutting blades. It allows you to go from zero to half.
If it's your first time cutting your mustache with clippers, then it's better to start on a higher setting. However, too much variation is not advisable while trimming a mustache.
TIP: If you are a beginner, it's best to start with a longer guard so that you don't cut off too much hair.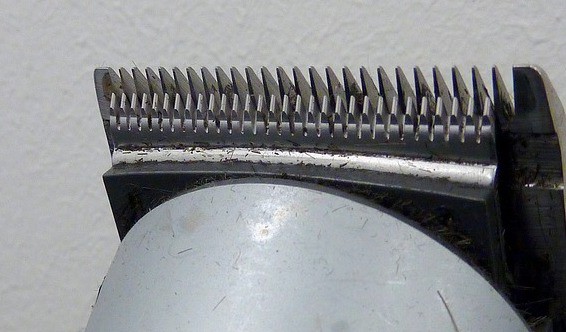 3. Trim the strays over the upper lip
You can't get much worse than a tapestry of mustache hairs hanging over the top lip and creeping toward the inside of the mouth.
It just oozes poor discipline and unruliness and is considered a cardinal sin of good facial hair grooming. Yes, it's up there with poorly maintained neck stubble.
To ensure your mustache is at its tidiest, trim any stray hairs overlying the upper lip using the naked blade of the clippers (with no attachment guards).
Do it slowly as you don't want to catch your upper lip – this can hurt. Make tiny little cuts so as not to trim into the mustache itself. All you are doing here is neatening things up.
4. Tackle the bulk of the mustache
Now it's time to select your numbered guard of choice and tackle the bulk of the mustache itself.
Use slow and steady hands as you don't want to cut too much of one side. Going slow will also help you achieve symmetry, which is crucial. Clippers also cut hair without pulling the entire hair follicle out of the face.
You can even go for the 'clipper over comb' technique. A mustache or beard comb is used to lift the mustache hair at a 90-degree angle. The clipper is then moved up the comb, trimming any portion of the hair protruding beyond the teeth of the comb.
This method is a phenomenal way to get an even trim. But by angling the comb, you have complete control over the length of the hair that remains after the ends have been clipped off. This can produce a wonderful, tapered effect if this is what you would like.
The method makes it possible to achieve a variety of different finishes.
The fundamentals of a great mustache are precise contour and an even trim. The best part of using clippers is that they're hassle-free and it doesn't need much skill to operate.
All you need to do is decide what length you want, select the right setting on your clipper, get your comb technique in check, and the rest falls into place. Very little can go wrong with clippers.
For a neat look, the edge of the mustache should extend approximately half an inch beyond the corners of the mouth. But of course, this does depend on the style you've chosen. The edges of a Horseshoe, for instance, are considerably longer.
In case you're trimming a Handlebar, put the index finger on the corner of your mouth drawing a straight line to the jaw. Use this as a guide to trim the bars of your mustache.
Trim them straight and horizontal; you can always style them up into a Handlebar at the end. Just be sure to leave enough length on either side.
TIP: Wash mustache hair out of your mouth periodically; it isn't the best source of nutrition.
5. Moisturize or apply beard oil
Trimming will always do two things; irritate and dry out the underlying skin. The skin above the upper lip is particularly sensitive and needs to be looked after.
Moisturizing after a trimming session is essential. This can be done using a standard, straightforward moisturizing cream. However, this can be uncomfortable and sometimes impractical to apply to a thick mustache.
A couple of drops of beard oil would be a better idea. Combing after applying the beard oil will allow for very easy distribution.
Now that you have perfected the art of trimming your mustache with clippers, let's discuss a few other frequently asked questions.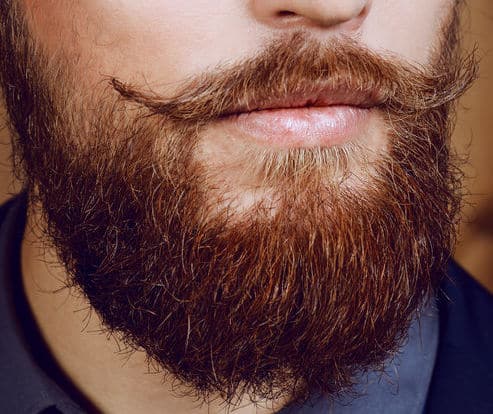 How Do I Choose The Right Clipper For My Mustache?
If you only trim your mustache once every two weeks or so, a clipper with a less powerful motor would be perfectly fine. A magnetic motor would be a good option as it's inexpensive and reliable for occasional uses.
Your second option is the pivot motor, which has twice the cutting power of the magnetic motor and is combined with low-friction engineering.
However, if you trim your mustache frequently, choose an electric clipper with a powerful motor. Go for a clipper with a rotary motor – the most powerful, durable, long-lasting, and efficient.
Clippers can either be mains-powered or battery-powered. If you're a frequent traveler, then a battery-powered clipper is the one for you.
If you intend to trim your mustache with clippers quite frequently, then also pay some attention to the design.
You might primarily base your purchasing decision on price and key specifications, but the ease of use may also take priority.
Choose a clipper that will fit snugly into your hand and offers maximum maneuverability while cutting hair.
This can be difficult to determine if buying the pair online but read through any reviews carefully as this factor is often mentioned by previous buyers.
If you're hoping to use the trimmer while your mustache is wet, be sure the clippers allow for it.

A lot of clippers have wet and dry settings, although some may be for dry use only. For your clipper's protection, ensure you know which category it falls into.
Lastly, while clippers with ceramic blades are easily available, you may want to go for metal blades instead. Ceramic blades are fine but may be quite expensive to replace.
It's also wise to go for a clipper with titanium blades over steel. These have a longer shelf life and are more durable. However, stainless steel blades are also perfectly acceptable.
A basic pair of clippers can cost anywhere between £10–£30. A mid-range clipper is usually priced at £30-£100 and an expensive and advanced clipper can go up to £200. Some of the best brands include Wahl, Phillips, Braun, and BaByliss.
What's The Difference Between A Clipper And A Trimmer?
There are a number of differences between a clipper and a trimmer. They vary in the width of the blade, the nature of the guards, and more.
Most importantly, how the mustache hair will look after trimming completely depends on the blade and guard size. Let's take a look at some of the major differences.
If you have a long, thick mustache that needs trimming then go for a hair clipper.
A hair clipper has thinner blades, which is great for cutting and shaping a long mustache into a shorter style.
Clippers usually come with different blade types, categorized into fine cutting blades, coarse cutting blades, full coarse cutting blades, and so on. It really depends on what you're aiming for.
In case you have thick, curly hair, a hair clipper is your best bet over a trimmer.
Electric trimmers, on the other hand, have a thicker blade and can cut closer to the skin.
The blade in a beard trimmer can cover more ground while trimming and you may cut off more hair from your mustache than necessary. This may be what you want, however, particularly if you're looking for a shorter trim.
Both clippers and trimmers come with a variety of length options and attachment guards. However, electric trimmers generally allow for a wider variety of length options, with smaller increments in between attachment guards.
This may be important to you, particularly if you want more versatility and the option to vary the length in different parts of your beard and mustache.
Should I Trim The Mustache With Clippers Or Scissors?
Although this article is an in-depth explanation as to why clippers can be great for mustaches, scissors need their props to.
Scissors allow for intricate, meticulous sculpting of a mustache. Each strand can be given individual attention, allowing for a very nuanced and artistic outcome. This is something clippers will never be able to do.
However, clippers obviously work faster than scissors and do give very precise and even results. When it comes to time, clippers are your best bet hands-down. They can remove large bulks of hair very quickly and efficiently.
Clippers also don't need to be powered by the hand and arm muscles. Scissors can be tiring to use as you're providing the energy to push through and not with an artificial motor.
So, you're now a confident, seasoned clipper practitioner. But let's not forget about clipper maintenance as it's an equally important process.
How To Maintain A Pair Of Clippers
Wash your clipper regularly to get rid of any dirt or hair that might be stuck in the blades. Most electronic clippers also come with a free brush to clean out hair that might be stuck either side of the blade.
You can even use a small amount of soap, rubbing alcohol, or anti-bacterial water to be ultra-hygienic and wash away any bacteria.
A dirty blade can introduce infection, particularly into skin that's already inflamed post-trim.
Consider using a screwdriver to open the blade cover and clean out all the small hairs that have accumulated in the clipper.
Many clippers these days come with a free bottle of transparent oil for the blades. It's important to clean your clipper blades with this oil once in a while.
Oiling clipper blades prevent any chances of rust formation and they'll remain sharper for longer. If your blade dulls, it's more likely to cause discomfort and "catch" while trimming your mustache.
However, most electronic clippers today do come with self-sharpening blades, keeping them fresh for a longer period of time. When not in use, store your electronic clippers in whatever storage case they may have come in.
Conclusion
The modern mustache man is stepping up his game and looking for alternative grooming options. Scissors aren't the be-all and end-all. You have other methods to choose from.
According to a survey by Allure and GQ, men spend $121 per year on grooming products. This is up from $90 just a few years ago.
There are just so many next-gen tools in the market that can help the modern manscaper master his mustache and beard trimming skills and beyond.
The mustache is an extension of a man's personality and individuality. Clippers may have a greater role in shaping it than previously thought.
I hope this article helped you to demystify how to trim a mustache with clippers like an absolute boss, as well as answered some related, important questions on the topic.