Keeping things simple is always a great principle to follow when it comes to men's style. When it comes to color matching, it definitely holds true. The question is, can you wear a grey suit with a black tie?
A grey suit can easily be worn with a black tie in formal and business-professional settings. Dark grey suits will always look more formal than light grey suits, especially when a black tie is worn with them. A white pocket square can add a touch of sophistication to the outfit.
Although that's the short answer, as always, there's more to it.
After going through some essential tips for wearing a grey suit with a black tie in the most effective way possible, I'll answer a couple of FAQs to round things up.
Let's get to it.
7 Tips For Wearing A Grey Suit With A Black Tie
Consider all of these tips before putting together your outfit. Although it's tough to wrong with this classic combination, there's usually a better way of pulling it off.
1. Wear Light Grey Suits In "Casual" Settings
Light grey suits and black ties usually work better in "casual" settings where you want to dress up without looking too formal or professional.
I've put "casual" in inverted commas here because technically a suit could never really be considered truly casual.
The event you'd be wearing it to would still be considered formal by most standards, but not that formal.
The setting would usually be considered more social than professional.
In these circumstances, light-colored grey suits usually work much better.
In general, the lighter the color of the suit, the more laid-back and casual it comes across.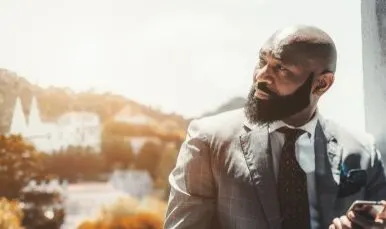 In addition, the lighter the color of the grey suit, the more contrast you'll get between the suit and the black tie.
This has a more eye-catching appearance to it; another reason why it's better suited to the more laid-back formal settings.
Another way to tone down the formality of a grey suit would be to choose one with a pattern such as plaid. Black ties look great with plaid grey suits in casual settings.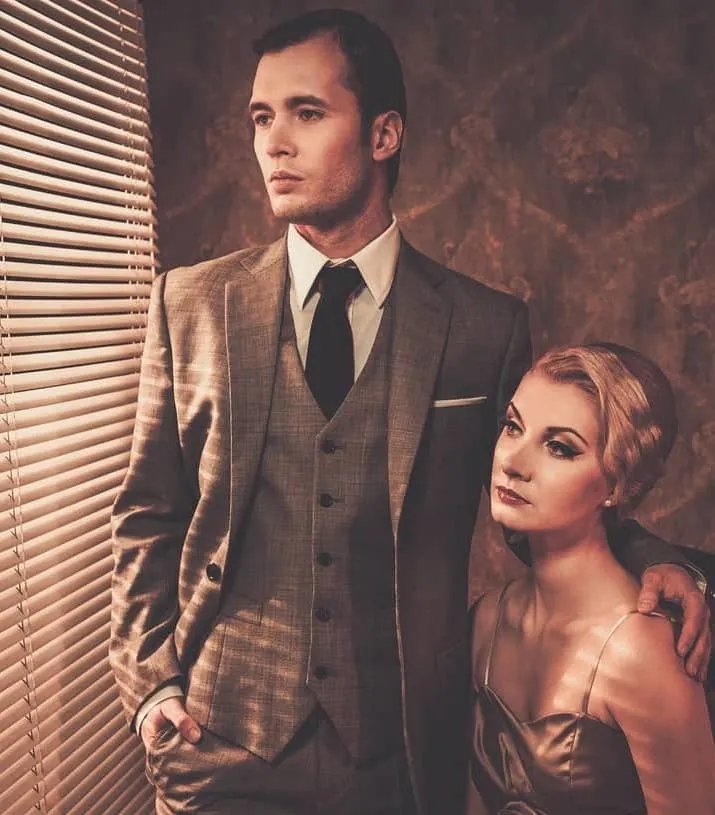 2. Wear Dark Grey Suits In Formal Settings
If you're wearing a grey suit and black tie in a more formal or professional setting, choose a dark grey suit color such as charcoal.
Dark grey has a much more professional and "business" aesthetic to it than light grey does.
The darker the suit color, the more professional it'll look.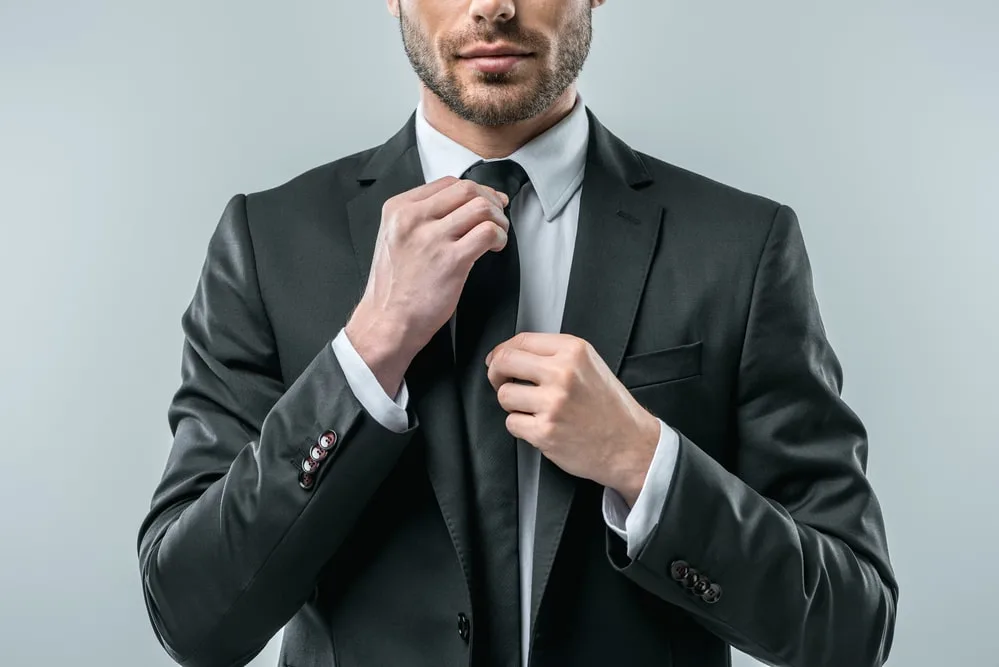 That doesn't mean that dark grey suits can't be worn to social settings – they definitely can.
Just be aware that a dark grey suit may come across more like business-professional attire, especially when wearing a black tie with it.
Because of this, if you were going to wear a dark grey suit to a social setting, try to avoid wearing a black tie with it.
It just has too serious and professional of a feel to it.
Instead, consider wearing a more vibrant color that would still blend with the dark aesthetic of the suit. Burgundy red would be a great example.
3. Consider The Suit Fabric
Grey suits can look incredibly different from each other due to the wide variety of fabrics they can be made from.
Another great principle to remember here is that the shinier and smoother the grey fabric is, the more formal it'll look.
Black ties have a naturally formal look to them. If you want to stick with this formal aesthetic, go for a grey suit made from a shiny fabric such as worsted wool.
If, on the other hand, you wanted to tone down the formality of the black tie, go for a grey suit made from a more matte and rugged fabric.
There are plenty to choose from, but potential examples include grey corduroy, tweed, cotton twill weaves, and even linen.
These grey suits are less shiny and have a rougher texture to them compared with worsted wool and most wool-poly blends.
They're better suited to more casual settings.
Here's a grey tweed suit on Amazon as an example:
The main point here is that just like the shade of grey you choose, the texture of the fabric will influence how formal or casual the suit will look.
You should also consider the weather and the season when choosing your suit's fabric. While worsted wool would be appropriate throughout the year, certain fabrics/weaves such as tweed are more winter/fall appropriate.
Linen, on the other hand, is breathable enough to be considered ideal for warm summer wear.
4. Consider The Black Tie's Fabric
Another thing to consider here is that the texture of the black tie should really complement the texture of the grey suit's fabric.
If you've got a rugged tweed grey suit, for example, you'll want to consider going for a black tie with a similarly matte and textured finish.
In other words, avoid going for a black tie with too much shine or gloss.
On the other hand, if you're wearing a shiny worsted wool or sharkskin grey suit, a shiny and glossy black tie would work a treat.
In general, silk ties have a more glossy and formal look to them than wool or cotton ties, but not always.
Knit ties, for example, have a rough, rugged, and crunchy feel to them. They're thick and look pretty casual, but are also often made from silk.
Here's an example of a knit tie on Amazon to show you what I mean. This one isn't made from true silk, but notice how rough the texture immediately comes across. It has a casual appearance to it.
So, don't overthink it too much.
Stick to the principle of shiny ties looking more formal than not-so-shiny ties and you should be fine.
Pair shiny black ties with the shinier grey suits, and pair the not-so-shiny black ties with the not-so-shiny grey suits.
Simple, but effective.
5. White Or Off-White Dress Shirt
When wearing a grey suit with a black tie, white shirts work best. The reason for this is that it's subtle, neutral, and always looks formal enough. In addition, it nicely contrasts the dark aesthetic of the rest of the outfit.
While it may sound like the most boring choice, it's definitely the wisest.
You'll want to keep things as simple as possible with the dress shirt so that it's easy to pair with other items such as your shoes and pocket square.
Going for a more exciting color of dress shirt would make things a lot harder as there would be a great risk of a color clash.
If you didn't want to go for a white dress shirt, consider an off-white one instead. It's still light and neutral enough to give you the same benefits.
But the bottom line here is that you want to keep things boring and simple with your shirt choice here.
6. Brown Or Black Leather Dress Shoes
Brown and black are the best shoe colors to wear with a grey suit and black tie.
This suit and tie combination is dark, neutral, and has a professional look and feel to it.
You'll want to make sure that the shoe color you choose doesn't cause a color or formality mismatch with the black tie.
The easiest way to do this would be to keep things simple and traditional.
Black shoes would be the most formal option and what many people would go for. However, when wearing a grey suit and black tie, some might say it leads to too much of a monochromatic look.
If you wanted to add a bit of contrast, go for brown shoes instead.
The darker the brown shoes, the more formal they'll look.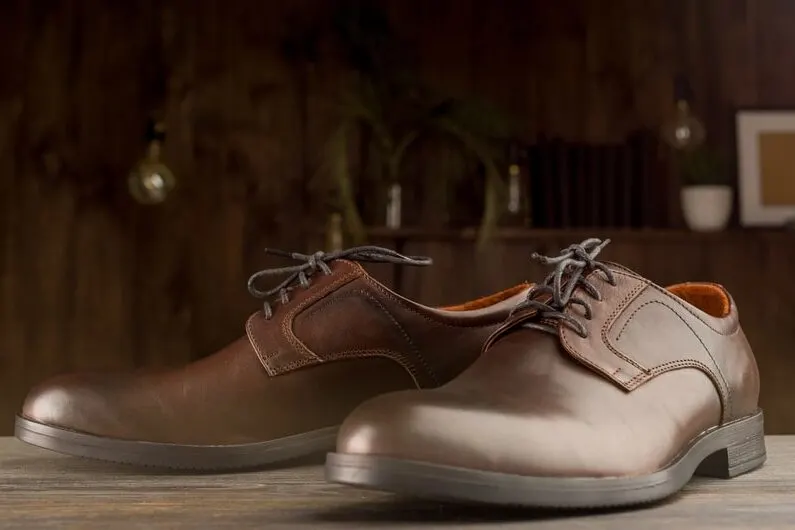 Dark brown shoes work better with suits in darker shades of grey (eg. charcoal), while light brown shoes (eg. tan) work better with light grey and casual suits.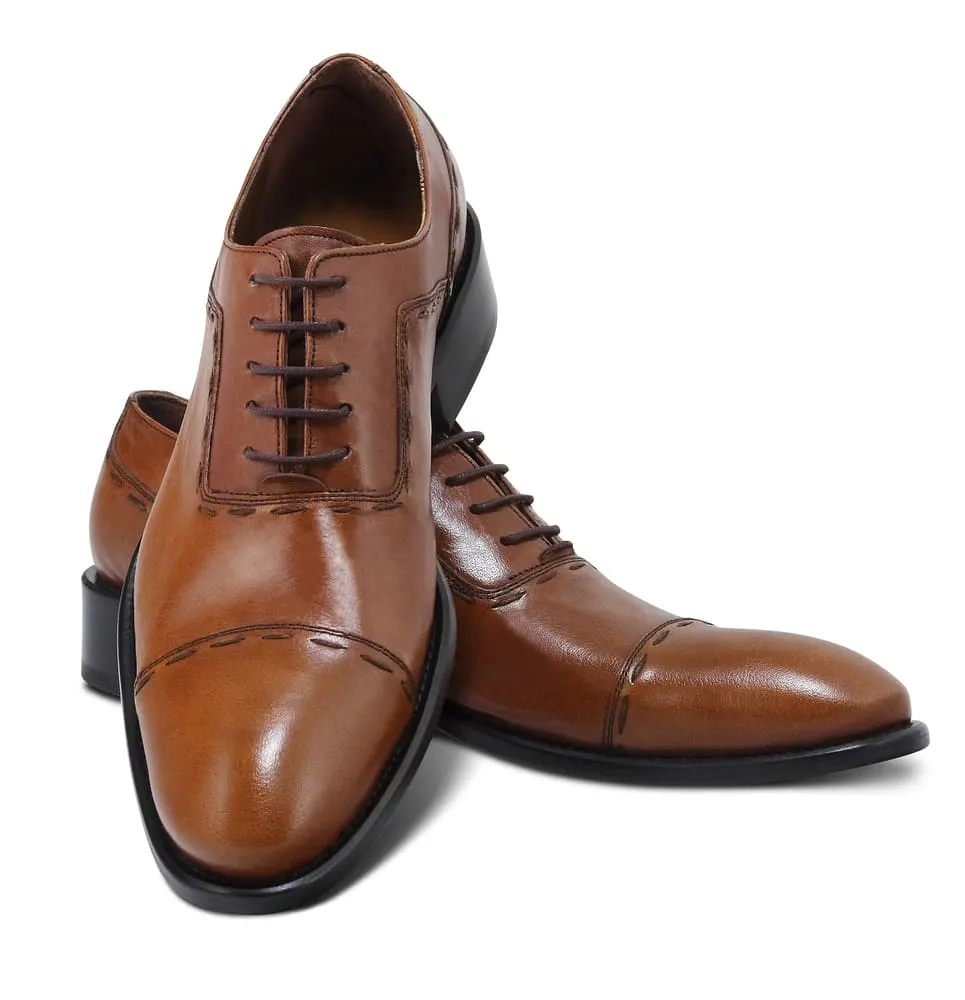 You could go for any style of dress shoe, but your main options would be Oxfords, Derbys, monk straps, and loafers (in reducing order of formality).
Whichever one you choose, make sure you match the belt color with your shoe color. Not doing so is one of the commonest mistakes in men's style and can quickly ruin a suit that's otherwise perfect.
7. Add A White Pocket Square
A white pocket square would be a great way to complement a black tie and grey suit. It's neutral, professional, and traditional enough to sync well with the black tie.
Wearing a black tie does sort of restricts your options when it comes to the color of your pocket square.
You want the color of your pocket square to complement the tie without matching it completely.
Because of this, a black pocket square would be a bad option.
But there are many other colors that simply wouldn't compliment a black tie. Red, blue, green, purple, yellow – while they could work, it would be a little riskier.
The simplest solution is usually the best one – go for a white pocket square instead.
It'll complement the black tie while also adding more than enough contrast.
If you feel as though this is a little too boring, consider spicing things up with the fold you choose.
A simple, straight, Presidential fold might look a little too conservative for the setting you're attending. Consider a one-peak, a puff fold, or even more exciting ones.
Frequently Asked Questions
Here are the answers to a few frequently asked (yet rarely answered) questions on the grey suit and black tie combination.
Can You Wear A Grey Suit And Black Tie To A Funeral?
A grey suit and black tie can be worn to a funeral. It's a simple and dark-colored combination that would sync well with the somber tone of the event.
Dressing in all-black isn't considered necessary for most modern Western funerals.
However, it's still considered more appropriate to stick to dark and neutral colors such as black, navy blue, or grey.
In general, the darker the grey suit you wear here, the better. But overall, it's hard to go wrong with this combination in this context.
I've written about wearing grey suits to funerals in more detail if you're interested.
Can You Wear A Grey Suit With A Black Tie To A Wedding?
In general, avoid wearing grey suits with black ties to weddings. The combination can come across as too somber and dark for what is considered a celebratory occasion.
While it wouldn't be the worst thing you could wear to a wedding, it definitely wouldn't be the best.
You'll want to stick to subtle and conservative choices when it comes to the more traditional weddings, but going for such a dark aesthetic is never a good look.
A grey suit would actually be perfectly reasonable to wear to a wedding but avoid the black tie.
Instead, take the opportunity to add a splash of color with your necktie. Consider a burgundy red, a royal blue, or a hunter-green tie instead.
Simple and subtle, but bright and colorful enough to fit with the occasion.
Can You Wear A Grey Suit, Blue Shirt, And Black Tie?
Avoid blue, red, and pink shirts when wearing a grey suit and black tie. The shirt colors will often clash with the black tie and make it hard to pair with other items.
Keeping the shirt color as simple as possible is always the best way to go. Strongly consider just going for a white dress shirt instead.
Conclusion
There you have it. Hopefully, that was a pretty detailed guide to a pretty niche topic.
You should now have a much better understanding of this suit and tie combination. Where it should be worn, where it shouldn't be worn, and what to wear it with.
Enjoy.
Ready Sleek founder. Obsessed with casual style and the minimalist approach to building a highly functional wardrobe. Also a fan of classic, vintage hairstyles.