Certain shoe colors are so versatile and neutral that you could wear practically any sock color and get away with it. But is this one of them? More specifically, can you wear grey socks with black shoes?
Grey socks can easily be worn with black shoes. This is true of casual black shoes (eg. sneakers), as well as formal black dress shoes. Grey crew socks or over-the-calf socks look better when wearing black dress shoes in formal settings.
That's the short answer, but there's a whole lot more to it.
Here are some essential tips for wearing grey socks with black shoes in the most effective way possible, each and every time.
Let's get to it.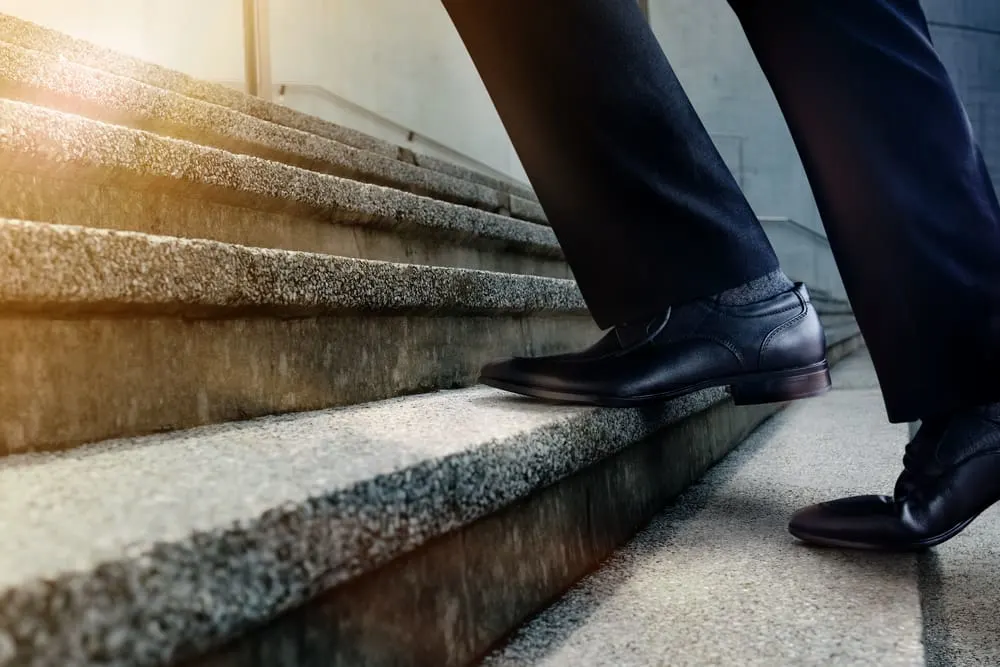 1. The Dress Code Matters
While the two colors tend to go hand-in-hand, the combination will look very different depending on the style of grey socks and black shoes you go for.
The dress code should play a big role in determining this.
You can broadly split the main dress codes into the following. I've included an example of the type of grey socks and black shoes you could wear with each of them.
Black Tie – Dark grey over-the-calf (OTC) socks + black patient leather Oxfords
Formal – Dark grey OTC socks + black Oxfords, Derbys, or monk straps
Business-casual – Grey crew or half-crew socks + black Derbys, monk straps, or loafers
Smart-casual – Grey socks + black suede loafers or smart sneakers
Casual – Grey ankle socks + black sneakers
These examples aren't set in stone, by any means.
They're just to give you an idea of the variety of combinations that are possible and how some will be more appropriate at certain times than others.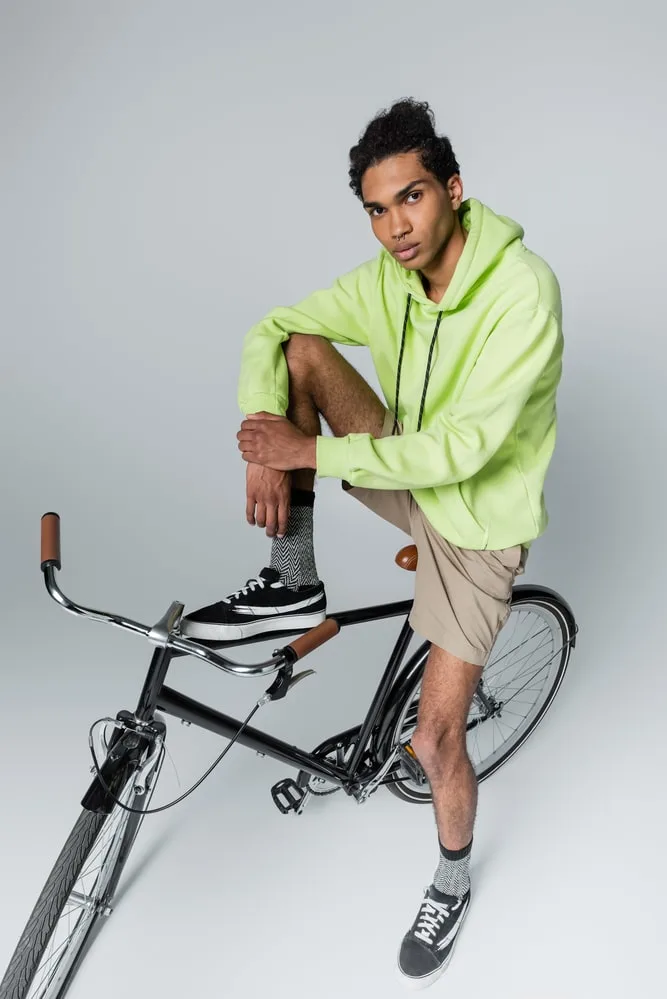 2. Match Pants To Socks When Dressing Formally
If grey socks and black shoes are worn in a formal setting where a 2-piece suit would be required, try to match the socks to the pants.
This may mean that grey socks wouldn't be the best option.
For example, when wearing a navy suit with black shoes, a pair of grey socks wouldn't be the best option. They'd conflict with the navy suit pants.
A pair of dark blue OTC socks would be a much better option.
Grey socks would be more appropriate with a grey suit (ideally) or a black suit if the shade of grey is dark enough to make it work.
The main point here is that a pair of grey socks may sync perfectly well with a pair of black dress shoes but clash with the color of the pants.
This is especially when you're trying to dress formally. When dressing casually, it's much less important for the socks to match the pants.
3. Consider Sock Length
The combination can also look very different due to the length of the grey socks you choose to wear with your black shoes.
While there's plenty of room for experimentation, there are certain sock lengths that work better with specific shoe styles.
A rundown of the main sock lengths you need to know:
No-Show socks – Invisible beneath even low-cut shoes such as boat shoes.
Ankle socks – End at the ankles. Unlike no-shows, they're visible.
Mini-Crew socks – Around 6" tall. End above the ankle but below the mid-calf.
Crew socks – End at the mid-calf.
Over The Calf (OTC) socks – End just below the knee.
Here's a table with popular sock lengths, together with the shoe style/setting they're best suited to.
| | |
| --- | --- |
| Grey Sock Length | Black Shoe Style/Ideal Setting |
| No-Show Socks | Low-cut shoes in casual settings. Boat shoes, low-tops, moccasins, driving mocs. |
| Ankle Socks | Good for sneakers – athletic aesthetic. Running, hiking, etc. |
| Mini-Crew Socks | Great for mid or high-top shoes that would otherwise chafe the ankles |
| Crew Socks | Extremely versatile. Ideal for smart-casual or business-casual settings. |
| Over The Calf (OTC) Socks | Perfect for black dress shoes. Wear with suits/tuxedos when you don't want the socks bunching up. |
In general, the dressier your black shoes, the longer your grey socks should be.
Grey OTC socks would be the best option if you're wearing a suit – there's no risk of them coming down and exposing your leg when your suit pants ride up.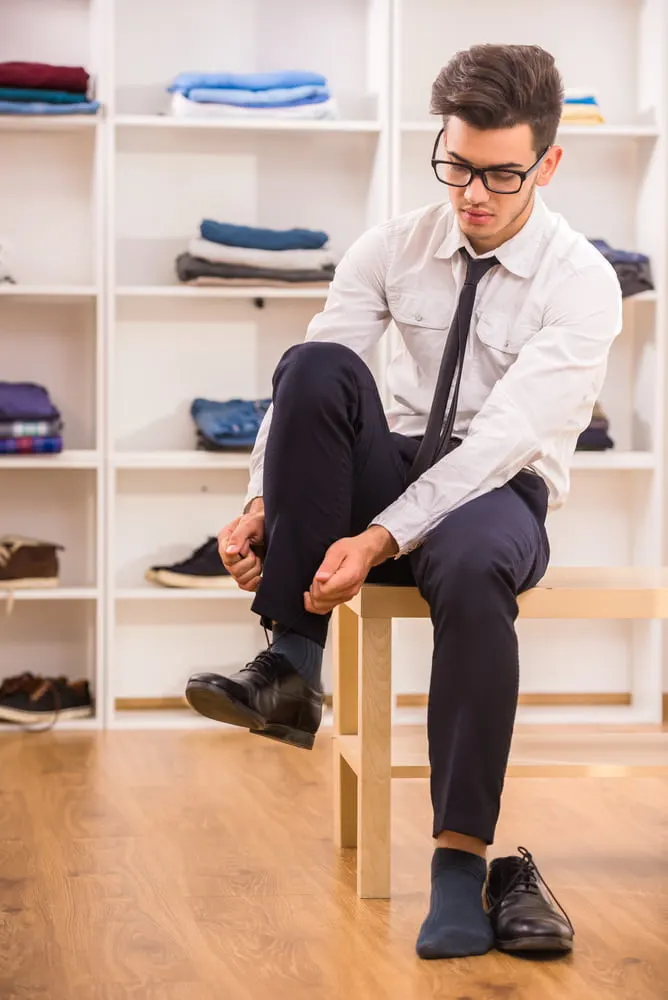 Having said that, grey crew socks would also be a reasonable option when wearing black dress shoes in formal settings.
4. The Shade Of Grey Does Matter
The term "grey" can refer to a wide range of shades ranging from very light grey to very dark grey.
In fact, a "grey" pair of socks could be so grey that it nearly looks off-white.
This matters because the lighter the grey socks you wear, the more they'll contrast with the black shoes.
Contrast is attention-grabbing and this may not be what you want, especially when dressing formally.
If you're looking to dress for a more formal setting with a pair of black dress shoes, socks in a dark shade of grey would usually be better.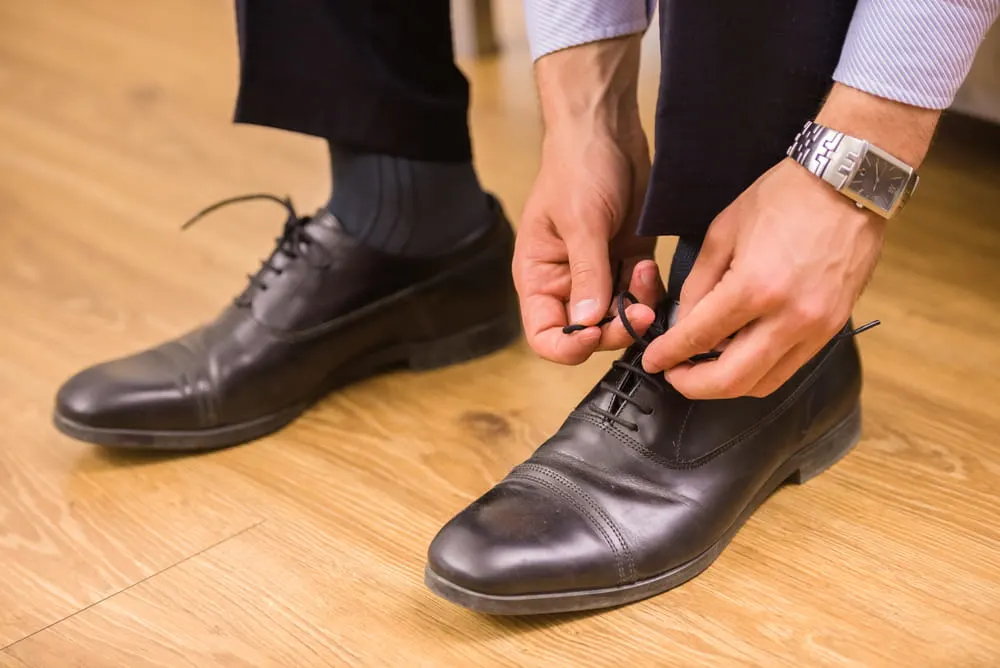 When dressing more casually, you've got way more options.
You could go for a pair of light grey ankle socks with black sneakers, for example, and it would still work.
5. Subtle Sock Patterns If Casual
When it comes to sock patterns, less is more. This is true even when it comes to casual shoes such as sneakers.
First, it's important to note that sock patterns should be avoided when dressing formally.
Stick to solid-colored socks with no patterns when wearing black dress shoes and a suit.
Stripes, polka dots, etc. They can look pretty odd when trying to dress formally and will be on full show when you sit down and the suit pants ride up.
When wearing more casual black shoe styles such as sneakers, moccasins, and even suede loafers, sock patterns can often make things a little more eye-catching.
This is especially true when you wear shorts and the socks are fully exposed.
But keep things simple.
For example, a simple striped pattern along the top of the socks can catch the eye while not becoming too overbearing or attention-grabbing.
Here's an example on Amazon.
Subtlety is the best way to go.
6. Matching Brands For A Polished Finish
This is only relevant if you're wearing grey socks with black sneakers in casual settings. It also works best with known streetwear brands and when wearing shorts.
Matching the brand of your grey socks to that of your black sneakers will produce a polished and intentional look.
It's a great way to make it clear your outfit is well-coordinated.
For example, when wearing black Nike sneakers, consider a pair of grey Nike socks.
It isn't essential and you could also argue that it isn't even important. However, it's these nuances that can really take an outfit to the next level.
If you do have a pair of black sneakers – whether they're Nike, Adidas, or anything else – get yourself a pair of grey socks from the same brand.
They're likely to come in more useful than you might think.
7. Consider Sock Fabric
Finally, consider the fabric of your grey socks when wearing black shoes (or any shoe color for that matter).
This isn't quite as important as the shade of grey or the length of the socks, but it's still definitely worth considering.
Here are some common fabrics you should know about. Having the basics down should make decision-making easier going forward.
Wool – Durable, stretchy, wrinkle-resistant, and moisture-absorbing.
Modal – Soft, strong, but expensive.
Cotton – Soft, stretchy, durable, and retains heat.
Polyester – Dries quickly, retains color. Not very breathable, however.
Any of these sock fabrics could work well for the black shoes you're thinking of wearing. Base your decision on what you intend on doing, as well as how warm you want those socks to be.
Ready Sleek founder. Obsessed with casual style and the minimalist approach to building a highly functional wardrobe. Also a fan of classic, vintage hairstyles.