It's a color combo that's hard to go wrong with, but it can be tough to make it stand out. Ultimately, there are ways of transforming it from basic to stylish. So, how exactly should you wear a grey shirt with light blue jeans?
When dressing up a notch, consider a grey OCBD or chambray button-up shirt and pair it with a pair of smart, slim-fit, non-distressed light blue jeans. When dressing down, grey T-shirts and polos can work well, as do more casual-looking pairs of light blue jeans.
That's the short answer, but there's more to it.
After going through a few great outfit examples for you to try out, we'll run through some tips for making it work no matter what you're dressing for.
Let's get to it.
3 Grey Shirt And Light Blue Jeans Outfits
As is usual, we'll start with the least casual option before moving on to the more casual ways of wearing it.
Least Casual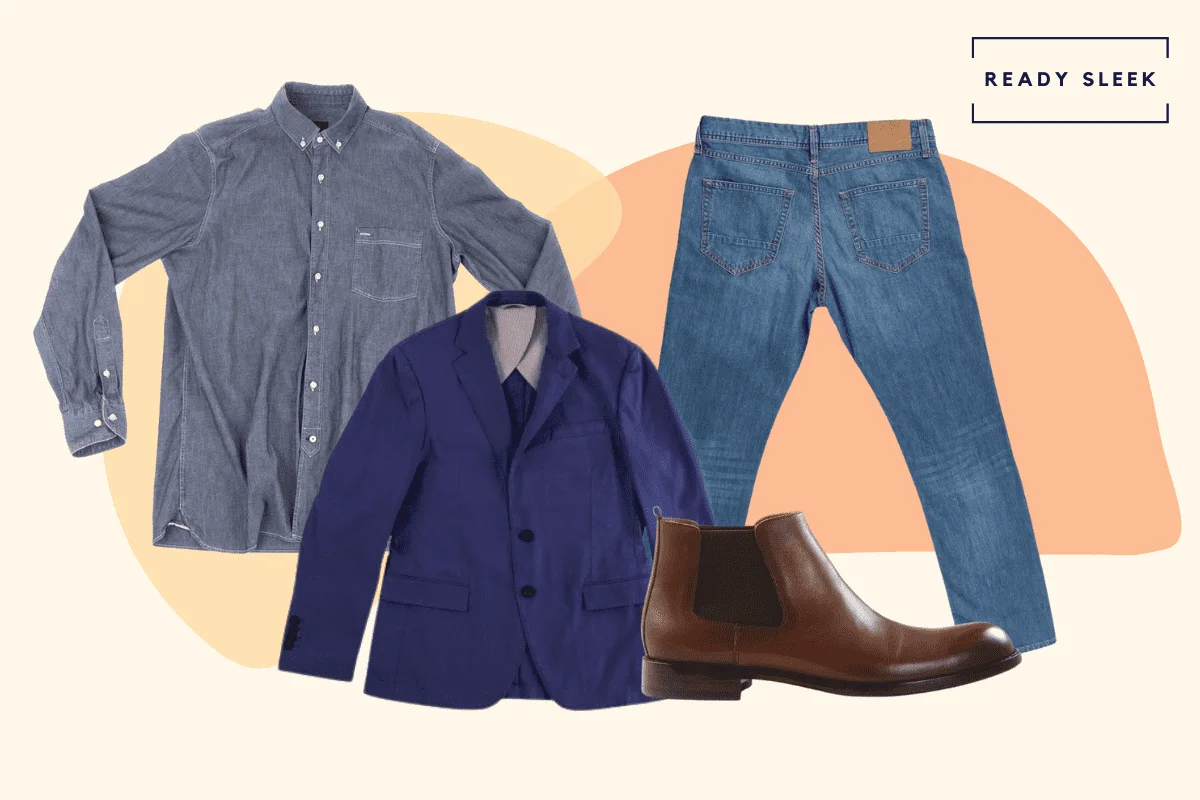 Items: Light Grey Casual Button-Up Shirt, Light Blue Jeans, Navy Blazer, Brown Leather Chelsea Boots
A button-up shirt is an easy way to dress up a pair of casual-looking light blue jeans. It'll always look a little dressier than polos and Henleys.
The style of grey button-up you choose is important.
Casual button-up styles such as OCBDs, linen, and chambray shirts work well here. Cotton twill weaves work well too.
Essentially, the more rugged, rough, or wrinkled the button-up shirt looks, the more likely it is to work well with light blue denim jeans.
A grey dress shirt is likely to look too formal or professional to really work well with light blue jeans.
It won't look terrible, but it may look a little awkward.
An unstructured navy blazer works well here. It's casual enough to make sense with jeans while being dressy enough to elevate the casual outfit as a whole.
Finally, the brown Chelsea boots are another great way of looking sleek while remaining true to the casual aesthetic as a whole.
You could argue that Chelseas are the dressiest mainstream boot style you could go for. I'd have to agree.
More Casual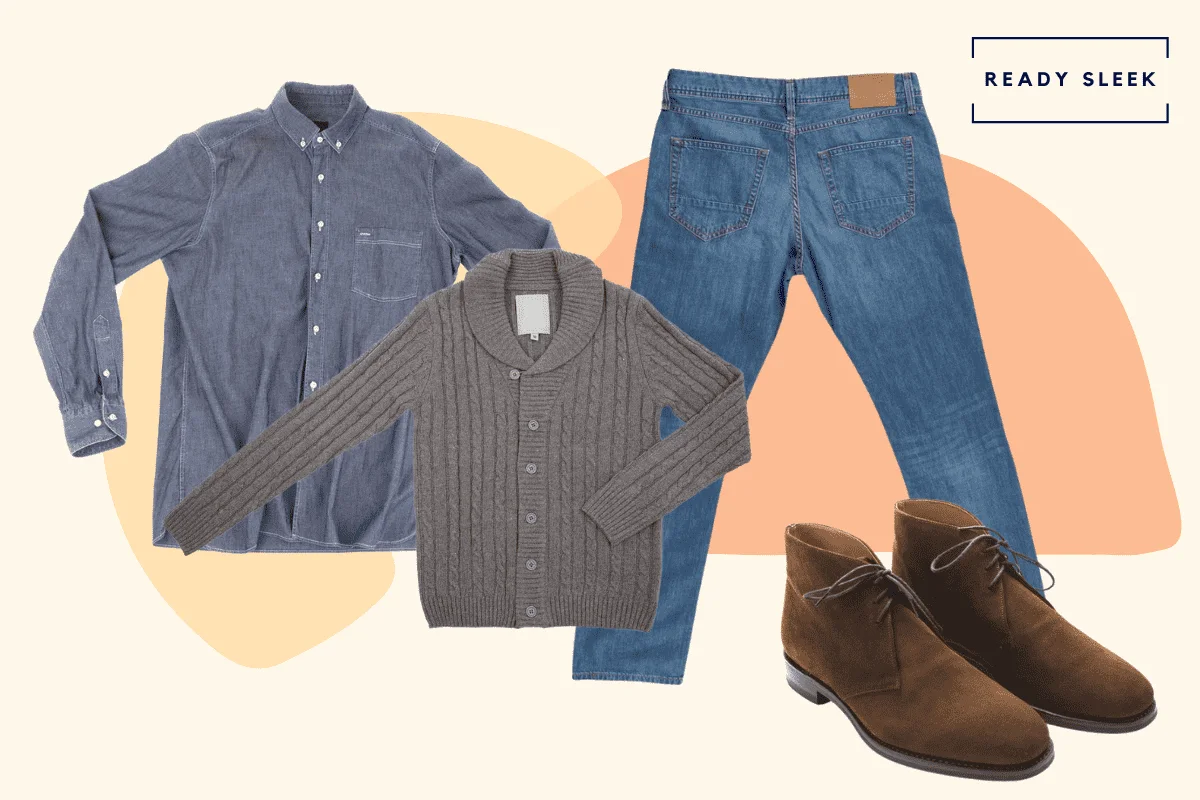 Items: Grey Casual Button-Up, Shawl Collar Cardigan, Light Blue Jeans, Brown Suede Chukka Boots
Here, we've paired the same grey casual button-up shirt with a shawl collar cardigan instead of a blazer.
It definitely makes the outfit look more casual as a whole.
Pairing a grey cardigan with a grey shirt may seem like an odd choice, but it's hard to deny that it works.
The reason it works is that the textures are extremely different, as well as the shades of grey. It's the right way to pull off a monochromatic pairing.
Finally, the brown suede chukka boots look sharp, but are a notch more casual than the brown Chelsea boots in the previous example.
This isn't just because chukkas just have a more casual silhouette.
It's also because suede has a more rugged and napped appearance to it. At the end of the day, it works great with denim.
Most Casual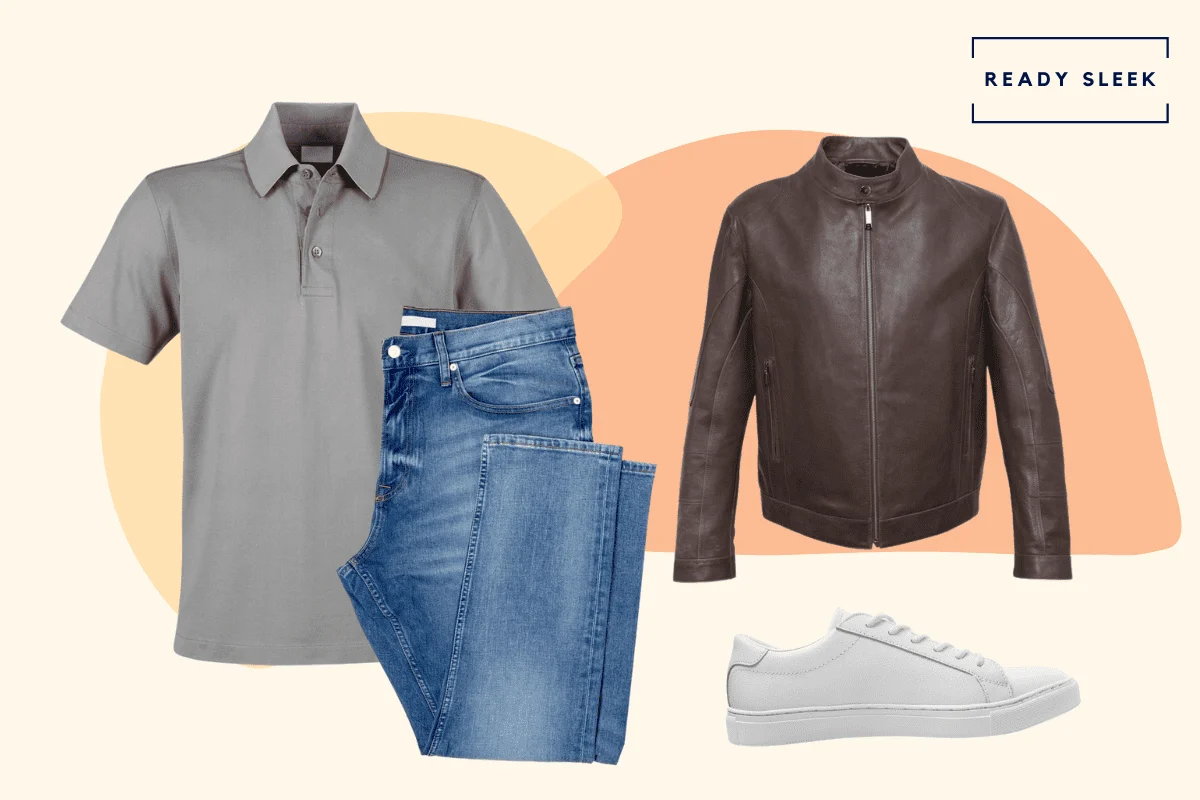 Items: Grey Polo, Brown Leather Jacket, Light Blue Jeans, White Low-Top Sneakers
Ultimately, a grey polo will always look more casual than a button-up shirt. However, you could argue that it isn't really the most casual way of wearing a grey shirt and light blue jeans combo.
A grey T-shirt of any variety would be more casual.
However, a polo is a great way of leveling up any casual outfit. It's casual but maintains a touch of sophistication.
The brown leather jacket works great with the light blue jeans, producing a pretty irresistible vintage aesthetic.
5 Tips For Wearing A Grey Shirt With Light Blue Jeans
Here are those tips you just don't want to forget whenever you're thinking of wearing this combo.
There's a good chance that one or two of them will make all the difference in your specific circumstances, so be sure to read them all.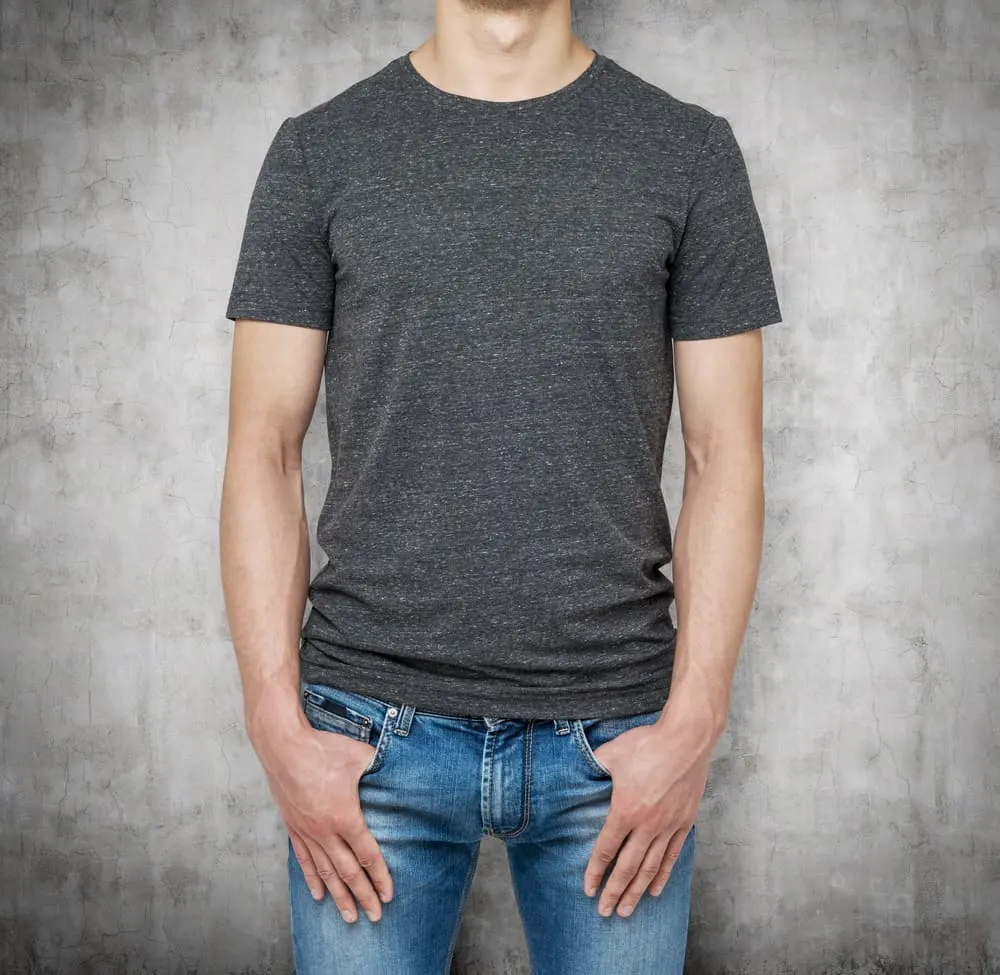 Consider The Dress Code
A grey shirt and light blue jeans combo should only be worn in truly casual settings where there's hardly any risk of underdressing.
It wouldn't be suitable in "smart-casual" settings where a more subtle shirt color and a darker jeans color would be more appropriate.
In fact, in smart-casual settings, it's worth asking yourself whether a pair of chinos or dress pants would be a better option instead.
Even the least casual outfit example listed above wouldn't be suitable in a smart-casual setting.
Reserve the grey shirt/light blue jeans pairing for those events and occasions where underdressing really isn't a concern.
Hanging out with friends, casual birthday parties, going to the movies, dinner out with the family, and so on.
Dark Vs Light Grey Shirts
The look of a dark grey shirt worn with light blue jeans is very different from what you'd get from a light grey shirt.
Grey is a neutral color no matter what shade you go for; it'll always coordinate effortlessly.
But a light grey shirt + light blue jeans would lead to a low-contrast combination. Subtle and simple.
A dark grey shirt + light blue jeans combo would produce a high-contrast combination. It'll generally look more eye-catching.
Both options work well and both options are casual, although the dark grey, high-contrast combo will generally look a little more casual.
It all comes down to personal preference. Would you prefer a more subtle aesthetic, or a more eye-catching one?
The Fit And Features Of The Jeans Should Make Sense
What I mean by this is that the style of the light blue jeans you choose should sync well with the style of grey shirt you choose.
If you're going for a less casual aesthetic by going for a grey button-up shirt, for example, go for a "smarter" pair of light blue jeans.
Slim, tapered, and non-distressed.
If, on the other hand, you're dressing down and going for a grey tee or polo, a more casual light blue jeans style would also be an option.
You could go for a baggier straight, wide-leg, or bootcut fit. You could also go for a distressed pair of light blue jeans with rips, frays, stone washing, etc.
The main point here is that a dressy-looking grey button-up shirt won't look as good when worn with an ultra-casual pair of light blue jeans.
Consider All-White Leather Low-Tops
When wearing a grey shirt with light blue jeans, brown suede boots and shoes work well, as do white sneakers.
It's pretty hard to go wrong with suede when wearing denim. It's generally a pretty safe bet.
Brown suede works especially well given how versatile it is and how effortlessly it coordinates with light blue denim.
You could go for brown Chelsea or chukka boots in suede or a shinier grain of leather if you'd prefer a dressier aesthetic.
White leather low-top sneakers look great if you want to dress down a notch.
I recommend them for a lot of different outfits; they're versatile, minimalist, and so easy to combine.
Try Adding Color With An Outer Layer
At the end of the day, a grey shirt and light blue jeans outfit is pretty neutral.
While blue isn't technically a neutral color, blue jeans are so easy to combine with other colors that they might as well be considered neutral.
You could easily leave a neutral(ish) outfit as it is, or even add more neutrals into the mix if you wanted to.
People craft entire wardrobes out of neutrals and it works spectacularly well.
However, if you did want to add a splash of color to the outfit, consider a vividly colored outer layer.
The easiest way to do it would be to choose a muted shade of a bolder color. For example, instead of mint or lime green, go for an olive or sage blazer.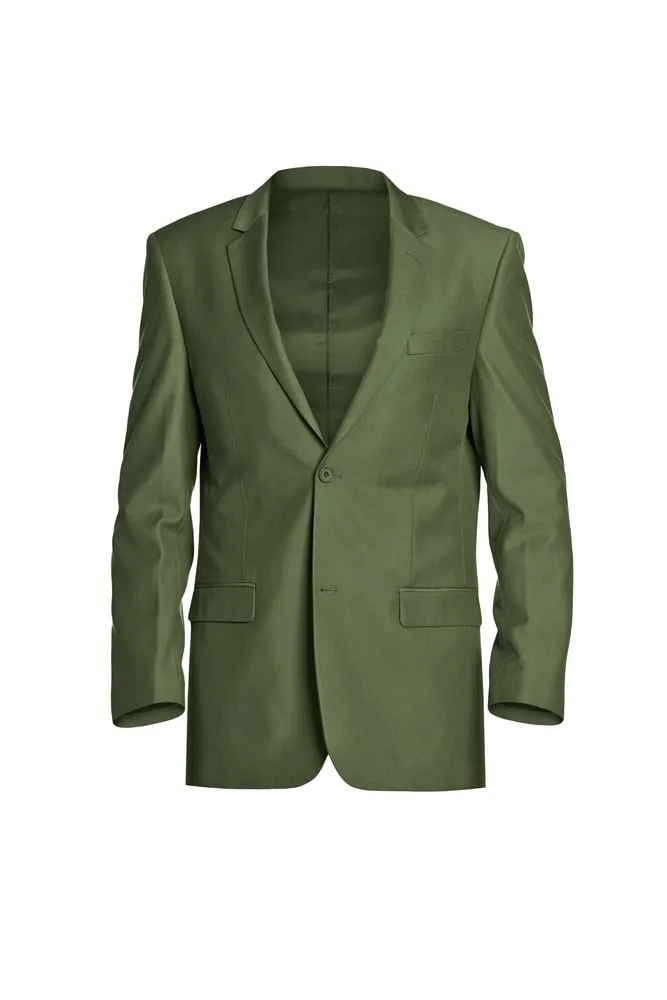 Instead of a scarlet red cardigan, consider a burgundy or maroon one instead.
Ready Sleek founder. Obsessed with casual style and the minimalist approach to building a highly functional wardrobe. Also a fan of classic, vintage hairstyles.