It's a casual combo to its very core, but there are definitely ways of leveling up to make it a whole lot more interesting. So, how exactly should you wear a green shirt with light blue jeans?
When dressing the combination up, wear an olive or sage green button-up shirt in Oxford cloth, chambray, or linen with a pair of slim-fitting, tapered light blue jeans. When dressing down, consider a tee or polo in a bolder shade of green such as mint or chartreuse instead.
That's the short answer, but there's more to it.
After going through a few great outfit examples for you to try out, we'll run through some tips to perfect it no matter what.
Let's get to it.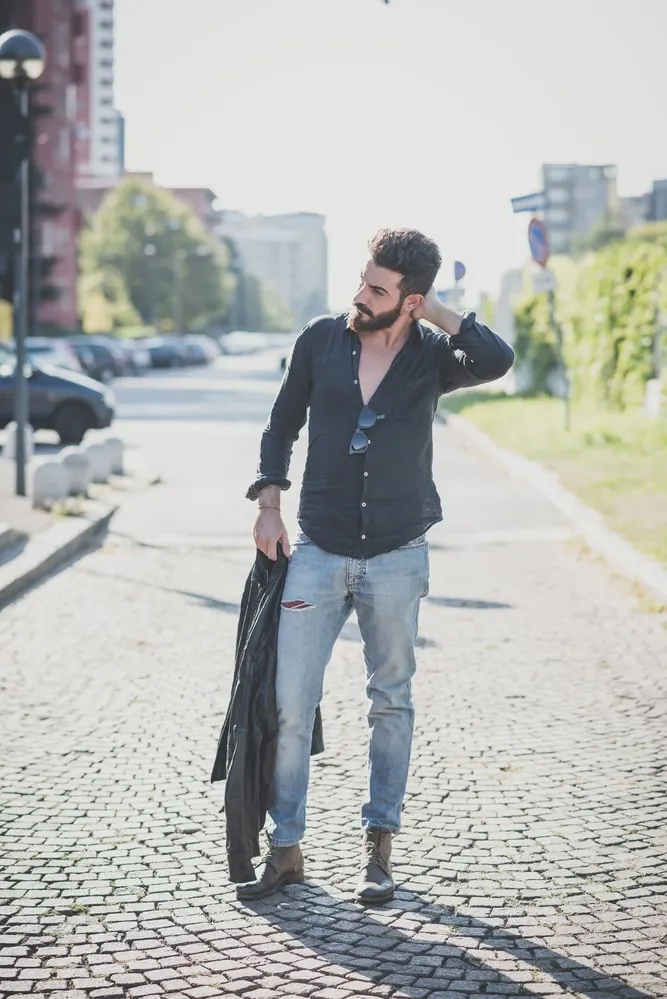 3 Green Shirt And Light Blue Jeans Outfits To Try
We'll start with a relatively "dressy" way of wearing it before moving on to the more casual variations.
Enjoy.
Dressy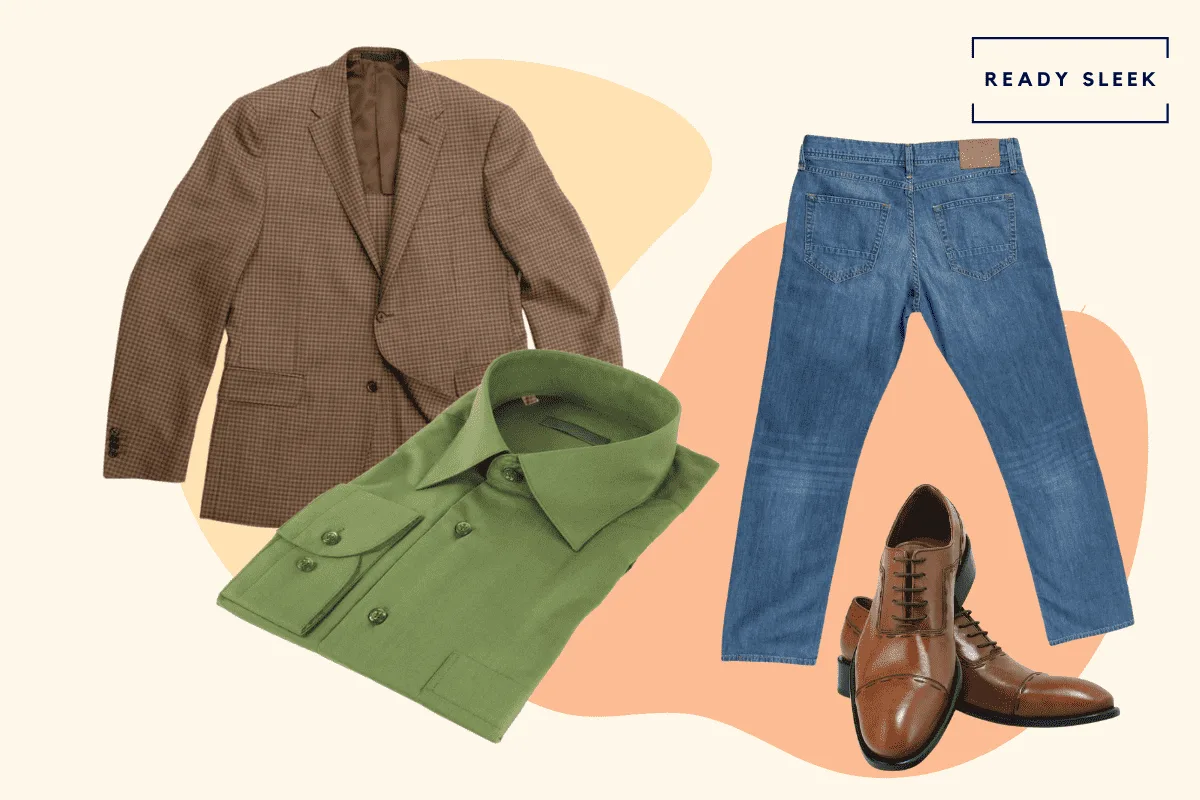 Items: Olive Green Casual Button-Up, Light Blue Jeans, Brown Sport Coat, Tan Brown Leather Shoes
While I've labeled this one "dressy", as you can see, it isn't anything more than casual. It's just a relatively dressy way of wearing a green shirt and light blue jeans combo.
It's a spectrum, at the end of the day.
Going for a green button-up shirt as opposed to a tee or a polo definitely helps. But go for a casual button-up instead of a dress shirt.
It'll sync better with light blue jeans given how casual they are.
Casual button-ups have a more rugged look and feel to them. OCBDs, chambray, and linen shirts are all good options.
The light blue jeans worn when dressing this combo up should ideally be slim-fitting and non-distressed.
The brown sport coat is an easy way to level up and add a touch of sophistication to a casual jeans combo. Consider tweed, linen, and other casual jacket fabrics.
Finally, I've rounded things up with a pair of tan brown shoes. They're dressy, but not so dressy that they look awkward when wearing light blue jeans.
Plus, they coordinate with the blazer for an added bonus.
More Casual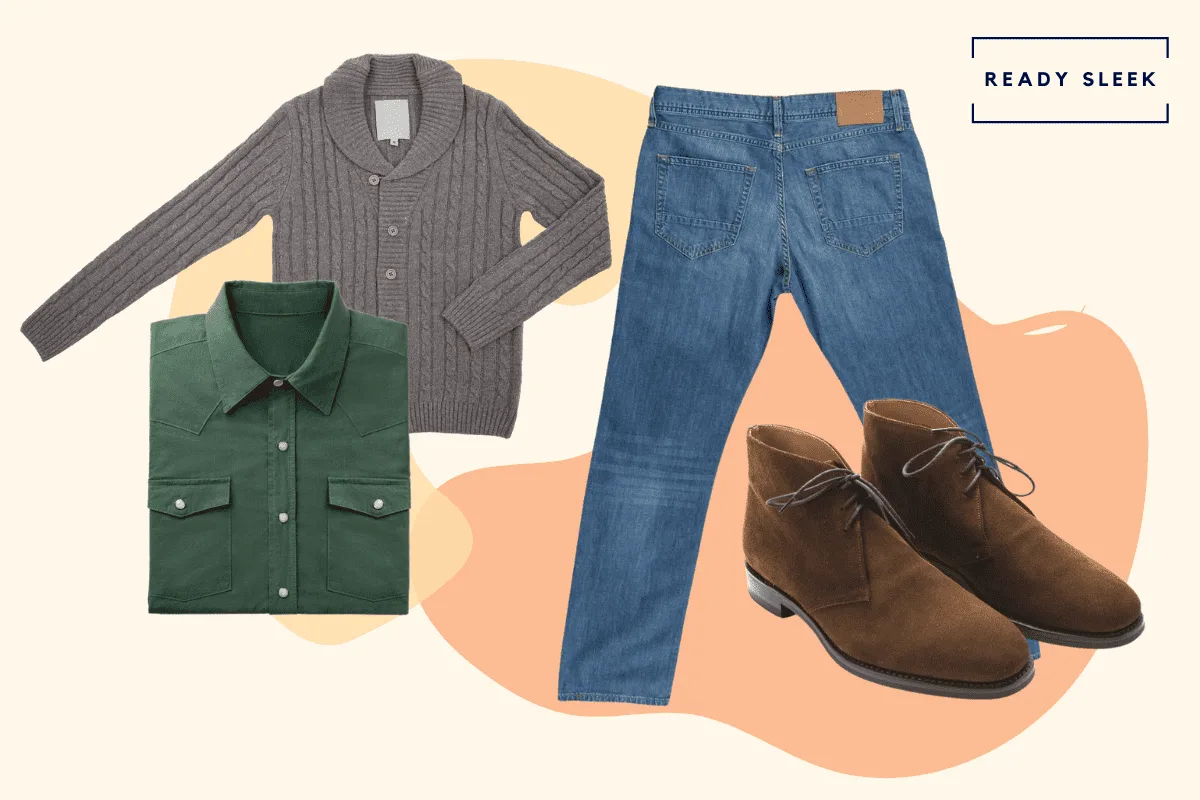 Items: Forest Green Casual Button-Up Shirt, Light Blue Jeans, Brown Suede Chukka Boots, Grey Cardigan
Going for a darker shade of green gives the combo a more casual appearance here, mainly because you're left with more contrast between the shirt and the jeans.
It isn't that much more casual, but it's noticeable.
The suede brown boots are a notch more casual than the dress shoes in the previous example, mainly because of the napped texture.
Suede and nubuck look more casual than shinier grains of leather.
Finally, while the shawl collar cardigan still looks sharp and pretty dapper, it's a level more casual than the brown blazer/sport coat we used in the previous example.
Most Casual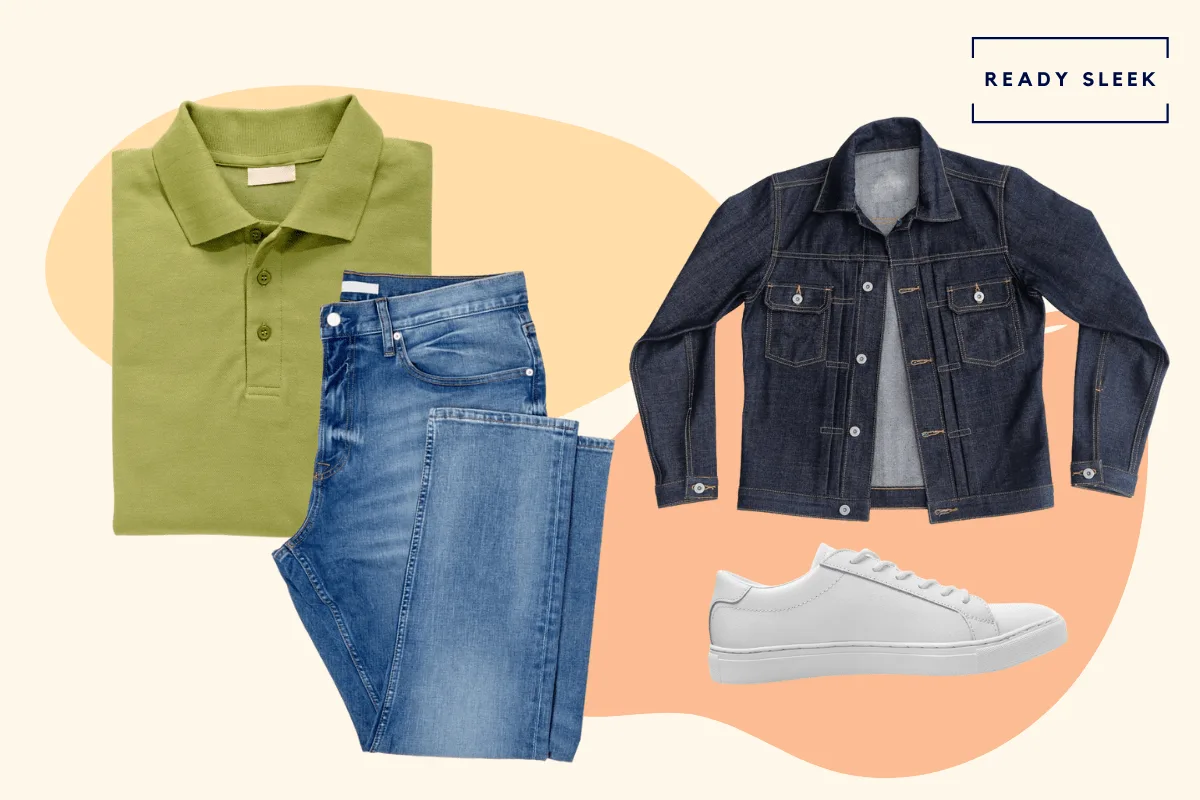 Items: Olive Green Polo, Light Blue Jeans, Dark Blue Denim Jacket, White Low-Top Sneakers
A polo shirt will always look more casual than a button-up, but it's a notch more sophisticated than a simple T-shirt.
Going for a similarly muted shade of green is also less casual than going for a bright and bold shade such as mint or chartreuse.
While we've gone for the same pair of light blue jeans here, when dressing the combo down, you could go for a more casual-looking pair if you wanted to.
Wide/skinny fits, distressed denim, and so on.
The denim-on-denim may not be everyone's favorite, but it's hard to deny that a dark blue denim jacket worn with light blue jeans looks good.
It's the contrast between the two colors that makes it work.
5 Tips For Wearing A Green Shirt With Light Blue Jeans
Here are some tips to see you through no matter where you may be wearing this combination.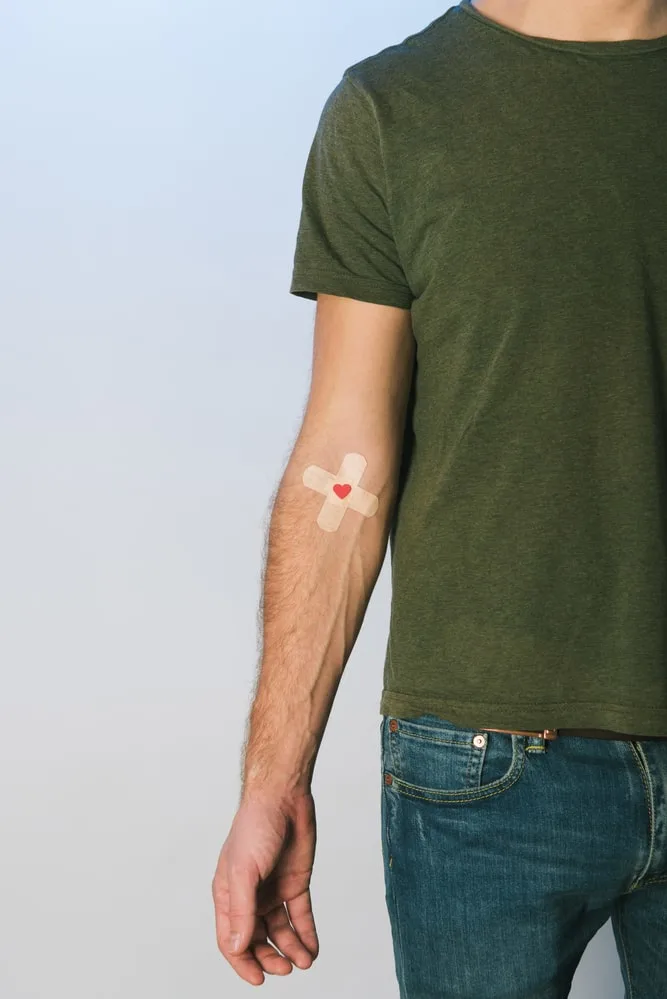 It's Never Smart-Casual
The green shirt and light blue jeans combination should never be considered smart-casual.
It's simply casual, regardless of how dressy the green shirt and the jeans may be.
Let's take the first outfit example we listed earlier on.
While it's labeled as "dressy", it still shouldn't be considered smart-casual. It's simply a casual outfit that's less casual than the other two outfit examples.
Opinions may vary on this one, but ultimately, light blue jeans should never be worn to a smart-casual dress code.
You could definitely reduce the risk of underdressing by combining them with dressy items (like we did in the first outfit example), but it still wouldn't be enough.
So, reserve the combination for truly casual settings where there isn't much risk of underdressing.
As a side note, while it probably goes without saying, definitely avoid the combination in business-casual settings too. Jeans wouldn't ever be appropriate.
The Shade Of Green Makes A Difference
When wearing light blue jeans, dark green shirts (eg. forest and hunter green) produce an eye-catching high-contrast combination. On the other hand, shirts in medium shades of green such as sage and olive green produce a more subtle aesthetic.
Lighter shades of green produce less contrast when wearing light blue jeans.
Having said that, light shades of green can be just as eye-catching due to their brightness and saturation.
Lime, mint, and chartreuse green, for example, are bolder and more in-your-face.
Light/medium shades of green such as olive and sage are more muted and less attention-grabbing.
It comes down to personal preference, at the end of the day.
If you'd prefer a more subtle and low-key aesthetic, consider a light/medium and muted shade of green such as olive or sage.
If you'd prefer a more high-contrast and eye-catching pairing, consider wearing light blue jeans with a shirt in a dark shade of green or a light and bright shade of green.
Consider The Fit And Features Of The Jeans
Light blue jeans that are slim and tapered will look less casual than those in baggier or skinnier fits. In addition, distressed denim will always look more casual than non-distressed denim.
So, if you were looking to dress up your combination (like in the first outfit example above), consider going for a slim-fitting pair of non-distressed light blue jeans.
These would work especially well if you were planning on wearing a relatively dressy green button-up shirt.
If, on the other hand, you were really looking to dress down, light blue jeans with more interesting silhouettes definitely become an option.
You could go for wide-leg or bootcut jeans if you wanted to. Alternatively, go the opposite route and opt for skinny jeans instead.
Distressed light blue jeans do look very casual and seem to wax and wane in popularity over time.
It refers to the rips, tears, frays, and fading you often find in jeans to make them look more vintage.
It can look great but needs to be worn in settings that are casual enough for it to make sense.
Brown Shoes And White Sneakers Go Great Here
The green shirt and light blue jeans combination works well with dress shoes and boots in light and medium shades of brown (eg. tan and walnut), especially those in suede. When dressing down, a pair of all-white leather low-top sneakers would also look great.
Your option should be guided by how dressy or casual you want your outfit to be.
If you were looking to dress up a notch, consider a medium brown pair of dress shoes – Derby shoes, monk straps, and loafers are all options.
Alternatively, consider a pair of brown Chelsea or chukka boots.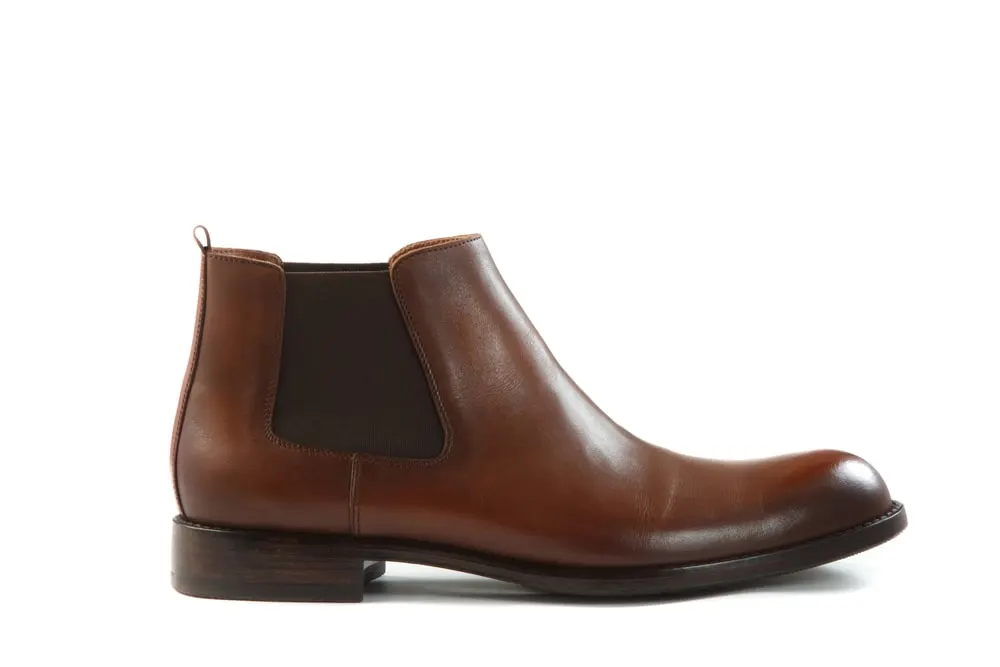 Going for suede versions of these shoes and boots will definitely take things down a notch in terms of formality. The fuzzy, napped texture of suede works well with denim.
When you're really looking to dress down, however, it's hard to go wrong with white sneakers.
All-white leather low-tops have an irresistibly minimalist aesthetic to them. They're incredibly versatile and easy to combine with practically any casual outfit you can think of.
Layer To Make It More Interesting
As always, layering is the key to leveling up a casual combination. The green shirt and light blue jeans combo is no exception.
You've got plenty of layering options and some of them will inevitably look more casual than others.
If you were looking to dress up a little, it's hard to go wrong with a blazer or sport coat.
But it needs to be the right type of jacket for this to work. Ultimately, pairing a formal-looking blazer with ultra-casual light blue jeans can easily look awkward.
Try to find a relaxed, unstructured blazer or sport coat made from a rugged or wrinkled fabric/weave. Tweed, linen, flannel, and serge are good options.
Cotton blazers tend to look pretty casual and can work well here too.
In terms of the color, brown works well with a blue and green outfit. This is what we used in the first outfit example earlier on.
Grey works well too.
If you wanted a more casual layering option, you've got plenty to choose from.
Cardigans, leather jackets, puffer jackets, gilets, shackets, overshirts, suede jackets, and so on.
The color of your outer layer is slightly less important when you're dressing down, but sticking to neutrals and cream tones will usually serve you well.
Muted shades of brown such as tan, khaki, and taupe look great with green and blue.
Ready Sleek founder. Obsessed with casual style and the minimalist approach to building a highly functional wardrobe. Also a fan of classic, vintage hairstyles.