Combining formal and casual attire has sort of become an art form in itself. Do it correctly and you're considered a style guru. Get it wrong and you're an outcast. So, can you really wear a dress shirt with shorts?
Yes, it's possible. When wearing a dress shirt with shorts, make sure you tuck in your shirt. Dress shorts and chino shorts work best here, especially when combined with a dress shirt in a more casual fabric.
Although that's the crux, there's a lot more to explore.
In this post, we'll go over the best tips for wearing a dress shirt with shorts, as well as run through some frequently asked questions at the end.
6 Tips For Wearing A Dress Shirt With Shorts
Here are some foolproof tips to ensure you pull off this outfit every time.
1. Go For Chino Shorts
Dress shirts are undoubtedly formal garments, hence the name "dress" shirts.
Shorts, on the other hand, are traditionally casual and not appropriate for formal events or to be paired with formal attire.
That being said, in modern times, the rules for such apparel have been changing, allowing for more experimentation and more formal combinations.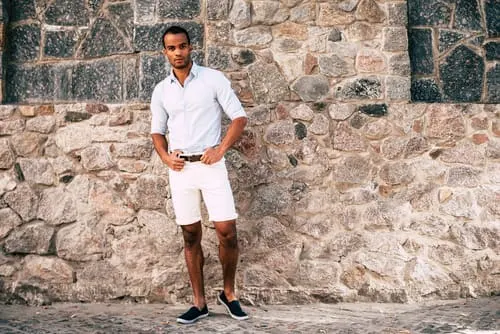 Because of this, wearing dress shirts with shorts can be done, but you must still adhere to some general guidelines.
One of these is choosing the right shorts style. Some shorts, such as board shorts, are far too casual to wear with a dress shirt.
In our opinion, the best shorts to wear with a dress shirt are chino shorts.
Chino shorts are arguably the dressiest style of shorts and are, therefore, the most appropriate shorts to wear with a dress shirt.
When wearing chino shorts, it's important to get the length right. If they're too long, they can be uncomfortable, while if they're too short, they will look awkward.
Ideally, your shorts will end an inch or two above your knees.
Baggy chino shorts are typically too informal to wear alongside a dress shirt, so go for slimmer, tapered ones for the optimal look.
2. Sockless Looks Great
On casual occasions, wearing visible socks with shorts is a great way to stand out and make a statement.
However, when wearing a dress shirt with shorts, this often isn't the best idea.
Visible socks and shorts look vintage and casual, and while this outfit is somewhat casual, it primarily leans toward formal.
Therefore, it's generally best to steer clear of long, visible socks with a dress shirt and shorts.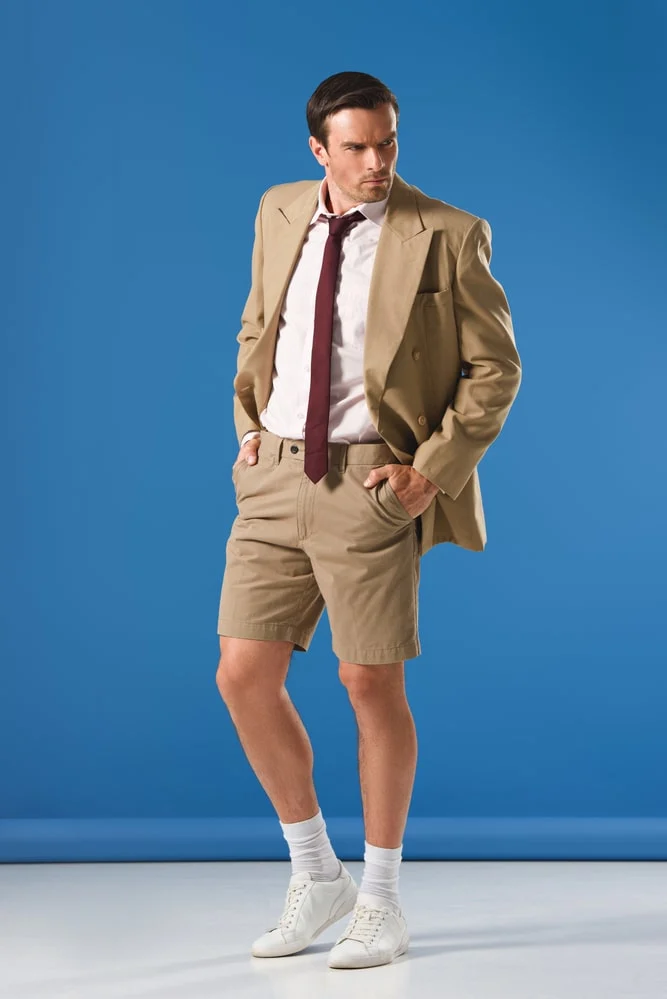 Instead, no-show socks work considerably better. Make sure you choose high-quality ones, as these will maximize comfort and durability.
Primarily cotton no-show socks are the best ones for comfort and breathability.
Those with a small amount of spandex will also be stretchier and fit your feet better.
Moreover, aim to get socks of the right size. People commonly take a one-size-fits-all approach to socks when, in reality, sized socks are the key to comfort.
Some people may also consider athletic socks an alternative to no-show socks. However, you should typically avoid these.
The slightly but not completely visible sock look is something that looks incredibly awkward and unintentional, so avoid it with this outfit.
3. Tuck It In
It's best to tuck your dress shirt into your shorts. Dress shirts have longer hems than casual shirts, as they're designed to be tucked in. This means that they look awkward untucked. On top of that, tucking in will increase the overall formality of the outfit.
While it's not a necessity, tucking in your dress shirt is highly recommended when you wear one with shorts.
One of the characteristics of dress shirts is longer hems. These hems are noticeably longer than those of a casual button-up because they're designed to be tucked in.
Not tucking in a dress shirt simply looks awkward due to the extra fabric on them.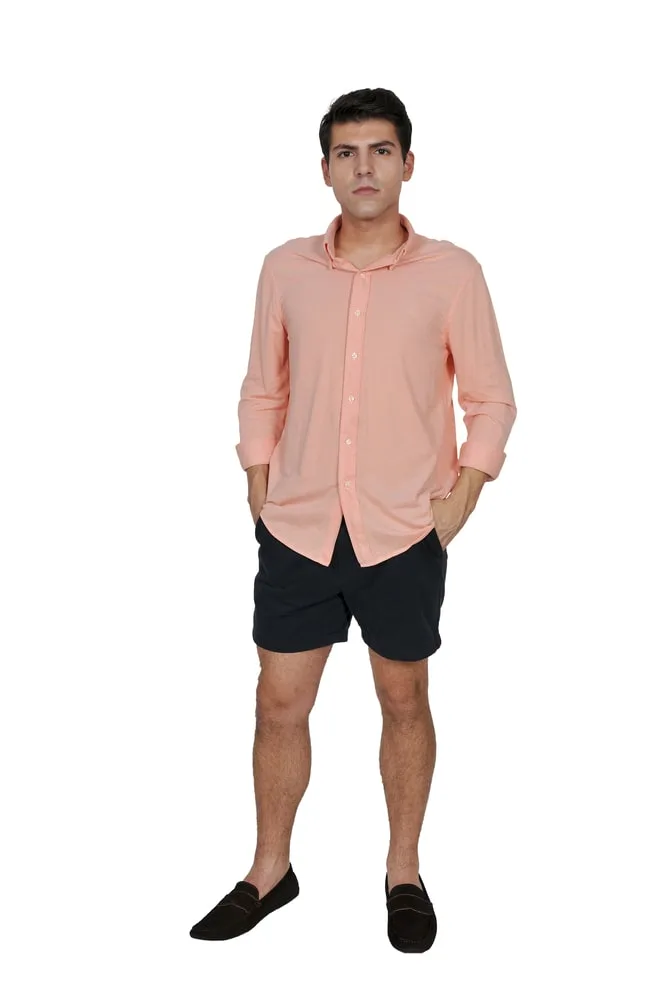 Leaving your shirt untucked also makes the outfit look too casual.
Tucked-in shirts are typically associated with formalwear, whereas untucked button-ups are linked to casual apparel.
This outfit is a blend of both casual and formal attire, so it can be difficult to know whether or not it's best to tuck in your shirt.
Despite it being a combination of the two opposites, it leans more toward formal wear than casual wear.
Because of this, tucking in your dress shirt is highly recommended to avoid your outfit looking scruffy or incomplete.
Worth noting is that when tucking in your dress shirt, going for the full tuck over the French tuck is essential.
The full tuck simply entails tucking in your shirt all the way around your waistline, as opposed to partially tucking it in.
This is because the French tuck is too casual for this outfit; the full tuck is the primary one associated with formal attire.
4. Consider Shoe Style
While going for the sockless look is recommended, it'll get you nowhere without choosing the right shoes for the outfit, too.
There are several shoe styles that work with this outfit. And as a general rule, there's really one thing to keep in mind when choosing your shoes.
This is to avoid shoes that are too formal – primarily dress shoes.
If you're wearing shorts, dress shoes simply look out of place – regardless of the formality of the rest of your outfit.
Oxfords and Derbys are examples of dress shoes. They're far too formal, and you should always avoid them when wearing a dress shirt with shorts.
Smart-casual shoes, on the other hand, can look great with this outfit. Suede loafers and boat shoes are a particularly good option when wearing a dressier shorts outfit.
If you'd rather dress down your dress shirt but still keep it above the standard casual level, consider wearing a pair of minimalistic all-white leather low-top sneakers.
5. Choose A More Casual Dress Shirt Fabric
When pairing your dress shirt with shorts, choosing a more casual dress shirt fabric is advisable.
This is because a formal dress shirt, such as a white Oxford weave one, would contrast too much with the rest of the outfit.
White, Oxford-weave dress shirts are worn at even the most formal events.
Conversely, shorts are almost exclusively kept for casual scenarios, with a few smart-casual exceptions.
Wearing the two together would create a vast formality disparity.
Therefore, instead of going for an Oxford-weave dress shirt, go for something a little more casual.
Poplin and broadcloth dress shirts are good examples of dress shirt fabrics that lean slightly more toward casual.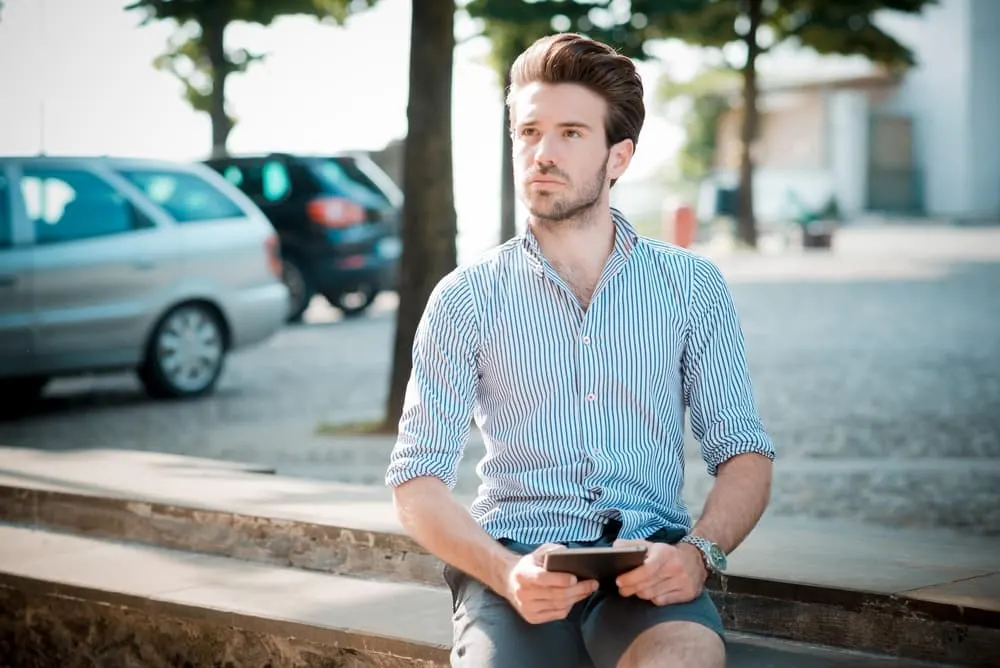 This is because they are more visibly textured and have a less shiny, crisp appearance.
6. Think About Dress Shirt Color
Thinking about the color of your dress shirt is hugely important when wearing one with shorts.
The wrong color could offset the formality of the outfit, creating too much contrast between your casual shorts and your dress shirt.
White is typically the riskiest shirt color to wear with this outfit. It's associated with suits and formality, juxtaposing with the casual nature of your shorts.
Instead, go for light, pastel colors or dark, neutral colors. The former is still lighter, but the extra tones add a bit of personality.
The latter, on the other hand, are considerably more unusual in formal wear but work in a smart-casual setting.
Some examples of lighter colors that work well are pink, blue, and yellow.
Similarly, charcoal and navy are a couple of examples of dark, neutral colors.
Frequently Asked Questions
To really sum things up, we've compiled and answered some frequently asked questions.
Can You Wear A Dress Shirt With Khaki Shorts?
Wearing a dress shirt with khaki shorts is entirely possible as they are primarily smart-casual shorts. Tuck in your shirt and consider navy boat shoes, as these work particularly well with khaki garments – especially shorts.
Khaki shorts are great for casual or smart-casual outfits. Because of their versatility, it's possible to wear them with a dress shirt.
To enhance the formality levels of your khaki shorts, tuck in your dress shirt and finish it up with a belt.
Navy and khaki work incredibly well together, so consider wearing navy shoes with this outfit.
Can You Wear A Dress Shirt With Jean Shorts?
It's generally best to avoid wearing a dress shirt with jean shorts. After all, denim is prevalent in casual wear for its rugged, informal appearance. While jeans can sometimes be dressed up, jean shorts are another matter entirely.
Shorts are casual enough on their own, so combining the incredibly casual nature of both shorts and denim is simply inappropriate to wear with a dress shirt.
Conclusion
Now that you know the ins and outs of wearing a dress shirt with shorts, you'll be able to pull it off with ease. Remember to carefully consider whether or not it's appropriate, and if you have any doubt about it, it's probably best to avoid it.