Denim is considered a staple of casualwear – in both pants and shirts. So, can you wear a denim shirt with chinos?
Wearing a denim shirt with chinos looks great for casual occasions. Consider wearing your denim shirt as an overlayer and think about the weather. Neutral-colored chinos work best. Brown dress shoes look particularly good with this combination.
However, that's just the start of it; there's much more to get into.
Let's get to it.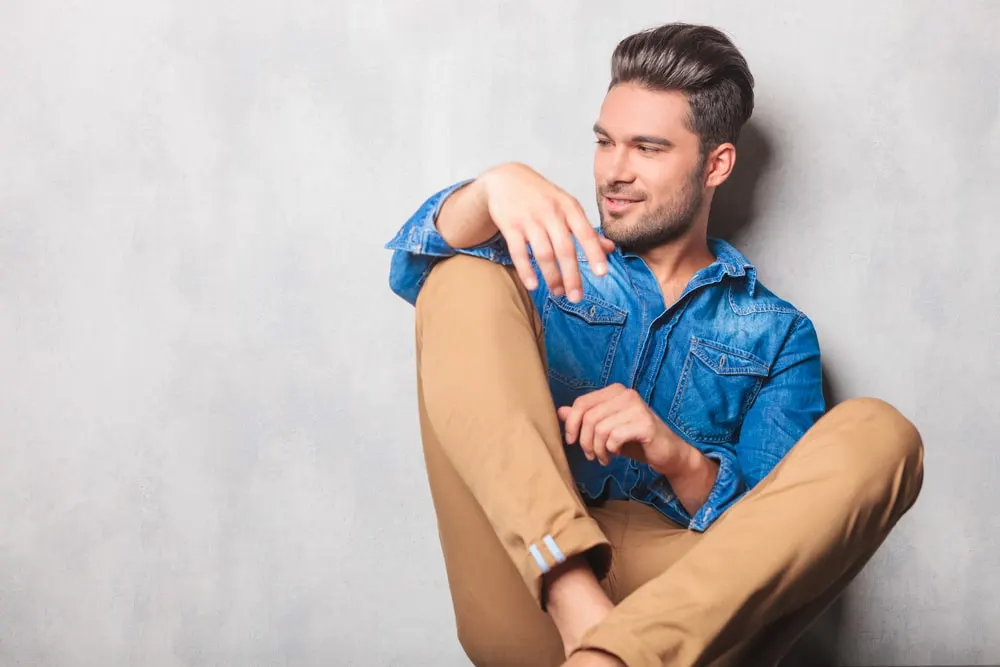 1. Consider An Underlayer
Denim shirts are often considered standalone garments – an item of clothing that doesn't require an overlayer or underlayer to look good.
While it's true that neither an overlayer nor an underlayer is a necessity for a denim shirt, this doesn't mean you should stay away from it.
In fact, a denim shirt can look incredibly good when worn as an overlayer.
Pair it with a white T-shirt underlayer and wear your unbuttoned denim shirt over the top.
This will create an excellent casual look, perfect for combining with chinos – to add an ever-so-slightly formal edge to your outfit.
Although white is often the best choice, it's not the only option. Pretty much any neutral-colored underlayer will look good with a denim shirt over it.
A good way to optimize your outfit's appearance with overlayers is by ensuring your underlayer is lighter than your denim shirt.
While this isn't crucial, it can help elevate your outfit to the next level.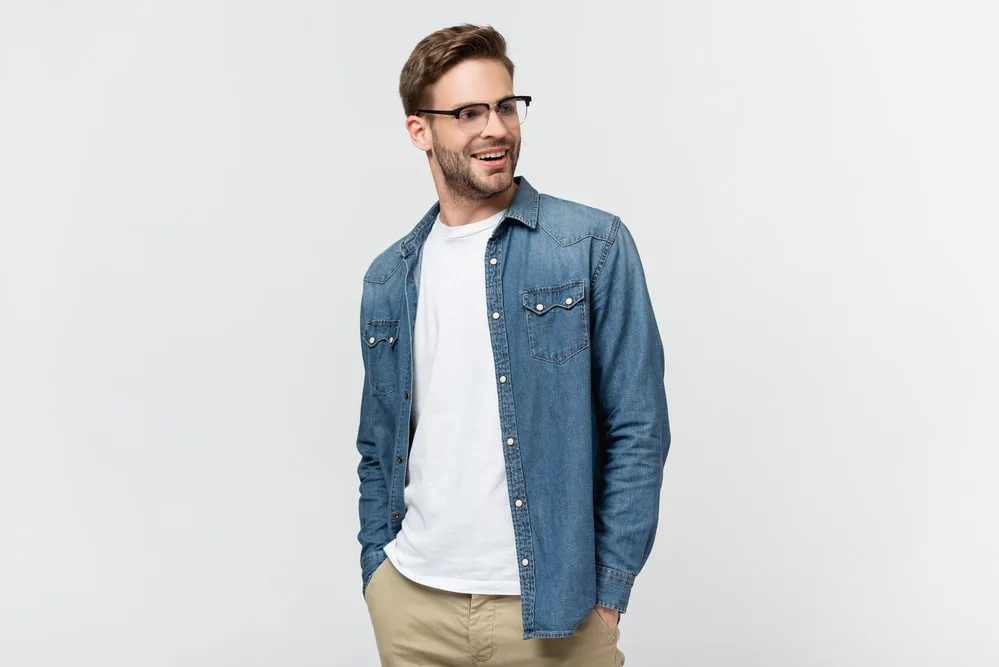 2. Stick To Neutral-Colored Chinos
Choosing chinos of the wrong color can ruin the outfit.
Therefore, it's essential to make sure you pick the right colored chinos to wear with a denim shirt.
The best chinos to wear with a denim shirt are those of neutral color or a traditional color.
Traditionally, chinos are often found in light shades of brown (eg. khakis).
The ideal neutral chino colors for this outfit are khaki, gray, and beige.
They match with pretty much any shade of blue, making them perfect to wear alongside denim shirts.
Furthermore, they are pretty casual, so they further contribute to the casual appearance of the ensemble.
Having said that, however, chinos are more formal than cargo pants or jeans.
This means that, by wearing chinos, you are adding a somewhat "dressy" edge to the outfit.
Therefore, to keep the outfit relaxed and informal, it's best to stick to the mentioned neutral colors.
3. Keep It For Casual Occasions
Assessing the formality of the situation and which outfits would be appropriate for it is crucial for pretty much any scenario.
Wearing an outfit not suitable for the occasion can make you stand out and – in some cases – appear disrespectful.
Because of this, it's important to understand when wearing a denim shirt and chinos is appropriate.
Basically, this outfit isn't appropriate for any kind of formal occasion. This includes semi-formal and business-casual dress codes.
Denim is a staple of casualwear and, therefore, should be treated as such.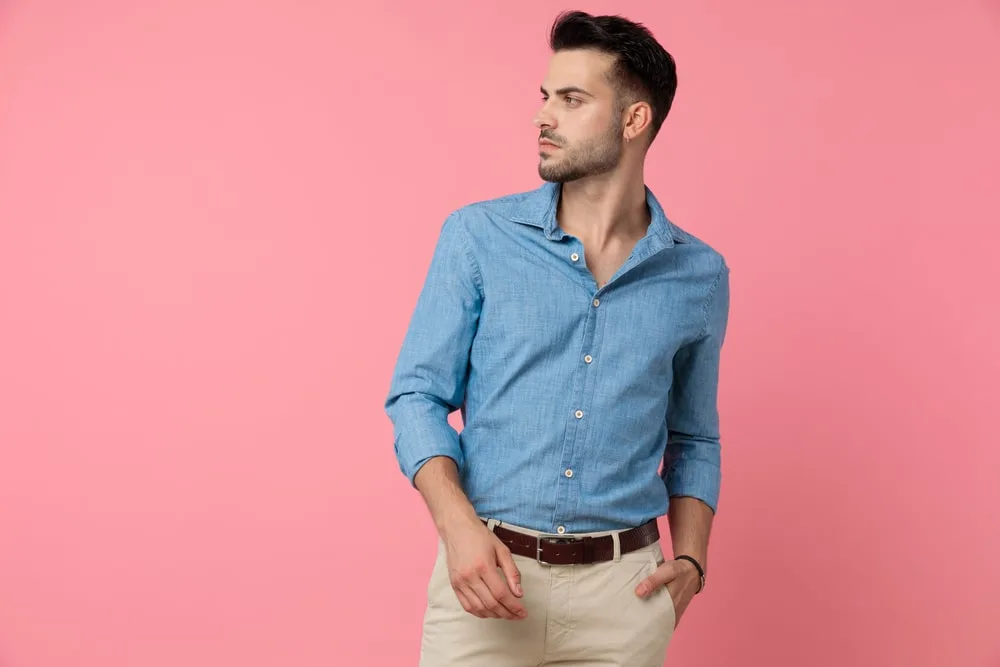 This means that wearing a denim shirt with chinos is best kept for casual situations.
Despite chinos being slightly more formal than denim, it's still important to keep this outfit for casual occasions only.
4. Tucked Vs Untucked
Knowing when (and when not) to tuck in your shirt is an essential part of any gentleman's fashion knowledge.
While leaving your shirt untucked isn't a necessity with this outfit, it's generally recommended.
Tucking in your shirt is typically associated with formalwear; a denim shirt with chinos is an incredibly casual outfit.
This is particularly true when paired with sneakers and an accessory or two.
When wearing a denim shirt with chinos, it's best to leave your denim shirt untucked unless the denim shirt has an especially dressy look to it (as per the previous photograph).
If you do decide you want to tuck in your denim shirt to your chinos, there are a couple of things you must do.
The first and most important thing is to ensure you wear a belt.
This is pretty much imperative when tucking in your shirt – regardless of the overall nature of the outfit.
Black belts work especially well with blue denim; however, brown belts can look good too. Belts with silver buckles are best.
The second thing to consider when tucking in your denim shirt to your chinos is the kind of tuck you use.
There are many different tucks, and the main two are the full tuck and the French tuck.
The full tuck is – as the name suggests – tucking in your shirt around the entirety of your waistband. This tuck is the most formal.
The French tuck, on the other hand, is much more casual and involves partially tucking in your shirt at the front of your chinos.
5. Dress Shoes Look Great
Wearing dress shoes may seem counter-intuitive alongside a denim shirt and chinos because of how casual this outfit is.
However, wearing dress shoes with a denim shirt and chinos looks brilliant.
Shoes are a great way to dress up (or down) your outfit, as they aren't especially prominent in the overall outfit but are still very important.
The best dress shoes to wear with this outfit are Derby shoes, monk straps, or loafers (in order of reducing formality).
Derby shoes subtly dress up the overall look of the outfit without going overboard with formality.
For a slightly less but still somewhat dressy look, loafers can also work very well.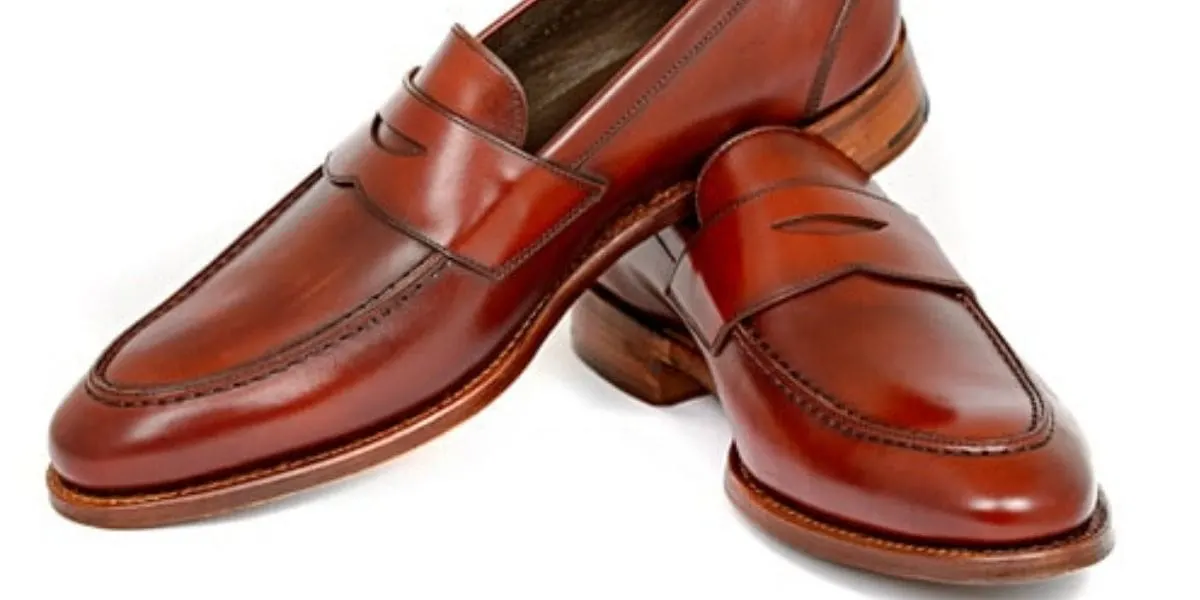 Brown shoes work especially well with the mentioned colors of chinos (khaki, gray, and beige).
In the instance you're wearing dark-colored chinos, dark brown dress shoes are the best option.
For a more casual look, sneakers can also look good with a denim shirt and chinos.
Go for sneakers of minimal details and patterns as there is enough detail in the denim shirt for the outfit.
White minimalist sneakers look good with pretty much any casual outfit, so keep that in mind if going for sneakers.
6. Accessorizing Is Possible
Accessories are a great way to spruce up an outfit. However, it's easy to go overboard when choosing your accessories.
They also aren't appropriate for every situation; formal occasions are a good example of when you should be particularly careful with accessories.
Due to the casual nature of a denim shirt with chinos, however, accessorizing is pretty much always appropriate.
There are many accessories to choose from, such as a watch, ring, bracelet, or belt.
Too many accessories can appear flamboyant, so the best way to avoid this is by ensuring a maximum of two accessories – with one being optimal.
Casual watches such as a field watch or dive watch are great additions to your outfit and add to the laid-back vibe of the outfit.
If you're wearing dress shoes, a dive watch is the better option, as it looks slightly more formal than a field watch.
On the other hand, if you go for sneakers, a field watch is your best bet, as its often canvas strap and casual design add to the aesthetic.
It's important to ensure that you match the metals of your accessories if wearing more than one.
For example, if wearing a silver watch with a belt, the belt buckle should be silver too. The same goes for jewelry like rings, necklaces, or bracelets.
7. Avoid Patterns
Generally, when wearing a denim shirt with chinos, it's best to avoid any patterns.
This includes patterned chinos, shoes, socks, or – if you're wearing your denim shirt as an overlayer – patterned underlayers.
They can come across as extravagant or flamboyant when paired with this outfit, as the denim provides enough detail on its own.
Furthermore, when worn incorrectly, patterns can appear immature.
Therefore, it's best to avoid patterns with a denim jacket and chinos in pretty much every situation.