Wearing denim-on-denim can definitely work, but it does need to be done the right way to prevent it from looking awkward. The question is, can you wear a denim jacket with black jeans?
A denim jacket can easily be worn with black jeans, especially jackets in more traditional colors such as black, grey, or blue. Consider layering the denim jacket over a T-shirt or shirt in a bolder color to add some contrast to the denim-on-denim outfit as a whole.
Although that's the short answer, there's more to it.
Here are some tips for making sure the combination looks incredibly effective each and every time you choose to wear it.
Let's get to it.
Make Sure It's Appropriate First
Wearing a denim-heavy outfit to an inappropriate setting will look pretty obvious. Underdressing rarely ever feels good.
Put simply, don't wear the denim jacket and black jeans to any dress code or setting that's more formal than smart-casual.
It would simply look too casual to be worn to business-casual and formal settings. Avoid doing this at all costs.
Instead, restrict the combination to casual and smart-casual settings only.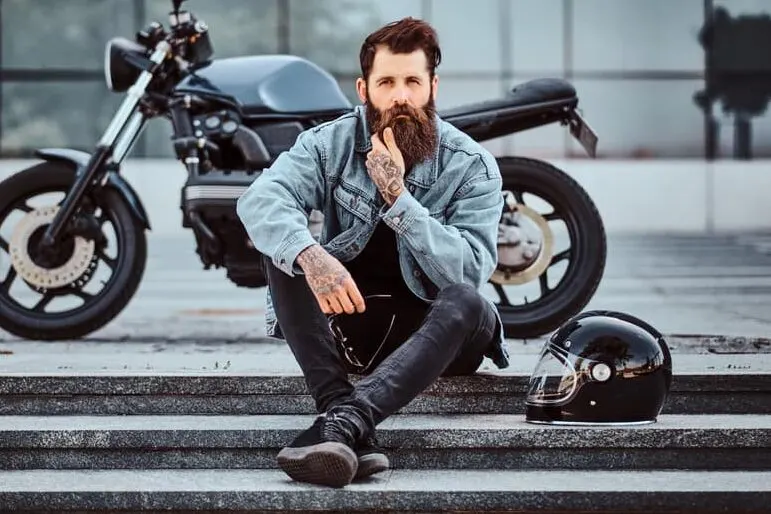 "Casual" settings are those where you could pretty much wear anything (up to a point). Think hanging out with friends or going to the movies.
"Smart-casual" settings are those where you want to dress up just a little. Think polos, Henleys, chinos, sweaters, etc. Examples of settings include dinners at mid-level restaurants and garden parties.
It's important to consider which category the setting you're attending may fall into, as it may influence the type of denim jacket and black jeans you choose to wear.
If you were going smart-casual, consider denim jackets and black jeans in dark washes, with minimal distressing, and tapered fits.
If you were going more casual, consider denim jackets and black jeans with more distressing and baggier fits.
Consider Sticking To Classic Colors
The classic denim jacket colors to choose from would be blue, black, or grey and these are the easiest to wear with black jeans.
Wearing a denim jacket in any of these colors would always work because they have a pretty neutral and traditional look to them when worn with black jeans.
If you wanted to play it safe, consider sticking to these classic colors.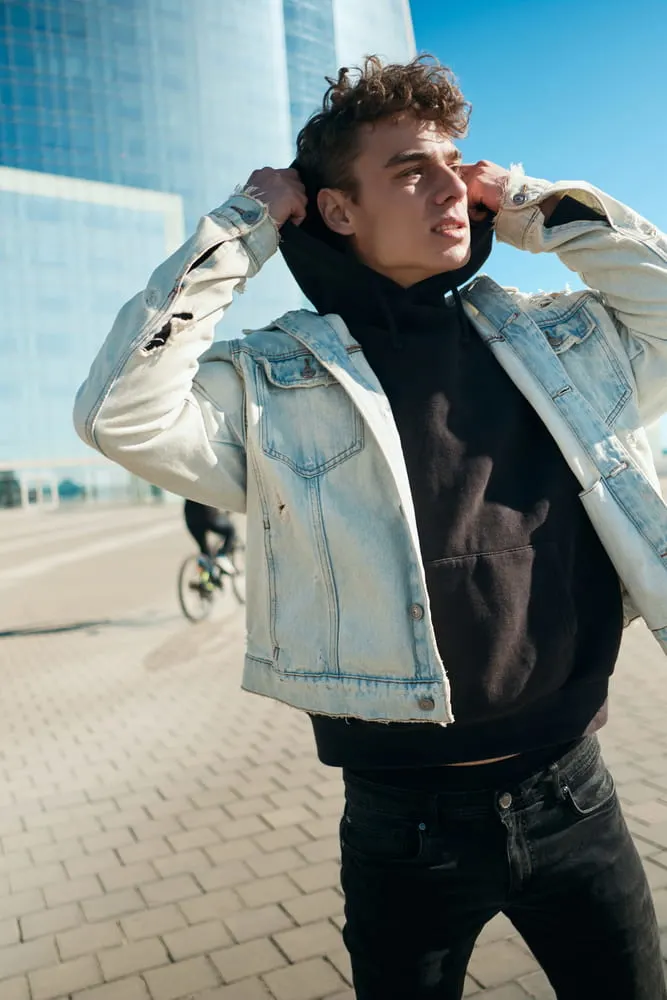 You could always add a splash of color by layering the denim jacket over a bolder-colored shirt or T-shirt.
I'll talk more about layering later on.
Bolder-Colored Denim Jackets Do Exist
If you wanted a bolder and more in-your-face denim on denim ensemble, consider wearing those black jeans with a denim jacket in a non-traditional color instead.
These colors are brighter and more striking.
At the end of the day, your black jeans are neutral enough to pair with practically any color you can think of. You can use this to your advantage.
While black, grey, and blue are the denim jacket colors that first spring to mind when you think of them, it's pretty easy to find more interesting colors if you wanted to.
Here's an example on Amazon:
Choosing a more striking color for your denim jacket has the benefit of making the entire outfit look more eye-catching.
But doesn't necessarily need to be bright to be attention-grabbing.
Wearing black jeans with a white denim jacket would be just as eye-catching, simply due to the contrast between the white and the black.
Layer Over A T-Shirt Or Shirt
Denim jackets are ideal for layering.
When you're wearing black jeans with a denim jacket in a more traditional color (i.e blue, black, or grey), you can use the item you layer under your denim jacket to add contrast or color to the outfit as a whole.
The easiest items to wear as an underlayer would be a T-shirt or shirt, but a light pullover hoodie could also work (if the weather allows for it).
When you're wearing a pretty straightforward black jeans and blue/grey/black denim jacket combo, consider wearing an underlayer in a bolder and more eye-catching color.
A "warm" color such as pink, light orange, or maroon would look especially good, as the warmth would contrast the typically "cool" aesthetic of the blue denim jacket.
But what if you were wearing those black jeans with a bolder-colored denim jacket such as ash green or even pink?
In these cases, you'd want to choose a simpler and more neutral underlayer to avoid things looking too busy and loud up top.
Instead, go for a T-shirt or shirt in a neutral color (eg. white, black, grey, or olive green).
This follows the principle of sticking to one splash of color in your outfit. While it isn't a hard and fast rule by any means, it's the simplest way to add color to your outfit without the risk of a color conflict.
When you're wearing a brighter and bolder colored denim jacket, the denim jacket is the splash of color in your outfit.
When you're wearing a more traditional and neutral-colored denim jacket (eg. blue, black, or grey), the brightly colored T-shirt or shirt you wear under it becomes the splash of color.
Distressed Denim For More Casual Settings
"Distressed" denim is made to look worn out, used, and vintage. It has a great streetwear aesthetic to it but will always make the denim look more casual.
Features include stone washing, acid washing, rips, and frays.
You can find both distressed black jeans and distressed denim jackets. The more distressed they are, the more casual they'll both look.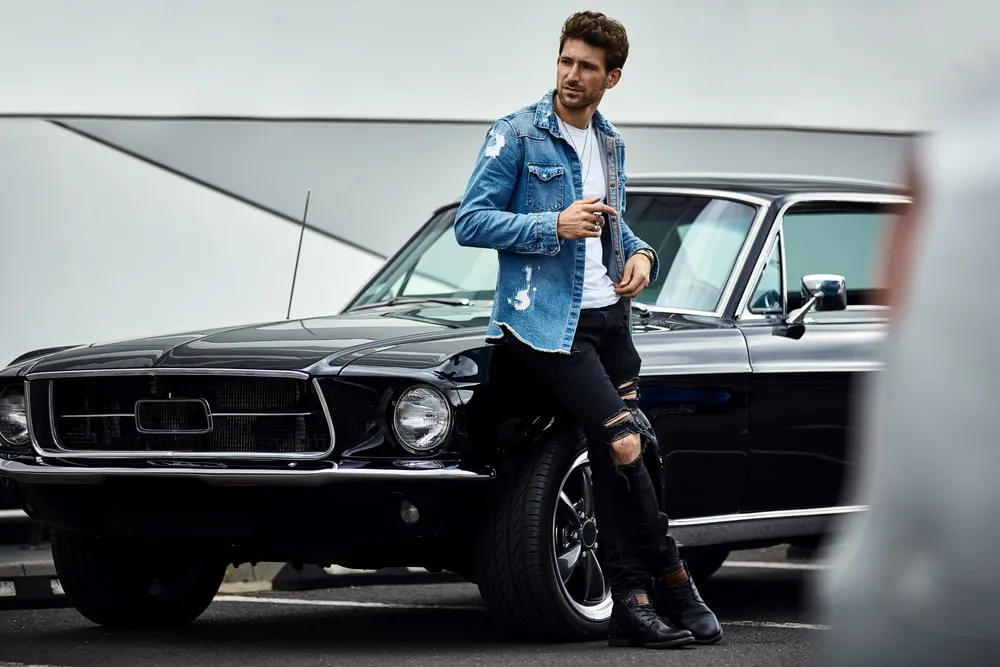 You don't need to pair distressed denim jackets with distressed black jeans and vice versa. You can wear non-distressed denim jackets with heavily distressed black jeans – it would look perfectly fine.
In fact, it's yet another way to add a sense of contrast between the denim jacket and the black jeans.
All you need to bear in mind is that the more distressing you've got in your denim, the more casual the outfit will look as a whole.
If you going for a more smart-casual look, it may be better to go for minimal distressing or no distressing at all.
Cuffing Works Well
Cuffing refers to the process of rolling the hem of the black jeans up once or twice to expose the ankles.
It looks great when wearing denim-on-denim because it enhances the laid-back and casual aesthetic, especially during the warmer months of summer and spring.
Remember to wear no-show socks if you were cuffing your black jeans, however. Having the socks visible under cuffed jeans doesn't usually look great.
You can also consider rolling the sleeves of your denim jacket up once or twice if it's light enough to allow you to do it.
Once again, it just adds to the laid-back feel of your outfit.
Sneakers Or Suede
When wearing a denim jacket with black jeans, sneakers and suede shoes work especially well.
Sneakers would be the ideal and obvious option if you wanted to really go casual.
But even more specifically, white sneakers would look great because they're neutral enough to sync with any color of denim jacket/shirt you choose.
They'll also add plenty of contrast to the black jeans.
In general, white sneakers would be a better option than black sneakers here, as black sneakers would usually blend into black jeans too much.
Suede shoes would be a slightly "dressier" option.
They're great because they're usually formal enough to easily wear to smart-casual settings, but not so formal that they'll cause a formality mismatch with the casual nature of denim.
In fact, the napped texture of suede syncs very well with the rugged texture of denim.
Suede Derby shoes are especially easy to find and may be the ideal option if you were looking to dress up your denim-on-denim outfit just a little.
Ready Sleek founder. Obsessed with casual style and the minimalist approach to building a highly functional wardrobe. Also a fan of classic, vintage hairstyles.