Certain casual combinations are so versatile that they just seem to be everywhere. But is this one of them? More specifically, can you wear a denim jacket over a hoodie?
A denim jacket can easily be worn over a hoodie in casual winter and fall settings. Go for a light and relatively oversized denim jacket to make it easier to slip over a bulky hoodie. The combination works especially well with sweatpants or jeans.
That's the short answer, but you're about to get a whole lot more. Here are some essential tips for making sure this combination looks great, each and every time.
Let's get to it.
1. Make Sure It's Appropriate
A denim jacket and hoodie combo should really only ever be worn in truly casual settings and nothing more formal than that.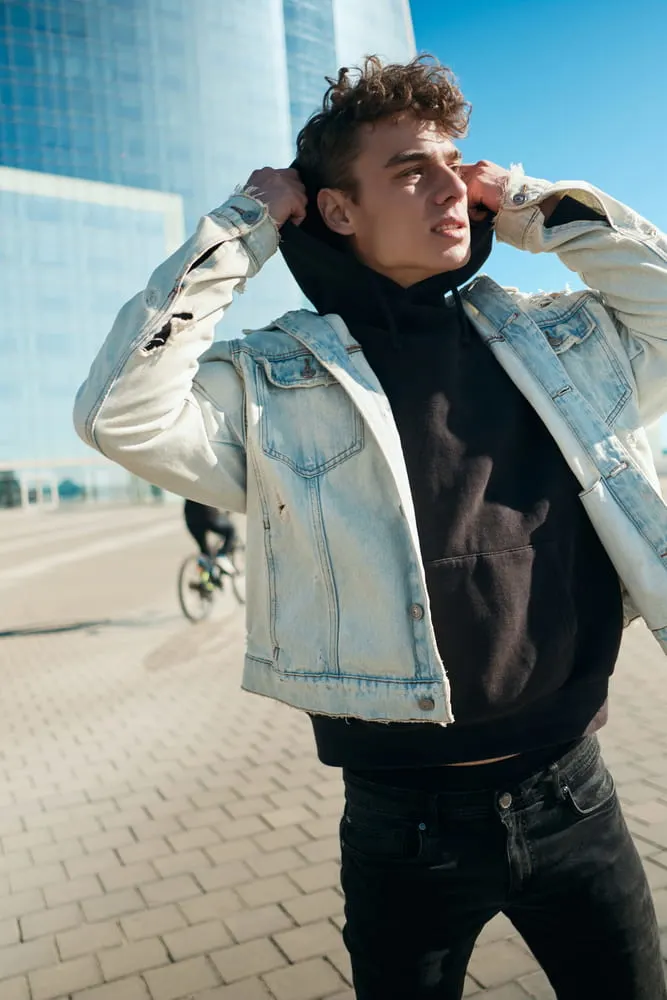 Both the denim jacket and the hoodie are both iconic staples of casualwear.
Wearing them together would make for the perfect casual winter/fall outfit, but trying to wear it to anything more formal than that wouldn't work.
It shouldn't ever be worn in "smart-casual" settings. In this scenario, think polo + cardigan, OCBD shirt + overcoat, dress shirt + sports coat, etc.
While it probably goes without saying, it definitely shouldn't be worn in "business-casual" settings either.
So, the first step should be figuring out whether you can wear the denim jacket and hoodie combination.
In general, it would be appropriate to wear to settings where you could practically wear anything you like, but you still want to make some sort of an effort.
2. Go For A Light Denim Jacket
Denim jackets come in a variety of different weights. Some are much heavier and thicker than others.
While the heavier ones do provide the benefit of warmth and can easily be worn over a T-shirt, for example, they do cause some problems when you're wearing them over a hoodie.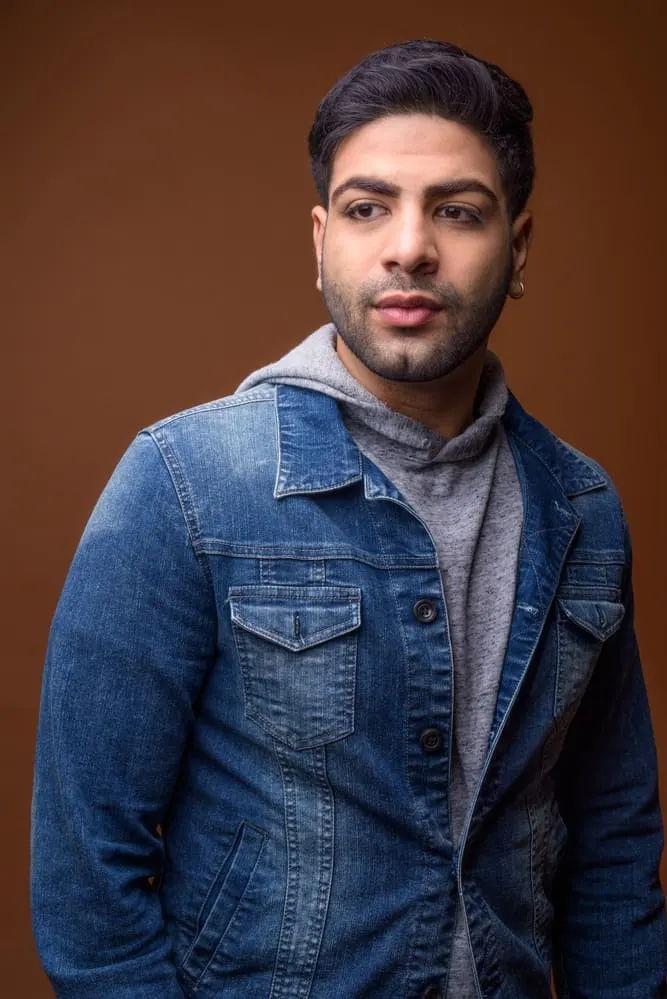 As you'd expect, heavier and thicker denim jackets are tough to wear over hoodies.
The main reason for this is that hoodies are usually pretty heavy, to begin with.
Wearing a thick denim jacket over it is going to feel tight, restrictive, and generally uncomfortable. It would probably look a little too puffy and bulky as well.
So, when you're hoping to wear a hoodie as well, you've got two options.
One would be to wear a light and oversized denim jacket. Doing so would allow you to easily slip one over a hoodie without things getting too uncomfortable.
Consider going a size larger than you otherwise would if you were planning on wearing a hoodie under it.
Another option would be to wear a light hoodie. The bulkier the hoodie, the tougher it's going to be to comfortably wear it over the denim jacket.
3. Choose The Right Hoodie Color
Given how neutral blue denim is, you can easily color match the jacket to a very wide range of hoodies.
If you wanted to go for a more minimalist aesthetic, consider a white, beige, grey, navy, or black hoodie.
Any of these would pair incredibly well with a blue or black denim jacket.
If you want a more bold and striking appearance, go for a brighter and bolder color instead. Think hoodies in reds, greens, purples, or oranges.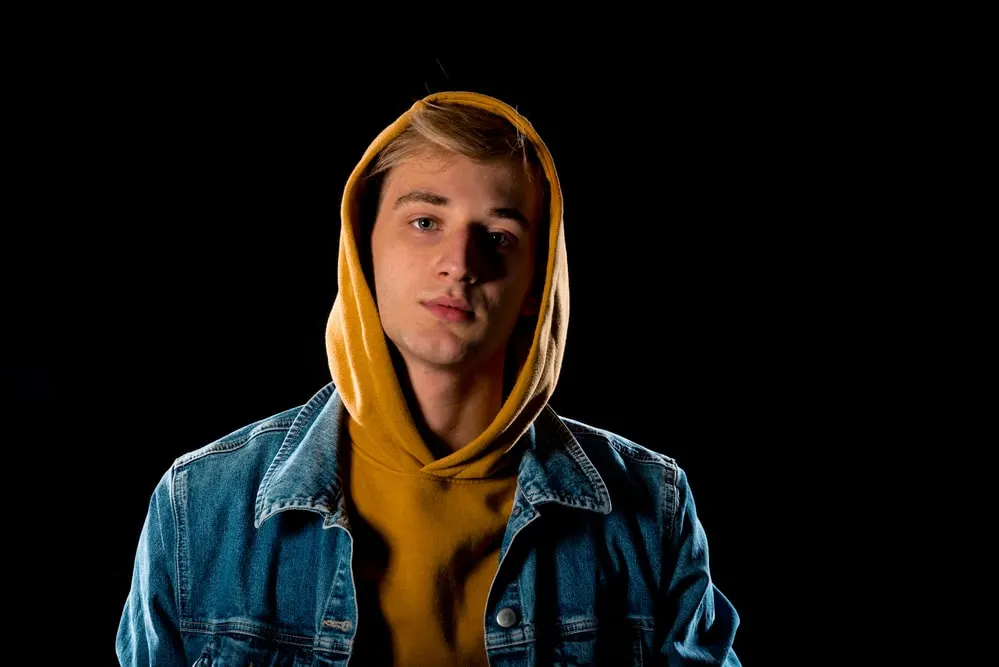 In general, however, the contrast will always work well.
If you've got a light blue denim jacket, go for a dark-colored hoodie.
For example, a light blue denim jacket + burgundy red or maroon hoodie. Or a light blue denim jacket + charcoal grey hoodie.
If you've got a dark blue denim jacket, go for a light-colored hoodie.
For example, a dark blue denim jacket + a baby pink hoodie. Or, a light blue denim jacket + an off-white/beige hoodie.
The main point here is that you've got so many different options.
The question is how much contrast you want between the denim jacket and the hoodie, as well as whether you want to go for neutral colors vs bolder ones.
4. Consider Black Denim
A black denim jacket would make for a great alternative to a classic blue one. They tend to look a little less casual, ideal for when you want to dress up a little but not too much.
Black is even more neutral than blue and so even easier to color match with any hoodie color you can think of.
It's worth mentioning "distressing" here, as well.
Distressing refers to the process of making denim look worn and vintage during the manufacturing process.
Features of distressing include rips, frays, acid washing, and stone washing.

If you want a much more vintage and casual look, go for a denim jacket with a whole lot of distressing.
If you'd prefer a "smarter" looking denim jacket, find one with minimal distressing and in a dark wash.
Black, non-distressed denim is probably the least casual type of denim jacket you can get.
5. Avoid Sherpa Denim Jackets
Sherpa jackets have a warm lining of sheep's wool on the inside. They're perfect for colder weather.
It's very common to find sherpa-lined denim jackets out there. You can easily recognize them by the fuzz that peeks out of the neck.
While they'd be an ideal way to keep warm when wearing a T-shirt underneath, for example, they often cause some problems over a hoodie.
It causes similar problems to those caused by wearing a thick and heavy denim jacket.
A sherpa-lined denim jacket is heavier and bulkier than your average. Trying to wear one over a hoodie will generally feel tight and uncomfortable. It'll also look pretty bulky and puffy.
Overall, it's best to avoid sherpa denim jackets here.
6. Go For Jeans Or Sweatpants
When wearing a denim jacket over a hoodie, it's best to fully embrace the casual aesthetic.
When it comes to your choice of pants, you've got plenty of casual options.
If you really wanted to go for ultra-casual streetwear, consider sweatpants or joggers. It's laid-back and works perfectly with this specific combination.
If, however, you wanted to go a notch less casual, consider jeans.
While some people aren't fans of wearing denim on denim, it definitely has its appeal. It often makes an outfit look well-coordinated and put together.
In addition, the hoodie should prevent the outfit from coming across as having too much denim.
A tip would be to try and find jeans in a different shade of denim to that of the denim jacket.
For example, if you've got a light blue denim jacket, consider dark blue or even black denim jeans.
But jeans and sweatpants are by no means the only options you've got for the pants.
Given how casual the denim jacket over hoodie combo really is, you've got plenty of options for the pants.
Cargo pants and chinos are two which may be a little less common here, but could easily work as well. Chinos, in particular, are great if you want to dress up just a little.
7. Sneakers Work Best
When wearing a denim jacket over a hoodie, sneakers would be a great option. They really sync well with the casual streetwear aesthetic as a whole.
You could wear practically any sneaker style you wanted, but it's hard to deny that Converse high tops work especially well.
Consider cuffing the sweatpants or jeans if you really wanted to show off the footwear.
But do you have options other than sneakers?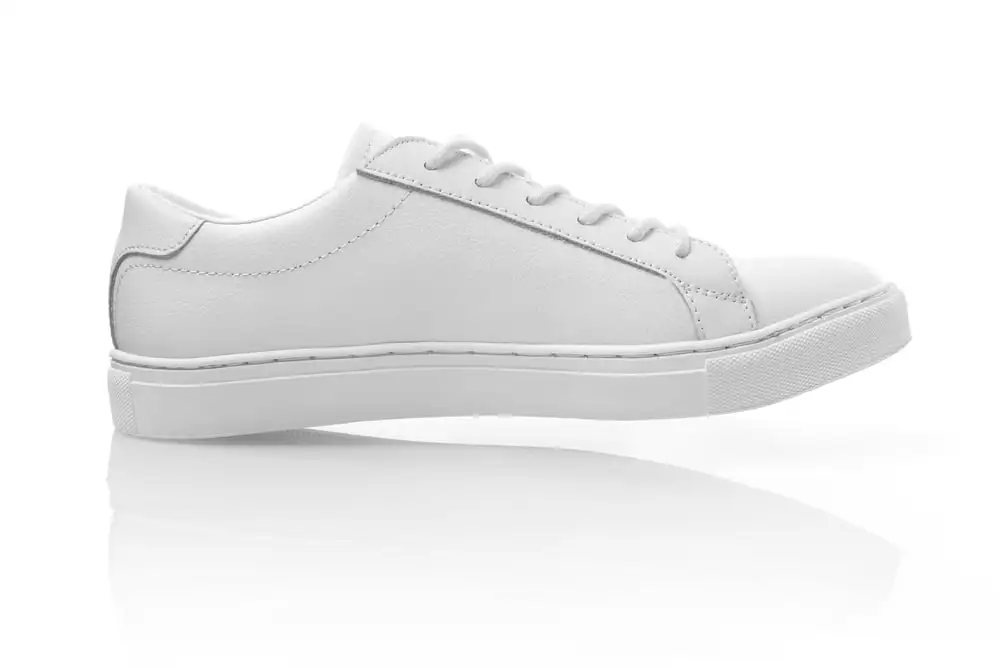 Yes.
Boots work well too. Suede boots in particular look great because the napped texture of suede syncs very well with the rugged texture of denim.
Chelsea, chukka, and even lace-up boots can easily be worn.
Ready Sleek founder. Obsessed with casual style and the minimalist approach to building a highly functional wardrobe. Also a fan of classic, vintage hairstyles.