A common misconception is that you can only wear a dress shirt and tie in formal situations. This isn't the case. So, can you really wear a collared dress shirt with a tie and jeans?
Wearing a collared dress shirt with a tie and jeans is possible, but you should reserve it for semi-formal or smart-casual occasions. Avoid wearing it to formal settings and stick to slim-fit jeans whenever possible.
That's the gist, but there's much more to it.
With that in mind, let's dig deeper.
6 Tips For Wearing A Collared Dress Shirt With A Tie And Jeans
Here are some no-nonsense tips for wearing a collared dress shirt with a tie and jeans. Stick to these as much as possible when wearing this outfit to pull it off every time.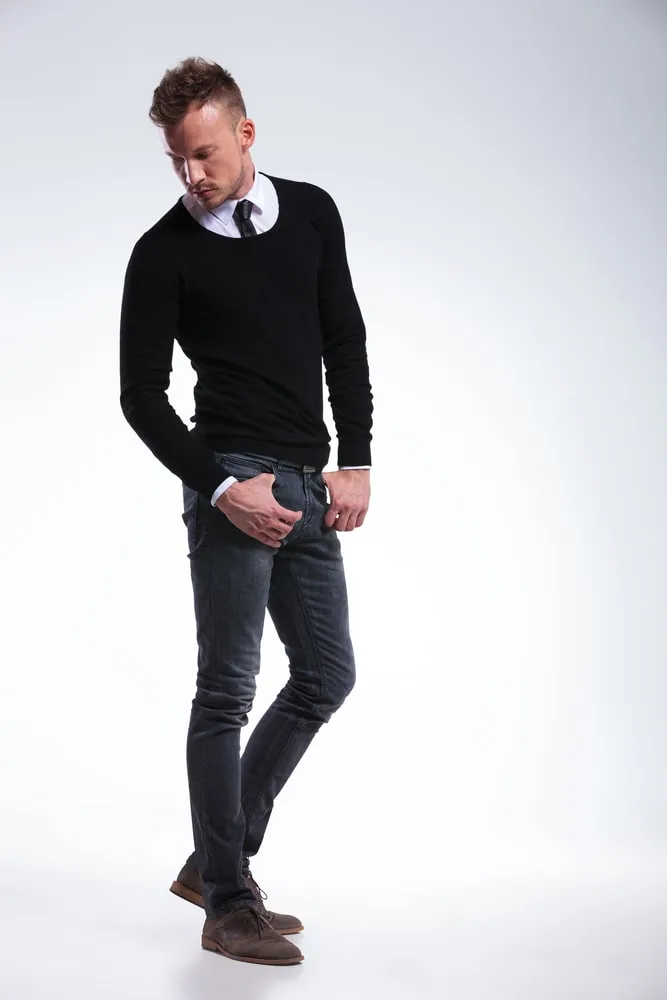 1. Dress It Up Or Down Accordingly
A collared dress shirt with a tie and jeans is an unconventional yet incredibly versatile outfit, appropriate for many different situations.
The garments are versatile both individually and together and can also be paired with many different accessories or items of clothing to suit.
This means that a dress shirt with a tie and jeans can be dressed up – or down – accordingly.
There are several ways to dress up the outfit; similarly, there are just as many ways to dress down the outfit.
A common way of dressing up the outfit is to tuck in your dress shirt entirely.
Contrary to popular belief, there are lots of ways to tuck in your shirt, but the most formal is the full tuck.
This simply involves tucking in your shirt all the way around and is, ultimately, what a dress shirt is designed for.
Furthermore, generally, when wearing a tie, you should always tuck in your shirt.
Another way you can slightly alter the formality of your outfit is with accessories.
It's easy to go overboard when accessorizing, so ensure you use a maximum of two accessories – with one being optimal. Such accessories include rings, watches, and belts.
Watches are particularly good at dressing up or down your outfit due to the wide variety of watch types available; you'll be able to find a watch for any occasion.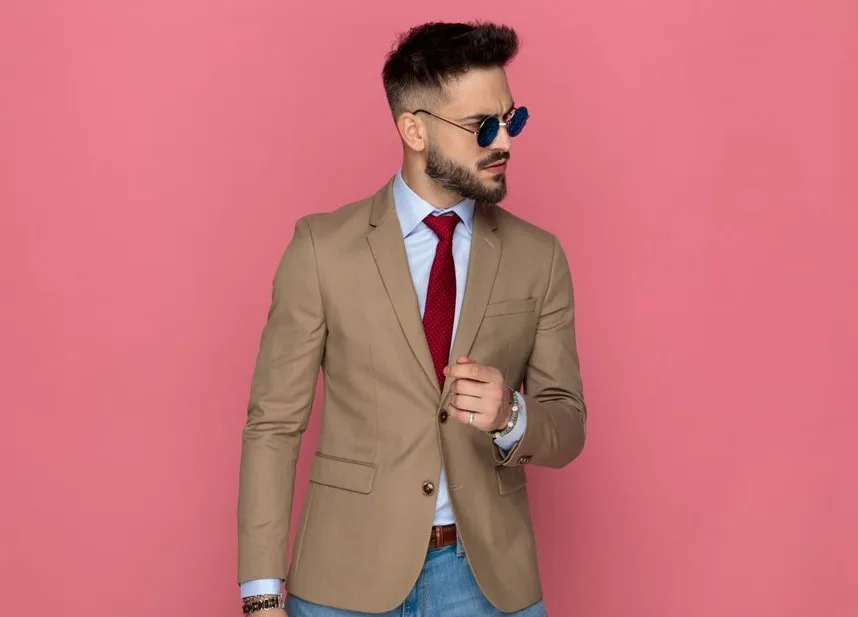 2. Stick To Neutrals
It may seem tempting to go for all-out color when wearing a dress shirt with jeans and a tie. But, you should avoid this.
Stick to neutral colors to be safe. If you do want to add some color, stick to one pop of color with the rest of the outfit being neutral.
For example, a brightly-colored tie with a neutral-colored shirt or vice versa.
When it comes to the jeans, however, stick to the more traditional colors and avoid anything too eye-catching.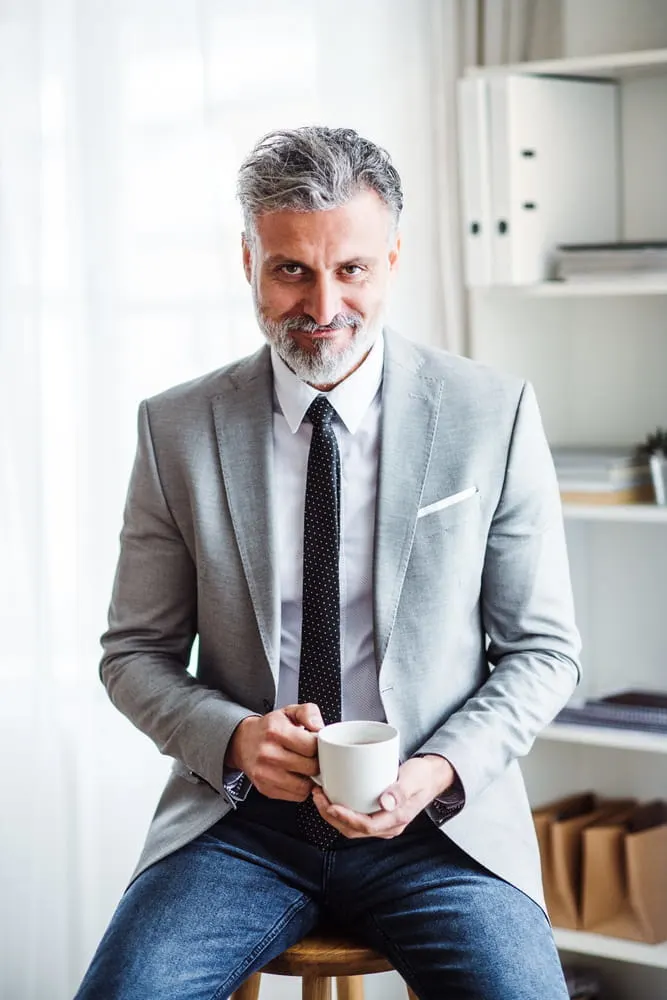 Not only will neutral colors give you more flexibility in terms of the shirt's color, but it also looks sophisticated and elegant – contrary to the almost-certain awkwardness of excessive color in the outfit.
Neutral colors don't generally appear on the color wheel and include black, grays, white and white variations (like ivory and cream), etc.
Generally, you should stick to navy blue or black jeans. However, gray jeans can work well too.
All of these are considered neutral colors and, therefore, work fantastically for your jeans.
While pretty much any shirt color can work, the best ones are colors like powder blue or maroon.
Having said all this, a white shirt would be the most versatile option by far. It would give you a lot more flexibility and scope for experimenting with tie colors.
3. Patterns Can Work
Patterns can be an excellent way to spruce up an otherwise block-colored outfit.
There's nothing wrong with block-colored outfits, and sometimes – such as in formal situations – it's preferred.
However, it's unlikely you'll be attending anything of a greater formality than semi-formal with this outfit, as it wouldn't be appropriate.
Therefore, patterned garments are a great accompaniment to this combo.
Avoid wearing patterned jeans as these are unusual and way too casual to be worn alongside a dress shirt. There'd be too much of a formality clash.
Instead, a patterned dress shirt or tie works best. "Or" is the critical word here, as you should go for one or the other. Avoid patterns on both.
The pattern you choose depends entirely on the formality of the event you're attending.
For more formal events, a subtle pattern, such as small polka dots, works best.
Whereas, on occasions that lean more toward casual, larger patterns may be acceptable, like checks or plaid.
Patterned ties can also look great. Like patterned shirts, if wearing a patterned tie, stick to subtle patterns and a pattern respective to the formality of the occasion.
4. Shoes Matter Too
Shoes are another essential factor to think about when wearing a dress shirt with a tie and jeans.
They are as much a part of the outfit as any of the mentioned garments and, therefore, require a lot of careful consideration.
Additionally, the shoes you choose can heavily impact the formality of the overall outfit; they have the ability to dress it up or down.
At more formal events, Oxfords and Derbys are fantastic choices.
They create a sophisticated contrast between the casual nature of your jeans and the formal nature of the shoes themselves.
Black Oxfords or Derbys match best with black jeans, whereas brown or black can work with navy jeans.
Consider suede varieties of these shoes, as they often work very well in smart-casual outfits.
On the other hand, for more casual events, minimalist sneakers can look good with this ensemble.
White low-top sneakers are arguably the best choice because of how versatile and easy to pair they are. They're the easiest sneaker style to wear with dressy attire.
5. Consider The Situation's Formality
When wearing a tie with a dress shirt and jeans, you should always consider the formality of the occasion you'll be attending.
This is because there's a lot of formality contrast in this outfit, and it is, therefore, easy to misjudge whether or not it's appropriate.
While knowing when this ensemble is suitable can be confusing, there's a rule of thumb that is pretty much always applicable:
This outfit thrives in semi-formal and smart-casual events. The ability to dress it up or down on top of the casual nature of jeans means that it's perfect for this "middle ground" dress code.
Avoid wearing the combination to business-casual settings or anything more formal than that.
An often-forgotten rule of business-casual attire is that jeans simply aren't acceptable. Go for chinos or slacks instead.
6. Ensure Every Item Is Well Fitted
Well-fitted clothes are essential to a good outcome. This is especially true when the outfit leans more toward formal than casual such as this combination.
They have the ability to elevate your overall look to the next level. You should, therefore, always do your best to ensure that your clothes fit.
A good rule of thumb for most garments – including shirts – is that they should be comfortable but not restrictive.
Slim-fit jeans look best with this outfit, and making sure that they aren't tight around the groin area is essential.
Additionally, there should be no bunching or dragging toward the bottom of your jeans, as this would mean they're too large. You should also avoid too much ankle exposure.
Frequently Asked Questions
To really round things off, here are some frequently asked questions on the topic.
Can You Wear An Untucked Dress Shirt With A Tie And Jeans?
Leaving your dress shirt untucked when wearing a tie and jeans isn't recommended. Generally, you should always tuck in your shirt with a tie, and this is no exception.
Keeping your dress shirt untucked would create too much of a formality mismatch between the garments.
While it may be tempting to untuck your dress shirt in order to dress down your outfit, it's not recommended.
Dress shirts aren't designed to be tucked in, and while it can be done without a tie, doing it with a tie isn't a good idea.
Can You Wear A White Shirt With A Tie And Jeans?
White shirts go fantastically with a tie and jeans. Due to their versatility and normalcy in most situations, white shirts should pretty much always be considered. Furthermore, wearing a white shirt with this outfit allows for some creativity in your tie, such as colors or patterns.
White shirts are incredibly versatile and look fantastic with jeans and a tie.
Also, wearing a white shirt means that you can be more creative with your tie by using colors or even patterns.
Conclusion
Now that you know how to wear a dress shirt with a tie and jeans, you'll be able to pull off this combination every time.
Remember that it thrives at semi-formal formality, but you can dress it up or down accordingly.
Ready Sleek founder. Obsessed with casual style and the minimalist approach to building a highly functional wardrobe. Also a fan of classic, vintage hairstyles.