Wearing boots with a suit can sometimes make people a little nervous. It's safe to say that certain boot styles are considered more "appropriate" than others. So, can you wear chukka boots with a suit?
Chukka boots can be worn with casual-looking suits, especially during the fall and winter months. Choose dark brown Chukkas with thin leather soles, as they generally look elegant and sophisticated enough to wear with a suit.
That may be the gist, but there's a whole lot more to it than that.
Here are some great tips for wearing chukka boots with a suit in the easiest and most impressive way possible.
Let's get to it.
1. Make Sure It's Appropriate
While the right pair of chukka boots paired with the right suit may be appropriate in smart-casual or even business-casual settings, it wouldn't be appropriate in truly formal settings.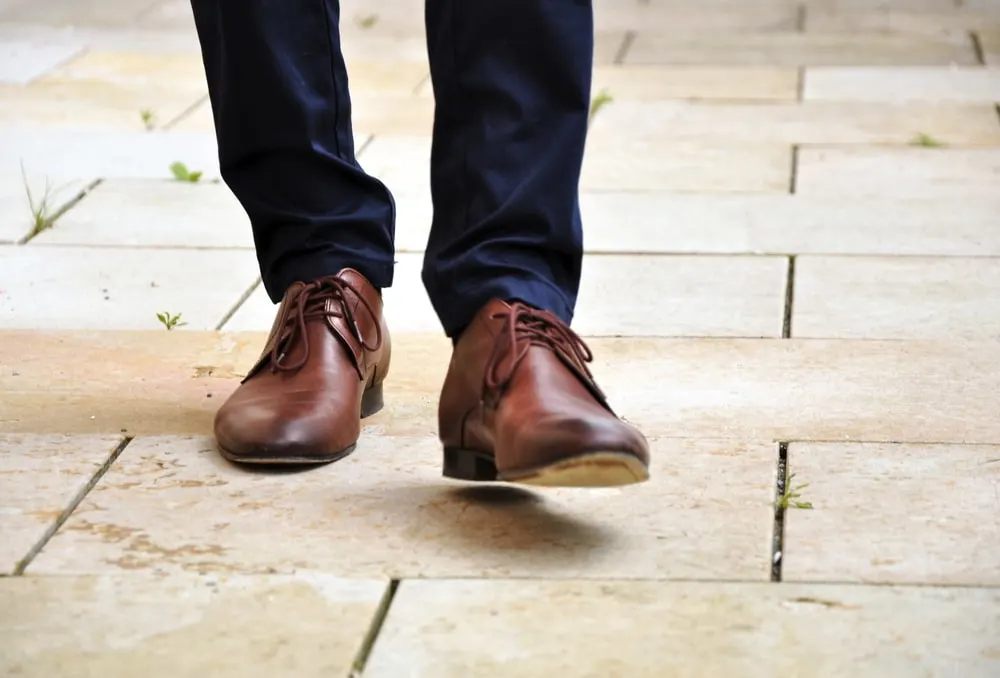 If you feel as though a formal, worsted wool, business-professional suit would be required, avoid chukka boots.
Chukkas should be considered casual footwear, first and foremost.
They don't have quite as formal of an edge as leather Chelsea boots, for example.
Chukkas are often ankle-high and usually have a napped upper made from either suede or nubuck.
Chukkas made from shinier grains of leather will often look more formal than rugged-looking suede ones.
However, while you could comfortably wear a relatively formal-looking pair of chukkas with a suit in more casual settings, go for a pair of dress shoes or Chelseas if you need to dress up.
2. Dark Brown Chukkas Work Best
Chukka boots often come in brown. When you're looking to wear a pair as part of a formal ensemble (such as a suit), go for dark brown Chukkas.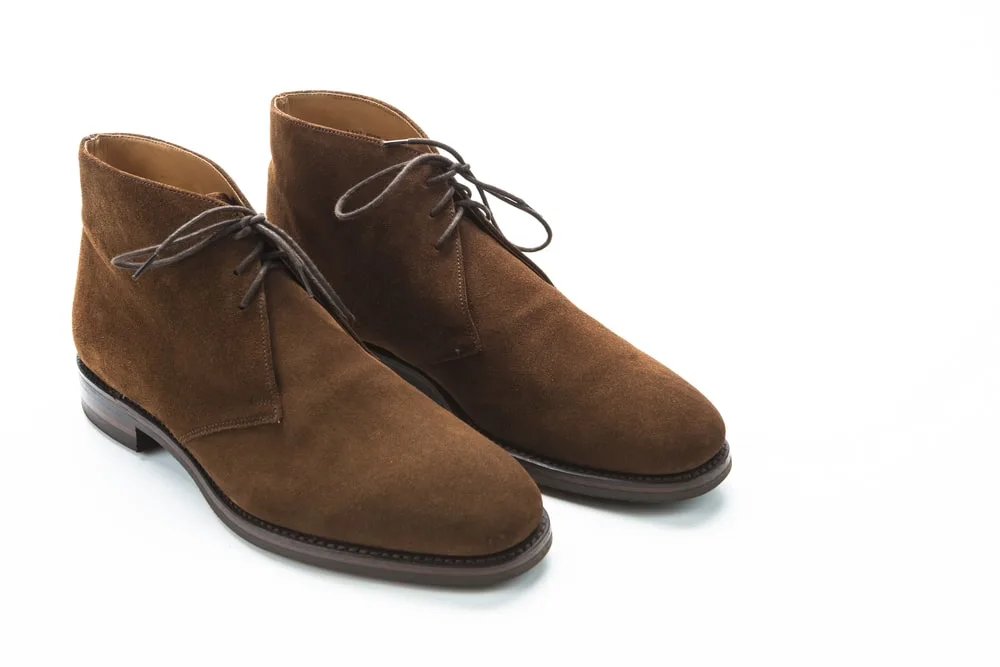 Dark brown will always look more formal than lighter shades of brown such as tan.
When wearing a suit, you'll want to choose Chukkas that are "formal" enough for the outfit to make sense as a whole.
Choosing a dark brown pair is a pretty easy way to do this.
In much the same way, black Chukka boots can also work well.
3. Go For Boots With Thin Leather Soles
Chukka boots usually come with leather soles. When you're looking to wear a suit, the thinner the leather sole, the better.
Thin leather soles look more elegant than the more sturdy-looking thick ones.
This subtle elegance makes the boots with thin soles the better option when wearing formal attire.
A pair such as this would be useful only as "dress boots". They wouldn't give you the same benefits of sturdiness and traction that thicker-soled Chukkas would provide.
So, try not to overuse them.
Keep your thin-soled Chukkas as your dress boots, only to be worn in formal settings.
If you can, have another, chunkier pair of Chukkas for when you want a more functional pair of boots in casual outdoor settings.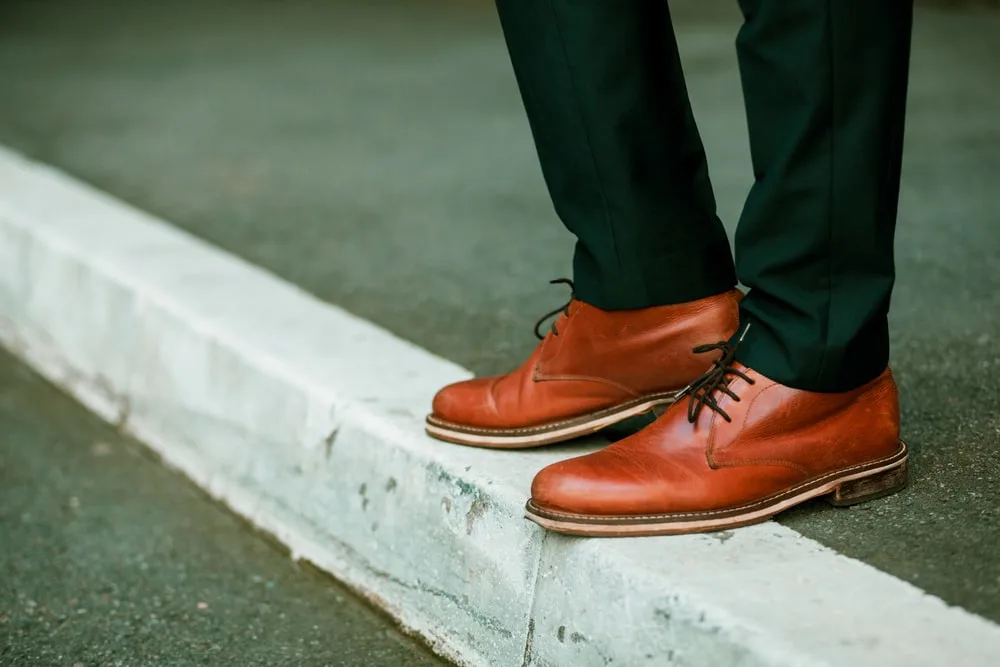 4. Avoid Crepe Soles
It's pretty common to find Chukka boots with crepe soles. They're often called "desert boots". While they're comfortable, they do make a pair of Chukkas look a whole lot more casual.
Crepe soles are generally thick and textured. They're made from a natural and biodegradable substance extracted from tree sap latex.
Ultimately, Chukka boots with a crepe sole would look too casual to be worn with a suit. They'd work a lot better with denim jeans or chinos.
As explained in the previous tip, a thin leather sole would be a much more appropriate option when wearing a suit.
It's worth mentioning that crepe soles aren't exactly durable either and don't provide as much traction or sturdiness as you might think.
Their main benefit is comfort. They often make a pair of boots feel like sneakers and are great for everyday light activity when you aren't doing anything too rough.
5. Avoid Contrast Stitching
Avoid Chukkas with contrast stitching when wearing a suit.
"Contrast stitching" is a feature where the stitching on the boots is a noticeably different color to that of the boot upper.
For example, a pair of dark brown suede chukkas with white stitching.
The white stitching is eye-catching and attention-grabbing against a backdrop of dark brown suede.
While this may be appealing in some scenarios, it'll almost always make a pair of Chukka boots more casual.
Owning a pair of Chukkas with contrast stitching has its benefits. It can make an otherwise simple and straightforward pair of boots a little more interesting.
However, buying a pair with contrast stitching does make it unlikely you'll ever be able to wear it with a suit.
You're pretty much restricted to only wearing those boots with casual items.
If you're looking to make more of a statement with your Chukka boots from time to time, consider switching up the laces to a brighter and bolder color instead.
It gives you the benefit of standing out a little, much like with contrast stitching.
However, unlike contrast stitching, switching up the laces is reversible. You could simply switch the laces back to the original whenever you want to wear it with a suit again.
6. Consider The Season
The Chukka boots and suit combination works best in the fall and winter.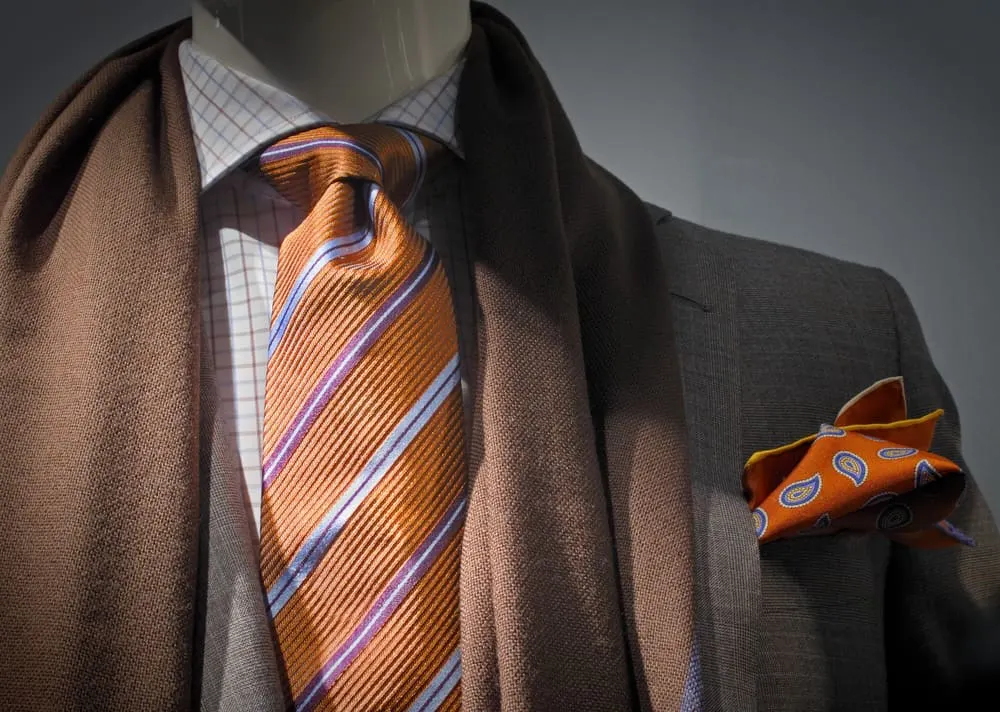 It's best suited to the fall in particular, simply because the napped texture of the suede Chukkas tends to work so well with other fall-friendly colors and items such as coats, sweaters, and scarves.
Chukka boots tend to look a little more awkward and out of place in warmer weather. Avoid wearing Chukka boots in the summer altogether.
Wear a pair of dress shoes or even loafers with your suit instead.
7. Consider A More "Casual" Suit
When wearing Chukka boots, consider going for a suit made from a more "casual" looking fabric.
Not all suits are made from shiny and formal worsted wool. In fact, you can get suits made from practically any fabric you can think of, some of which are more formal than others.
A "suit" is simply a jacket and pair of pants made from the same roll of fabric. It doesn't really matter what that fabric is.
In general, the more rugged/wrinkly and less shiny a suit is, the more casual it looks.
Tweed, linen, chino cloth, corduroy, etc.
They're all casual fabrics you could consider.
Suits made from worsted wool are wrinkle-resistant and have a distinctive sheen to them. Overall, this makes them look formal.
While it's possible to wear Chukka boots with suits such as these, there's a bigger risk of a formality mismatch.
The napped and rugged texture of suede Chukkas noticeably clashes with the sheen of worsted wool.
8. Consider Cuffing The Suit Pants
When wearing a suit with Chukka boots, consider cuffing the pants.
"Cuffing" simply means rolling the hem of the pants once or twice. When wearing suit pants, try not to cuff more than once.
Once again, this works a lot better when wearing a casual suit such as those described in the previous tip.
But cuffing works especially well when wearing Chukka boots because the entire boot would be on full display without the hem of the pants covering the top.
It isn't essential but can be a nice touch.
Ready Sleek founder. Obsessed with casual style and the minimalist approach to building a highly functional wardrobe. Also a fan of classic, vintage hairstyles.