Dress codes may not be your number one priority on the course, but there are some unwritten style rules in the world of golf you should be aware of. So, can you wear chinos on a golf course?
Chinos are almost always appropriate for golf; they're effortlessly smart-casual, the cotton twill fabric is relatively breathable, and they aren't too restrictive of movement.
Some additional features make some chinos better for golf than others. These include stretch capability, larger pockets, and polyester blends to allow for a wider range of movement.
Of course, some exclusive golf clubs may have pretty strict dress codes, so it's worth checking with them in advance.
But overall, wearing chinos will always be considered a safe bet.
That was the answer in a nutshell, but I'm going to dig deeper into it. I'll explain in more detail exactly why chinos are appropriate and how to find the perfect pair.
Then, I'll be discussing what to wear with those chinos to ensure you're looking sharp on the golf course each and every time.
Plus, I'll briefly talk about chino shorts, the best chino colors for golfing, and when you may want to wear pants other than chinos.
Let's get to it.
3 Reasons You Can Wear Chinos When Playing Golf
Here are the main reasons you should know about. Chinos aren't the only option you have, but they'll usually meet the needs of most golfers.
1. The Fabric Is Versatile
I'm mainly talking about the weather here. Chino cloth is definitely breathable, but by no means the most breathable fabric you can wear.
The cotton twill it's made from is light and airy, but not the most light and airy. Plus, they aren't great at wicking away moisture like polyester is.
However, chinos are certainly breathable enough to keep you cool on a warm, summer day when golfing.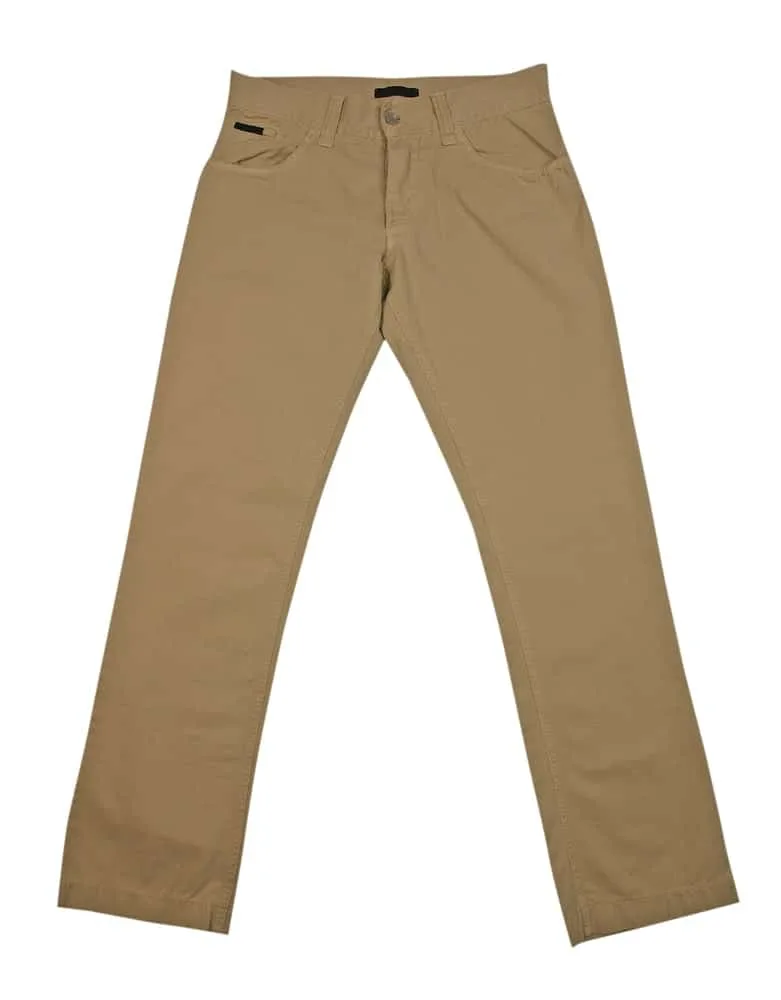 If you are golfing in warm conditions, go for a lightweight pair of chinos that won't feel too overbearing as you start sweating.
Also, you may want to strongly consider wearing chino shorts if your golf club allows it. I'll be talking more about this later on.
The beauty of chinos is that they're also suitable for milder and cooler conditions as well. They'll keep you warm when it's necessary.
If you know you'll be golfing in these conditions, go for a heavier pair of chinos instead.
2. They'll Always Be Formal Enough
It would be exceptionally rare for a golf club to tell you the chinos you're wearing aren't sharp enough for their dress code.
Jeans are usually out of the question – they're just too casual. But chinos are relaxed and comfortable while still looking smart enough for a golf club.
They just ooze a smart-casual aesthetic and this is about as formal as a golf club could reasonably expect.
At the same time, they're casual and sporty enough to not look out of place or awkward at a sports club.
Plus, if you're hoping to hit up the bar with your golfing pals at the end of play, your chinos would be ideal for that too.
If you're going to a particularly exclusive golf club, it would be worth checking with them in advance to make sure that they don't have an odd or unusual dress code.
But overall, you would very rarely have a problem with chinos.
3. They Aren't Too Restrictive
Chinos aren't as ideal for activewear as polyester trousers are. Polyester will ultimately be more breathable and does have more stretch.
For more rigorous or fast-paced sports, polyester would certainly be a better option.
But although golf is strenuous, chinos often provide more than enough movement to allow for an effective game.
Movements such as swinging, crouching, and bending are perfectly fine in a pair of comfortable, well-fitted chinos.
It's worth testing out these movements while trying on the chinos in-store. Make sure you've got enough range of movement before you buy them.
Certain features will make some chinos less restrictive and allow for more flexibility during play. I'll be discussing these in the next section.
Additional Chino Features That May Be Useful For Golf
If you know you're going to be wearing a pair of chinos for playing golf, there are certain features to look out for. Comfort, mobility, and practicality are important.
Some features may be more important to you than others. But the following list should give you an idea of what's available to you if desired.
1. Stretch Capability
Stretch chinos are ideal for movements such as bending and crouching are often found to be less restrictive on the course.
So, investing in a good, comfortable pair of stretch chinos may actually do a lot of good for your game.
The stretch capability usually comes from a small amount of elastane blended into the cotton. 98% cotton and 2% elastane is a pretty common blend you'll find.
2. Polyester Blends
Cotton-polyester blends for chinos can be great for golf. They give you some of the usual benefits of polyester while still looking very much like a pair of chinos.
You'll generally find that they give you more mobility and have a little more stretch.
They'll also be a little more durable and weather-resistant.
Finally, part polyester chinos usually don't wrinkle as easily. This should ensure that they stay crisp and neat as the day progresses on the course.
It may also save you from having to iron them after they're out of the wash.
3. Large Pockets
Large pockets are generally best avoided when it comes to chinos or any pair of semi-casual or smart-casual pants for that matter.
They usually ruin the silhouette and make the top half of the pants look bulky and disproportionate.
But when playing golf, pockets may well come in very useful. Storing scorecards and other bits and pieces might be important to you.
If this is the case, consider wearing chinos with cargo pockets. Although they aren't the most stylish, they do have a lot of practical benefits.
4. Non-Iron Finish
I've already mentioned that cotton-polyester blends are more wrinkle-resistant. The main reason for this is that they don't absorb water as well as pure cotton fabrics.
In fact, this would be the case for most cotton-synthetic blends and is the reason why pants marketed as "non-iron chinos" are almost always synthetic blends.
But these chinos may also undergo a treatment called chemical saturation to make the cotton fibers bond closer to each other.
This makes it even more wrinkle-resistant.
To cut a long story short, if you want a wrinkle-resistant pair of chinos for playing golf in, look for one of these "non-iron chinos" to wear.
What To Wear With Chinos When Playing Golf
Chinos are great, but you'll need to get the rest of your outfit right as well. Golf attire is pretty well-established. There are certain items of clothing that just work.
Polo Shirt
The polo shirt and chinos combination is a classic; a staple of the semi-casual golfing aesthetic.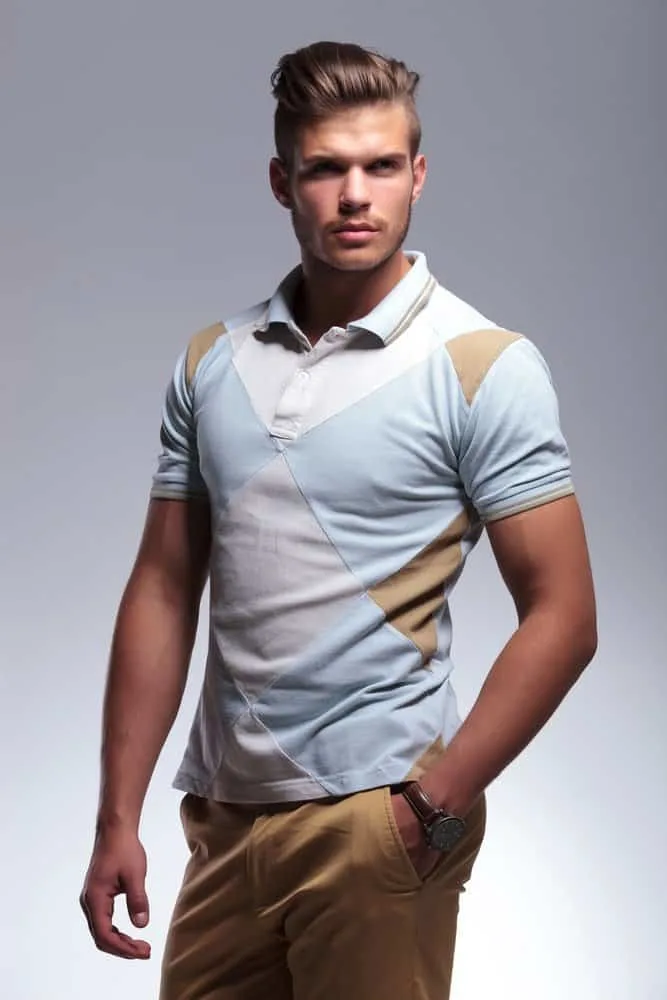 It's simple, subtle, and effortlessly stylish. Plus, collared shirts are generally considered the norm of golf courses.
Polo shirts do usually look better when tucked into chinos, especially when the hem is particularly long.
You may want to choose polyester instead of the usual pique cotton if you're looking for more flexibility, mobility, and weather-resistance.
Golf Shoes Or Sneakers
Sandals and flip flops would never usually be allowed.
You'll usually have to invest in a pair of golf shoes because a lot of golf clubs won't allow anything else.
Having said that, it's pretty hard to tell the difference between golf shoes and modern sneakers these days.
Either way, choose a light, neutral color for your shoes. White will pair well with any neutral chino color.
Chinos are casual and sporty enough to combine well with casual footwear like sneakers.
Sweater Or Golf Vest
Cardigans and sweaters, as well as golf vests will always be popular on the course and will also pair well with chinos.
In wetter conditions, you may want to go for a water-resistant, wind-resistant sweater or vest.
You'll want to tuck your shirt collar into the sweater and make sure it's fitting. Not too tight and not too loose.
Keep mobility as well as comfort in mind.
What Chino Colors Are Best For Golf?
I've touched upon this already, but certain colors just look better on the golf course.
Personality will definitely play a role here, with some men just preferring brighter or pastel colors.
These may well work, but neutral colors will always be a safer bet.
Wearing lighter colored pants is more common on a golf course, with neutrals or near-neutrals such as soft gray, khaki, beige, and even olive green being ideal choices.
Plus, it'll be incredibly easy to coordinate these neutral-colored chinos with the rest of your outfit.
Color matching will be so much simpler.
Can You Wear Chino Shorts When Playing Golf?
Chino shorts are a very popular choice when playing golf, particularly when playing in the scorching heat. They're breathable, comfortable, and will allow for more mobility than chino trousers.
However, it's very important to check that the golf club you're playing in will allow you to wear shorts.
Regardless of the fabric, some golf clubs just won't allow it.
If you're sure chino shorts would be allowed, ensure that they're fitting.
Having them too baggy can make your legs look skinny, but having them too tight can be uncomfortable and also look awkward.
The shorts shouldn't extend past the knees but also shouldn't lie higher than 2-3 inches above the knees.
When You May Want To Consider A Different Fabric
The versatility, breathability, and durability of chinos should serve you well when playing golf in most settings.
But there may be times when a different fabric for your trousers may serve you better than the traditional cotton twill of chinos.
In particularly cold weather, wool slacks would keep you warmer. Wool keeps you warm because the fibers trap pockets of air and insulate you.
If you're looking for more flexibility and mobility in your activewear, 100% polyester may be a better option.
Conclusion
Although the range of settings you can wear chinos in is very wide, let's face it – there aren't many sports you'd ever really want to wear them for.
Golf is one of those rare mainstream sports where looking sharp and stylish is still an option. Chinos often play a huge role in achieving this.
Good luck on the green.
Ready Sleek founder. Obsessed with casual style and the minimalist approach to building a highly functional wardrobe. Also a fan of classic, vintage hairstyles.