The glorious versatility of chinos will give you the freedom to mix and match between a huge number of items in your wardrobe. But it's important to have some rules in place to ensure it's appropriate. That begs the question; can you wear dress shirts with chinos?
Chinos can definitely be worn with dress shirts for a wide range of settings and occasions ranging from semi-casual to business casual. But it's important that more formal dress shirts should be paired with chinos with traditionally "formal" features. In contrast, the slightly more casual OCBD shirt could be paired comfortably with even the more "casual" looking chinos.
Although the topic is fairly simple, it's important to have a good grasp of what options are available to you.
Chinos vary in terms of features and the term "dress shirt" can mean more than one thing. These are the differences that need to be understood to help guide your style decisions.
I'll also be going through how to quickly and easily color match between the two items to ensure it works each and every time. Then, I'll finish off by running through some frequently asked questions on the topic to really polish things off.
Let's get to it.
How To Wear Chinos With Dress Shirts: 4 Simple Steps
The best way to explain how to get it right is to run through some practical examples. Walking through the decision in a stepwise manner will ensure you make no faux pas. There are four steps to the process.
1. Ask Yourself How Formal The Setting Is
Right from the outset let's clear up any confusion. "Semi-casual" is more formal than "casual" and less formal than "business casual".
"Business casual" is the same as "smart casual".
You could be dressing for anything. Chinos are so versatile that they often pop into the mind for all but the most formal of occasions.
You may be dressing for work and looking for a regular outfit to wear. Or, you may be looking to attend a wedding, garden party, sporting event, office dinner, etc.
Your first step should be to ask yourself just how formal the setting or occasion is.
Sometimes this is made easier for you by management or the organizers of an event. Specifying a dress code will take some of the guesswork out of it but only to an extent.
The most obvious (although vague) dress code that comes to mind would be business casual. Dress shirts and chinos should fit nicely into those settings.
Without overcomplicating it, think of this combination for those in-between dress codes. The ones where flannel shirts and jeans aren't going to cut it, but a full suit or black tie would be too much.
If you feel as though the combo may work well after asking yourself this crucial question, move onto step 2.
2. Pick The Right Dress Shirt
Sounds simple enough, but believe me – they aren't all made the same.
Let's first go through what options you have available to you.
A "dress shirt" is technically a shirt that has buttons down the body, long sleeves, and a collar.
The two main ones I want you to focus on here are the regular dress shirt and the Oxford Cloth Button Down (OCBD) shirt. These are the ones you'll most likely be choosing between to go with your chinos.
This is a dress shirt: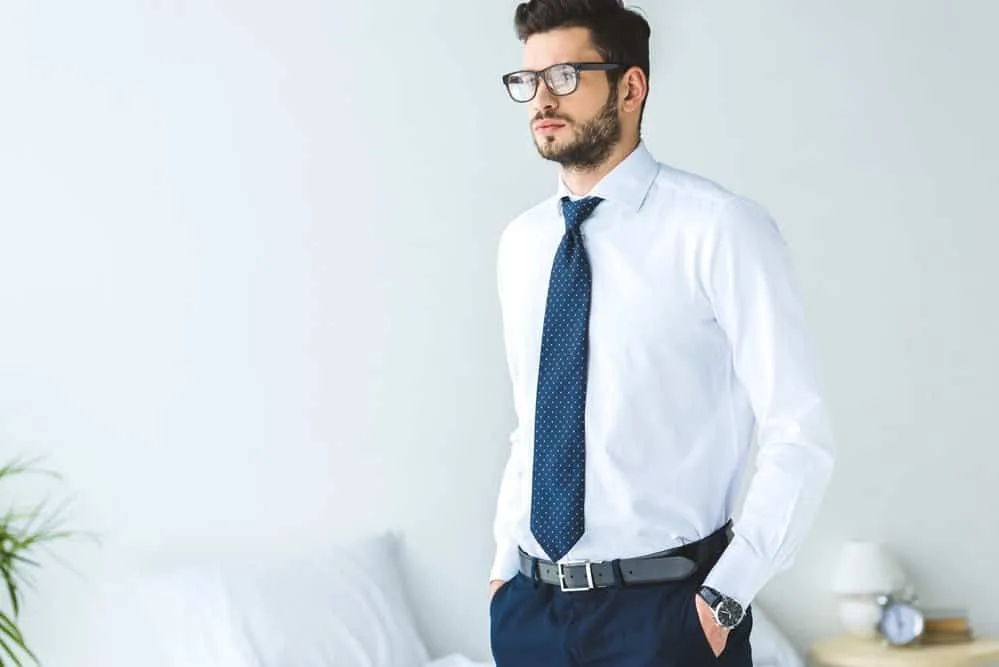 Although an OCBD is technically a "dress shirt", it isn't really what we refer to when we use the term. It simply isn't "dressy" enough to meet the criteria, unlike a "true" or "regular" dress shirt.
Here's an OCBD: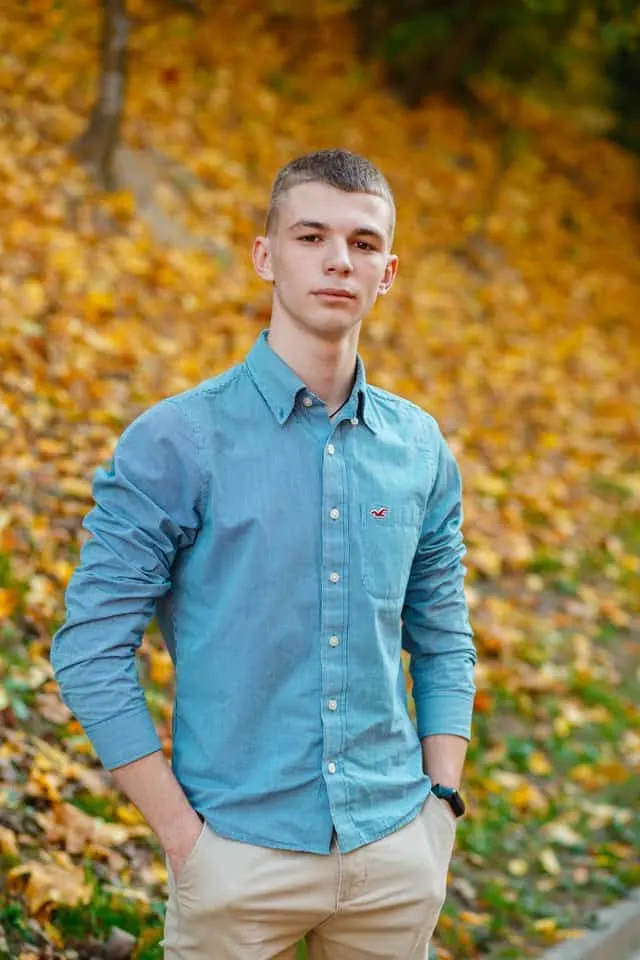 With either of them, choose a slim or modern fit to ensure comfort while maintaining a nice silhouette.
Here are some key differences between formal dress shirts and OCBDs :
Regular (True) Dress Shirts:
More formal, with higher thread counts and more of a "sheen" to the fabric.
A plain collar with no buttons, often stiff. Common ones include pointed, spread, and wing collars.
Barrel cuffs or French cuffs are the most common types.
Usually come in solid colors with no patterns.
OCBD Shirts:
Less formal but still may well be appropriate for smart-casual events.
Made from Oxford Cloth. A heavier, more textured weave that leads to less sheen and a more rugged appearance.
Known for their button-down collars giving off a more casual vibe.
It often comes in a variety of patterns.
Deciding Between The Two:
Once again, focus on the formality.
If you feel as though the event is formal enough to require a tie, wear a dress shirt.
You may not think you need a tie. But even for the more formal business casual outfits, wear a dress shirt.
For all other occasions, either a dress shirt or an OCBD would most likely be appropriate.
Now it's time to pair your shirt with the right pair of chinos.
3. Pair It With The Right Chinos
I'm aware that you may be doing this the other way round. In other words, you've got a pair of chinos and you're looking to match it with the right dress shirt.
That doesn't matter – simply flip the process around.
It's important to bear in mind that chino pants can vary in what features they offer.
Although they're all made from the classic "chino cloth" made from cotton twill, the fabric can vary. 100% cotton twill will look and feel higher quality, while the very common cotton-synthetic blend will feel less so.
So, if you're looking to match a fancier dress shirt, going for 100% cotton twill chinos may be a good first step.
Here are some other key differences between "casual" and "formal" pairs of chinos.
Casual Chinos:
Features that resemble jeans more than formal wool dress pants.
Patch pockets
Visible seam details
Bar tack
No center crease
Formal Chinos:
Features that resemble wool dress pants more than jeans.
Center creases down each leg
Barely visible seam details down the inner legs
Welted or jetted pockets
Choosing Which Chinos Match Your Dress Shirt:
If you're looking to match a true, formal dress shirt, go for a more formal pair of chinos.
If you're wearing an OCBD shirt, you've got more options. Even a more "casual" pair of chinos would be smart enough to comfortably match an OCBD.
But OCBD shirts also look fantastic with a more formal pair of chinos.
4. Flesh Out The Rest Of Your Outfit
Think of your chinos and shirt as the foundation on which you build very nicely.
Once again, think of how formal the setting or occasion you're dressing for is, and use that to guide your other choices.
The more formal outfits with more formal dress shirts and smarter chinos may well benefit from a blazer or sports coat, leather shoes such as oxfords, brogues, or bluchers.
If you think a tie would be appropriate, go for it.
An OCBD and a more casual pair of chinos could also work well with a jacket. The traditionally more "casual" sports coat may be more appropriate here than a dressier blazer, however.
This smart-casual ensemble would most likely work with more casual footwear such as boat shoes or suede loafers.
White sneakers will always be a risk, however. Think carefully about whether the setting you're dressing for is casual enough on the smart-casual spectrum for this to be appropriate.
Color Matching Chinos And Dress Shirts
Regardless of whether you choose to wear a formal dress shirt or an OCBD shirt with your chinos, sticking to a neutral color scheme will save you headaches.
Filling your wardrobe with a small number of highly versatile items of clothing that color coordinate perfectly with each other is definitely a worthwhile pursuit.
When it comes to dress shirts (regular or OCBD), the classic, tried-and-true colors that work time and time again are sky blue and white.
Every man should have one of each in his wardrobe.
The beauty of these basic, neutral colors is that you'll be able to sync them beautifully with a wide range of other neutral-colored chinos.
A white dress shirt would work very well with olive green, charcoal grey, black, navy blue, khaki chinos, and more.
A baby blue or sky blue dress shirt would work just the same.
As you can see, there is a wide range of possible options with a relatively small number of items. This is the beauty of a minimalist, neutral wardrobe.
Color coordination is made so much simpler.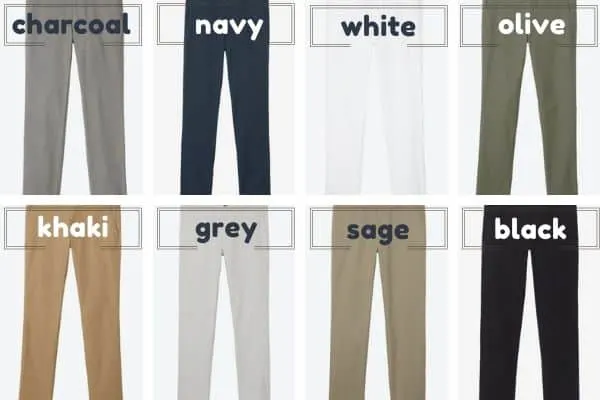 Opting for showier, brighter, or even pastel shirts and chinos is always an option, but coordination won't be as simple.
Plus, if you're looking to dress for a smart-casual event or occasion, neutral tones will always be more appropriate.
Frequently Asked Questions
Here are some frequently asked and rarely answered questions I'd like to run through to really hone in on the subject.
Can You Wear Chinos And A Dress Shirt To Formal Events?
Chinos and dress shirts shouldn't be worn to truly formal events. A full suit or even a tuxedo will always be more appropriate and much less of a risk. Chinos and dress shirts would be more appropriate for business casual occasions and settings.
This can be a frustrating decision to make at times. "Formal" can mean a number of different things.
I'm using the term strictly to describe truly formal events where a matching jacket and pants should be considered mandatory.
Formal weddings, balls, corporate business meetings, etc.
But a colloquial use of the term "formal" may also refer to what should more accurately be labeled "business casual".
A lot of modern workplaces have adopted this dress code. It may also be what you're asked to wear for an office dinner, a garden party, a corporate function, and so on.
Strictly speaking, these aren't "formal" events. For these purposes, a dress shirt and chinos may well be perfectly acceptable.
To sum this up, as long as it's not an event where you'd be expected to wear a full suit, wearing a dress shirt and a more formal pair of chinos will most likely be fine.
Can You Wear Chinos With Dress Shirts And Ties?
Chinos can be worn with dress shirts and ties for the more formal events and occasions. It's important to ensure that the chinos you choose are "formal" and dressy enough to sync with the traditionally formal combination of a dress shirt and tie.
Wearing a tie with a dress shirt is usually no problem at all, particularly with pointed collars and spread collars. These leave plenty of room for fancy knots while keeping the band well and truly hidden.
Wing collars are different; heavily starched with the collar tips pointing forward and downward resembling a pair of wings. These won't cover the band of a tie and should be worn with bow ties for very formal occasions only.
OCBD shirts can also be worn with a tie, although it sits a little more awkwardly under a button-down collar. This is why you usually don't.
If you do choose to wear a tie, strongly consider a knit tie as the casual textures align well. It should also usually be worn with a sweater or sports coat on top.
Once again, use your choice of upper bodywear to guide how formal you need your chinos to be.
Can You Wear Untucked Dress Shirts With Chinos?
Formal dress shirts should always be tucked into chinos. They usually have uneven hems with "tails" at the front and back – these look odd and disproportionate when untucked. OCBD shirts, however, can often work both tucked and untucked with chinos.
So, if you're wearing an OCBD shirt with chinos and you're wondering whether to tuck it in, there are a couple of factors to consider.
If the shirt has an uneven hem, it needs to be tucked in.
If the occasion is business casual or on the more formal end of the spectrum, tucking it in would be less risky.
The length is important – if the hem reaches past the bottom of the fly at the front or the whole of your backside at the back, it's too long to leave untucked.
Although the versatility of OCBD shirts and chinos does give you options, decisions such as these could go wrong if you don't take the whole picture into account.
Conclusion
It can be a mighty impressive combination indeed. The use cases are pretty vast and you'll most likely find yourself coming back to it.
Bear these basic principles in mind to ensure your outfit works for the specific setting you're dressing for.
I hope you enjoyed that. Thanks for sticking around until the end.
Ready Sleek founder. Obsessed with casual style and the minimalist approach to building a highly functional wardrobe. Also a fan of classic, vintage hairstyles.