Cardigans somewhat bridge the gap between casual and formal wear – they can be worn as either. This begs the question: Can you wear a cardigan over a collared dress shirt?
Wearing a cardigan over a collared dress shirt looks great. Consider the style of your cardigan and pants, and remember that white dress shirts work best. Adding a scarf or blazer can add some extra flair to the outfit.
Though that's the short answer, there's much more to explore.
Without further ado, let's get to it.
1. Think About Cardigan Style
There is such a range of cardigan styles on the market that it can be difficult to know the best ones to wear alongside a collared dress shirt.
Generally speaking, there are six distinct cardigan variants to choose from. These are:
V-neck
Shawl collar
Cable knit
Longline
Double-breasted
Belted
Each of these has its own defining features, and some are more appropriate to wear with a dress shirt than others.
While there are many styles of cardigans, the main determining factor as to whether or not it's appropriate attire is the weight.
Cardigans typically come in one of two weights: lightweight or chunky. Lightweight is the lighter of the two, while chunky cardigans are much more heavy-duty.
The best cardigan weight to wear alongside a dress shirt is lightweight.
This is because lightweight cardigans' structure and weight are much more elegant than that of the heavier chunky cardigan.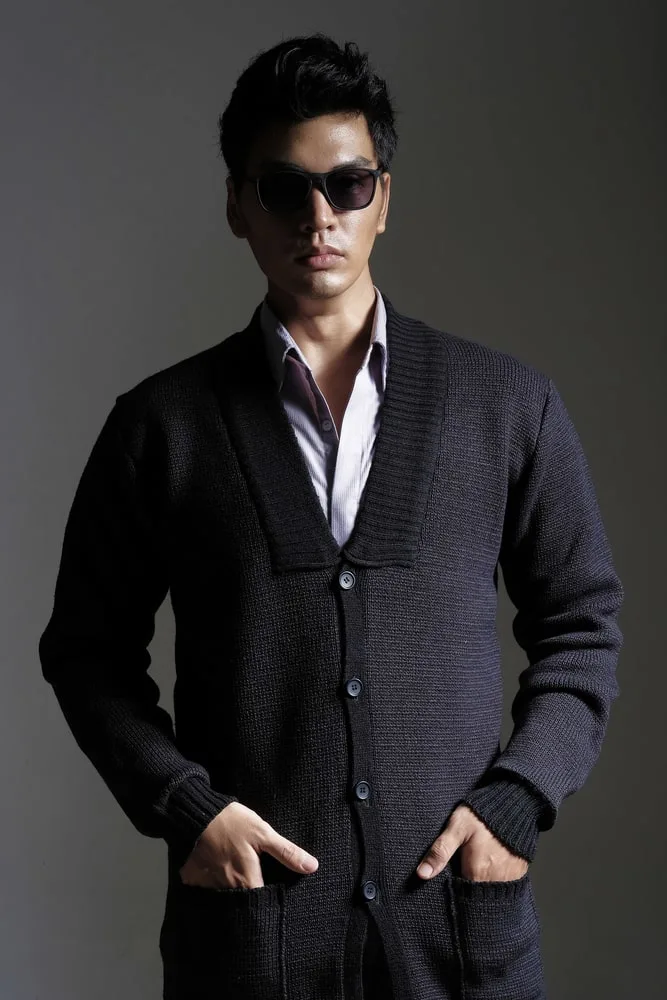 These factors not only make them more elegant but also make lightweight cardigans dressier than their chunky counterparts.
Generally, chunky cardigans are kept for more casual outfits, whereas lightweight cardigans can be dressed up or down accordingly.
Because you'll be wearing a dress shirt, and dress shirts are formal garments, the best cardigan to go with is – by far – a lightweight one.
2. Consider A Blazer
As mentioned, lightweight cardigans are the best choice to wear with a collared dress shirt.
However, because of this, it's possible that you'll get cold with just a dress shirt and lightweight cardigan during the winter months.
A fantastic way to overcome this while still looking great is by adding a blazer over the top.
Blazers are excellent smart-casual and semi-formal garments and can dress an outfit up or down – depending on what's needed.
On top of this, wearing a blazer with a cardigan enhances the layered effect of the cardigan with a dress shirt.
Dress shirts go with blazers on their own, and putting a cardigan into the mix adds more depth to the outfit.
If you go for a blazer with this look, it's good practice to ensure that your blazer is darker than both the collared dress shirt and the cardigan.
Doing so will give the blazer, and overall outfit, a sophisticated, understated look.
Charcoal, navy, and dark grey are all great examples of blazer colors that look good with a cardigan and dress shirt.
3. Dress Pants And Chinos Work Best
Dress shirts are very formal garments. Similarly, lightweight cardigans can be worn smart-casually or semi-formally, if necessary.
Therefore, when wearing the two together, the best pants to wear are those that match the formality levels of the aforementioned apparel.
When it comes to dressier, more formal pants, there's only really one option: dress pants.
That being said, cardigans – despite it being possible to wear them formally – are very versatile and can be worn casually too.
Because of this, chinos are also a fantastic option to wear with a cardigan and a collared dress shirt.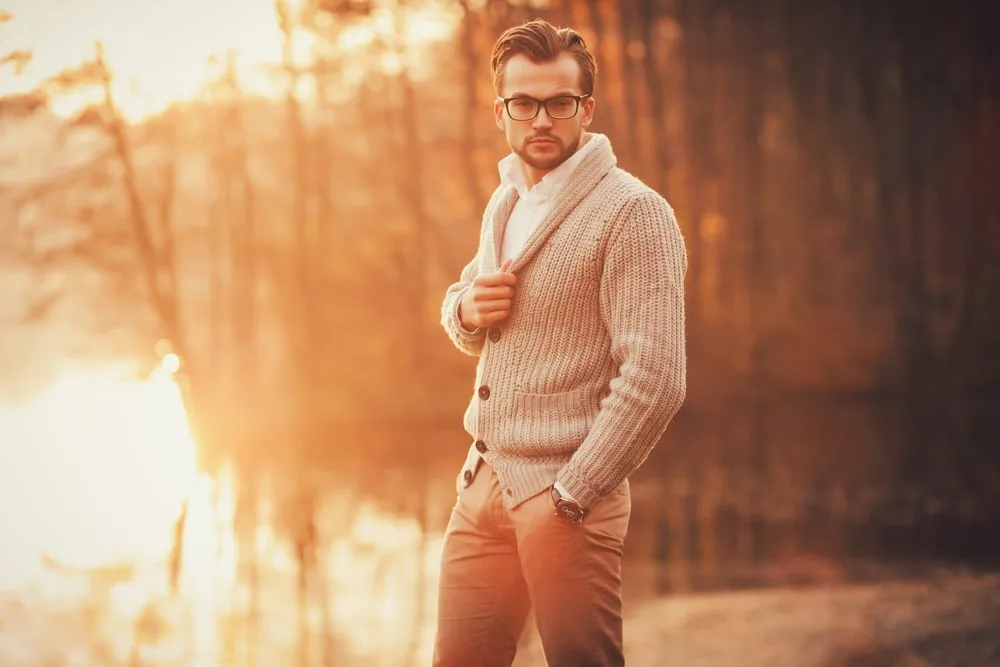 When deciding whether to wear chinos or dress pants, the main factor to consider is the situation's formality.
For more formal occasions, always wear dress pants, whereas chinos may suffice if the occasion is slightly more casual.
With a cardigan and a collared dress shirt, your pants should always be a dark, neutral color.
Colors such as navy, charcoal, and darker shades of grey look great.
However, if you're wearing a blazer with this outfit, it's important to make sure your blazer color is different from the color of your pants – or matches it exactly.
Or else, you risk your blazer and pants combination looking like a poorly-matched suit jacket and suit pants rather than a separate blazer and pants.
While chinos and dress pants are the best option, dark blue jeans may work too.
Dark blue jeans are versatile and – although they're not appropriate for more formal occasions – they're perfectly suitable for smart-casual attire.
This includes a cardigan over a collared dress shirt.
4. White Dress Shirts Are Ideal
When wearing a collared dress shirt with a cardigan, it's important to think about the color of your dress shirt.
Dress shirts come in many different colors and patterns. However, the easiest option is pretty much always a plain white one.
White dress shirts are incredibly versatile and go with near-enough any garment within the smart-casual to white-tie dress code range.
They aren't appropriate for casual attire, but this outfit leans much more towards formal than casual, making white the optimal dress shirt color.
Furthermore, lightweight cardigans are often darker colors. This means that the white will create a nice contrast with your cardigan.
On top of this, if you're wearing a blazer over the top of your cardigan, and it, too, is a darker color (as recommended), the white shirt will contrast well with the two garments, thus enhancing the layered appearance of the outfit.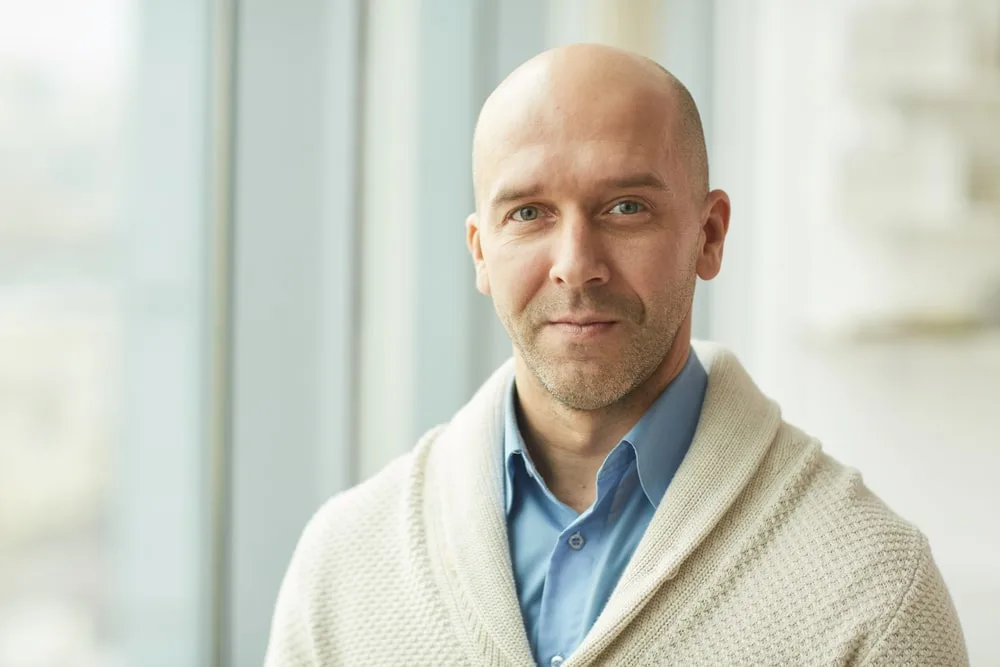 5. Scarves Look Great
While it may seem an unlikely addition to this outfit, a scarf can really take it up a notch.
Wearing a scarf is a fantastic way to add personality and flair to your outfit. As well as this, you can use it to subtly add a dash of extra color.
There are many ways to knot your scarf, as well as a few different styles of scarves.
The French knot and the more complicated French twist are solid scarf knots to wear with a cardigan and a collared dress shirt.
These are dressier scarf knots and keep your neck warm while looking sleek.
As for the scarf color, it's best to go for either a light or neutral color. Doing so will ensure the scarf remains subtle but still adds a dash of color to your outfit.
It's best to avoid tassel scarves, as these are much more casual and won't match the outfit's overall aesthetic.
6. Ensure Your Cardigan Fits Well
Ensuring your cardigan fits well is necessary to successfully pull off a cardigan over a collared dress shirt.
A poorly-fitted cardigan can ruin the outfit by looking clumsy and awkward and should be avoided – whether it's too big or too small.
This is particularly true with a dress shirt, as the expectations will be more formal.
When it comes to cardigans, their fit is pretty similar to the fit of jackets.
Having enough room at the shoulders so as to not be tight or movement-restrictive is crucial.
Cardigans should taper down your chest and under your ribcage, again sitting close to your body but not restricting movement.
If your cardigan is at all uncomfortable or feels overly tight, it's likely too small for you.
Conversely, if your cardigan is roomy at the shoulders or overly baggy in the body, it's probably too big.
Getting the fit just right can be a challenge; however, it's worth putting the time in to find the perfect fit.
7. Consider A Necktie
A great way to dress up your cardigan and collared dress shirt is by adding a necktie.
Because cardigans often have a "V"-shaped neckline, the tie will be partially visible.
Keep your tie underneath your collar and use a full Windsor knot to complete the look.
Ensure your tie doesn't extend farther than the bottom of your cardigan or blazer (if you decide to wear one), as this looks awkward.
Patterned and colored ties are a fantastic way to add some color and personality to your outfit, so take that into consideration when picking out a necktie to wear.
A tie will level up the formality of this outfit – regardless of its color or pattern, so steer clear of this for more casual occasions.
Furthermore, if you're wearing a tie with your dress shirt, you should always do up the top button of your shirt.
If, on the other hand, you opt against wearing a necktie, make sure you leave one or two of your top buttons undone.