When you think of brown shoes, dressier styles like Oxfords come to mind. The question is, can you really wear brown shoes with jeans?
Brown shoes can work well with jeans. Casual styles of dress shoes such as Derbys, monk straps, and loafers in lighter shades of brown usually work better with the casual appearance of denim jeans.
Although that's the short answer, there's more to it. What you need is a set of actionable tips you can use going forward.
That's exactly what you're about to get.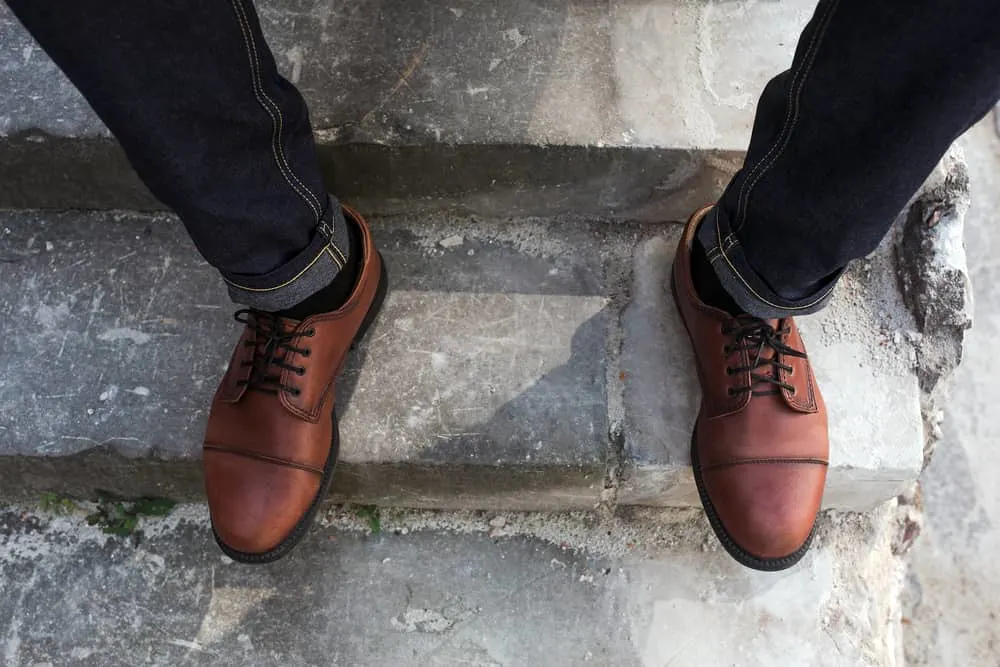 1. Make Sure It's Appropriate
Right from the start, it's important to note that the brown shoes and jeans combination won't be appropriate in every single situation.
Jeans are a staple of casual attire. As iconic as they may be, you won't be wearing them to weddings, interviews, or anywhere else you need to dress up for.
Even if you were wearing the most formal-looking brown dress shoes you could get your hands on, a pair of jeans just wouldn't cut it.
The good thing about wearing a pair of brown dress shoes with jeans is that you're able to dress the jeans up just a bit.
Enough to make a pair of jeans look "smart-casual" and not just "casual".
You could say that these are really the only two dress codes you could wear the combination for.
Here are those dress codes for which you won't be able to wear jeans and brown shoes:
Business-Casual: Go for brown shoes and khakis or dress pants instead.
Formal: A slacks + dress pants combo or a 2-piece suit should be worn at a minimum.
Black-Tie: It probably goes without saying, but – yeh. Don't wear jeans.
The "smart-casual" dress code in which the jeans and brown shoe combo works especially well is surprisingly broad.
Occasions include dates, garden parties, dinners at mid-level restaurants, and more.
2. Casual Dress Shoes Are Better
While the terms "casual" and "dress shoes" may not seem like they go together, it's hard to deny that there are certain dress shoes that fall more on the "casual" end of the spectrum.
In order of formality (most to least), here are the four most common dress shoes you should know about:
Oxfords
Derbys
Monk Straps
Loafers
The bottom line here is that the more formal the dress shoes look, the harder they are to pair with the ultra-casual appearance of jeans.
While it's possible to wear Oxford shoes with jeans, it isn't as easy as it would be to wear loafers or monk straps with jeans.
Derby shoes can be worn with jeans more easily than Oxford shoes can thanks to the flap-like, casual appearance of the open lacing system.
But it still isn't quite as easy as it is to pair with even more casual-looking laceless styles like monk straps and loafers.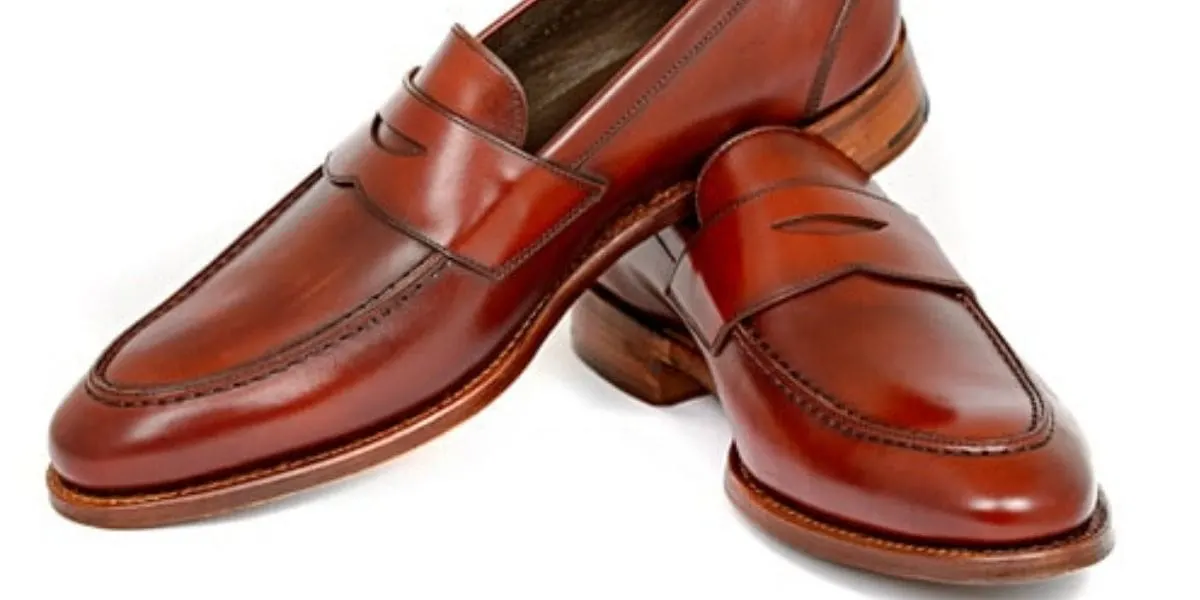 There's just less of a risk that the casual appearance of the jeans and the formal appearance of the shoes will conflict with each other.
When you're wearing more "formal" styles such as Oxfords and Derbys with jeans, the shade of brown you choose is even more important.
Let's talk more about that now.
3. Go For Lighter Shades Of Brown
When wearing jeans, go for light brown shoes (eg. tan) over dark brown shoes. As lighter tones are more casual, they're less likely to conflict with the typically casual appearance of jeans.
The lighter the shade of brown you choose for your dress shoes, the more casual they'll look.
Dark shades of brown look more formal than light shades of brown like tan. Because of this, darker tones of brown are just more likely to look awkward or out of place when worn with jeans.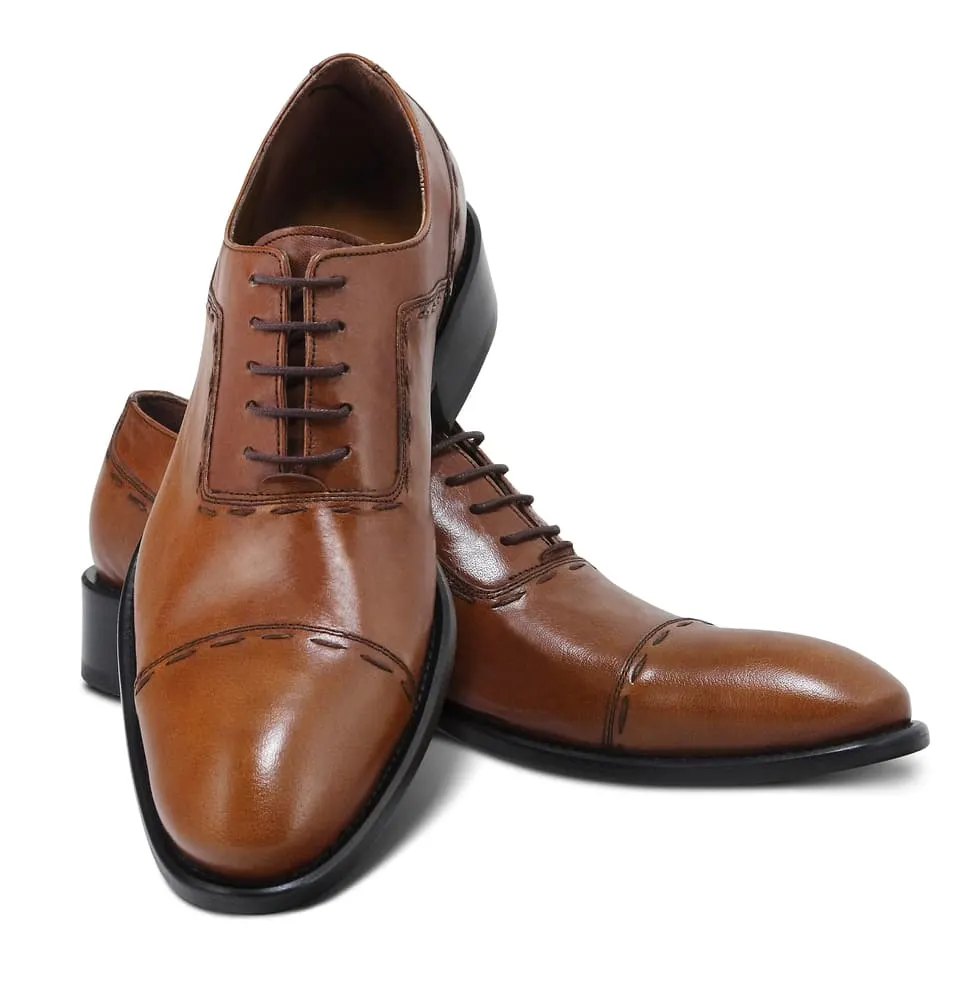 That's why it's usually best to go for light shades of brown when wearing jeans whenever this is possible.
It's also the main reason why brown shoes work so much better with jeans than black shoes do.
Remember, the main objective here is to prevent a formality mismatch between the shoes and the jeans.
Being careful with your choice of color is important here.
4. Suede Works Well
Another way you can dress down those brown shoes and make them more in sync with the casual appearance of your jeans is to choose the right shoe material.
Suede is a napped and rugged grain of leather that has a lot less shine than its cousins – cowhide and calfskin.
Because of this, suede will always look pretty casual – even in darker tones such as brown.
Suede shoes look great with jeans because the rugged texture of denim pairs so well with that of suede.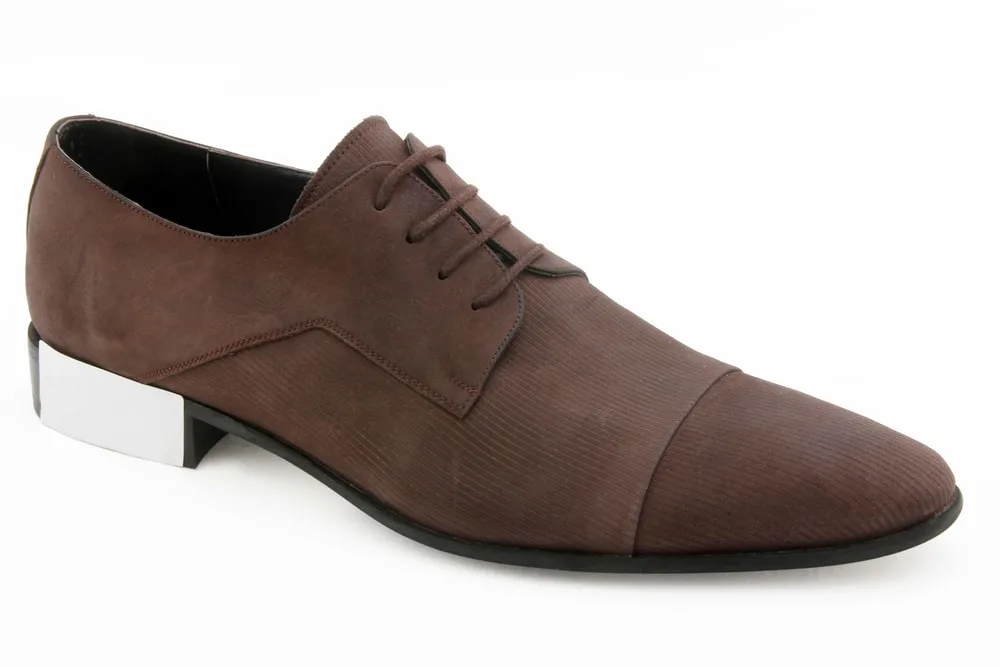 When wearing jeans, choosing a more casual material for your brown shoes will always be a safer play than going for a shiny, more formal-looking grain of leather.
5. Choose Dark And Neutral Jeans
Brown shoes work well with jeans in dark and neutral colors such as black, navy blue, and grey. The traditionally formal-looking appearance of brown shoes is less likely to conflict with darker tones such as these.
It all comes down to the importance of trying to dress down the brown shoes and dress up the jeans.
Doing so will make them more in sync and less likely to conflict with each other.
Once again, color is a very easy way of achieving this.
In general, the darker an item is, the more "formal" it'll look.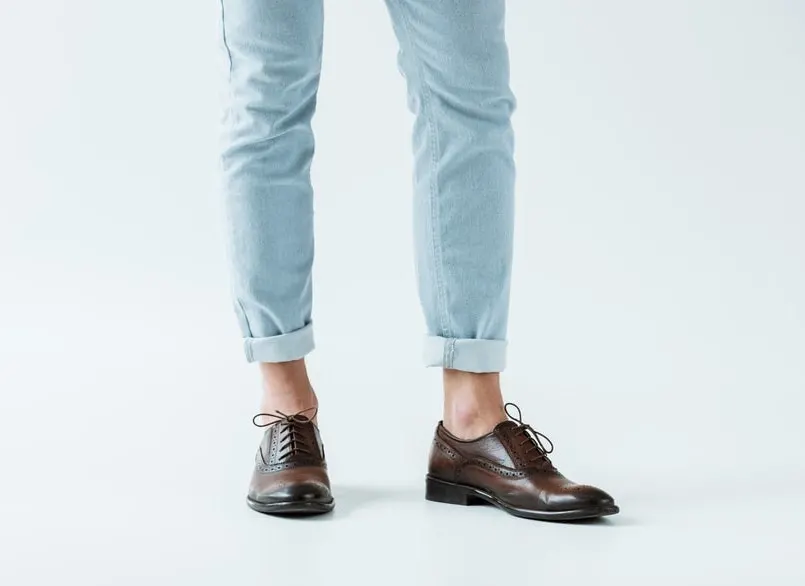 We've talked about choosing a lighter shade of brown for the shoes.
Going for a dark color for your jeans can be just as effective. It can make an otherwise casual-looking pair of jeans look a touch more sophisticated.
In addition, going for a neutral and dark color such as navy, black, or grey will make the jeans even easier to combine with other items.
While it's possible to combine the classic light blue denim with brown dress shoes, it isn't quite as attractive as darker jeans would be.
6. Tapered Jeans Work Better
The fit of the jeans is just as important as the color.
When wearing a pair of brown dress shoes, even in more casual styles like loafers, tapered and slim-fit jeans work better than baggy ones.
Slim fit jeans produce a nice, neutral silhouette that sticks close to the leg without looking or feeling too tight.
Straight-leg jeans can sometimes work just as well but aren't usually as effective.
Either of these options will, however, look a lot better than baggy jeans with wide-leg fits and bootcuts.
It isn't a hard rule by any means. Much like the other principles in this article, it's just something to bear in mind when trying to put together a combination that doesn't look awkward or out of sync.
7. Dark Oxford Shirts
Oxford shirts work well with brown shoes and jeans, especially shirts in darker colors such as grey, blue, and even black.
The reason Oxford shirts (a.k.a OCBD shirts) work so well with this combination is that they're versatile.
They strike a fine balance between formal and casual.
They aren't quite as formal as dress shirts and so wouldn't be appropriate to wear with a business-professional suit, for instance.
But they're formal enough to wear in business-casual outfits pretty easily.
At the same time, they're casual enough to wear to smart-casual occasions paired with chinos or jeans.
Ultimately, the OCBD is a workhorse of your wardrobe. It's an item you can put to use for many, many different reasons.
They work well with jeans because the rugged texture of Oxford cloth blends well with the rugged texture of denim.
But choosing a darker color such as grey, blue, or black will make the Oxford shirt more likely to sync well with the more "formal" looking appearance of the brown shoes as well.
What you're left with is an outfit with plenty of balance, reducing the risk of a formality mismatch while remaining versatile enough to work well in a variety of different smart-casual settings.
Ready Sleek founder. Obsessed with casual style and the minimalist approach to building a highly functional wardrobe. Also a fan of classic, vintage hairstyles.