Grey may not be the most traditional color for jeans, but grey jeans really are incredibly versatile. They can often be paired with "dressier" items without looking awkward. The question is, however, can you wear grey jeans with brown shoes?
Grey jeans can easily be worn with brown shoes in casual and smart-casual settings. Choose a tapered pair of grey jeans with no distressing to prevent them from looking too casual to be worn with brown dress shoes.
That's the short answer, but trust me – there's more to it.
Here are some great tips for wearing grey jeans with brown shoes to ensure you get the combination right, each and every time.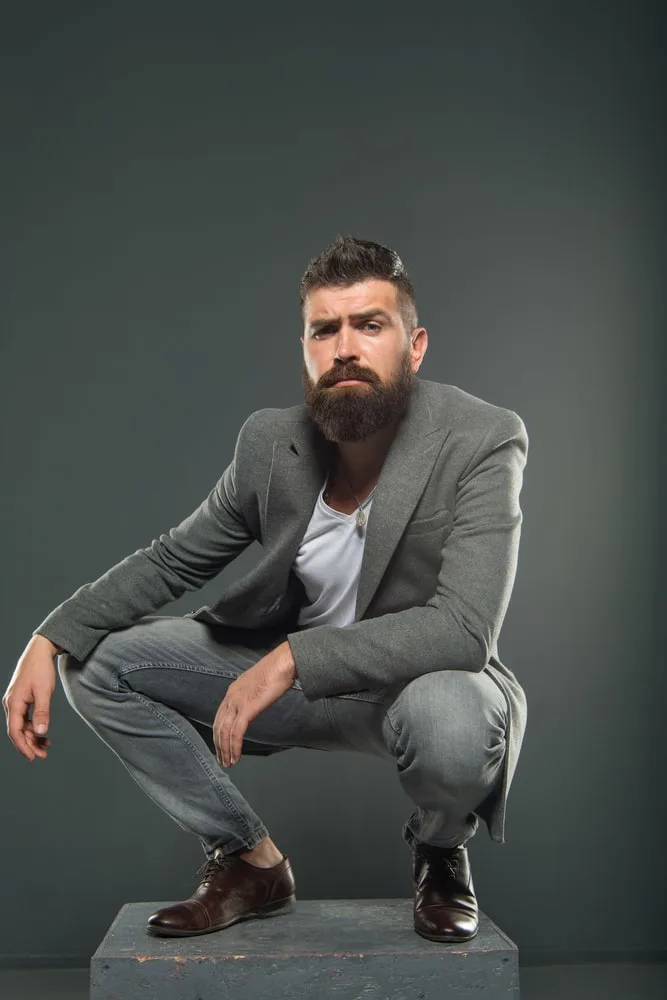 1. The Dress Code Matters
The combination should only ever be worn in casual or smart-casual settings.
Here's a list of dress codes for you should never wear grey jeans and brown shoes:
Formal
Business-Professional
Business-Casual
Ultimately, the grey jeans would look too casual for these dress codes, despite the brown shoes looking relatively dressy.
Some may argue that jeans are suitable for business-casual events, but most would agree that it's inappropriate. Stick to dress pants or chinos whenever you're going for a business-casual aesthetic.
Grey jeans, much like their black and blue counterparts, are a staple of casual attire.
As dressy as the brown shoes you're wearing them may be, they'd never look formal enough to be worn to events that are dressier than smart-casual.
Having said that, there are plenty of "smart-casual" events where a grey jeans and brown shoes combination would work a treat.
Dinners, dates, garden parties, birthday parties, sporting events – the list is endless.
Grey is also a neutral color and gives you the benefit of wearing a wide variety of colors with it. This is especially helpful when you're choosing a shirt.
So, don't feel restricted. Just make sure you're not underdressing for the setting you're attending.
2. Consider The Contrast
If you want a high-contrast combination, wear dark grey jeans with light brown shoes or light grey jeans with dark brown shoes.
If you want a low-contrast combination, wear light grey jeans with light brown shoes or dark grey jeans with dark brown shoes.
The greater the difference in shade between the grey jeans and the brown shoes (i.e light vs dark), the more contrast you'll get between the two items.
Contrast is eye-catching and attention-grabbing, but also looks a little more casual.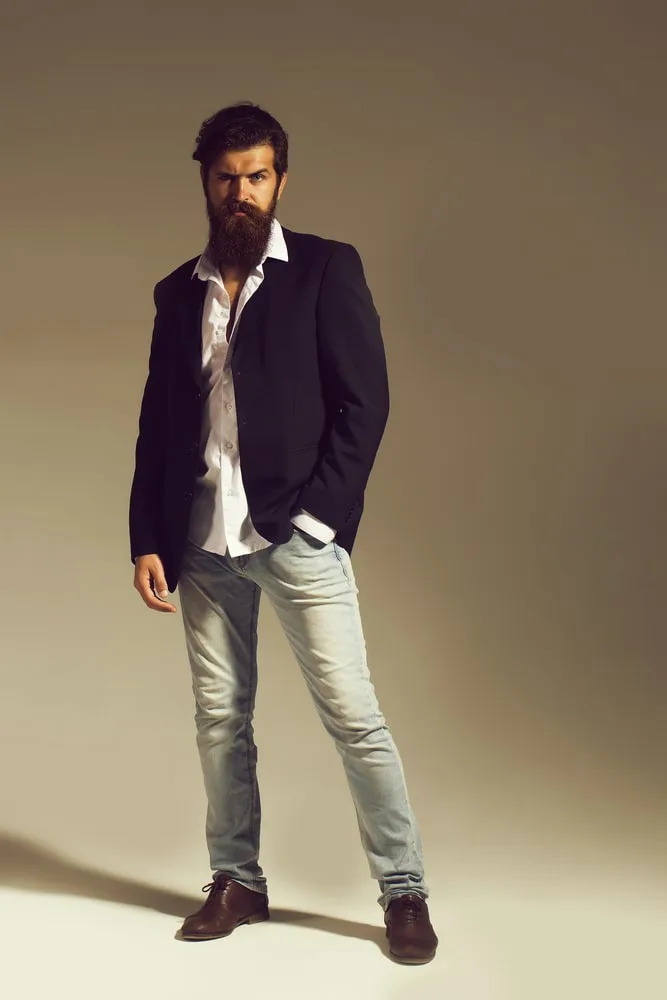 There's no right answer here. Both high-contrast and low-contrast combos can look great.
It just depends on your personal preferences, as well as how "dressy" you want your jeans and brown shoes combo to look.
It's worth mentioning that if you were looking to dress up a little, go for a dark grey pair of jeans with dark brown shoes.
Darker colors generally look dressier.
3. Go For A Tapered Fit
Tapered, slim-fit grey jeans work best when pairing a pair of brown dress shoes.
The reason for this is that slim-fit jeans look more formal than skinny, wide-leg, and bootcut jeans.
These more "extreme" fits tend to look more casual.
In contrast, slim-fit jeans taper gradually toward the ankle without looking too tight or too baggy.
Choosing a pair of grey jeans with a dressier appearance is important.
You want a pair that's "formal" enough to work with a pair of brown dress shoes without causing a formality mismatch.
Skinny-leg grey jeans and bootcuts often look pretty odd when wearing a pair of dress shoes, regardless of their color.
They just look too casual and would be much better suited to casual footwear such as sneakers.
So, stick to slim-fit grey jeans when wearing brown shoes.
4. Derbys, Monk Straps, And Loafers Work Best
Choose a pair of brown shoes that are casual enough for the grey jeans to make sense. It's yet another way of reducing the risk of a formality mismatch.
Avoid brown Oxford shoes – they're just too formal to be worn with a casual pair of grey jeans.
Brown Derby shoes and monk straps work especially well with a pair of grey jeans.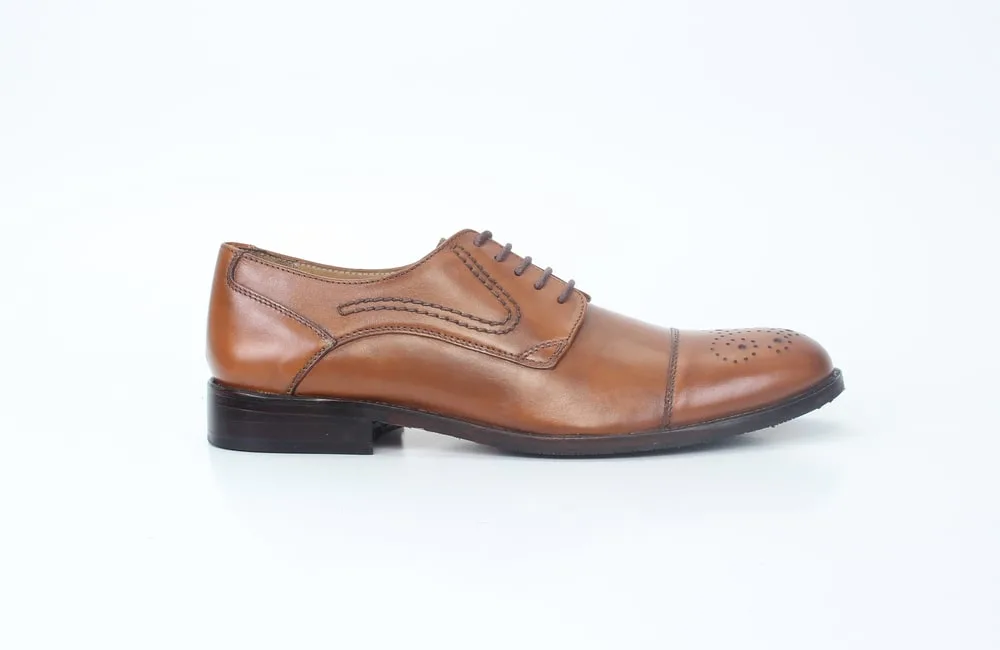 They're ideal for smart-casual settings where you're looking to dress up but not too much.
Derby shoes, thanks to their open lacing system, are also generally more comfortable than Oxford shoes with their closed lacing system.
This also makes them more appropriate and favorable in casual, jeans-friendly settings.
Monk straps, both single and double, are in exactly the same boat. They look sharp, but not so sharp that a pair of grey jeans would look out of place.
Another option would be a pair of brown leather loafers.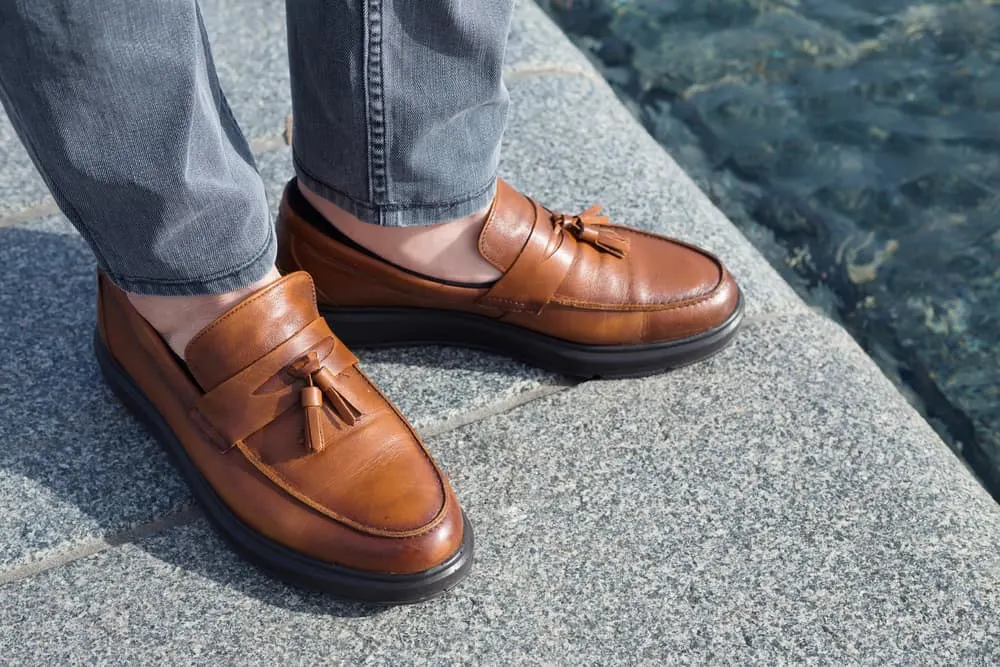 They'd be the most casual footwear option of the three, but do look fantastic when worn with grey jeans. This is especially true during the warmer months such as spring or summer.
5. Cuffing Works Well
Cuffing those grey jeans is a great option when wearing brown dress shoes.
"Cuffing" refers to the process of rolling the hem of the jeans, essentially shortening them.
You can choose to roll the hem once for a single cuff or twice for a double cuff.
In general, it's best to stick to a single cuff when wearing brown dress shoes, with double cuffs being more appropriate for boots.
Cuffing is a good way to "show off" the brown shoes, especially when your grey jeans are pretty long.
It's important to note that cuffing does look pretty casual, but not so casual that it wouldn't be appropriate for a smart-casual setting.
However, if you are worried about underdressing, it may be a good idea to leave the grey jeans uncuffed and let them break naturally once they reach the brown shoes.
6. Consider A Brown Belt
You don't necessarily have to wear a belt when wearing grey jeans. However, if you did wear one, it's important to coordinate it with your brown shoes.
In other words, wear a brown belt.
Not matching your shoes to your belt is a quick way to make an outfit look poorly coordinated.
Even those around you that aren't especially stylish or fashionable will realize something doesn't look quite right, even if they can't put their finger on it.
It's worth mentioning that if you did decide to go beltless, try to wear an untucked shirt so that the belt loops aren't visible.
This does mean choosing a shirt style that's appropriate to wear untucked. Options include:
OCBD shirts
Linen shirts
Polo shirts
Henley shirts
If you were tucking your shirt in, it's probably best to wear a brown belt to prevent the outfit from looking incomplete.
7. Consider Brown Suede Shoes
Finally, brown suede shoes are definitely worth considering.
Suede will always look more casual than shinier grains of leather. It's very common to find brown suede shoes. This includes Derby shoes, monk straps, and others.
The napped and rugged texture of suede works incredibly well with denim. Grey jeans would be no exception.
Some may even argue that brown suede shoes would be the better option here, given how shinier grains of leather do always have a slight risk of looking too formal to wear with a pair of grey jeans.
It does come down to personal preference.
In addition, suede can be tough to maintain – a bit of a problem some might say.
But it's tough to deny just how great they are for smart-casual outfits. They may be the ideal accompaniment for your grey jeans.
Ready Sleek founder. Obsessed with casual style and the minimalist approach to building a highly functional wardrobe. Also a fan of classic, vintage hairstyles.