Did I catch you off guard? You're probably imagining a wardrobe nightmare about now. Believe it or not, I've got five clever tips for pairing a Hawaiian shirt with a suit or a blazer.
Let's get to it.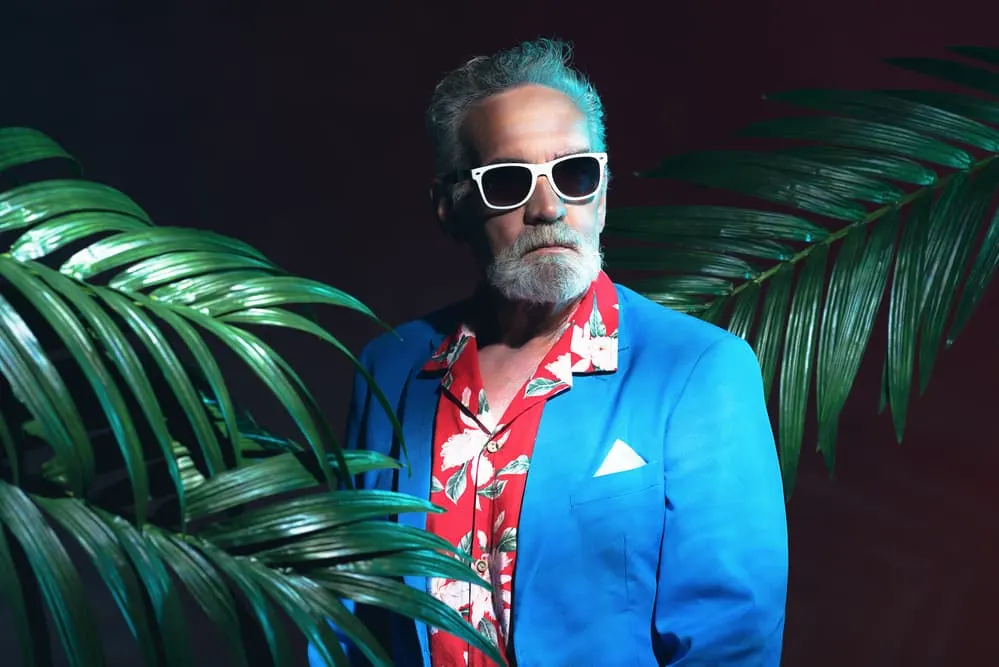 Go For Sleek And Slim
If you've ever worn a Hawaiian shirt on a suddenly-rainy day, you've probably experienced the amount of bulk it can add to your outfit when worn with a heavier top.
Choosing a Hawaiian shirt with a slimmer fit should reduce this bulk when wearing a suit jacket or a blazer on top.
While wearing a matching suit jacket and pants combo can definitely work with a Hawaiian shirt, a blazer and pants pairing would often work better due to it appearing a touch more casual while still maintaining a sense of professionalism.
If you're itching to get creative with your next business casual look, try coupling a Hawaiian with a relaxed blazer or sport coat. This will allow your arms and torso more freedom of movement while keeping you business-ready.
In a more casual setting, unbutton the blazer while keeping the Hawaiian buttoned. Otherwise (where customs may differ) button both. Typically, when worn with a suit or blazer/pants pairing of any sort, it's recommended that the underlying shirt is buttoned at least ¾ of the way.
Light chinos or linen pants are excellent choices for warmer climates, while corduroy and wool add some utility to your carefree fit.
Always purchase your pants in tandem with your tops, or at least match the colors and fabrics as closely as possible when putting the pieces together.
Also, consider the elasticity of the waistband if you'll be tucking your shirt or bending often.
You may want your pants to appear slim without being too "skinny," if you're picking up what I'm putting down.
The average dress pant calls for a belt and can be pretty restrictive. Some pant materials are built-in with elastic fibers that allow pants to appear to hug the waist while providing ample flexibility to their wearer.
Keep It Casual
At this point, I wouldn't say we're going crazy, because we're already here. So, why not stay in that same vein with the rest of the look? Just the mere fact that we put on a Hawaiian shirt this morning screams "carefree."
Let's talk about shoes and accessories.
Slip-on a pair of comfy sneakers (socks optional). Loafers, boat shoes, and moccasins are great laid-back options as well. You can color coordinate with the shirt, accessories, or the suit itself.
If you can't coordinate, don't hesitate to go for white or black. If you'll be doing a lot of walking, working, or sightseeing, having comfortable and supportive footwear is paramount. Don't just go right for the dress shoes. Almost any low-sitting casual shoe will do for this look.
A leather watch with rolled sleeves and sunglasses is a fantastic accessory combination for this fit. If you'll be carrying items with you, consider a shoulder bag or a slim briefcase.
Stay away from ball caps and other hats to retain an air of formality. Not much, but just enough.
Necklaces, neckties, and any other torso-area accessories should also be avoided to keep buttons free from entanglement. Maybe this should go without saying, but I wouldn't put it past anyone to throw a necktie on out of habit.
Regardless of how you accessorize, just ensure that each piece has its purpose and utility while complimenting the overall look.
Consider The Colors
Pastels often mute a particular piece of clothing in order to foil a bolder one. Whether you're hoping to contrast or blend the coordination of the colors in your fit, pastels are a great way to accomplish it.
You can match a mostly white Hawaiian with a pink pastel blazer and pant combination. Or you can contrast a multi-colored Hawaiian shirt with whichever color pastel you'd like to highlight in the shirt. The possibilities are endless.
More vibrant colors like red and green can work too, but with less work involved, lighter colors are usually the safest bet.
Less coordination is required when putting together light and more neutral-colored pieces, allowing the fit to "flow" to the naked eye. Khaki, tan, and gray are all great alternatives to pastels, especially when worn with other muted shades.
Dark colors in this outfit are best when contrasted with lighter colors. If you have a dark blue or black blazer, wear light-colored pants.
Depending on the other elements in your outfit, you may want to actually mismatch to avoid monotony and staleness in the outfit (which is exactly the opposite of what we're trying to accomplish).
Be Careful With Tucking
It is important to note that most Hawaiian shirts come "large." Whether you've just purchased a size small, or extra-large, Hawaiian shirts are meant to hang about the torso.
If you intend on tucking your shirt beneath your blazer, sports coat, or suit jacket, you may want to consider buying a size smaller than you normally do.
As a perk, because Hawaiian shirts are typically short-sleeved, you won't need to worry about measuring beyond the cuffs of your outerwear.
Similar "rules" on buttoning might also apply to tucking.
If you'll be in a more business-leaning setting, be sure to tuck and button your Hawaiian shirt beneath your jacket, and perhaps vice-versa.
You'll be the best judge in deciding whether or not to tuck your shirt when considering the people and environment you'll be met with.
Always ask yourself if you're presenting yourself in the most expressive, yet appropriate, way possible.
Whichever you choose, you'll still keep that fun, off-beat flair in your outfit.
Keep It Subtle
Sometimes there's just no way around it. You've tried buttoning and unbuttoning, tucking, and untucking, but it still looks wrong.
If nothing else seems to look right, this can still be your (sort of) dirty little secret. First, button your Hawaiian up to the neck.
Then, grab a high-lapelled jacket or blazer and button up until just the top buttons and collar of the Hawaiian peeks out. You'll add a splash of color to your business casual attire and will be dressed for nearly any occasion. No necktie is needed.
If you ever need a break from the old suit-and-tie way of life, a Hawaiian shirt could be a great way to make a statement if it's appropriate. There is more than one way to wear it.
Enjoy.
Ready Sleek founder. Obsessed with casual style and the minimalist approach to building a highly functional wardrobe. Also a fan of classic, vintage hairstyles.