A blue suit can be so versatile that it's truly a wonder as to why everyone doesn't own one. While color-coordinating them is generally pretty straightforward, can you wear a blue suit with a pink shirt?
A blue suit can easily be worn with pink shirts in both formal and smart-casual settings. Dark blue suits and light pink shirts are more appropriate in formal settings, while you can experiment more with the shade of the items in more casual environments.
While that's the gist, as always, there's more to it.
Here are some essential tips for wearing blue suits with pink shirts in the most effective way possible.
Let's get to it.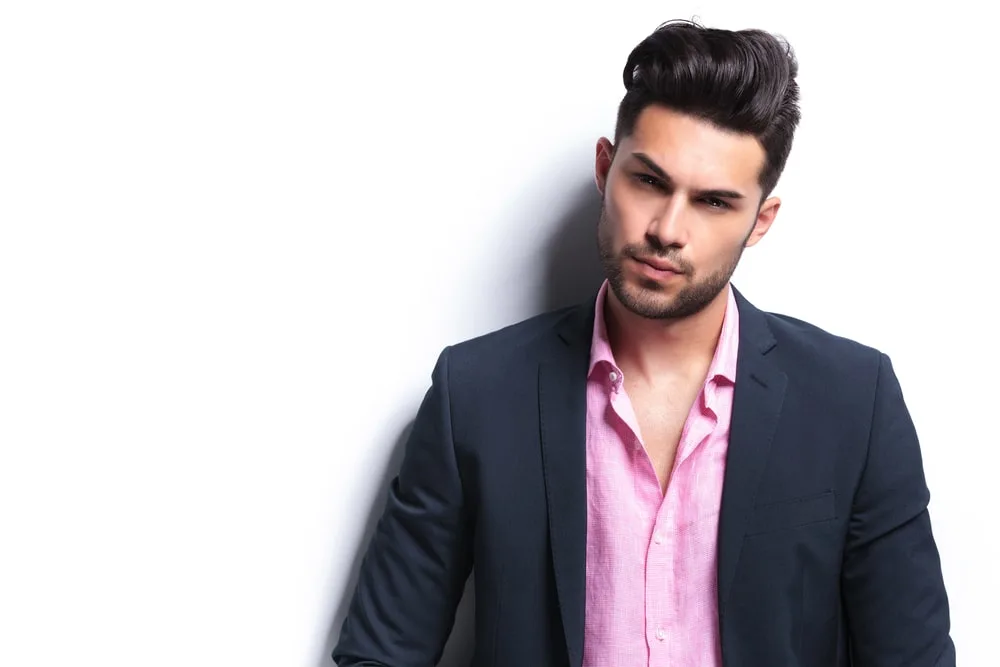 Always Consider The Dress Code
While a blue suit can be worn with a pink shirt in a wide range of settings, it won't always be appropriate.
It's worth considering whether the dress code or setting you're dressing for would consider it as such.
Here are some examples of settings/dress codes where you would be able to wear it:
Formal – Especially formal settings with a social element to them such as evening galas or even weddings. Worsted wool suits work best.
Smart-Casual – Ideal for this dress code, whether it's blue linen, tweed, or anything else.
Here are those dress codes where you should generally avoid it:
Black-Tie – Probably goes without saying, but a tuxedo would be required.
Very Formal – This dress code is sort of made up, but it refers to those events where a white dress shirt would be a much safer choice.
Business-Professional – Not always the case, but in general, a white or light blue shirt would be more appropriate in corporate workplaces.
Business-Casual – While the definition can vary, in general, suits are discouraged in business-casual settings.
Consider The Shade Of The Blue Suit
Dark blue suits are more appropriate when there's a risk of underdressing. In other words, the more formal the setting, the more likely it is that dark shades such as midnight, navy, and royal blue would be best.
Here's an example of one on Amazon:
In more casual settings (i.e smart-casual), you've got a lot more scope to experiment with color.
While you could go for a dark blue suit here, it's often more fun and exciting to go for a suit in a lighter shade of blue such as sky, baby, or teal blue.
Dark blue suits tend to look better with light pink shirts. One reason for this is that light pink shirts generally look more formal.
But another reason is that pairing a dark suit with a light-colored shirt produces a nice sense of contrast.
With light-colored, more casual-looking blue suits, you've got the freedom to go for a variety of different shades of pink.
Here are some examples.
| | |
| --- | --- |
| Light Blue Suit | Dusty Pink Shirt |
| Navy Blue Suit | Light Blush Pink Shirt |
| Teal Blue Suit | Hot Pink Shirt |
| Sky Blue Suit | Salmon Pink Shirt |
| Royal Blue Suit | Baby Pink Shirt |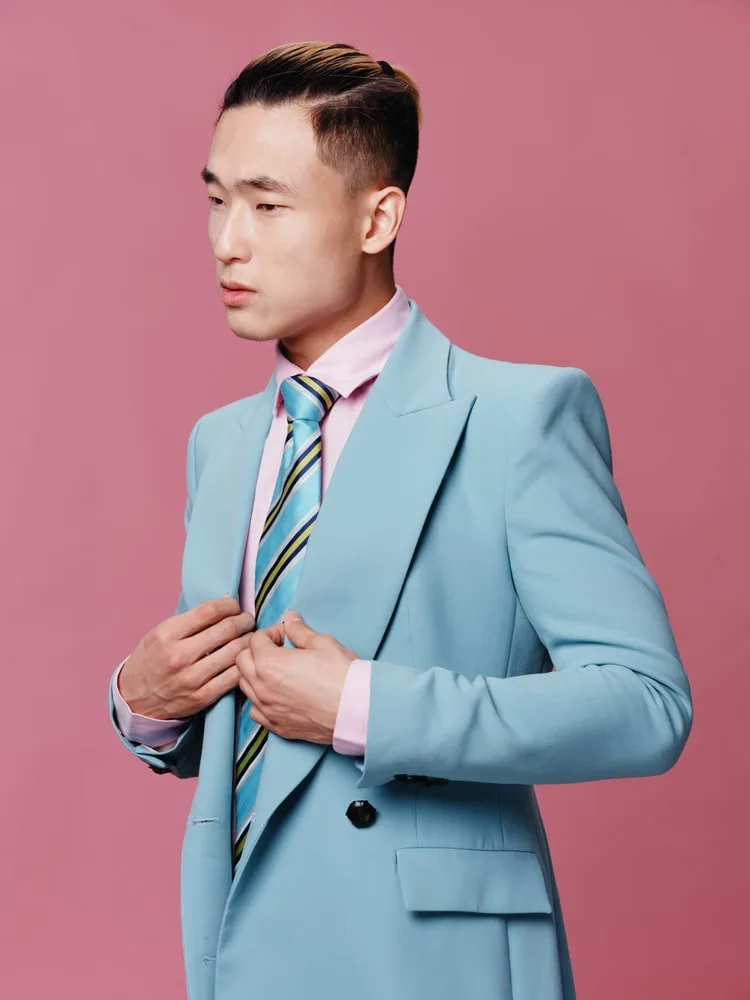 But it isn't just the shade you should consider when it comes to the dress code.
The fabrics and weaves are just as important, as some will always look more formal while others look more casual.
Worsted wool blue suits are the most commonly found "formal" options. Their dressiness is largely down to their shiny and wrinkle-resistant texture.
More casual options are generally wrinklier and more rough/rugged. Linen, tweed, and seersucker are all examples.
Reserve Dark Pink Shirts For Casual Settings
Dark pink shirts should never be worn in formal settings. They're bold, vibrant, and great when making more of a statement.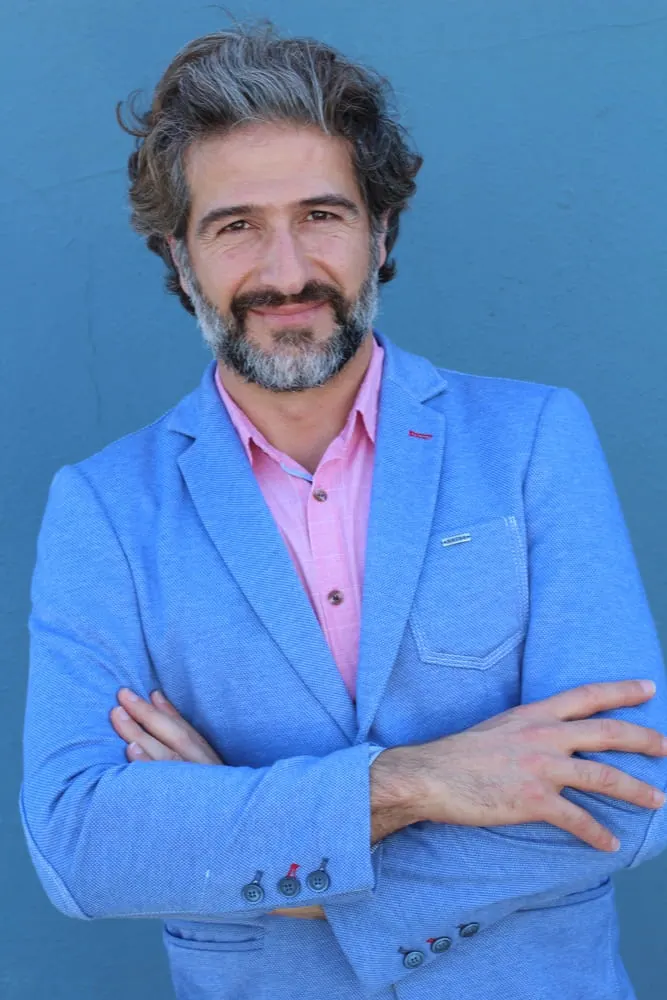 In general, however, statements are best made in smart-casual settings with the more traditional options reserved for formal ones.
Wear a light pink shirt (eg. baby pink or light blush) if you ever feel as though there's a risk of underdressing.
Shirts in darker shades of pink (eg. dusty pink or hot pink) are great because they'll often produce a high level of contrast with the blue suit.
Blue has noticeably "cool" undertones while pink – especially dark pink – has very "warm" undertones.
While the two colors strongly contrast each other, they also produce a nice sense of balance.
However, the more contrast you have between two items, the more casual the outfit will look as a whole.
Patterned Blue Suits Work Well
The blue suit and pink shirt combination is a fun and vibrant alternative to a simple blue suit and white shirt combo.
Adding other fun elements to your outfit often works well. A simple way to add some visual interest to the suit/shirt combination is by adding patterns.
Patterned suits will always look more casual than solid-colored ones, so it's important to ensure it's appropriate before you wear them.
But anything from stripes, checks, plaids, dots, and windowpane blue suits could work incredibly well with a pink shirt in the right setting.
One thing to note is that it's best to stick to one pattern only.
So, go for a patterned blue suit with a solid pink shirt or a patterned pink shirt with a solid blue suit.
Having too many patterns in your outfit can become visually overwhelming.
Select The Right Tie Color
When wearing a blue suit with a pink shirt, neutral-colored ties such as black, grey, or navy blue tend to work best. However, red and purple are also good options in more casual environments.
Remember, blue and pink are both quite dominating colors.
Adding yet another color into the mix isn't a decision to be taken lightly.
That's why a neutral-colored tie that'll sit quietly in the background while the suit and shirt take center stage is usually the best option.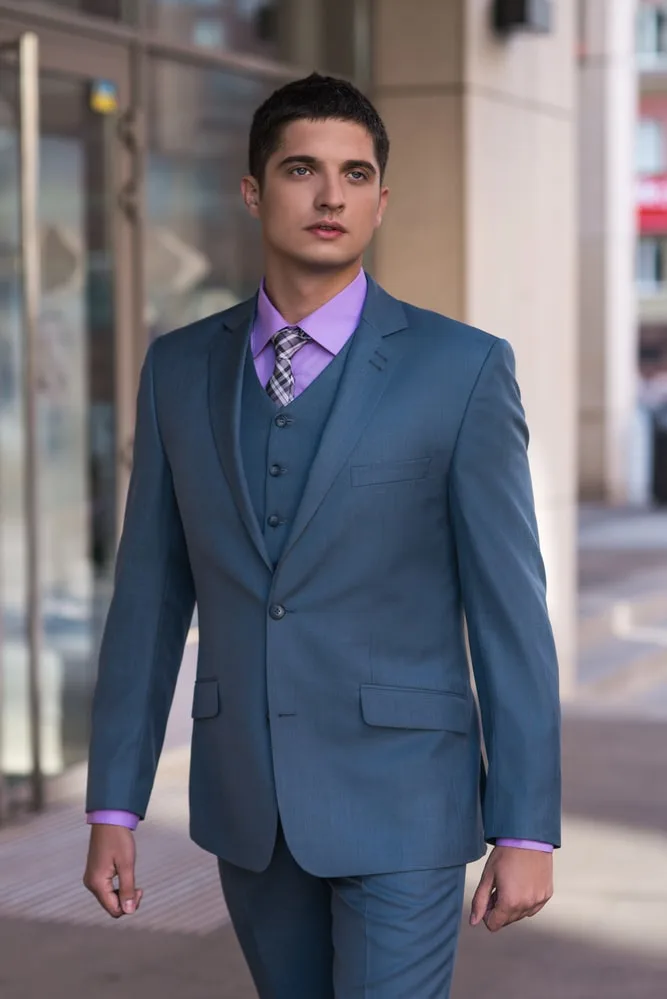 This is especially the case in more formal settings where you want to keep your color scheme as understated as possible.
Here, an ideal combination would be a navy blue suit, a light blush pink shirt, and a black or dark grey tie.
In more casual settings, while you could go for a more bold and more vibrant tie color, you'll still want to keep the color relatively muted.
So, instead of going for a scarlet red tie, go for a dark shade such as burgundy, maroon, or crimson.
Instead of going for lilac, go for plum purple.
Here's a list of those tie colors for easy reference:
| | |
| --- | --- |
| Blue Suit, Pink Shirt, And Red Tie | Smart-Casual settings only |
| Blue Suit, Pink Shirt, And Purple Tie | Smart-Casual settings only |
| Blue Suit, Pink Shirt, And Grey Tie | Formal Or Smart-Casual settings |
| Blue Suit, Pink Shirt, And Black Tie | Formal Or Smart-Casual settings |
| Blue Suit, Pink Shirt, And Navy Tie | Formal Or Smart-Casual settings |
Brown Shoes Are Ideal
A blue suit and pink shirt combination looks great when combined with a pair of brown dress shoes.
This could be a pair in a shiny grain of leather such as calfskin, or a suede pair if you're dressing down.
Dark brown shoes would be best in formal settings, with Oxford and Derby shoes usually being the more appropriate options.
In smart-casual settings, you could go for a pair in a lighter shade of brown such as tan. In addition, you could consider more casual dress shoe styles such as monk straps and loafers.
Black shoes would also be appropriate.
However, in some ways, they don't work quite as well as brown shoes here.
A key reason for this is that a blue suit and pink shirt pairing has a more laid-back and relaxed aesthetic to it than a more traditional suit and white shirt combo.
Because of this, the ultra-formal appearance of a pair of black dress shoes isn't necessary.
You'd be better off going for a pair of slightly less dressy (but still dressy enough) brown shoes instead.
Neutral Pocket Squares Are Best
Wearing a pocket square is recommended, but be careful with color.
Once again, blue and pink dominate the outfit, and be cautious whenever you're introducing more color.
In general, a neutral-colored pocket square would be best.
White would be the easiest option. It's effortlessly sophisticated and simple to combine with any suit or tie color you can think of.
Grey would be another similarly neutral option.
If you did want to add a touch more color, consider going for a monochromatic color scheme.
In other words, choose a pocket square in a different shade of blue from that of the suit or a different shade of pink from that of the shirt.
Enjoy.
Ready Sleek founder. Obsessed with casual style and the minimalist approach to building a highly functional wardrobe. Also a fan of classic, vintage hairstyles.