Certain combinations embody the smart-casual aesthetic and work so well that it becomes almost effortless. But is this one of them? More specifically, can you wear chukka boots with chinos?
Chinos can be worn with chukka boots in casual, smart-casual, and business-casual settings. Consider cuffing, pinrolling, or stacking the chinos to expose more of the chukka boots. Suede chukka boots and chinos work especially well together when worn in smart-casual settings.
That's the short answer – but there's more to it.
Here are some essential tips to make sure you're wearing those chukkas with those chinos in the most effective way possible, each and every time.
Let's get to it.
1. Make Sure It's Appropriate
Chinos and chukka boots work best in smart-casual and business-casual settings.
At the end of the day, there are certain settings where you just shouldn't wear these two items.
The combination will work best in smart-casual settings where jeans and sneakers would look too casual, but slacks and Derbys would probably look too formal.
This dress code is where the combo thrives.
Example events include garden parties, first dates, dinners at mid-level restaurants, and so on.
Chukka boots and chinos can also be worn to business-casual settings if the chukkas are "dressy" enough to pull it off.
Boots in darker colors and leather (calfskin or cowhide) are more likely to be appropriate in these settings than those in lighter colors and suede.
Here's an example of the type of chukka boot color that would work well with chinos in business-casual outfits. Note – the image is an Amazon link.
In addition, you'll want to make sure that the chinos themselves are more toward the "dressy" end of the chino spectrum. A tapered silhouette and dark color would be wise choices.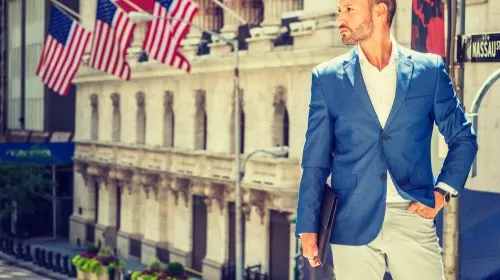 Here are those dress codes where the combination wouldn't be appropriate:
Business-Professional: A 2-piece suit would be the minimum required
Formal: Again, a suit (2-piece or 3-piece) would be necessary
Black-Tie: It may sound obvious, but don't wear anything less than a tuxedo. Leave the chinos at home.
2. Tapered Chinos Work Best
When wearing chukka boots, consider choosing chinos that have a narrow and tapered silhouette.
Having the pants gradually narrow as you descend from the knee to the ankle always looks great when wearing boots.
Chukka boots are no exception.
The reason for this is tapered chinos will allow more of the chukka boots to be seen. Having the boots suddenly pop out of baggy/wide-leg chinos isn't a good look.
There's a good chance baggy chinos will cover up part of the top of the boot, despite chukkas being relatively low-cut (usually ankle-high).
You don't need to go for skinny-fit chinos by any means.
Just choose a pair that hugs your leg without feeling restrictive. Slim-fit chinos usually do the trick.
If you've already got a pair of wide-leg/baggy chinos you really want to wear with your chukkas, consider cuffing or pinrolling them to artificially create a tapered silhouette.
I'll talk more about cuffing later on.
First, let's talk about colors.
3. Go For Neutral Colors
Choosing neutral colors for your chinos will make it so much easier to combine with a variety of different chukka boots.
Neutral colors are colors that blend seamlessly into the background without drawing too much attention.
They're subtle, minimalist, and easy to mix and match with other items; chukka boots are no exception.
Put it this way.
Trying to color match your chukka boots with a pair of bright red chinos is going to be harder than pairing them with a neutral color.
Neutral colors include navy blue, olive green, beige, stone, khaki, and grey.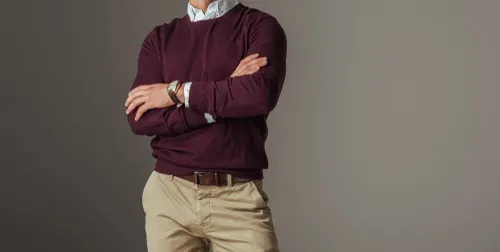 You can wear practically any color of chukka boot and get away with it if you go for neutral-colored chinos.
In fact, take the opportunity to add a little contrast.
If you've gone for a light and neutral pair of chinos, go for a darker pair of chukka boots to really pop out.

If you've gone for a dark and neutral pair of chinos, go for a light-colored pair of chukka boots instead.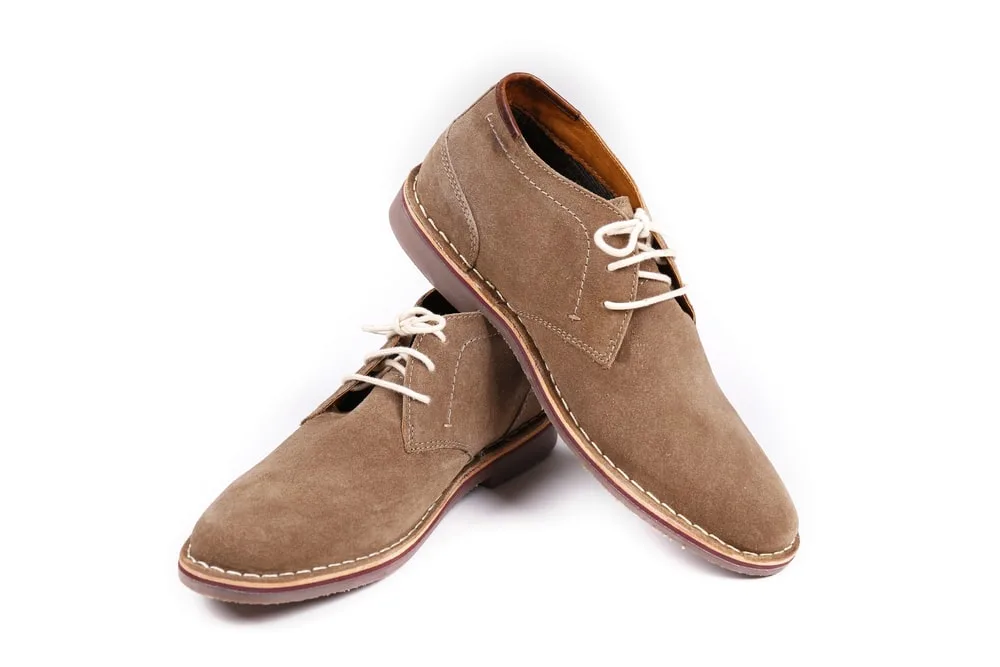 4. Consider Cuffing To Expose The Chukkas
"Cuffing" refers to the process of rolling the bottom edges (i.e hem) of the pants.
You can do it with practically any long pair of pants – chinos included. It definitely has its benefits, but it needs to be done the right way.
The main benefits include giving you the ability to shorten chinos which may be too long.
Doing so will allow you to expose the entire chukka boot in a fairly straightforward way.
However, in order to make sure the top edge of the boot isn't covered by the chinos, you'll probably need a double roll.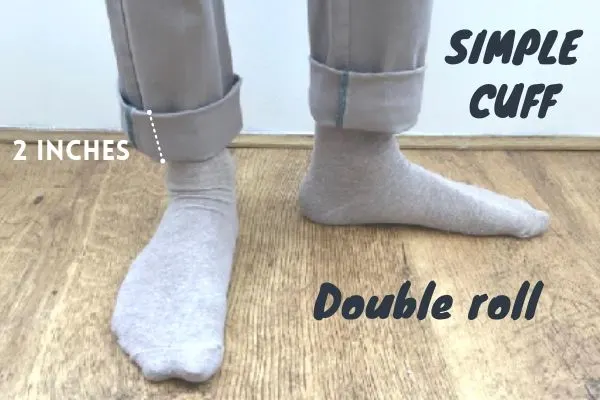 Rolling the hem twice should ensure that the bottom edge of the chino cuff rests against the top of the chukka boot. The size of the cuff shouldn't usually be more than 2 inches.
Pinrolling is a variation of cuffing where you tuck a small amount of the fabric into the cuff itself to produce a more tapered bottom edge.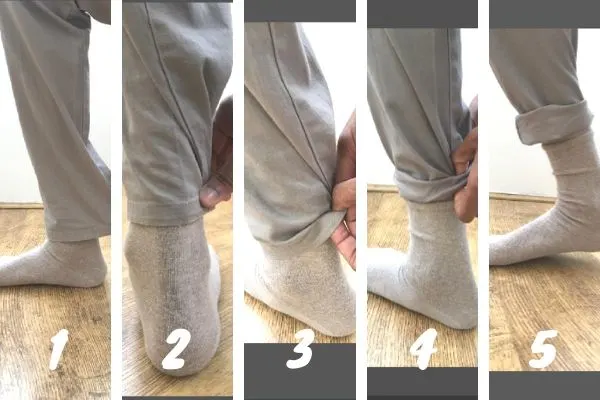 This is a great option if you've got a pair of wide-leg or baggy chinos and you want to make them look more tapered (as per tip number 2).
I've written a whole article on how to cuff and pinroll chinos if you wanted more detailed information.
5. Stack The Chinos (With Care)
If you aren't a fan of cuffing or pinrolling, you could consider stacking the chinos instead.
To "stack" chinos would be to let the fabric bunch up above the chukka boots. No cuffing/rolling – just letting it be.
It's important to note that this won't work with loose-fitting chinos.
The chinos need to be slim-fitting enough that they actually will bunch up above the boots.
Skinny-fit or slim-fit chinos are usually necessary for this very reason.
Stacked chinos have a pretty laid-back aesthetic to them – that's a key part of their appeal.
If you aren't looking for anything that casual, then leaving your chinos alone or cuffing them would usually be a better option.
6. Brogue Chukkas Can Work Well
"Brogue" is a poorly understood term. Many incorrectly believe it to be a specific style of shoe.
But the truth is that "brogue" is just a term to refer to the decorative perforations (holes) you can get in a wide variety of dress shoes.
It's very common to find Oxford shoes and Derbys with brogue patterns, but you can also find chukka boots in brogue as well.
What's great about brogue chukka boots is that the decorative patterns make an otherwise simple and straightforward pair of boots look just a little more interesting.
Here's a pair of brogue chukka boots on Amazon as an example:
Brogue patterns will always make a pair of shoes or boots a little more casual.
But a pair of chinos is pretty casual, to begin with. Usually, brogue chukka boots would be absolutely fine and will simply enhance the casual aesthetic of the chinos.
This is definitely true if you're dressing for casual and smart-casual settings.
However, if you're dressing for business-casual events, you'll need to be a little more careful with brogue patterns.
Overall, it's probably best to avoid brogue patterns on your chukkas if you're dressing for business-casual, simply because there's more of a risk of underdressing.
If you were going to wear brogue chukkas and chinos for business-casual, consider chukkas in dark leather calfskin and with minimal brogueing.
The less the better.
7. Suede Chukkas For More Casual Events
It's very easy to find chukka boots in suede – the design is popular for a reason.
Suede chukkas are ideal to wear with chinos to smart-casual settings where you want to look sharp but don't need to dress up.
Suede chukkas often come in the form of "desert" boots which typically have a sand-like color to them and a thick rubber sole.
As you'd expect, this has a pretty casual appearance to it so you have to be a little careful with the dress code.
While the napped texture of the suede and the light color it often comes in would work great with chinos for smart-casual events, avoid it for business-casual settings.
When wearing chukkas and chinos to business-casual settings, keep things more formal. Go for cowhide or calfskin leather in a dark color.
Business-casual is quite a confusing dress code, but sticking to basic principles should see you through.
Consider this tip part of the overall guide to wearing chinos and chukkas – not essential, but just "best practice".
Sticking to this tip, as well as the others in this list, should make sure you wear this combo in the best way possible.
Enjoy.
Ready Sleek founder. Obsessed with casual style and the minimalist approach to building a highly functional wardrobe. Also a fan of classic, vintage hairstyles.