Understanding what colored suits are appropriate for weddings can be confusing, particularly when the dress code is vague. This begs the question, can you wear a blue suit to a wedding?
It's entirely possible to wear a blue suit to a wedding. You should couple it with a white shirt and black or brown leather dress shoes. Patterns can be acceptable but should generally be avoided. Darker shades of blue work best, but lighter shades are sometimes also appropriate.
Though that's the gist, there's much more to it.
So, let's dig deeper.
7 Tips For Wearing A Blue Suit To A Wedding
Wearing a blue suit to a wedding is definitely possible but it's got to be done the right way. Here are some essential tips.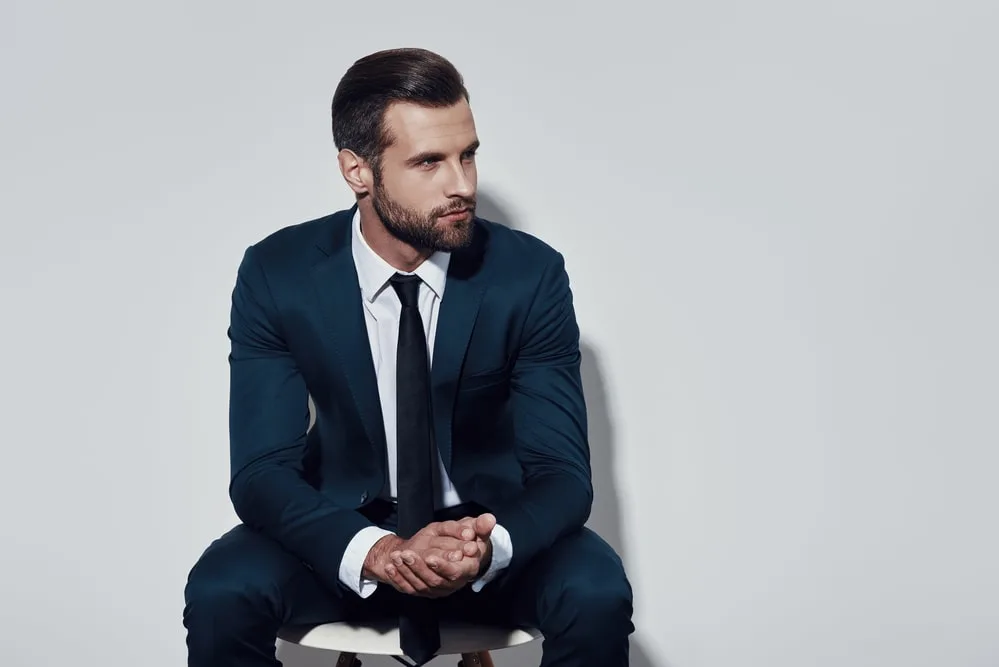 1. Find Out The Dress Code
Knowing the dress code is an integral part of being able to wear a blue suit to a wedding.
The dress code will determine a number of factors in wearing a blue suit to a wedding, including the acceptable shoe color, shade of blue, and tie.
Finding out the dress code is critical, as a blue suit could be seen as overly extravagant or unnecessary in some circumstances.
Typically, blue suits are most appropriate in semi-formal settings; however, darker blue suits can be worn to more formal events.
Blue suits should always be avoided at black tie weddings, as they are far too informal. Instead, you should adhere to tradition.
2. Black Or Brown Shoes Are Ideal
While black shoes are generally considered the safest option to wear with a blue suit, brown shoes can work too.
Black leather dress shoes like Oxfords are very versatile and can therefore be worn alongside most colored suits – blue suits included.
Having said that, black shoes work best with dark blue suits. The combination of two dark colors adds a sense of formality and sophistication to the outfit.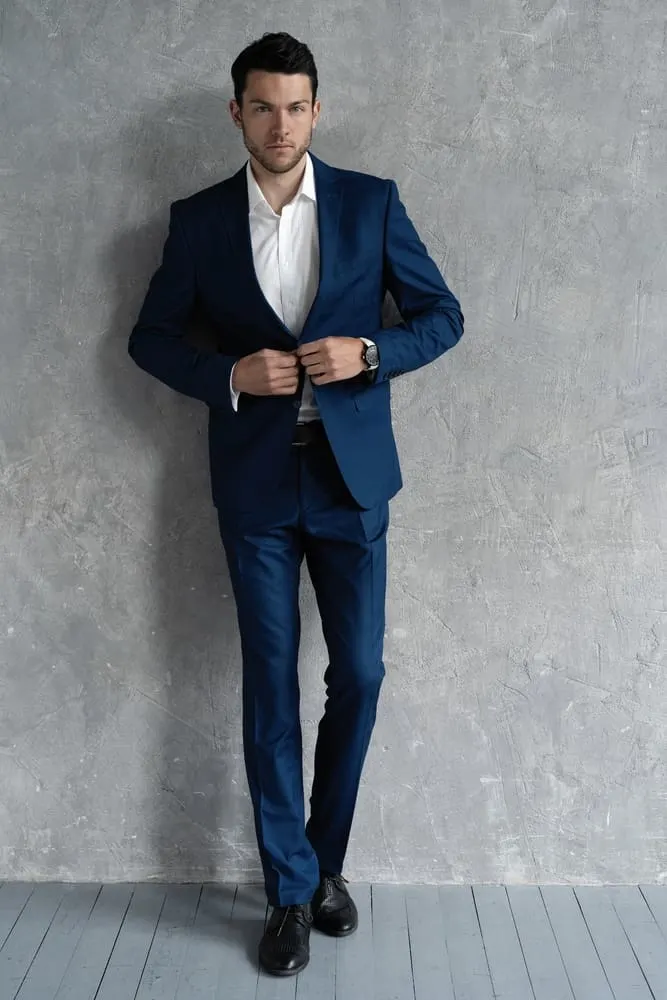 On the other hand, brown shoes work well with pretty much any shade of blue. This is mainly because brown shoes also come in many shades.
It's good practice to pair the darker shades with each other and the lighter shades with each other.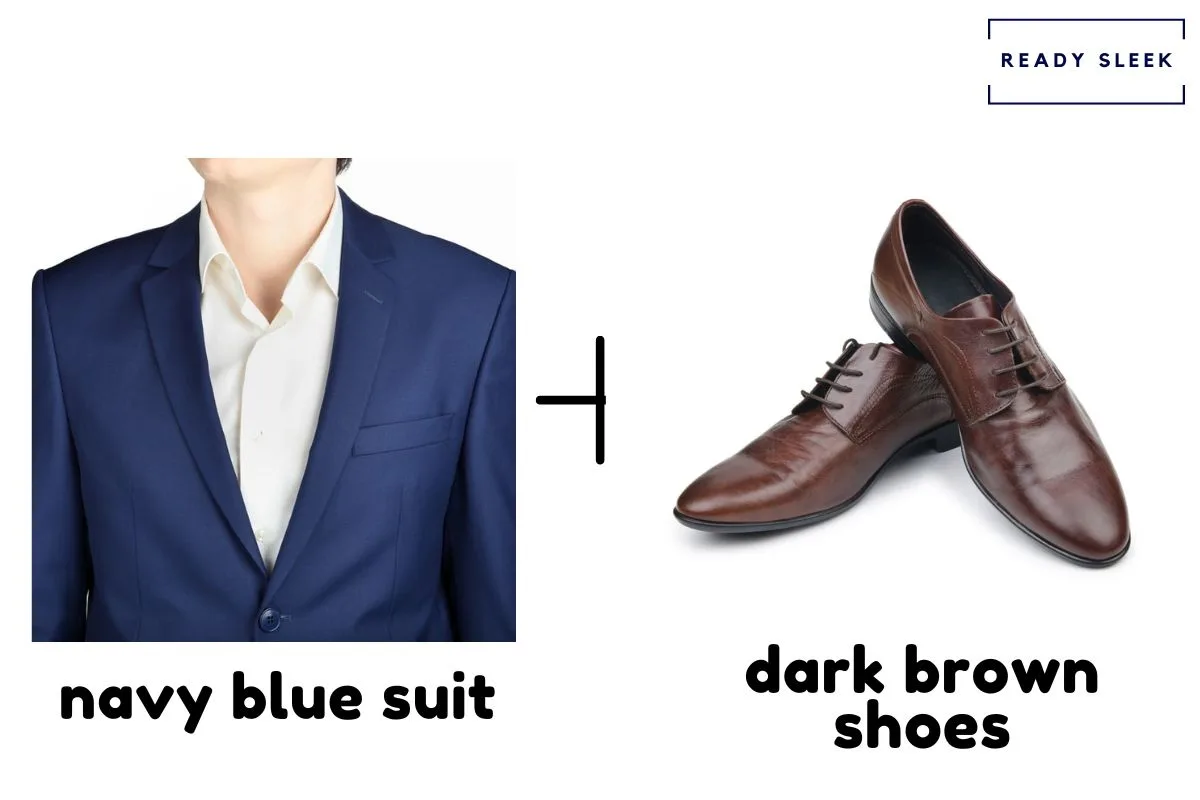 Because the blue suit provides enough color itself, colored shoes aren't necessary, nor are they appropriate.
Too much color at a wedding would attract unnecessary and unwanted attention while detracting attention from the newlywed couple.
3. Try To Avoid Patterns
Patterns on clothing should generally be avoided when wearing a blue suit to a wedding. Such patterns include checks, dots, and stripes.
This includes ties. A common misconception is that a patterned tie can be used interchangeably with a plain tie. This is simply not the case.
When wearing a blue suit to a wedding, it's best to steer clear of any patterned clothing – ties included.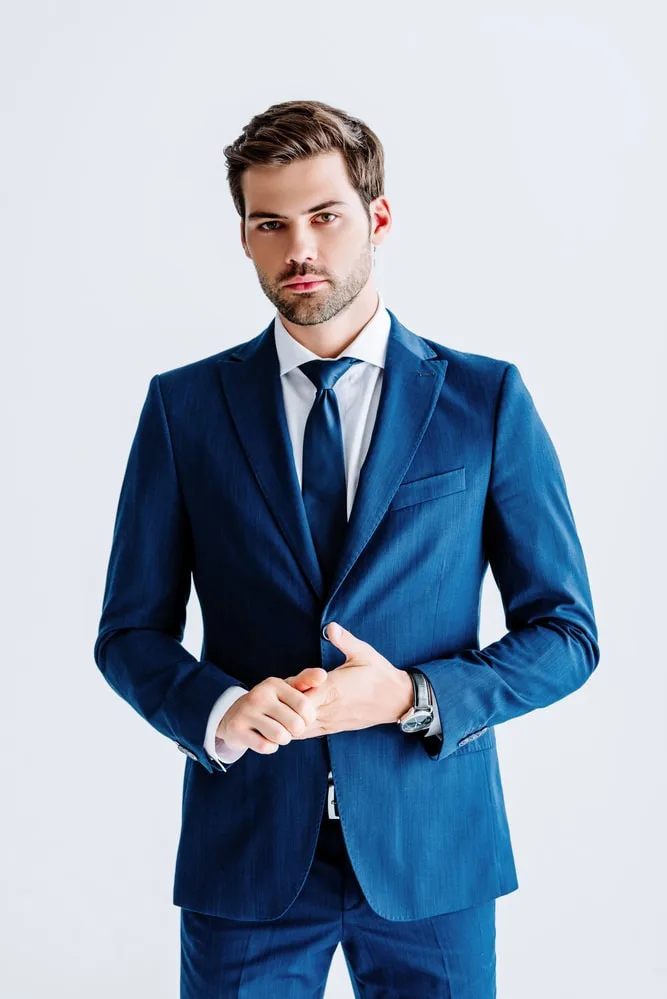 Blue suits bridge the gap between subtlety and flamboyancy, and wearing a pattern alongside your blue suit would tip the scales too far in the direction of flamboyancy, which isn't appropriate at a wedding.
Other items of clothing where patterns are common include shirts, bowties, and socks. None of these should be patterned at a wedding when wearing a blue suit.
4. Think About The Shade Of Blue
It's important to consider the shade of blue of your suit when wearing a blue suit to a wedding.
Picking a suit of the wrong shade could lead to you being dressed either too formally or informally for the event. This is where it's critical to know and understand the dress code.
A good rule of thumb is that the lighter the shade of blue, the more informal it's deemed to be.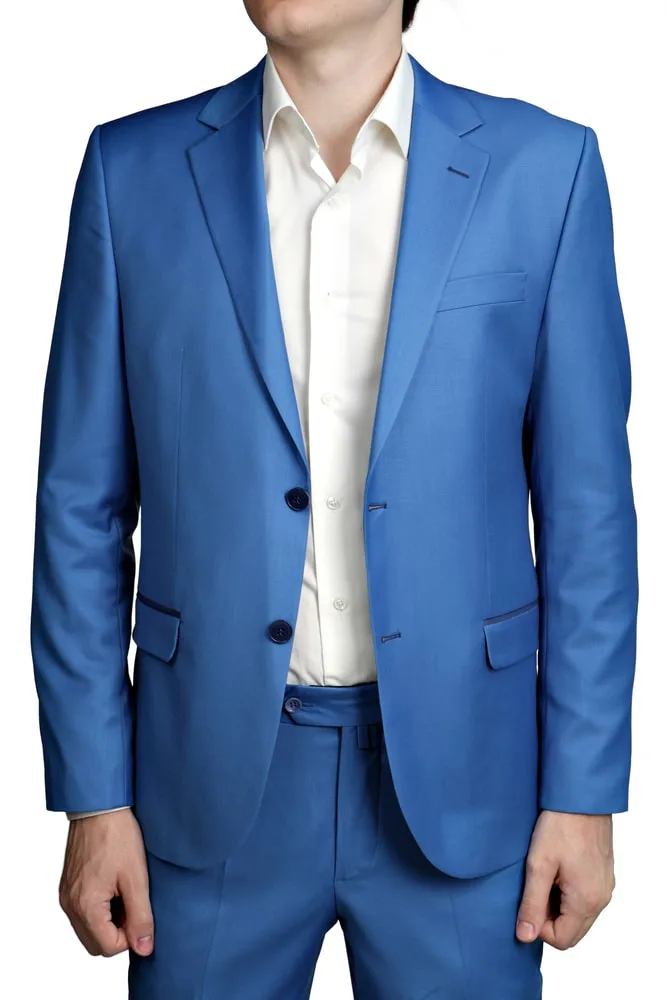 Therefore, for more formal weddings, a dark blue suit is much more appropriate than a light blue suit.
On the other hand, if the wedding's dress code is semi-formal, you can wear a blue suit of pretty much any shade.
Ensuring your suit isn't too bright is recommended, as this could detract attention from the bride; however, blue is generally a relatively safe color.
5. Wear A White Shirt
With all the different shirt patterns, textures, and colors on the market, it can be easy to pick the wrong shirt for the occasion.
The best shirt color choice to wear with a blue suit to a wedding is white. No colors. No patterns. Just a plain white shirt.
White shirts are a fantastic way to ensure your outfit looks crisp and stylish without being over the top.
The best materials available for your white shirt are cotton, linen, and silk.
Your shirt should also fit well, being slimming without feeling tight or restrictive. Shirt fit is important because a shirt that's too big could visibly bunch up underneath your suit.
Similarly, a shirt that is too small would be tight and movement-restricting. This also means that it could rip with movement, which would be less than ideal, especially at a wedding.
6. Ensure It Fits Well
Ensuring you have a well-fitted suit is one of the most vital aspects of wearing a blue suit to a wedding.
While this applies to most outfits, it's especially true when wearing a suit; having a suit that fits well can elevate your style to the next level.
Typically, darker colors are much more proportionally forgiving than light colors. However, regardless of the shade of blue you wear, your blue suit should fit well.
It can be difficult to know if your suit fits well or not, which is why going to a tailor is highly recommended.
While it can be costly, getting a suit tailor-made can make you look significantly more stylish.
Although, if you're unable to go to a tailor, a good rule of thumb is that if your jacket extends down to your knuckles when you have your arms straight by your sides, the jacket fits well. Additionally, if your jacket partially covers your rear, it likely fits well.
7. Accessorize
While it may be considered unconventional by some, a couple of subtle silver accessories can add another layer of depth and character to your outfit.
This is more a recommendation for lighter-colored blue suits and semi-formal weddings, as traditionally, you'd avoid accessories.
However, times are changing, and modern, more relaxed dress codes may allow some accessories.
Tie clips and cufflinks are the main accessories that should be considered; however, lapel pins may be appropriate too.
If deciding you're going to accessorize, it's essential to make sure the accessories are silver and not too extravagant – subtlety is key.
A pocket square in a color that's complementary to the tie and with a straightforward Presidential or puff fold would be absolutely fine.
Frequently Asked Questions
Now that you've read the tips, it's only natural to have some questions on the matter. So, here are some frequently asked questions to finalize the topic.
Can You Wear A Blue Suit To A Black Tie Optional Wedding?
Wearing a blue suit to a black-tie optional wedding can be appropriate. It should be dark blue and have minimal patterns, colors, and accessories. However, while a blue suit may be acceptable, a tuxedo is always preferred for a black-tie optional event.
While black tie optional is quite a vague concept in fashion, there are some guidelines that should generally always be followed.
For example, patterns and accessories should always be avoided. This is because black tie optional is a couple of steps further up the formality ladder than semi-formal and formal, and, therefore, these wouldn't be appropriate.
Additionally, black shoes should be worn alongside your blue suit, as well as a dark blue tie to match your suit.
Can You Wear A Blue Suit To A "Formal" Wedding?
It's acceptable to wear a blue suit to a formal wedding; however, you should stick to darker shades of blue. Accompany your suit with a matching blue or dark red tie and black shoes. Avoid any patterns or accessories.
At a formal wedding, darker shades of blue are best, with lighter shades being reserved for semi-formal weddings.
You should also wear a white shirt and black shoes. Unlike black tie optional events, the tie color is a little more flexible, with either blue that matches your suit color or dark red being acceptable.
What Tie Should You Wear With A Blue Suit To A Wedding?
A standard necktie will work under most dress codes. Ensure it's solid-colored (no patterns) and that the color matches that of your suit. The point of the tie should rest between the top and bottom of your belt.
While it may be tempting to go for a patterned tie, it should be avoided as much as possible. Subtlety is always preferred when attending a wedding.
Conclusion
Blue suits can be a great choice for weddings, so long as it's done right. Hopefully, you now have some insight into how to wear a blue suit to a wedding with style.
Ready Sleek founder. Obsessed with casual style and the minimalist approach to building a highly functional wardrobe. Also a fan of classic, vintage hairstyles.