Two extremely versatile items in their own right, but can they be worn together? The question is, can you wear a blue blazer with black jeans?
A blue blazer can easily be worn with black jeans for casual and smart-casual events. To reduce the risk of a formality mismatch, choose a blazer in a casual fabric such as tweed or linen and go for a tapered pair of black jeans with minimal distressing.
That's the short answer, but trust me – there's more to it.
After going through a few great outfit ideas (my favorite part), I'll run through some essential tips for getting the combination perfect.
Let's get to it.
3 Blue Blazer And Black Jeans Outfits
As always, the dress code matters. While a blue blazer with black jeans should only be worn in casual and smart-casual settings, there will always be dressier casual settings than others.
Dressy
Example: Blue Blazer, Black Jeans, White/Light Blue OCBD, Black Chelsea Boots, Watch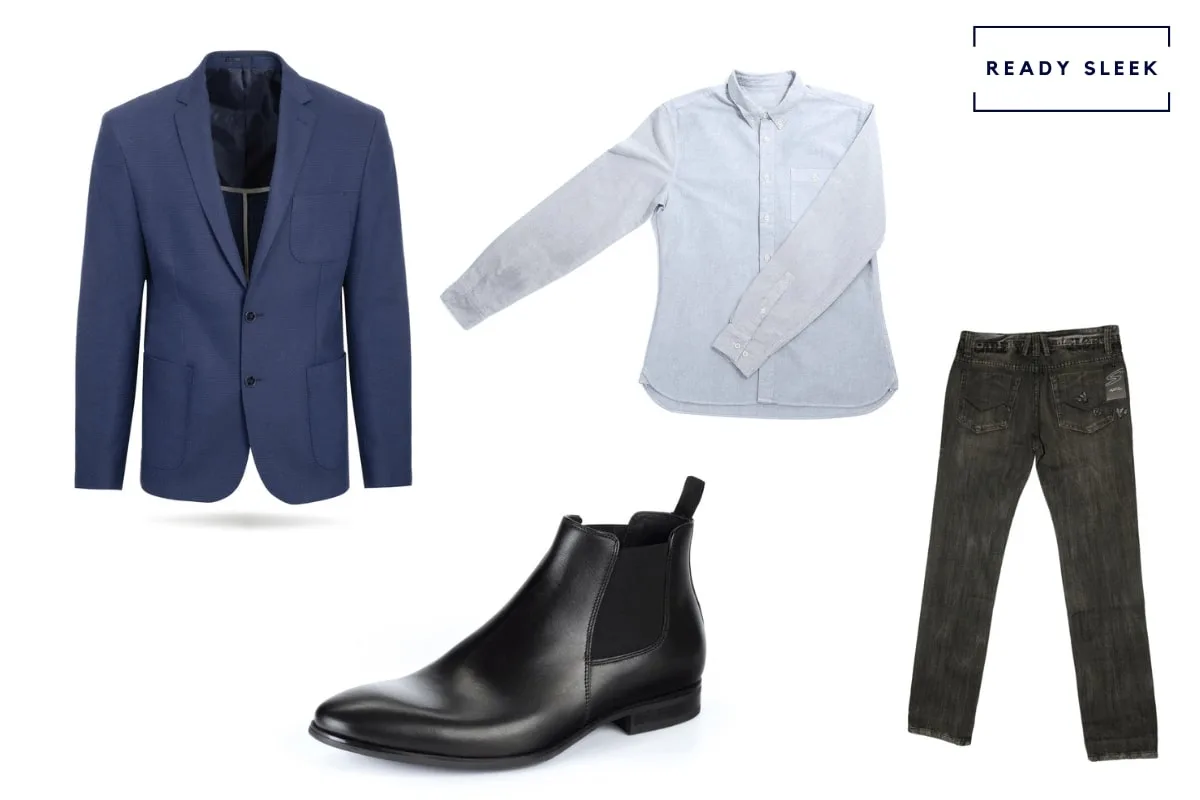 This one is perfect if you're looking for a "smart-casual" combination.
Think first dates, garden parties, dinners at high-end restaurants, and so on. It shows that you've made an effort, but not too much effort.
OCBD shirts are great because they have a relatively dressy appearance to them. However, the rugged texture of Oxford cloth pairs perfectly with that of denim jeans.
Chelsea boots are ideal because they're one of the more formal-looking boot styles you could go for. Chukka boots would be a slightly less formal (but still perfectly appropriate) option.
While boots are perfect in the fall and winter, in the summer, you may want a more low-cut smart-casual footwear alternative.
Options include leather penny loafers or even suede Derby shoes.
More Casual
Example: Blue Blazer, Black Jeans, Blue Denim Shirt, Suede Tassel Loafers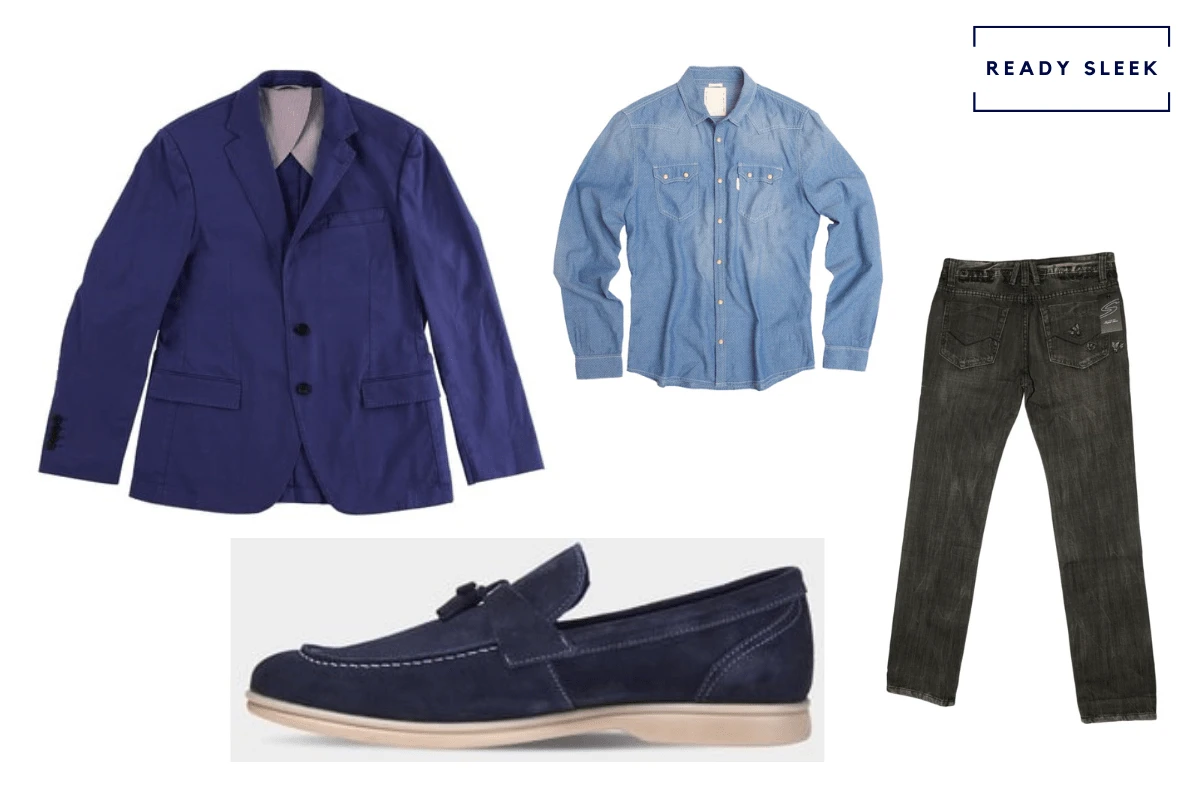 Here, you're dressing down a little more. A blazer would still be appropriate, but you may want to choose more casual items to wear with them.
A blue denim shirt is a great option here.
While denim-on-denim isn't everyone's favorite option, wearing a blue denim shirt with black jeans produces a great sense of contrast.
It'll always work.
Here, you could also consider a more casual blazer color and style.
We'll talk about this more in the "tips" section later on, but consider a blazer in a lighter shade of blue and in a more casual fabric such as linen.
Suede tassel loafers are fantastic because they've got the typically sophisticated loafer construction, with the fun, ornamental, and casual-looking addition of a tassel on the vamp.
While you could go for a shinier grain of leather, suede just has a nice and casual aesthetic to it (although it's a pain to maintain).
Most Casual
Example: Blue Blazer, Black Jeans, Pink T-Shirt, All-White Leather Sneakers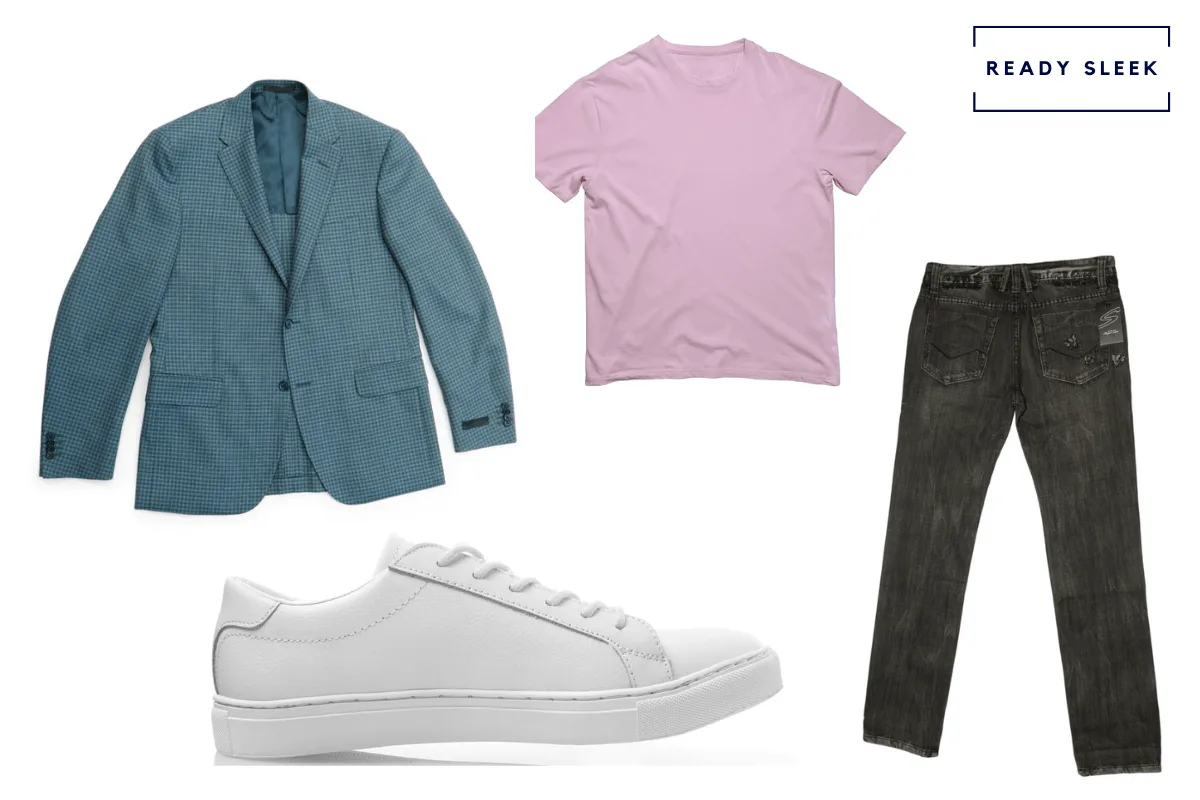 Here, you're really letting your hair down. Well, to an extent. At the end of the day, you can only look so casual when you're wearing a blazer.
But the blazer over T-shirt look is incredibly popular for a reason.
It's an effective way to blend a typically formal item (a blazer) with a supremely casual item (a T-shirt) and not look awkward.
Since you're dressing down, go for a bold and vibrant T-shirt color to add some serious contrast to the more neutral blue blazer and black jeans.
A "warm" color such as pink, red, or orange should do the trick. Ultimately, a blue blazer and black jeans combination is neutral enough to pair well with any of them.
Finally, go for all-white minimalist leather sneakers to really polish off the look. Everyone should own a pair because they just work.
If you'd prefer less contrast between the shoes and the jeans, however, an all-black pair would look just as sharp.
5 Tips For Wearing Blue Blazers With Black Jeans
Here are some tips for really getting this combo right, each and every time.
Consider The Dress Code
First, consider whether it's appropriate in the first place. A blue blazer and black jeans outfit should only be worn in casual or smart-casual settings.
Never wear it in formal settings.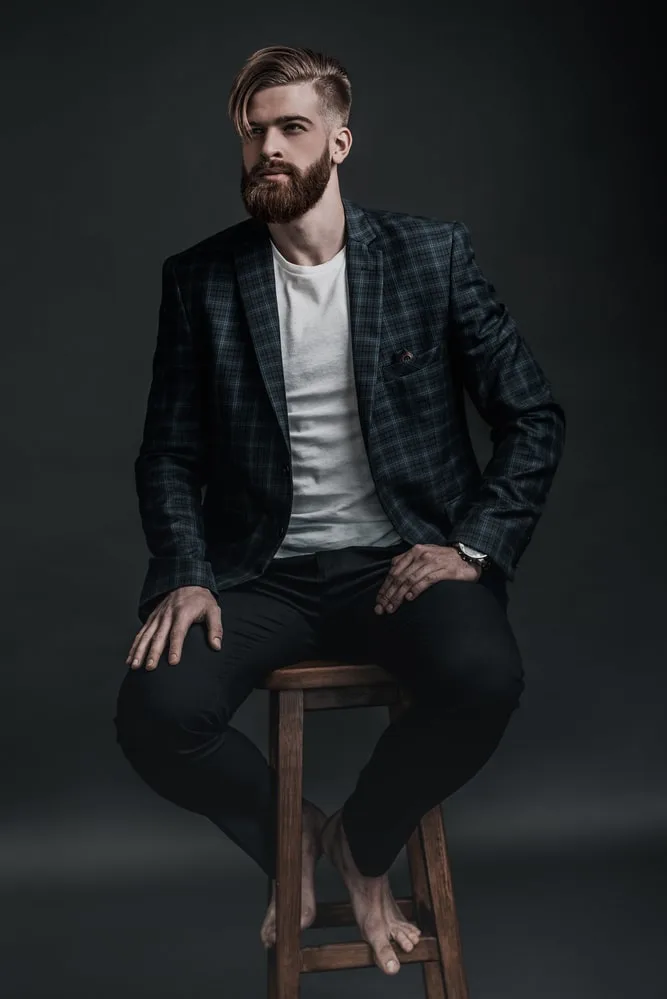 In general, it's best to avoid it in business-casual settings too. Some may argue otherwise, but sticking to a "no jeans" rule for business-casual attire is usually the best way to go.
The blue blazer may be perfect for it but stick to chinos or dress pants instead.
Choose A Casual Blazer Fabric
A common mistake is to choose a blue blazer fabric that's just too formal-looking to wear with black jeans.
Jeans are the epitome of casual attire. They're globally recognized for being rugged, laid-back, and casual.
Trying to "dress up" a pair of jeans with ultra-formal items often looks awkward and out of place.
So, choose a blazer that's casual enough to pair well with the black jeans.
Casual features to look out for include:
A more relaxed fit, with less padding at the shoulders
Fabrics/weaves that are less shiny, more rugged, and possibly wrinklier (eg. tweed, seersucker, linen, serge, flannel)
Patterns and touches of colorful stitching/detailing
You don't need all of these features, but they're good guidelines to follow.
In general, avoid shiny and wrinkle-resistant fabrics such as worsted wool. It'll just look too formal and out of sync with the black jeans.
Go For Tapered Black Jeans
We've talked about how it's best to go for a casual-looking blue blazer. But it's also a good idea to choose a relatively "dressy" pair of black jeans.
A pair that's dressy enough to pair well with a blue blazer.
Don't get me wrong – a pair of black jeans could never be considered formal. But certain pairs will always look dressier than others.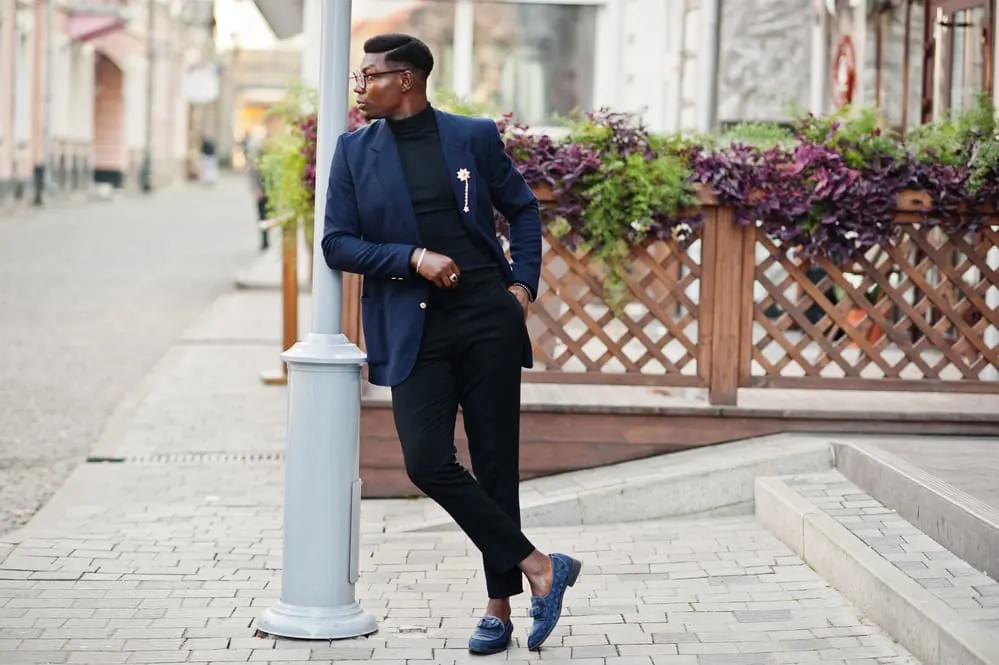 More "formal" looking pairs of black jeans will usually have the following features:
A tapered fit. Not too baggy and not too skinny
Minimal distressing – no rips, frays, or tears
No acid washing or stone washing
Fewer visible seam details
To be honest, you could get away with wearing a more casual-looking pair of black jeans with a blue blazer.
It would still look pretty good.
But it wouldn't look as good or in sync as a dressier pair of black jeans would.
Casual Shirt Styles Work Best
When wearing a blue blazer with black jeans, casual shirt styles such as Oxford Cloth Button Downs (OCBD), linen shirts, and T-shirts tend to work best.
Turtlenecks work great in colder weather too.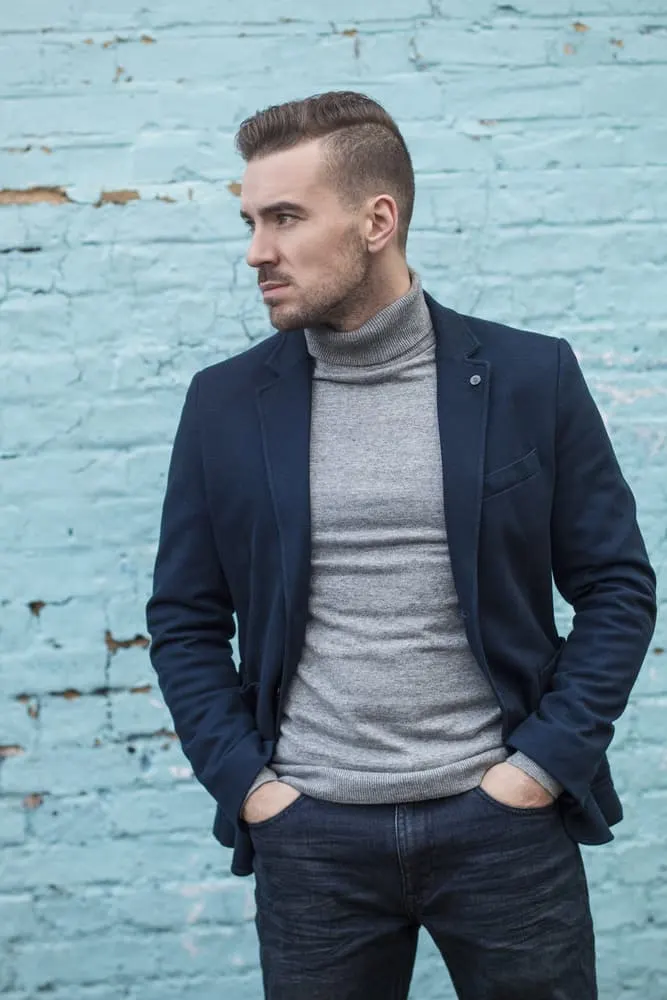 Avoid trying to dress things up too much with dress shirts – they'll usually look out of place when worn with jeans.
You've got plenty of options when it comes to shirt color, however.
Black is a neutral color and your blue blazer could be considered neutral as well. You'll be able to wear any shirt color you can think of and get away with it.
But consider how dressy you're going.
When dressing your blazer and jeans outfit up, consider a neutral shirt color such as white, grey, or black.
If you're dressing down, feel free to go for a bolder and more vibrant shirt color – pink, red, green, purple – it doesn't matter.
Loafers, Boots, Or Sneakers
Smart-casual footwear options work best when wearing a blue blazer with black jeans.
Examples include loafers (Gucci, penny, or tassel), boots (Chelsea or chukka), and sneakers (all-white/all-black leather).
These are great because they epitomize the smart-casual aesthetic, just like a blazer and jeans combination does.
Suede Derby shoes are another great option.
They have the formal edge that any pair of Derby shoes would, but the napped texture of suede just makes it look more laid-back and appropriate to wear with jeans.
Frequently Asked Questions
Here are the answers to a couple of frequently asked questions on the topic.
Can You Wear A White T-Shirt, Blue Blazer, And Black Jeans?
A white T-shirt is a great option when wearing a blue blazer and black jeans. The T-shirt will add a pop of contrast to the black jeans.
White tees are another one of those incredibly versatile items that'll fit seamlessly into any casual outfit you can think of.
They make for great underlayers.
Can You Wear A Blue Blazer And Black Jeans With Brown Shoes?
Brown shoes can easily be worn with a blue blazer and black jeans combination. Dark brown shoes tend to work best, syncing well with the dark-colored jeans.
If you did want a touch more contrast, you could go for a lighter shade of brown instead. Tan brown shoes work well.
As mentioned above, suede shoes do work great when wearing jeans, so consider a pair of brown suede Derby shoes or loafers.
Conclusion
As you've now seen, a simple blue blazer and black jeans pairing can be worn with a huge range of other items.
What you wear them with does depend on how dressy or not-so-dressy you're looking to go.
In general, no matter what you're dressing for, consider a more casual blazer fit and fabric, as well as a "dressier" pair of black jeans.
Do this and it's very unlikely that you'll get a formality mismatch.
Enjoy.

Ready Sleek founder. Obsessed with casual style and the minimalist approach to building a highly functional wardrobe. Also a fan of classic, vintage hairstyles.