Mixing casual wear with formal attire is often tempting. Done wrong, however, and the results can be incredibly awkward. The question is, can you wear a blazer with jeans and a T-shirt?
A blazer can easily be worn with jeans and a T-shirt in casual or smart-casual settings. Consider tucking the T-shirt into the jeans for a more tapered silhouette and stick to neutral blazer colors to keep things subtle and understated.
That's the short and sweet answer, but you're likely to need a whole lot more.
After going through a few outfit ideas to try out, we'll run through some crucial tips for wearing this combo in the best way possible.
Let's get to it.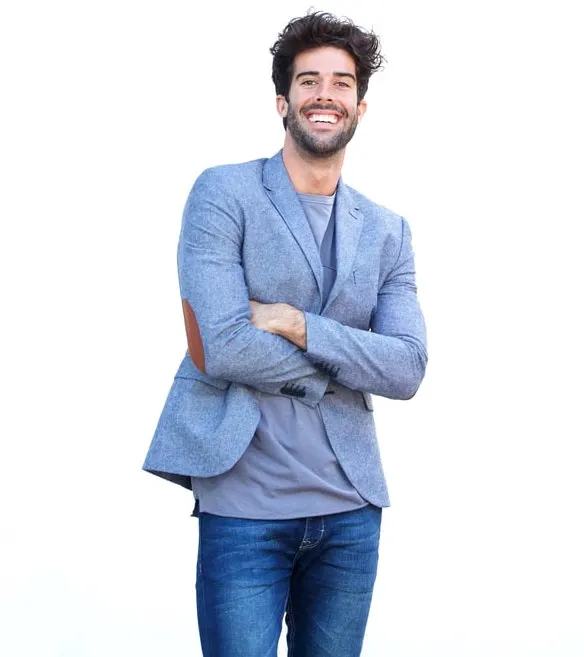 3 Blazer, Jeans, And T-Shirt Outfits To Try
Seeing several different ways of wearing this outfit should show you just how versatile it can be.
We're going from the dressiest option to the most casual one.
A blazer, jeans, and T-shirt combo should really only be worn in casual settings. But as you'll see, some "casual" outfits can look a lot dressier than others.
Dressy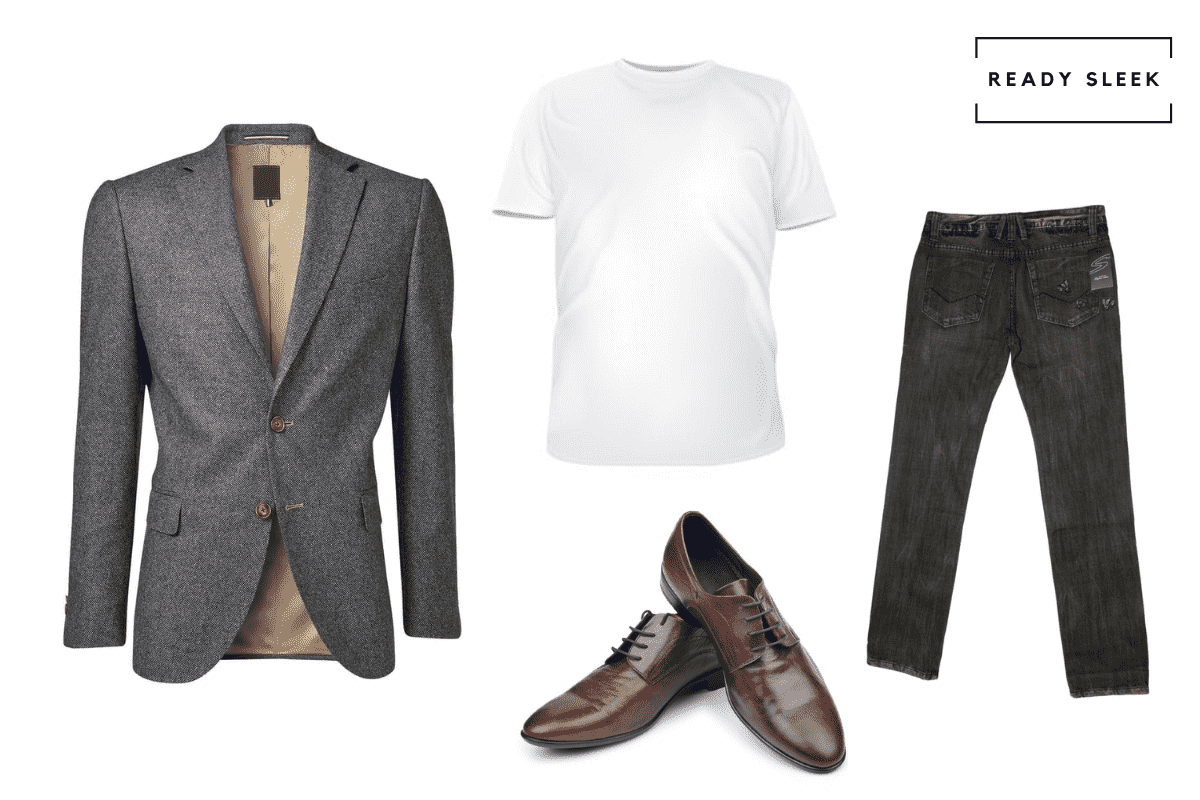 Items: Dark Grey Blazer, White T-Shirt (Tucked), Black Jeans, Dark Brown Derby Shoes, White Pocket Square
When dressing this outfit up, go for a dark blazer and couple it with a white T-shirt. Here, we've gone for a dark grey blazer.
It's neutral, dark, and relatively formal-looking. The same would go for the tapered black jeans here. Black jeans will always look dressier than blue or grey jeans.
In addition, strongly consider tucking the T-shirt into the jeans. Doing so looks tidier than leaving it untucked.
It also leads to a more tapered appearance at the waist.
Plain white T-shirts would be the best option when you're looking to keep things subtle and understated. It's hard to go wrong with one.
Round the outfit off with a pair of dark brown dress shoes. Here, we've gone for Derby shoes. They're smart but not as formal as Oxfords which would usually come across as too formal for the jeans.
A pocket square would be a nice touch here. While it isn't essential, it's a pretty easy way to show you've made an effort.
More Casual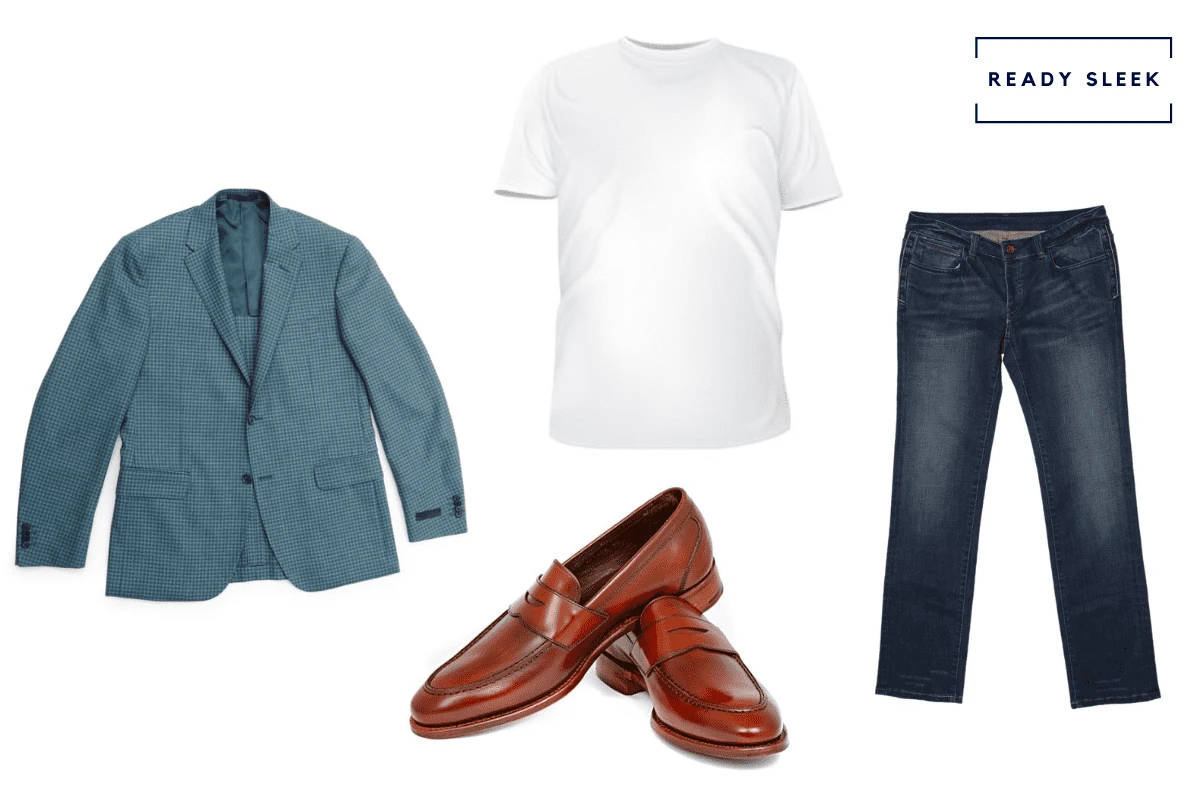 Items: Teal Blazer, White T-Shirt, Dark Blue Jeans (Cuffed), Brown Penny Loafers
Going for a blazer in a color that's more eye-catching and less neutral would be a good way to start dressing this combo down.
We're still going for a white tee because we're not dressing down that much.
You could leave it tucked or untucked – it's up to you. Both would look fine, but tucking it in would produce a more elegant silhouette
Dark blue jeans can still look sharp, especially when they're not distressed and have a dark wash.
But to embrace more of a casual aesthetic, consider cuffing the jeans and wearing a pair of laceless, slip-on smart-casual shoes such as brown penny loafers.
You could go for loafers in either suede or a shinier grain of leather (like in the image above).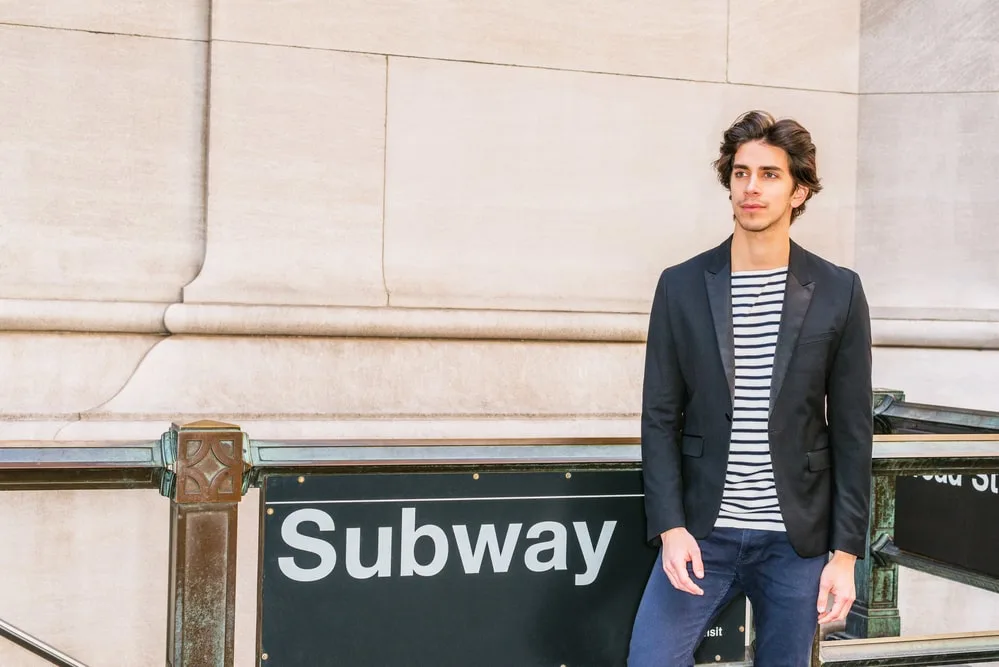 Most Casual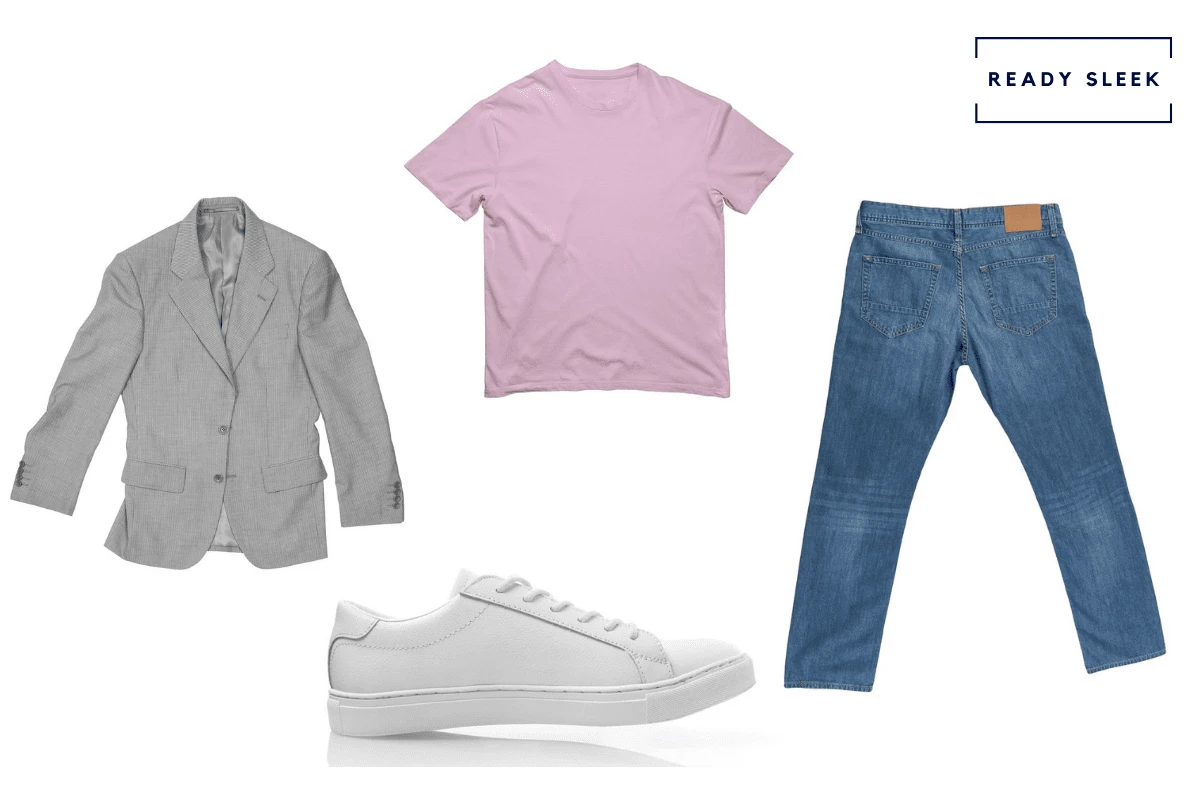 Items: Light Grey, Pink T-Shirt, Blue Jeans, White Sneakers
Finally, we're really dressing down here.
We've gone for a light grey blazer with a relaxed fit. Underneath, you'll be wearing a more colorful and striking T-shirt.
A pink tee is used in the example here, but you could go for practically any T-shirt color you wanted.
However, to keep the rest of the outfit subtle overall, go for simple and neutral colors and let the T-shirt be the focus of attention.
A pair of jeans in a light or medium shade of blue would work well here.
Finish up by popping on a pair of minimalist all-white leather low-top sneakers. They're casual, but not so casual that they'd seem out of place when wearing a blazer.
5 Tips For Wearing A Blazer With Jeans And A T-Shirt
Now that you've seen how much you can do with this combination, let's go through some tips to see you through every time.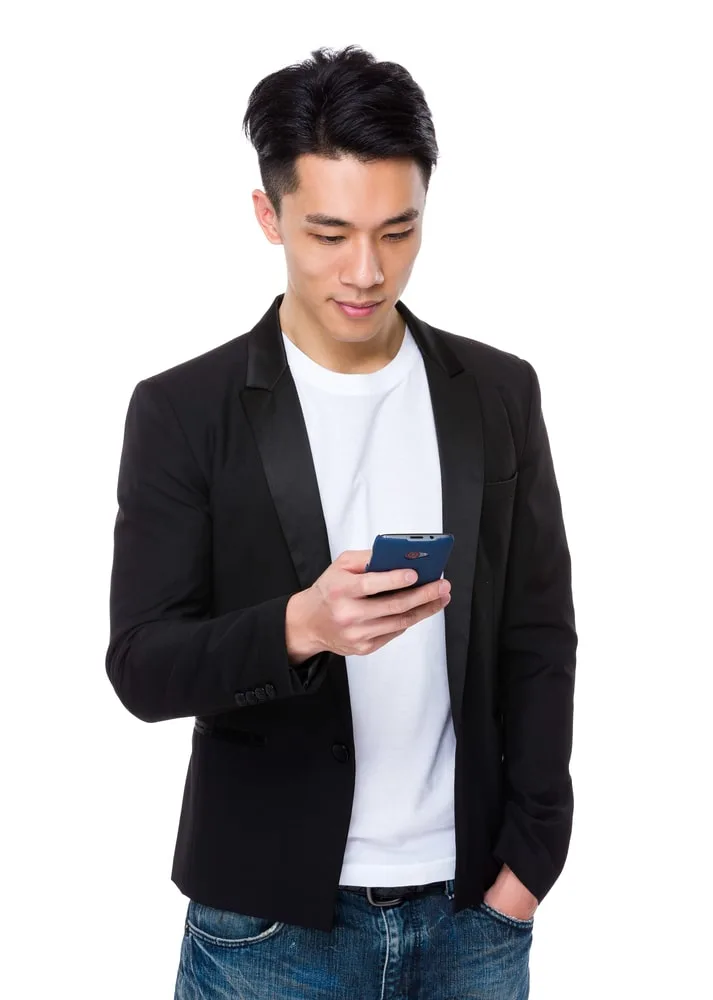 Stick To Casual Settings Only
No matter how dressy the blazer looks, the combination of a blazer, jeans, and a T-shirt, should only be worn in casual or smart-casual settings.
It shouldn't be worn in formal or business-professional settings – a 2-piece suit should be worn at a minimum.
Wearing this outfit inappropriately is arguably the biggest risk here. There are plenty of settings where it would seem out of place.
However, a blazer is a pretty simple way to up the sophistication level of any T-shirt and jeans outfit.
Think of it as a secret tool you can use when you want to dress a cut above the rest in a casual setting.
But avoid it wherever there's a risk of underdressing.
Black, Grey, And Blue Blazers Easiest
Black, grey, and blue blazers are the easiest to wear with jeans and a T-shirt.
While you could go for a blazer in more vivid colors, sticking to neutral colors would often be the best way to go.
Why?
Because they'll go with anything. You could wear practically any T-shirt color under those blazers and each of them would coordinate effortlessly.
Sure, you could go for a blazer in a bolder color such as red or green, but their use would be more restricted.
It would be a better idea to add pops of color with your choice of T-shirt and to allow the neutral blazer to anchor the outfit.
Remember, the darker the color of your outfit, the dressier it'll usually look.
Black, charcoal grey, and navy would usually fall into this category. If you wanted to dress down a little, blazers in light blue or light grey would be more appropriate.
Casual Blazer Fits And Fabrics
While it's true that blazers are typically "formal" items, it's hard to deny that some blazers look dressier while others look more casual.
The features of a casual-looking blazer include:
Relaxed fit
Minimal shoulder padding
Rugged fabrics/weaves – hopsack, linen, tweed, serge
Elbow patches
You don't need to tick all of those boxes. It's just something to bear in mind when selecting a blazer to wear over a T-shirt.
A blazer with those sorts of features would sync so well with casual items such as a T-shirt or jeans. They have a more laid-back and relaxed aesthetic.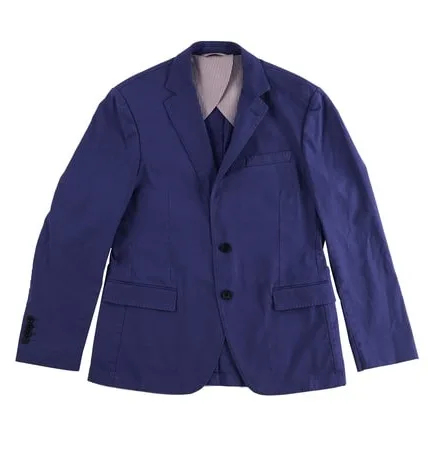 Ultimately, wearing a formal-looking worsted wool blazer over a T-shirt would usually lead to a formality mismatch.
The blazer would just look too formal for the T-shirt and jeans. It would look much more appropriate worn with a matching pair of pants as part of a 2-piece suit.
A Single Pop Of Color
You don't necessarily need to add any pops of color to this outfit.
As you saw from the first outfit example above, you could very reasonably stick to neutral colors throughout and the result would look great.
But if you do want to add some color to your outfit, keep things subtle. Avoid adding in too many as it'll look more haphazard and less intentional.
When starting your experimentation, it's best to stick to one pop of color in your outfit, leaving the other items either very muted or neutral.
An example would be the third outfit example we went through above.
It consisted of a neutral grey blazer, white sneakers, and blue jeans combination to anchor the outfit, while the pink T-shirt was a pop of color to add some visual interest.
The T-shirt would be the simplest way to add a pop of color to this combination, but you could do so using the blazer or jeans if you wanted to.
If you just wanted a hint of color, consider popping a colorful pocket square into the blazer, leaving the rest of the outfit entirely neutral.
Sneakers And Suede Shoes Look Great
The blazer, jeans, and T-shirt combination is casual or smart-casual at most. You'll want your choice of footwear to reflect this.
Trying to wear a pair of black Oxford shoes with this outfit would usually look awkward and out of place. The Oxfords just look too formal.
While you could argue that the same would be true for black Derby shoes, a pair of brown Derby shoes often looks great here.
This is especially true of suede Derby shoes, monk straps, or loafers.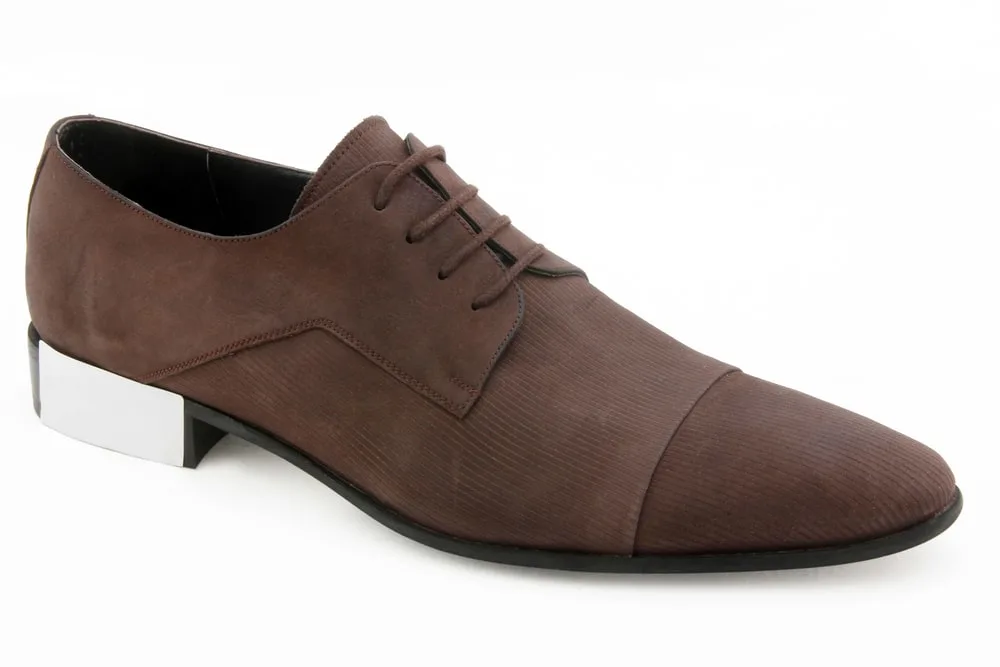 If you want to dress down, however, consider a pair of sneakers – but be cautious.
Wearing a bulky pair of canvas athletic sneakers with heavy branding will often look too casual when wearing a blazer.
Instead, consider a pair of all-white or all-black low-top leather sneakers with minimal branding. They'll usually look more appropriate and in sync with the blazer.
Frequently Asked Questions
Let's round things up with a couple of FAQs on the topic.
Blazer, Jeans, And T-Shirt: Tucked In Or Out?
When wearing a blazer, jeans, and a T-shirt, tuck the T-shirt into the jeans when attending a dressier setting. It'll produce a more tapered silhouette at the waist.
When dressing the combination down, however, feel free to leave the T-shirt untucked.
At the end of the day, either option could work. In fact, you could even go for an oversized tee under your blazer if you really want to dress down and embrace more of a streetwear aesthetic.
It can work but does need to be worn to the right type of setting.
Can You Wear A Blazer With Jeans And A T-Shirt As Business-Casual?
A blazer, jeans, and T-shirt combination should not be worn as business-casual. The jeans and the T-shirt would always come across as too casual for these settings.
While it's a notoriously misleading and confusing dress code to dress for, a pair of chinos or dress pants would usually be better than jeans.
In addition, a T-shirt should never be worn in business-casual settings. Go for a button-up shirt in broadcloth, poplin, or even Oxford cloth.
Conclusion
As you've now seen, there are many different ways to wear this combination and some will inevitably look dressier than others.
Consider the dress code, as well as your preferences.
Try to stick to neutral blazer colors to keep things simple and add pops of color using your T-shirt if you want to.
Enjoy.

Ready Sleek founder. Obsessed with casual style and the minimalist approach to building a highly functional wardrobe. Also a fan of classic, vintage hairstyles.