As an extremely versatile item of clothing, leather jackets can come in a variety of different colors. But by far the most popular are black and brown. So, if you're in the market for something new, should you be choosing a black or brown leather jacket?
It's best to pick a brown leather jacket if you are looking for a more relaxed, casual style and a black leather jacket for a more edgy, modern look. The brown leather complements informal attire such as blue jeans and white trainers and the black complements brogues and boots.
But that's just the short answer.
Read on as we delve into the key differences between black and brown leather jackets and how to choose between them.
Black Vs Brown Leather Jacket: 3 Key Differences
Apart from the obvious brown and black difference, there are actually several key differences between the black and the brown leather jacket.
Let's jump in and explore them.
1. Shades
One of the key differences between the black and the brown leather jacket is the sheer number of different shades of brown available in comparison to black leather jackets.
For example, if you go into a shop that sells leather jackets and head to the brown section, you will see a huge variety of shades on offer.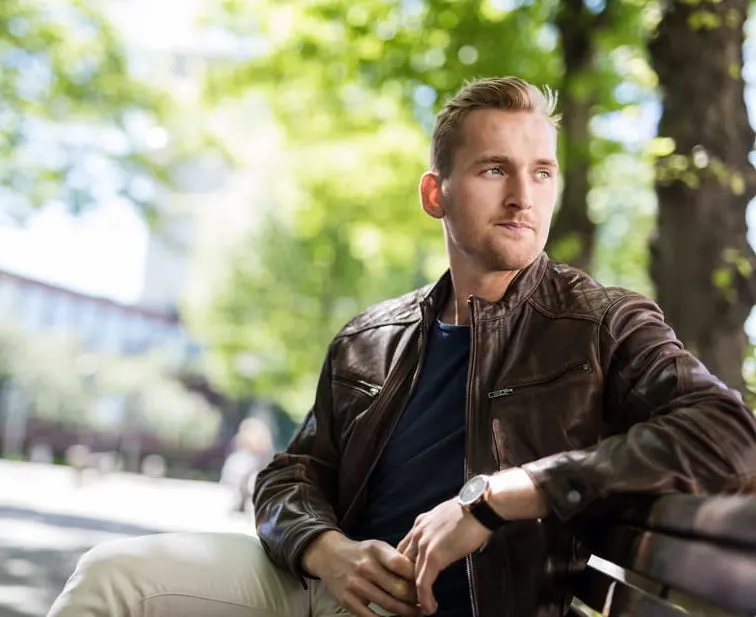 Starting with the light browns all the way through to the very dark, almost black browns, you can get a great sense of all the different types you can choose from.
Bronze, chocolate, copper, and sand are all actual shades of brown and can be classed as a brown leather jacket.
It's not only just the light and dark types either, you can also actually get shades of brown that are redder in color such as maroon, or alternatively even an orange shade like amber.
Whilst the large variety of shades makes the brown leather jacket a versatile choice, it also can make it a little difficult when buying online.
If you're looking to buy a brown leather jacket online, be very careful as often, the pictures do not give a true and accurate representation of the actual color.
This means you could end up with something completely different from what you thought you were buying.
2. Texture
Due to the lighter nature of the actual leather, brown leather jackets often look a lot more textured than black ones. This makes the jacket stand out a lot more than a regular black jacket.
This isn't to say a black leather jacket is without texture though. The lighter color of the brown just highlights the distress in the creases.
A lighter brown also leaves more room for blemishes in the tanning of the leather so depending on the shade, it can leave your jacket with an inconsistent finish.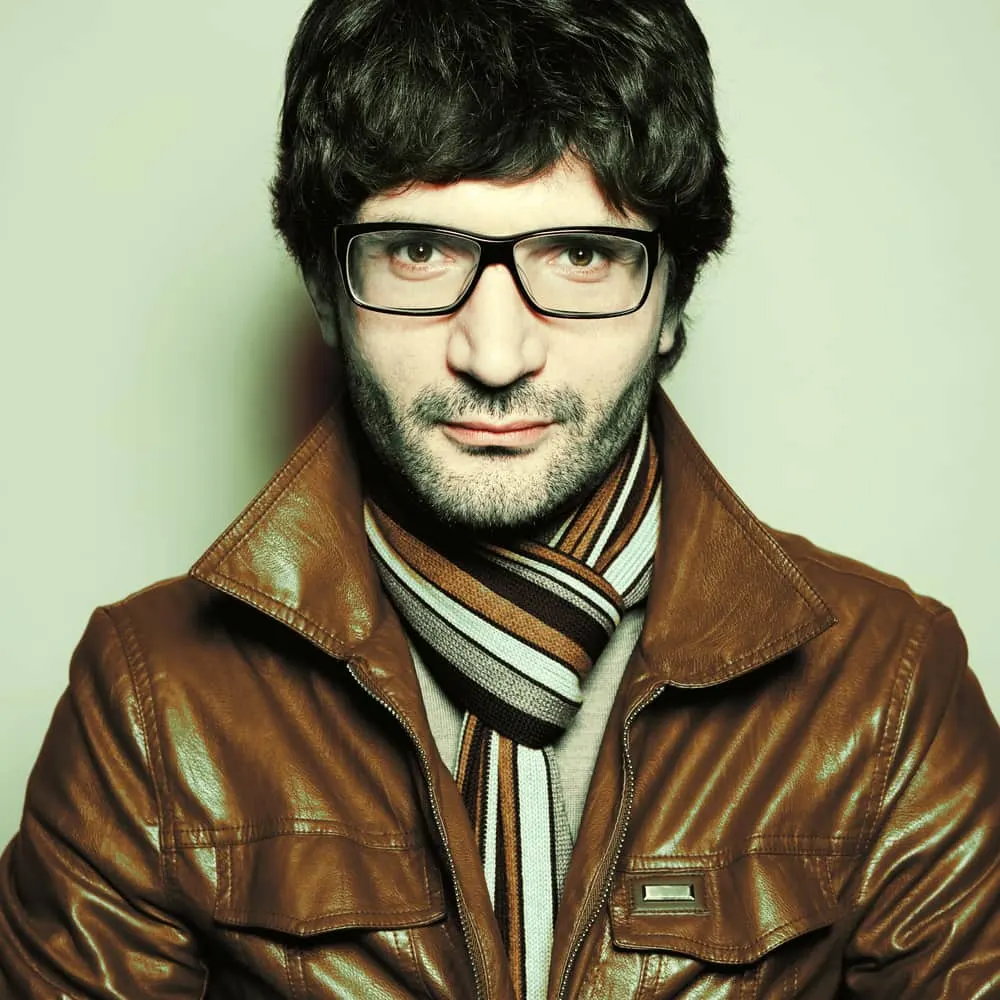 Depending on the style of the jacket, this could actually be seen as a good thing and would make the jacket more 'unique'.
It's important to bear this in mind when choosing a leather jacket to wear or buy. Before purchasing, think about what you will be wearing with the leather jacket and for what occasion.
3. Black Is Smarter
It's kind of an unwritten rule that black leather jackets are smarter and more "formal" looking than brown ones.
There's not actually a definitive reason for this, but it's widely accepted within the fashion world that they just are.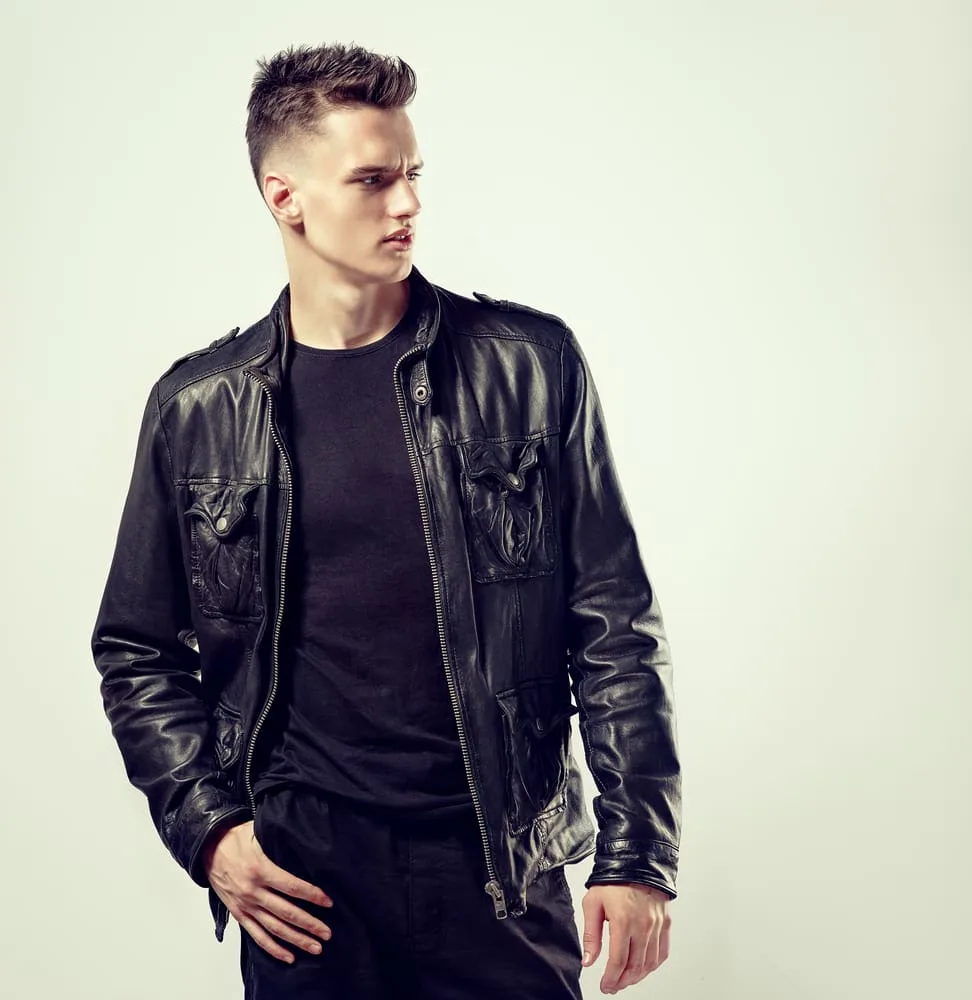 The smooth, shiny texture of a black leather jacket just looks more professional than a brown one and the deep darkness of the black color leaves you looking mysterious, smart, and elegant.
The black leather is a much more timeless look too, catering for both old-school 'John Travolta' styles and also a more modern and slick look.
If you choose the right one and pay enough money for a good quality one, the jacket could actually end up with you for life. The more 'worn in' a black leather jacket is, the better it looks overall and you can wear it for a number of occasions.
Black Vs Brown Leather Jacket: How To Choose
So now we've gone through some of the main differences between brown and black leather jackets, it's time to decide which one you want to buy.
It's a tough decision to make, so stick with us as we take you through some of the main factors to consider when purchasing a leather jacket.
1. Formality
As we've already partly discussed, the brown leather jacket is ideal for more casual situations and outings, especially if said jacket is a bomber jacket.
The brown leather look is often made from a much softer leather which gives it a more relaxed, casual style.
Brown leather goes very well with blue jeans, a timeless combination that can be worn to any event.
Brown leather is also less likely to come with lapels and/or metal buttons both of which give off a hardcore, biker style which would be unsuitable for relaxed occasions unless of course, that is your style.
However, with that all being said, a black leather jacket is extremely versatile and goes with virtually anything you put with it.
Pair a black leather jacket with a thick, white t-shirt underneath and you've got a smarter look suitable for many occasions.
However, black leather jackets will always look a touch more sophisticated and "smart-casual" than brown ones.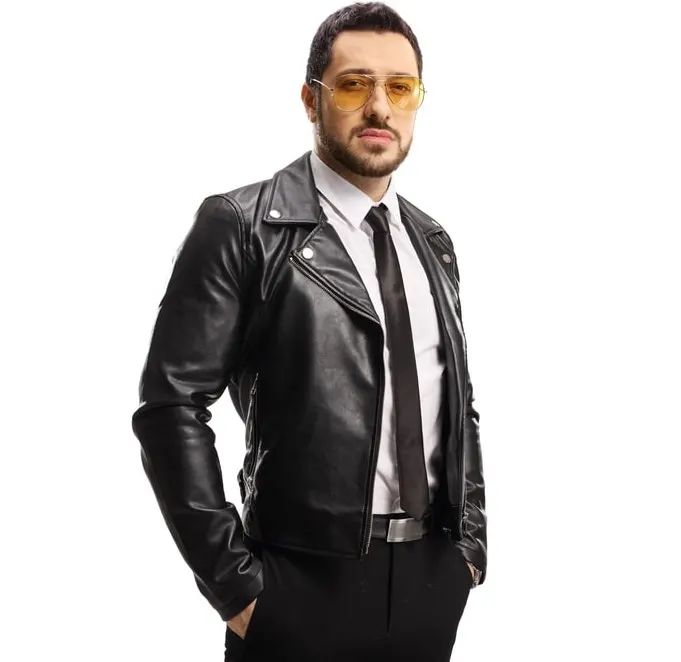 2. Everyday Wear?
Another big factor that you will have to consider when choosing whether to buy a black or brown leather jacket, is the fact that brown leather jackets show stains far easier than black leather jackets.
The lighter color of the leather means that any stains you may get on your jacket over time will show up and be far more noticeable than if the stain was on a black leather jacket.
This also applies to discoloration over time too. So if you plan on keeping your brown leather jacket in your wardrobe for a hand-me-down, it's worth keeping that in mind.
Think about how often you plan on wearing the jacket and also the types of occasions you will be wearing it.
Will you be wearing it to a large party with lots of children running around, or will you save it for more formal occasions where you will be less likely to spill something down it?
If you choose to buy a black leather jacket, you probably won't have to think about this problem, as any spillages you do get down the jacket can easily be wiped off which is less likely to stain.
It's important to remember that you can also take the leather jacket down to the cleaners and get them to do it for you. It is however usually quite expensive so it's best to leave this as a last resort.
3. Your Shoes
Probably the most important factor to think about when deciding what color leather jacket to buy is what shoes will you be wearing with the jacket?
If you decide to buy a black leather jacket, you will ideally need a pair of black leather shoes or black shoes at the very least.
Other footwear that's good to wear with a black leather jacket could include black combat boots for a more biker style or a pair of black suede chukka boots which complement the leather jackets' smartness.
The same goes for the brown jacket and shoe combination – brown combat boots or chukkas.
If you're going for a more casual style, then a pair of clean, white trainers can also work if you are wearing a brown leather jacket.
It's worth noting that white trainers should ideally be avoided if you will be wearing a black leather jacket as black is reserved for smarter outfits.
Conclusion
Purchasing a leather jacket can be stressful. It's expensive and with so many different options, you risk spending your money on one you might not even want.
Hopefully, this article has helped you to work out whether a brown or black leather jacket is best for your needs.

Ready Sleek founder. Obsessed with casual style and the minimalist approach to building a highly functional wardrobe. Also a fan of classic, vintage hairstyles.