Wearing a black suit with a bow tie is much more untraditional than wearing one with a classic tie. So, can you wear a black suit with a bow tie?
Wearing a black suit with a bow tie looks great. Consider the formality of the situation, as well as the bow tie and shirt color. Patterns can work for either your shirt or bow tie. Always wear a collared shirt with this outfit.
While that's the gist, there's much more to it.
So, let's dig deeper.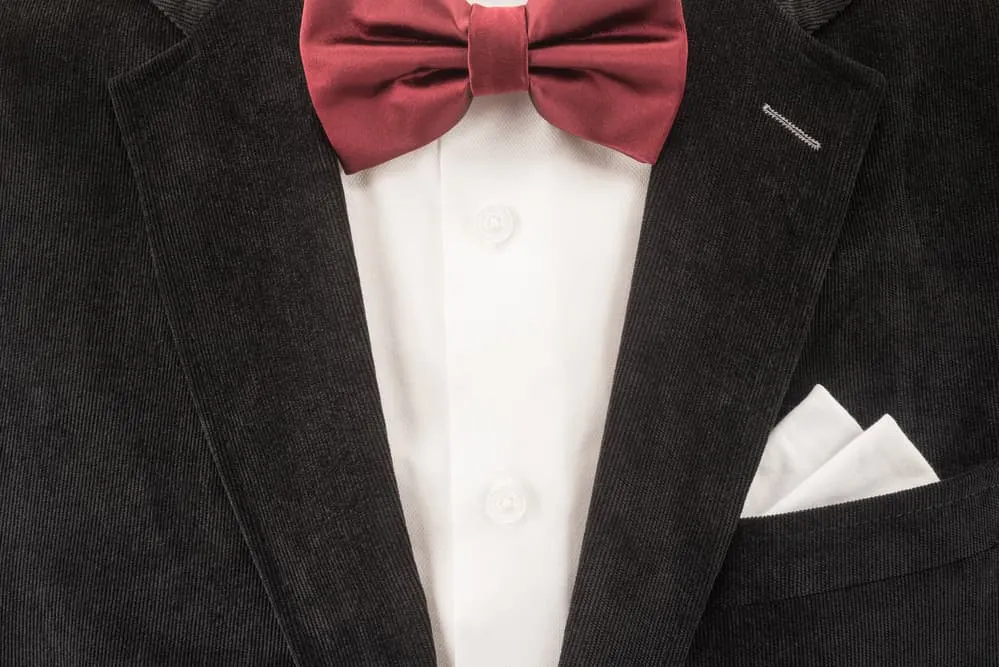 5 Bow Tie Colors To Wear With A Black Suit
Here are some examples to consider for yourself.
Red Bow Tie
When wearing a black suit with a red bow tie, consider the shade of red. A maroon bow tie may be more suitable when trying to keep it subtle, whereas a light, bright red tie is great as a statement piece. Burgundy and maroon bow ties are considered the most formal.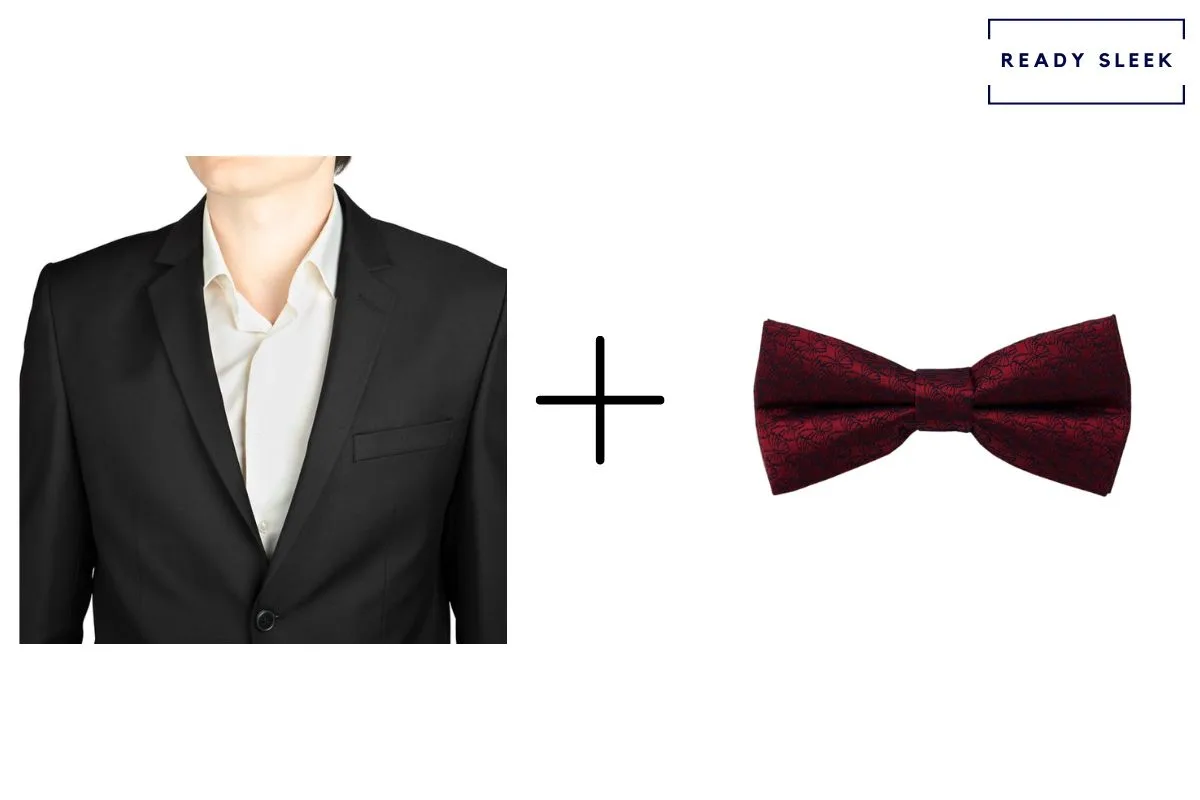 Red is one of the more common bow tie colors, and for a good reason: it looks great with many different suits and is suitable for many different occasions.
While red bow ties are mainly worn to make a statement, darker shades of red are fantastic for keeping it subtle.
Gold Bow Tie
Gold bow ties are much more unusual than bow ties of most other colors. They make amazing statement pieces – particularly when paired with a black suit. However, gold bow ties aren't appropriate for events of a more formal nature, as they stand out too much.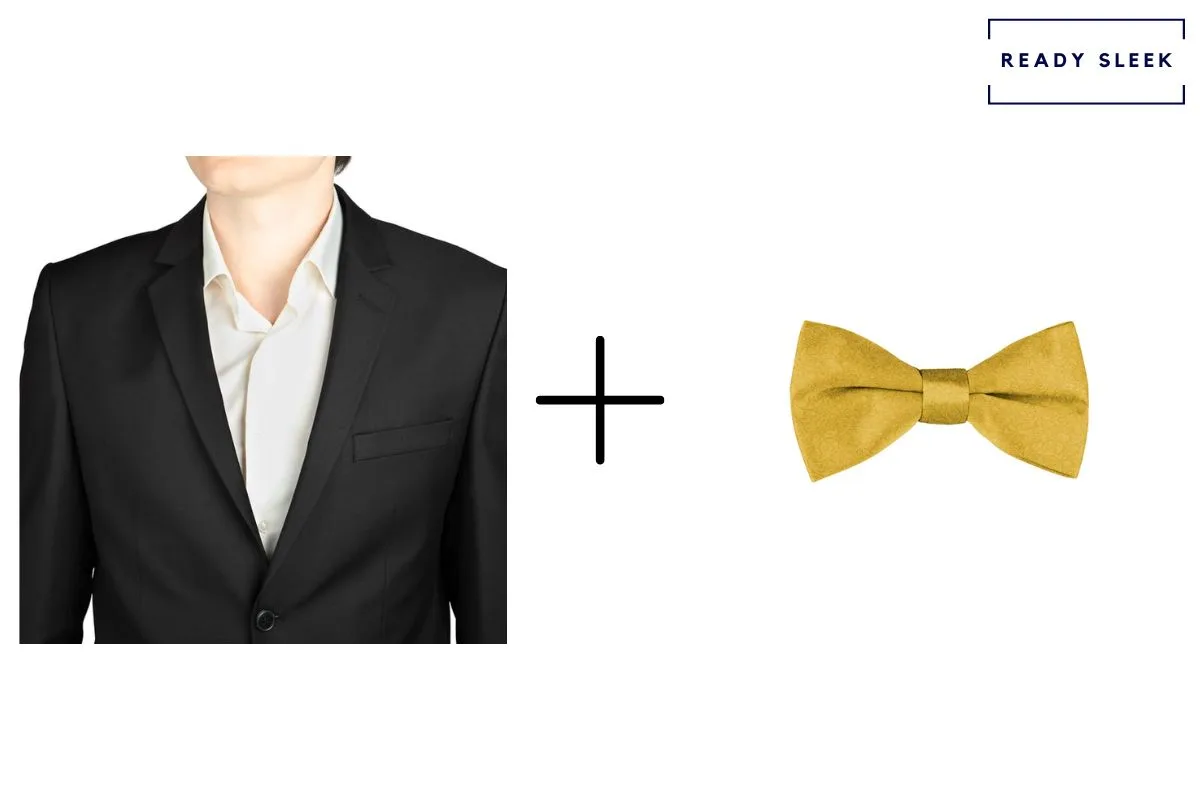 Keep your gold bow tie for more casual events, such as semi-formal dinners or wedding parties.
At anything of a greater formality, they are far too extravagant.
Pink Bow Tie
Pairing a pink bow tie with a black suit can look brilliant. Stick to lighter shades of pink and a white collared shirt. Pale pink bow ties are popular at weddings and thrive in such scenarios.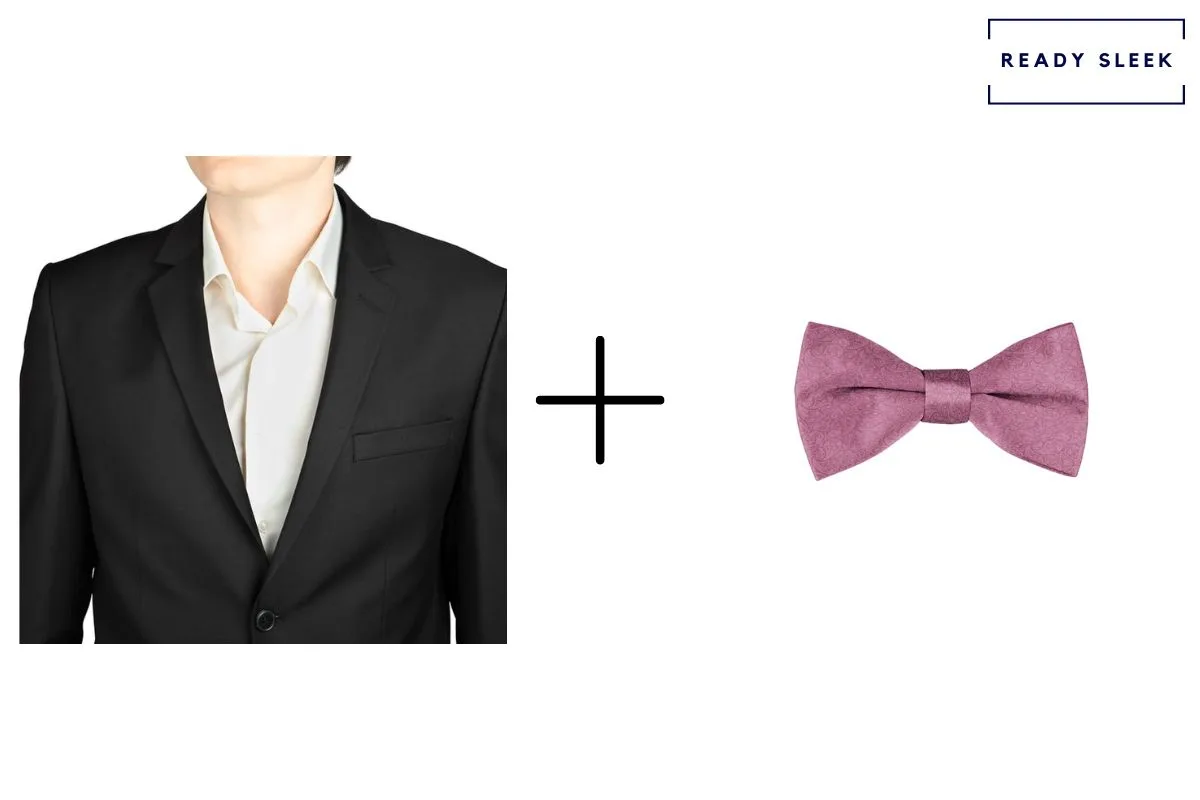 Always stick to light shades of pink when going for a pink bow tie with a black suit, and pair it with a white shirt for the optimal look.
Pink bow ties look particularly good at weddings or wedding parties.
White Bow Tie
Seeing a white bow tie outside of a white-tie event is unusual but can definitely work. Pair your black suit with a white bow tie and white shirt. It is most appropriate for weddings.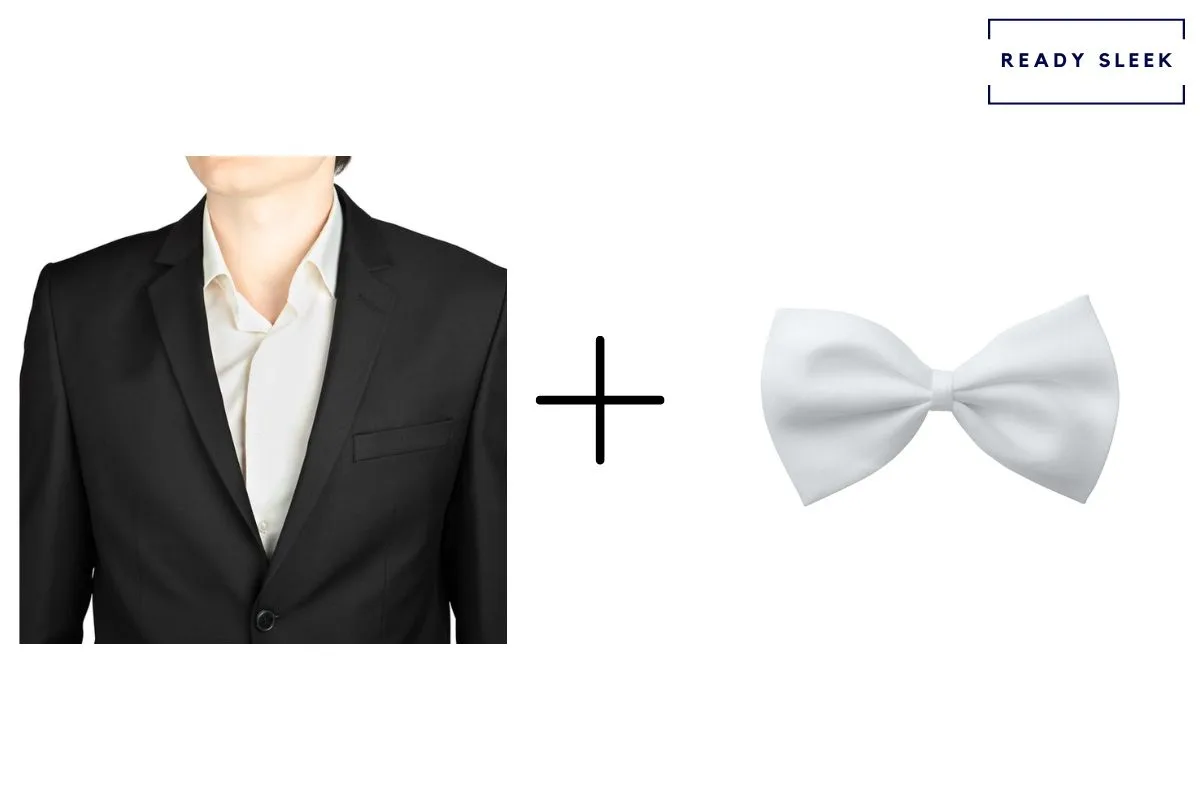 A white bow tie and black suit aren't an alternative to the traditional tuxedo of a white-tie event.
White bow ties act as a statement piece, creating a sophisticated contrast between your white bow tie and shirt and your black suit.
Green Bow Tie
Dark green bow ties look best worn with a black suit – lighter or brighter shades of green can come across as immature. This look works best at semi-formal to business-formal occasions. Stick to a classic white collared shirt. Subtle patterns can work for dark green bow ties.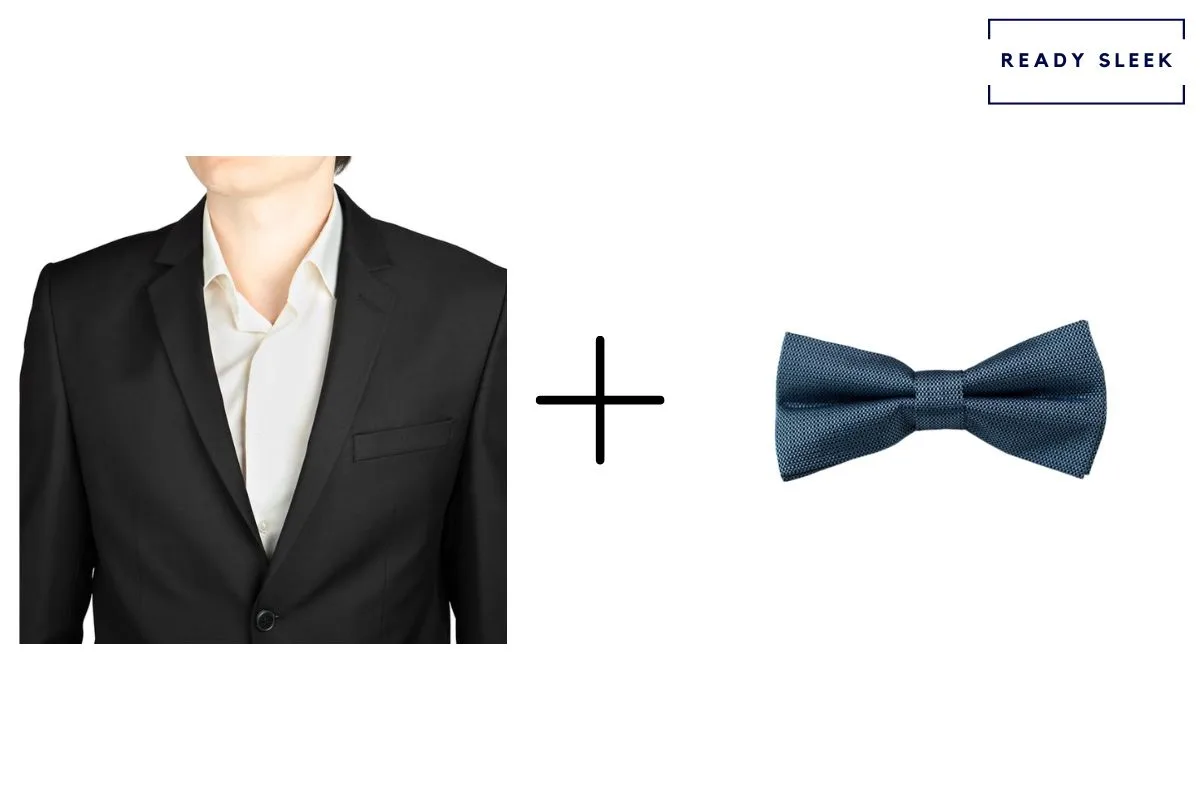 While they're relatively unusual, green bow ties can look fantastic when worn correctly.
Stick to darker shades of green and consider a subtle pattern. Traditional white shirts work best with a black suit and dark green bow tie.
5 Tips For Wearing Black Suits With Bow Ties
Here are five tips for wearing a bow tie with a black suit so that you'll look great every time.
1. Wear A Collared Shirt
One of the most important aspects of wearing a bow tie with a black suit is the shirt you wear.
There's such a variety of shirts on the market that it's easy to get confused and pick the wrong one.
It's becoming increasingly common to see unconventional shirts, such as collarless shirts, worn as formal attire.
When wearing a bow tie, this should always be avoided. Due to the 'wrap-around' nature of bow ties, it's crucial the shirt has a collar.
This is because the only part of the bow tie that should be visible is the "bow" itself – not the neckband.
Ensure your collar is structured and sturdy. While new shirts pretty much always have a collar like this, over time and after many washes, it can lose its structure.
Therefore, you should pretty much always use collar stays. These will maintain the rigidity of your collar and keep it looking crisp.
2. Patterns Can Work
When wearing a bow tie with a black suit, the bow tie is the centerpiece of the outfit, the item that draws the most attention and will likely stand out.
This is because bow ties somewhat deviate from the traditional tie.
Due to the bow tie being the statement of the outfit, there's room for experimentation with it.
Such experimentation could include different colors or even patterns.
Patterns can be a great way to spruce up your bow tie, allowing you to stand out from the rest in a positive light.
If deciding to wear a patterned bow tie, there are two important factors to consider: keeping the pattern subtle and ensuring it's appropriate for the situation.
Subtle patterns, particularly subtle floral patterns, can look brilliant with this outfit.
Typically, it's best to avoid patterns on brightly-colored bow ties, as the bright colors act as a statement on their own.
However, for darker colors such as burgundy and forest green, patterns work fantastically.
The subtlety of darker colors combined with the patterns' extravagance creates a perfectly balanced look.
3. White Shirts Work Best
Shirt color is just as important as bow tie color with this outfit. Picking the wrong shirt color can throw off your outfit's sharp appearance, potentially looking clumsy or awkward.
White is pretty much always a safe bet if you're unsure which shirt color you should choose.
It's a neutral color, which, in itself, means that it pairs nicely with most colors.
There is a common guideline among gentlemen: your shirt should be lighter than your jacket.
White fits this guideline perfectly as it's the lightest color.
If you are going for a colored bow tie (anything that isn't white or black) you should pretty much always wear a white shirt.
While white is the safest, most acceptable option, it is possible to wear a different colored shirt if you're wearing a black or white tie.
Try to keep it relatively dark – but not so dark it blends too much with your black suit. This means avoiding colors like navy, charcoal, and black.
4. Always Tuck In Your Shirt
A bow tie with a black suit is pretty formal attire. This means that there is a rule regarding your shirt that should always be followed: tuck your shirt in.
Leaving your shirt untucked would simply create too much of a formality mismatch; your outfit would be too inconsistent.
While it's possible to blend semi-formal, formal, and sometimes casual clothing, it has to be done the right way.
Wearing fully formal attire but leaving your shirt untucked would make you stick out like a sore thumb.
You should always tuck in your shirt with a bow tie and black suit.
5. Think About Your Shoes
Shoes are just as much a part of the outfit as the bow tie, shirt, or suit jacket; you should always think about what shoes would work best.
This outfit is entirely formal, so it's natural to wear shoes that match this formality level.
Oxfords or Derbys are the most formal shoes and are therefore the best shoes to match with this outfit.
With a black suit, your shoes should pretty much always be black. Brown famously clashes with black, and while it is possible to wear them together, generally, it should be avoided.
Monk straps are also viable; however, as mentioned, the optimal choices are Oxfords or Derbys.
Frequently Asked Questions
Some frequently asked questions on the topic, and their answers, are as follows.
Can You Wear A Black Suit With A Bow Tie Instead Of A Tuxedo
You should never wear a black suit with a bow tie as a replacement for a tuxedo. Tuxedos are the epitome of formality, as seen at black and white-tie events, and can't be used interchangeably with a black suit.
Because of the formality of black and white-tie events, the dress code is strict and well established.
This means that you should never wear a black suit instead of a tuxedo at such an event.
Can You Wear A Black Suit With A Bow Tie For A Wedding
It's possible to wear a black suit with a bow tie to a less traditional wedding.
With more traditional ones, wear a simple necktie instead, as a bow tie is likely to draw too much attention or come across as eccentric.
A black suit and bow tie would be more appropriate to wear to a wedding reception, as opposed to the ceremony itself.
The black suit shows formality and respect, while a bow tie adds a little personality and flair to the outfit.
But with traditional wedding ceremonies, the less attention you draw to yourself, the better.
Can You Wear A Black Bow Tie With A Black Suit
Wearing a black bow tie with a black suit is entirely possible and is appropriate for pretty much any formal situation. Ensure you wear them with a white shirt and black Derby or Oxford shoes.
Wearing a black bow tie with a black suit is a classic combination for formal situations.
Pair it with a crisp, collared white shirt and ensure you wear black Derbys or Oxfords for the optimal appearance.
Conclusion
Now that you know how to wear a black suit with a bow tie, you'll look great at any formal event that comes your way.

Ready Sleek founder. Obsessed with casual style and the minimalist approach to building a highly functional wardrobe. Also a fan of classic, vintage hairstyles.