High-contrast combinations can work well but are also pretty easy to go wrong with. The question is, can you wear black socks with white trainers and sneakers?
Black socks can easily be worn with white trainers and sneakers. Go for black ankle socks to prevent the contrast between the black and the white from becoming too much. The shorter the black socks, the better.
That's the gist, but as always, there's a whole lot more to it. It's worth digging deeper.
Here are some essential tips for pulling off this color combination in the most effective way possible.
Let's get to it.
1. Black Ankle Socks Are Ideal
Black ankle socks are the perfect length for white trainers. As the name suggests, they end at the ankles.
While the black socks and white trainers look does work, it's pretty in-your-face. The contrast between the white and the black can be distracting.
Because of this, it's worth keeping the contrast subtle. It should be eye-catching, but not distracting.
The easiest way to do this would be to choose a shorter sock length.
The shortest length you could go for (without going for no-show socks) would be the ankle socks.
Here's an example on Amazon:
The contrast between the black ankle socks and the white trainers would be noticeable, but not too overbearing.
Mini-crew socks are a little longer than ankle socks, ending above the ankles but below the mid-calf.
They're relatively short but much more noticeable than ankle socks. This is especially the case when wearing shorts or cuffed pants.
Black mini-crew socks would be a reasonable option when wearing white trainers, but the high contrast may be a little more obvious and distracting.
2. White Low-Tops Work Great
White low-top trainers are a great option when wearing black ankle socks. They're called "low-tops" because they don't cover the ankle.
They're low-cut, ankle-exposing, and understated.
When wearing black ankle socks, you can wear low-tops without the issue of the sneakers covering up the socks.
Low-tops are also incredibly versatile, with an all-white, leather pair potentially becoming your go-to choice of smart-casual footwear.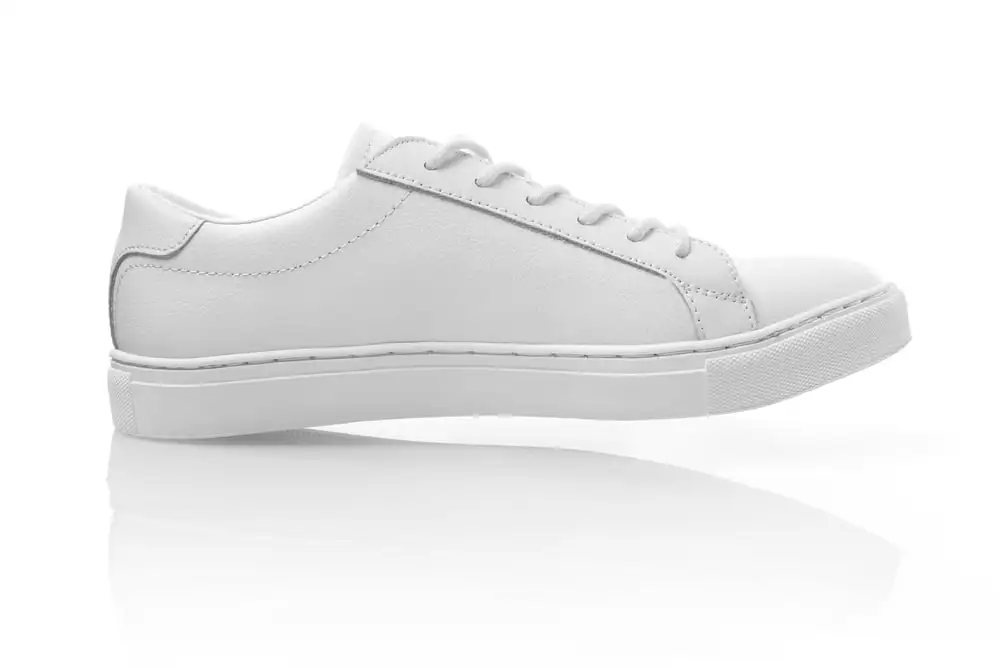 High-top sneakers do cover the ankle. Because of this, they look better with mini-crew socks or crew socks.
They'd usually cover too much of the black ankle socks for them to be noticeable.
Wearing a pair of white high-tops with black mini-crew socks would look fine, but would look bigger, bolder, and more obvious than a subtle black ankle sock + white low-top combo.
3. Stick To Streetwear Brands
Going for a bold contrast between your trainers and socks can look great, but it needs to be clear that it was an intentional style decision.
It isn't quite as easy to pull off as a simple white sock and white shoe combination, for example.
Wearing black socks with white trainers can sometimes look a little out of place due to the contrast.
In the worst cases, it can even look like a mistake, almost as if you'd run out of white socks and grabbed the only other color you could find.
One way of making it clear that you've made an intentional style decision is by sticking to well-known streetwear brands with very visible and obvious branding on the upper of the shoe.
Whether it's Nike, Adidas, Converse, Vans, Reebok, or any of the other massive brands out there.
Here's a pair of white Nike sneakers on Amazon as an example. Notice the hard-to-miss logo:
Choosing white trainers from well-known brands such as these makes it more likely that the black socks you're wearing work as part of an overarching streetwear aesthetic.
To take things a step further, try to choose white trainers and black socks from the same brand.
It isn't essential, but having the same logo on your socks and trainers just adds such a great touch. It's a good way to ensure that the combination comes across as intentional at all times.
4. Avoid Black Crew Socks
Black crew socks can look awkward when worn with white trainers, which is a shame given how versatile crew socks can generally be.
This is more important when wearing shorts. If you're wearing pants or sweatpants, it doesn't really matter if you're wearing crew socks because they won't be visible in any case.
But if you were wearing white trainers, shorts, and black crew socks, the end result is often pretty poor.
Crew socks end at the mid-calf. This is pretty high up the leg.
Having black socks reach this high up makes them very visible and pretty in-your-face. This is especially true when wearing white trainers that add a huge amount of contrast.
In addition, the white trainer and black crew sock combination can often seem more like a school gym uniform. It has a pretty immature look to it.
This is true whether you're wearing white low-tops or high-tops.
It's generally best to avoid black crew socks completely when wearing white trainers.
5. Consider A Neutral Outfit
This isn't essential, but can really tie everything together nicely. Black and white are both neutral to the point where you could literally combine them with any other color.
This gives you a huge amount of freedom to wear whatever color shorts/pants/shirt you want.
Reds, blues, yellows, etc – it really doesn't matter.
But keeping the entire outfit "neutral" is worth considering.
Neutral colors are muted and subtle. They blend well with all colors, forming a great foundation for color-matching other items.
The neutrals commonly used in menswear include white, black, grey, navy blue, khaki, and olive green.
While you could quite easily go for a bright red T-shirt, blue shorts, white trainers, and black socks, consider a neutral outfit if you wanted a more muted aesthetic from top-to-toe.
6. Shorts For An Athletic Aesthetic
Another way to make it clear that your white trainer and black sock combination is intentional is to make sure it's on full display at all times.
As you'd expect, the easiest way to do this would be to wear shorts.
Shorts work very well with the combo because you'd never confuse the high-contrast sock and shoe combo for anything other than an intentional style decision.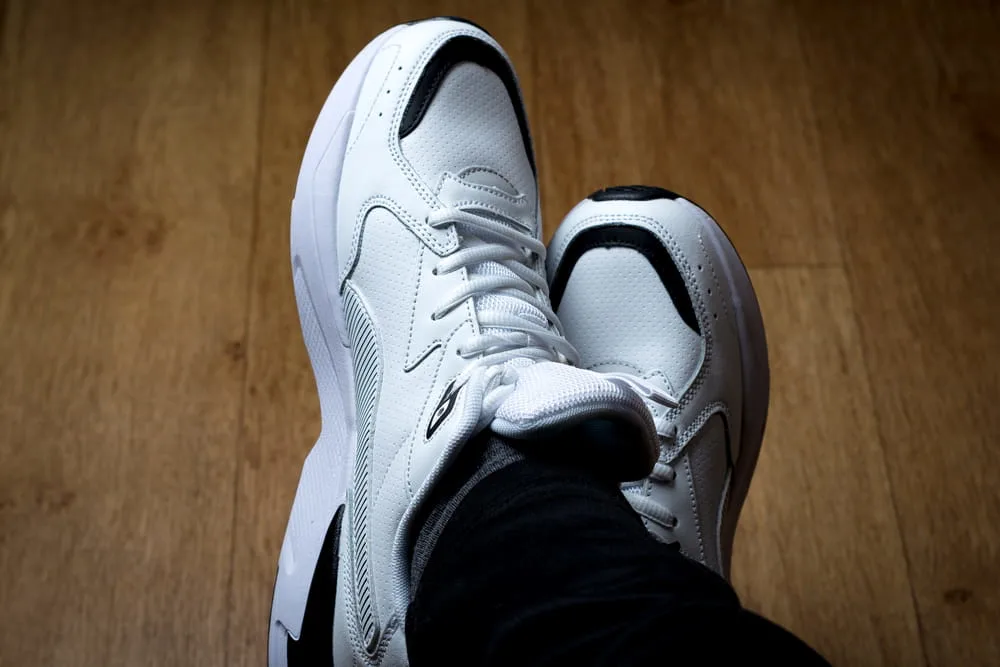 Once again, black ankle socks work best here – a subtle pop of contrast and nothing more.
Matching the shorts to the socks isn't essential but can be a nice touch in the same way that matching dress socks to dress pants is considered to be.
So, consider a pair of black shorts to really tie the bottom half of your outfit together.
7. Sock Fabric Matters
The fabric of your black socks is worth considering, but not overthinking. What you choose should really depend on the temperature, as well as the activity you'll be doing.
While there are lots of different sock fabrics you could potentially choose from, here are a few you should know about:
Cotton – Durable, soft, and stretchy. Plus, it retains heat.
Wool – Stretchy, moisture-absorbent, and wrinkle-resistant.
Modal – Pretty expensive, but very strong, durable, and soft.
Polyester – Quick-drying and retains its color well. Not very breathable.
It's not worth recommending a specific sock fabric to wear with your white trainers as any of them could potentially be suitable.
Consider the weather, as well as what you're doing when making your decision.
Ready Sleek founder. Obsessed with casual style and the minimalist approach to building a highly functional wardrobe. Also a fan of classic, vintage hairstyles.