Wearing a black shirt is a little more complicated than wearing something light and neutral like off-white or baby blue. The question is, can you wear a black shirt with a suit?
A black shirt can be worn with a suit, especially in evening social settings where the dress code is relatively formal. To prevent it from looking too monochromatic, choose a suit in dark blue, charcoal, or grey, and add splashes of color with the necktie and pocket square.
Although that's the short answer, there's more to it.
Here are some crucial tips to help you wear black shirts with suits in the most effective way possible, each and every time.
Let's get to it.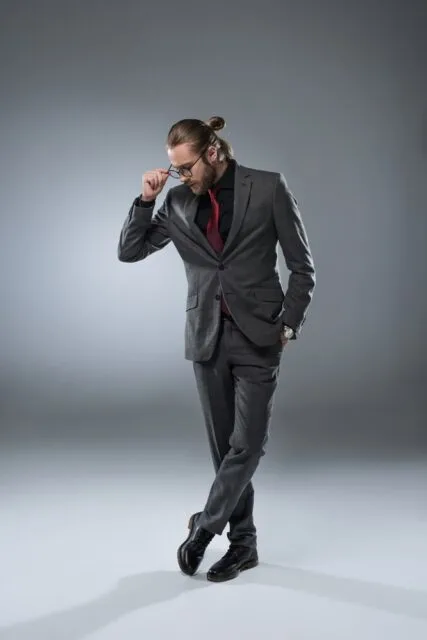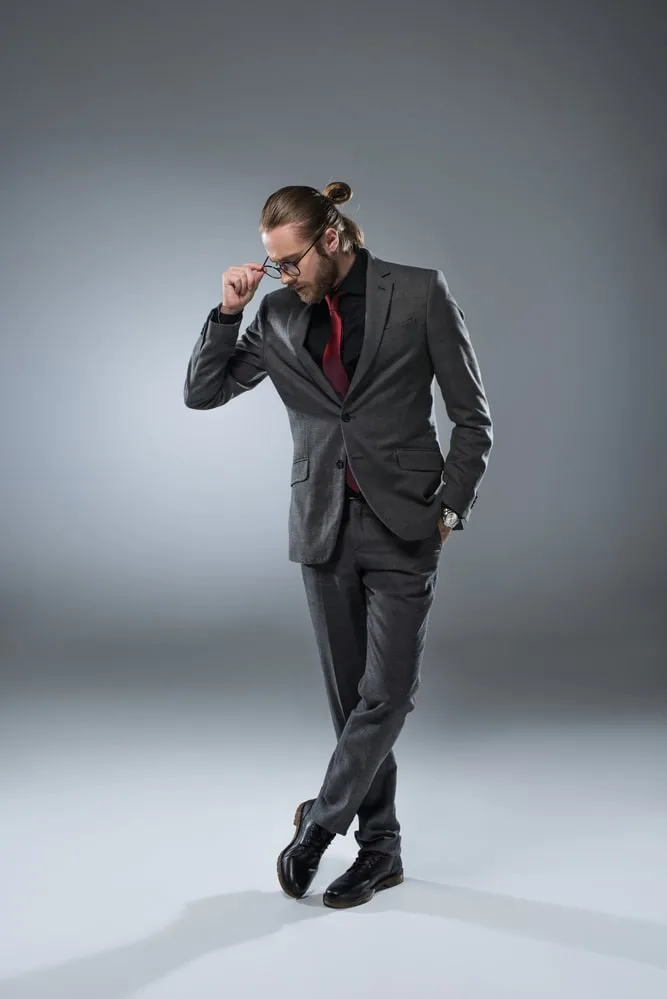 1. Ensure It's Appropriate For The Dress Code
A black shirt and a suit won't be appropriate for every dress code.
There are certain settings, events, and occasions where you'll want to go for an alternative.
Wearing this combination has a pretty effortlessly formal edge to it. However, it isn't formal in the sense of professionalism.
In other words, you'd find it hard to pull the look off in a formal work setting. A business-professional suit would work a lot better with a white dress shirt.
The black shirt and suit combo has a more elegant, sophisticated, and social feel to it. It would be much more appropriate to wear to a party or social event than a corporate office, for example.
That's where this combination really shines – in formal or semi-formal social settings.
But there are a few dress codes/settings where you wouldn't want to wear a black shirt with a suit. Here are a few where you should avoid it:
Business-Casual: Go for a neutral OCBD shirt and a pair of chinos instead. Black shirts and suits are too formal.
Business-Professional: As mentioned earlier, go for a white dress shirt instead of a black one.
Smart-Casual: Overall, a black shirt and suit combo will simply look too formal.
Black-Tie: A tuxedo will usually be required. A suit, with or without a black shirt, won't cut it.
2. Stick To Evening Events
There's just something about black shirts that looks wrong when worn to daytime events. It looks awkward and out of place.
Not always, but often.
Black shirts, regardless of the type of suit you wear, should usually only be worn to evening events.
It's one reason why the black shirt and suit combination shouldn't be worn to a wedding. As most weddings take place during the day, the look can be jarring.
The look works best for evening social events where the black dress shirt syncs seamlessly with the dark aesthetic of the night.
3. Don't Go Too Monochromatic
When wearing a black shirt, dark blue, grey, and charcoal suits usually work best. They're dark, as well as neutral, blending well with the aesthetic of the black shirt.
Choosing a dark-ish tone for the suit is great because it doesn't produce too much contrast with the black shirt.
Too much contrast can be a little too attention-grabbing.
But you want just enough contrast to prevent the overall look from being too monochromatic.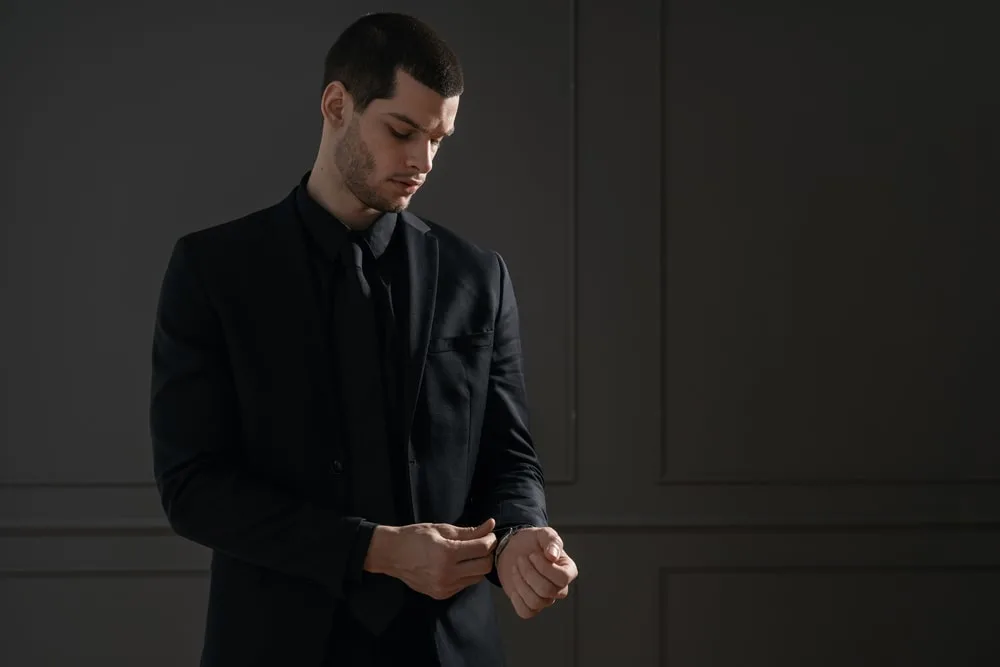 That's why black shirts with black suits usually aren't a good idea – the result will be monochromatic.
Choosing a dark and neutral color like the ones listed above produce just enough contrast to make it clear where the suit ends and the shirt begins.
It's enough of a difference to be eye-catching, but not jarring or overbearing.
4. Black Or Dark Brown Dress Shoes
Black or dark brown leather dress shoes work well when wearing a black shirt with a suit.
When dressing for a reasonably formal evening social, you don't want your shoes to draw too much attention.
Shoes are not where you want to add splashes of color and contrast. Instead, they should blend into the suit without standing out too much.
Black or dark brown leather (cowhide or calfskin) should do this for you.
You've got options when it comes to the style of dress shoe you choose, but you really can't go wrong with a pair of Oxfords or Derbys.
Oxfords are the most formal-looking due to the closed lacing system. They have an effortlessly sleek and sophisticated look to them.
Derby shoes don't look quite as formal due to their flap-like open lacing system, but they still look formal enough to easily pair with an elegant black shirt and suit combination.
More casual dress shoe options like monk straps and loafers are also potential options, as long as you feel as though they're formal enough for the setting you're attending.
As long as you stick to black or dark brown leather, you will probably be fine.
5. Add Contrast With The Tie
You may not be wearing a necktie at all with your suit if you're looking for more of a smart-casual aesthetic. But if you are wearing one, your choice of necktie should be seen as an opportunity to add a splash of color or contrast.
The reason ties work well in this respect is that they don't occupy much space within your look as a whole.
You aren't splashing on loads of color or contrast as you would be doing if you were to do the same thing with your shirt or your suit.
Instead, you're adding just enough contrast to make the overall outfit a little more interesting and eye-catching.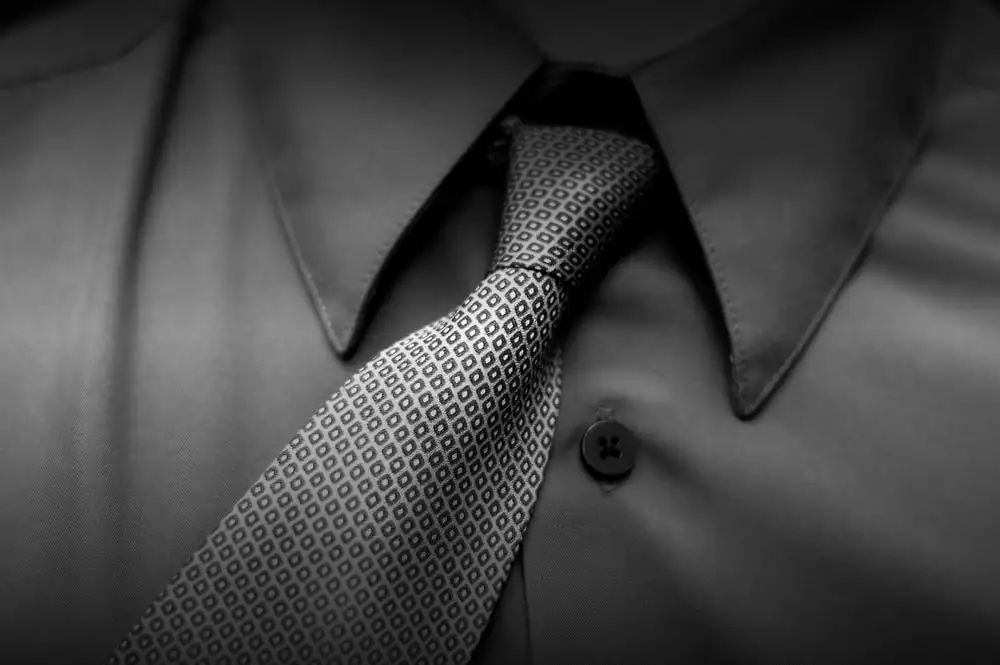 Going for a lighter color with your tie is a great option for this very reason. It'll stand out against the backdrop of the dark shirt and suit.
Off-white and light grey both work well. If you wanted to go a little brighter and bolder with your necktie you could consider burgundy red as well.
There are other options, but the main point here is to use the necktie as an opportunity to add a touch of contrast.
6. A Light Pocket Square
Much like with your necktie, adding a pocket square in a lighter color is a nice way to add another touch of contrast to your outfit as a whole.
The key here is to choose a pocket square that's light enough in color to stand out against the black shirt and suit, while also remaining similar to the necktie as well.
Choose a pocket square that compliments the necktie in color, but doesn't match it exactly.
How you fold the pocket square is up to you, as you've got plenty of options.
Given how you're probably dressing for a social evening event, even the dressier styles of pocket square fold may be appropriate.
The crown fold, puff fold, and the "stairs" are all potential options.
However, if you wanted something a little more traditional and subtle, you really can't go wrong with a simple straight (Presidential) fold.
7. Dark Belt That Matches The Shoes
The belt should sync well with the shirt and the suit but doesn't need to match them.
Instead, focus on matching the belt with the shoes as much as possible.
As we talked about earlier, going for a pair of black or dark brown dress shoes is usually best when wearing a black shirt with a suit.
If you've gone for a pair of black dress shoes, choose a black belt.
If you've gone for a pair of dark brown dress shoes, choose a dark brown belt.
Keep things simple. Don't try to add color or contrast with the belt, as it's a lot more important to make sure it matches with your shoes (as much as possible).
Sticking to this tip, as well as the others in this list, should ensure that you pull off this suit combination in the best way possible.
Enjoy.
Ready Sleek founder. Obsessed with casual style and the minimalist approach to building a highly functional wardrobe. Also a fan of classic, vintage hairstyles.