While it may seem a simple combination to pull off, it's more complicated than you might think. So, can you wear black pants with a white shirt and blazer?
Wearing black pants with a white shirt and blazer can be a great look for events of business-formal formality or less. Black and white are versatile, meaning that most blazer colors will work; however, maroon or light grey, or blue blazers work best. Accessorizing is also an option.
Although that's the gist, there's much more to look into.
So, let's explore further.
1. Avoid Black Blazers
Avoiding black blazers may seem unusual. However, it's pretty much a necessity when wearing black pants and a white shirt.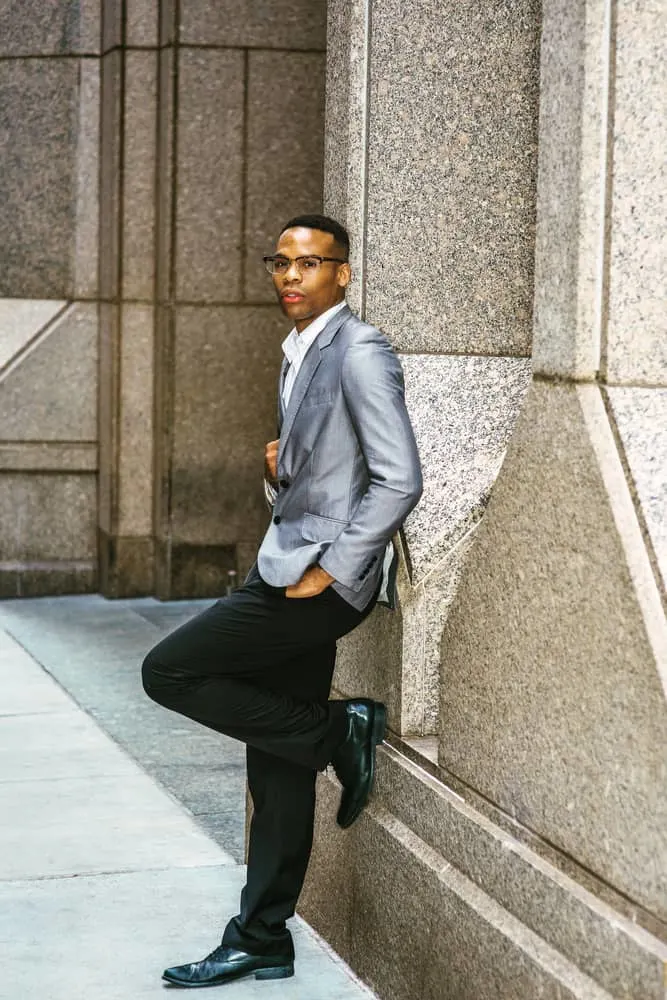 The main reason you should avoid these colors is that, when paired with black pants, the lack of contrast can make it look like a poorly matched suit.
This can make you look awkward and detract from the desired sophistication of the outfit.
Additionally, the dress code is likely semi-formal, smart-casual, or business-casual if you're wearing a blazer, white shirt, and black pants in the first place.
Achieving a sense of contrast between the pants and the blazer works well for these dress codes. It's dressy, but not too dressy.
2. Be Creative With Your Blazer Choice
Because white and black are neutral colors, pretty much anything goes with them.
As mentioned, you should avoid colors that are too similar to that of your pants. Other than that, however, most colors will work well.
Typically, most lighter colors will work; they create even more contrast between the blazer and the pants. Blue and grey both demonstrate this fantastically.
Having said that, some darker-colored blazers can look great too. Maroon is an excellent example of this.
Wearing a maroon blazer alongside black pants and a white shirt elevates the outfit's sophisticated appearance while remaining understated.
Here's an example of a red blazer with a white shirt on Amazon:
There are other ways to get creative with your blazer, such as different patterns and textures.
The versatile and block-colored nature of a white shirt with black pants allows for this kind of creativity.
While a pattern can be a great way of adding a touch of personality to your outfit, it's important not to go overboard.
It's important to keep the pattern subtle as this will maintain the formality of the outfit.
The same rule applies when considering a textured blazer: keep it subtle and sophisticated.
Remember not to combine the two – stick with either texture or a pattern. Wearing both risks appearing excessively flamboyant.
3. Shoes Matter Too
A common misconception is that shoes are separate from the outfit – not a true part of it. This simply isn't the case.
Shoes are just as much a part of the outfit as any of the garments and, therefore, should be treated as such.
There are two main factors to consider when picking shoes for an outfit: color and shoe style.
Black pants don't go with as many shoe colors as you may initially think. For example, despite being pretty versatile, light brown shoes clash with black pants.
The best shoe color to wear alongside black pants, a white shirt, and a blazer is black.
Black is a traditional color that's pretty much always a safe choice for footwear, particularly in situations of a semi-formal formality or greater.
Having said this, dark brown shoes can work well in more casual settings as it contrasts the pants just enough to be noticeable.
If you're looking to experiment slightly and make a statement, white sneakers can work well. However, this look should generally be avoided on more formal occasions.
As for shoe type, that depends almost exclusively on the event's formality.
Sneakers may be appropriate in casual settings, as they dress down the blazer and white shirt nicely.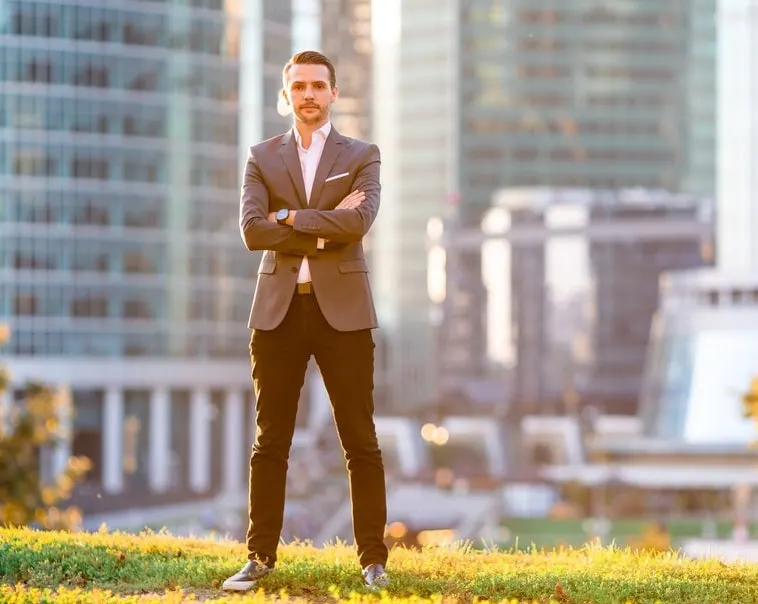 On the other hand, occasions of a greater formality require formal shoes, such as Oxfords, Derbys, or monk straps.
4. Leave The Top Button Undone
Leaving the top button undone may seem minimal, but it can have a significant impact on your overall appearance.
When wearing a blazer with black pants and a white shirt, leaving the top button of your shirt undone can add a more laid-back vibe.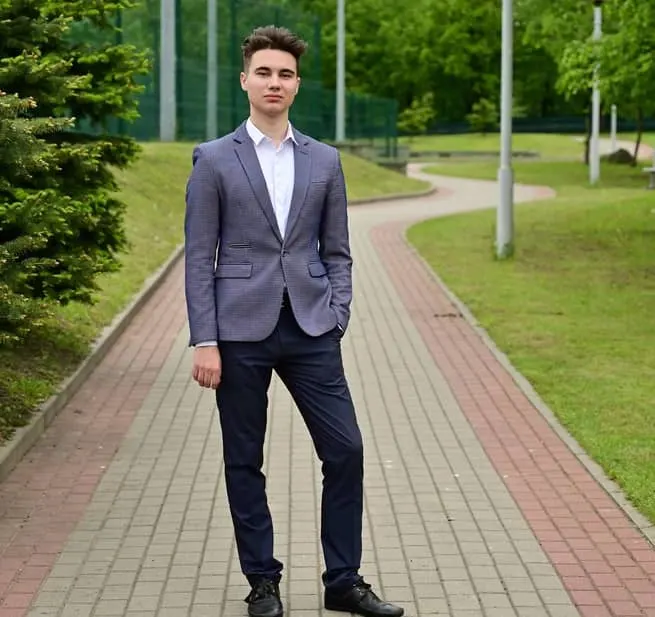 Additionally, because you won't be wearing a tie, there's no reason to button up the top button.
Due to the lack of a tie, as well as the lesser formality of occasions where this outfit is appropriate, leaving your top button undone can be a solid way to make the combination seem more relaxed.
5. Ensure Everything Fits Well
Making sure your shirt, blazer, and pants all fit well is crucial to success when wearing this outfit.
If just one of these garments is a poor fit, it can throw off the aesthetic of the whole ensemble.
Therefore, it's essential to ensure that everything fits optimally.
Black is generally a slimming color to wear; one that is flattering to your body, regardless of your build.
When wearing black pants, you should go for a slim fit. While the legs should be slim, the groin area shouldn't be especially tight or uncomfortable.
It's pretty obvious if pants are too short (there's a lot of ankle exposure). However, it can be difficult to tell if they are too long.
Typically, there should be no bunching or dragging at the bottom of your pants. If there is, your pants are likely too long.
A similar rule applies to your white shirt: it should be pretty slim without being restrictive or inhibiting movement.
The blazer is arguably the most complicated garment of the set in terms of fit. Luckily, there are some general rules that simplify assessing the fit of your blazer.
Standing with your arms straight down by your side, if the bottom of your blazer reaches your knuckles, it's the right length.
Your blazer fits best when its shoulder seams are at the edge of your shoulders – where they begin to slope down to your arm.
As for sleeve length, they should reach the area where your wrist joins the base of your thumb when standing with your arms straight down by your sides.
6. You Can Accessorize
While jewelry and other accessories aren't typically associated with this outfit, wearing them is entirely possible.
It's important, however, to remember not to go overboard with accessories, as this can appear flamboyant.
Limit yourself to a maximum of two accessories – with one being optimal.
Accessories worth considering include watches, belts, and cufflinks.
Because the white shirt, black pants, and blazer outfit is typically considered semi-formal, there are a variety of watches appropriate for it.
These include black or brown leather-strapped dress watches and metal-bracelet watches. Having said that, some metal-bracelet watches aren't suitable for this.
An example of a watch with a metal bracelet that wouldn't be appropriate for this kind of outfit is a dive watch – it just stands out a little too much.
Cufflinks are the most formal of the mentioned accessories and can be used to add some personality to your outfit, as well as an extra hint of formality.
Ensure your cufflinks aren't too over-the-top in design and that they match the metal color of your watch (if you're wearing a watch).
If you're not wearing a watch, silver cufflinks usually work best.
For semi-formal events, slim or skinny belts work well. As always, however, it's important to make sure the belt color matches that of the shoes.
Ready Sleek founder. Obsessed with casual style and the minimalist approach to building a highly functional wardrobe. Also a fan of classic, vintage hairstyles.