Black jeans represent the more formal side of denim. However, some may argue that it's not formal enough to wear with some garments. The question is, can you really wear black jeans with a dress shirt?
Black jeans look great with dress shirts for a smart-casual outfit. Think about shirt color (white and light blue work best) and go for dressy-looking black jeans. A more casual dress shirt fabric would usually be best. Remember that semi-formal shoes work best. Always tuck in your shirt.
While that's the gist, there's a whole lot more to it.
So, let's get into it.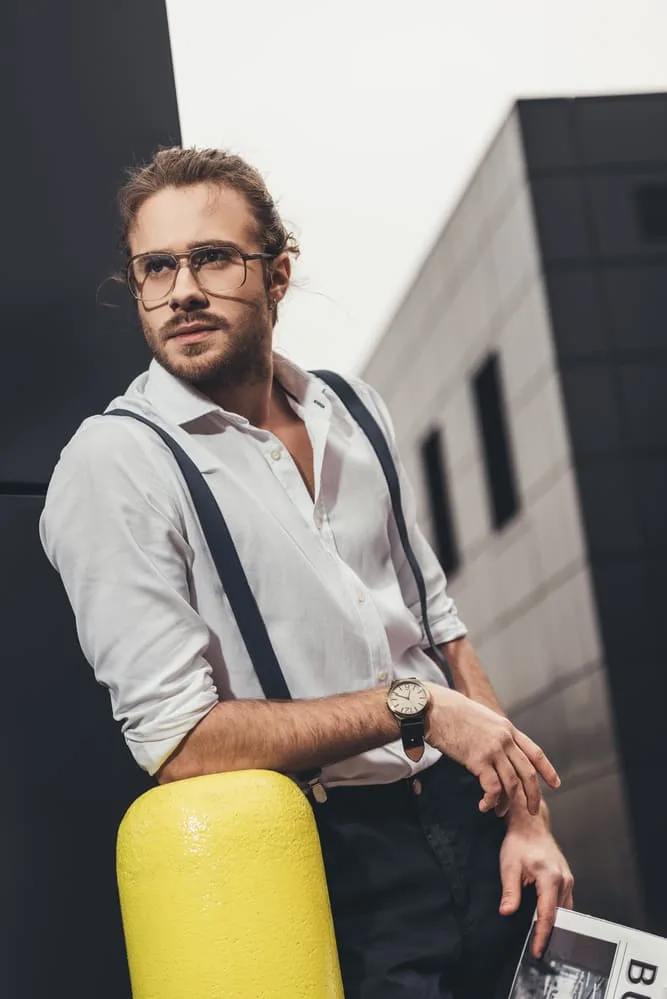 1. Think About Shirt Color
Shirt color is the first factor to think about with this outfit.
Since you'll be wearing black jeans, it's important to remember that black is an incredibly versatile, neutral color.
Neutral colors are those that don't appear on the color wheel. They often appear as muted tones but have underlying hues.
Because black is so versatile, you can wear pretty much any shirt color with these jeans and get away with it.
That being said, there are some shirt colors that look better and appear more formal than others.
The best dress shirt colors to wear with black jeans are white and light blue.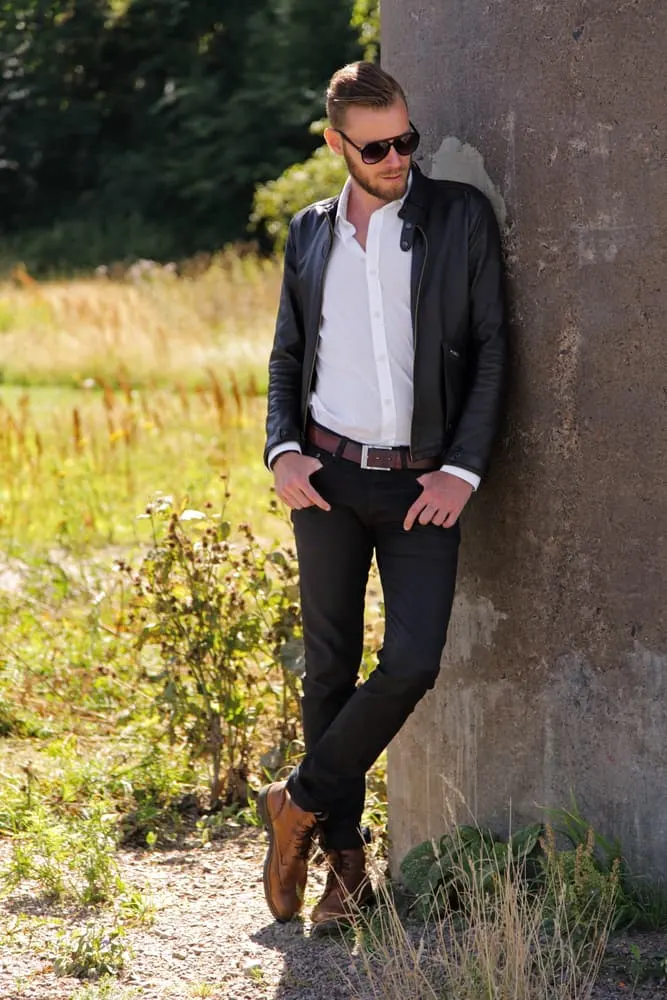 They are the most formal shirt colors, and since black jeans are the most formal type of denim, they're also the most appropriate ones to wear with this outfit.
However, as mentioned, black jeans are very versatile, so you can get away with any shirt color.
Just make sure you match the color with the formality levels.
Shirt patterns can also work with black jeans. Though, if you do go with a patterned shirt, keeping the pattern discreet is crucial.
Bold patterns will stand out too much and detract from the smart-casual nature of the outfit.
Patterns such as subtle checks or dots are optimal. Also, neutral-colored patterns work best – notably lighter ones.
2. Go For Dressy-Looking Black Jeans
Some may think that there aren't really any different kinds of jeans. However, this is not the case by any means.
Jeans come in many different fits, styles, and details, and choosing the right black jeans to wear with your dress shirt is essential.
We've split up jeans into different elements to help you understand the best black jeans to wear with a dress shirt.
Minimal Distressing
One of the most prevalent factors of casual jeans is distressing. From slight rips to gaping holes in the denim, distressing is hugely popular in denim.
Despite its popularity, distressing doesn't really have a place in formalwear or semi-formalwear.
That is to say, as a general rule of thumb, it's best to avoid wearing distressed jeans with a dress shirt.
While slight distressing may be acceptable, keep it to the minimum you can possibly manage.
Slim Fit And Tapered
There is a huge number of jeans fits on the market. And the difference between both extremes isn't insignificant.
Wide-leg jeans, for example, have – as the name suggests – incredibly wide legs. This makes them baggy and, therefore, inherently casual.
Conversely, skinny jeans sit extremely close to the body and can look and feel quite tight.
In reality, the best black jeans to wear with a dress shirt are regular or slim-fit, tapered jeans.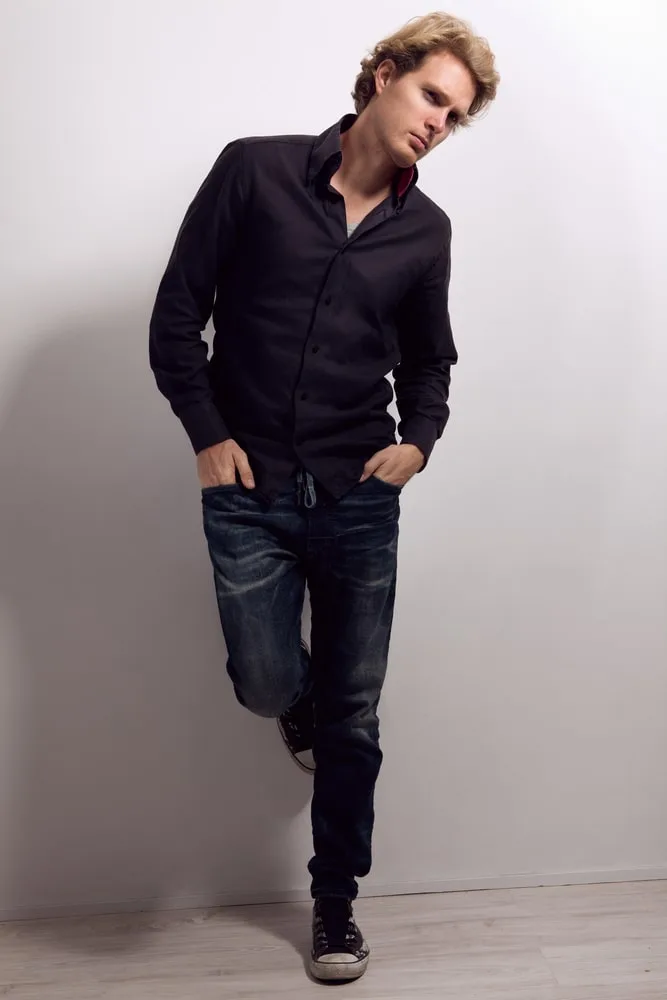 They will flatter your stature and maintain the appropriate formality levels.
The Perfect Length
Last but not least, consider the length of your jeans.
Cropped jeans are having a surge in popularity, while – on the other hand – some people opt for overly long jeans for a more 'grungey' look.
The truth is that the best-fitting jeans are those that sit just above the top of your shoe (provided you aren't wearing boots).
If your jeans are too long, you can always take them to a tailor to get them hemmed.
3. Consider A More Casual Dress Shirt Fabric
Black jeans are casual garments that can be dressed up with a dress shirt. Therefore, going for dressier jeans is optimal.
Conversely, dress shirts are formal garments dressed down by jeans, so it only makes sense to go for a more casual dress shirt.
There are aspects that can make a dress shirt more casual. Buttons on the collar and having no collar at all are a couple of examples of this.
However, arguably the main determinant in the casualness of a dress shirt is the fabric from which it's made.
Dress shirts can be made of many different fabrics, and the texture, quality, and overall feel of the fabric constitute a large part of the shirt's formality.
The Oxford weave is one of the more casual shirt fabrics and is a fantastic complement to black jeans.
Another example of a casual weave is in Herringbone dress shirts. It has a slight pattern which dresses it down somewhat.
Taking care of your dress shirt is important, regardless of its fabric, so ensure you iron it regularly and wash it using the correct settings.
Store your dress shirt on a coat hanger.
4. Semi-Formal Shoes Work Best
Generally speaking, shoes can be split up into four categories: casual, smart-casual, formal, and other (other being slippers, running shoes, etc).
By far, the best category to go with when wearing black jeans and a dress shirt is semi-formal shoes.
There may be a case for formal shoes; however, often, they're slightly too formal for denim and create a noticeable formality mismatch.
Therefore, the best ones to stick with are smart-casual ones.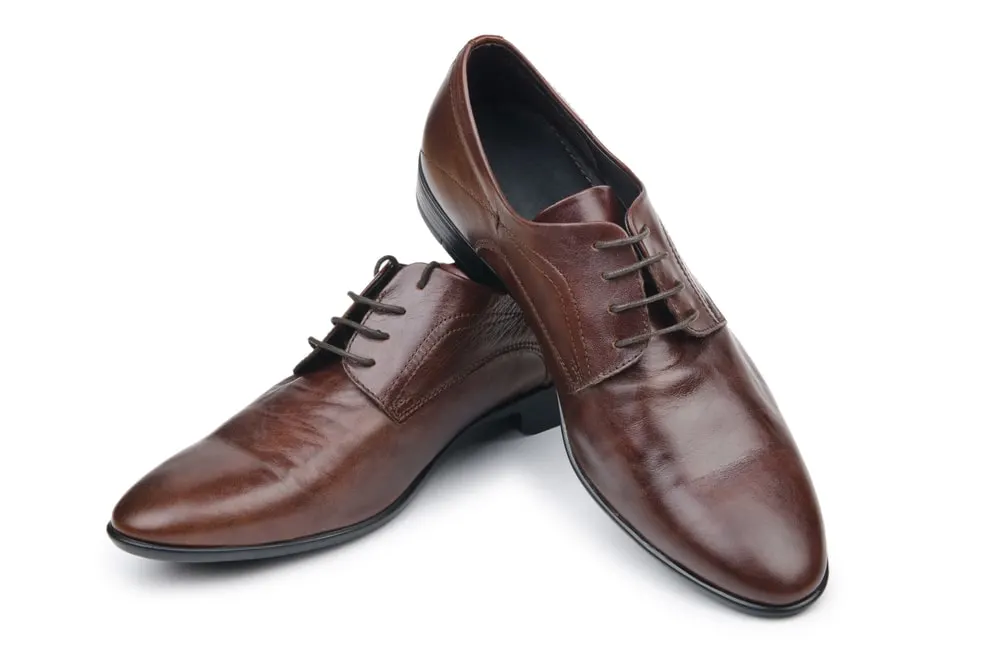 Some examples of popular semi-formal shoes are Derby shoes, loafers, monk straps, and shoes with broguing.
Broguing refers to "brogues" and is when shoes feature small, decorative perforations.
The reason smart-casual shoes work so well with this outfit is that they have the ability to dress up the denim without going overboard in doing so.
Whether you go for black or brown shoes is generally down to personal preference.
Black works particularly well for an understated, sophisticated look, as monochromatic outfits generally have that effect.
5. Tuck Your Shirt In
In order to maintain the smart-casual formality levels typical of this outfit, tucking in your shirt is pretty much a necessity.
Not only that but dress shirts are designed slightly longer than casual ones; they're designed to be tucked in.
Make sure you fully tuck in your shirt (all the way around your waistline) and wear a belt alongside it.
If possible, match the color of your belt to that of your shoes (black with black or brown with brown).
Also, slim or skinny belts are the best options for outfits of this formality level.
Worth noting is that it's important not to make the mistake of only partially tucking in your shirt.
This look is called the French tuck and is becoming more and more popular.
However, it's a casual tuck and should be avoided in any scenarios of even slight formality.
6. Layers Can Look Good
As with any smart-casual or semi-formal outfit, this look can really benefit from layering.
Garments such as blazers or sweaters (particularly crew and V-neck sweaters) look fantastic and dress up the outfit brilliantly.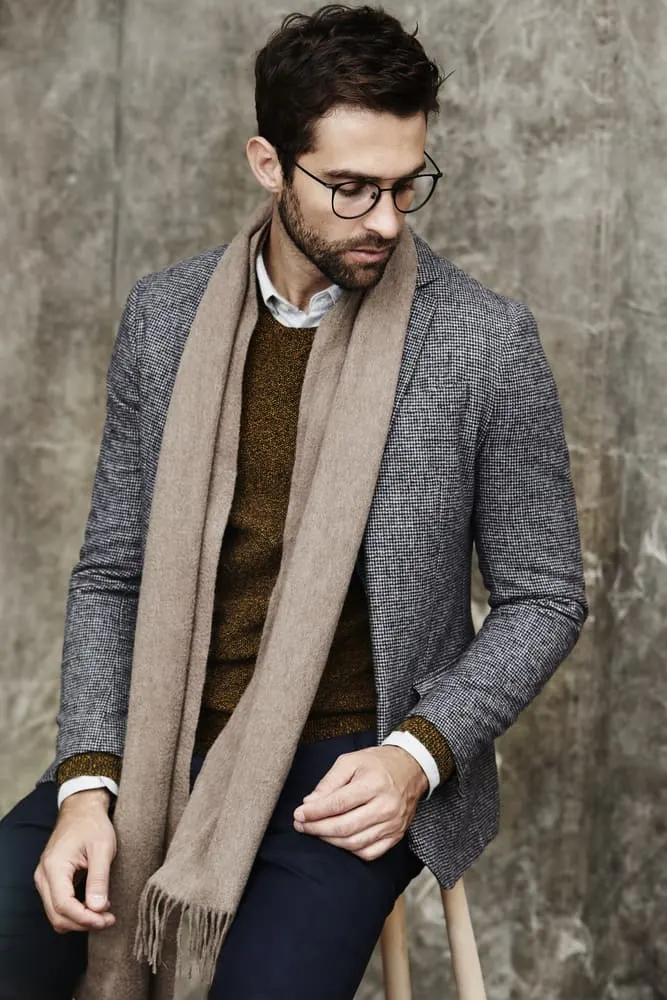 That being said, if you're wearing a layer or two over your dress shirt, it's important to do it the right way.
Ensure it fits well, and remember that darker, neutral colors, such as navy and charcoal, work best.
Additionally, if you go for a layered look, consider wearing a tie to really dress up the outfit.
Patterned ties can be a great way to add some personality and flair to your ensemble.
Remember that layering isn't an absolute necessity and whether you do it depends on personal preference.
If it's warm, for example, wearing an extra layer isn't recommended, as you'd only end up taking it off.