While it's true that wedding attire has become more laid-back in recent decades, there are still lines that should never be crossed. But the question is, can you wear a black blazer and jeans to a wedding?
A black blazer and jeans outfit shouldn't be worn to weddings due to how casual the jeans will come across. It'll potentially insult the wedding couple and make it seem as though you didn't make an effort for their special day.
While that's the short answer, there's a whole lot more to know.
After going through the main reasons why it's generally never a good idea in more detail, we'll run through a few great alternatives you could wear instead.
Let's get to it.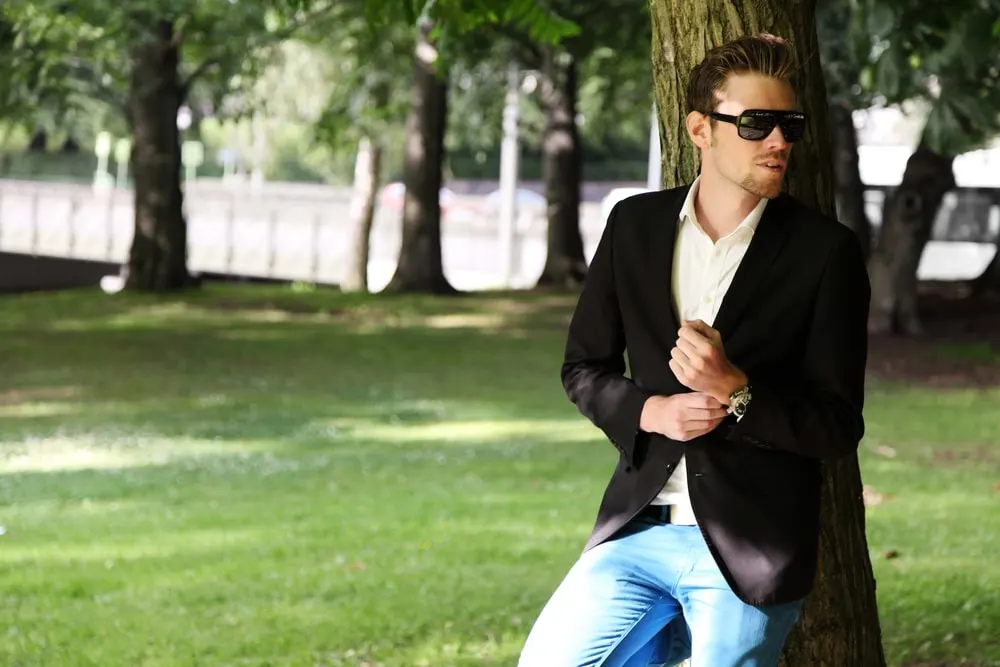 3 Reasons Why You Shouldn't Wear A Black Blazer And Jeans To A Wedding
These may not all be important to you, but there's a good chance that one or two of them will make all the difference.
Ultimately, you'll almost definitely decide against it.
It'll Look Like You Didn't Make An Effort
There's nothing worse than turning up to a wedding and being the most underdressed person there.
While a black blazer may be perfectly acceptable to wear to the ceremony, it's almost certain that a pair of jeans wouldn't be the best option.
In fact, it wouldn't even make the top five options.
Jeans are casual and shouldn't ever be thought of as anything else.
While they're great in casual settings – sturdy, comfortable, and aesthetic – they shouldn't ever be worn in situations where there's even a small risk of underdressing.
A wedding would definitely fall within this category.
Wearing a black blazer and jeans combination to a wedding is a quick and easy way to make it clear to the couple and the guests that you didn't really make an effort.
It wouldn't be the nicest feeling for anyone.
This is especially true when you're literally sounded by people in 2-piece suits.
It'll Embarrass Friends And Family
While there's a chance you may be a lone ranger at the wedding, it's more likely that you'll be interacting with close friends and family.
In other words, people that know you and perhaps even regularly associate with you.
If nothing else, you'll be with your significant other.
The bottom line here is that you'll most likely be with people that care about you and recognize you as one of their own.
Underdressing for the occasion doesn't just make you look bad. It also embarrasses those that closely associate with you, even if that may just be your significant other.
Instead, take the opportunity to dress appropriately for the occasion.
Dress to impress, but not too much. Overdressing for a wedding is also considered a faux pas. A simple 2-piece suit in a dark, neutral color will usually do just fine.
It'll Potentially Ruin Photographs
Wedding photographs are a mainstay of most modern and traditional weddings.
They're considered an "event", with coordination usually in the hands of an experienced wedding planner or a flustered groomsman.
They're costly, time-consuming, and let's face it – a hassle for everyone involved.
But ultimately, the result is a set of photographs the wedding couple will probably look upon for decades to come.
They'll show their kids who may in turn show their kids one day.
If nothing else, dress up for the photographs.
You don't want to be the only one in a photograph wearing a casual black blazer and jeans combination.
You'll stand out and the offense will be instilled in a photograph. Not a great look.
3 Alternatives To A Black Blazer And Jeans To Wear To Weddings Instead
In terms of better alternatives – there are plenty. But three alternatives, in particular, deserve a special mention.
A 2-Piece Suit
A 2-piece suit would usually be the safest option when attending a wedding.
This would be the case even when going to a "smart-casual" wedding, where a casual 2-piece suit would still be the better option.
In other words, instead of a conservative and formal-looking worsted wool suit, you'd consider a more rugged fabric or weave such as tweed, linen, or seersucker.
The point here is that no matter what the wedding dress code is, it's likely that a 2-piece suit would be the best option.
The style of suit you choose should be determined by how casual or formal the wedding is.
Because at the end of the day, a wedding could never really be casual – even if the couple says it is.
However, if you really feel as though a 2-piece suit would be too much for the wedding you're going to, consider the following two options instead.
A Black Blazer With Neutral Chinos
A black blazer and chinos combination is the most casual of these three alternatives, but would definitely be a better option than a jeans pairing.
While chinos should never be considered for truly "formal" weddings (where a suit would be essential), they could be considered for "smart-casual" weddings.
At the end of the day, chinos are often worn to smart-casual and business-casual events. They're very versatile.
However, if you do choose to wear chinos with your black blazer, go for a neutral color.
No burgundy, sage, or plum purple.
Stick to dark and neutral colors to reduce the contrast between the blazer and the pants.
Charcoal and navy blue are great options.
Black Blazer And Dress Pants
A black blazer and dress pants combination would be a notch more formal than a chinos pairing and probably a better option because of this.
Stick to the same principles, however.
Only wear it to smart-casual weddings where a suit wouldn't be necessary, and stick to dark and neutral colors.
How To Wear A Black Blazer And Jeans To A Wedding (If You Had To)
OK – so we've discussed why it wouldn't be a good idea at some length now.
But if you are intent on wearing the combination to a wedding, stick to the following tips to minimize the damage.
Go For Black Jeans
When wearing a black blazer and jeans to a wedding, black jeans would be a better option than blue, grey, or anything color.
Choosing black jeans should reduce the contrast between the blazer and the jeans and make the combination less attention-grabbing as a result.
In addition, black is generally considered the most formal color.
It's hard to deny that black jeans generally look dressier than blue ones in most contexts and settings.
Choose Tapered And Dark Wash Jeans
Turning up to a wedding in baggy, distressed jeans is much worse than attending in tapered, dark-wash jeans with minimal distressing.
Go for slim-fit jeans with a tapered cut. Avoid wide-leg, straight-leg, bootcut, and skinny jeans.
A tapered and slim-fit pair will always look dressier than the more attention-grabbing and casual fits.
"Distressing" refers to a manufacturing process where features such as rips, frays, and tears are intentionally included to produce a more worn-out and vintage aesthetic.
In casual settings, distressed jeans can look great.
But when attending a wedding, it's hard to think of a worse offense.
So, if you do wear a black blazer and jeans to a wedding, choose a pair with no distressing at all.
Combine Them With Other Formal Items
The blazer and jeans are just part of the equation. In order to make sure it looks dressy enough it's important to combine them with formal items.
What you want to do is mix in typically "formal" items to compensate for how casual the jeans look.
So, consider a pocket square. Nothing too bold or in-your-face. A simple pocket square in a neutral color with a subtle straight or puff fold.
Wear dress shoes – either black or dark brown. Derby shoes would be the best option, as Oxfords are likely to look too formal when worn with jeans.
Finally, go for a white dress shirt.
While dress shirts can sometimes look awkward when worn with jeans, it's tough to justify wearing anything more casual to a wedding.
Conclusion
Avoid it whenever it's possible to do so. As you can see, there are several alternatives to a black blazer and jeans combo that would be much more appropriate to wear to a wedding.
Ultimately, it's more than likely that a 2-piece suit of some variety would be best. But if you feel as though it would be too much, go for a pair of chinos or dress pants instead.
Enjoy.

Ready Sleek founder. Obsessed with casual style and the minimalist approach to building a highly functional wardrobe. Also a fan of classic, vintage hairstyles.