For the majority of men, underdressing is generally more feared than overdressing. Ambiguous dress codes don't make it any easier these days. It begs the question; are chinos formal?
Chinos aren't traditionally considered formal pants, but they're often formal enough for dress codes such as semi-casual and smart-casual. They wouldn't be formal enough for dress codes such as cocktail attire, business formal, or black tie.
Some chinos have features that make them look more "formal", such as center creases, welted or jetted pockets, and a slimmer fit. Although this provides versatility, it still wouldn't make them appropriate for truly formal dress codes.
So, the question shouldn't be whether they're formal, but rather whether they're formal enough.
The fantastic versatility of chino cloth does allow you to wear it in a huge range of settings and for a wide range of occasions.
But knowing when they're appropriate to wear, as well as when they don't quite make the cut is important.
I'm about to run through when you can wear them and when you shouldn't.
Following this, I'll talk you through what the real differences are between chinos and truly formal pants (dress pants) are.
But first, it's important to get to grips with the fact that chinos themselves can look either more casual or more formal depending on what features they have.
Let's get to it.
Casual Chinos Vs Formal Chinos: The Differences
It's true that chinos will never be as formal as wool dress pants. They'd never be considered appropriate for anything more formal than smart-casual (a.k.a business-casual).
But chinos are still more formal than jeans, which makes them ideal when you're looking to dress up just a little.
If you're looking to wear chinos for a slightly smarter affair, for example, a semi-casual or smart-casual dress code, you may want to choose a more formal-looking pair.
Yes, not all chinos are made the same. There are certain features that can make them look more formal and others that can make them look more casual.
Always bear this principle in mind:
If they have features that resemble jeans, they're more casual. In contrast, if they have features that resemble dress pants, they're more formal.
Here are some examples of how to differentiate casual chinos from more formal-looking ones:
Flat-front chinos look more casual, whereas center creases down each leg look more formal.
Pleats look more formal.
Cuffed hems look more casual.
A slimmer fit looks more formal than a relaxed fit.
Decorative stitching looks more casual, whereas having barely visible stitching and seams looks more formal.
Patch pockets are more casual, whereas welted pockets and jetted pockets are more formal.
Darker colors such as navy blue and charcoal gray will always look more formal than lighter colors.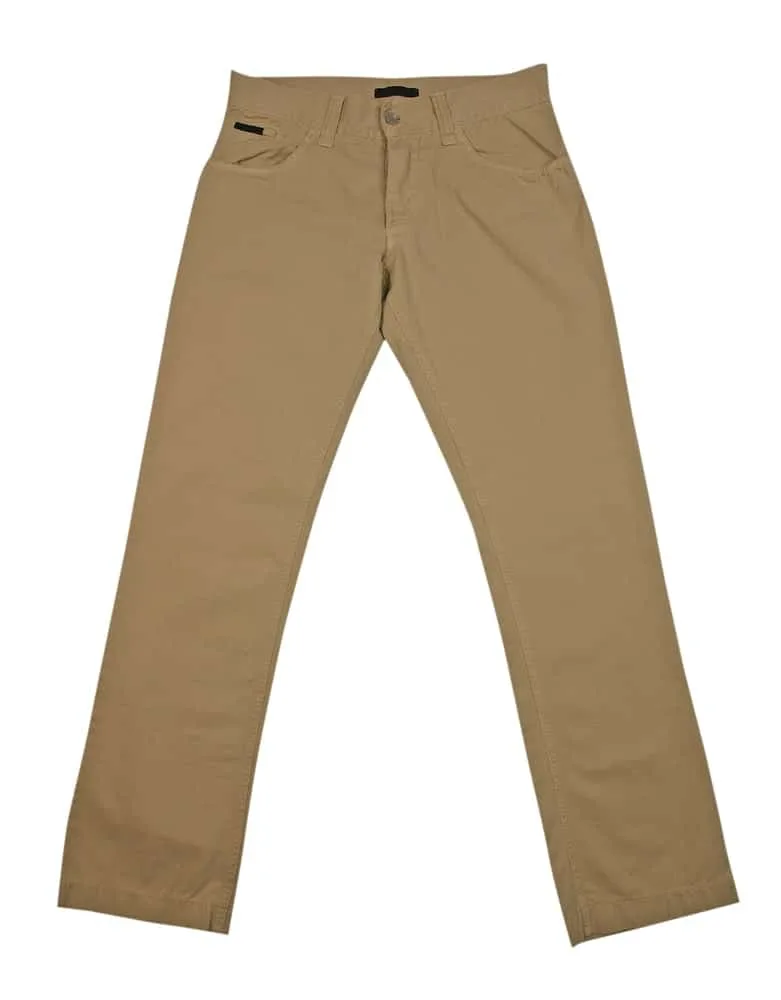 Dress Codes Where Chinos Are Formal Enough
I'm going to leave out the obvious "casual" dress code. Chinos would, of course, be suitable for going to the movies with the family or heading to the grocery store.
Here are the other two dress codes where chinos would almost always be considered formal enough.
Semi-Casual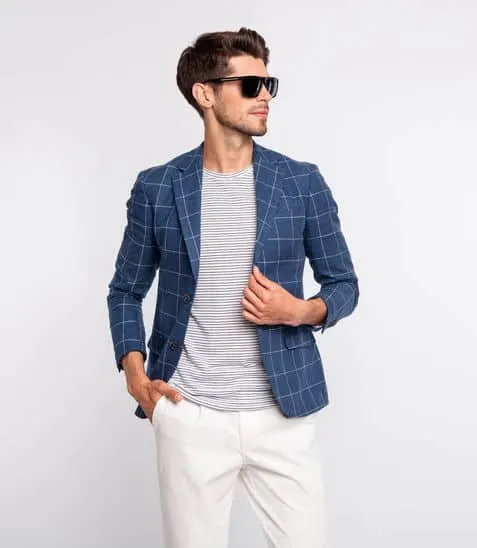 Example occasions – First date, garden party, rooftop bar.
Don't get me wrong – you won't ever get an invitation to an event that says "semi-casual" in the same way you'd get one that says "smart-casual".
It's just a term for dressing casual but not too casual.
"Semi-casual" is one notch more formal than "casual". Sure, you can wear T-shirts and sneakers. But you'll be dressing it up a little.
Maybe a turtleneck sweater. Perhaps a nice sports coat to go over that T-shirt. Or maybe level up the T-shirt by going for a polo shirt instead.
Chinos are ideal for semi-casual attire because they lie in that sweet spot between casual and formal. They're incredibly versatile and the number of potential settings and occasions you could wear them for is huge.
So, if you feel as though jeans are just a little too casual for that trendy rooftop bar, a pair of chinos will most likely work a treat.
Smart-Casual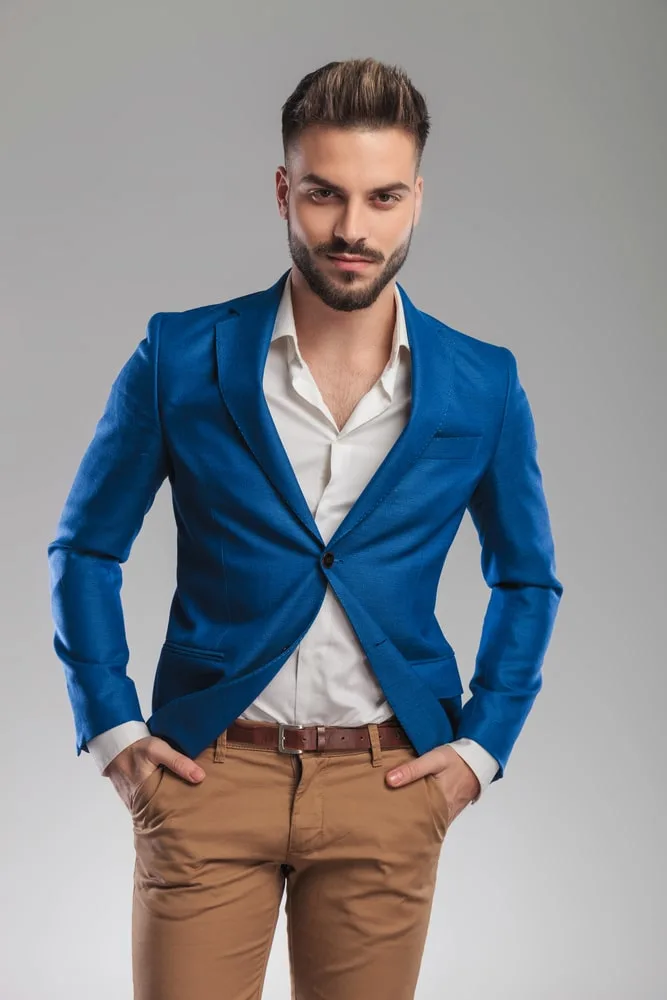 Example occasions – Modern workplaces, office parties, casual weddings
"Smart-casual" is just another term for "business-casual". Always think of the two as one and the same without overcomplicating it.
Smart-casual is an infuriatingly ambiguous dress code that can leave a man quivering with a mixture of frustration and desperation.
It's one notch more formal than semi-casual.
But what does it mean and are chinos formal enough for it?
So, smart-casual should be considered a spectrum. You've got occasions and settings that lean more towards the "smart" end of the smart-casual spectrum, and others that lean more towards the "casual" end.
Ultimately, it usually refers to outfits where you're mixing traditionally casual items of clothing with more formal or "business" items of clothing.
Chinos are usually considered ideal. They're almost the go-to pair of pants for smart-casual outfits.
They're casual enough to still come across as laid-back and relaxed.
They're also formal enough to easily pair well with traditionally more formal items of business attire such as blazers, dress shirts, neckties, and Derby or Oxford shoes.
As I described in the section, go for a more "formal" pair of chinos to make sure this look really pops. Choose a pair with center creases, a slim-fit, and in a darker color if possible.
Dress Codes Where Chinos Are Not Formal Enough
You'll notice that all we're doing is getting more formal with the dress codes here. These are dress codes where you'll want to leave your chinos on the shelf and reach for those wool dress pants instead.
There are probably a few other dress codes you've heard brandished around, but to keep things simple I'll be talking about three big ones – business formal, cocktail attire, and black tie.
Although black tie is obvious enough, business formal and cocktail attire often aren't.
Business-Formal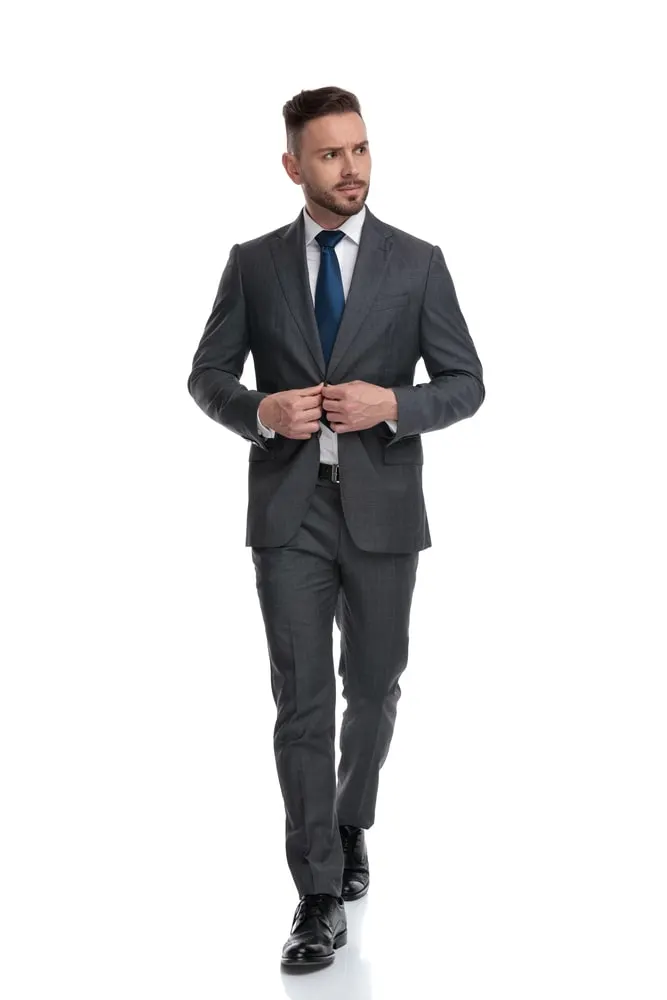 Example occasions – Corporate workplaces, interviews, board meetings, funerals.
As though it wasn't confusing enough, business-formal is also known as "business attire" or "boardroom attire".
It's essentially just professional clothing worn to more formal workplaces. Having said that, it would also be entirely appropriate for other formal settings such as funerals.
These are settings in which you'd be expected to wear a full 2-piece or 3-piece single-breasted suit. In other words, a matching jacket and pair of pants made from the same roll of fabric.
Chinos will not cut it – it simply isn't formal enough. The texture of chino cloth is simply too rugged and casual.
Plus, you should never pair chino pants with a suit jacket. It'll usually look immediately obvious, awkward, and inappropriate.
Usually, the smooth sheen of wool fabric is more appropriate for this formal dress code. You'll most likely be wearing a dress shirt with a necktie as well.
A dark pair of Oxfords or at the very least Derby shoes will be necessary.
Cocktail Attire
Example occasions – The more formal weddings
You'll most likely come across this dress code in wedding invitations. It can often seem frustratingly ambiguous and unclear, so it's important not to overcomplicate it.
Confusingly, it isn't as casual as you might think when you hear the term "cocktail". Once again, chinos will not be formal enough.
In terms of formality, it's pretty much at the same level as business-formal. Plus, the professional outfits you wear as business-formal could easily double up as cocktail attire.
You could almost see it as wearing business-formal clothing for a different purpose (eg. weddings) and giving it a new name.
Sure, you may get a little more dressy with it. After all, it's for a celebration as opposed to an interview.
You may add a few accessories (eg. a pocket square) and perhaps a lighter colored suit.
But simply put, you'll still be wearing a full suit and chinos will always look too casual for the occasion.
Black Tie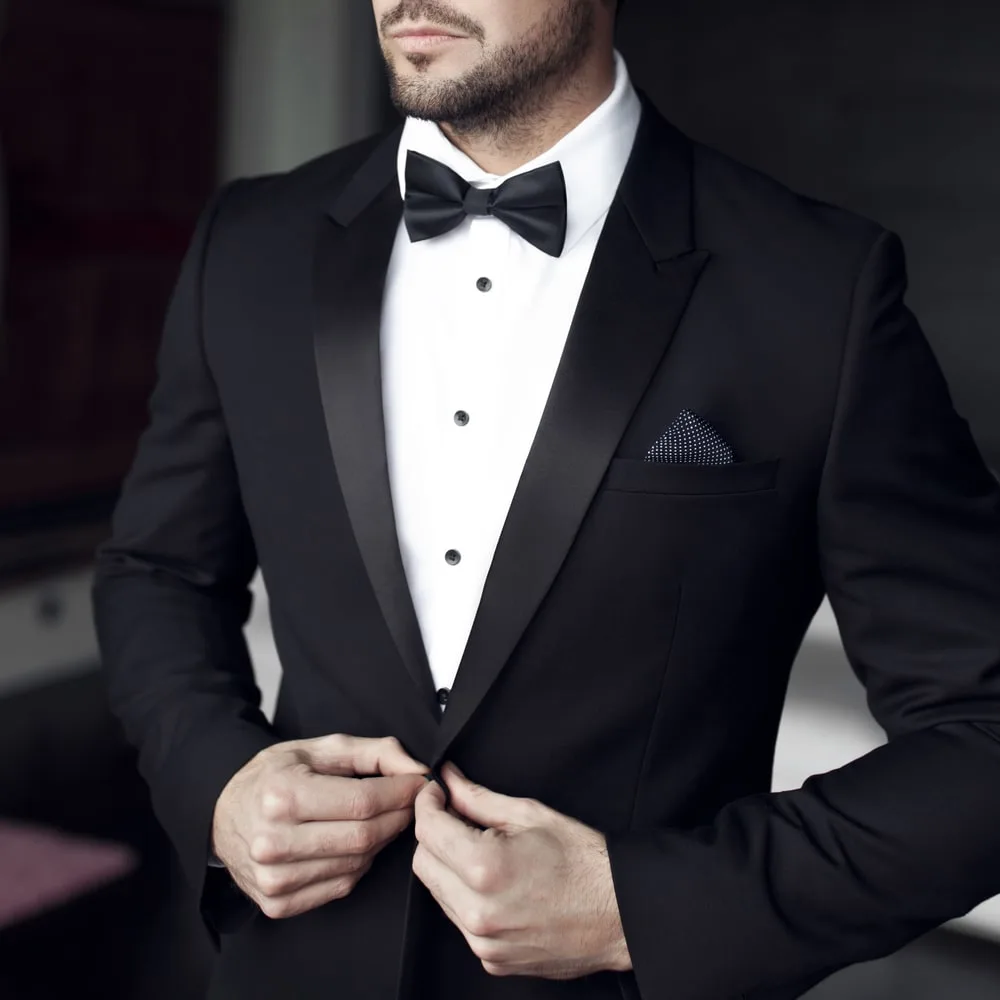 Example occasions – Usually social functions
This one is the most obvious, so I won't go into too much detail.
Wearing chinos to a black tie event would be a horrendous crime indeed. Fortunately, there are few men who would dare to commit it.
Black tie events demand a traditional tuxedo; it usually consists of a tuxedo suit jacket, matching dress pants, a bow tie, black dress shoes, and sometimes more.
No, never chinos.
Black tie is formal, but it can get more formal. Dress codes such as "morning dress" and "white tie" are more formal and as you'd expect, chinos are also out of the question.
The Difference Between Chinos And Formal Pants
The main difference between chinos and formal pants (i.e dress pants) is that dress pants are usually made from wool, while chinos are made from cotton twill.
Wool will always look and feel more formal than cotton, which in turn will look more formal than linen.
The most formal wool commonly found in dress pants is worsted wool.
Ultimately, the shiny, smooth appearance and soft texture of woolen dress pants (slacks) will always look more formal than chinos.
As explained earlier, there are features of chinos that would be considered more "formal". But these aren't always found.
But they would be expected in any pair of dress pants.
Center creases, welted or jetted pockets, and a lack of decorative stitching are considered normal in dress pants. Pleats will often be found as well.
Yes, you may find them in chinos. But it isn't anywhere near as common.
Can You Wear Chinos With Formal Shirts?
Chinos can be worn with formal shirts (i.e dress shirts) very effectively in smart-casual outfits.
Traditional dress shirts have formal features. They're usually made from a woolen fabric, have a higher thread count, a noticeable sheen, and a plain, stiff collar.
When wearing chinos with formal dress shirts such as these, you'll want to choose a more formal-looking pair.
Combining a smart-looking dress shirt with an old, regular, casual pair of chinos is going to be a mismatch.
Alternatively, you could go for an Oxford Cloth Button Down (OCBD) shirt. It's an extremely popular shirt style made from Oxford cloth.
Technically still considered a dress shirt, the OCBD has less of a sheen to it than the traditional, true dress shirt and is characterized by its button-down collar.
This all gives it a much more casual appearance.
You could wear an OCBD with even regular, casual pairs of chinos with no trouble. It will still look appropriate and well-matched.
Can You Wear Chinos With Formal Shoes?
Chinos can be worn with a variety of different formal shoes (i.e dress shoes), with Oxfords, Derbys, Monkstraps, and Loafers being popular choices.
Once again, you'll want to try and ensure that the chinos you wear match the dress shoes you wear in terms of formality. In other words, choose more "casual" chinos with more "casual" dress shoes and vice versa.
Broadly speaking, here are the four dress shoes ranked from most formal to least formal:
Oxford Shoes
Derby Shoes
Monkstrap Shoes
Loafers
Oxfords and Derbys pair well with chinos in smart-casual outfits. Casual weddings and office parties would be example settings.
Monkstraps and loafers, on the other hand, pair well with chinos in semi-casual outfits. Again, think first dates or nights out.
There are certain features to look for in dress shoes that will always make them look more formal or less formal.
Brogue patterns look less formal than having no pattern at all.
Darker colors look more formal than lighter colors. Black will always look the most formal.
Leather looks more formal than suede.
Lacing (Oxfords and Derbys) is more formal than slip-on (Monkstraps and Loafers).
Closed lacing systems (Oxfords) are more formal than open lacing systems (Derbys).
Taking this into account, a tan brown, brogue pair of Oxfords would look less formal than a dark brown pair of Oxfords or even Derbys with no pattern.
Take all of it into consideration when deciding exactly which formal shoe would work best with the specific chinos you want to wear them with.
Are Certain Chino Colors More Formal?
In general, solid, neutral, and dark chino colors will always look more formal. In contrast, lighter shades and pastel colors look more casual.
Black, navy blue, and charcoal gray are ideal colors for formal pairs of chinos. The beauty of it is that these neutral, muted colors will combine and coordinate well with many other items in your wardrobe.
But if you're looking to keep it formal and understated, try and stick to neutral colors throughout your outfit.
Conclusion
Chinos may not be appropriate to wear for every occasion. But the number of settings you can wear them in is pretty remarkable.
Because of this, every man should have an understanding of how to find the right pair of chinos for their specific circumstances.
Hopefully, this article has taken you one step closer.
Ready Sleek founder. Obsessed with casual style and the minimalist approach to building a highly functional wardrobe. Also a fan of classic, vintage hairstyles.