The trouble with combinations as classic as this one is that there are too many ways of doing it. When wearing a white T-shirt with jeans, it's easy to get overwhelmed by the choice and resort to simply wearing the combo in the same way every time.
What you need is a set of simple, yet effective looks you can always fall back on when you're feeling uninspired.
I'm about to show you a wide range of different ways to wear a white T-shirt with jeans.
We'll use different jeans colors as well as different outer layers with the same white T-shirt to spice things up.
Let's get to it.
1. Under A Button-Up Shirt
Items: Black Button-Up Shirt, White T-Shirt, Black Jeans, Relaxed Grey Wool Coat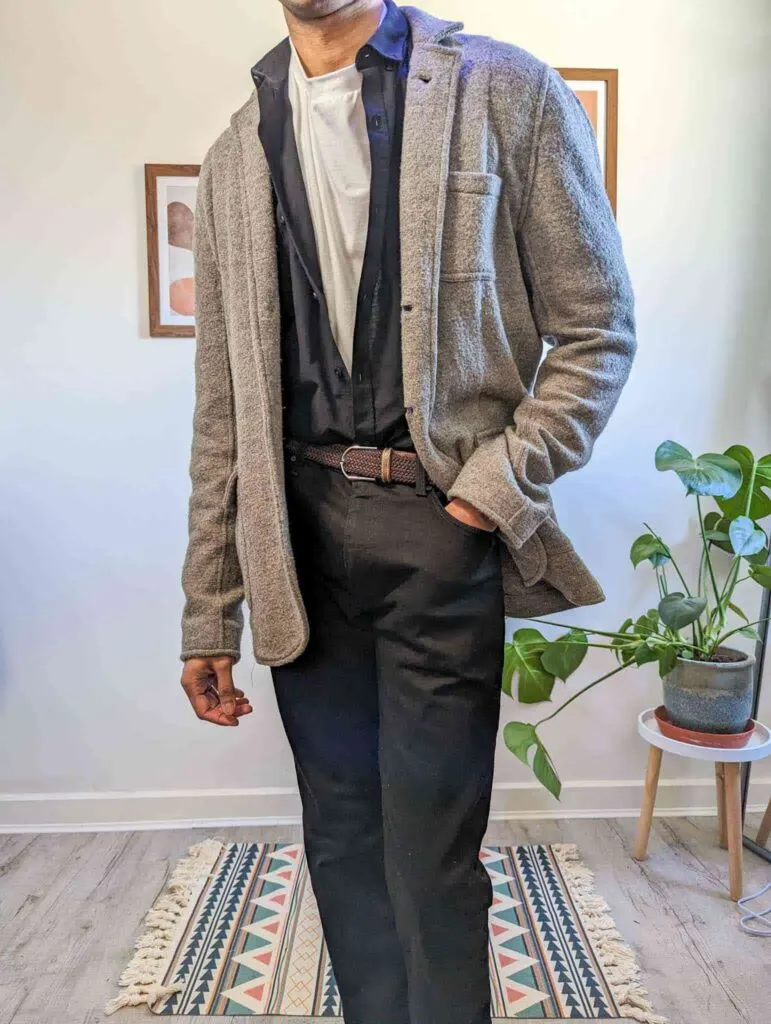 Wearing a button-up shirt over the white T-shirt is a pretty easy and common layering option.
While you could easily wear the black button-up shirt unbuttoned and untucked, I like to button one or two of the bottom buttons and then tuck it in.
It just looks sleeker and sharper. I don't always do it, but when wearing a smart pair of tapered black jeans (the Levis 512s) I think it works better.
In addition, it allows the white T-shirt to peek out through a nice V-shaped gap formed under the button-up shirt.
The grey wool coat works well here, mainly because of the color scheme.
We're left with a grey, black, and white combo. It's "grayscale" or "monochrome". Whatever you call it, it works.
2. With A Shawl Collar Cardigan
Items: Navy Shawl Collar Cardigan, White T-Shirt, Light Blue Jeans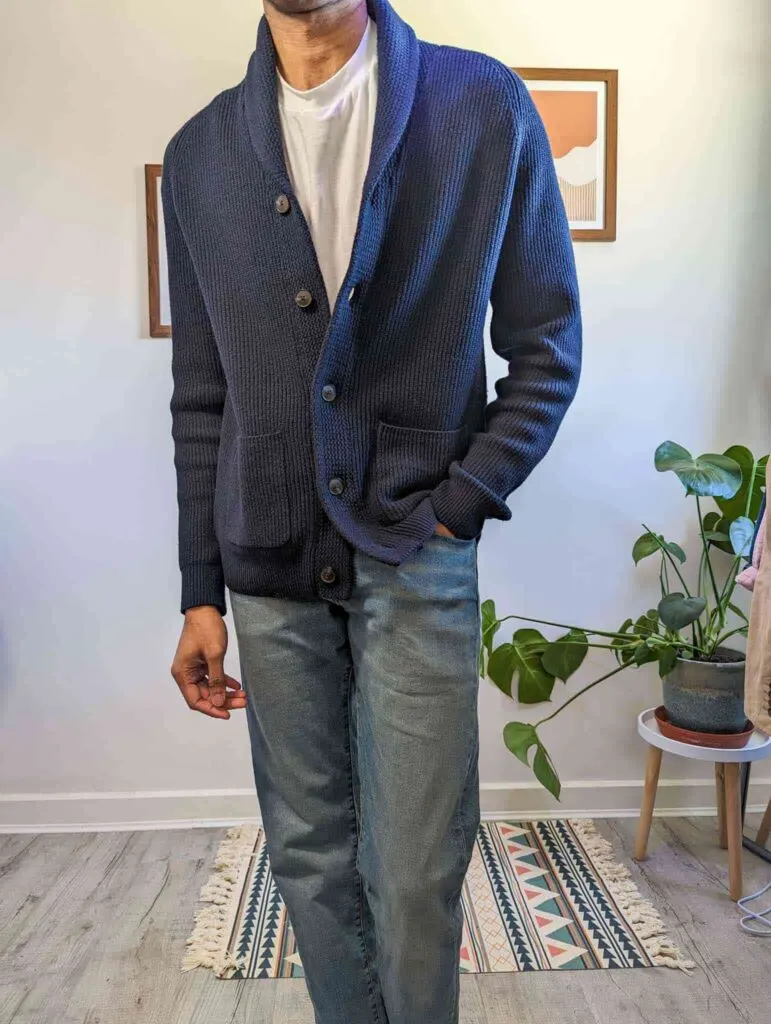 A shawl collar cardigan is a great way to dress up a white T-shirt and jeans outfit by just a touch.
Not too much, but enough to make it clear to people that you've made an effort.
There's something about the shawl collar that just oozes a subtle sophistication. It's rare to find people that wear shawl collars and don't care about style at all.
I've gone for light blue jeans here (Levi's 511s) instead of dark blue, simply to create some contrast between the cardigan and the jeans.
It's monochromatic, but the textures and shades are different enough to make things interesting.
3. With A Tan Blazer
Items: Tan Blazer, White T-Shirt, Dark Blue Jeans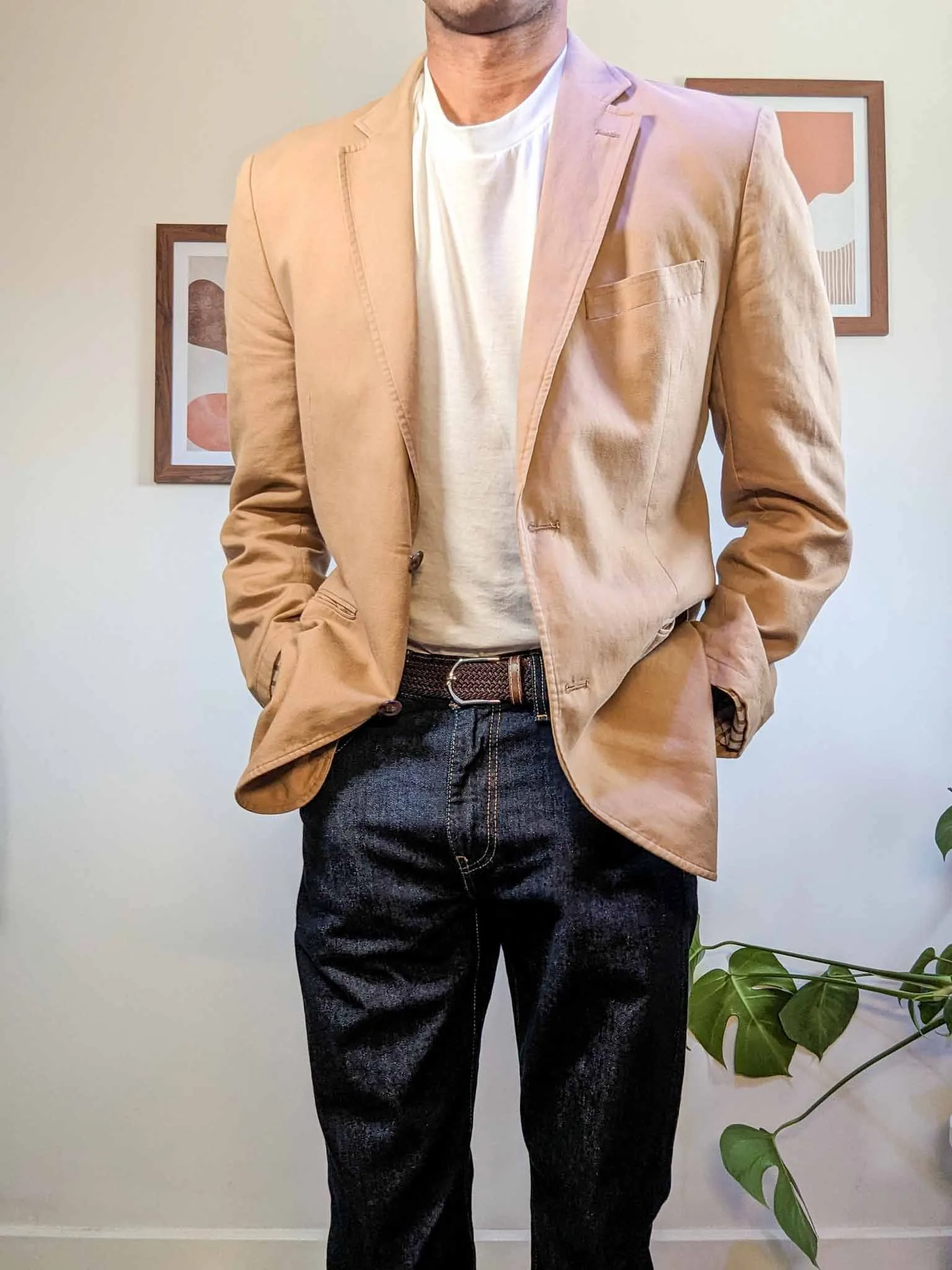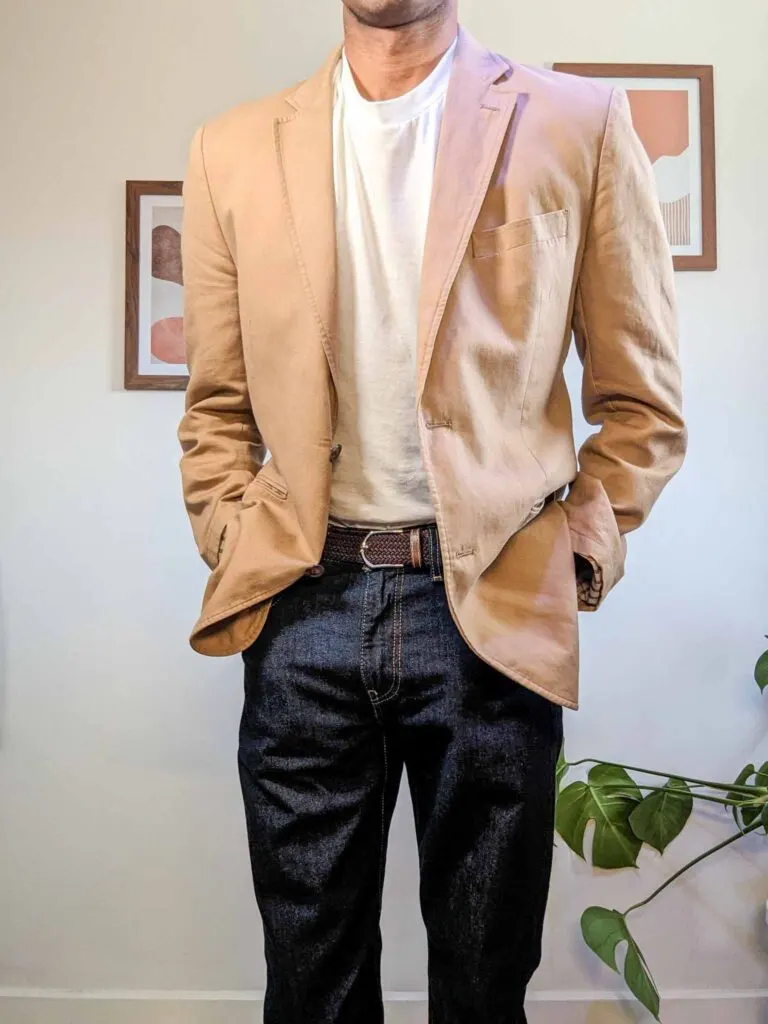 A blazer or sport coat is a subtle and simple way to dress up a white T-shirt. What's great about tan and other shades of brown is that they're laid back and look great with blue denim.
If ever in doubt, it's pretty hard to go wrong with blue and brown as a color combination.
But the root of what we're doing is simply dressing up a simple white T-shirt and jeans combination with an item that's typically more "formal".
The blazer I've gone for, however, is a relaxed cotton blazer in a color that's generally considered casual (tan).
Going for a casual blazer color and style is a great way to reduce the risk of a formality mismatch between the casual T-shirt and jeans combo and the blazer.
4. Under A Utility Shirt
Items: Muted Blue Utility Shirt, White T-Shirt, Light Blue Jeans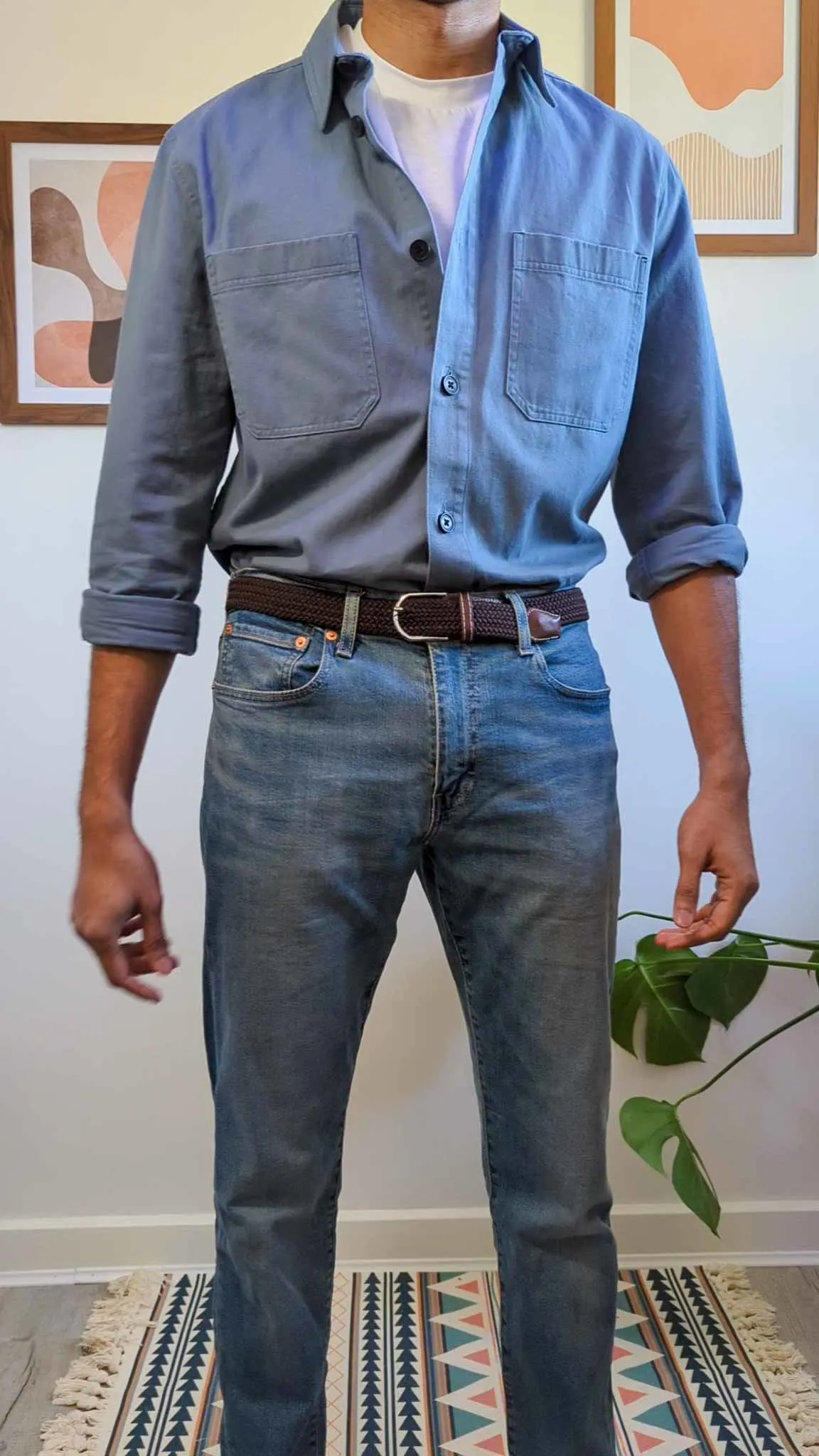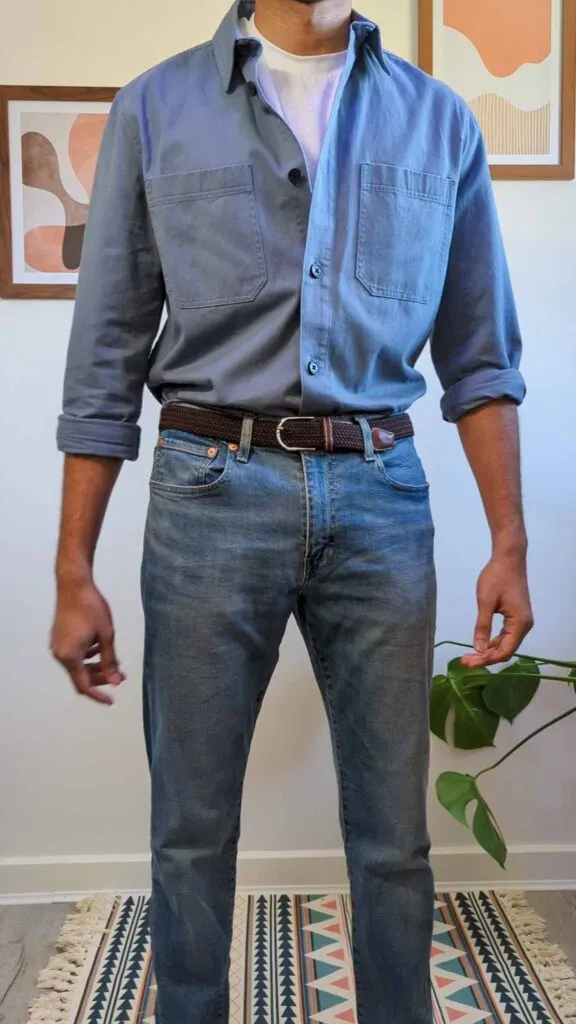 A "utility shirt" can be difficult to define, but I like to use the following set of criteria to differentiate them from normal button-up shirts:
Oversized (at least a little)
Heavier cotton material
Large patch pockets
Possibly larger and more prominent buttons
Here, I'm wearing a blue utility shirt over a white T-shirt and with light blue jeans.
Leaving the utility shirt untucked produces a more rugged and workwear-inspired aesthetic.
But buttoning a couple of buttons and leaving it tucked often makes it look a little more interesting.
I like the way the bulkiness of the shirt leads to puffiness when tucked.
It produces a nice silhouette as an overshirt, especially when combined and contrasted with a pair of slim-fit jeans.
You could go for any jeans color you wanted here. I went for light blue simply because I really wanted to lean into that "smart workwear" aesthetic.
5. With An Overcoat Or Trench Coat
Items: Camel Overcoat, Black Jeans, White T-Shirt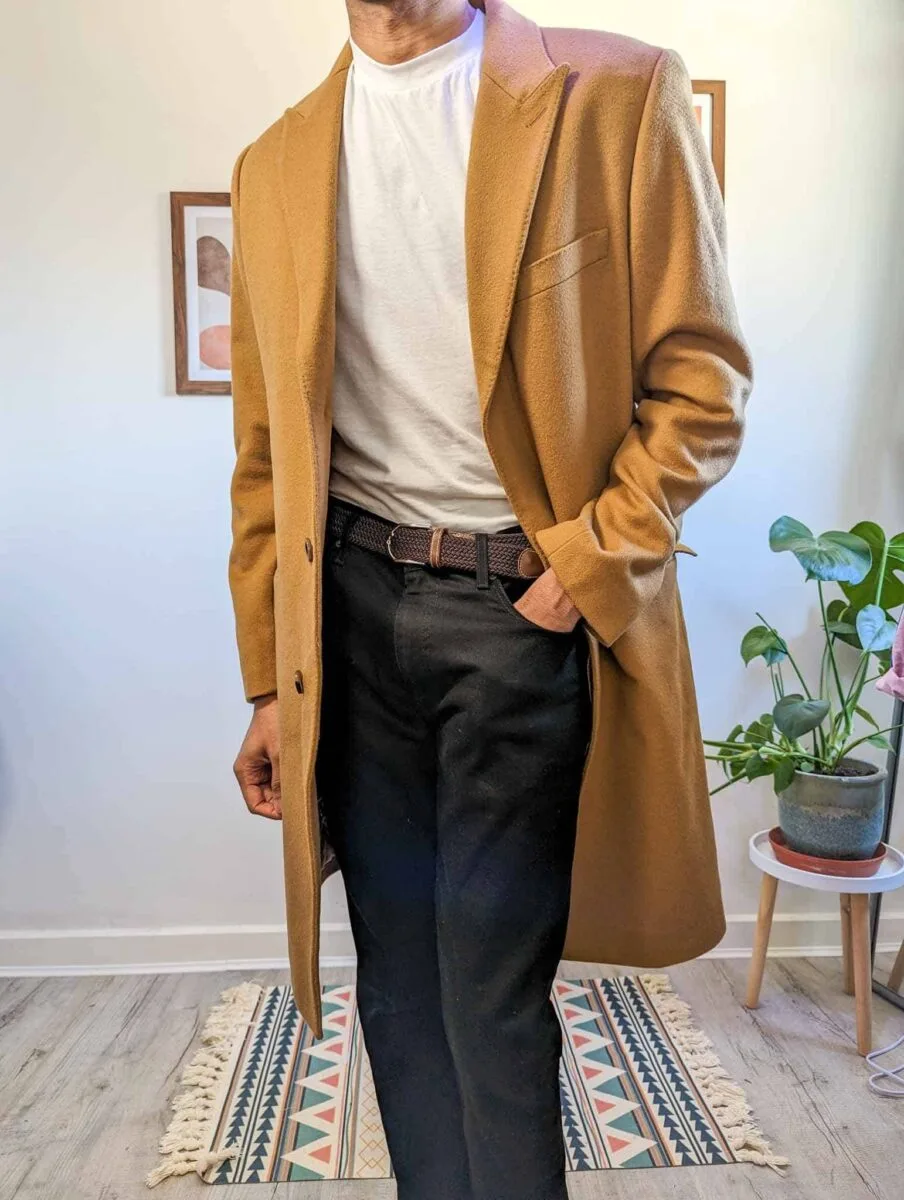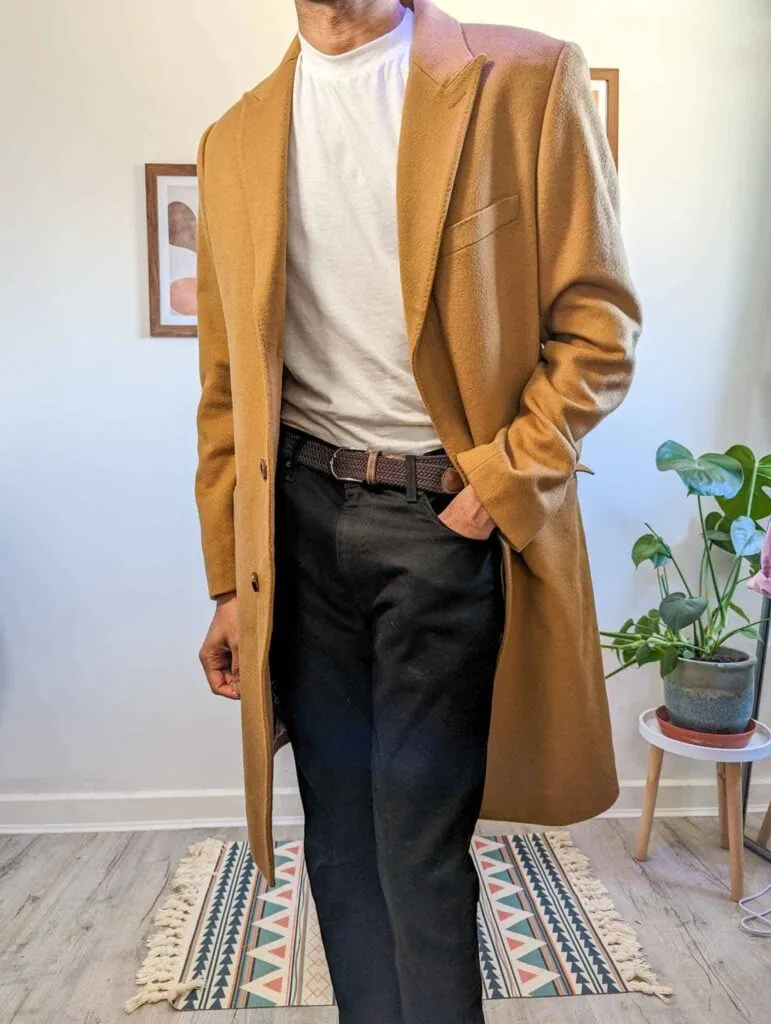 White T-shirts are versatile enough to wear any style of outerwear and get away with it.
You could wear the most formal overcoat you can get your hands on and it would probably work out alright.
Here, I've gone for a camel overcoat (the J. Crew Ludlow) and a pair of black jeans.
The black and brown combo often works well, despite what people may say. Don't be afraid to combine them.
One reason why black jeans may be a better option than blue here is that they look dressier.
When wearing a dressy coat, dressier jeans tend to make more sense.
The white T-shirt does sync well with the outfit as a whole. Tucking it in produces a sharper aesthetic – again, it tends to make more sense when wearing a formal coat.
6. On Its Own
Items: White T-shirt, Dark Blue Jeans, Dress Watch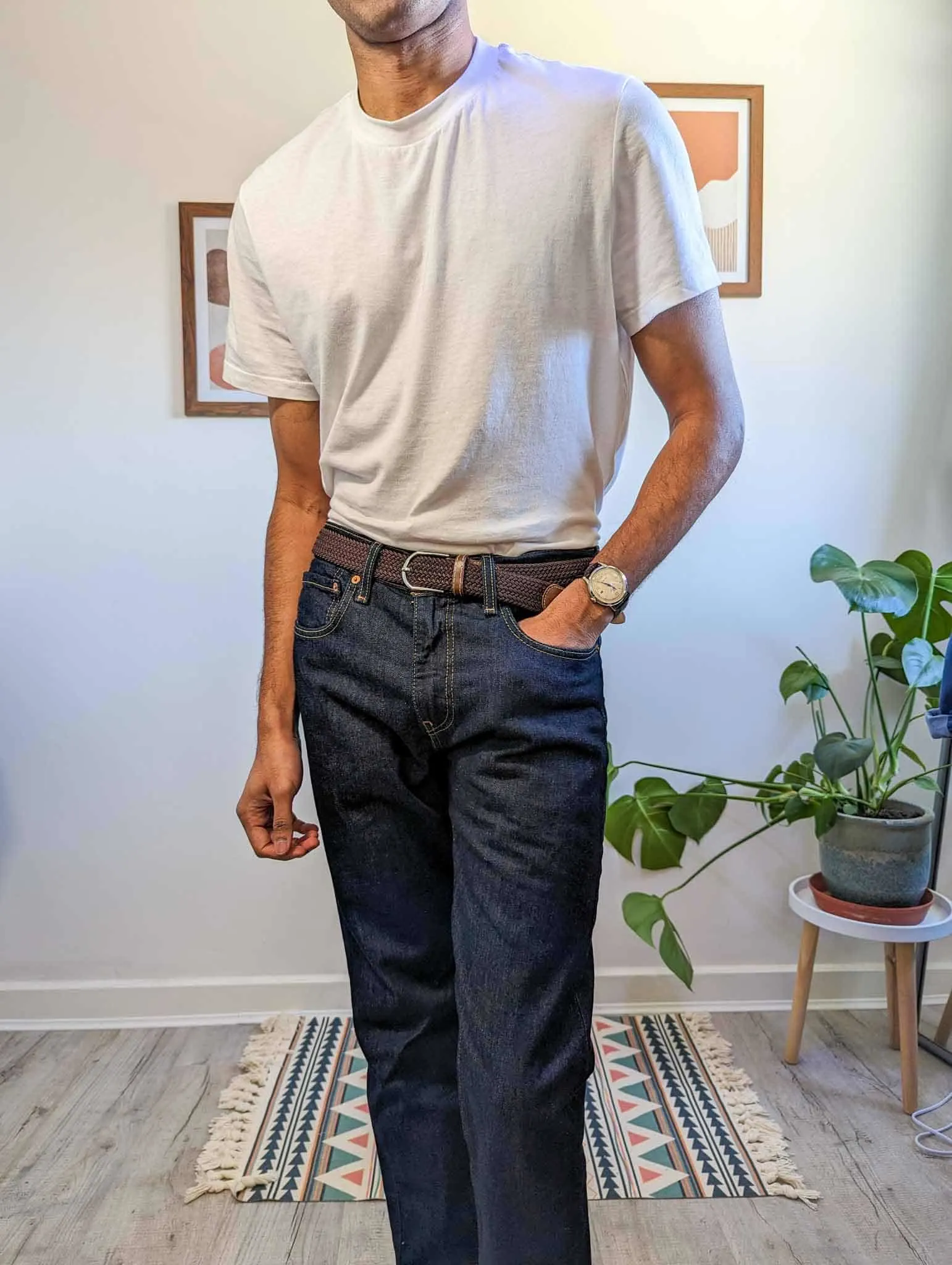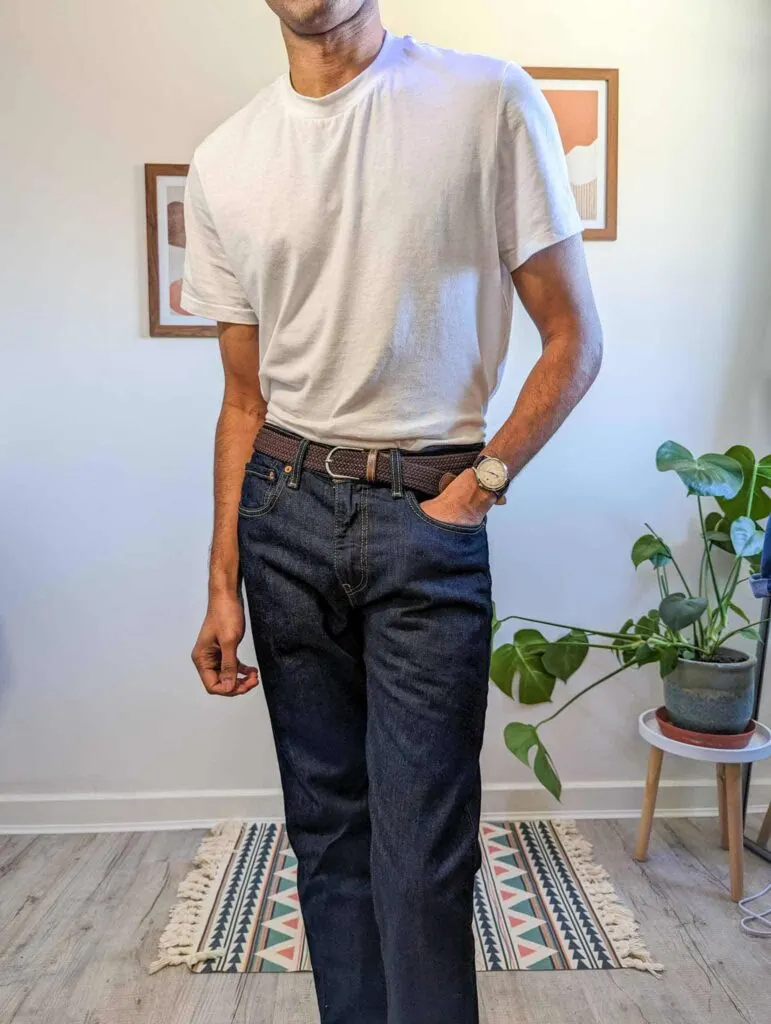 Here's a simple one – just wear it on its own.
At the end of the day, the white T-shirt and dark blue jeans combination isn't exactly revolutionary.
But it's hard to deny that it's a combination that doesn't fail.
Try to find ways of making it more interesting.
Tucking it in would be a good start. It produces a more tapered silhouette at the waist. It also sticks to the "rule of thirds".
The top part of your outfit takes up 1/3 of the outfit while the bottom part takes up 2/3.
While the science behind this is beyond me, in general, it leads to an aesthetically pleasing outcome.
Other ways of making the outfit a little more interesting include adding accessories.
Necklaces, chains, belts, watches, sunglasses, hats, and so on.
They're simple ways of letting people know you're wearing a white T-shirt and jeans combination but still making an effort for whatever occasion you're attending.
They're also useful when you're in the middle of a particularly warm summer and outer layers aren't exactly an option in any case.
7. French Tucked With Sleeves Rolled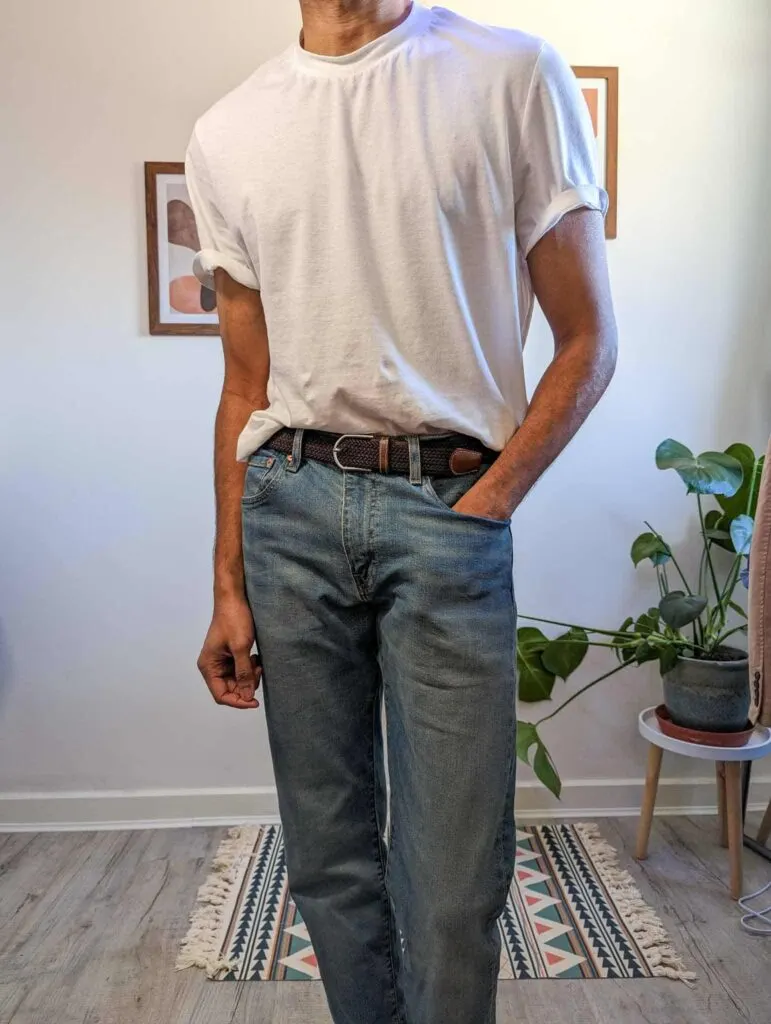 Here's another way of making an extremely simple combination just a little more interesting without having to add more layers.
The "French tuck" has grown in popularity recently and simply refers to this laid-back half-tucked appearance.
Tucked at the front but untucked at the sides and back.
It makes the outfit a little more interesting (although probably won't appeal to everybody) with minimal extra effort.
Rolling the sleeves of the T-shirt is a trend that seems to wax and wane in popularity, but it's another way of making a simple white T-shirt a little more eye-catching.
8. With A Double Denim Combo
Items: Dark Blue Denim Jacket, White T-Shirt, Light Blue Jeans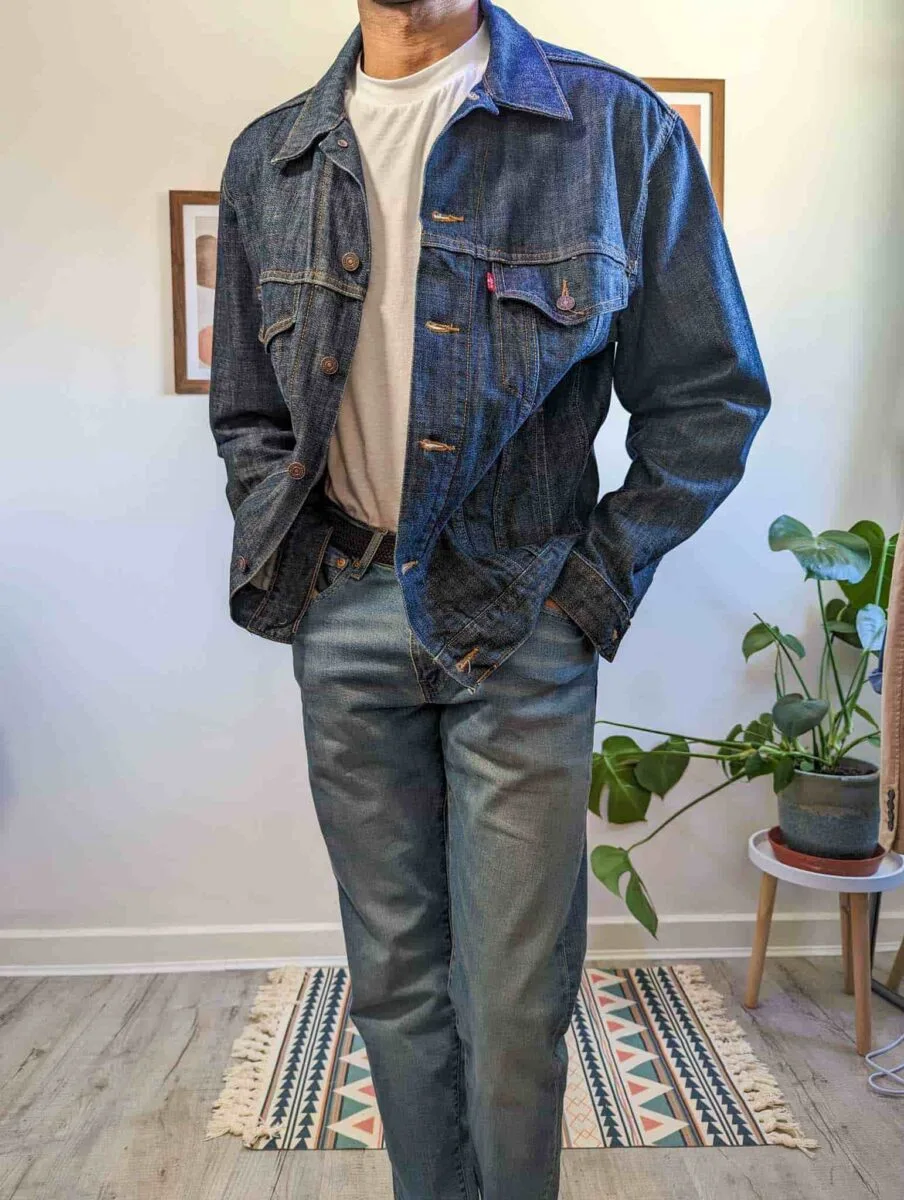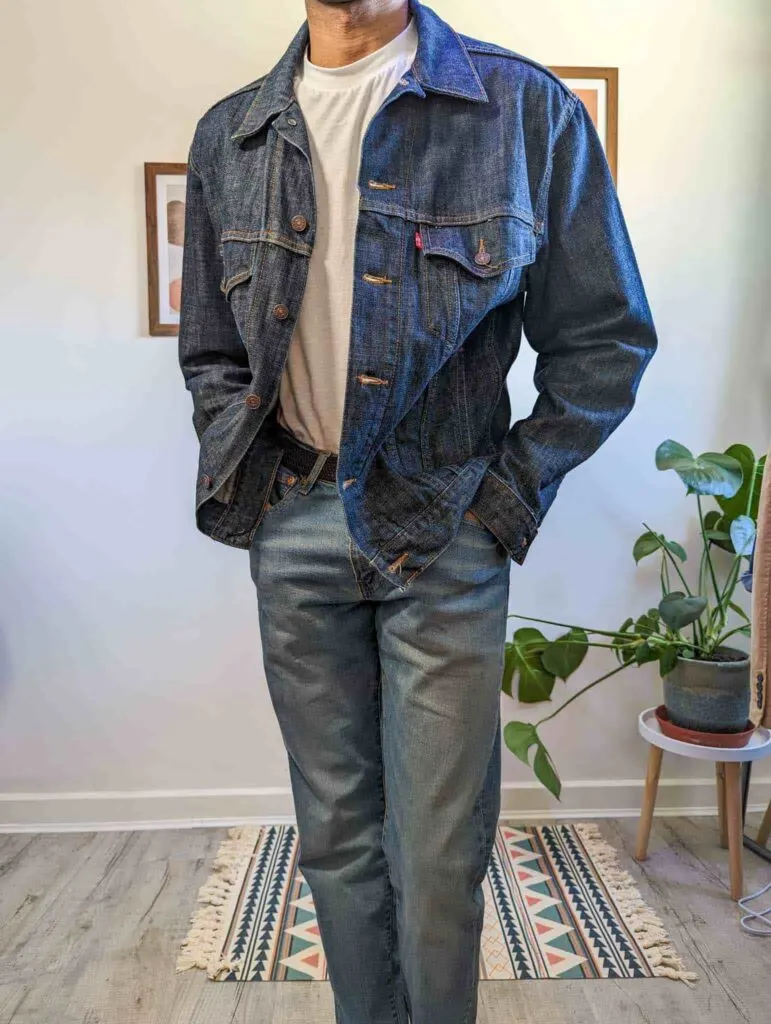 Wearing denim-on-denim (i.e the Canadian tuxedo) isn't everyone's favorite combination, but it's a great option when you're really looking to dress down.
Here, I've gone for a dark blue denim jacket with a pair of light blue jeans.
The trick to making denim-on-denim work is using different colors and shades.
The dark blue denim jacket is clearly a different shade from the light blue jeans. Because of this, the denim-on-denim combo doesn't come across as "too much denim".
Add a white T-shirt into the mix to tie the two items together and you're left with a denim-heavy outfit with enough contrast to work.
9. Under A Leather Or Suede Jacket
Items: Black Leather Jacket, White T-Shirt, Black Jeans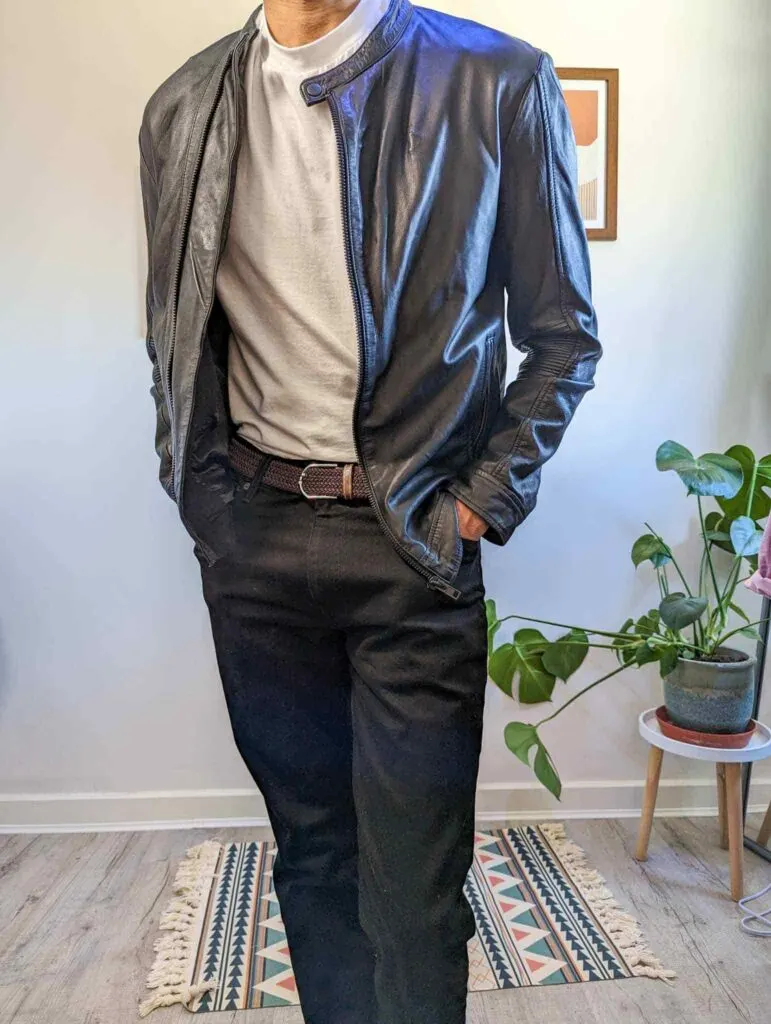 Here's a slick one. The black leather jacket + black jeans combination has an edgy and effortless look to it.
You could easily go for a black T-shirt here and be left with an effective monochromatic combination.
But the black and white color scheme we've got here just looks a little more eye-catching to me.
The brown belt is a nice way to add a touch of warmth and contrast to the outfit as a whole.
There are many different styles of black leather jacket you could go for, some with more structure/padding and others with a softer and more relaxed silhouette.
This one is from Selected Homme and is on the more relaxed and soft end of that spectrum.
10. Under A Flannel
Items: Red Flannel Shirt, Dark Blue Jeans, White T-Shirt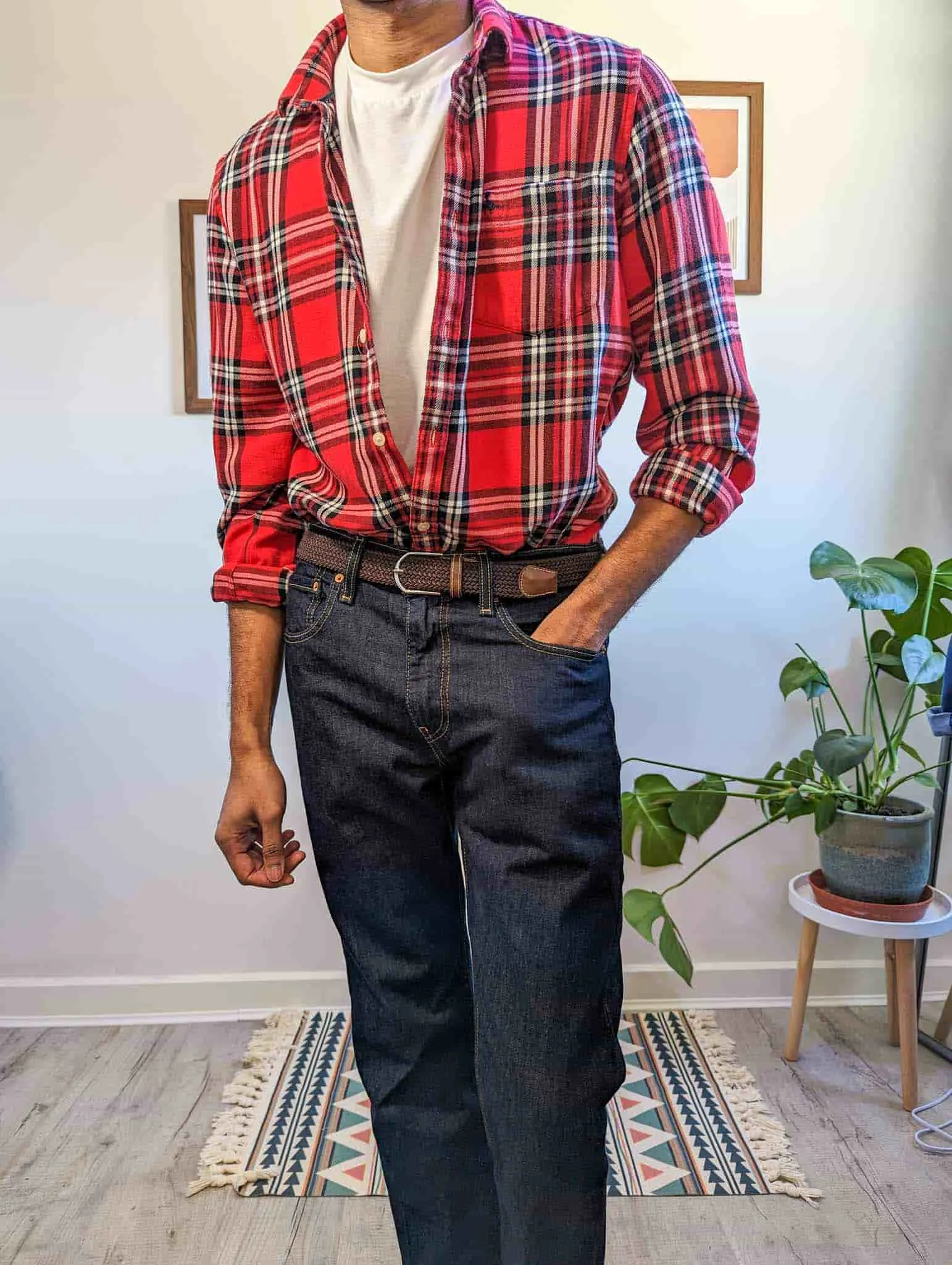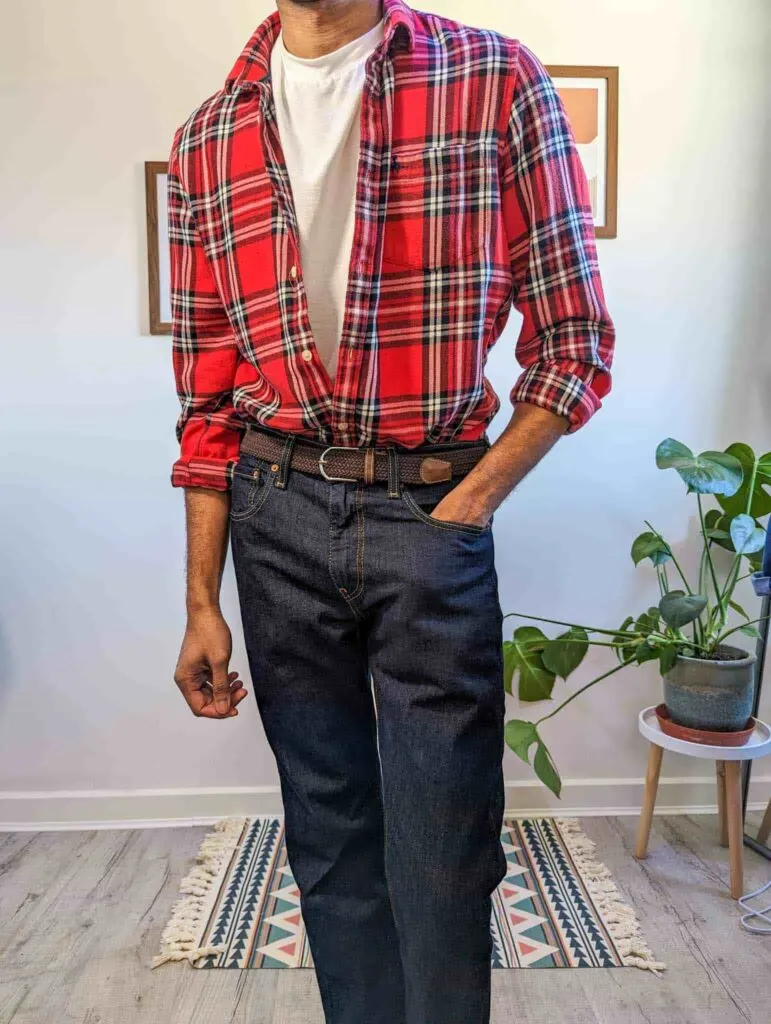 Flannel shirts in bright and bold colors look great when layered over a white T-shirt.
At the end of the day, white is neutral and gives you the opportunity to go as bold as you want with your outer layer.
Color coordination doesn't even need to be considered.
While most people leave their flannel unbuttoned and untucked, I've defaulted to my favorite unbuttoned and tucked look here.
Either way, add a pair of dark blue jeans into the mix and you're left with a subtle and smart workwear combination.
11. As An Undershirt
Items: White T-Shirt, Beige Polo Sweater, Dark Blue Jeans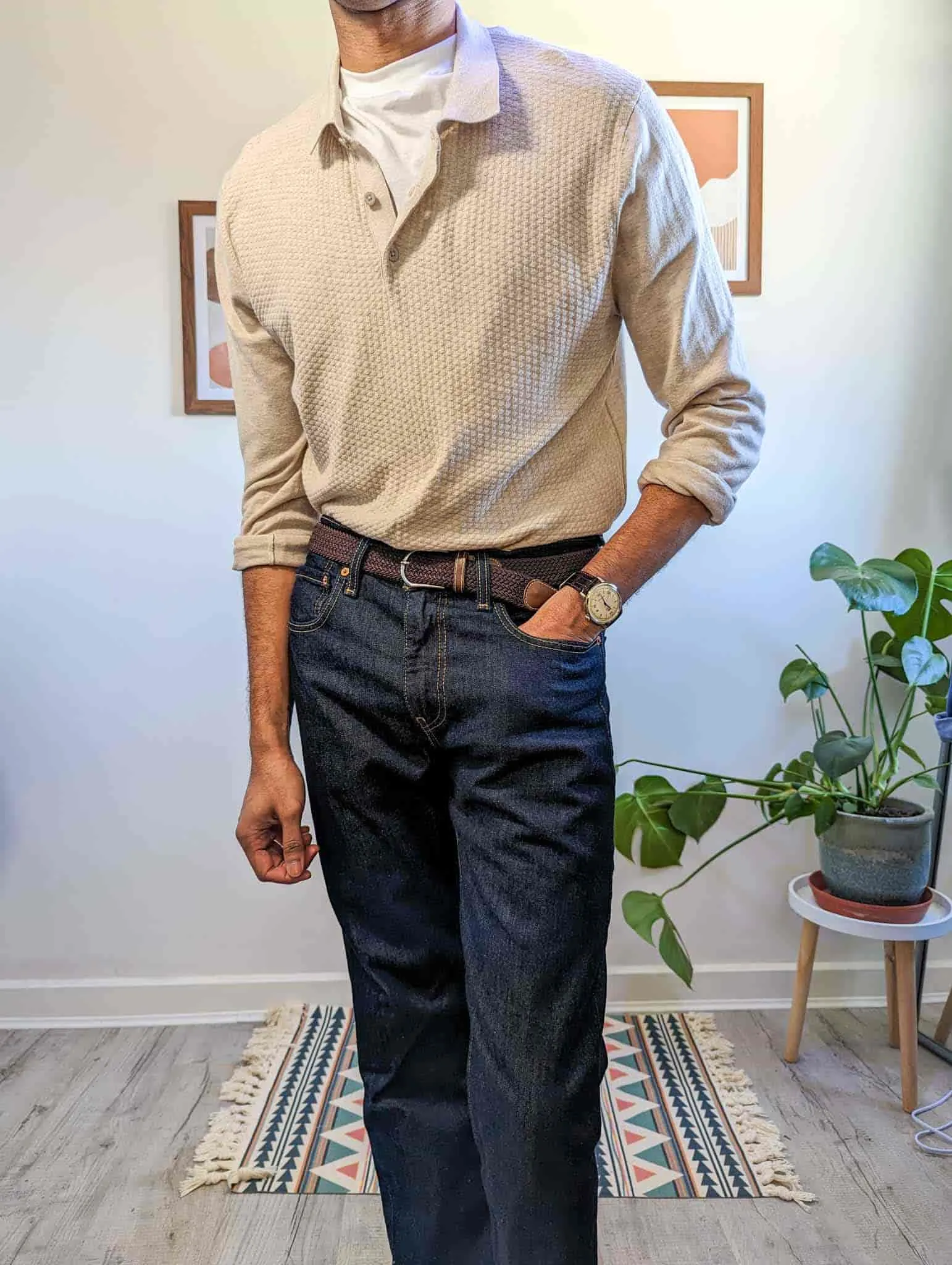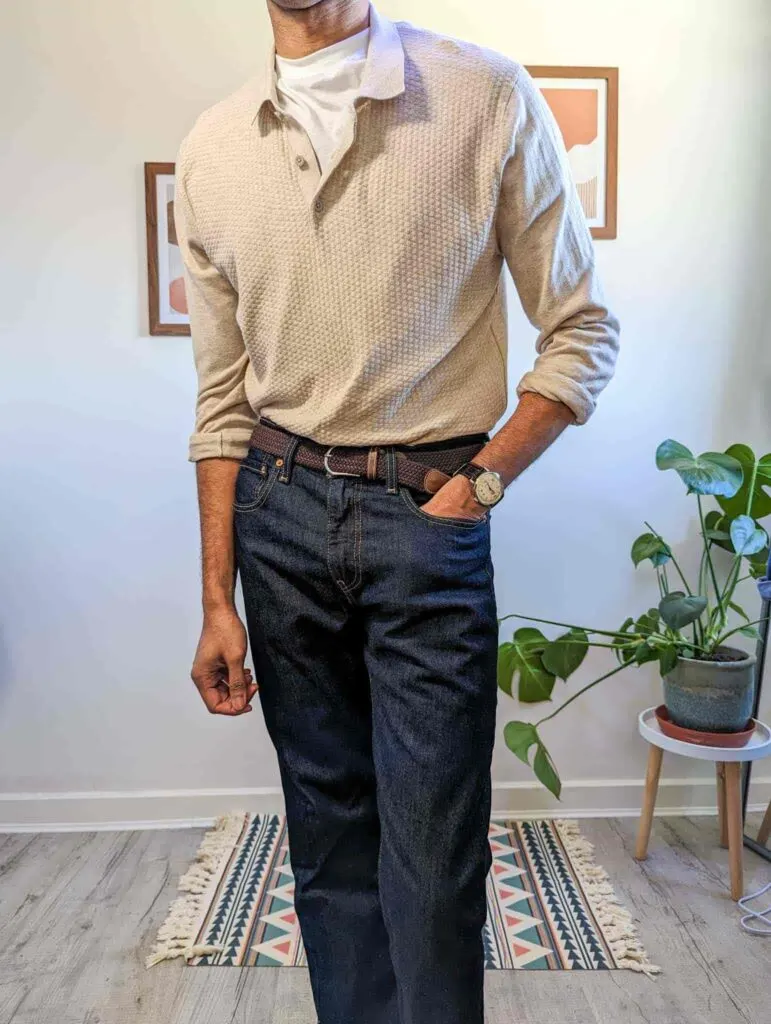 Finally, consider wearing your white T-shirt as an undershirt that doesn't even necessarily need to be visible.
I've gone for a polo neck sweater here – the white T-shirt can easily be seen under the collar and placket.
But if you were to go for a crew neck sweater instead, for example, the white T-shirt would be barely (if at all) visible.
What I like about wearing this outfit, however, is that the white T-shirt is being used as an undershirt, but is still visible enough to form part of the outfit.
Ready Sleek founder. Obsessed with casual style and the minimalist approach to building a highly functional wardrobe. Also a fan of classic, vintage hairstyles.