White and grey – what could go wrong? Well, not much, but there are definitely better ways of wearing it as well as worse ways. So, how exactly should you wear a white shirt with grey jeans?
Casual white button-up shirts and non-distressed dark grey jeans work well in smart-casual settings. In truly casual environments, white T-shirts, polos, and Henleys can be worn with jeans in lighter shades of grey and those with distressing.
While that's the short and sweet answer, you'll need a whole lot more than that.
After going through some outfit examples to get your imagination flowing, we'll run through some essential tips for perfecting this combination in every setting.
Let's get to it.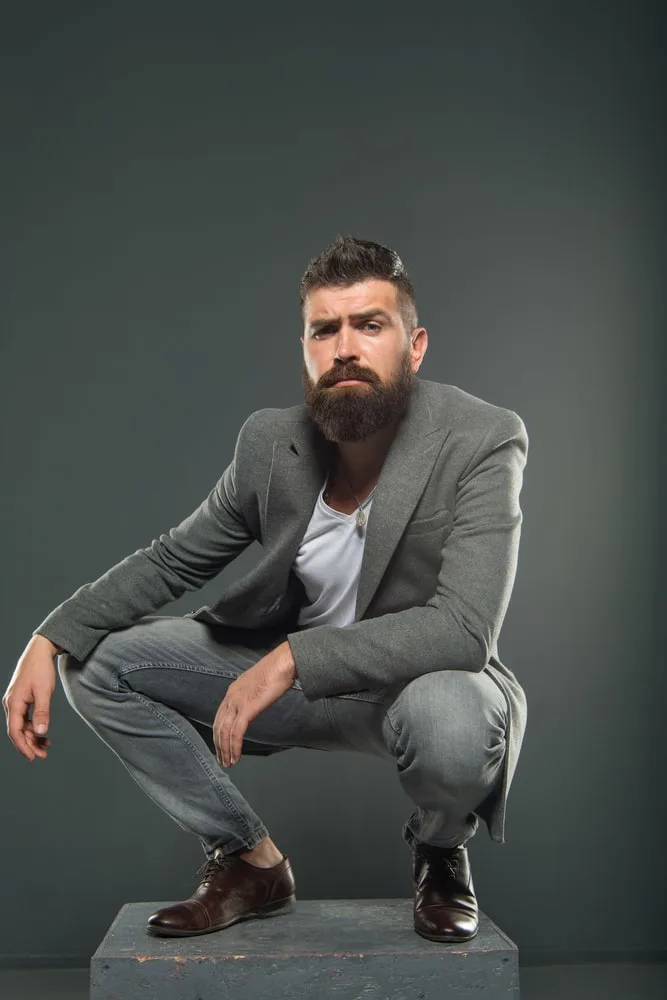 3 White Shirt And Grey Jeans Outfits
As always, we're going from the dressiest wear of wearing it all the way down to the most casual way.
Enjoy.
Dressy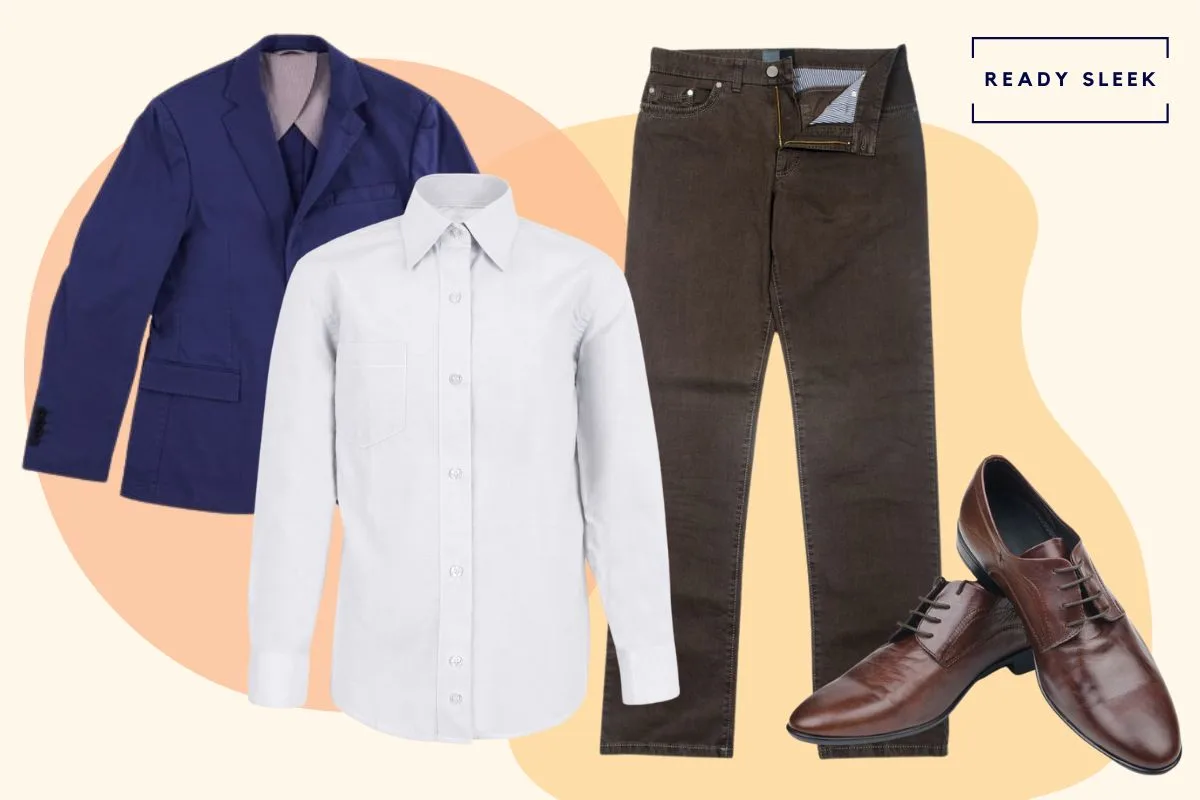 Items: White Button-Up Chambray Shirt, Dark Grey Non-Distressed Jeans, Dark Brown Derby Shoes, Relaxed Navy Sport Coat/Blazer
This outfit would be ideal for a smart-casual setting. Ultimately, this really the most formal dress code you should be wearing a white shirt and grey jeans combo to.
You'd never really wear it in a truly formal, professional, or business-casual setting.
A white "button-up" could refer to a huge range of shirt styles with some looking much dressier than others.
Here, we've gone for a white chambray shirt. It looks more casual than a dress shirt and is more likely to pair well with denim.
The grey jeans we've gone for are dark and non-distressed. Two "dressy" jeans features you should aim for when going for a more sophisticated jeans ensemble.
Dark brown Derby shoes would work well here. They're "formal", but not so formal that they look out of place with the jeans.
While you could comfortably leave it at that and simply wear a neutral-colored overcoat over the shirt, consider a navy blazer if you really want to elevate the outfit.
More Casual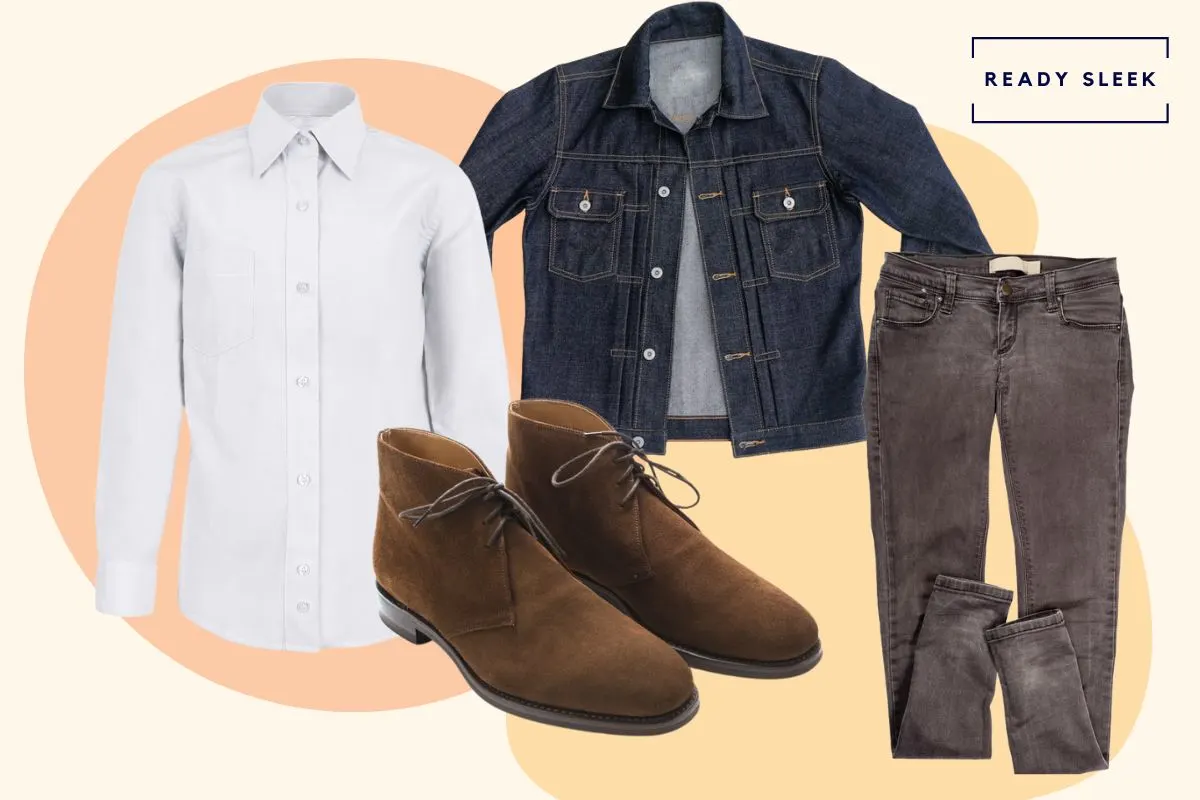 Items: White Button-Up Shirt, Blue Denim Jacket, Mid Grey Jeans, Suede Chukka Boots
If you feel as though a blazer would be a little excessive, consider layering a more casual piece of outerwear.
In the image above, we've chosen a dark blue denim jacket. Wearing denim-on-denim like this is often termed the "Canadian tuxedo".
It gets some hate but is surprisingly effective when you go for two different colors. For example, grey jeans with a blue denim jacket or vice versa.
It's a notch more casual than the previous example but isn't so casual that you couldn't wear it in a laid-back smart-casual setting.
The grey jeans you can see in the image above are in a lighter shade than the ones in the previous example.
This makes them look more casual, but they're still non-distressed and don't look too out of sync with a white button-up.
We've finished up with a pair of suede chukka boots. Suede will always look more casual than shinier grains of leather due to the napped (i.e fuzzy) texture.
Most Casual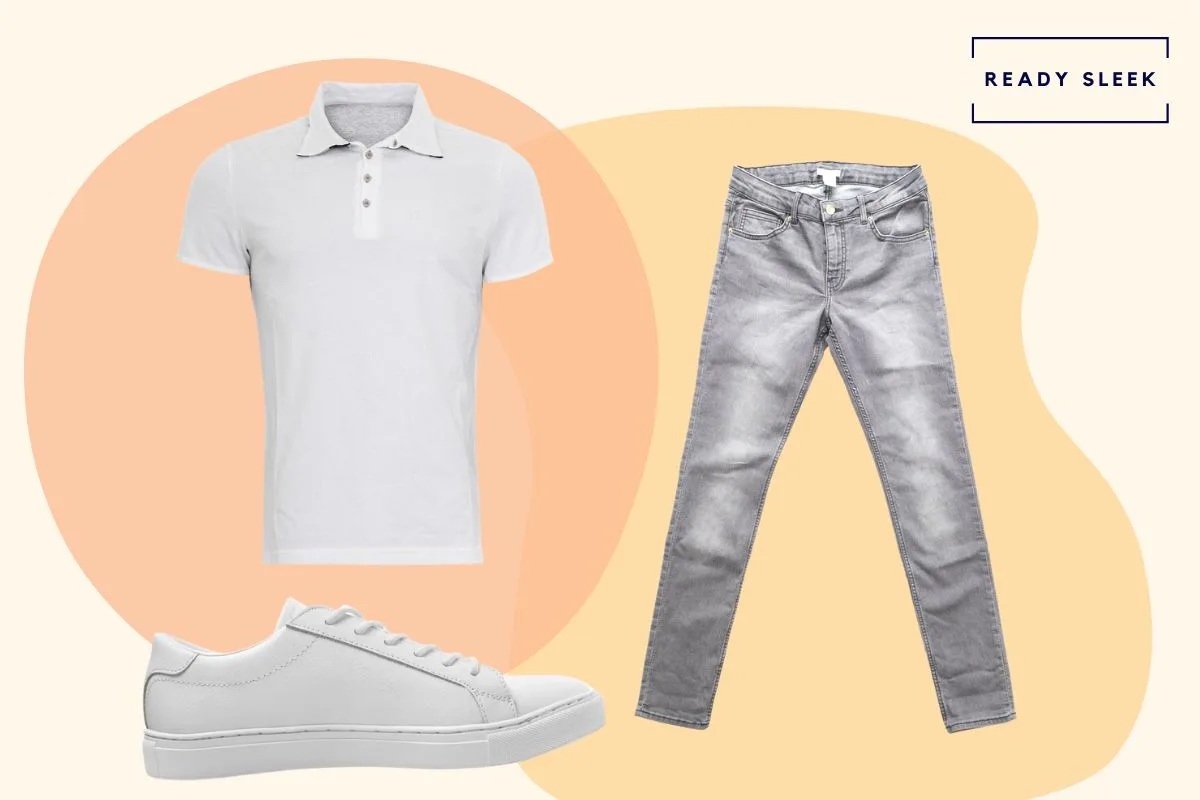 Items: White Polo Shirt, Light Grey Distressed Jeans, White Leather Low-Tops
This is a very simple and casual white shirt and grey jeans outfit. A white polo isn't quite as casual as a white T-shirt, but it's a stylish way to dress down.
The jeans are much lighter in color and do have some distressing – mainly the stone-washed appearance.
Overall, this adds up to an outfit that's much more casual-looking than the previous two examples.
Finally, round things up with a pair of all-white leather low-top sneakers. Minimalist, subtle, and stylish.
Plus, they sync perfectly well with the monochrome jeans and shirt pairing.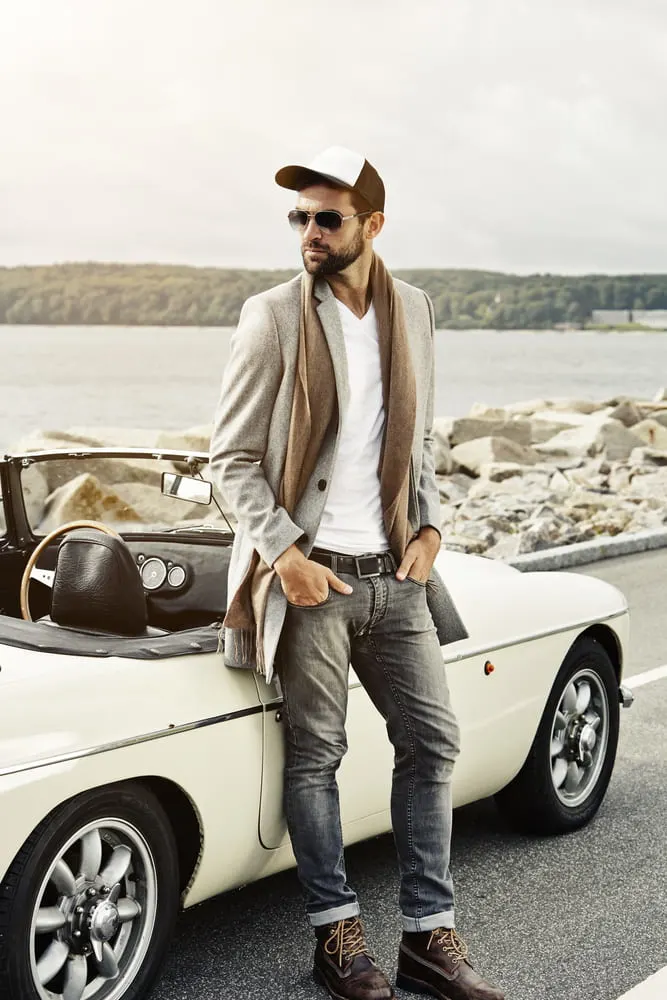 5 Tips For Wearing A White Shirt With Grey Jeans
Here are some tips for taking this combination to expert mode no matter where you're going.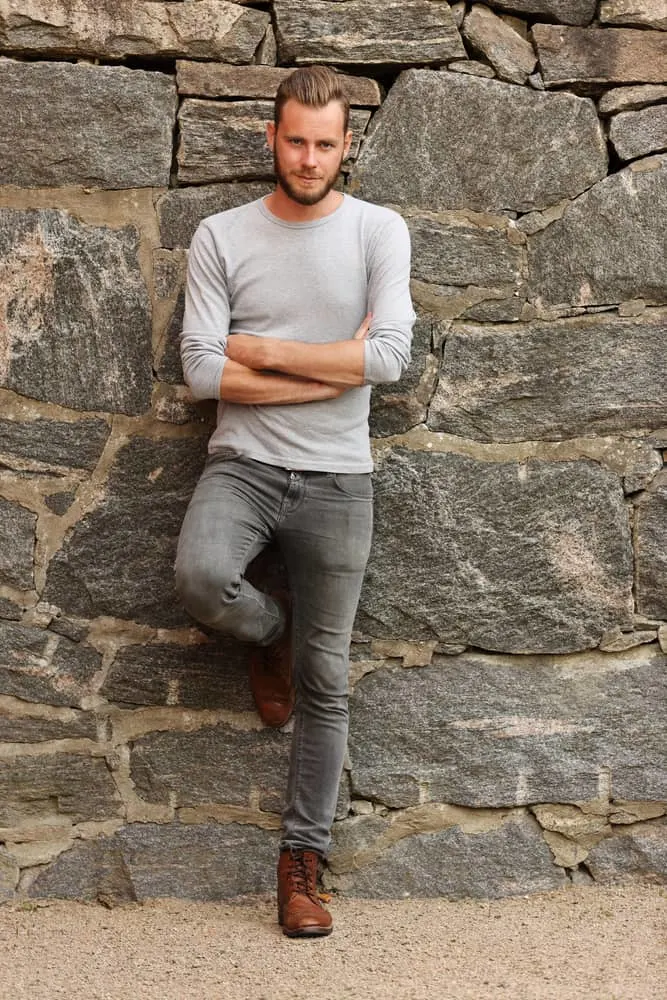 Ensure It's Appropriate
Wearing a white shirt and grey jeans somewhere it doesn't belong is setting yourself up for failure.
It's a casual outfit and always will be. Trying to wear it in formal, professional, or business-casual settings is going to be a bad idea.
Some may argue that jeans can be worn in some business-casual settings. Most would agree that a "no suits and no jeans" rule should really apply in these environments.
In fact, if you feel as though you can wear a white shirt and grey jeans to a "business-casual" setting, it probably isn't business-casual to begin with.
So, where can you wear this combination?
It works well in truly casual settings, as well as those you might call "smart-casual".
Truly casual settings are those where you can pretty much wear anything. Hanging out with friends, going down to the park, going to the movies, and so on.
"Smart-casual" can refer to a wide range of settings, occasions, and events.
I like to split it into two tiers:
Smart-Casual Tier 1 – Casual, but still very sharp. A casual-looking suit would go down well. Think dinners at high-end restaurants.
Smart-Casual Tier 2 – A notch more casual. Casual button-up and chinos/jeans combinations could be worn. Think first dates, garden parties, and so on.
*Warning*: This tier system is something I completely made up to make it easier to explain.
A white shirt and grey jeans combination would work well for the second tier of smart-casual, but not so well for the first tier.
Going back to our outfit examples, the "dressy" example would work well for a second tier smart-casual setting.
The other two would be better options in truly casual ones.
Consider The Contrast
The contrast between the grey jeans and the white shirt should be considered.
While dark grey jeans do look dressier than lighter pairs when wearing a white shirt, you may not like the high level of contrast produced between the two items.
If you'd prefer a more subtle and low-contrast aesthetic, consider going for a light grey pair of jeans instead.
While light grey jeans tend to look more casual, going for a non-distressed and tapered pair should minimize this effect.
Personal preference definitely plays a role here.
Consider The Style Of The White Shirt
The style of the white shirt you choose should be guided by the setting.
Once again, let's refer to the appropriate dress codes; casual and smart-casual.
In truly casual settings where you have very few restrictions, you could quite comfortably wear grey jeans with white T-shirts and polos.
White Henley shirts would be a similarly casual long-sleeved alternative.
In dressier settings (i.e smart-casual ones), a white button-up would almost always be preferable.
But the style of button-up you choose is important.
A white dress shirt with a stiff collar and made from tightly woven cotton is likely to look too formal to wear with grey jeans.
This would be true no matter how dark, non-distressed, and dressy those grey jeans looked.
It can still work but does risk looking out of place and awkward.
Instead, consider a more casual style of white button-up shirt.
These are more likely to have relaxed collars and to be made from a more rugged or wrinkly fabric such as Oxford cloth (i.e OCBDs), linen, or chambray.
These fabrics often look much better when wearing jeans, simply because the textures match up better with the ruggedness of denim.
Choose Grey Jeans With The "Right" Fit And Features
When dressing your white shirt and grey jeans combination up, try to choose a slim and tapered pair.
Skinnier and baggier fits (eg. wide-leg, bootcut) would be more appropriate when dressing down if you wanted to wear them at all.
Slim-fit grey jeans would be the most versatile and trend-resistant pair you could go for, however.
It's also worth mentioning distressing.
In dressy smart-casual settings, a white button-up shirt worn with heavily distressed grey jeans (eg. ripped, frayed, and stone washed) is likely to draw some awkward stares.
Avoid distressing in smart-casual settings whenever possible.
Instead, go for grey jeans with minimal distressing. They'll always look sharper.
Put Some Thought Into Your Choice Of Footwear
When wearing a white shirt with grey jeans, brown dress shoes (calfskin or suede), brown boots, or white sneakers are often the best options.
Within those options, you get quite a wide range in terms of formality.
Brown dress shoes in a shiny grain of leather will always look dressier than the same pair in suede.
The napped texture of suede generally looks more casual, but is still generally considered appropriate in smart-casual settings.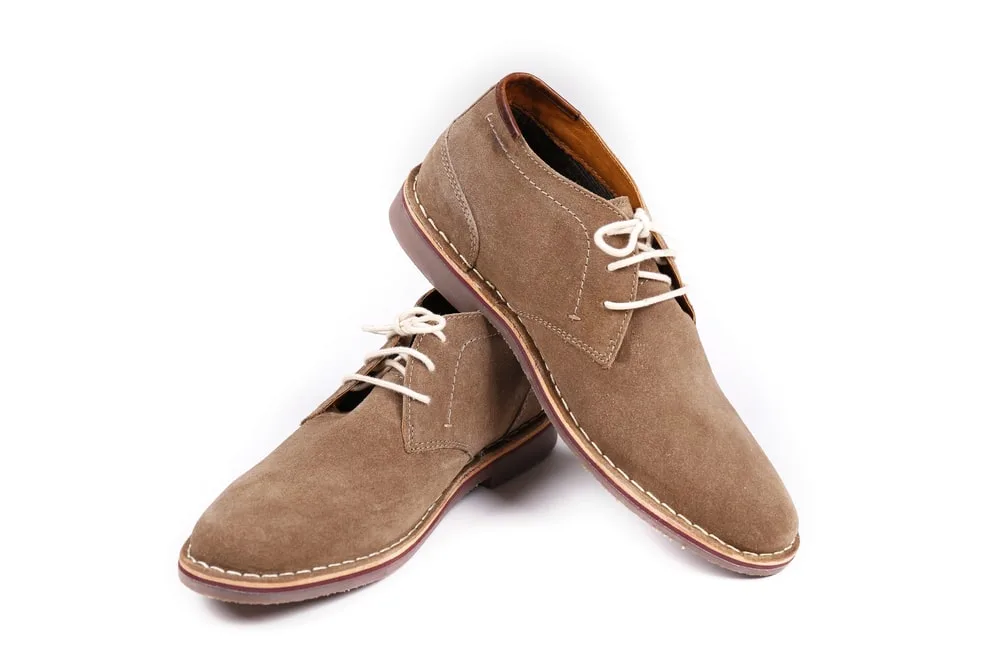 The darker the shade of the brown shoes, the dressier the outfit will look overall.
When it comes to the style of brown dress shoes you choose, you've got options. Consider a pair of Derby or monk straps if you'd prefer a more formal appearance.
Loafers would be a great smart-casual middle-ground, as would Chelsea and chukka boots. They all work well.
When you're dressing down, sneakers of any variety could potentially be worn. What's great about a pair of all-white leather low-tops, however, is that they're versatile.
They're casual, but not so casual that they'd look out of place with a white button-up shirt.

Ready Sleek founder. Obsessed with casual style and the minimalist approach to building a highly functional wardrobe. Also a fan of classic, vintage hairstyles.