While a navy suit is versatile enough to wear pretty much anywhere, knowing what belt color to wear with one can sometimes be tricky.
So, here are some great belt colors you can wear with a navy suit:
Black
Dark Brown
Tan Brown
Oxblood
Burgundy
But you'll definitely need more than a simple list. You need to know which of those belt colors is the best option for the specific setting you're wearing your navy suit to.
After going through the main factors to consider when choosing, we'll run through those belt colors in more detail (with pictures).
Let's get to it.
How To Coordinate Belts With Navy Suits
Sticking to these basic principles will serve you well no matter what style of navy suit you happen to be wearing.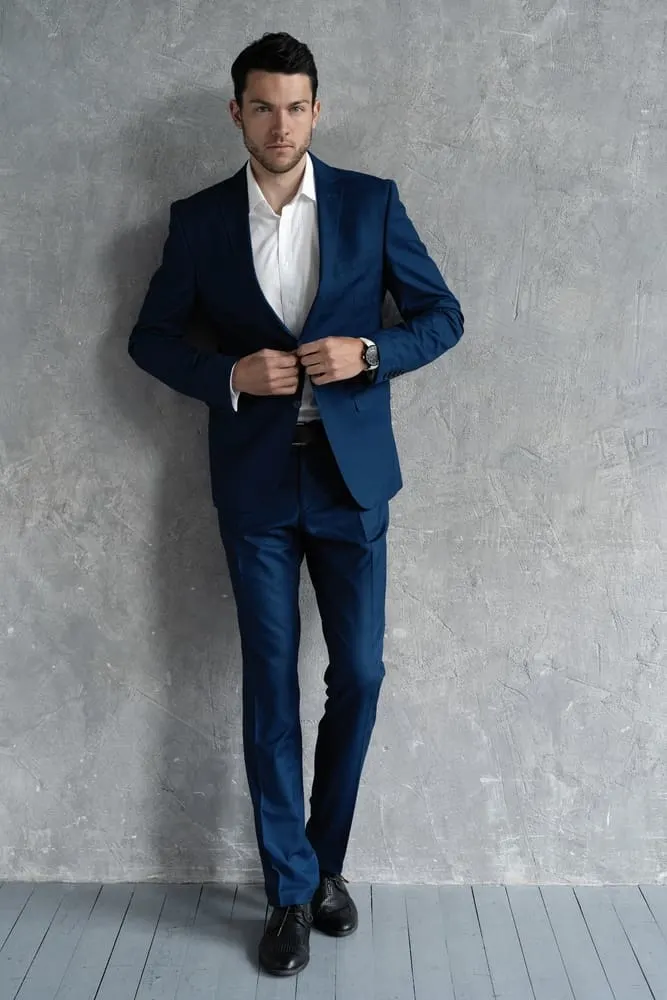 1. Match The Belt To The Shoes
The most important "rule" to stick to would be to match your belt to your shoes.
It's pretty likely that you have a pair of shoes in mind. You may not, but there's a pretty good chance.
In many ways, the shoes you wear are the most important factor to consider when deciding what belt color you should wear.
Put simply, the color of your belt should match that of the shoes as closely as possible.
The more formal the setting you're dressing for, the more important it is to stick to this rule.
So, if you're wearing a navy suit with black shoes – wear a black belt.
If you're wearing a navy suit with burgundy shoes – wear a burgundy belt.
Of course, the shades don't need to be identical. But the closer they are, the better.
In fact, when buying a new pair of dress shoes, it's often a good idea to ask yourself whether you've got a belt to go with it.
If you don't, consider buying a belt to go with them as well. It's often a good idea to think of them as going hand-in-hand.
A quick word on socks:
In general, it's widely accepted that the socks should match the pants. So, when wearing a navy suit, try to wear a pair of socks in a dark shade of blue.
2. Consider The Dress Code
The dress code should influence the color of the belt and shoes you wear with your navy suit.
While this isn't set in stone, you could think of the following colors as being in order of reducing formality:
Black
Dark Brown
Oxblood
Light Brown (eg. tan)
Burgundy
Bearing that order of colors in mind should serve you well.
If you're dressing for a truly formal event where there's a real risk of underdressing, consider wearing your navy suit with a black or dark brown pair of Oxfords.
In a slightly less formal setting where you've got some freedom to experiment with color (to an extent), consider a pair of oxblood shoes with an oxblood belt.
Finally, in smart-casual settings, you may be wearing a relatively casual-looking tweed, linen, serge, or flannel navy suit.
Here, consider a similarly smart-casual color for your belt and shoes. Shades of light brown and burgundy are great options.
The vibrant, warm, and eye-catching hue of burgundy is a great way to stand out from the crowd.
5 Belt Colors You Can Wear With A Navy Suit
Here are those navy suit and belt combinations up close.
Seeing how they sync with each other and reading where and when they'd be most appropriate should bring you several steps closer to choosing the perfect combination.
Navy Suit With A Black Belt
A navy suit should be worn with a black belt when wearing black shoes. The combination is ideal for formal settings where there's a risk of underdressing.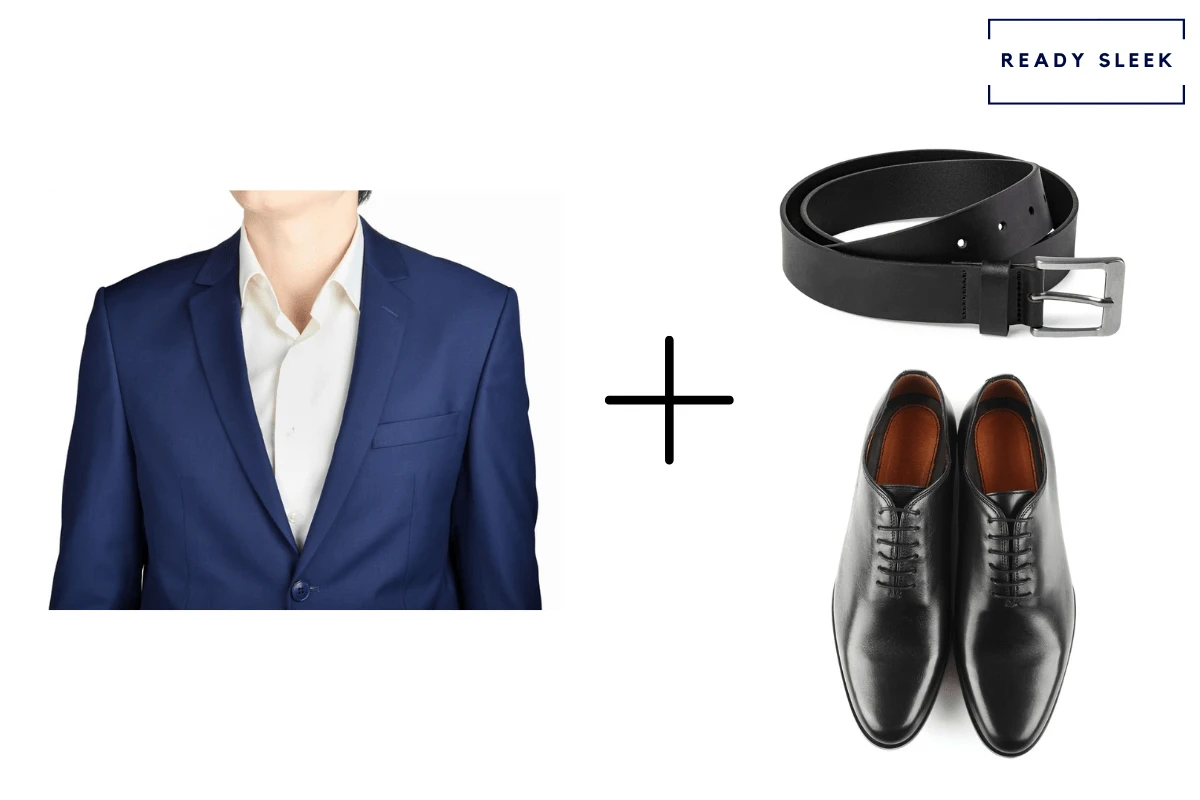 Black is the most formal belt color you could go for and in many ways, is the best option when you don't want to take any risks.
Navy and black combine perfectly.
It's a color pairing that's effortlessly elegant and sophisticated. It's tough to go wrong with.
Of course, the combination isn't restricted to formal settings. You could easily wear it in business-professional and smart-casual settings as well.
In smart-casual settings, consider a more casual suit fabric such as serge or tweed, worn with a pair of black monk straps or loafers with a black belt to round things off.
Navy Suit With A Dark Brown Belt
A dark brown belt looks great when worn with a navy suit and dark brown shoes. The dark brown makes for a good alternative to black in formal settings.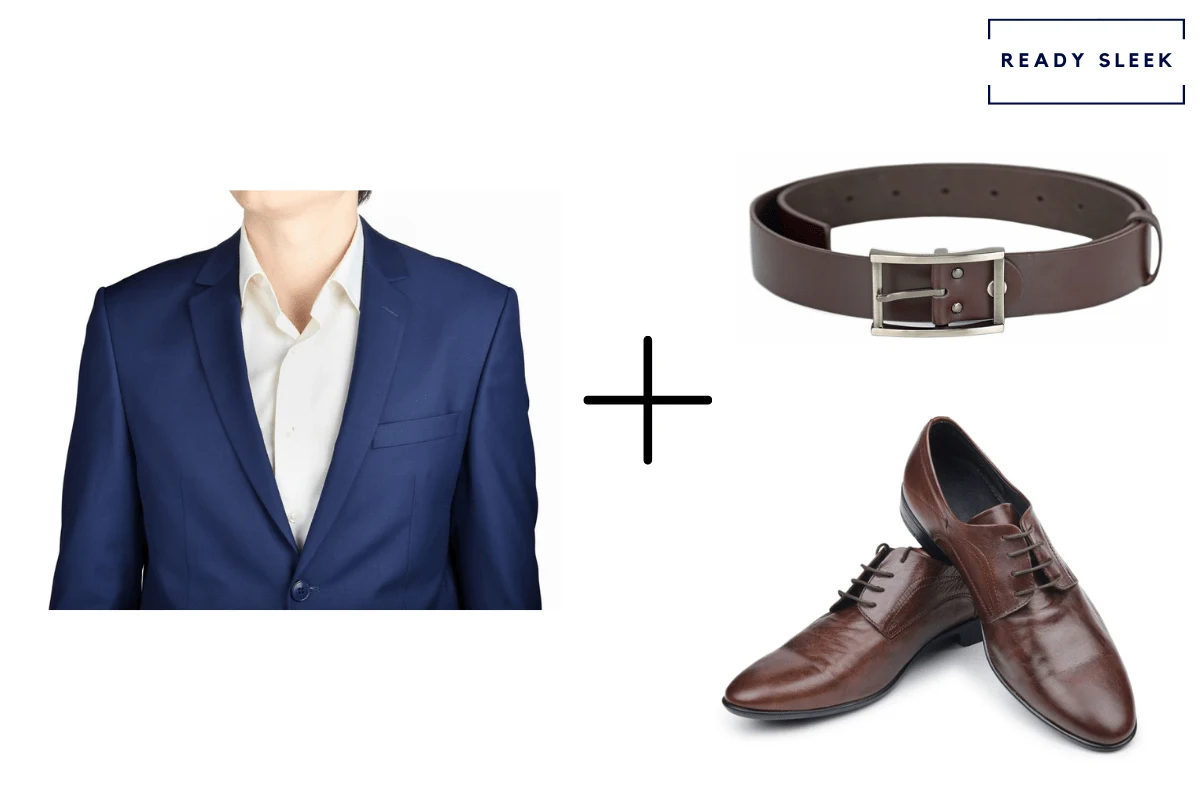 Brown will always look less formal than black, but dark shades of brown are still considered appropriate for most formal events.
Not always, but most of the time. At the end of the day, if you're worried about underdressing, go for black.
A dark brown belt looks a little more laid-back and less traditional/uptight than a black one.
In addition, the brown adds a subtle touch of contrast to the dark blue suit. Not much, but enough to be noticeable.
Navy Suit With A Tan Brown Belt
A navy suit can be worn with a belt in a light shade of brown such as tan. It's ideal for smart-casual settings, as well as less traditional business-professional workplaces.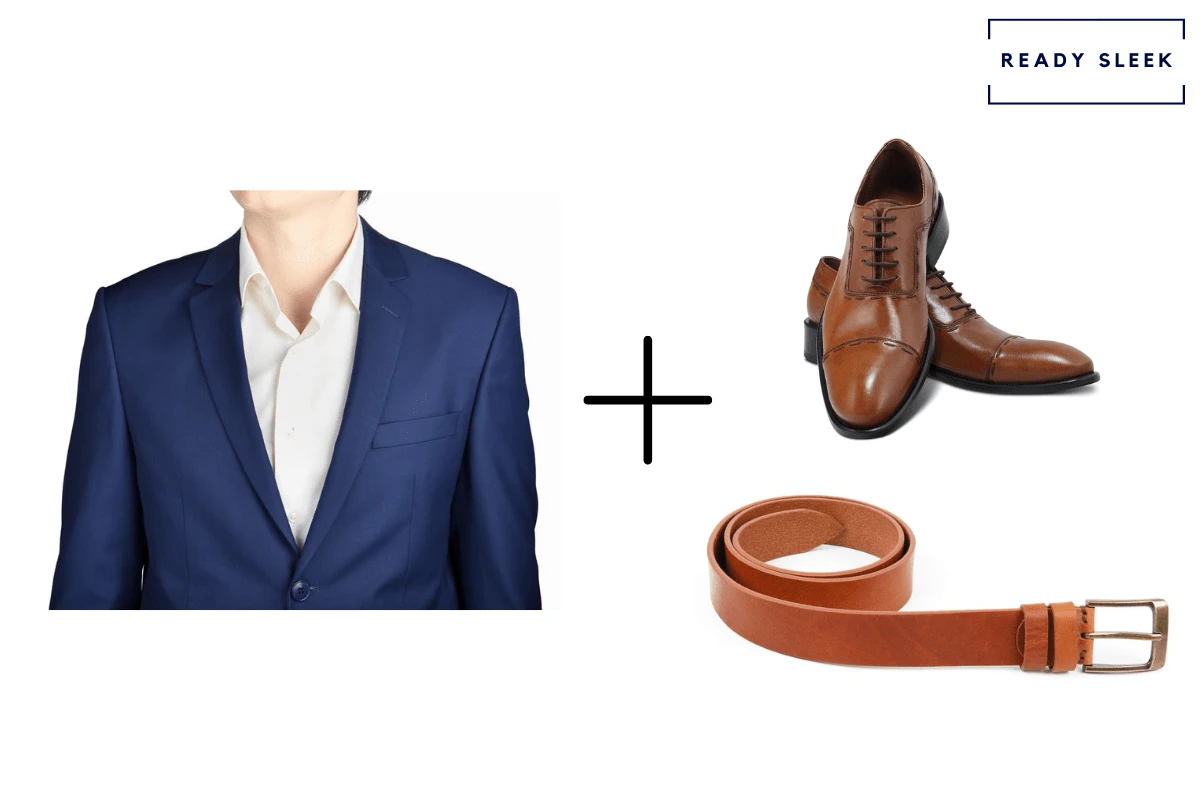 Once again, if you do wear a light brown belt with your navy suit, be sure to wear a pair of shoes in a similar shade of brown.
The closer the shades of brown are to each other, the more coordinated the outfit will come across.
As you can see from the image above, a light brown belt and navy suit pairing does look less formal than a black or dark brown belt would.
But in the right setting, it can look great.
Navy Suit With A Burgundy Belt
A navy suit can easily be worn with a burgundy belt in smart-casual settings. The vibrant and warm undertones of the burgundy belt will stand out when worn with the relatively muted navy suit.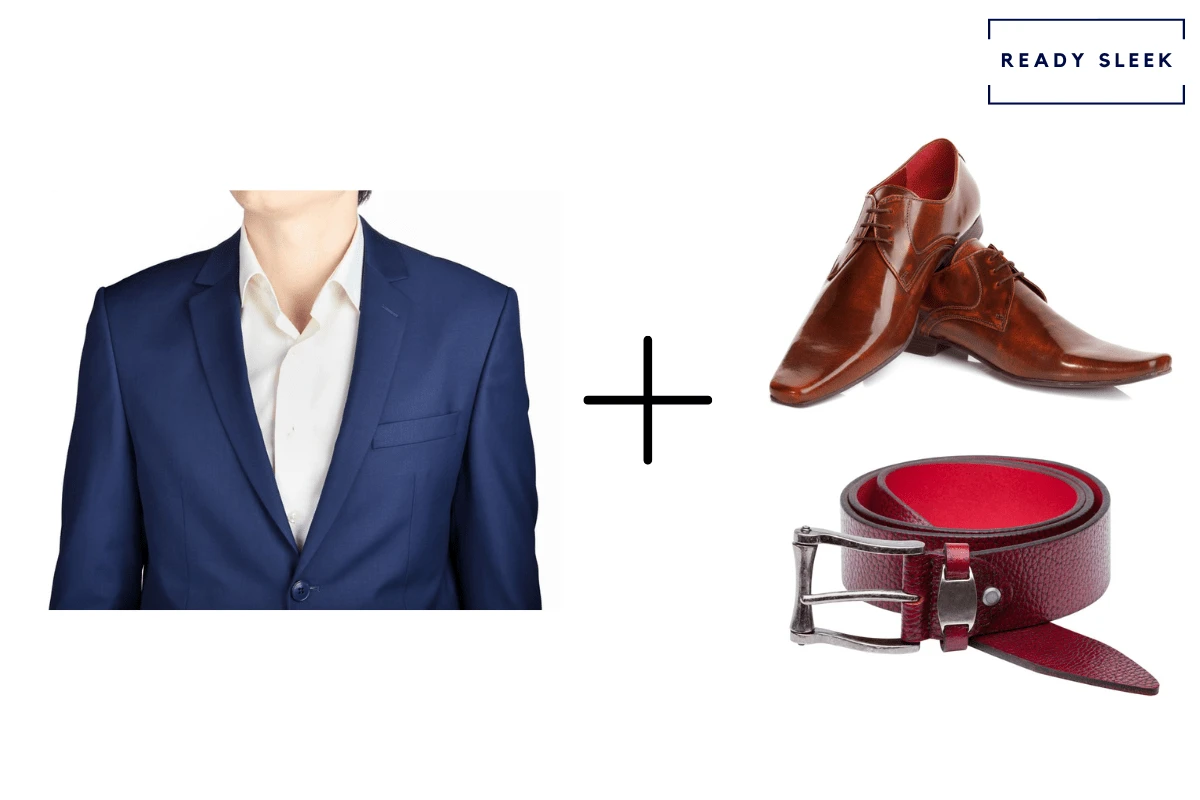 A burgundy belt should be worn together with a burgundy pair of dress shoes. This is even more important given how eye-catching burgundy is as a color.
A poorly-matched combination (eg. a burgundy belt with black shoes) is going to draw unwanted attention.
It'll look awkward and out of place.
When you're wearing a bold and attention-grabbing pair of shoes, it's essential to color-match the belt.
While burgundy is a common color for dress shoes and belts, in general, it's best to avoid it in truly formal settings.
It isn't usually great for business-professional settings either.
A navy suit worn with a burgundy belt and a burgundy pair of dress shoes would be better suited to smart-casual social events.
Burgundy leather has a fun and energetic aesthetic to it, but it isn't ideal for traditionally formal events.
It's just too eye-catching.
Navy Suit With An Oxblood Belt
An oxblood belt can be worn with a navy suit in formal, business-professional, and smart-casual settings.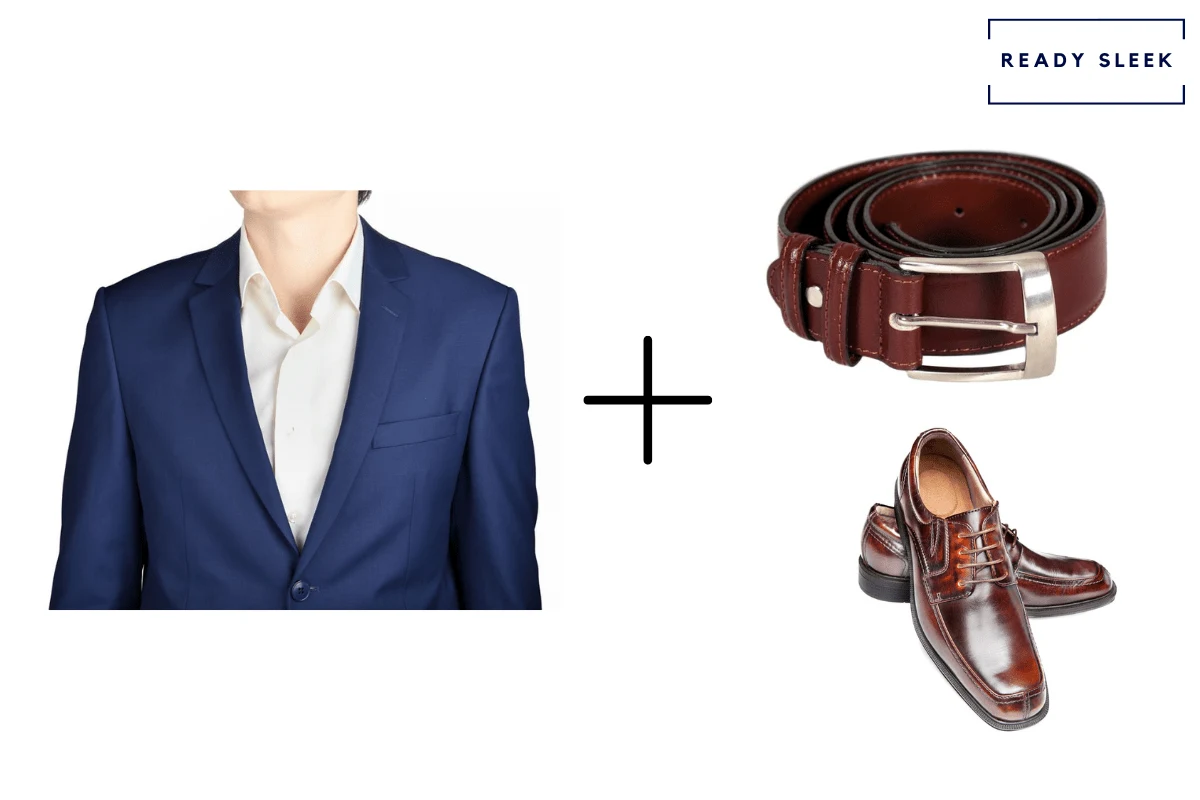 Oxblood is similar to burgundy in that it's a very dark shade of red.
However, unlike burgundy, it has less of a purple hue and more of a dark brown one.
Because of this, it often has a dressier and more formal appearance to it than burgundy, despite the red being noticeable.
You can pretty confidently consider an oxblood belt/shoe pairing to be a more exciting alternative to a dark brown pairing.
It's still formal, but a little more vibrant.
Conclusion
You've got options, but there's a good chance that one or two of them may be better suited to your specific circumstances.
In formal or business-professional settings, a black, dark brown, or oxblood belt would be the best option for a navy suit.
In smart-casual settings, you could go for a burgundy or tan brown belt if you wanted to.
Whichever one you choose, it's essential to choose a pair of shoes that closely matches the belt.
Enjoy.

Ready Sleek founder. Obsessed with casual style and the minimalist approach to building a highly functional wardrobe. Also a fan of classic, vintage hairstyles.