The best thing about fashion and style is that anyone can create something unique. Accessories are a fantastic way to do just that, even on the most formal of occasions. So, can you wear a tuxedo with a scarf?
It's entirely possible to wear a tuxedo with a scarf. However, it's important to wear the correct scarf in the correct way. You should carefully consider your scarf length and color; a neutral color such as black or white would be best.
While that's the short answer, there's more to it. You're about to learn some essential tips for making sure you wear this combo the right way, each and every time.
Let's get to it.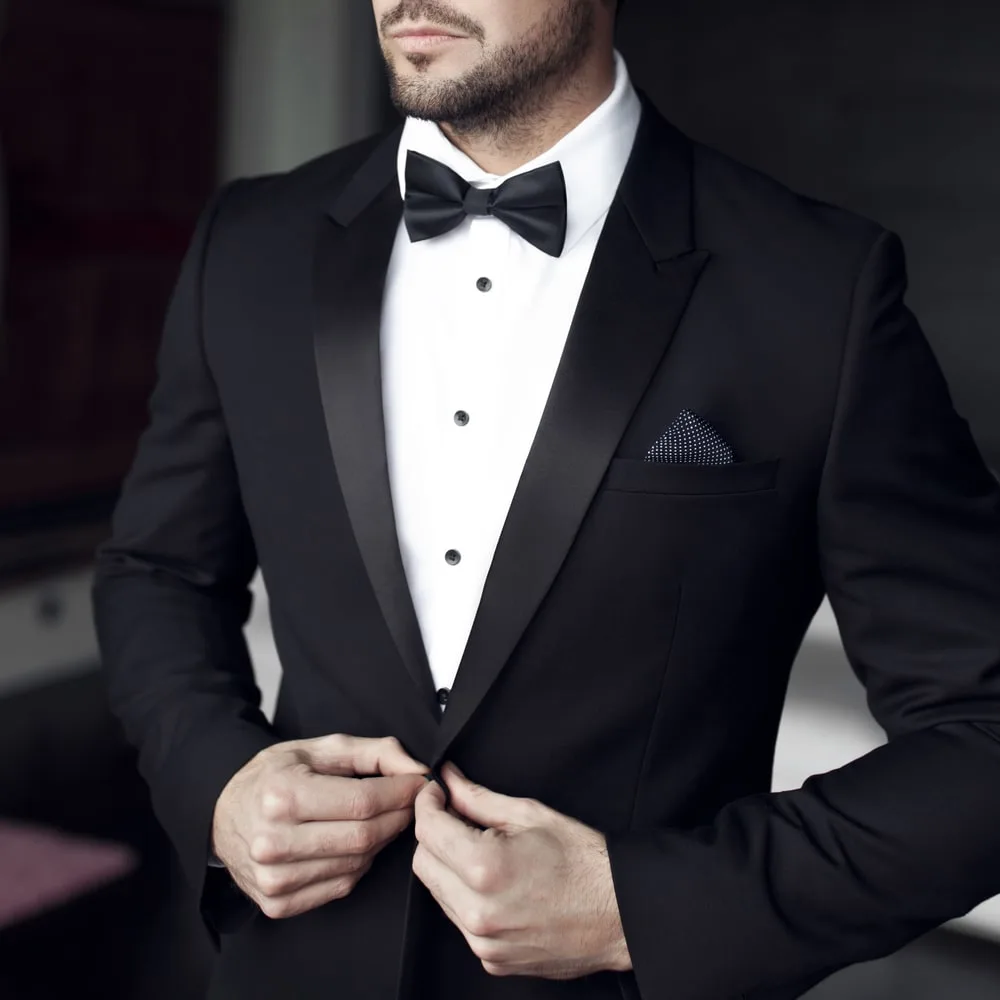 1. Make Sure It's The Correct Color
Try to only wear white or black scarves with tuxedos.
Here's an example of a formal-looking white satin scarf on Amazon as an example:
The reason for this is that it can elevate your outfit to new levels if it's worn right. The same can be said for when you're trying to pair one with a tuxedo.
When you think of a tuxedo, you may not initially think of a scarf, but it's actually one of the few things you can add to a tuxedo that can improve its look.
The last thing you'll want to do is spend countless hours thinking about what tuxedo to wear, how to style it, and then actually put it on and wrap a bright, red scarf around it.
It will look awful.
Not to mention you will undoubtedly get some very strange looks from other attendees.
To tackle this issue, pick a scarf in a neutral color. Ideally, it should be black or white.
It's actually preferable if the scarf is of the opposite color to the tuxedo.
This creates a sophisticated and stylish contrast between the centerpiece of the tuxedo and the accessory draping down either side, leaving you looking like you're ready for the Oscars.
2. Get The Correct Size & Length
The size and length of a scarf are often majorly overlooked factors when it comes to purchasing one.
One of the biggest misconceptions with scarves is that they are all one size fits all. This is categorically not the case.
Very rarely do people look at the packaging to see the scarf's size because, admittedly, it does sound a little silly.
Surely they all must just be the same size?
Well no, in fact, is the answer.
Scarves come in a huge variety of different shapes and sizes.
Some are shorter in length, designed to be tied around the neck only once to create a looser, more breathable fit.
Some are also designed to come down to the hips creating a more formal appearance. On the other end of the spectrum, some scarves are so thick that they're designed to be worn as a type of coat.
When wearing a scarf with a tuxedo, it's important to keep it simple.
An ideal length for the scarf would be just below the belt line.
This gives it a draping look that is elegant and as mentioned, provides a contrast in color down the length of the outfit.
3. Try To Keep It Plain
Keeping it plain and simple is best.
Tuxedos are very formal and pair well with plain accessories. Avoid anything too bold, bright, or striking.
Allow the tuxedo to take all of the attention.
When dressing in a tuxedo, the dress code is more than likely going to be black-tie.
Drawing attention with your scarf is not what you want. Paisley scarves won't do, I'm afraid.
The perfect scarf to wear with a tuxedo would be black or white and made from silk.
Silk is an expensive-looking material due to its sheen and pairs well with the satin lapels of a tuxedo.
If you're looking for a cheaper, yet similarly shiny alternative, consider satin.
Fringes on scarves are also a great addition and can work in many different scenarios. It's usually a personal choice whether or not you get a scarf with a fringe.
Unfortunately, silk scarves usually don't come with fringes and they would therefore need to be custom-made.
Cashmere scarves can also work and often do have fringes.
4. Don't Tie It Up
What makes a tuxedo so special?
It's simple, yet effortlessly sophisticated.
This simplicity is one of the primary reasons you should keep your silk scarf draped on either side of you and not tied up.
When the scarf is tied up, it can get tangled up and look scruffy, bringing your entire ensemble down a level.
Also, if you tie the scarf up or wrap it around your neck, you will completely cover your bow tie.
Only at the end of the night would it be considered acceptable to tie your scarf up.
Ready Sleek founder. Obsessed with casual style and the minimalist approach to building a highly functional wardrobe. Also a fan of classic, vintage hairstyles.