The tuxedo is one of the most formal clothing items out there and is primarily worn for black-tie events. Red bow ties, on the other hand, are sometimes considered more unusual. So, can you wear a tuxedo with a red bow tie?
When wearing a red bow tie, it's important to gauge the formality of the occasion. You should coordinate your bow tie with other accessories and stick to darker shades. Silk bow ties work best and are the most comfortable option.
However, that's just the beginning – there's much more to cover about tuxedo-tie etiquette.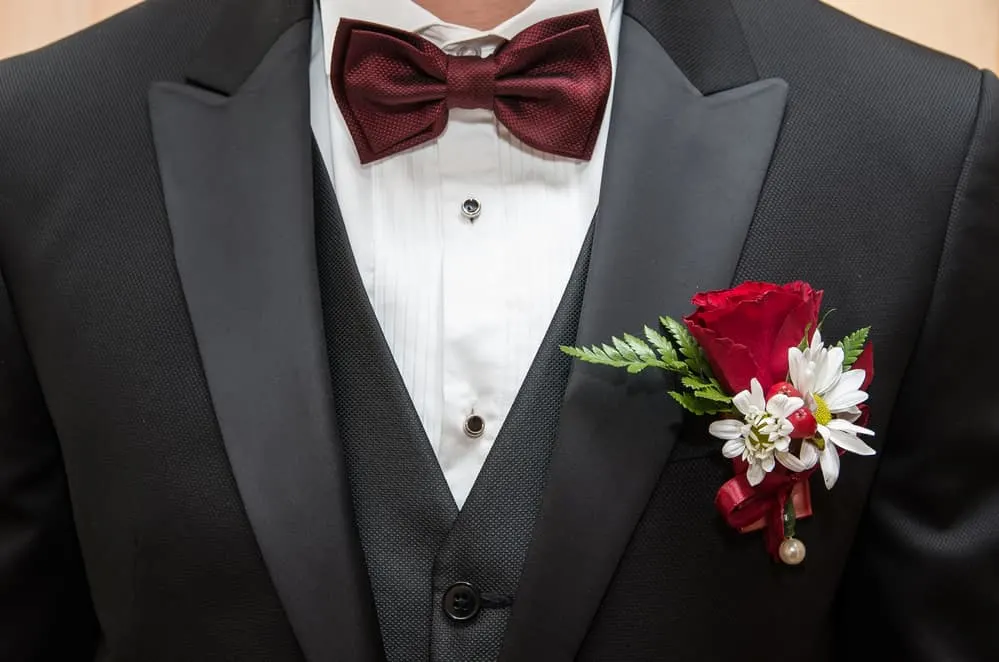 4 Tips For Wearing A Tuxedo With A Red Bow Tie
Here are some essential tips about wearing a tuxedo with a red bow tie.
Always Gauge The Occasion
Firstly, and most importantly, you must consider the formality of the event you're attending. In some situations, wearing a red bow tie with your tuxedo isn't appropriate.
For special occasions like galas or ceremonies, you should stick to the black-tie event guidelines and disregard the red bow tie altogether.
This is because a red bow tie at a black-tie event would make you stand out, look awkward, and potentially appear disrespectful.
However, for other occasions like a wedding or a similarly laid-back event, attendees may appreciate brighter colors.
It's worth noting that many events specify what dress code you're expected to follow, but if in doubt, you can ask the event's hosts whether or not it would be appropriate.
Ultimately, it's your choice whether or not you follow this advice and where and when you wear a red bow tie with your tuxedo.
Coordinate With Other Accessories
The most valuable tip for preventing your red bow tie from looking out of place is to make sure you synergize it with any other accessories you are wearing.
So investing in suit-ready accessories, like red cufflinks, pocket squares, and lapel pins may be worth considering.
You can also pair your red bow tie with a smart, red cummerbund. A cummerbund is a sophisticated sash worn around an individual's waist as part of their evening suit.
Pairing your cummerbund and your bow tie in the same shade of red will enhance your synchronized and sophisticated look.
These areas of red will break up the black of your tuxedo suit, making it into a tidy, themed look rather than a singular "red herring" wrapped around your neck.
Remember looking smart comes from looking neat and organized, and this includes the color coordination of your suit.
Stick To Darker Shades
It goes without saying that a flamboyant, bright-red bow tie wouldn't look very professional at all.
So, when you wear a red tie with your tuxedo, you should ensure it's a dark shade of red, such as maroon, burgundy, or oxblood.
If you're attending a more relaxed event like a wedding, there's no reason that you can't change up the color of your tuxedo as well.
In fact, in some instances, a different colored tuxedo suit may fit better with the red bow tie.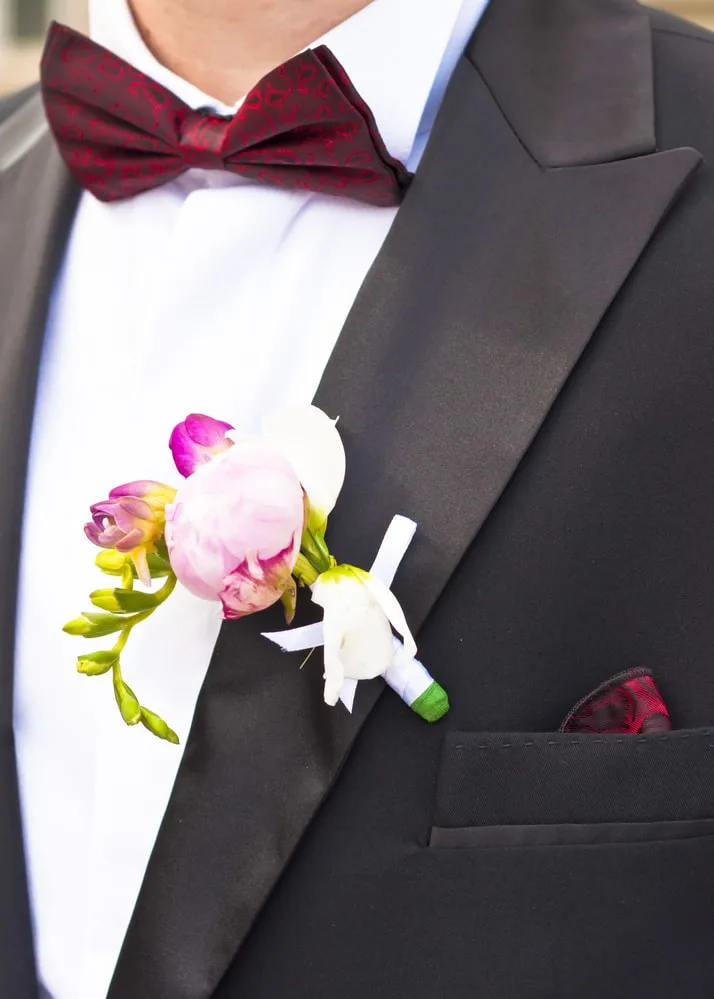 For example, some weddings have their bridal and groom parties wear the same combinations of a white tuxedo and red bow tie.
However, using dark shades to go with the red bow tie is recommended, especially if you are attending a black-tie event.
Darker shades are best because they are considered smarter and will blend in with other black tuxedos at black-tie events.
Some other dark tuxedo suit shades that you could try are charcoal, gray, or navy blue. All of these colors will pair well with a dark red bow tie.
Go For Silk
When dressing for a formal occasion, the aim is to keep it classy.
You don't want to undermine the smart image you have constructed with your attire by a minor slip-up.
Getting a silk, red bow tie to go with your tuxedo stays true to this rule; most people wearing a tuxedo will get a silk bow tie because it's widely regarded as classier than bowties of other fabrics.
There are other benefits to getting a silk tie too.
Silk bow ties are comfortable because they are made from soft materials. This is a convenient trait for a bow tie as it will predominantly be worn for long formal occasions.
Furthermore, silk ties are known to hang well, further enhancing your sophisticated look.
Keep in mind that silk bow ties are typically more costly than their cotton counterparts.
Frequently Asked Questions
Now that you know the ins and outs of wearing a tuxedo with a red bow tie, here are some frequently asked questions to answer any further queries you may have.
How Do You Wear A White Tuxedo With A Red Bow Tie?
Assuming that you aren't attending a black-tie event and you have checked that the occasion permits this dress style, we would advise you to keep it classy by wearing a silk bow tie, sticking to darker shades, and matching your red bow tie with other accessories.
Because this outfit is full of color, it's not appropriate for a black-tie event, as you'd draw unnecessary attention to yourself, and stand out far too much.
Fortunately, it's great for more relaxed occasions like weddings or wedding parties.
How Do You Wear A Navy-Blue Tuxedo With A Red Bow Tie?
A red bow tie should pair well with a navy-blue tuxedo by sticking to the darker shades of red and pairing it with other appropriate red-colored accessories to add subtlety to the otherwise loud red bow tie.
This outfit still uses primarily dark colors, so unlike a white tux and red bow tie combo, it could be worn to a black-tie event or similar.
This is because the look is understated and doesn't draw too much attention due to how cohesive the colors look when matched together.
If unsure, however, you can ask the host of the event to determine whether or not it's appropriate for such an occasion.
Conclusion
You are now equipped with everything you'll need to know about this pairing including when you can wear a red bow tie with your tuxedo, and how to do it.
Ready Sleek founder. Obsessed with casual style and the minimalist approach to building a highly functional wardrobe. Also a fan of classic, vintage hairstyles.