Both turtlenecks and T-shirts are sometimes worn as base layers. However, they're rarely worn as overlayers. So, can you wear a T-shirt over a turtleneck?
Generally, it's best to avoid wearing a T-shirt over a turtleneck. The outfit will feel uncomfortable and the turtleneck's outline will likely show, making it look awkward.
While that's the gist, there's a lot more to it.
This post will explain why it's best to avoid wearing a T-shirt over a turtleneck, some exceptions when it might be OK to do so, and some alternatives to the T-shirt overlayer.
Let's get to it.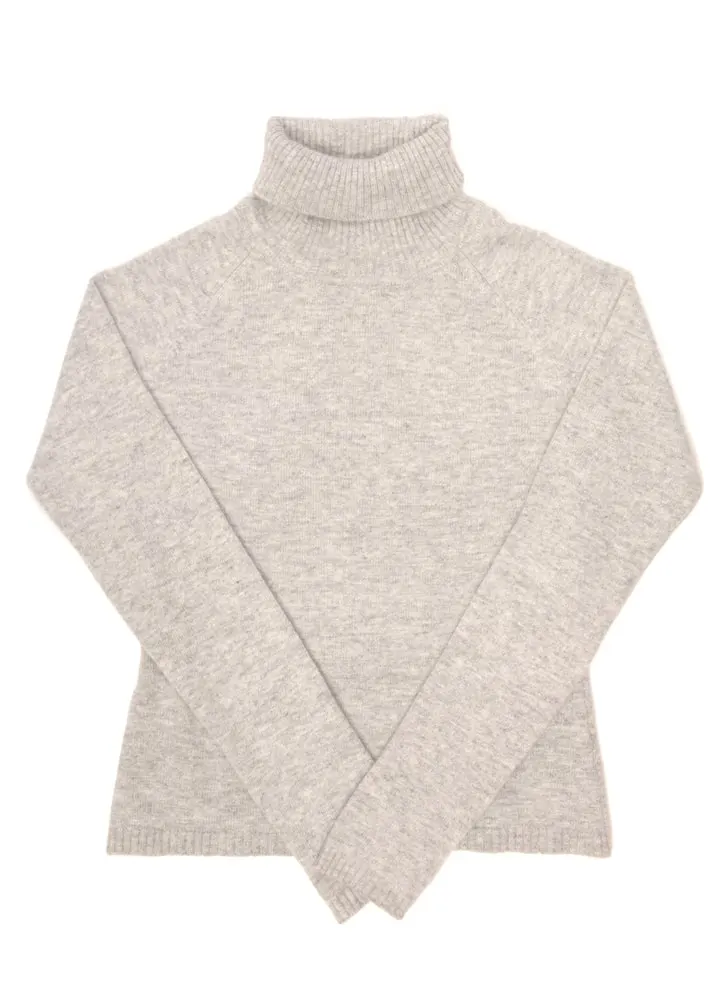 3 Reasons Why You Shouldn't Usually Wear A T-Shirt Over A Turtleneck
Here are the primary reasons why you shouldn't wear a T-shirt over a turtleneck. There are some exceptions, which will be explained later in the post.
1. It's Uncomfortable
No matter how good the outfit looks, comfort will always be king.
Feeling comfortable in your outfit is an essential part of looking good.
If you're not comfortable in the clothes you're wearing, it can have an effect on how you move, act, and appear to others.
That is to say, feeling awkward can extend to your looks and behavior, too.
Therefore, it's best to ensure that your outfit is comfortable.
Wearing a T-shirt over the top of a turtleneck is usually very uncomfortable.
This is primarily due to the fact that the fits of both items are incredibly similar; a slim, tailored fit.
Sure, you could go for an oversized tee and this would be a better option.
But it would probably still look or feel restrictive.
2. T-Shirts Are Usually Base Layers
It's no secret that T-shirts work incredibly well as base layers of clothing.
In fact, T-shirts work best as base layers as opposed to over layers.
Of course, this isn't always the case – as an example, some long-sleeve tees look great with a T-shirt overlayer.
However, generally, it's best to stick to wearing a T-shirt as a base layer rather than an overlayer.
Turtlenecks, on the other hand, can be worn as both overlayers or base layers.
That being said, if wearing them as a base layer, it's usually best to wear a jacket, or something with a similarly open front, over the top.
T-shirts don't have an open front and can be very restrictive both physically and stylistically because of this.
Wearing two base layers together often isn't a good idea due to the similar fits and styles.
Wearing a T-shirt over a turtleneck is no exception to this.
3. The Outline Of The Turtleneck Will Be Visible
There's another reason that base layers aren't usually worn together – particularly those with a similar fit, such as T-shirts and turtlenecks.
Turtlenecks and T-shirts often have a slim, tailored fit. This means that wearing one over the other can not only make you uncomfortable but also look awkward.
The primary way that it looks awkward is that – due to the well-fitted nature of these garments – the outline of the turtleneck will be visible underneath the T-shirt.
You should generally avoid any visible outlines with clothing, as it looks stylistically clumsy and not well thought-out.
2 Exceptions When Wearing A T-Shirt Over A Turtleneck Might Be OK
While you should usually avoid it at all costs, here are a couple of exceptions where it may not be all that bad.
1. You're Making A Fashion Statement
A fashion statement is a garment or outfit that stands out.
The way it stands out can vary, from bold colors or patterns to simply deviating from the norm and what's trendy at the time.
Wearing a T-shirt over a turtleneck is a reasonable way to make a fashion statement.
It is different from what's usually accepted and appropriate and is, therefore, a great way to stand out.
The layered look of two garments that are most commonly used as base layers creates a dangerous, rebellious yet familiar feel.
This is exactly what a fashion statement should do: evoke emotions, stand out, and be different.
If you wish to further stand out from the crowd, consider wearing a patterned or boldly-colored T-shirt or turtleneck.
Doing so will add to the somewhat extravagant yet not too over-the-top appearance of the outfit.
2. It's An Oversized T-Shirt
Oversized tees are becoming a core pillar of streetwear. When worn in the right setting, they can definitely look great.
When wearing a turtleneck, the benefit of wearing an oversized T-shirt would be comfort.
You've simply got more room to work with and it's less likely that the turtleneck will feel restrictive underneath an oversized T-shirt.
Take things a step further and try to find a relatively thin turtleneck.
While the look isn't exactly conventional, as mentioned previously, it can definitely work as a statement.
3 Alternatives To Wear Over A Turtleneck (Instead Of A T-Shirt)
While wearing a T-shirt over a turtleneck isn't usually recommended, there are some alternatives that look fantastic.
Here are three alternatives you can wear over a turtleneck instead of a T-shirt.
1. Long Sleeve Button-Up
The first T-shirt alternative is a long sleeve button-up shirt. Flannels, in particular, work great as overlays.
When wearing a long sleeve button-up over a turtleneck – whether it's a flannel or not – it's essential to make sure you do it the right way.
Otherwise, you risk a very similar dilemma to wearing a T-shirt over a turtleneck.
The best way to wear your long sleeve button-up with a turtleneck underneath is with a few of your top buttons undone.
Alternatively, you can leave all of your buttons undone – allowing the button-up to be open.
This creates a distinctive layered look and feels much less restrictive than wearing a T-shirt over a turtleneck.
Moreover, patterns are much more common on flannels (eg. plaid and tartan) than on layered T-shirts, so you have more versatility there too.
2. Cardigan
Another alternative to wearing a T-shirt over a turtleneck is a cardigan.
Cardigans are fantastic layering garments and are appropriate for occasions of varying degrees of formality.
Because of this, they're essential items for any man's wardrobe.
Cardigans typically have a "V" neckline. This means that you have the choice of doing up the buttons or leaving them undone – as either will ensure the turtleneck is sufficiently visible.
Darker cardigans work best. However, light, neutral-colored cardigans, such as light grey, look great too.
Consider tucking in your turtleneck for a preppier look, ensuring that your cardigan is undone to make it obvious that your turtleneck is tucked in.
There are several cardigan styles, and while they vary in appearance, they are of similar formality levels.
This means that the style of cardigan you choose to wear over a turtleneck is entirely down to personal preference.
3. Blazer
Blazers are great because they can be dressed up or down as you wish.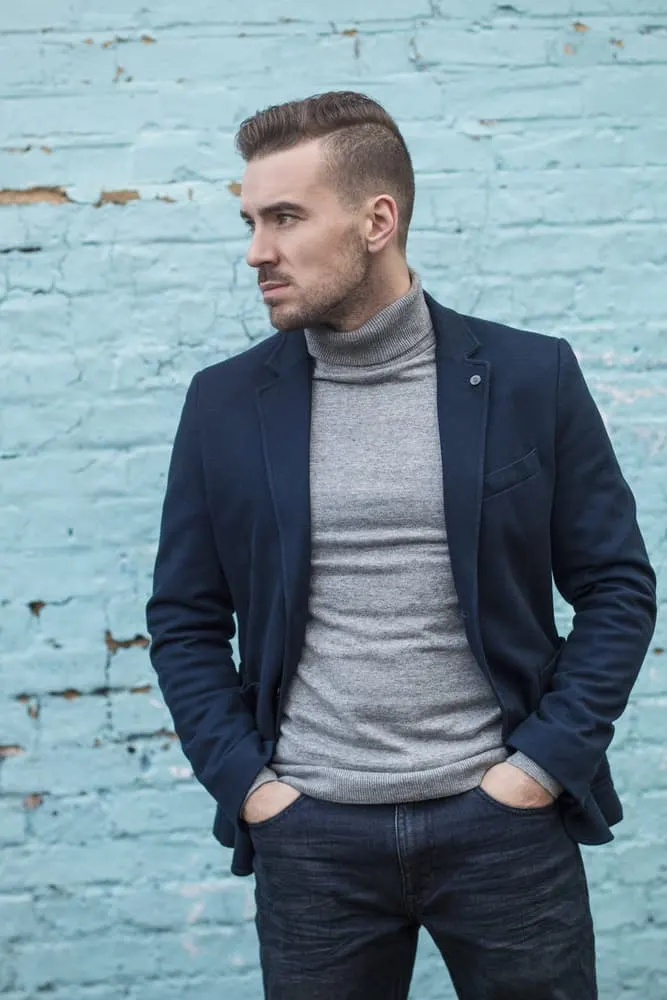 Wearing a turtleneck will dress down your blazer combination, as turtlenecks are pretty casual garments.
Like cardigans, it's best to wear a dark blazer alongside a lighter turtleneck, as overlayers usually look best when they're darker than the base.
The contrast will be eye-catching, in a good way.
Additionally, block colors are optimal, as – unless you're making a fashion statement – patterns can look overly flamboyant.
For a more preppy look, tucking in your turtleneck can look great. Remember to leave the buttons of your blazer undone so that it's visible, even if it's just the bottom one.
Also worth considering is a double-breasted blazer.
Double-breasted blazers are typically a bit more formal than the standard blazer, but not so much so that there's too much of a formality mismatch with the turtleneck.
Having said this, it's formal enough that wearing dress pants or smart chinos as opposed to something more casual (eg. jeans) is recommended.
A good rule of thumb is that – when wearing it with a blazer – the turtleneck should be the most casual item of your ensemble.