Having medium to long hair does give you the glorious option of being able to sweep it back. But combining it with a taper will always give it a modern edge. Here's everything you need to know about swept-back fade hairstyles.
It's almost too easy.
These days you could pretty much add a fade to any classic hairstyle and it would probably work.
I'm exaggerating, of course, but you get my point.
If you're looking for a way to make your current hairstyle more interesting, strongly consider asking your barber whether fading down the sides and back would work.
Whether we're talking about quiffs, pomps, man buns, or caesars, there's a good chance it'll work.
But getting back to the point, let's define exactly what you're here to learn about, before going on to talk through 11 great examples of the style itself.
What Is A Swept Back Fade
A swept-back fade is any hairstyle where the forelock (hair over the forehead) is swept upward and backward. The sides and back (or just the sides) are then tapered or faded so that they gradually increase in length from bottom to top.
The hair on top can be left flat (slicked back) or given some volume like a pompadour.
Either way, when you've got the right length of hair, you've got options.
The fade can be very low (a simple taper), low, mid, or high.
A low fade is one where the starting point of the fade (the transition point) is around an inch above the top of the ear.
A high fade has a transition point at the top of the sides near the temple.
A mid-fade transitions in between these two points.
The level of fade you choose is mostly down to personal preference. Tapers and low fades are more subtle, as you'd expect.
High fades are more eye-catching and can sometimes make the appearance of receding hairlines less obvious. This could be important in swept back styles as receding hairlines can sometimes look more noticeable.
But enough theory – let's get to the fun part.
5 Awesome Swept Back Fade Styles
Alright – it's time. Here are some phenomenal examples of this combination done right. Use it as a source of inspiration.
1. Swept Back Mid Fade And Beard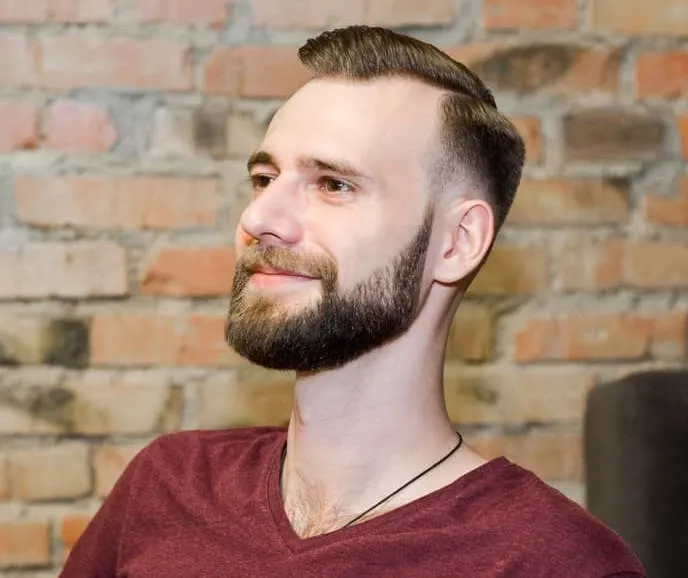 You could call this either swept-back or side-swept.
Taking a look from a side-profile such as this is always helpful. It puts things into perspective and allows you to see just how much height a style such as this can add.
It adds vertical height – perfect for men with rounder or shorter faces.
It's another example of a mid-fade and it's been continued all the way around the back.
It's not quite a "skin fade" because the shortest length is very light stubble as opposed to shaved.
Having said that, the difference between the shortest and longest lengths at the sides and back is so obvious that the contrast is still very eye-catching.
In addition, the contrast between the sides and the beard also draws attention.
The beard has been expertly lined up and subtly blended into the sides. In other words, the transition between the top of the sideburn and the side isn't too harsh or obvious.
2. Vintage Swept Back Pompadour With Fade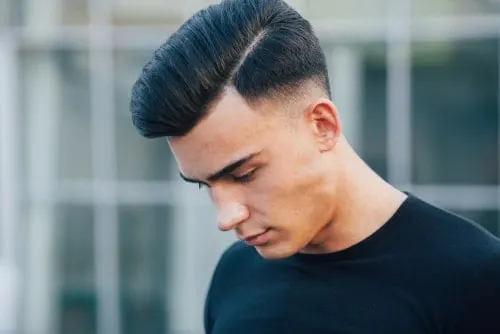 This swept back and faded style is one of the more obvious pompadours on this list.
Yes, it's been swept. But it's the volume that gives it away.
It's been swept up and given size. It's big, it's glossy, it's in your face. It's a pomp.
The smooth, rounded shape of the pomp is what gives it that vintage and classic vibe.
It's so interesting how the fade – a thoroughly modern and popular style, works so well with such a retro and classic look.
A fantastic blend of the old with the new.
The swept-back, voluminous appearance can be created using a round brush and a good blow dryer.
3. Swept Back Pompadour, Line Design And Fade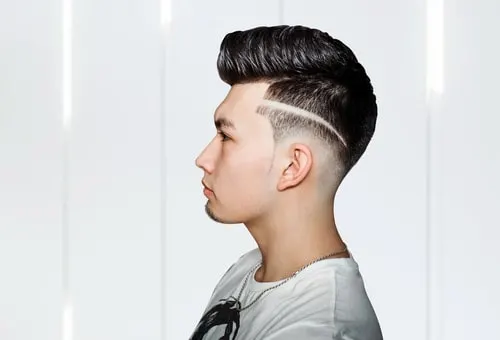 This one is similar but it has a couple of unique features.
For one, the sweep is less shapely and more angular.
It's a more "modern" pomp – this is particularly obvious in a side-profile such as this.
Plus, it's impossible not to mention that line design. This isn't something you'll want to experiment with yourself. But if you're into it, a trusted barber should be able to achieve it for you.
Yes – that's a skin fade. As you can see, the shortest length on the sides and back is at the skin-level.
It's extremely short.
It's eye-catching and provides such a great contrast to the pompadour above.
In fact, having the hair so short at the sides and back just makes the pompadour look even larger and more voluminous.
It's fantastic.
4. Swept Back Curly Pomp And Undercut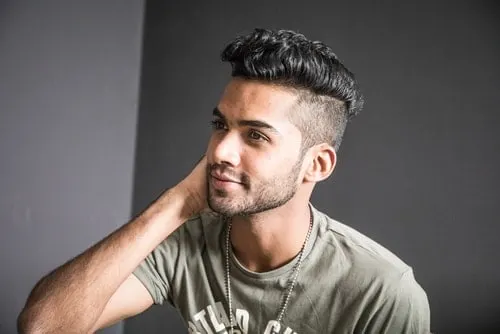 Although curls can be pretty difficult to manage at times, when you know how to manage it the options are infinite.
As you can see, the hair has been shaped and swept back into a small, curly, modern pompadour.
You could call the sides faded, but technically this is more appropriately labeled an "undercut".
An undercut is a style where the hair on top is left long, while the sides and back are trimmed very short in comparison.
There isn't a gradual tapering of length, so technically it shouldn't be called a fade.
I've included this in here, however, just to give you an idea of what alternatives are available to you.
If you're looking for more of a stark contrast between the sides and the swept-back top, consider an undercut instead of a fade.
It's definitely popular.
Once again, in this picture, the medium stubble has been intricately lined up with the sideburns – a fantastic way to add contouring to the face.
5. Swept Back Waves With Fade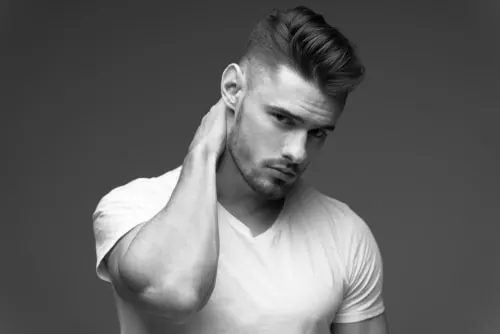 What a great texture.
This loosely swept back appearance is usually best achieved using either a wide-toothed comb or your fingers.
Never underestimate the power of working the hair with your fingers while blow-drying. You can produce some very interesting textures.
It looks laid-back and natural. The front has been gently tousled.
The mid-fade is subtle. Once again the short sides make the hair on top look more prominent and really draw attention to it.
Finally, let's talk about the stubble.
Stubble works great with swept-back hair because it frames the lower half of the face. It adds shadowing, it adds contouring, it adds balance.
Conclusion
As you've now seen, the options list is pretty lengthy. When you've got hair long enough to work with, you're pretty spoiled for choice.
Hope you enjoyed that.
Use this list as a source of inspiration in your faded journeys. Have fun with it.
Ready Sleek founder. Obsessed with casual style and the minimalist approach to building a highly functional wardrobe. Also a fan of classic, vintage hairstyles.